Mountain Wedding Dress Ideas
Wedding Dresses Perfect for a Mountain Wedding
Beach weddings attract a lot of attention, but this is by no means the only outdoorsy backdrop that lends natural beauty to your big day. Mountain weddings can be just as serene; what could be more majestic than snow-capped peaks in the heart of the Rocky Mountains? From Colorado to Tennessee, options abound.
These destination weddings bring unique complications to the table. Strategic dress selection is critical; gowns that work wonders for 'traditional' settings could be a poor fit for a mountain bride.
First and foremost, mountain wedding dresses must be easy to move about in. No, you won't actually be scaling the mountain (that is, unless you plan a unique adventure elopement), but you'll almost certainly take outdoorsy photographs. Getting to the photo locations may require walking over rocky terrain and photos could be difficult to pose for in an extra poofy skirt or with a super long train.
When choosing a gown you also need to consider the weather, which could change quickly throughout the day — or will be cold in the first place if you plan a winter wonderland wedding. Choose airy fabrics for warmer months and heavier fabrics if there's a chance for snow. Also consider detachable sleeves or a jacket so you have the option in case it gets cold!
No matter the season, the style of the dress needs to feel true to the venue, which, for a mountain wedding, will often be rustic or outdoorsy (think vine and floral details). A simple, sweet, and romantic style is always desirable, but remember: regardless of the setting, your dress needs to feel true to you. The good news? From boho wedding dresses to contemporary chic, there truly is something for everyone.
10 Mountain Wedding Dress Ideas
No single wedding gown design will be perfect for every mountain bride. There's a lot to take into account beyond the location alone. Stylistic preferences matter, for example, as do the specific silhouettes or necklines that flatter various brides. Everyone deserves to feel stunning on their wedding day, but some styles are more likely to accomplish this for a wedding in this type of location.
Below, we've highlighted 10 wedding dress ideas that should give you much-needed inspiration for your mountain nuptials.
Crepe and Pearl Mermaid Gown With Detachable Poet Sleeves
Crepe is a wonderful material for any modern wedding, including mountain elopements and receptions. Comfortable, stylish, and flattering, it works especially well with a mermaid silhouette as seen in Style T982. This combination will make you look and feel absolutely stunning on your big day. The skirt's slit adds a subtle sultry effect and can give the impression of elongated legs, if desired.
Another standout from this particular gown: pearl detailing, which is seeing a much-deserved revival in the bridal fashion scene. Pearls have a lot of classic charm but can feel surprisingly modern when used sparingly and paired with bold elements. Such is the case with this unforgettable dress, which should satisfy any fashion-forward bride with its detachable poet sleeves. This simple addition gives the dress a completely different vibe — one that ups the style factor for contemporary mountain nuptials.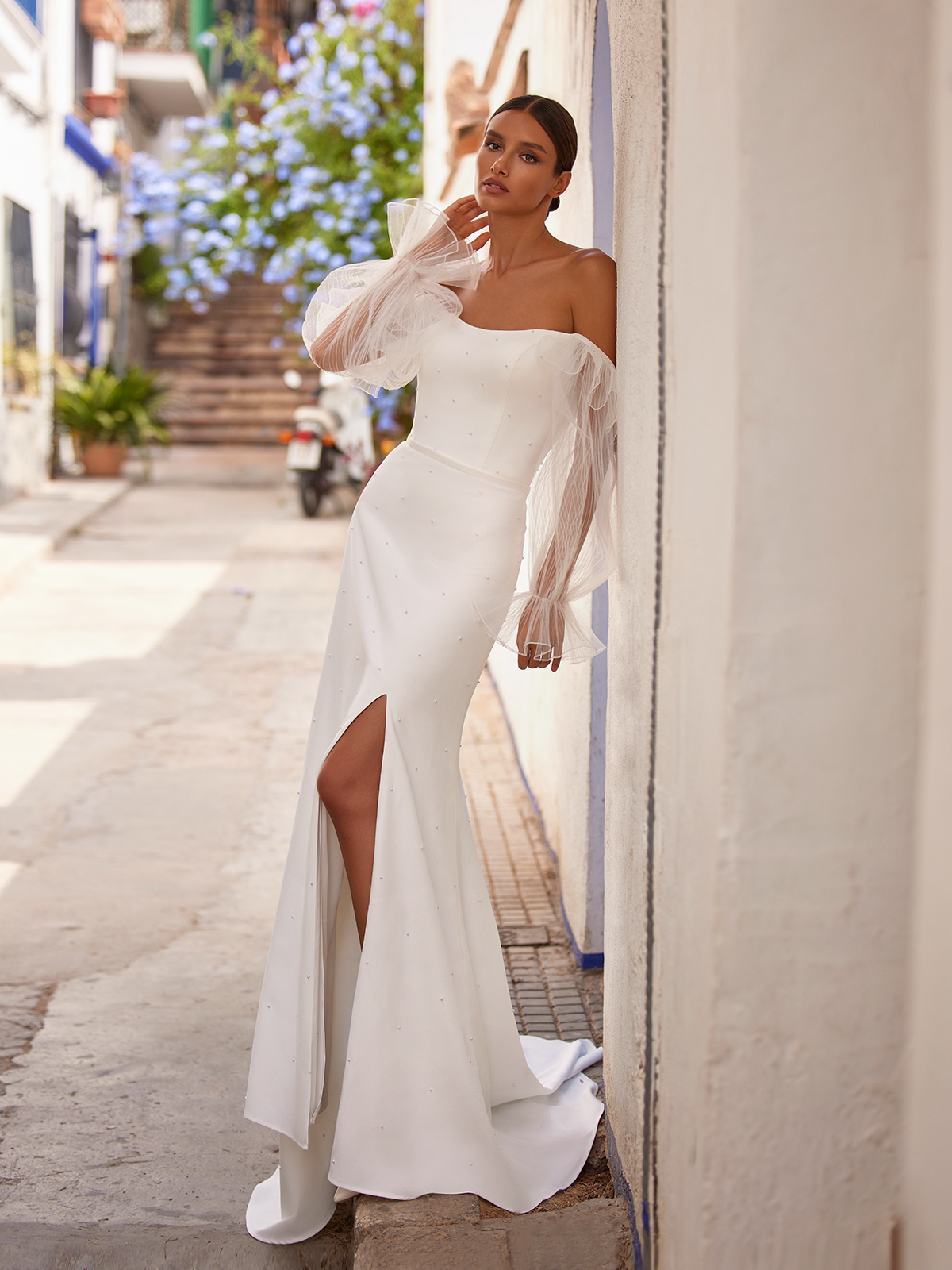 Strapless Mermaid Gown With Detachable Long Sleeves
There are plenty of ways to style a mountain mermaid gown, as Style J6871 reveals. Drawing on the modern appeal of detachable sleeves, this ravishing gown is simple, sophisticated, and seductive, all rolled into one design. It's a minimalist powerhouse, and yet, you'll never feel as if you're lacking embellishments when you show off the lace sleeves, which are also great for cool mountain air.
There are many other simple, yet stunning details worth noting, such as the versatile scoop neckline and the deep-V shape of the open back. The form-fitting style can feel sultry for an evening ceremony, but it's also a great option when you don't want to reveal that much skin. This style spans the divide between playful and sensuous with ease.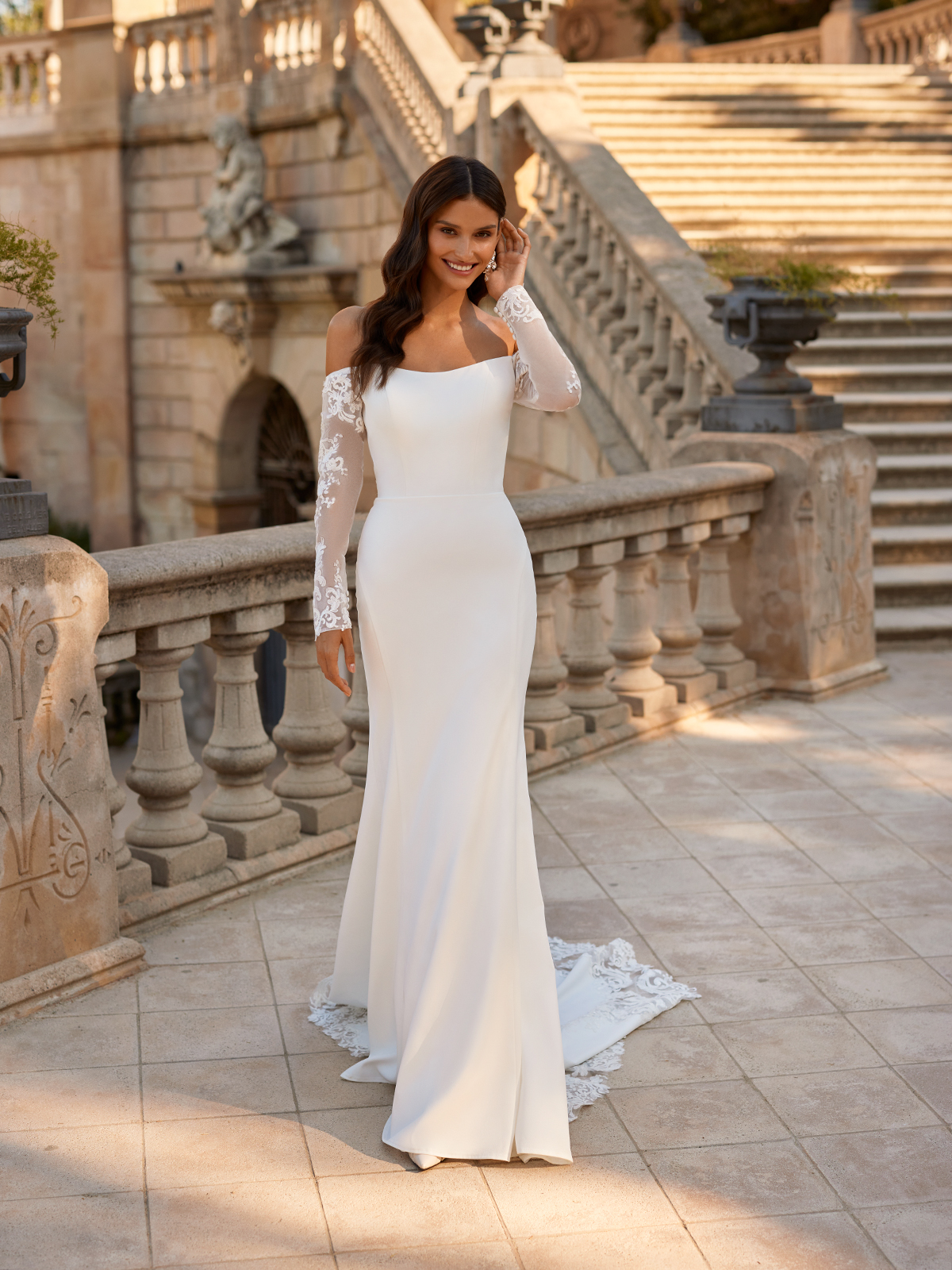 A-Line Lace Wedding Dress With Off-the-Shoulder Bishop Sleeves
The A-line is a notoriously figure-flattering style that can work wonders in almost any setting imaginable. Style J6880 is a strapless A-line wedding gown that's especially well-suited to a mountain environment as it draws inspiration from nature with its floral embroidery.
Gorgeous bishop sleeves add a touch of romantic whimsy to this look, creating a swept-away impression that's perfect for a glorious mountain landscape. Go even more distinctive with a unique Latte hue that will instantly stand out.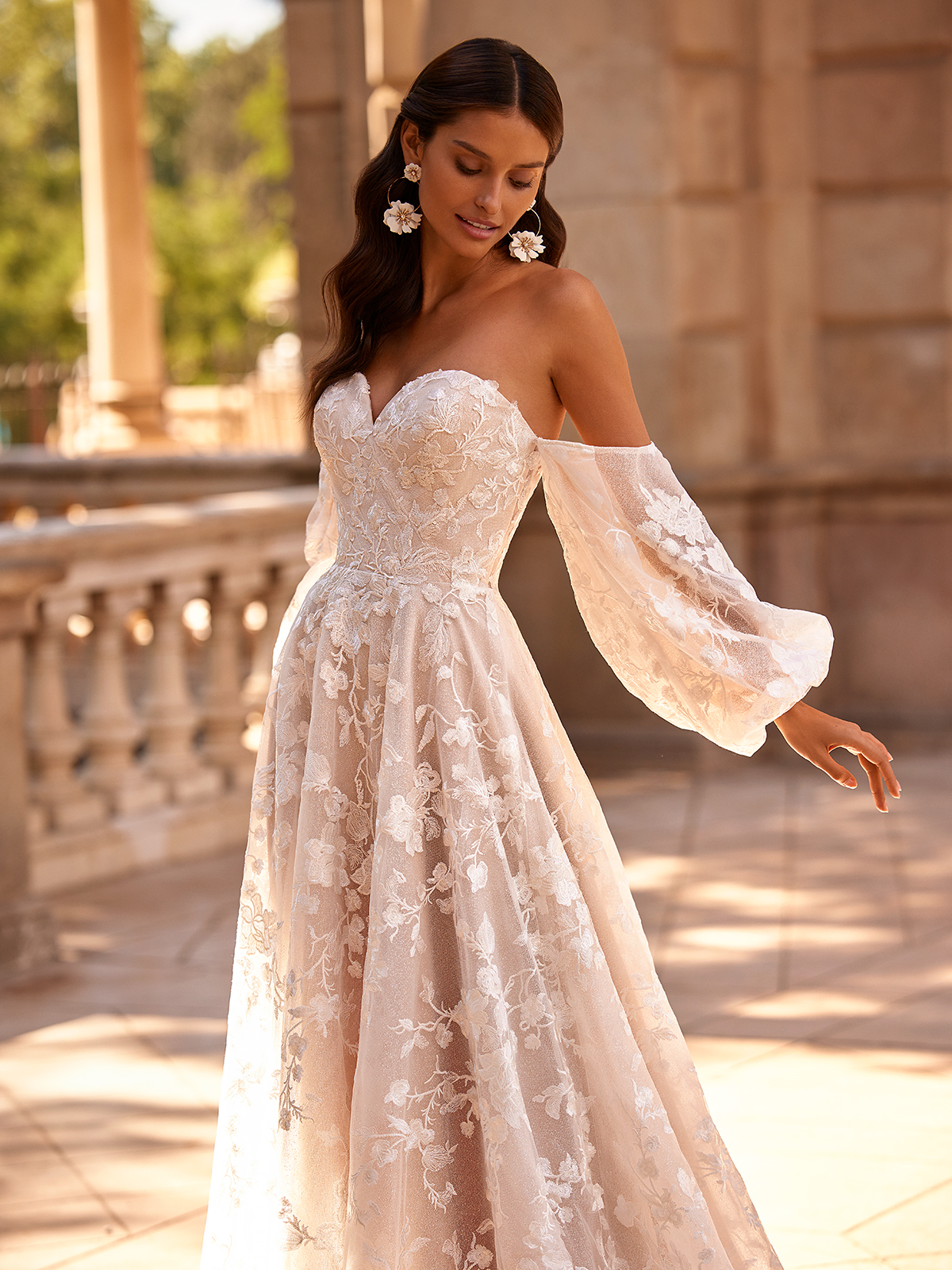 Crepe Mermaid Gown With Long Split Sleeves
Show off every curve with Style M5062, a crepe gown that hugs in all the right places but is also roomy enough to make moving about a cinch. This lovely bridal gown provides a powerful reminder that modest can be just as attractive as any skin-baring style. Simple and sweet, it's excellent as an understated dress for your elopement day but could also be your dream dress for a bigger and bolder event. Chic, yet classic sleeves provide valuable coverage for a cold-weather wedding, while embroidered lace appliques offer a beautifully intricate touch.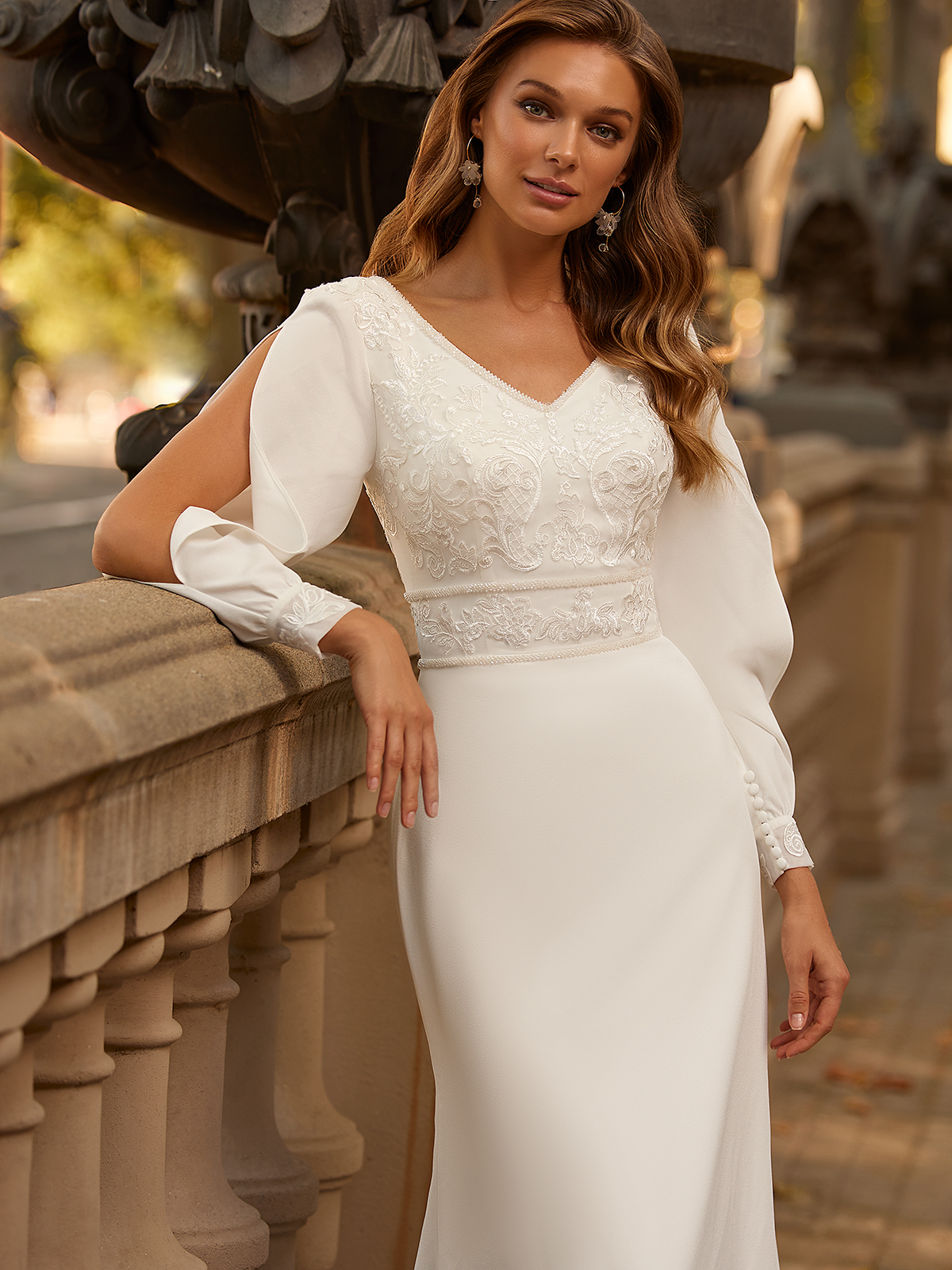 A-Line Bridal Gown With Sparkle Tulle Skirt
High altitudes will already have you feeling as if you're floating during your wedding day, but why not amplify that effect? You'll feel light and airy in Style H1484, a spectacular A-line gown that makes the most of gorgeous tulle layers. Meanwhile, a deep V-neck and an open back make this dress just daring enough for any adventurous bride.
A leafy design gives the bodice a natural look, perfectly complementing the backdrop for a tree-lined mountain affair. The cathedral train adds drama but shouldn't stop you from navigating a mountain location with ease.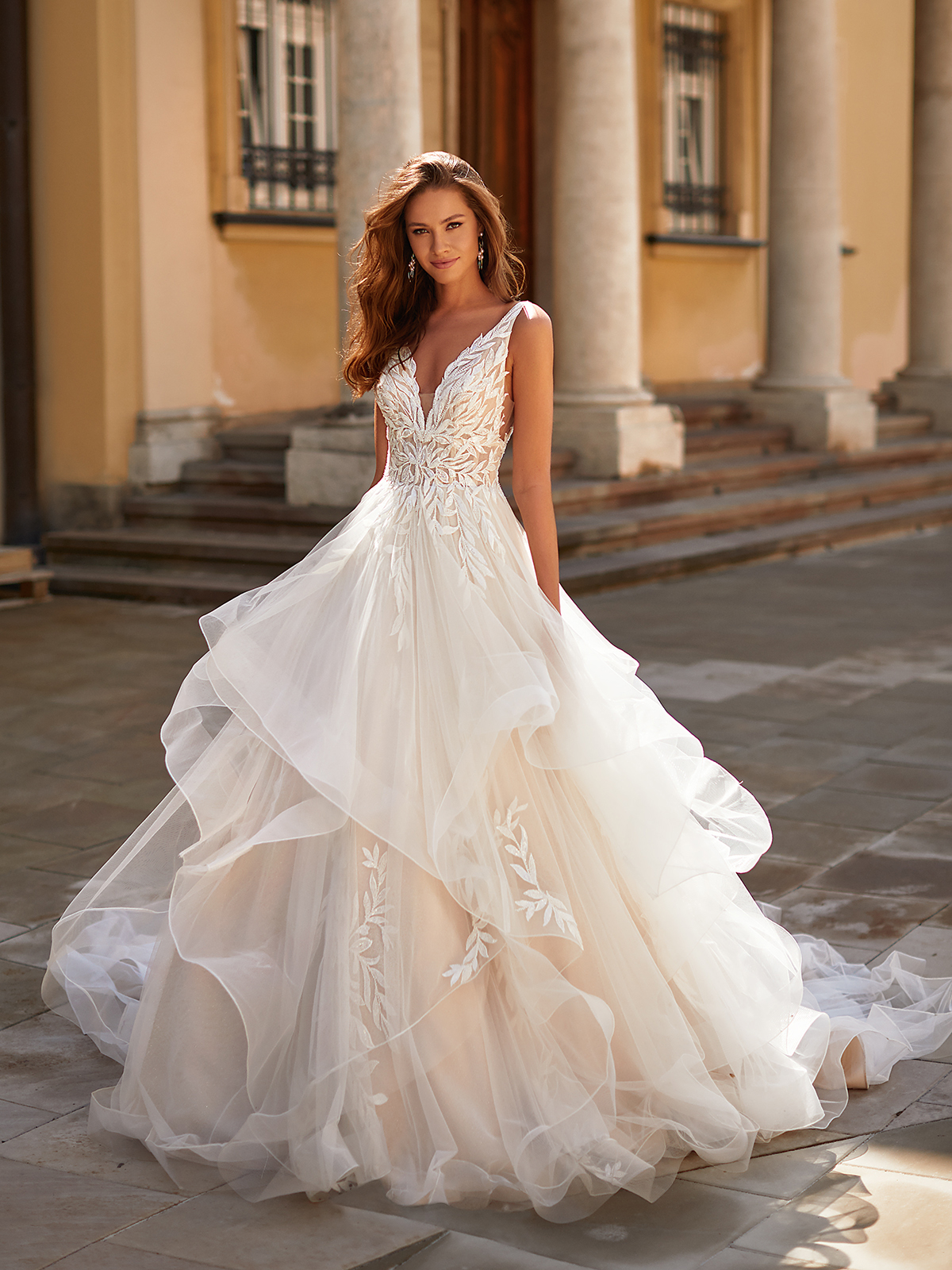 Beaded Sweetheart Dress With Tulle Layers
Another glorious option that uses tulle layers to great effect, Style H1530 is an intricately beaded design that will shimmer and shine even more than your most prized bridal jewelry. Again, the usual florals are replaced with a leafier design, along with lovely sequin tendrils.
Whether you show off this look on a mountain peak, in a lush valley, or during an indoor reception, you will appreciate its outdoorsy vibes, not to mention the many flattering features that play up your natural glow.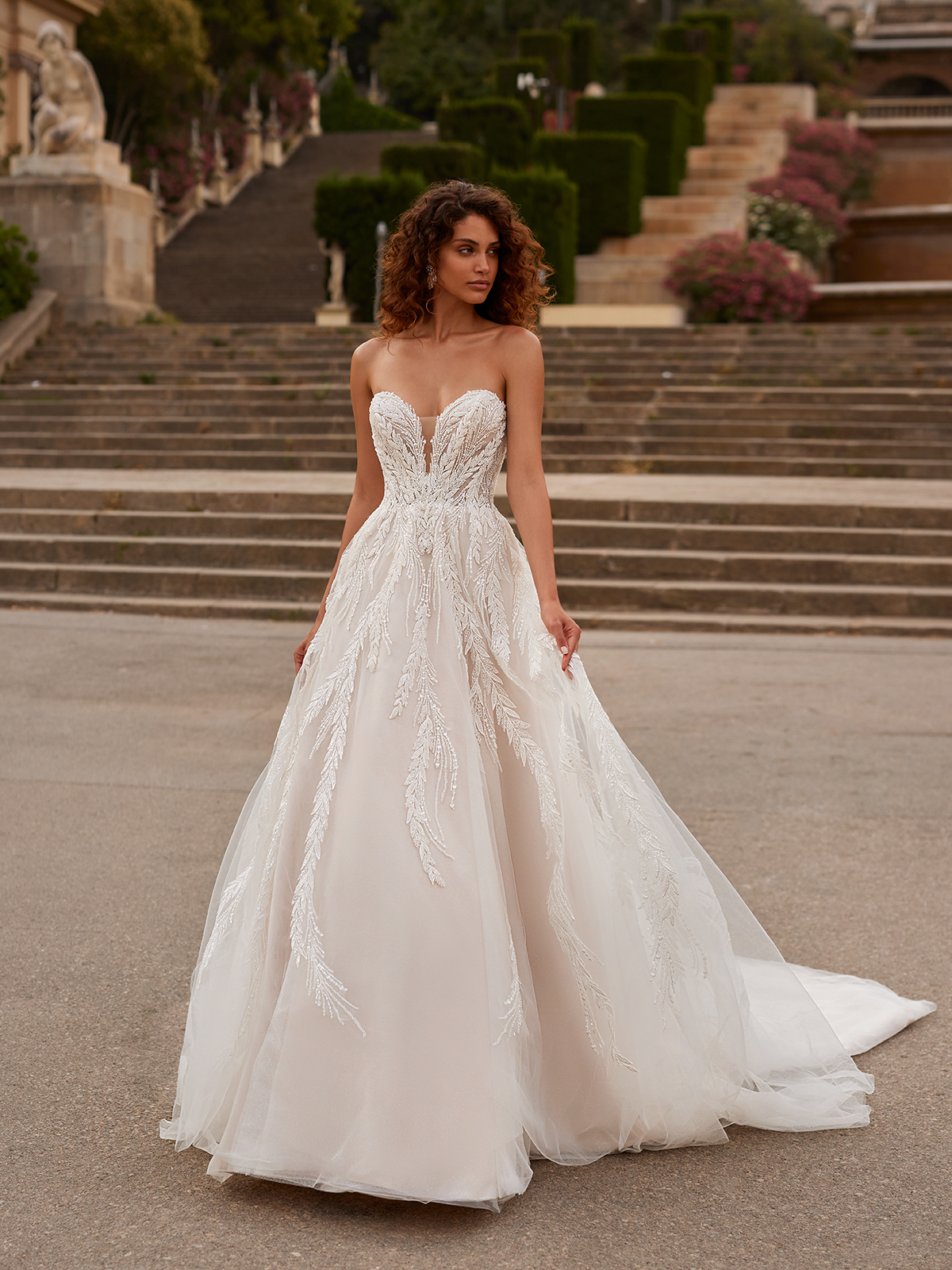 Crepe Mermaid Gown With a Scalloped Lace Train
While many of the designs mentioned above are whimsical or downright modest, there's nothing wrong with going a little more sensual for your mountain nuptials. It's impossible to feel anything but deeply alluring in Style H1526, a sexy crepe wedding dress which is strategically designed to hug each and every curve. This seductive style will feel especially sultry during an intimate night time affair.
The "less is more" concept is a hallmark of mountain bridal style — and this mermaid gown certainly proves why a simple and streamlined style is so desirable. Details (such as illusion cutouts and Chantilly lace at the hem) abound, but they never detract from the overall appeal of the style or the quick confidence boost it provides.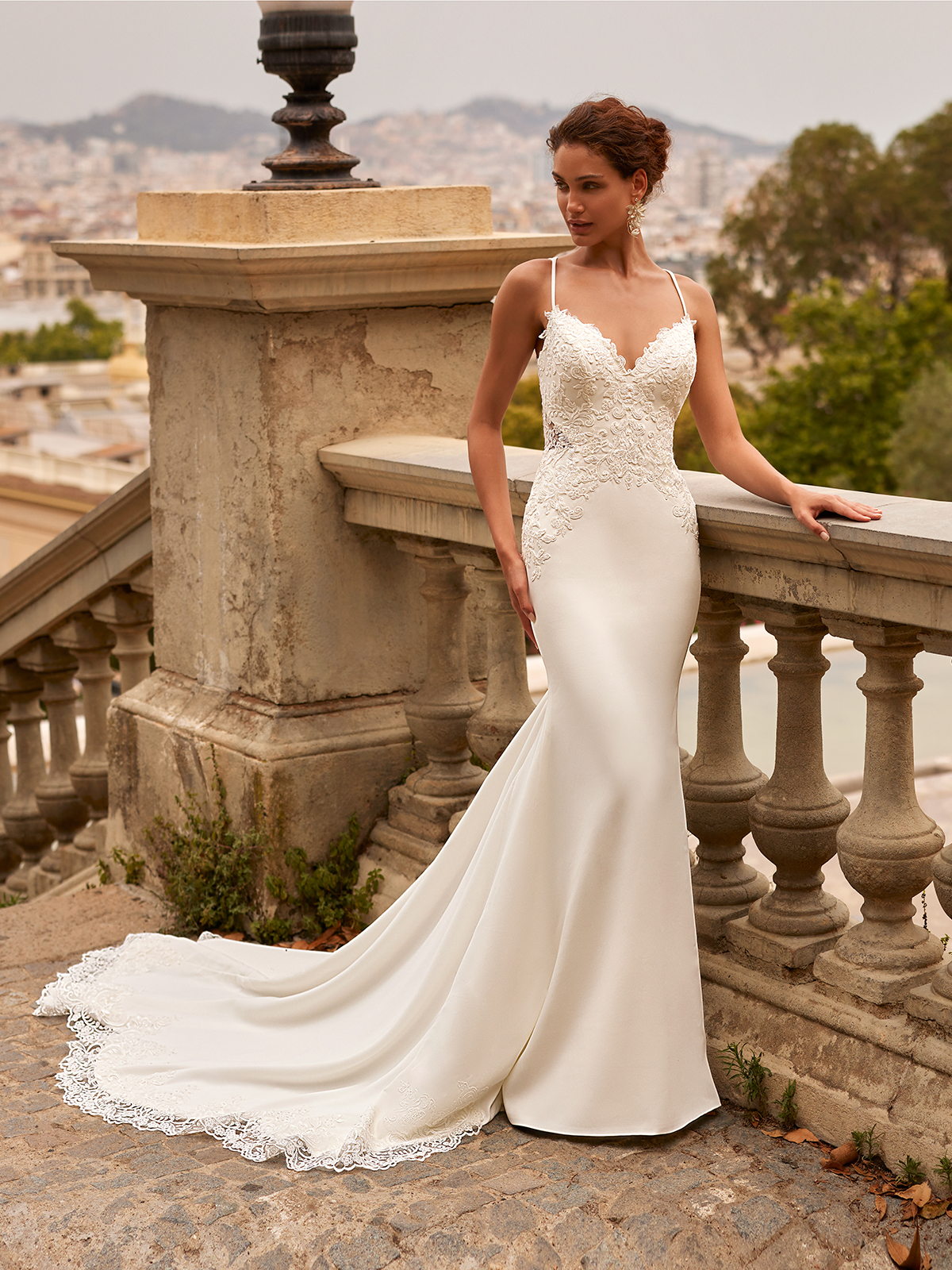 Chiffon A-Line with Beaded Halter Neckline
Delicate, yet daring, Style T968 is a sultry style that encourages you to show off your legs. Its side skirt has a high slit — a unique feature you definitely won't see every day in the world of bridal fashion. This is an easy way to achieve a showstopping effect when you don't want to feel weighed down with too many embellishments. The sweep train adds a touch of romance but is easy to manage as you walk down the aisle, take mountain photos, or hit the dance floor.
The lower half of this boho design is certainly memorable, but the upper portion is just as alluring. Lace fabric and beaded embroidery join forces to provide just enough coverage — not to mention, plenty of sparkle. Again, you get the chance to show just enough skin with the racer back. You can keep it simple with accessories if you prefer, but it's also possible to dress this style up without overwhelming this sleek gown.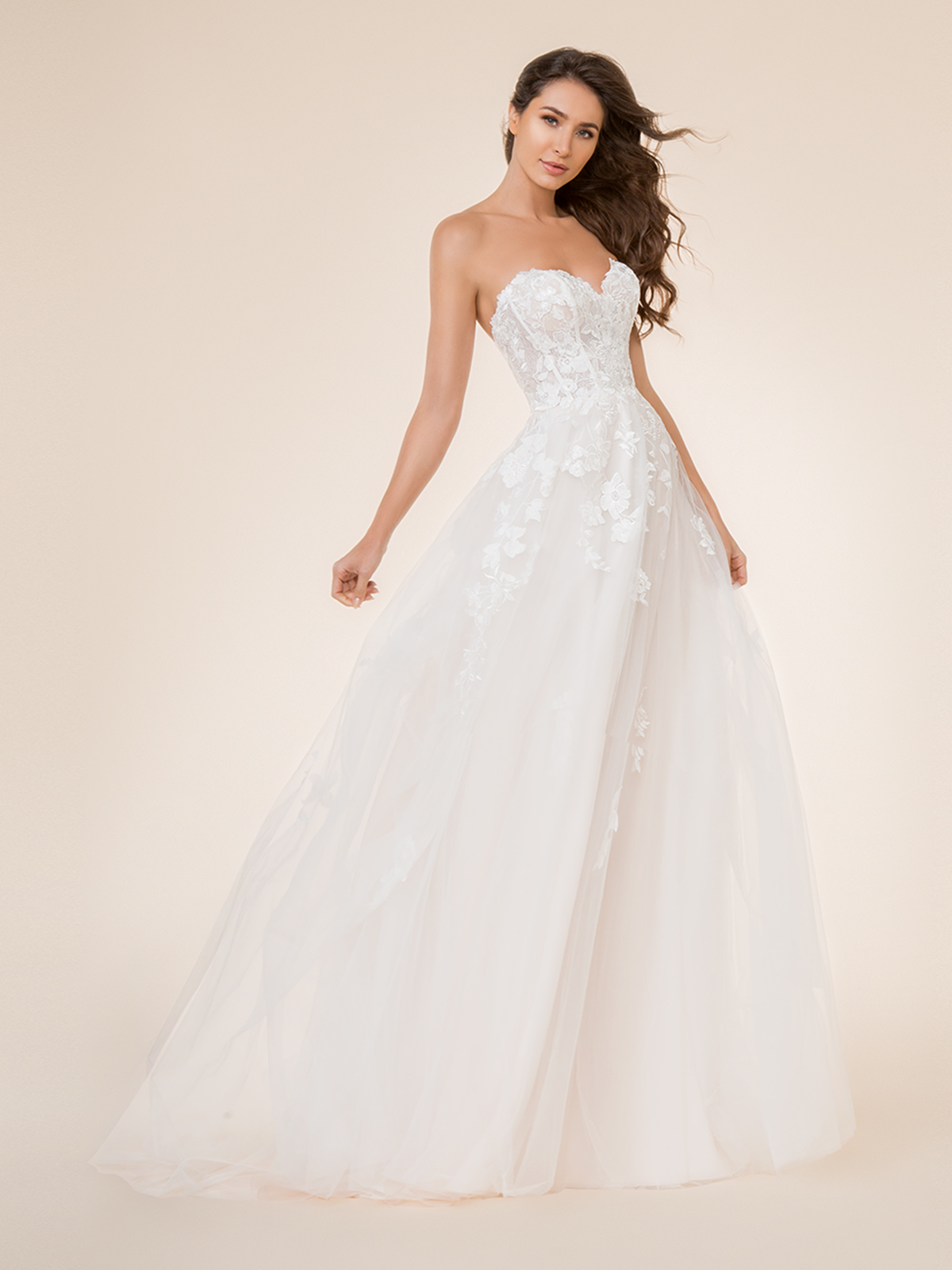 Floral Print Organza A-Line With Detachable Sleeves
We've seen just about everything in modern bridal fashion, so surprises can be difficult to come by these days. There's one exception, however: many people still don't expect brides to show off patterns — or even to diverge from the usual white dress, for that matter. Style J6893 is a floral print wedding dress that breaks both rules, managing to make a statement while remaining serene enough for a rustic setting.
While the dainty flowers alone would be enough to set this gown apart, it's just one of several stand-out features worth noting. Detachable puffed sleeves amp up the drama, while the skirt's ruffled trim and volume create a princess effect. Soft organza provides unmatched comfort throughout the day while still allowing you to feel as if you're making a statement.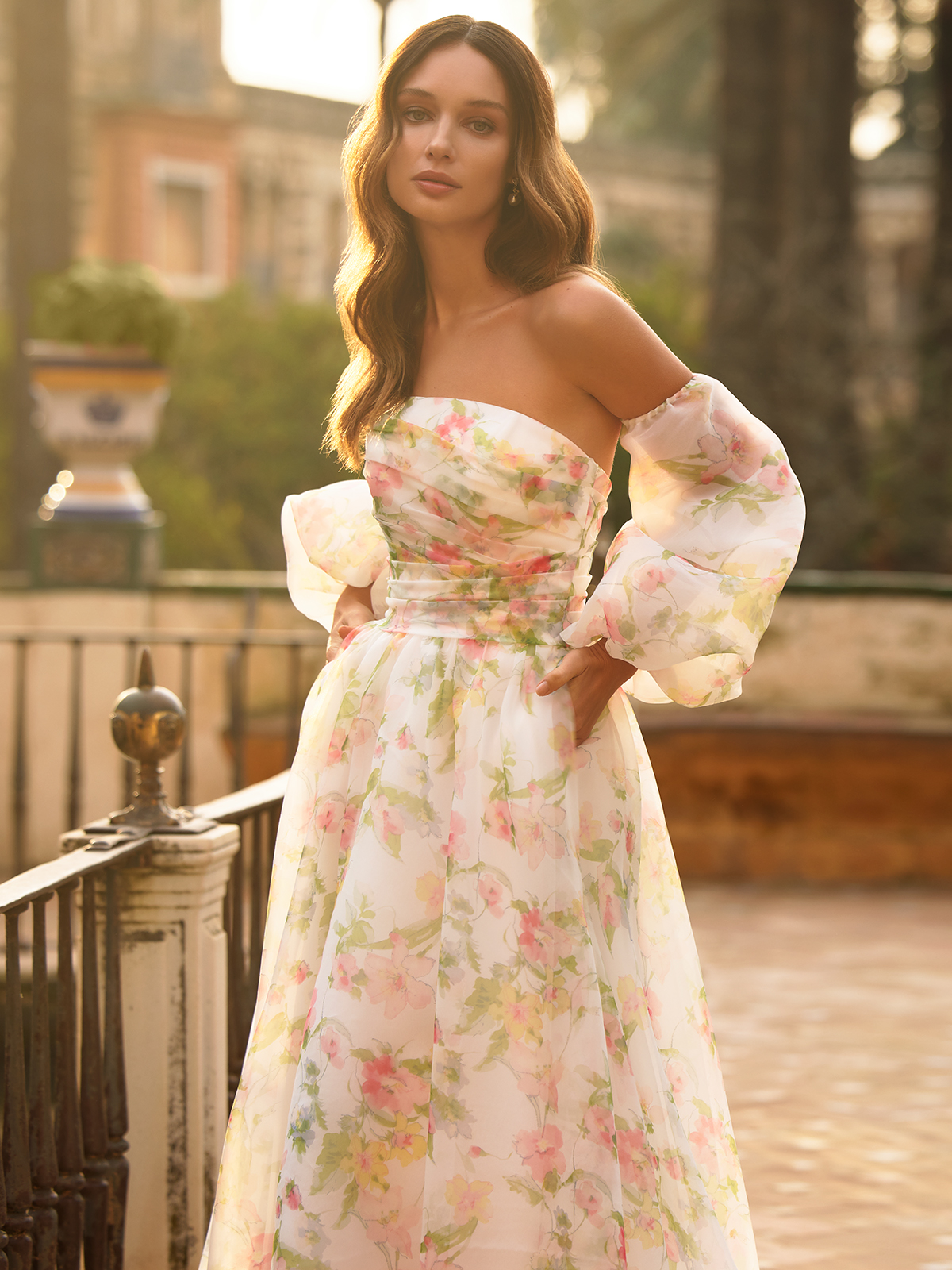 Strapless Satin A-Line With Detachable Lace Jacket
Detachable features are all the rage in bridal style, as they provide the easiest way to achieve two looks with one dress. This is an especially appealing option for high-altitude settings, where quickly changing temperatures may call for sudden adjustments.
By adding a lace jacket to the mix, Style J6899 is a unique bridal dress that makes it possible to achieve a little extra warmth when it's needed most, as well as an undeniable stylistic boost. With or without the jacket, it's sure to make you feel stunning. Smooth satin, an A-line silhouette, and a classic sweetheart neckline are all key elements of a figure-flattering style.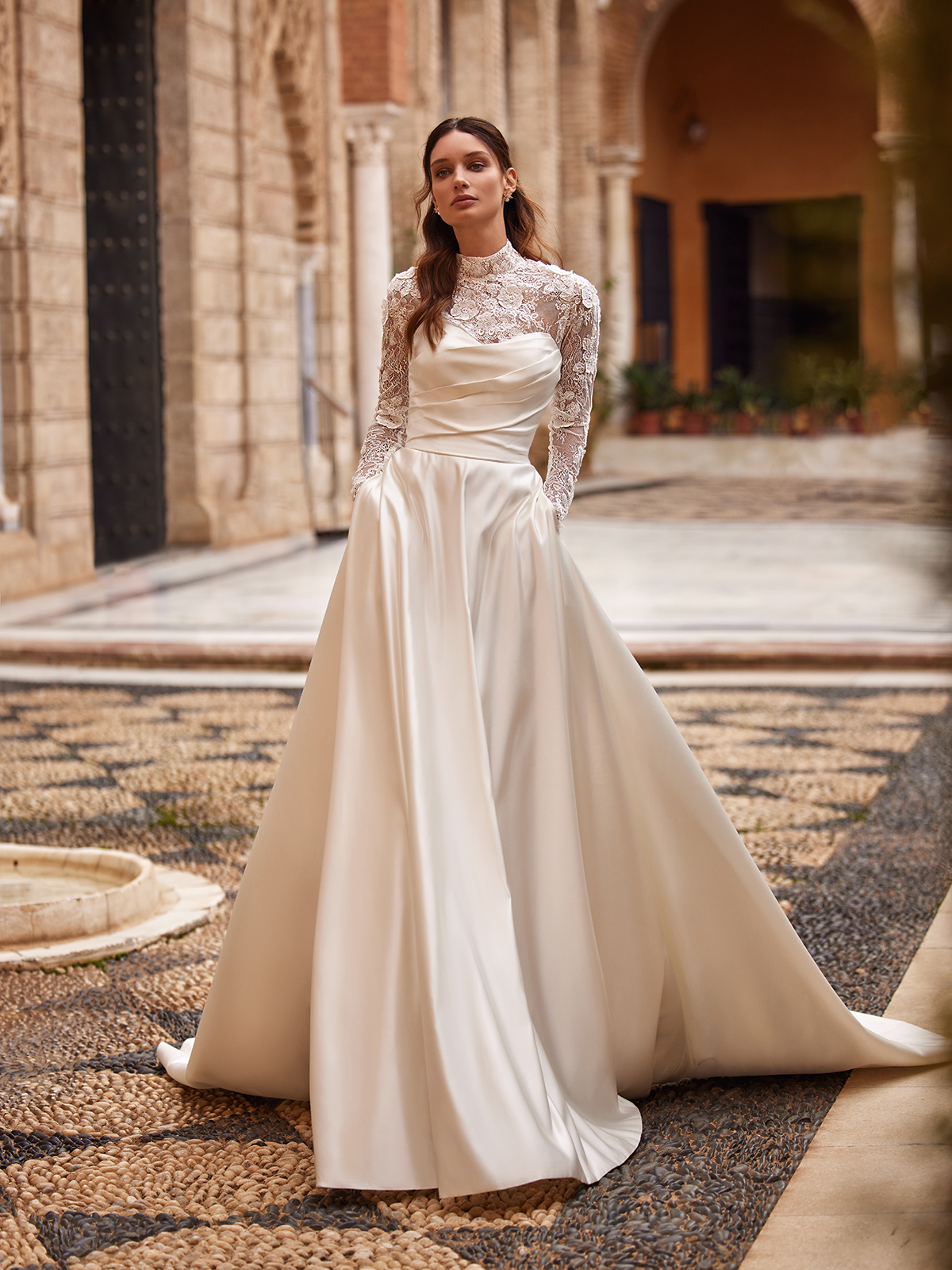 Find Your Style
Feeling inspired? This small collection of mountain-friendly dresses is only the beginning. At Moonlight Bridal we're thrilled to offer styles to match every type of bride and aesthetic. Our styles will ensure that you feel both comfortable and beautiful during your outdoor wedding.
The more dresses you check out, the better feel you'll get for your preferred look. To see how actual dresses might play out in a mountain setting, take a close look at our real brides wearing Moonlight styles at their mountain ceremonies.
Visit our authorized retailers or browse our collection online — you'll quickly fall in love with our gorgeous gowns and find one that matches your unique vision for your perfect wedding.