Wedding Dress Trends for 2023
2023 Wedding Dress Trends: 7 Gorgeous Styles That Will Dominate Bridal Fashion This Year
You're planning an amazing wedding in 2023 and are excited to make your big debut in a gorgeous gown. If you're worried about choosing the right style for your wedding day, you're certainly not alone. Lately, there's an abundance of options — and no one dominant trend to guide you.
This wealth of choices can actually be helpful, as the current styles are flattering to all types of brides and can accommodate many aesthetics. The trends we are seeing in bridal fashion for the year 2023 range from ruffles to leg slits to pearls, so there's options to match any personal style. With a little research, you should have no trouble finding something that speaks to you.
7 Wedding Gown Trends in 2023
If there's one overarching theme for bridal styles in 2023, it's the pairing of classic designs with contemporary details. Timeless silhouettes such as the A-line are as popular as ever, but they're adorned with unique features that make them feel fresh. Keep these notable 2023 bridal trends in mind as you search for your dream dress:
Leg Slits
Dramatic slits have been a big deal on the runways at New York Bridal Fashion Week, but they certainly shouldn't be limited to high fashion. Whether subtle or striking, slits can add an instant dose of sultry style to your look. This is a great choice if you're proud of your legs and want to show them off. This can also be practical, as slits make it easier to navigate the aisle, the dance floor, and everything in between.
This feature is a lot more daring in 2023, with many brides donning thigh-high slits. It's not always an overtly sensuous look, however; even a seemingly high slit can be surprisingly demure when paired with the right silhouette or neckline.
Wedding dress slits can also feel downright sophisticated, as evidenced by one of our favorites for the new year, Style J6852 from our Moonlight Collection. This strapless Mikado gown has a structural and highly contemporary aesthetic but also incorporates classic features such as the beloved sweetheart neckline. This design is available in classic colors or black, which is another option that's growing in popularity.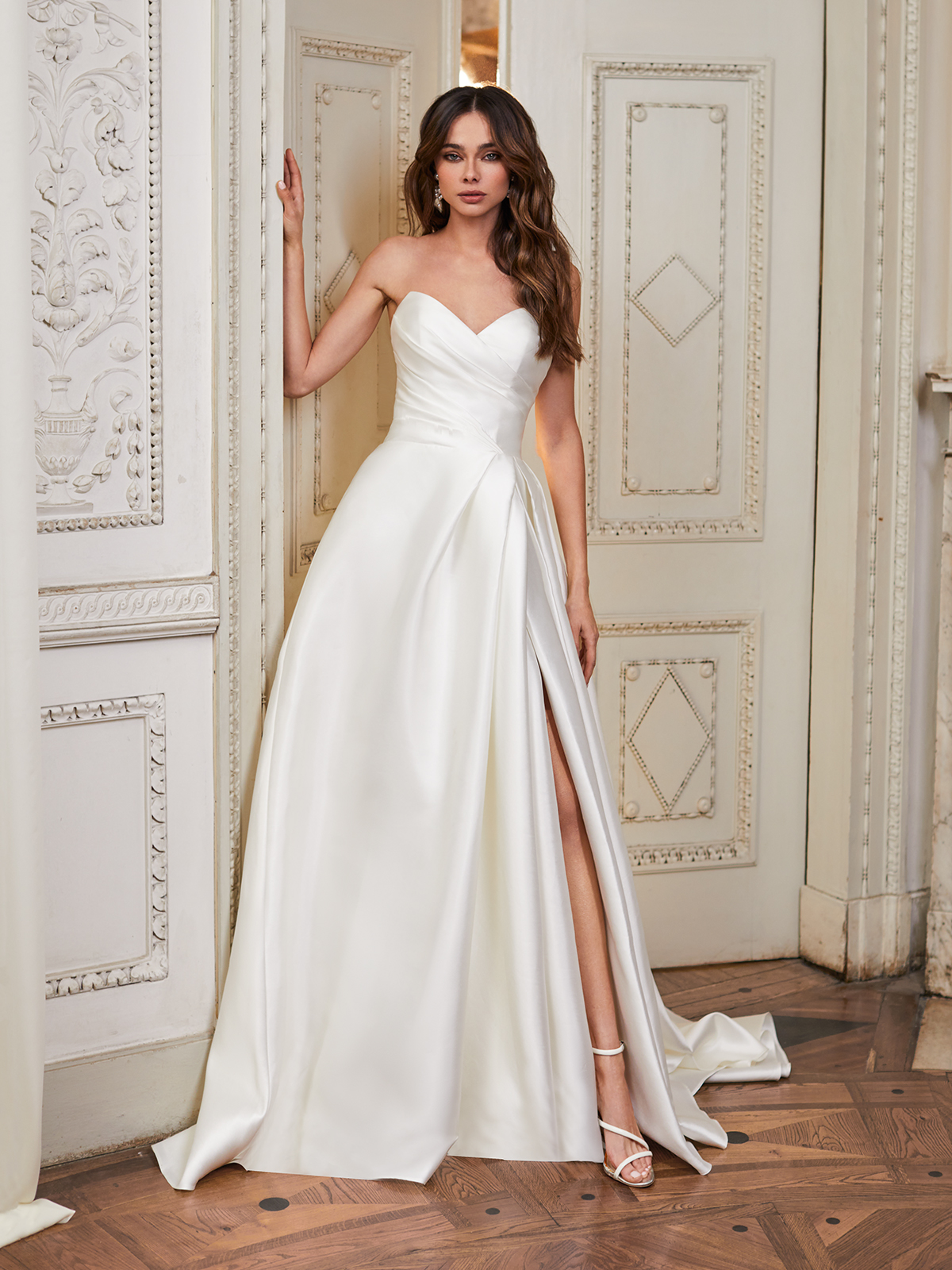 Ruffles
Inherently romantic, ruffles add instant whimsy to dresses and make brides feel like they are part of a fairytale. They are incredibly useful for establishing that full skirt, princess look that so many brides desire. Traditionally, however, they've been limited to classic ball gowns or A-line dresses.
In 2023, ruffles are being paired with many other silhouettes, including the typically sleek mermaid aesthetic. With this look, the iconic mermaid silhouette extends through the bodice, hugging the figure until a cascade of ruffles takes over at the knees.
The perfect example? Style H1424 from our Moonlight Couture Collection is fierce, yet sophisticated, and includes stunning ruffles in the lower half of the design. This bridal gown also includes a chapel train and an illusion bateau back. Gorgeous details such as beaded straps up the ante on an already powerful bridal look.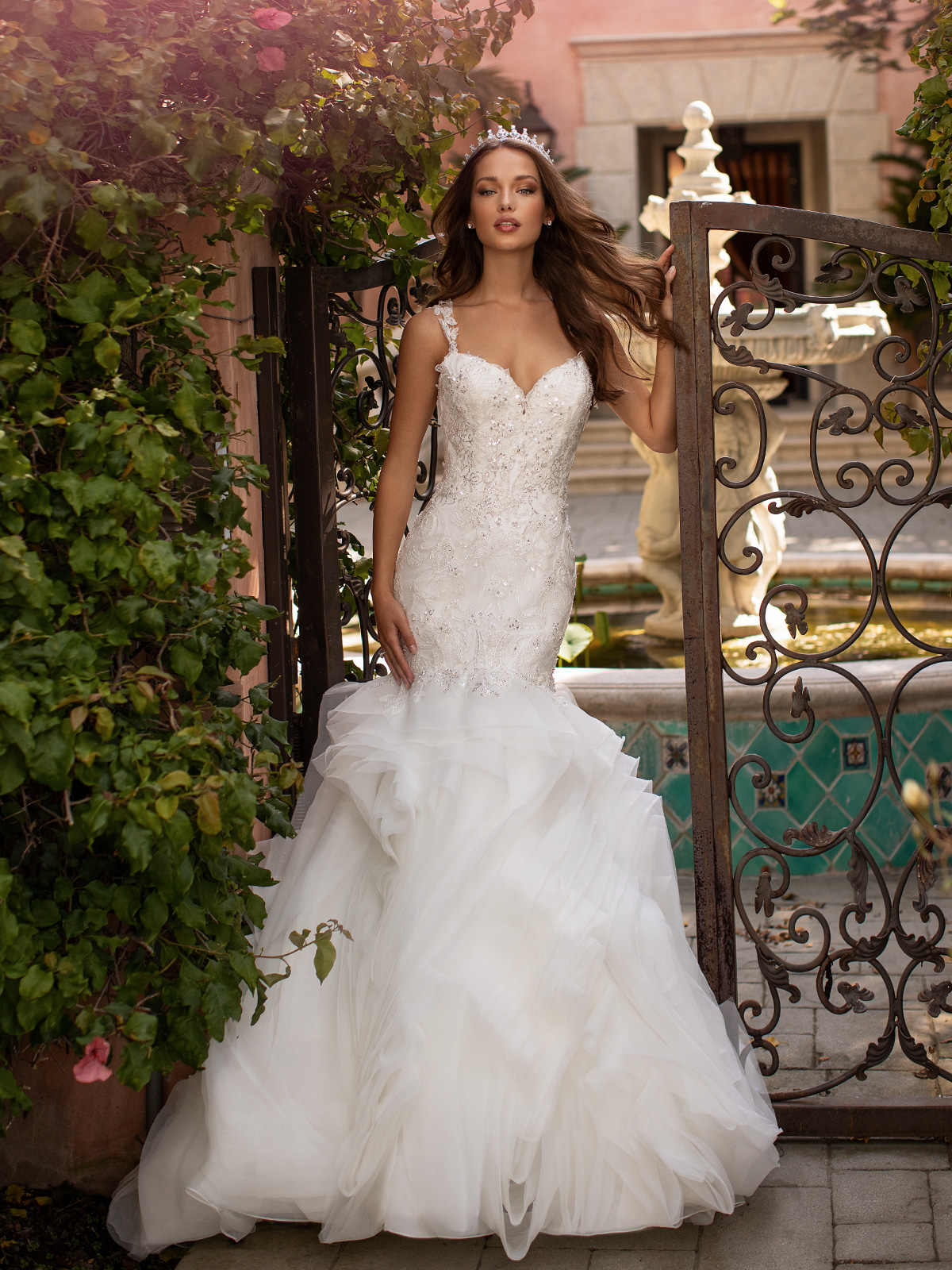 Minimalism
The sleek styles of 2023 prove that less can be more. This is an enduring theme that has carried over from 2021 and 2022, when the pandemic prompted a lot of smaller, laid-back weddings.
This year, larger receptions have returned — but many brides still prefer to stick with the scaled-back looks that first took over a few years ago. This minimalist wedding dress aesthetic is primarily established with fabric selection: crepe, Mikado, and satin never fail to provide a smooth and sleek look. You don't have to abandon embellishments altogether — just be strategic about where they're placed and how often they're used.
Floral
Cottagecore hasn't departed just yet, and, in the 2023 edition, it's best established with floral embellishments. Floral lace appliques are far from new, but they are about to receive a significant update in 2023.
This year, floral details will be even more striking, thanks to the availability of 3D lace. This amazing fabric brings a bold new look to floral design while also promoting a flattering fit.
We love when appliques accompany tulle and Chantilly lace, as in the visually impressive Style T937. The 3D floral approach takes on a definite air of couture fashion with Style H1490, which makes the most of an option we'll highlight in detail below: detachable sleeves.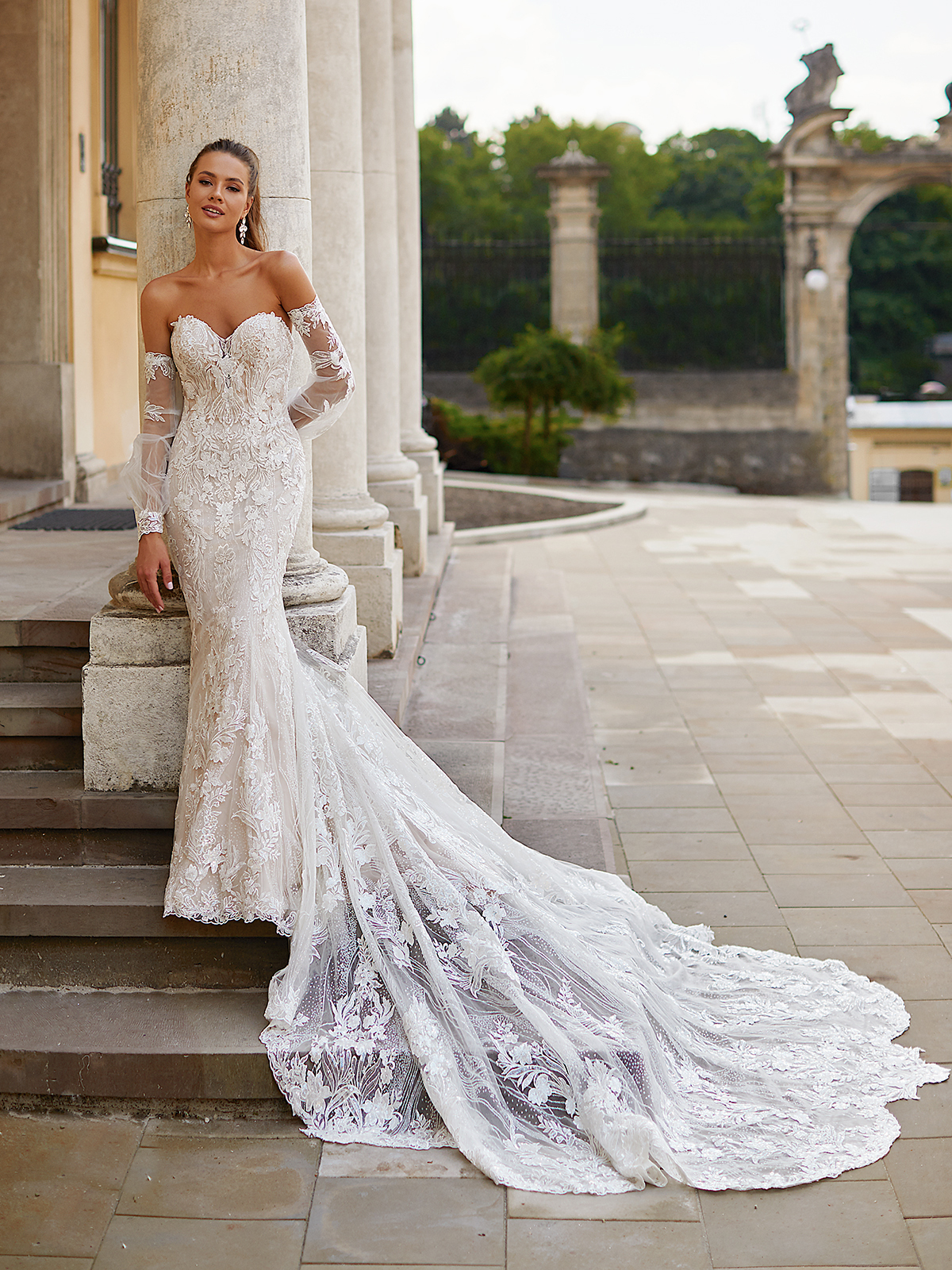 Convertible Styles
Convertible wedding gowns are designs that include detachable sleeves, trains, capes, jackets, and other pieces that can be added and removed as desired. These pieces adorn many of this year's top dresses. This is an amazing option, as it provides the best of both worlds: the opportunity to look as romantic or sophisticated as desired during the ceremony before letting loose at the reception.
This trend is incredibly versatile, so you'll see its influence in everything from fairytale gowns to sensuous mermaid dresses. If you like the idea of donning a bold or upscale look but worry about the practicality of features such as long sleeves, you'll definitely want to embrace 2023's convertible trend.
We're loving the drama of the detachable puff sleeves that transform Moonlight Tango Style T931. This A-line gown perfectly captures the minimalist aesthetic we mentioned previously but also proves that you can amplify the look if you desire. If you prefer something a bit more whimsical, detachable bishop or lantern sleeves may be preferable, as in Moonlight Tango Style T937.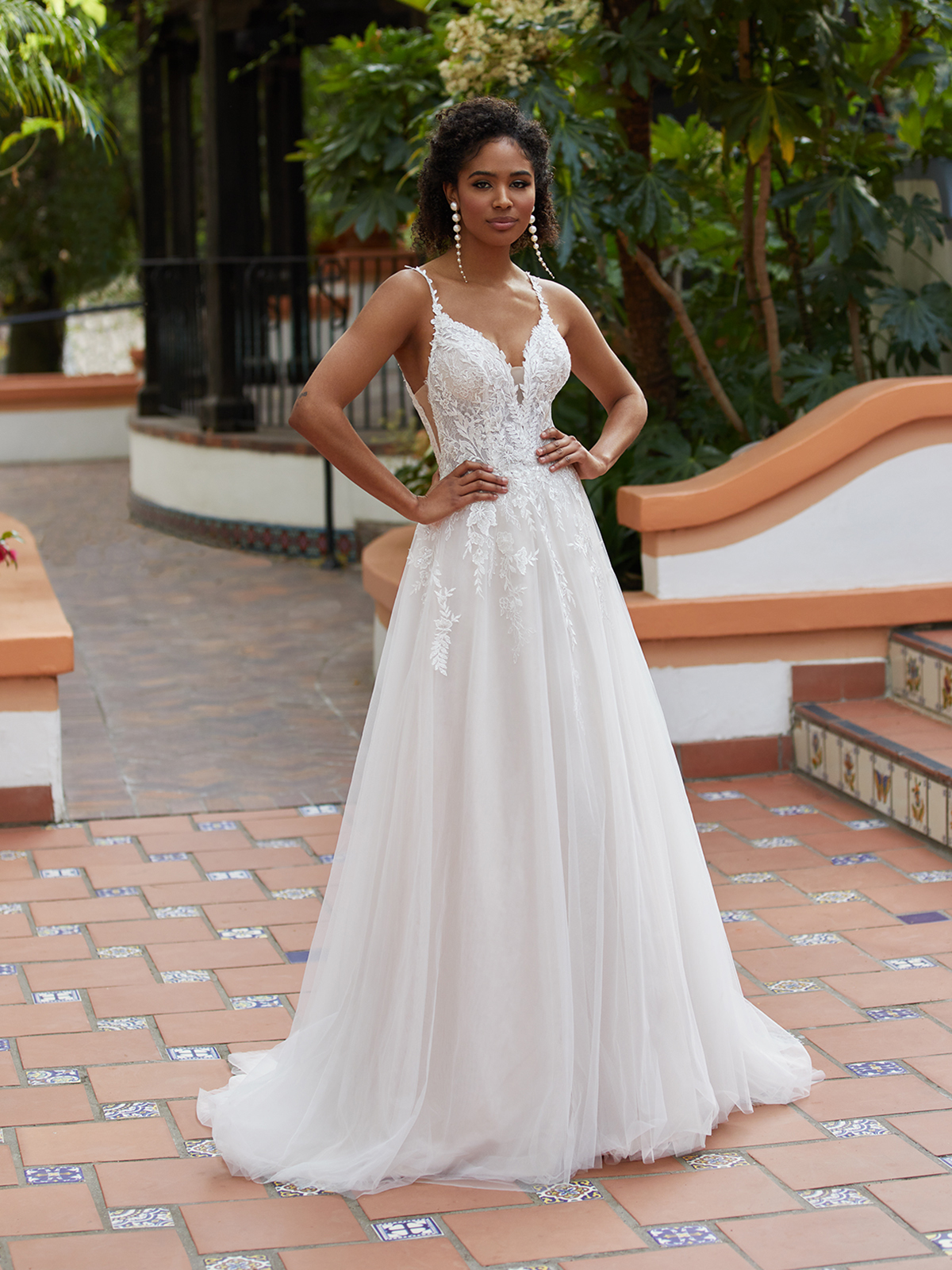 Strapless Scoop Necklines
When you picture an iconic strapless wedding look, which type of neckline comes to mind? Chances are, you instantly think of the sweetheart look that has been so dominant for so long. This style will be as popular as ever in 2023, but there's another option to contend with this year: the dramatic scoop neckline.
This strapless style is having a moment. The scoop neckline works best when paired with minimalist fabrics and silhouettes: think crepe, Mikado and satin. Style J6859 from our Moonlight Collection is the perfect example: its strapless neckline is simple, yet effective, and paired with a dramatic deep V-back.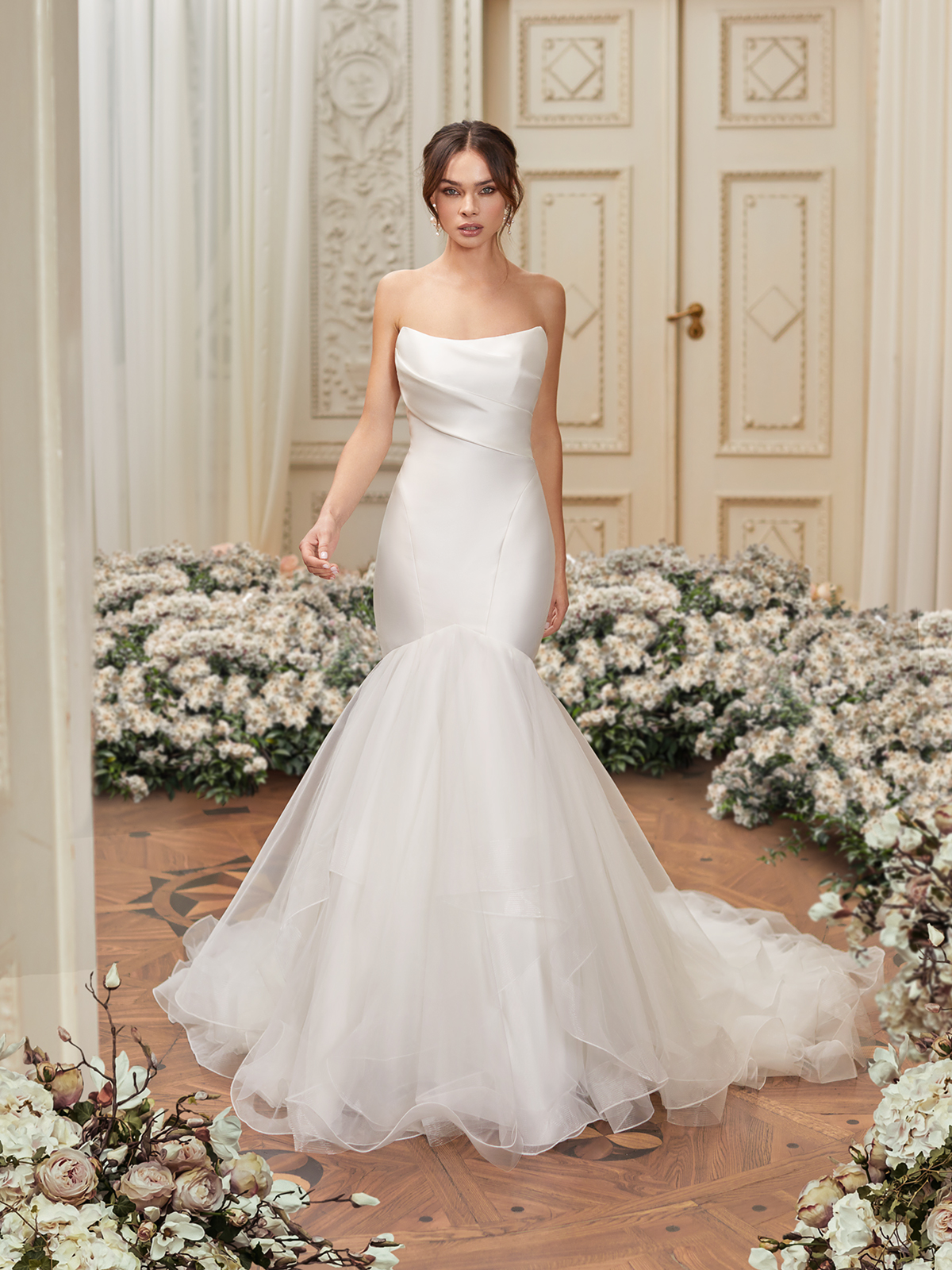 Pearls
Pearls have always been desirable for bridal fashion, but they aren't always dominant. That's about to change in 2023, especially as the term 'pearlcore' starts to take over among bridal designers and on social media. These delicate embellishments will cover new ground in the year to come, moving from classic dresses to bolder styles.
In 2023, many brides will use pearls in place of crystals, rhinestones, or sequins to add instant glitz. For others, pearls will continue to provide a subtle sheen.
The modern appeal of pearls can best be seen in Simply Val Stefani Style S2231: the Dakota A-line wedding dress. Featuring clean lines, this V-neck number keeps it simple for the bodice but adds the perfect amount of embellishment to the tulle skirt. This is where the pearls come into play: they're scattered throughout to add pizzazz to an otherwise sweet and simple style. There's no better way to combine classic and contemporary.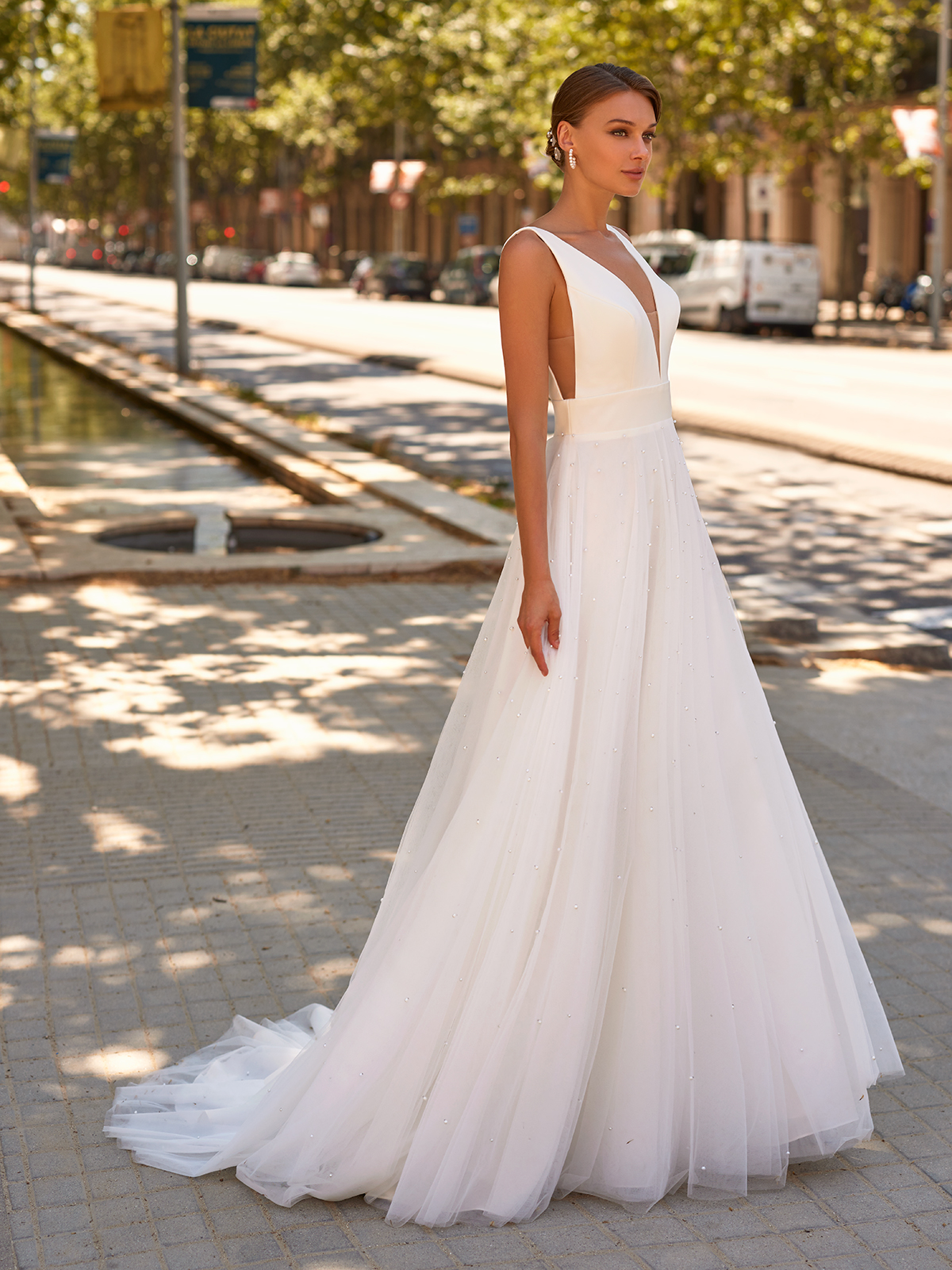 Discover Your Dream Bridal Gown in 2023
Whether you envision walking down the aisle in a fairytale dress or showing off your sultry side, you will quickly fall in love with the fashion-forward bridal wear of 2023. Take this opportunity to wow your guests and the love of your life on your big day. Anything is possible when you seek a gorgeous design that fits your personality.
Moonlight Bridal offers options for every type of bride, so don't hesitate to check out our vast selection. Browse our bridal collection online or visit one of our authorized retailers to learn more.