Describe Your Wedding Dress Aesthetics
How to Best Describe Your Wedding Dress Aesthetic
Name an aesthetic, and there's almost certainly a wedding dress to match it. From princess to rustic or even downright sultry, today's bridal gowns occupy every category imaginable.
This is both exciting and challenging: with so many factors to take into account, it's tough to know which wedding dress will make you feel your best as you exchange vows.
Fail to do your homework, and you'll almost certainly feel overwhelmed as you start trying on dresses and preparing for your big day. Thankfully, it only takes a brief overview to get acquainted with the full range of styles available.
To help, we've highlighted several of today's most popular wedding dress aesthetics, plus examples of these styles in action.
Find Your Wedding Gown Style
Struggling to define your preferred wedding style? You're certainly not alone; this is a common point of complaint for modern brides. With so many dress features, design types, and terms used in the wedding gown industry, starting the dress shopping process can be overwhelming.
Browse the descriptions below, however, and you'll quickly realize where your preferences lie.
Classic/Traditional
Terms like classic and traditional are often used to describe wedding dresses with features that have been popular for decades or even centuries. An example would be white or ivory dress fabrics.
That being said, different people have different interpretations of 'classic,' as styles have evolved so much through the years. What one person deems traditional, another may view as simply outdated.
Classic has come to mean modestly elegant, with simple and streamlined designs that aren't too form-fitting and don't show a whole lot of skin. The A-line gown dominates this category, although some sheath or even trumpet dresses may qualify.
Often, the classic appeal of a timeless wedding dress comes down to the train. This is the epitome of classic: it dates all the way back to medieval times, when the train helped brides to impress wedding guests. Because they required so much extra material, trains were viewed as luxurious. The length of the train was indicative of social standing, with only the wealthiest brides showing off ultra-long trains.
These days, cathedral trains are the most popular option for bringing traditional vibes to the forefront. Typically spanning around six or seven feet from the waist, these fulfill the original objective of this classic wedding dress feature: to make a visual statement and get guests oohing and ahhing.
If you'd like to blend traditional and modern styles while maintaining a timeless look, you'll adore Moonlight Tango Style T938. This gorgeous Mikado dress is striking in its simplicity, featuring a scoop neckline, a sweep train, and floral lace appliques along the illusion bateau back.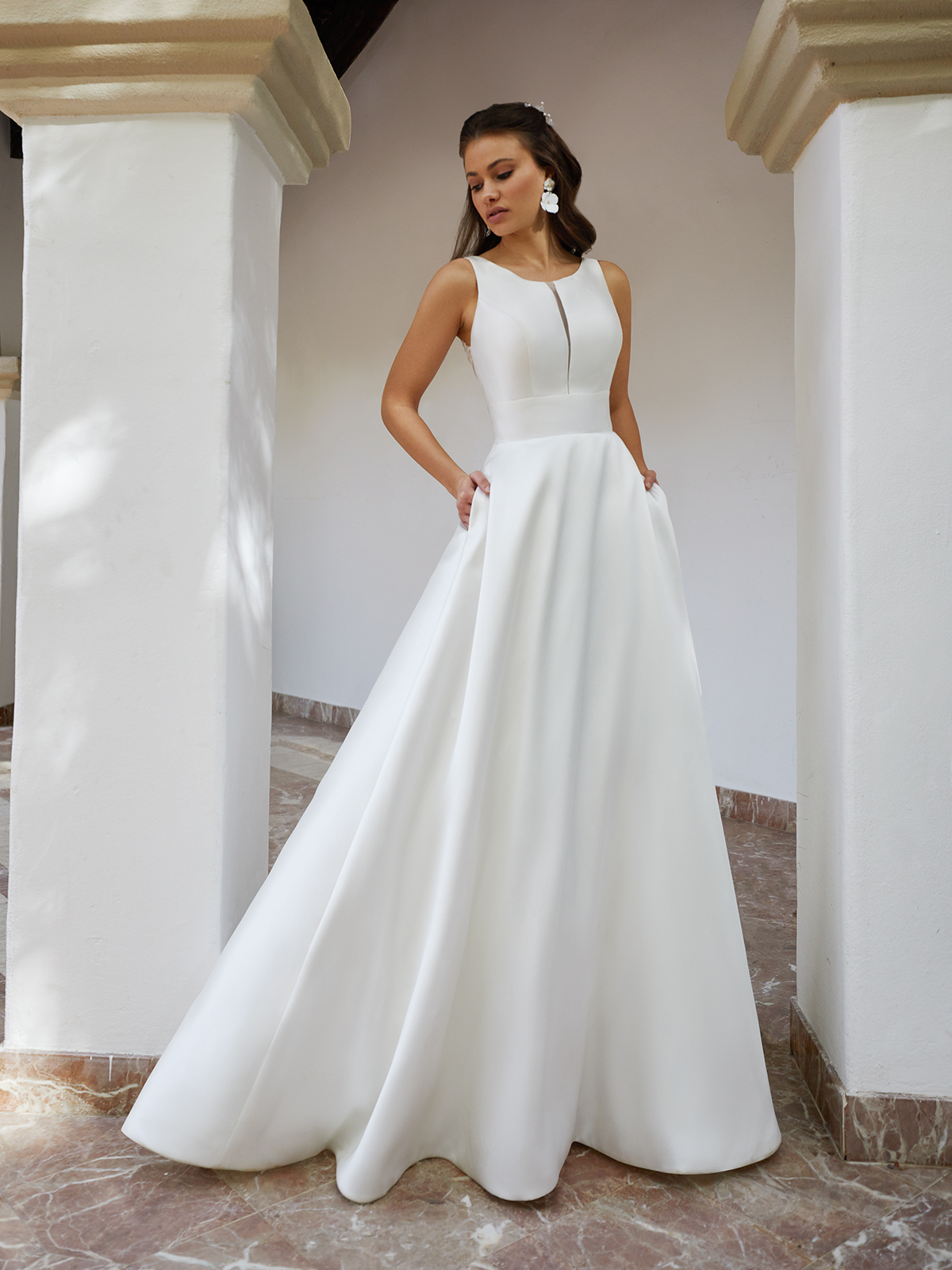 Princess/Fairytale
The princess aesthetic has a lot in common with the classic styles described above, but gowns go bigger and bolder with full skirts and glitzy details. The term 'princess' is often used to describe a specific silhouette, in which a fitted top is combined with a voluminous skirt. Also known as a ball gown wedding dress, this fit-and-flare design accents the waist and can obscure the lower body, if desired. The skirt is typically constructed from organza, tulle, or taffeta.
It's possible to pull off a princess style with an A-line, as evidenced by Moonlight Couture's Style H1484. Featuring gorgeous layers of tulle and a cathedral train, this captivating number adds a dose of whimsy with a display of leaves at the torso, plus beaded straps and an open back.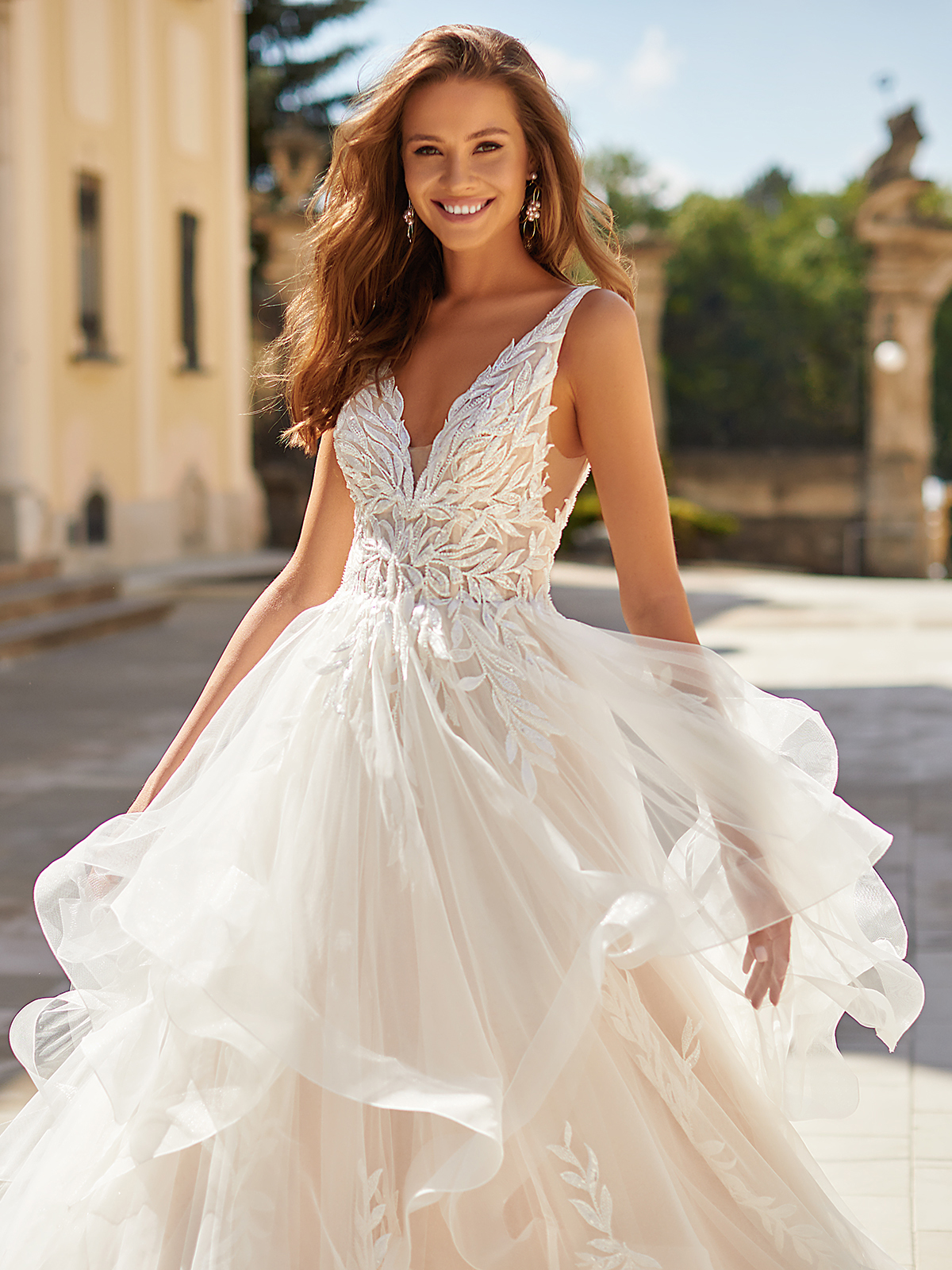 Bohemian
Free-spirited brides play up their personality with Boho chic wedding dresses, which typically have a breezy fit and a pared-down feel. Fitted styles can also work wonders, with many Boho brides taking on sensual mermaid silhouettes. The goal is to feel as light and carefree as possible. This is a great style if wedding stress is starting to set in; you'll be amazed by how the right gown can impact your state of mind.
While many materials can contribute to the ethereal appeal of a Boho dress, few accomplish this quite like lace or embroidered net. Simply Val Stefani Style Sara delivers serious drama with its Guipure lace fabric, nude net material, and sequin design.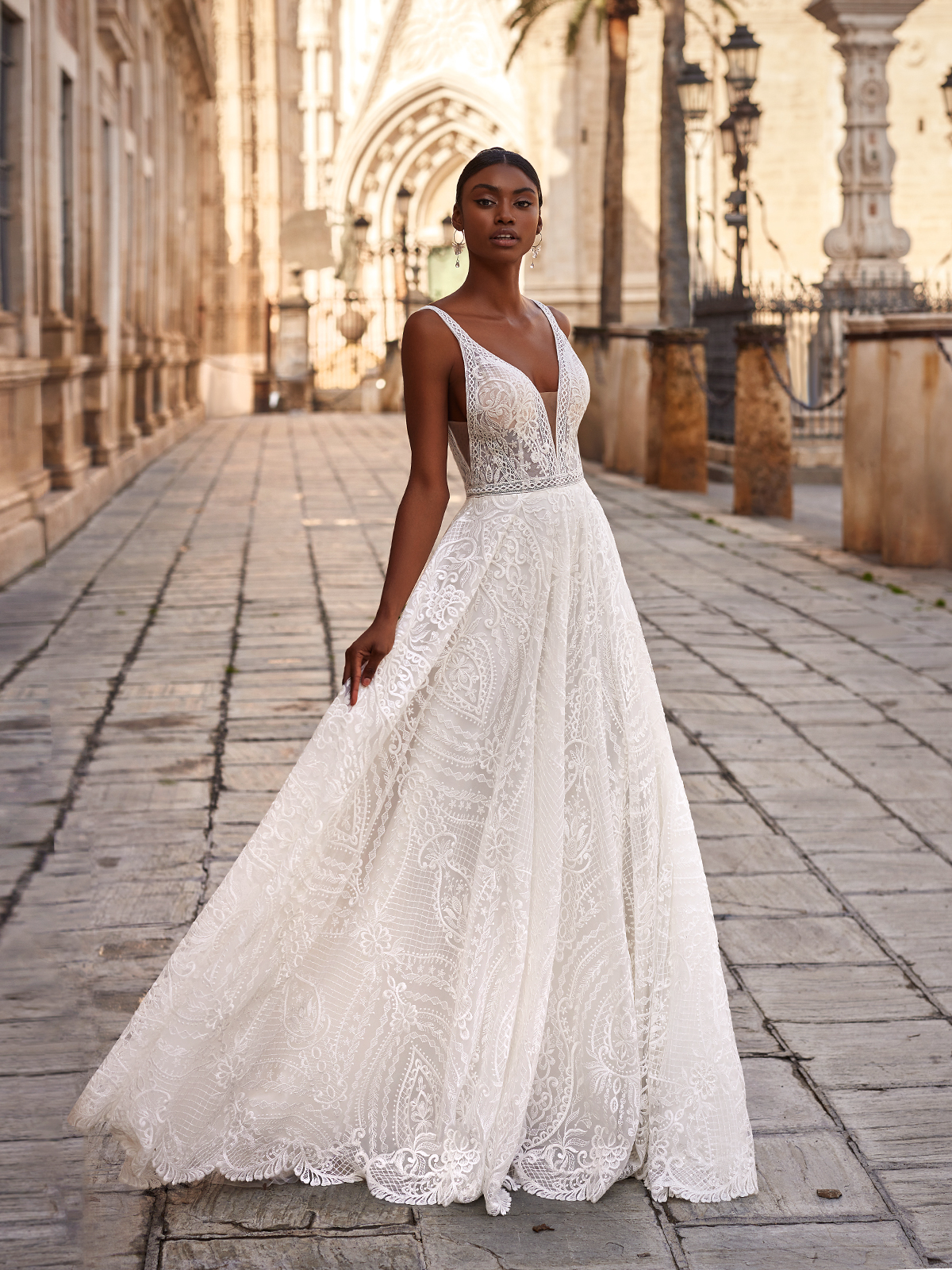 Minimalist
Simple can be beautiful, as evidenced by today's most impactful minimalist dresses. These gowns skip the ornate details and, instead, focus on clean lines. Streamlined looks reign supreme, with geometric accents played up to great effect. Square and high necklines are favored over sweethearts, complemented by simple cap sleeves. Wide straps and strapless dresses are also popular.
While minimalist styles are often defined by what they lack, this makes selecting the right material even more important — a lot of attention will be called to it, so there's no hiding shoddy craftsmanship.
Crepe is a minimalist go-to, and for good reason: this wonderfully smooth material is figure-flattering and certainly doesn't need ornamentation to look glamorous. Moonlight Tango Style T991 is crafted with luxurious crepe-back satin and paired with off-the-shoulder sleeves and a trendy leg slit.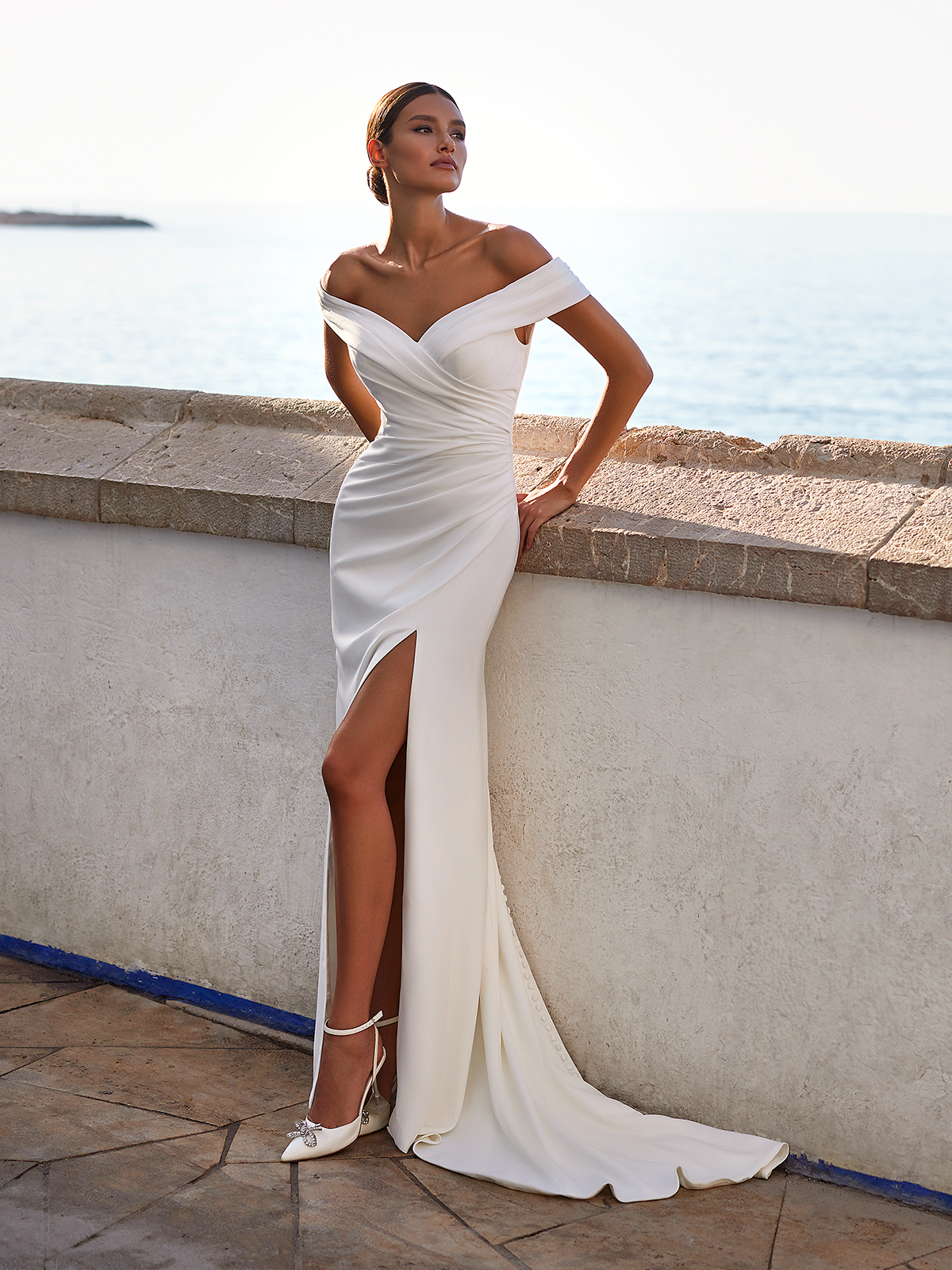 Mikado is another excellent option that feels modern but actually has a long history. Satin wasn't as popular for some time but has made a much-deserved return; it's now favored as a minimalist material for a slip-style wedding dress.
Sultry
While many dresses can make brides feel downright sensual, few accomplish this quite like the sultry mermaid silhouette. Fitted through the hips to show off every curve, a mermaid gown can make any bride feel alluring. Showing skin is certainly not necessary for this bridal look, although a corset-style, deep V-neck, or open back can bring sultry appeal to any dress.
There's often a great deal of overlap between minimalist and sultry aesthetics, which are both well-suited to clean lines and sparse ornamentation. Sultry styles may add a bit more embellishment than their strictly minimalist counterparts, but they still tend to focus more on providing a figure-flattering fit than on adorning materials with lace, stones, or sequins.
Few designs capture the essence of the sultry bridal concept quite like Style J6826, part of our Moonlight Collection. While it features intricate details along the bodice, these never feel overpowering. Instead, this dress shines with its ability to showcase every curve with its soft regal crepe material.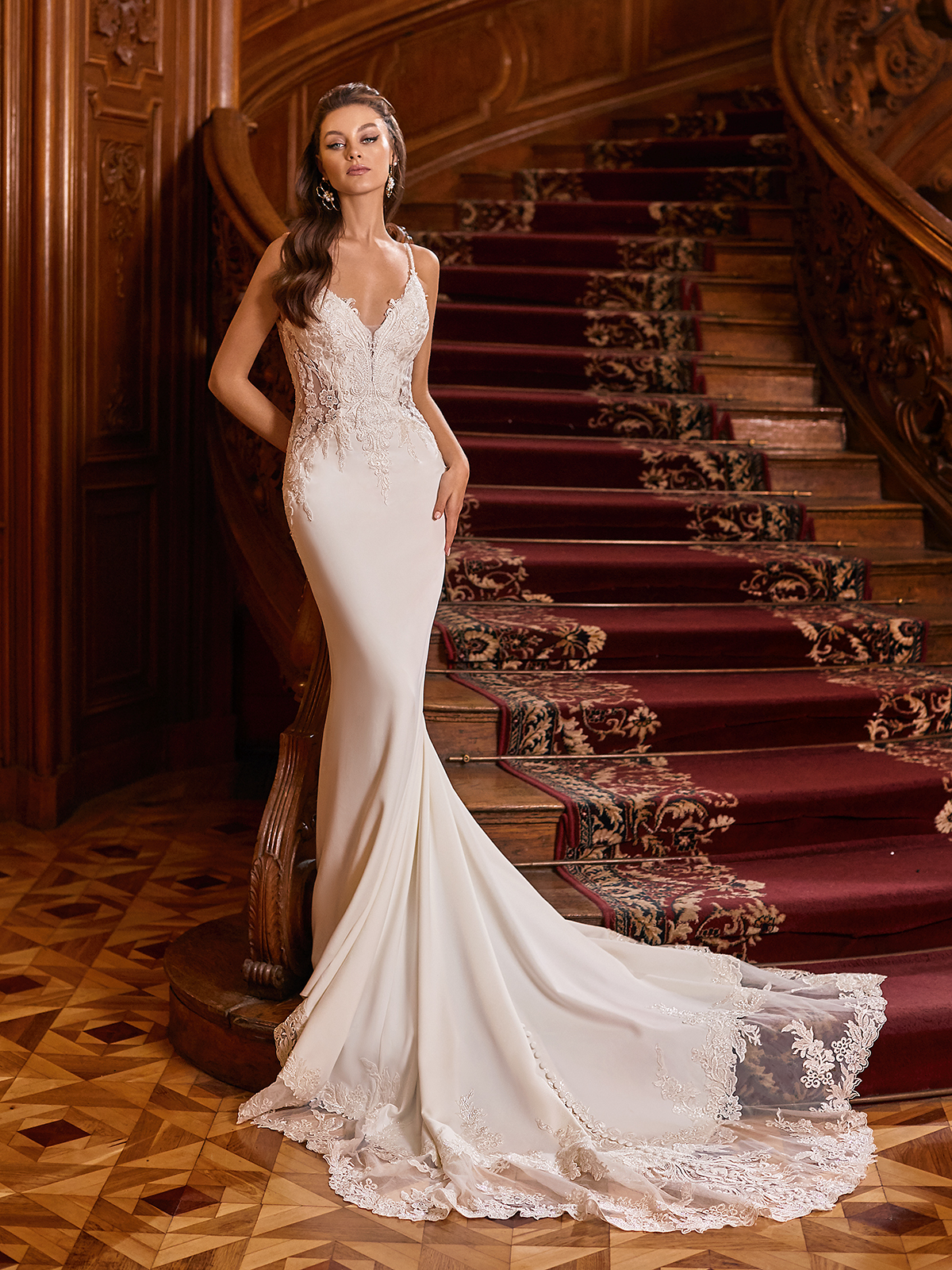 Couture/Glam
Many wedding dresses can make brides feel sophisticated, but couture gowns take this concept a step further. This category references extra-luxurious designs that give the perception of being tailored specifically for the bride in question. Key features are often hand-sewn or hand-beaded, giving couture dresses an exclusive, Old Hollywood look.
Couture dresses are also noteworthy for their upscale materials, which are carefully sourced. Silk is arguably the most expensive and admired option, but Chantilly and other high-end laces may take a close second.
While a minimalist take on couture is possible, this aesthetic is more frequently heavy on the details. Such is the case with Moonlight Couture's Style H1503, which brings princess glam to the forefront with lovely layers of beaded and sparkle tulle.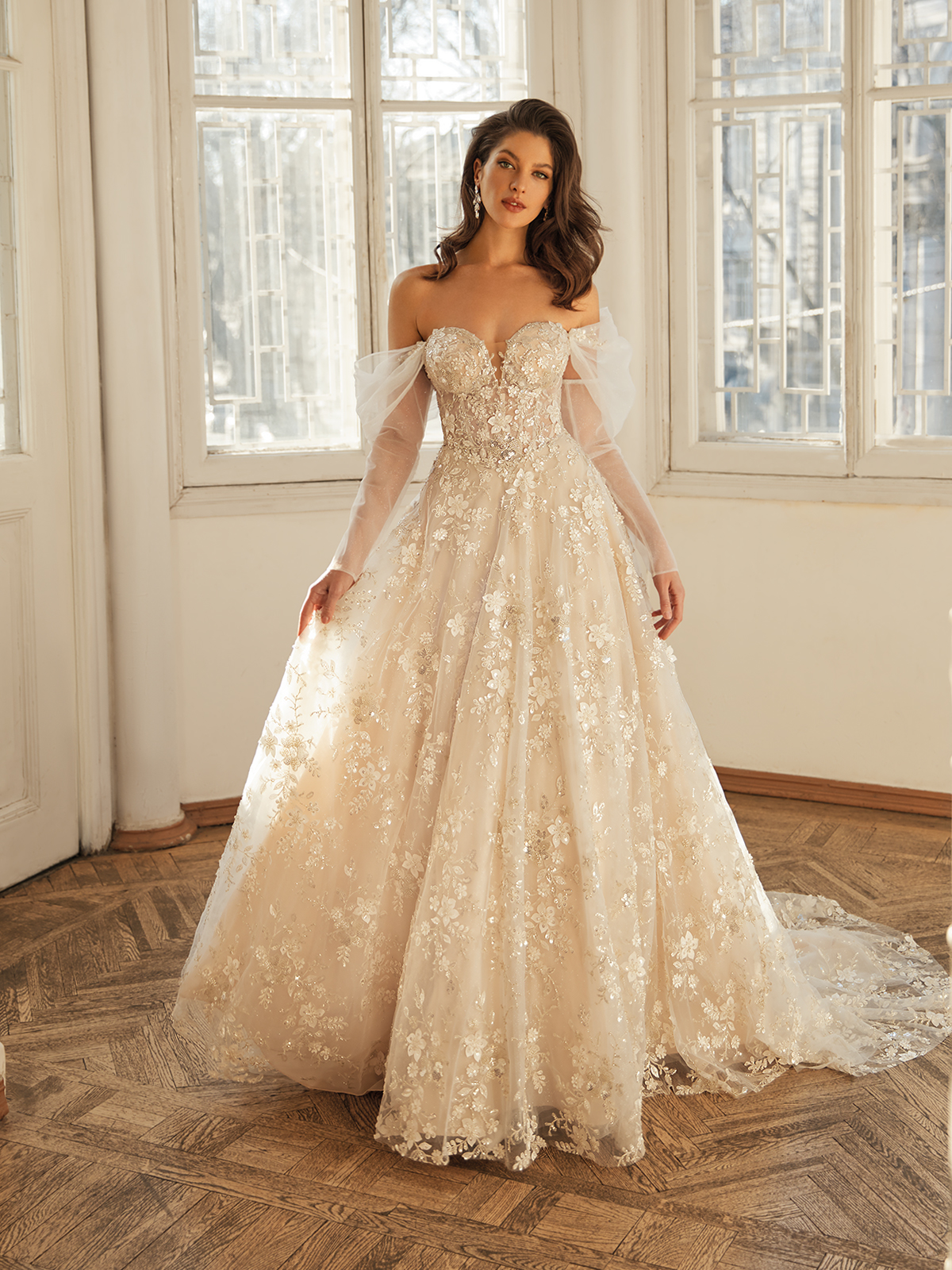 Rustic/Cottagecore
A huge trend on TikTok during the pandemic era of small weddings, cottagecore continues to have a strong following to this day. This often laid-back style favors simplicity, although intricate elements are by no means left out. Floral appliques or other outdoorsy features can be played up, along with fun accessories like crowns of flowers. These dresses are well-suited to cozy weddings — especially outdoor events with woodsy or mountainous backdrops, or those held within charming chalet-style structures.
If any adjective describes cottagecore, it's whimsy. From puff sleeves to floral embroidery, there are many ways to bring rural charm to the forefront. This style can blend rustic elements with other aesthetics, as seen in Simply Val Stefani Style Rosalia. This gorgeous gown makes the most of both cottagecore and fairytale styling to create a magical look, complete with long bishop sleeves featuring lace trim and a leg slit that reveals a hint of lace.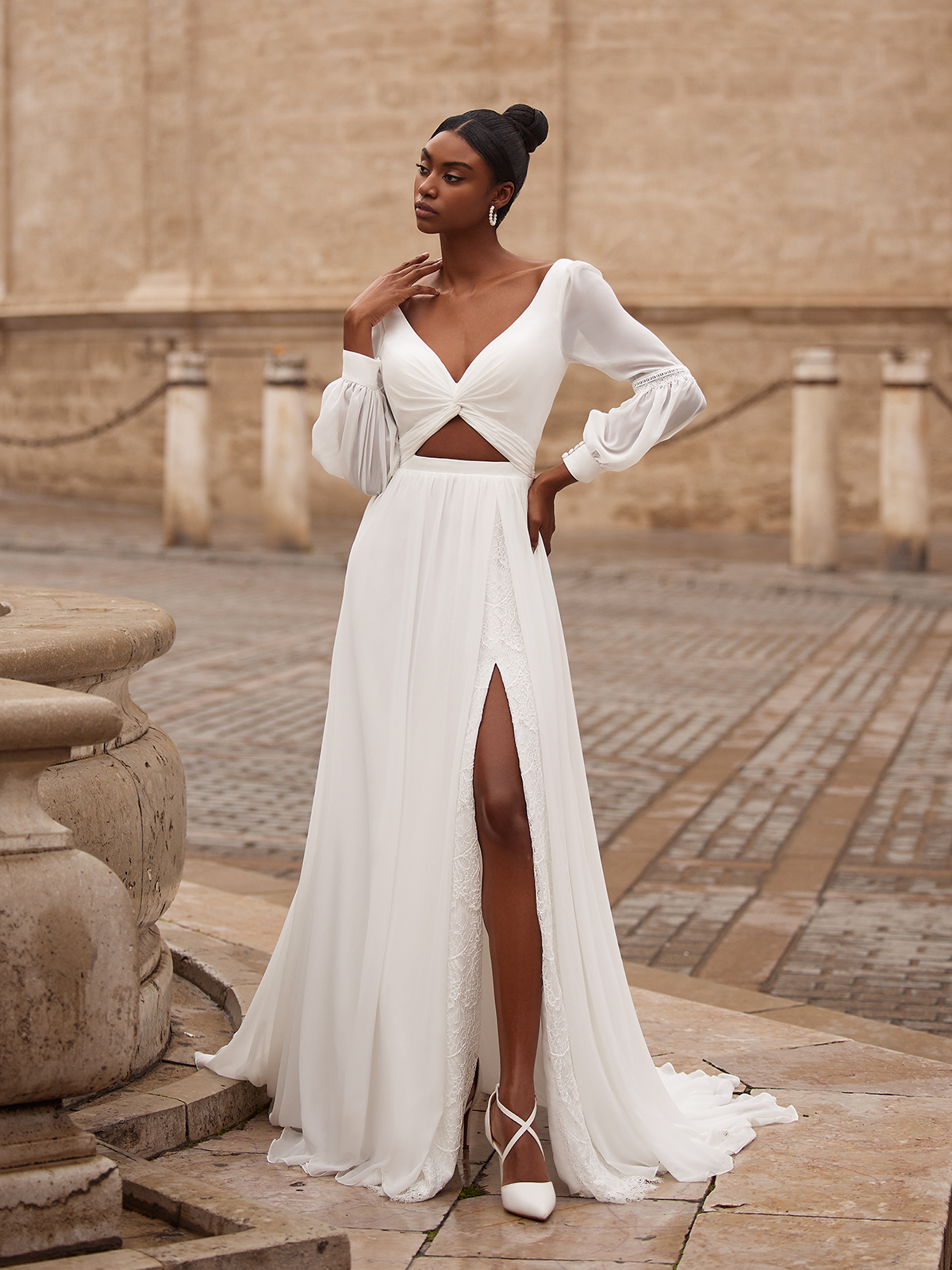 Modern
The modern aesthetic is challenging to define, in part, because our perception of modern is constantly changing. What feels fresh now will change over time — and that's perfectly okay. You're welcome to play with trends, but ultimately, the modern aesthetic encourages you to select a daring look that's true to your personality.
Modern and minimalist styles are strongly associated, but they aren't one and the same. Often, modern designs add unexpected concepts. One-shoulder or asymmetric dresses, for example, make an instant statement and are a big hit among fashion-forward brides. Others prefer to skip wedding gowns altogether, and instead, wear bridal jumpsuits.
These days, unexpected sleeves are a big deal. Moonlight Tango Style T982 proves just how far you can take this trend, adding a leg slit and detachable poet sleeves to a memorable mermaid gown decked out with opalescent pearls.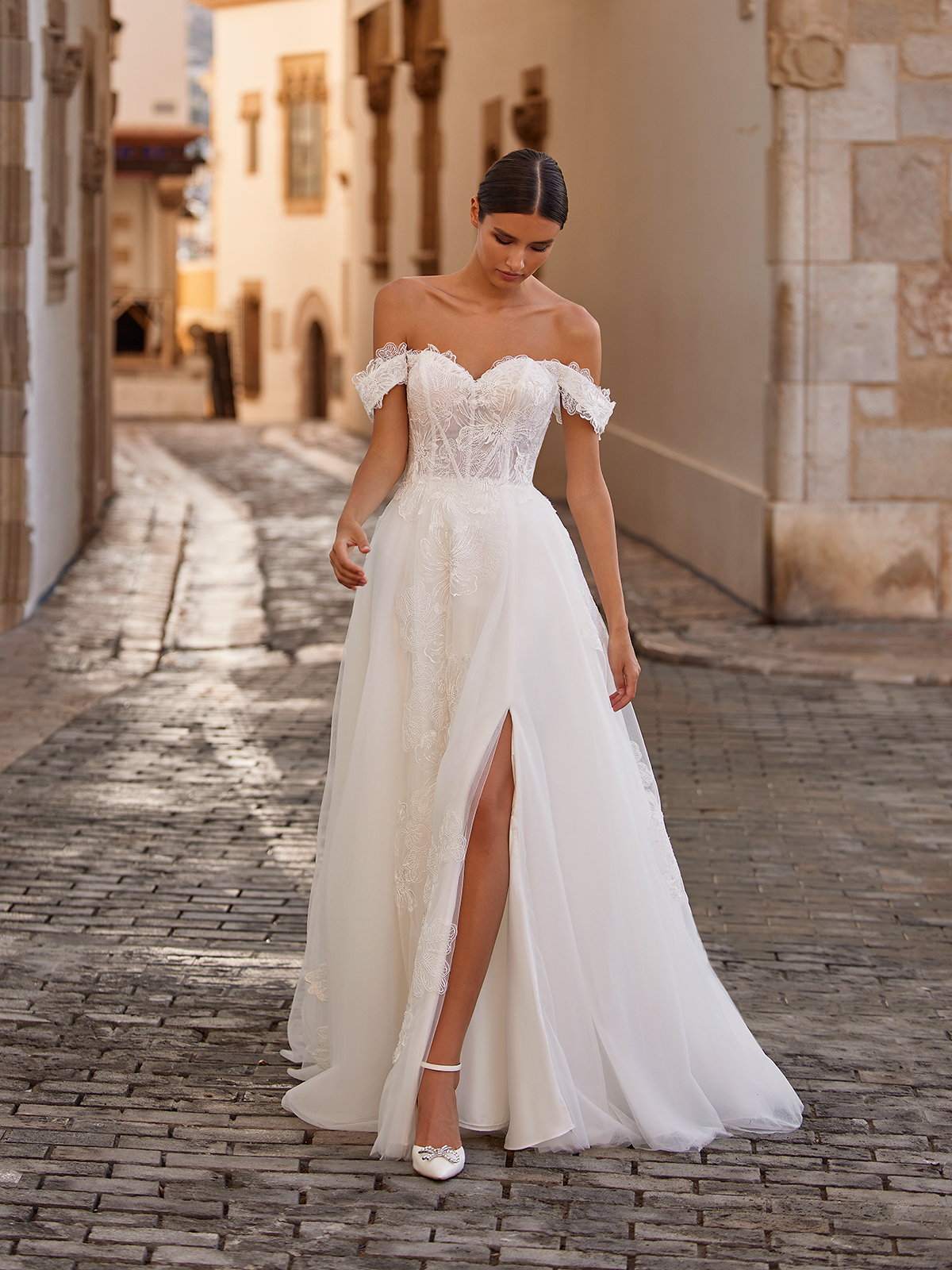 Romantic
Weddings are all about romance, so it stands to reason that you would want your bridal dress to give you that head-over-heels feeling. The right details will have you swooning over your romantic gown, with lace, in particular, elevating your look. Intricate Chantilly lace has long been synonymous with romance, but it's certainly not the only feature that will make you swoon.
Technically speaking, every dress on this page qualifies as romantic in its own special way. That being said, the right silhouette or neckline can amplify this effect. The appropriately named sweetheart neckline is always a winner, especially if paired with an A-line gown. Off-the-shoulder sleeves provide a swept-off-your-feet effect, while floral details provide instant charm.
We're obsessed with Val Stefani Style Princess, a gown that plays up the romance with lace long sleeves and sparkle tulle, plus a cathedral train that will make you look as if you're floating down the aisle.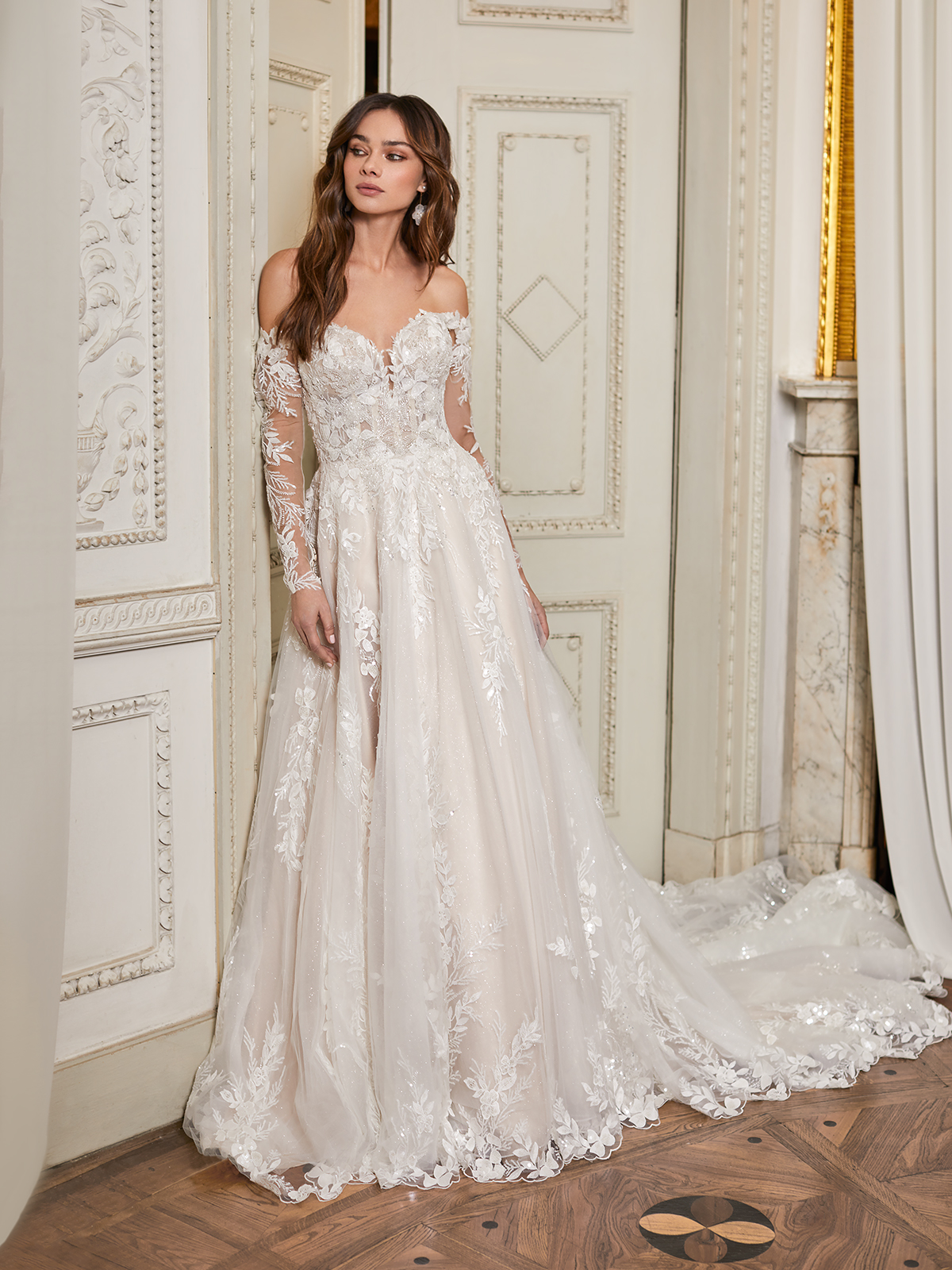 Black Wedding Gowns
The styles described above cover almost every category imaginable, but if you look closely, you'll notice that one key feature ties them all together: color. While the origins of the white wedding dress have been laid to rest, this remains the dominant hue. Ivory and cream bring some variation, but not every bride wants to don a light color.
If you prefer a more daring design, you'll be thrilled by the ever-expanding collection of black wedding dresses. Sophisticated, edgy, or figure-flattering, these showstoppers will never fail to defy expectations.
Moonlight Collection Style J6852 is a black Mikado dress that provides plenty of contemporary flair. This design wows with its clean lines and front slit, which add a sense of drama to the otherwise classic A-line silhouette.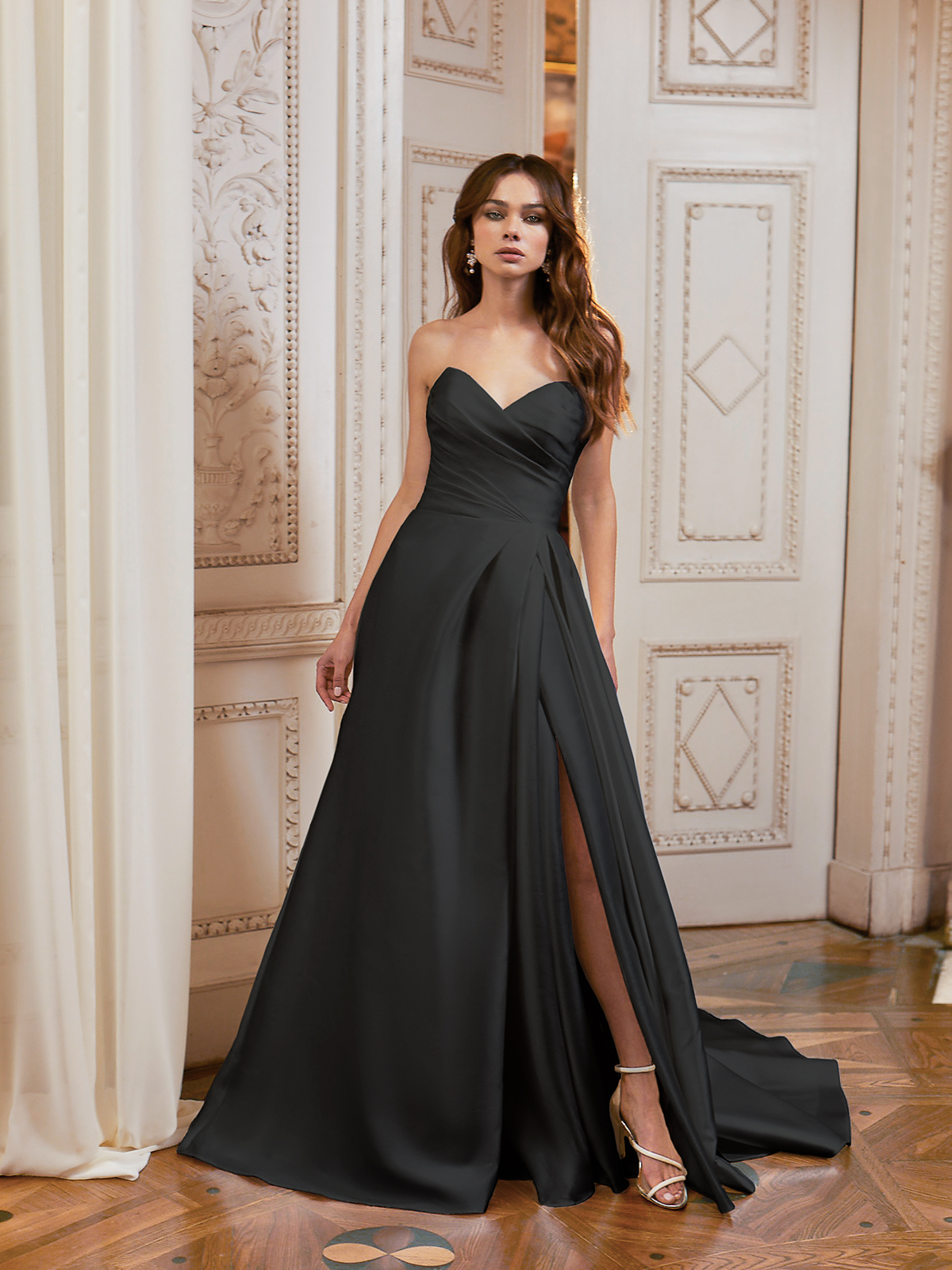 Find Your Dream Dress
Casual browsing can be a lot of fun — and it can help you uncover what you truly want from your dream bridal dress. Here at Moonlight Bridal, we're pleased to offer a wide selection, so you should have no trouble finding a style you adore.
Check out our vast range of gowns online, or visit one of our authorized retailers to take the next step towards bridal perfection.