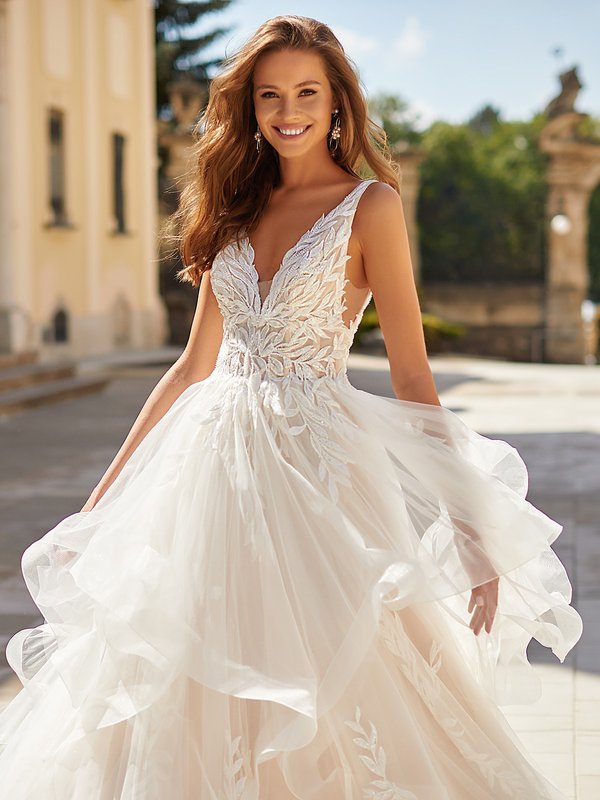 Style H1484
Sparkle Tulle Full A-Line Cascade Skirt Wedding Gown
Be absolutely positive that you are not only the belle of the ball, but you become the talk of the entire town once your closest friends and family members see you strutting down the aisle wearing Moonlight Couture's captivating style H1484. Everything about this style is regal. This sparkle tulle and beaded leaf lace A-Line bridal gown speaks to your inner princess within you that loved to play dress up and fantasize about marrying her prince charming. The upper portion of the design features an unlined bodice with a deep V-neck, illusion inset and absolutely stunning beaded lace. The patterning around the torso and shoulder straps mimic a sensual display of leaves that then cascade gracefully from the waistline into a flared skirt composed of sparkling tulle embellishments and more beaded lace appliqués. The full silhouette is incredibly flattering as each layer flows effortlessly like water into a cathedral train and when you walk you'll look like you're floating on a cloud. Can you hear Doris Day or Ella Fitzgerald singing the 1931 hit song, "Dream A Little Dream of Me?" We sure can and everyone else will too when they see the breathtaking and angelic woman you have transformed into while wearing this gown. Let everyone's admiration border on envy as you confidently stroll up to your favorite person in the entire world wearing this magnificent masterpiece. Available in three captivating color options: Ivory/Cashmere/Rose, Ivory/Ivory/Ivory or White/White/White.
Net/Sparkle tulle/Rose net
Ivory / Cashmere / Rose, Ivory / Ivory / Ivory, White / White / White
Yes, you are ready. Yes, you are going to be the woman who is the reigning beauty that everyone can't stop staring at in admiration. And yes, you are going to announce your wedding vows for your partner, your friends, and your entire family to hear. Now let's help make sure your gown is 100% a Yes. You know the one that makes you feel like a supermodel and the luckiest girl in the world. It's almost guaranteed that the flattering A-Line with a bedazzling deep V-neckline, mesmerizing flared skirt and almost heavenly train will make you confidently say Yes to this dress. However, if you still aren't convinced, find an authorized Moonlight Bridal retailer with our Store Locator tool or look for a Trunk Show coming to a city near you for more options. We can't wait to help you find the perfect wedding gown to wear that will inspire you to sing or scream, YES!!!
Join Our Mailing List
Please enter a valid email!
Thank you for joining our Mailing List!
You'll now get news and updates in your inbox from Moonlight Bridal.