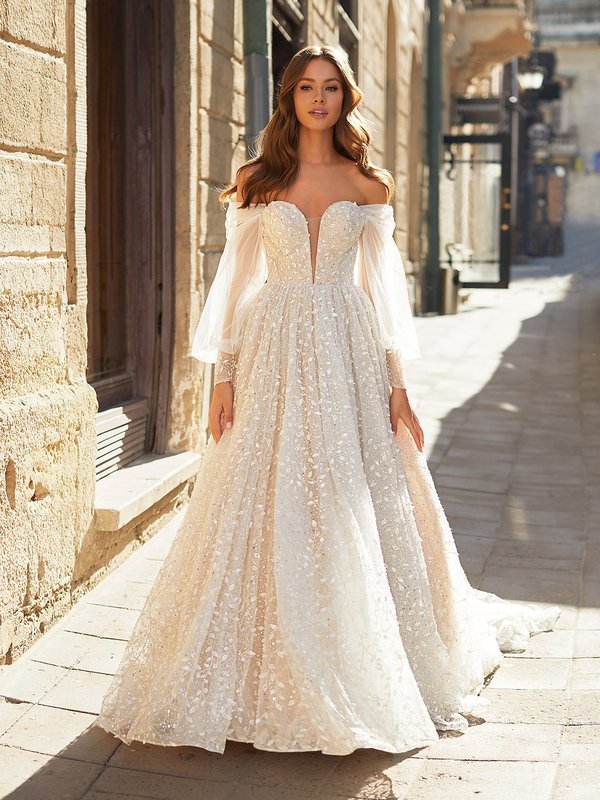 Style H1482
Whimsical Detachable Off the Shoulder Bishop Sleeve Ball Gown
To call this a princess dress may be slightly misleading given its ethereal and mesmerizing design is better suited for a queen. Fall whimsically in love with Moonlight Couture's Style H1482. This beaded and embroidered tulle ball gown with detachable off the shoulder bishop sleeves turn your storybook wedding into a reality. The strapless sweetheart neckline with an illusion inset will capture the envy of onlookers, whereby your lover will noticeably beam with pride. To further accentuate the delicacy of details, the embroidered and beaded fabrics are continuous from front to back to ensure the entire gown sparkles with absolute elegance. The open back with a subtle v-line will seductively showcase your more playful nature, while the detachable bishop sleeves with beaded cuffs will add the reputable essence of royalty. Whether your special day is to be held at a Victorian church, traditional banquet hall with crystal chandeliers, or Napa Valley vineyard, you can guarantee that the venue won't matter when you walk down the aisle wearing this dress. Time will magically stop and everyone plus everything around you will begin to glow because in that moment your fairytale will be coming true. Let the tale of your love affair begin with the phrase, "Once upon a time…" And step into your happily ever after. Shown in the Ivory and Latte color combination and also available in solid Ivory for a more traditional look.
Detachable long sleeves INCLUDED
Embroidered beaded tulle/Sparkle tulle
Ivory / Ivory / Ivory, Ivory / Latte / Nude
Once upon a time there was a young woman with eyes that captured the sunrise, skin that mirrored seamless alpine lakes, and a smile that mimicked the most gorgeous landscapes on earth. Although her beauty was recognized by everyone she met along the way, she was blind to it until the day she met her prince charming. His ability to help her see the greatest truth of her existence was undeniable, and vice versa, thus the two quickly became inseparable. One bright and cheery afternoon they announced their devotion to one another and, as you can assume, they lived happily ever after. Your fairytale has only just begun and Moonlight Bridal can help you write your wedding chapter. Use our Store Locator tool to find an authorized retailer or look for a Trunk Show coming to a city near you for more inspiration. We can't wait to help ensure your wedding dreams become a reality you'll never forget.
Join Our Mailing List
Please enter a valid email!
Thank you for joining our Mailing List!
You'll now get news and updates in your inbox from Moonlight Bridal.