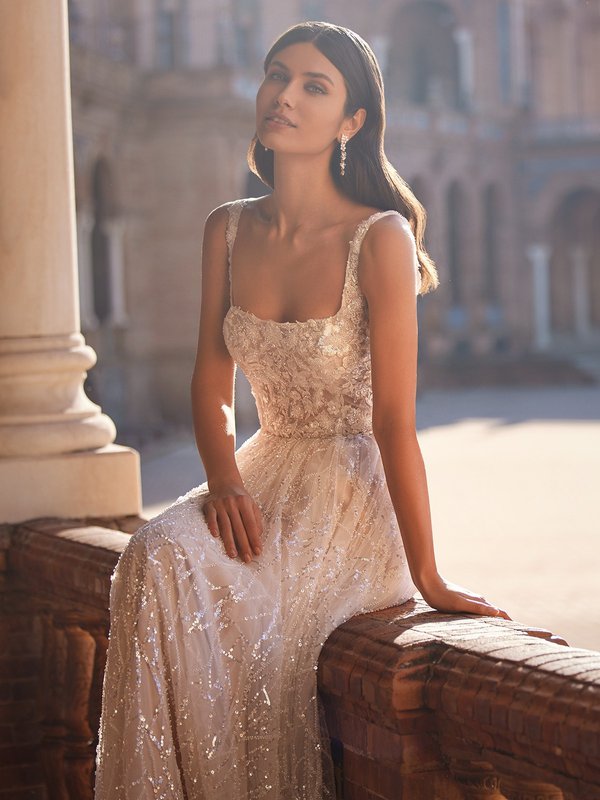 Style H1542
Embroidered Lace and Beaded A-Line Dress with Square Neck
Covered in crisscrossing curved lines and embroidered lace appliques dripping in glass beads and silver sequins, Moonlight Couture style H1542 is all about the sparkle! It doesn't matter if you're exchanging vows at sunset, if you plan to mix and mingle with guests by candlelight during cocktail hour, or you dance the night away under glittering lights, this Moonlight Couture Collection dress will ensure you look like the glowing bride you have always dreamed of being. The square neck, straps, and unlined bodice feature overlapping embroidered lace appliques bestrewn with textural flower petals and leaves. Hints of swirling lines covered in glass beads and silver sequins peek out in between all that lace on the bodice before dramatically covering the tulle on the A-line skirt and semi-cathedral train. All these modern lines make this gown the perfect choice for an industrial wedding, but its swirling lines and beaded rows are reminiscent of nature, making it perfect for beach, forest, and garden brides too. If you love traditional bridal style, choose this dress in all ivory. If you want a modern color combination that allows every detail of the beading and embroidery to shine through, opt for style H1542 in ivory, latte, and nude as shown or a classic ivory color option.
Embroidered beaded tulle/Nude net
Ivory / Ivory / Ivory, Ivory / Latte / Nude
All brides sparkle and shine from the inside on their wedding day, but you can sparkle from the outside too in this Moonlight Couture Collection style! This A-line gown features a skirt and semi-cathedral train with dainty lines of glass beads and silver sequins. A daringly deep V-back plunges all the way down to the drop waist, while a square neckline gives the dress a slightly historical look without looking dated. The entire unlined bodice is bestrewn with embroidered lace appliques that are enhanced with glass beads and silver sequins that ensure you sparkle and shine from every angle, all day and night. The only way to truly appreciate the glitz and glamour of this dress is to see it in person. Use Our Store Locator to find an authorized Moonlight Bridal retailer near you and schedule an appointment to see if style H1542 is the one you want to wear when you say, "I do".
Join Our Mailing List
Please enter a valid email!
Thank you for joining our Mailing List!
You'll now get news and updates in your inbox from Moonlight Bridal.