Wedding Dress for Tall Brides
Wedding Gown Styles for Tall Brides
Every bride deserves to feel gorgeous on their special day. With some body types, it may feel intimidating to find a dress that fits properly and looks on-trend. Tall brides, for example, may struggle not only with hemlines, but also, with poorly-fitting bridal gowns that are either unflattering or uncomfortable.
The good news? This is far from inevitable — there are actually several dress designs that work spectacularly for tall brides. We've highlighted a few below, as well as suggestions to help you find the dress of your dreams.
Style & Silhouette Ideas for Tall Brides
From daring mermaid gowns to classic A-line wedding dresses, tall brides can pull off a variety of bridal looks. It all comes down to preferences: do you want to accentuate your height or balance your proportions?
Don't assume you have to sacrifice your personal style to find something with the right fit. Confidence is always the best look for a bride. Still, certain styles tend to work better than others when you're taller than the average bride. When in doubt, opt for one of these tried-and-tested dress silhouettes we discuss below.
Mermaid
Form-fitting and notoriously sensual, the mermaid gown is a great choice when you want to look and feel alluring on your wedding day. This silhouette works wonders for brides with long legs and short torsos, as it visually lengthens the upper body.
We're especially fond of Moonlight Collection Style J6826, a regal crepe mermaid gown which features a universally flattering sweetheart neckline. Glass beads and sequins make this glamorous wedding dress sparkle, while illusion cutouts and a deep V-back should make brides feel extra daring.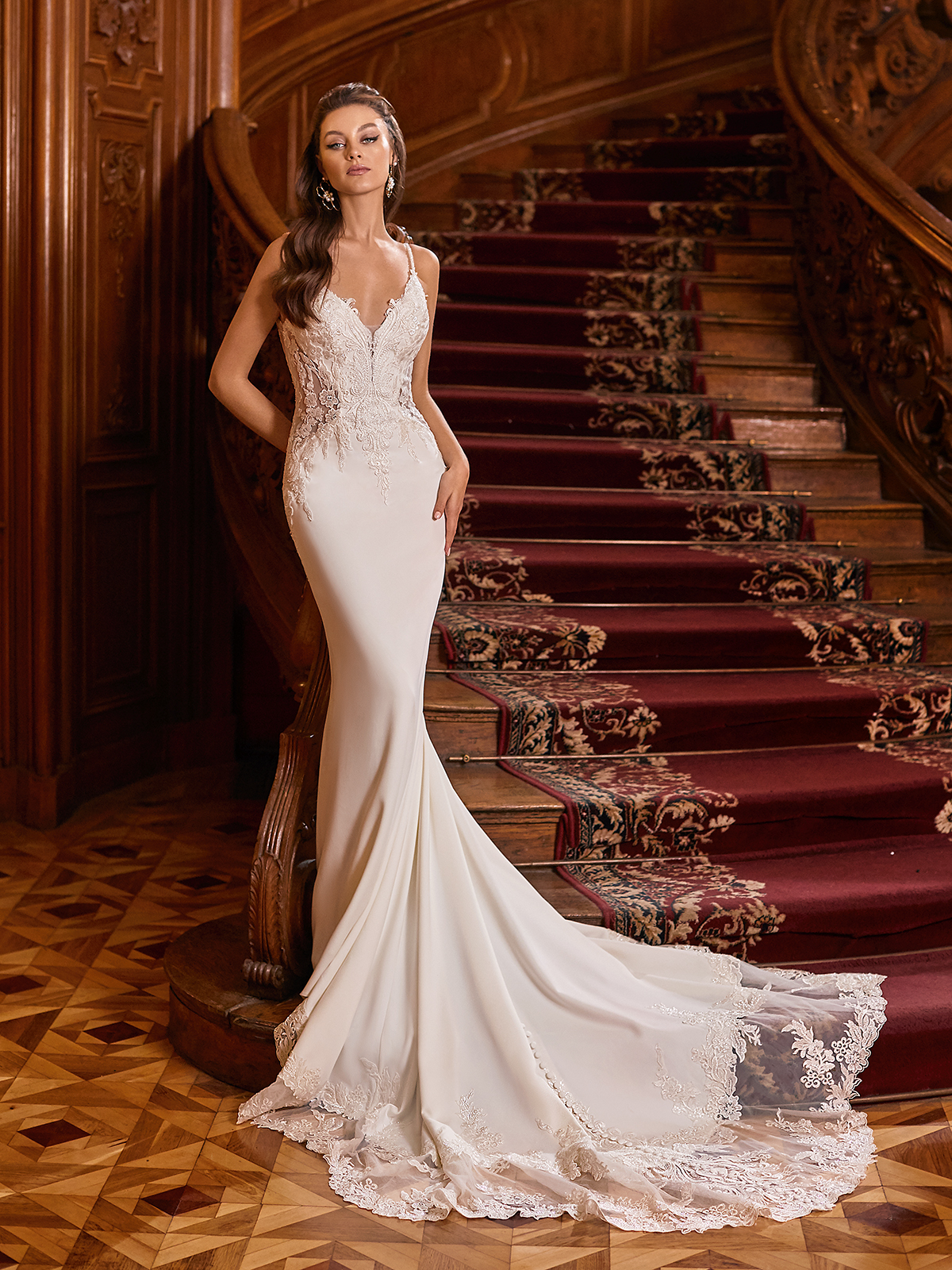 A-Line
Universally figure-flattering A-line gowns are always a safe bet — tall brides included. This iconic style begins with a closer fit near the bust before flaring out slightly to create a triangular shape.
If you want to add a little edge to this style, play up unique elements like beaded black lace, as featured in Moonlight Couture Style H1477. Delivering plenty of drama, this stunner of a dress has bold foliage-inspired details that will stand out even more when amplified by a tall frame.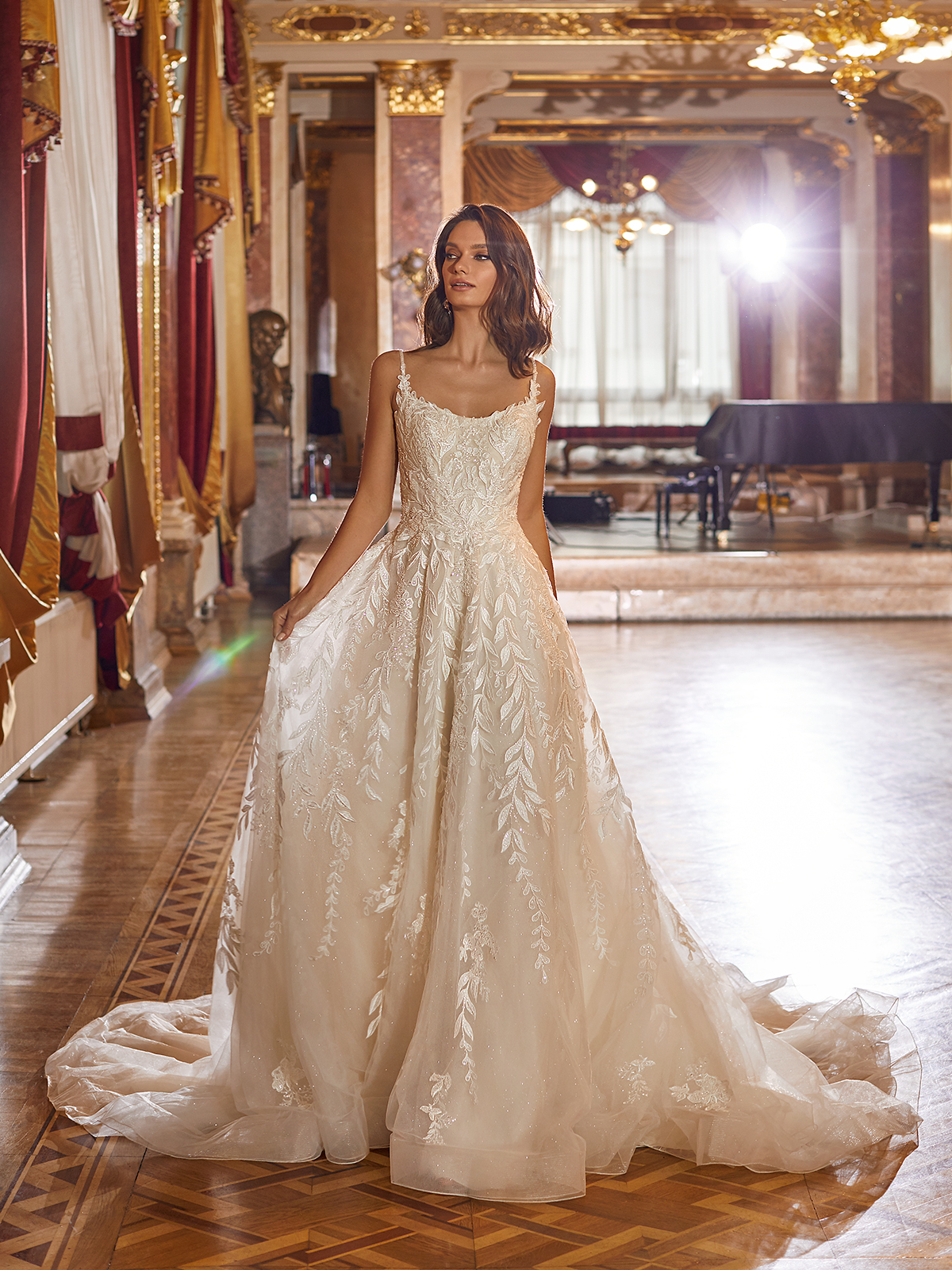 Backless
Another great option for brides with longer legs, open back wedding dresses feel downright daring but can also prove surprisingly modest. These modern backless styles span a wide range of aesthetics, including everything from minimalist or contemporary dresses to boho chic and even princess ball gowns.
Blending the best of backless drama with iconic A-line proportions, Moonlight Tango Style T965 will have tall brides show off feminine details such as embroidered foliage and shimmering floral lace appliques.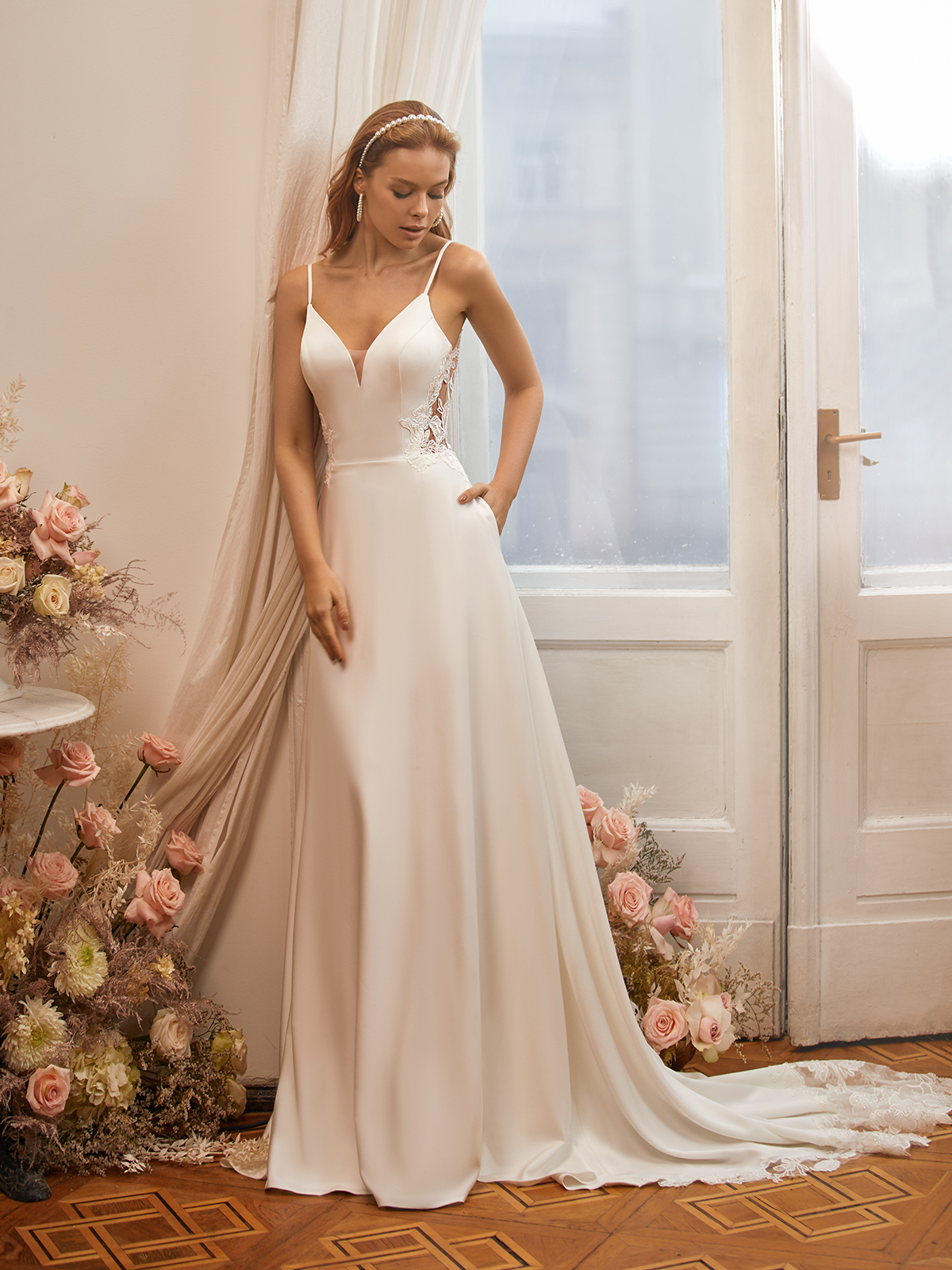 Sheath
Sheaths are a preferred choice among shorter brides because they enhance the perception of height — so you might wonder: why include them on this list?
While it's true that some tall brides prefer to avoid anything that appears to make them seem taller, there's absolutely nothing wrong with taking pride in — or wanting to accentuate — your height. If this is the goal, a sheath style will be your go-to aesthetic. Fitted to flatter but definitely not clingy, this streamlined style spans the divide between classic and modern.
Necklines to Consider
Once you've selected the perfect silhouette, it's time to choose an accompanying neckline. This can help you direct attention as you see fit and will also play heavily into your gown's general vibe or aesthetic.
V-Neck
Preferred by long-legged brides who want to give the impression of a longer torso or a larger bust, V-neck designs work well with many silhouettes. These styles often accompany cap sleeves or even long sleeves, dipping down slightly in the front but still accommodating a larger bust.
Proving that V-neck styles can work wonders for intricate lace dresses, Moonlight Collection Style J6872 is a bridal gown that combines a form-fitting mermaid silhouette with nature-inspired details and an illusion net bateau back.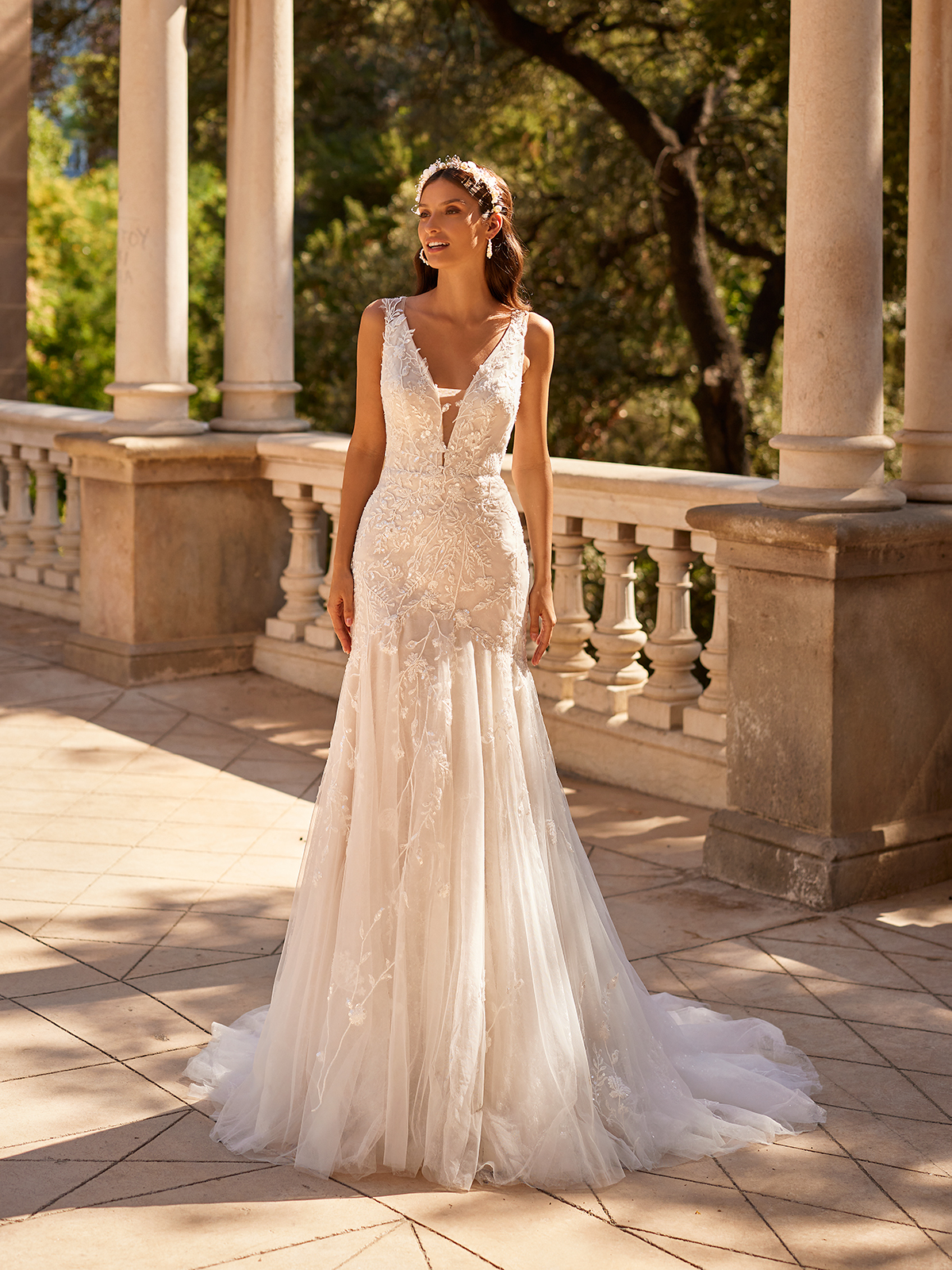 Halter
A common companion to the backless style highlighted above, halter necklines are perfect for showing off toned shoulders or enhancing curves. This flirtatious style draws the eye upward to bring attraction to your gorgeous face, your hairdo, and, of course, your arms.
Halters can have a balancing effect, making them a potentially flattering option for a variety of body types. These can play into sophisticated, contemporary designs, as seen in Moonlight Tango Style T954 — a beautiful crepe wedding gown with a high neck that is stunning in its simplicity.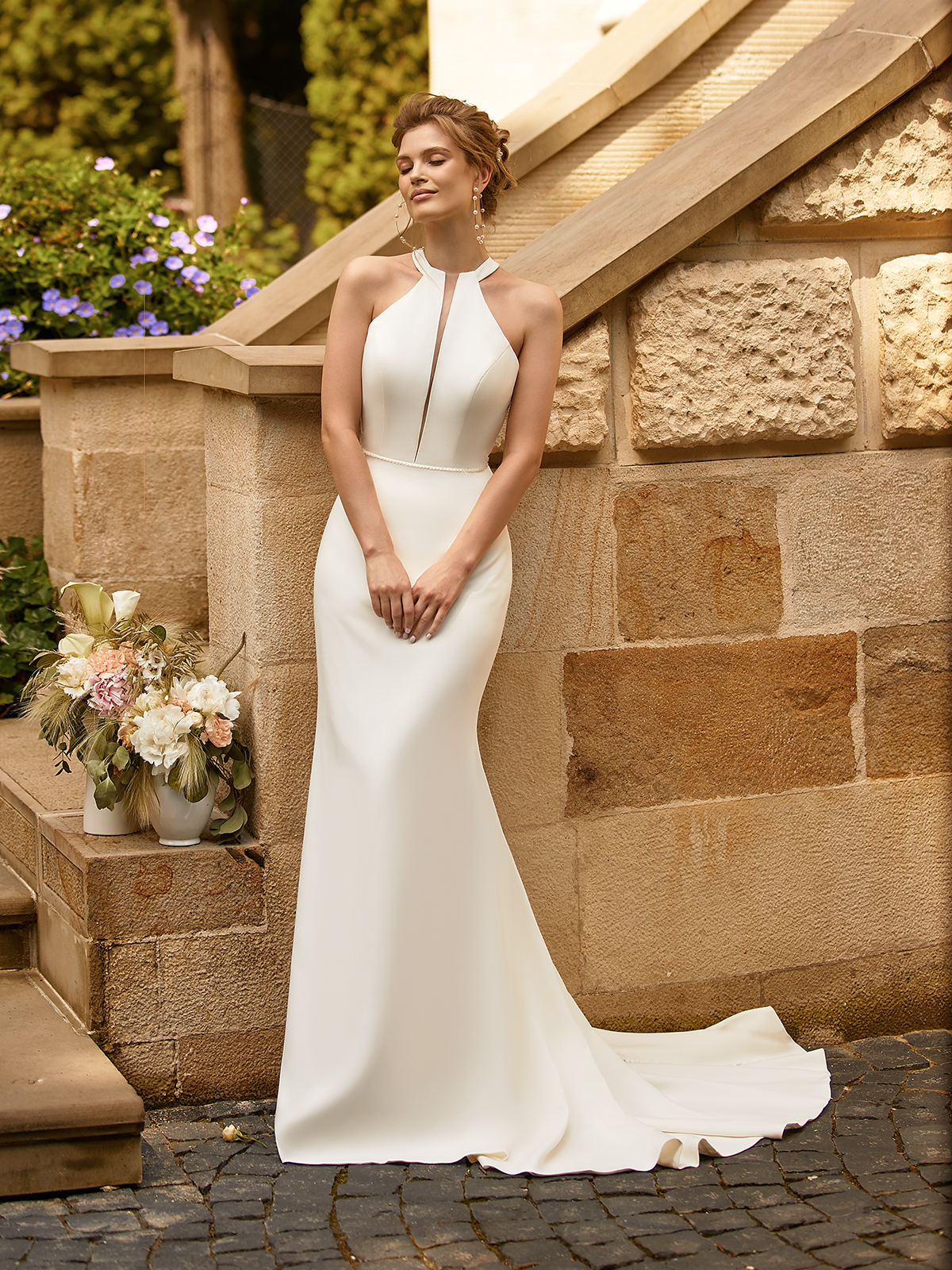 Off-the-Shoulder
Tall brides sometimes shy away from whimsical or carefree styles, but nothing says that there's a specific height cutoff for the appealing off-the-shoulder aesthetic. Off-the-shoulder dresses prove the value of whimsy for tall and short brides alike. These memorable dresses can amplify many of today's most dreamy styles, such as cottagecore or boho chic.
This is also a great option for upping the ante on a seductive dress, such as Style H1483 from our Moonlight Couture Collection. Perfect for brides who want to flaunt their curves, this remarkable dress has it all: a plunging neckline, embroidered lace appliques, and a chapel train.
Other Wedding Dress Features for Tall Brides to Consider

Silhouette and neckline may be central decisions, but there are plenty of other factors to take into account. Once you've selected a few basic styles that you prefer, you can take a closer look at the specifics to determine what will and won't work for your frame. You will be delighted to discover that several of today's trendiest details are a hit among tall brides!
Sleeve Lengths
Strapless and sleeveless dresses are always in style. Wide or spaghetti straps can be chic, but there's also a lot to love about dresses with sleeves. Tall brides can pull off many varieties, including puff, bishop, or simple cap sleeves.
Ornate sleeves are often detachable, providing a versatile solution that can be removed in time to hit the dance floor. Long sleeve wedding dresses look lovely on tall brides and provide yet another opportunity to show off intricate embellishments.
Embellishments & Fabric
Strategic fabric selection is essential, and, while this may be dictated (to some extent) by your budget, silhouette, and wedding formality, you still have plenty of say. Typically, tall brides favor lightweight materials that drape easily without adding too much volume. Ruching and ruffles are fine in moderation.
A crepe or satin wedding dress could be an elegant option for contemporary styles, while a lace wedding dress is preferred for a romantic look. Tulle and chiffon remain the standards for princess-style dresses.
Don't forget ornamentation. This is where you will shine; as a tall bride, you have the unique ability to pull off bold embellishments that might overwhelm someone with a smaller stature. Go all out with dazzling pearls, rhinestones, or sequins, which add instant pizzazz to any dress. Lace appliques are ideal for romantic designs and shouldn't overwhelm a taller bride, even if used in abundance.
Quick Tips for Wedding Dress Shopping
Depending on your height, you may find that certain dress styles don't accommodate your frame. While most designs are available in a wide array of sizes, there will always be exceptions.
Don't set yourself up for disappointment; research your favorites before you embark on an in-person wedding dress shopping trip. When possible, opt for designers or stores that specialize in dresses for tall brides, as these will almost certainly provide a better selection. You'll be pleasantly surprised to discover that many shops cater to tall customers.
Advance preparation is also essential as you plan for shoes and undergarments. Many dresses are designed with the assumption that brides will wear high heels — but it's common for tall brides to opt for flats instead. You certainly don't need to abandon heels, but you'll want to make your intentions known as you embark on the fitting process. Be sure to also bring undergarments, which will be heavily influenced by your preferred neckline or sleeves.
If you find a dress you adore but struggle to find the right fit, don't despair: alterations can transform an otherwise ill-fitting dress, ensuring that it fulfills your vision of the perfect gown. Depending on your budget and timeline, you might even be able to score a custom-made dress that fits perfectly and makes you feel like a queen. Either way, be prepared to up your budget slightly to accommodate changes that enhance the fit and feel of your dress. These adjustments will be worth every penny and can make even a modestly-priced bridal gown look a lot more luxurious.
Ultimately, no wedding dress suggestion is as important as wearing your height with confidence. Yes, there are many tricks you can use to enhance your proportions or call attention to your best features, but there's no need to shrink away or obscure your frame. Own your height and you'll find that you feel stunning in any dress that is authentic to your personality.
Gorgeous Bridal Gowns for Every Height
No matter your height, a stunning bridal dress is well within reach. You may need to dedicate a little more time to researching dress options, but you'll be amazed by the range of gorgeous styles that accommodate or even accentuate your height.
Start by browsing our vast collection at Moonlight Bridal to find the perfect wedding dress. Check out our authorized retailers in person or get in touch to learn more.