How To Prepare for Wedding Dress Shopping
HOW TO PREPARE FOR WEDDING DRESS SHOPPING
You're engaged to your soul mate and you couldn't be happier. You are about to experience one of the most exciting parts of the wedding planning process: finding your dream dress!
There are a few things to know before wedding dress shopping that will make your first visit to a bridal boutique more productive.
We've put together a guide that helps brides make the most of their shopping day. You'll find tips on how to prepare for wedding dress shopping, helpful information on what to wear, and ideas on who and what to bring along.
7 Wedding Dress Shopping Tips
There's a lot of planning that goes into a wedding, and that includes planning for dress shopping. From the first appointment to the final fitting, this entire process takes some time. Starting the shopping process as early as one year before the event should mean there won't be any rush. This gives you 2-3 months for browsing, trying on dresses, and making a selection; 4-6 months for the dress to be shipped to you and arrive; and then time for final fittings and tailoring.
Many brides don't find their gown on the first day of shopping, so don't get discouraged! We put together tips to consider when preparing to go shopping for the first time.
Make an appointment
Some bridal shops allow walk-ins, but making an appointment ensures you'll have a dedicated sales consultant to help you find the perfect dress. These consultants can help find the styles that you're interested in along with giving recommendations on other designs you may want to try. They will also make sure the dresses are clipped and fitted in all the right places so you can envision exactly how it will look after alterations. If you are visiting multiple bridal salons, making an appointment at each place also creates a schedule to follow for the day.
If possible, consider taking a day off during the week because the stores will likely be less crowded compared to the weekend.
Remember, the earlier you begin looking for your wedding dress, the better! Especially if you plan on spending time at different boutiques. You'll want to have a sufficient amount of time to not only find a dress, but also to get the needed alterations. Sometimes, it can take 4-6 months to receive a gown from the time it's ordered.
Research your favorite wedding dress styles
When you arrive at a boutique, most consultants will ask you about your favorite wedding gown styles. Doing some preliminary research on the types of necklines, silhouettes, and fabrics you like can jumpstart the appointment and give the consultant initial ideas of dresses to pull.
Common wedding dress necklines are:
Sweetheart

V-neck

Strapless

Scoop

Halter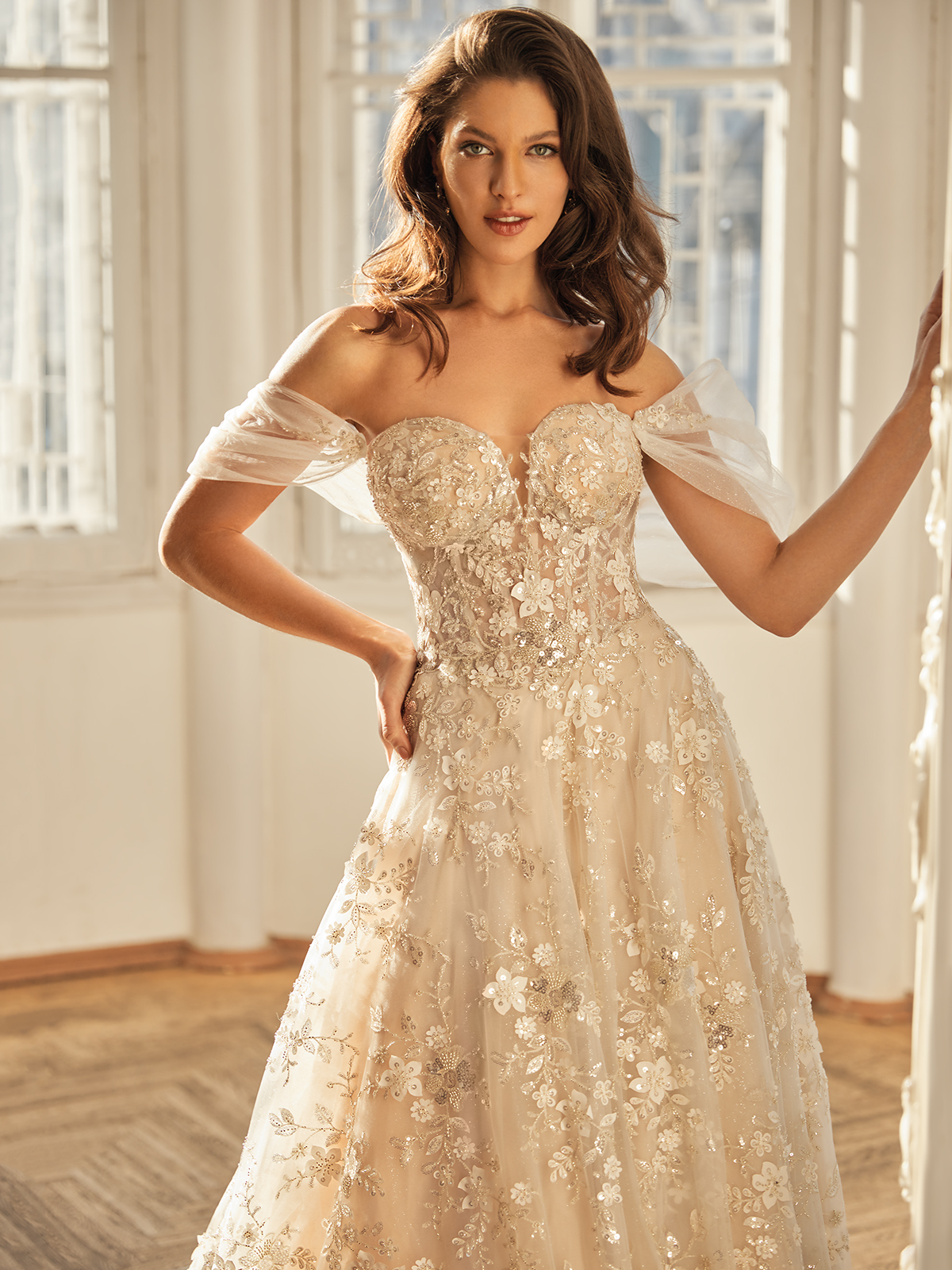 Common silhouettes include: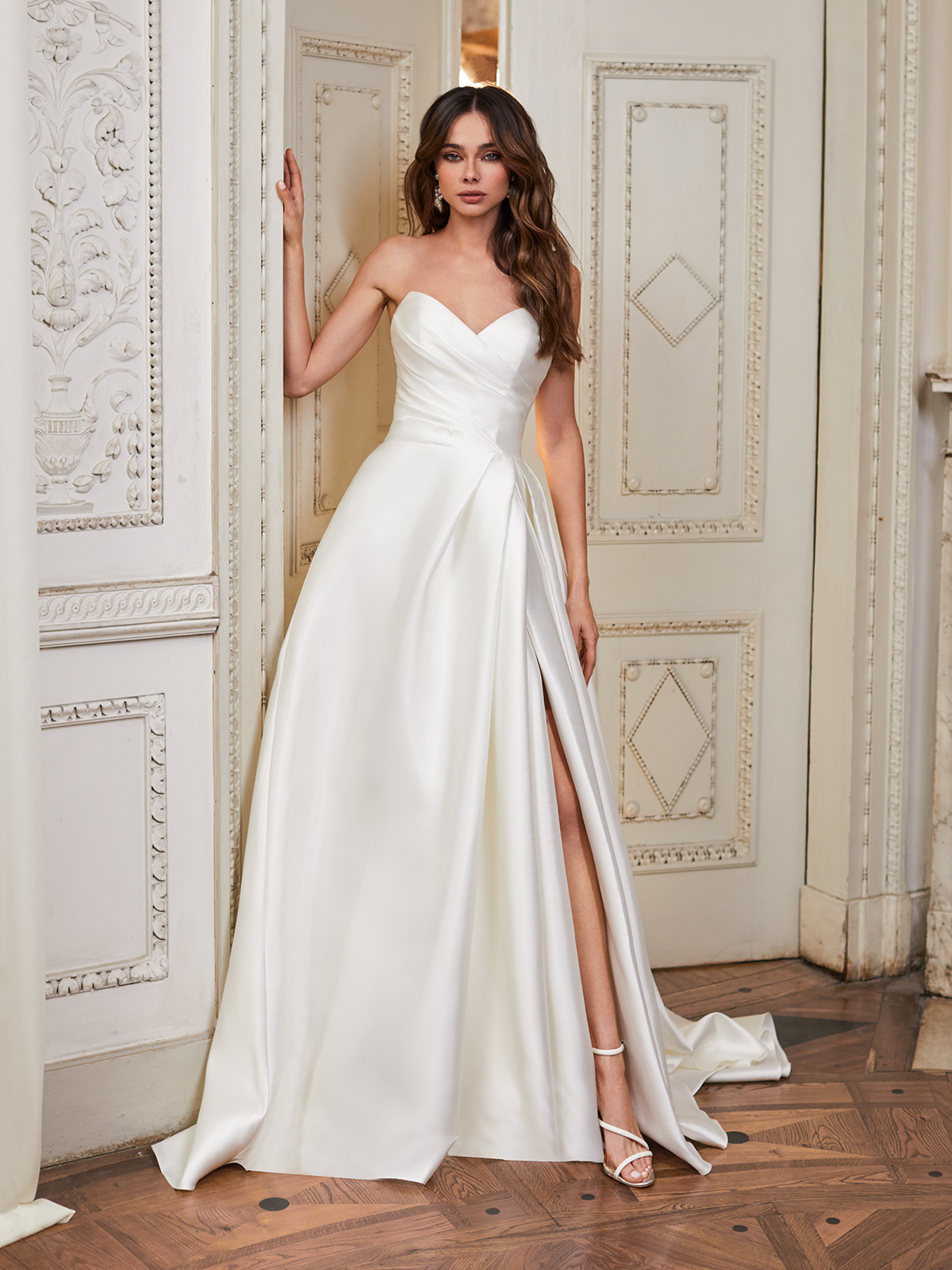 Pre-shopping research will give you an idea of what styles are available and what you may and may not like. Knowing the styles you want to try on and eliminating the ones you don't like can also save time.
Remember though, this is just a starting point that will help both you and your consultant during the appointment. If you are not sure about a certain silhouette or embellishment, try it on! Sometimes a certain design or style will surprise you.
Have a solid budget in mind
Often, brides go into boutiques without a firm budget. Shopping can become stressful when dealing with cost dilemmas. Research to get an idea of average dress prices and then set a budget that's within your comfort zone. Also, consider attending a trunk show where there may be exclusive incentives offered for specific designers.
If someone else is buying your gown, make sure you speak to them so you're both on the same page. Take into consideration the following costs when thinking about your dress budget:
Cost of alterations

Veils

Shoes

Accessories
Many brides-to-be forget to add the cost of these add-ons into their budget and end up going over their limit.
*Important Tip - Do not try on any dresses that are over your set budget! You want to avoid falling madly in love with a dress that you cannot afford because any others you try on after may not give you the same feeling. There are plenty of beautiful options within your price range, so avoid the unnecessary stress.
Choose the perfect entourage
You may want to share this experience with all your bridesmaids, your mother, mother-in-law, aunts, grandmothers and all sorts of family members, and that's fine! Just remember, bringing a huge entourage can lead to trouble and stress. Lots of stress!
The bigger your entourage, the more opinions. Different opinions can be helpful, but too many could lead to disagreements. People in your entourage may begin to think their opinions aren't being heard and get frustrated. It's important to remember, the most important opinion is yours.
Bringing two or three people that you are closest to may give you the best chance of finally saying "Yes!" to the dress. These special people are the ones you would regret not being a part of your wedding dress shopping experience and may include your mother, maid of honor, best friend or future mother-in-law.
By keeping your support system small, you will get the most honest opinions because they know you the best. And, even if they don't particularly love the dress you love, they will love it because you do. Having the right people will lead to a great bridal appointment.
Wear minimal amounts of makeup
Remember that you'll likely be trying on expensive wedding dresses in ivory, white, champagne or cashmere. You don't want to be responsible for paying for a dress that you do not like because your makeup got on the gown, so we recommend wearing minimal amounts of makeup.
However, you also don't want to show up to your appointment looking like you just rolled out of bed. This unprepared look may not give you the right impression when you put on a wedding dress that's supposed to make you feel amazing and beautiful. Wear the amount of makeup you feel most comfortable in! Possibly a bit of moisturizer, foundation, and blush to rosy up those cheeks, and some mascara.
Do your hair in a way that resembles the hairstyle you are thinking about wearing for your big day. For example, if you know you are going to have your hair pulled back in a low bun on your wedding day, tie it up in a low bun while trying on dresses. By doing this, you're going to get a more realistic image of how you will look and your consultant will be able to find you the perfect accessories to complement your gown.
Make sure you eat before shopping
Shopping all day is exhausting! When preparing for wedding dress shopping, your mind is in a million different places. Be sure to eat something before you head out. Whether it's a complete breakfast, a granola bar, or some yogurt, get something in your system. Trust us, it will make the shopping trip go much smoother.
Being hangry can affect your mood and attitude towards the dresses and everyone around you. It can make you feel very unmotivated, unexcited and just plain "blah" about trying anything on, let alone wedding gowns. We'd even recommend bringing a snack for a boost when needed.
If you are planning to make multiple appointments in a single day (we recommend not going to more than three appointments — you'll thank us later!), a great idea is to schedule a lunch in between the appointments. This way, you and your party will have a chance to relax and recharge over something delicious before continuing the shopping experience. It also gives you time to chat about what you've already seen and hope to see at the next appointments.
*Bonus Tip - Try not to overeat or eat a really greasy lunch as it may make you feel not your best and possibly bloated. Instead, eat something light but filling.
Keep an open mind
This is one of the most important tips for wedding dress shopping! You've done your research and know what dress styles you want to try. You may even think you know what style you will end up purchasing. Despite all of this, go into the dressing room with an open mind.
Bridal gowns are made in silhouettes that are not worn in everyday life, so the only way you'll know if you like something is to try it on. Come prepared with must-have styles you want to try on, but also be open to suggestions. The consultant helping you during your appointment is an expert and knows the different styles, shapes and silhouettes very well. They may have ideas on styles that can complement your body type and figure.
Keeping an open mind will make the appointment more enjoyable for everyone. Don't be afraid to go outside of your comfort zone - but also be honest with your feedback! Let the consultant know what you like, don't like, and especially what you are comfortable wearing. The feedback will help them locate your perfect wedding dress!
What to Wear Wedding Dress Shopping
You'll most likely be trying on a good amount of dresses while shopping, so many brides choose to wear comfortable clothing to their appointments.
If you already have the undergarments that you'll be wearing under your wedding dress (strapless bra, shapewear, etc.), consider wearing them while shopping. The proper undergarments not only eliminate panty lines but can make the difference between a wedding gown fitting well and fitting perfectly. Since there will likely be alterations made to your dress, it's better that measurements be taken with exactly what you'll be wearing. This can save you time later by avoiding having to alter the dress after the first fitting.
Wear or bring shoes similar to what you'll be wearing with your dress. It's even an option to find your wedding shoes before you go dress shopping! Bringing the high heels or the style of shoe you plan to wear will let you see exactly how the height of your dress will look.
It's better to be over-prepared for wedding dress shopping than under-prepared.
Key Takeaways
We've all dreamed of the moment we try on a gown while all of our loved ones are crowded around falling in love with the look. However, no matter who you bring to your appointment, your opinion is number one. Be prepared by doing some research beforehand, but also keep an open mind when deciding whether or not to try on certain designs.
Trust your instincts and don't let anyone else's opinion come before your own.
With our list of tips, you should be ready to have the best wedding dress shopping experience. Make the appointment today at your nearest retailer and let the shopping begin!