Wedding Dress Necklines and Finding the Right One For You
How to Choose a Wedding Gown Neckline for Your Special Day
As with anything wedding dress related, it's important to try on a variety of dresses with different necklines to find out which style works best for you. There are many options to choose from, and different styles can complement your figure in different ways. It's a good idea to have an understanding of which necklines work best for you before stepping foot into a bridal boutique.
Below we put together a list of the most popular wedding dress neckline styles to consider when shopping for your bridal gown.
TYPES OF WEDDING DRESS NECKLINES
The neckline of a dress can change the whole design drastically. There are many different options to choose from, some of the most popular include:
Sweetheart / Semi-Sweetheart

Illusion

Straight

Jewel

Halter

V-Neck

Scoop

A-Symmetrical

Plunging

Off-the-Shoulder
We've included details about each of these styles below.
Sweetheart / Semi-Sweetheart
The sweetheart neckline, also sometimes referred to as the princess neckline, is probably the most popular type of wedding dress neckline. It's characterized by its heart-shaped cut and looks especially stunning on ladies with some bust. A ball gown or princess gown is a popular dress type that often uses this type of neckline.
While small-busted women can certainly pull off the sweetheart neckline (or its cousin, the soft or semi-sweetheart which comes a bit higher up on the chest), it could be good to pair it with straps or sleeves. This will offer more support than a strapless gown — no one wants to spend their day holding up their dress!
Best For:
This style works well for bustier brides because the shape enhances your natural figure by hugging your curves in all the right places. But can also be great for a smaller bust, as the heart shape will give the illusion of a larger bust.
Illusion Neckline
The illusion neckline uses common bridal fabrics such as tulle to give a wedding dress the appearance of being strapless, while partially covering the chest area with fabric. If a bride would rather not go full strapless or deep plunge, a sheer fabric layer can add elegance while also giving a gown more structure.
Best For:
The style of an illusion neckline looks great on every bride. It combines elegance with functionality to create a comfortable feel.
Straight Neckline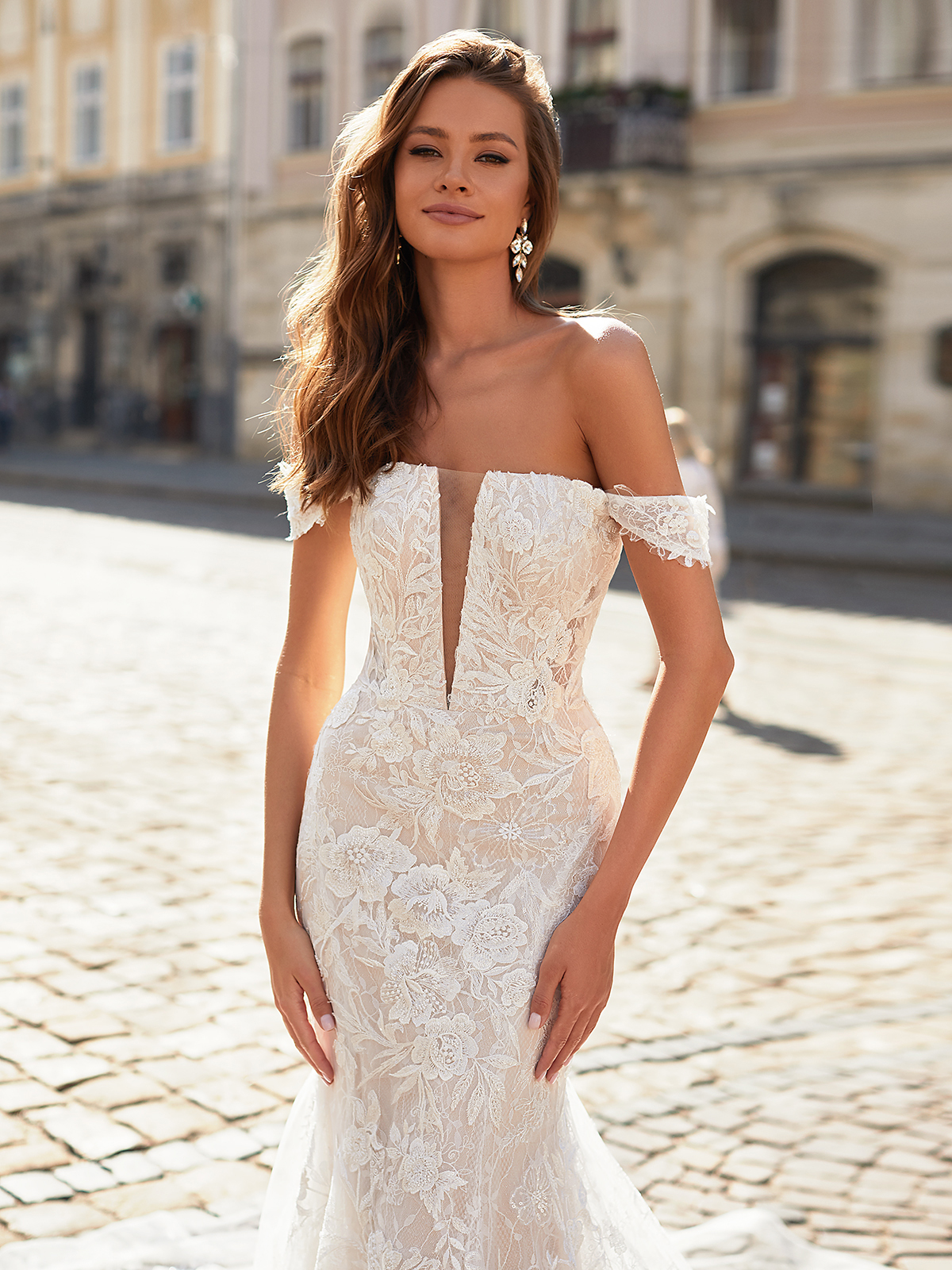 A gown with a straight neckline is just as it sounds, a simple and elegant neckline that goes straight across the chest.
Best For:
A straight neckline pairs perfectly for a busty bride. Similar to the sweetheart neckline, it has modern coverage with its clean lines to help make the bodice feel secure while accentuating your shoulders and collarbone.
Jewel Neckline
The jewel neckline, also known as a T-shirt neckline, delivers an air of modest elegance. Since this neckline sits just below the throat, it looks beautiful on small-busted brides. If you're in search of a wedding dress for broad shoulders or a large bust, this style may make you look boxy.
Best For:
This style is best for small-busted brides. The high neck will compliment your figure and create a more ample bust. Possibly avoid this style if you're well endowed in the chest area or if you have broad shoulders. This neckline will create volume making you look bustier or emphasize broad shoulders.
Halter Neckline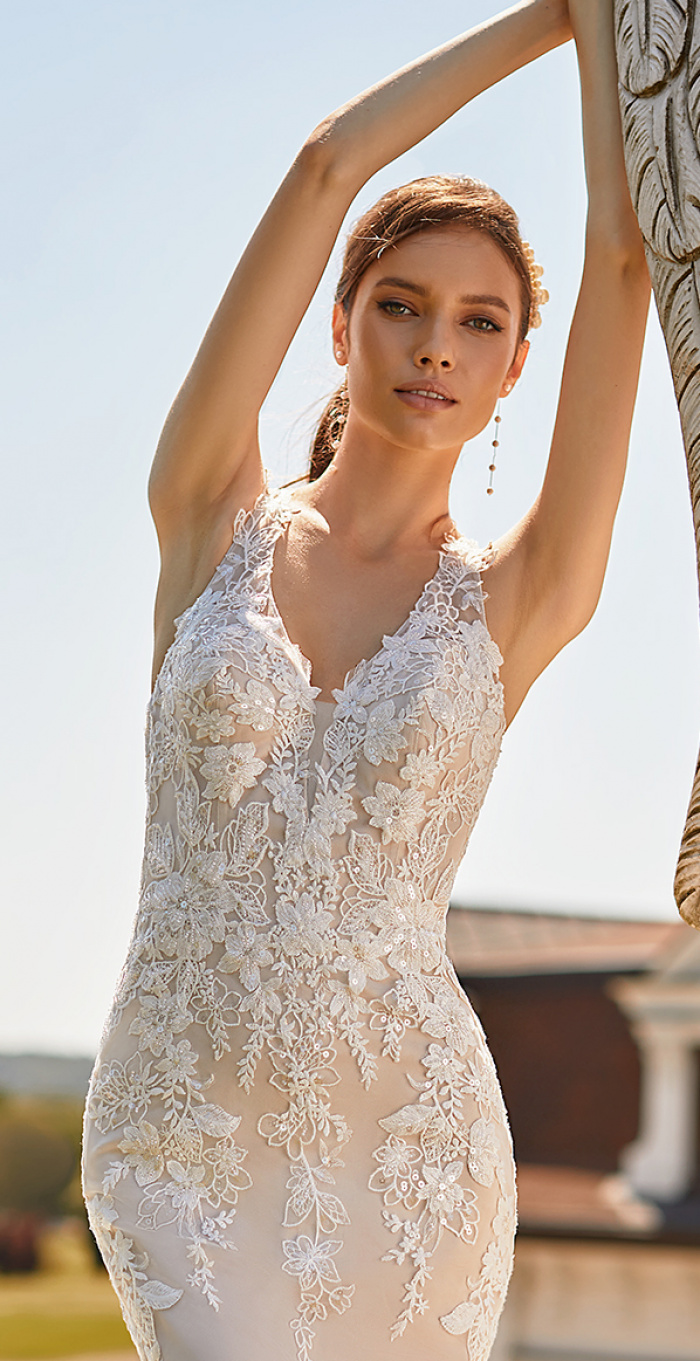 A halter neckline makes quite the statement on taller brides. The halter design flatters your upper arms and shoulders, making this style ideal for brides who want to flaunt that sculpted upper body. While some halter styles can make petite brides look taller, many may look like they're swallowing you whole.
Best For:
This style is best for broad-shouldered brides and taller figures. You'll want to avoid the halter neckline if you're short or you have narrow shoulders, as this style can overwhelm your figure.
V-neck Neckline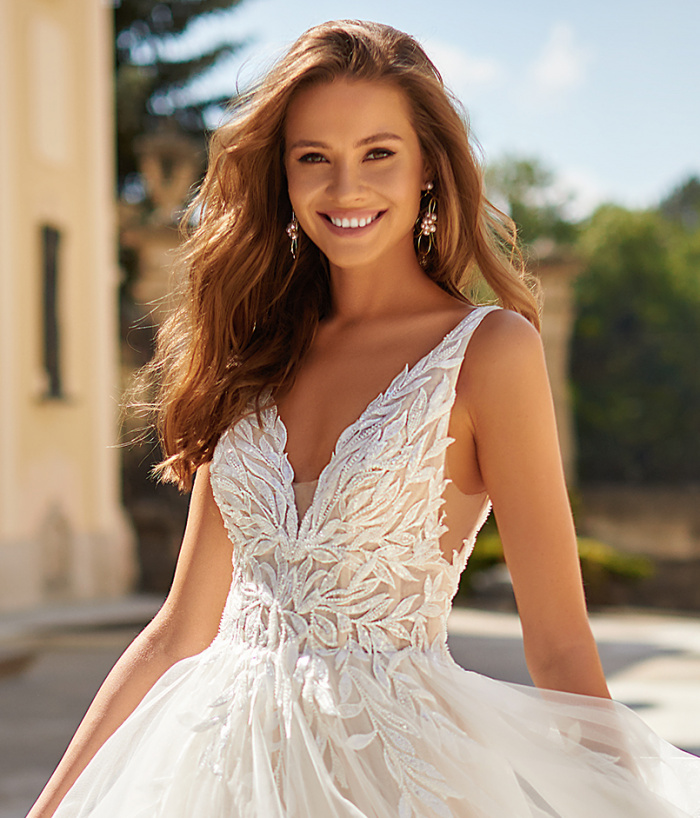 The V-neck style looks gorgeous on brides who are in the B- to C-cup range. It enhances your curves and adds just the right amount of seduction without revealing too much. Brides with small or very large busts may want to avoid this style — it can look awkward on small busts and a bit too revealing on large busts. A V-neck style can look especially elegant on a lace or vintage wedding dress.
Best For:
This style is best for brides with some bust. The V-neck accentuates your curves while offering support. You'll want to possibly avoid the style if you have either a very small or very large bust.
Scoop Neckline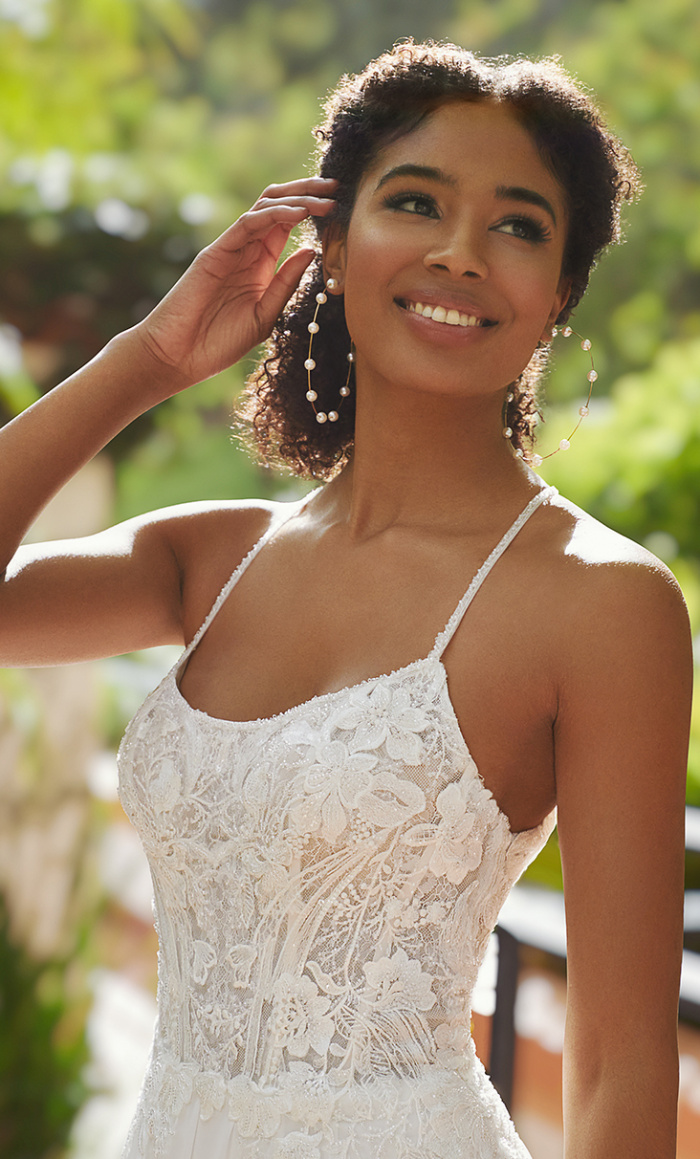 The scoop neckline wedding dress looks great on virtually anyone. The question is, how low can you go? You can find wedding gowns with modest or daring scoops to suit your fancy. Scoop necklines are available on all styles of wedding gown silhouettes, including:
Sheath
Best For:
Scoop necklines look best on just about anyone and can flatter all body types.
Asymmetrical Neckline
An asymmetrical neckline makes a great option for the bride who's looking for something slightly unconventional. Enhancements such as ruffles or jewels may be added for an extra dramatic look, but this style looks just as chic on its own.
Best For:
This style is best for small-busted brides and brides with narrow shoulders. You'll want to avoid this style if you're busty or self-conscious about your shoulders or arms.
Plunging Neckline
A plunging neckline is perfect for the confident bride who wants a dramatic and sexy look on her big day. Brides with small busts and narrow shoulders will love this bold style, while bustier brides may be left feeling a bit uncomfortable due to lack of support.
Best For:
The plunging neckline is best for smaller-busted brides who aren't afraid to flaunt what they've got. You might want to avoid this style if you have a bigger bust, as this style doesn't offer much support.
Off-the-shoulder Neckline
The off-the-shoulder wedding gown neckline is a favorite among brides of all shapes and sizes. Its classic design gives off a bit of a regal feel and works well with cap sleeves, short sleeves or gowns with long sleeves. It can look especially flattering on brides with narrow shoulders who want to highlight their collarbone and complexion. Play around with an illusion styling or beaded detail for an especially extraordinary look.
A comparable style is the portrait neckline which is typically found on more elegant, formal gowns. What makes this cut different is the scoop from one shoulder includes additional fabric that may drape a little.
Best For:
This neckline is best for just about any figure because this style accentuates the collarbone and shoulders while emanating a vintage feel. Consider avoiding this style if you have broad shoulders or are self-conscious about your arms.
OTHER THINGS TO CONSIDER
Aside from your personal style preferences and your figure, there are some other factors to keep in mind when searching for that perfect wedding gown neckline.
Hairstyle: Are you planning on wearing your hair down, or will you be donning an updo on the big day? Some gowns look better with updos vs long hair and vice versa. If you plan on wearing a veil, you may want to take that into consideration as well.
Jewelry: If you're planning on wearing any sort of elaborate jewelry, you may want to opt for a neckline that allows you to show it off. Modest necklines work well with simple jewelry.
Personal comfort: If you're getting married in a church or another religious establishment, you may feel uneasy sporting a plunging neckline on the big day.
Final Takeaway
The most important thing to remember when looking for a dress for your wedding day is finding one that you absolutely love and feel confident wearing.
We hope that this guide can serve as a starting point on your quest for the dress! If you're looking for additional advice before embarking on your journey, check out our blog post on
how to prepare for wedding dress shopping
. However, if you're ready to go wedding dress shopping,
make an appointment today at your nearest retailer
and let the shopping beg