Wedding Dress Fabric Guide
Wedding Dress Fabric Options & How to Choose
As you embark on your search for the ultimate wedding dress, you have a lot to consider. By now, you've likely stumbled on a few styles that you adore, but you don't necessarily know what, exactly, makes them stand out. Chances are, materials and weaves play a key role in the reasons why you may like a certain style dress versus another.
A wide array of fabrics can be incorporated — and strategic selection will increase your chances of loving how the final gown looks and feels. The season, theme of your festivities, and personal style should all be taken into consideration when choosing the best fabric for your big day. We explore common materials used in wedding dress design and the advantages to each.
8 Common Wedding Dress Fabrics and Materials
Name a fabric, and it has almost certainly been incorporated in a wedding dress at some point. That being said, certain materials lend themselves better to wedding festivities than others. The best options feel glamorous but are also comfortable and figure-flattering. The following are among the most popular for modern weddings:
Lace
Universally loved, lace is an exquisite option for any wedding gown. It's feminine, romantic, and the epitome of bridal style. This type is often added to a dress in the form of embroidered lace appliques, but all-over lace designs are popular as well.
Many brides are surprised to discover, however, that there are several types of lace fabric, each with its own unique characteristics. Here are some of the types you may see on a gown:
● Chantilly. Named after the French city in which it was originally developed, Chantilly lace is notoriously elegant. This is likely what you picture when you think of wedding lace.
● Guipure. Featuring distinctive motifs attached by plaits, bars, or bridges — instead of a mesh background — Guipure represents a heavier take on lace.
● Alencon. Sometimes referred to as the Queen of Lace, Alencon is an exquisite, labor-intensive variety that produces some of the most intricate dresses imaginable.
● 3D. A technologically advanced take on this material, this type is typically crafted by cutting chiffon or satin into eye-catching shapes and then embroidering them onto base fabrics such as tulle.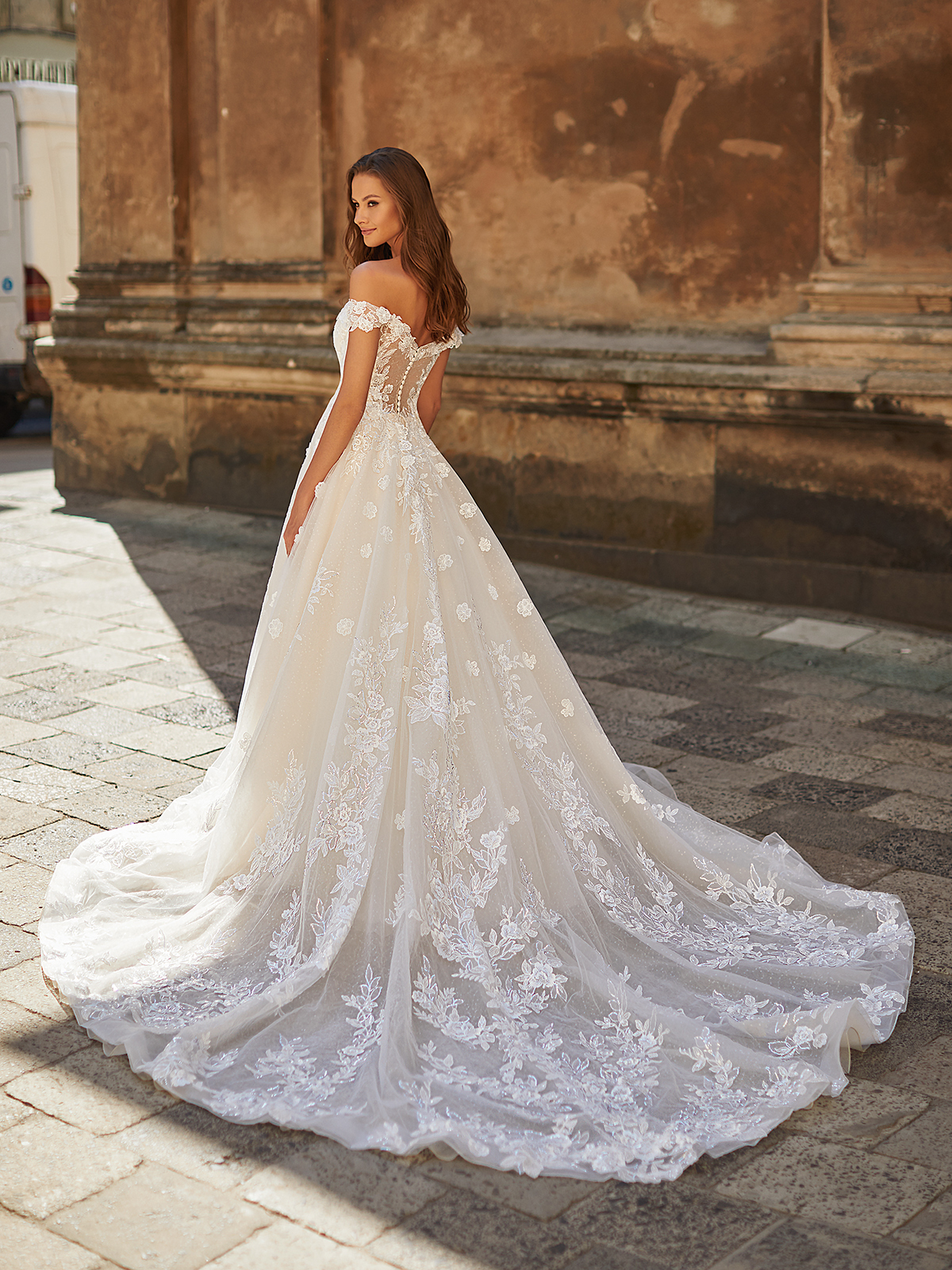 Tulle
As a popular netting fabric with strong layering potential, tulle is sheer and features a hexagonal pattern. Known for its versatility, it can be constructed from synthetic materials such as polyester or natural options like silk. Ideal for ball gowns or A-line silhouettes, this lightweight fabric adds instant whimsy or romance to any look but is also comfortable in warm weather. It's a great material when going for a princess or fairytale aesthetic, but can be used with many other aesthetics as well.
Even when it isn't used extensively in the skirt or train, tulle may show up in other important features or accessories, such as a lovely wedding veil. There, its sheer appearance complements the dress without overwhelming it. If there's a downside, it's that tulle is a delicate fabric that snags easily and, as such, doesn't hold up well to outdoor weddings or daring photo shoots.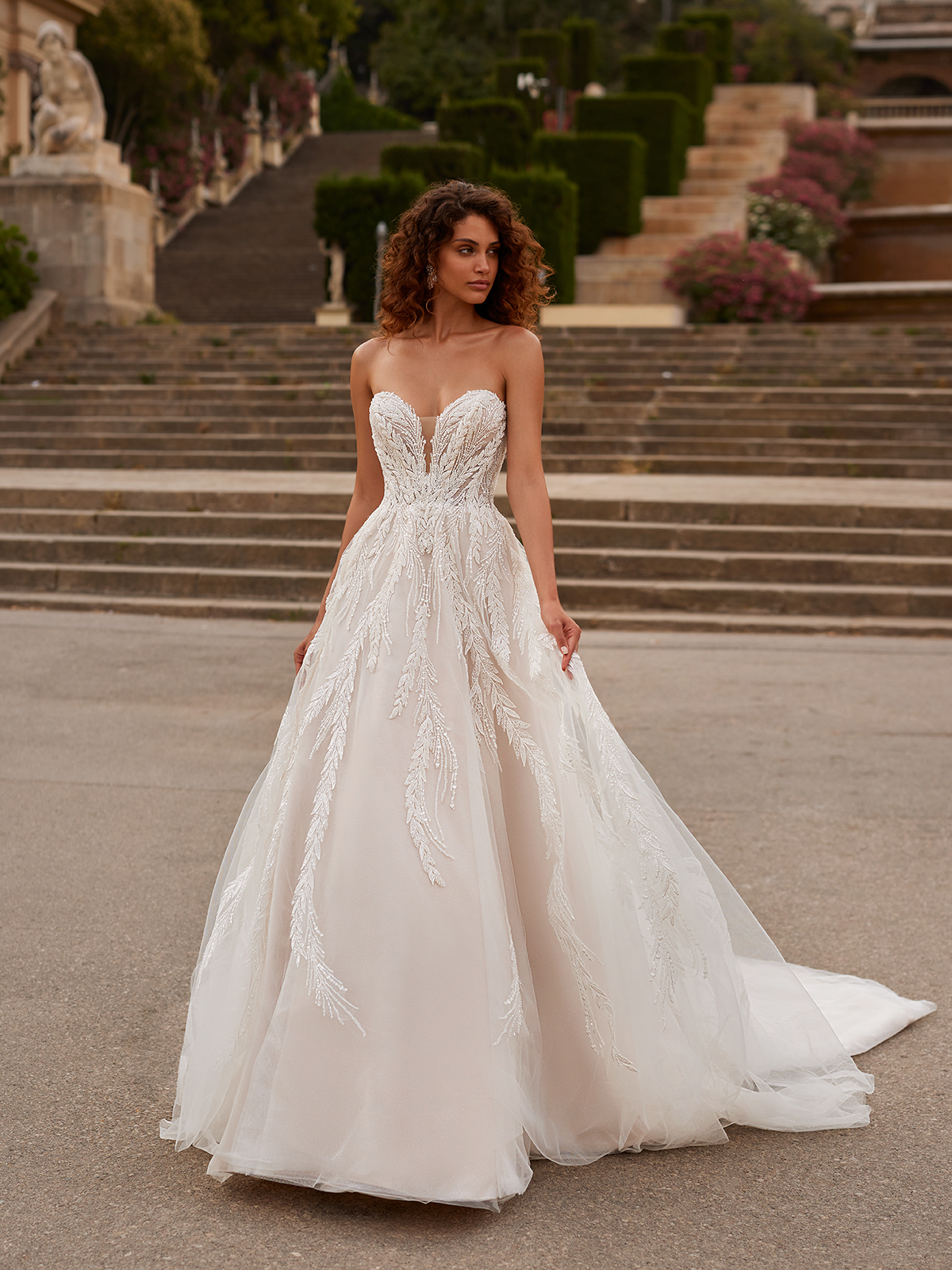 Crepe
Best known for its trademark rippled effect, crepe is a flattering material favored for today's contemporary style. As with many of the fabrics on this list, it can be constructed from a variety of materials, such as silk, polyester, or rayon.
Crepe's greatest power lies in its ability to draw attention to your figure. Hence, its frequent use in minimalist mermaid dresses, where the main goals are to play up your curves and achieve a sensual look. There are a few different types of crepe commonly found in wedding dress designs including Crepe back satin, stretch Crepe back satin, Regal Crepe, and Divina Crepe.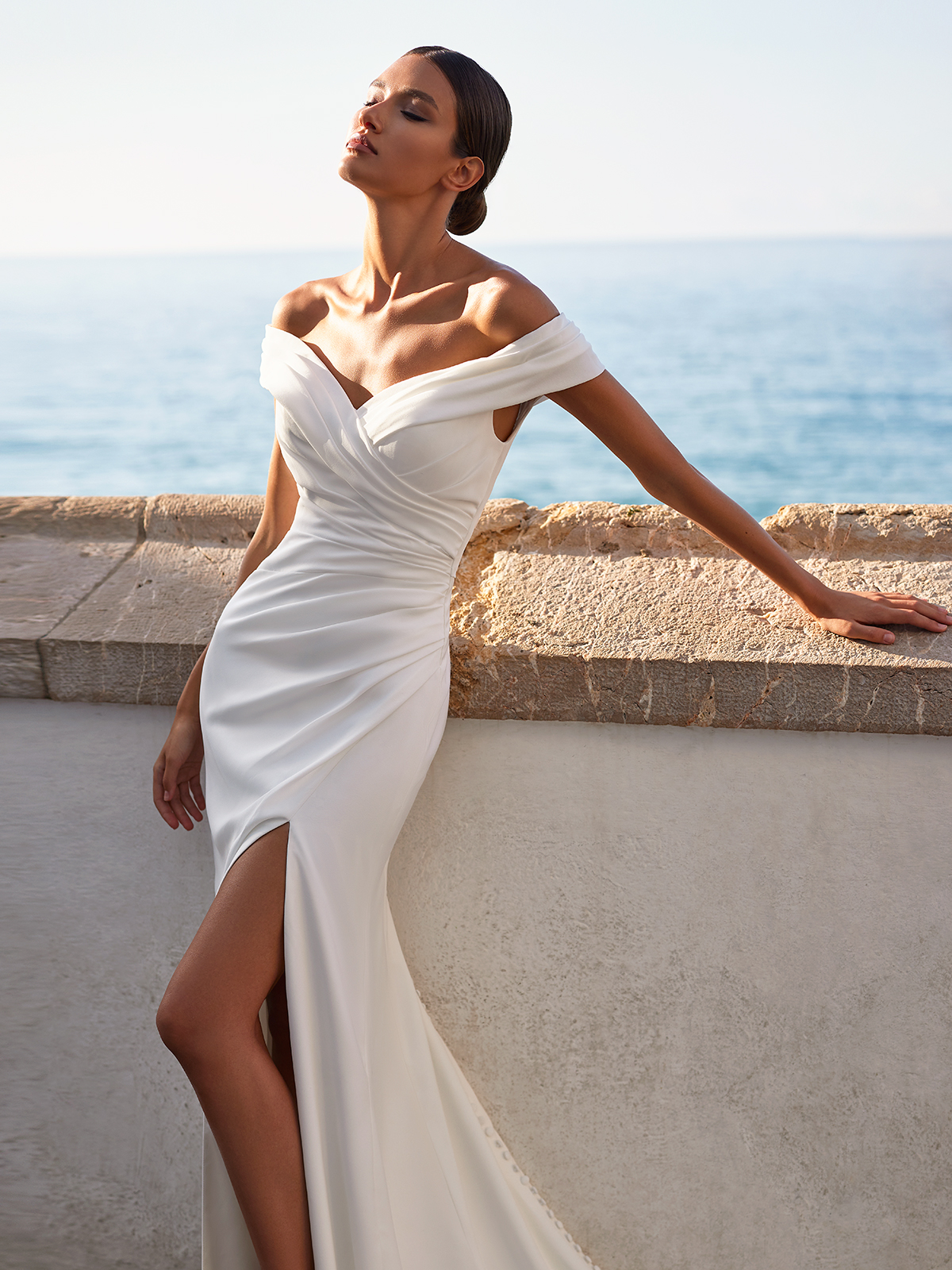 Organza
As a sheer plain weave fabric constructed from silk or synthetic materials, organza is often confused with tulle and chiffon but holds several noteworthy differences worth considering. Perhaps most important? The inherent stiffness of organza, which can create a lot of volume to provide a full effect. Creasing is common with organza, however, and this tendency must be considered when determining how and where the dress will be transported prior to your wedding day.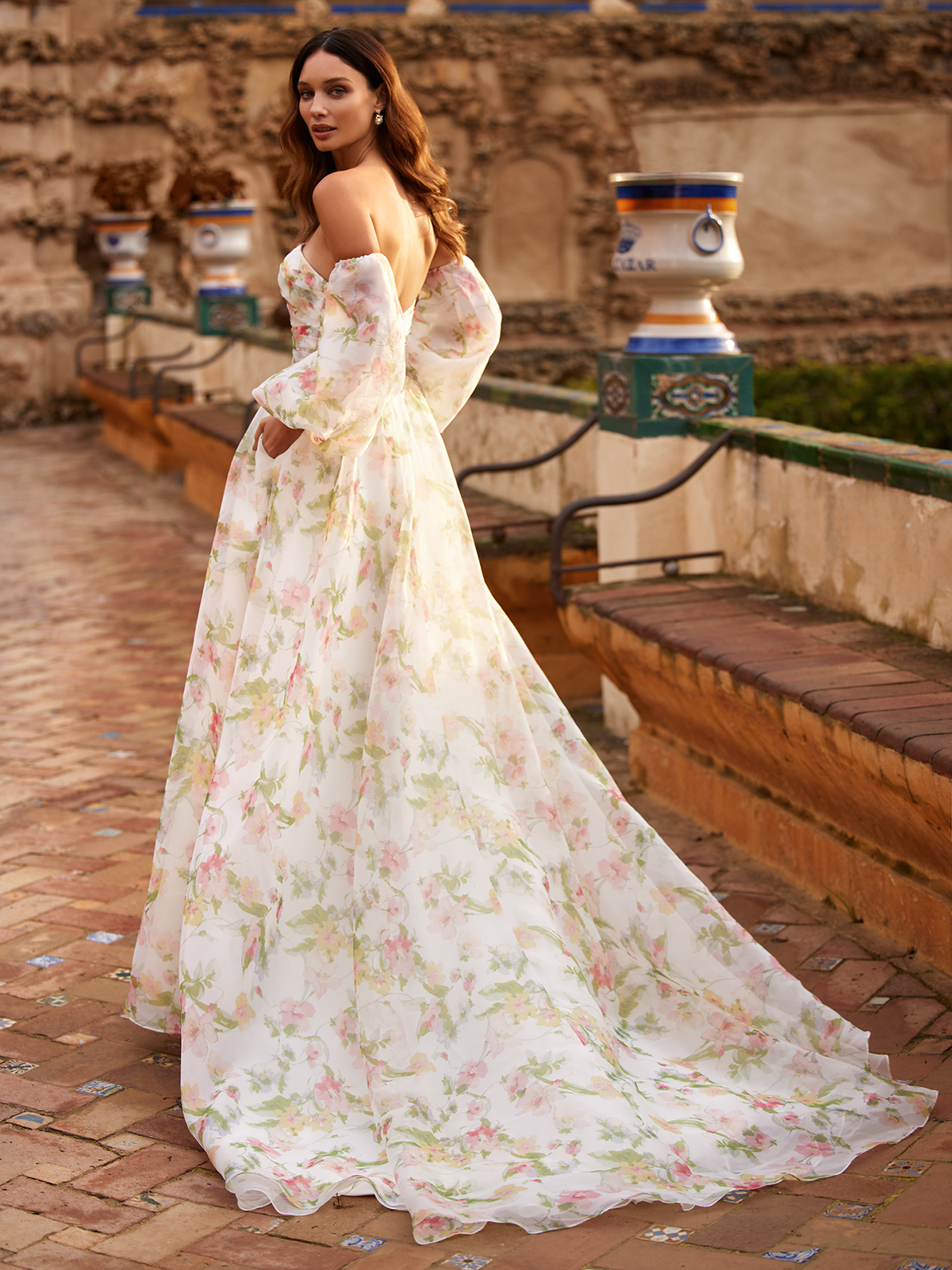 Chiffon
Also frequently confused with tulle, chiffon is another floaty fabric that lends itself well to princess styles. It's often used as an accent or overlay, rather than as the main material — although some dresses are made almost entirely of chiffon and they look quite lovely. No matter how it's used, chiffon's ethereal vibes make it a popular choice among Boho brides, although it can be incorporated in a variety of other bridal styles.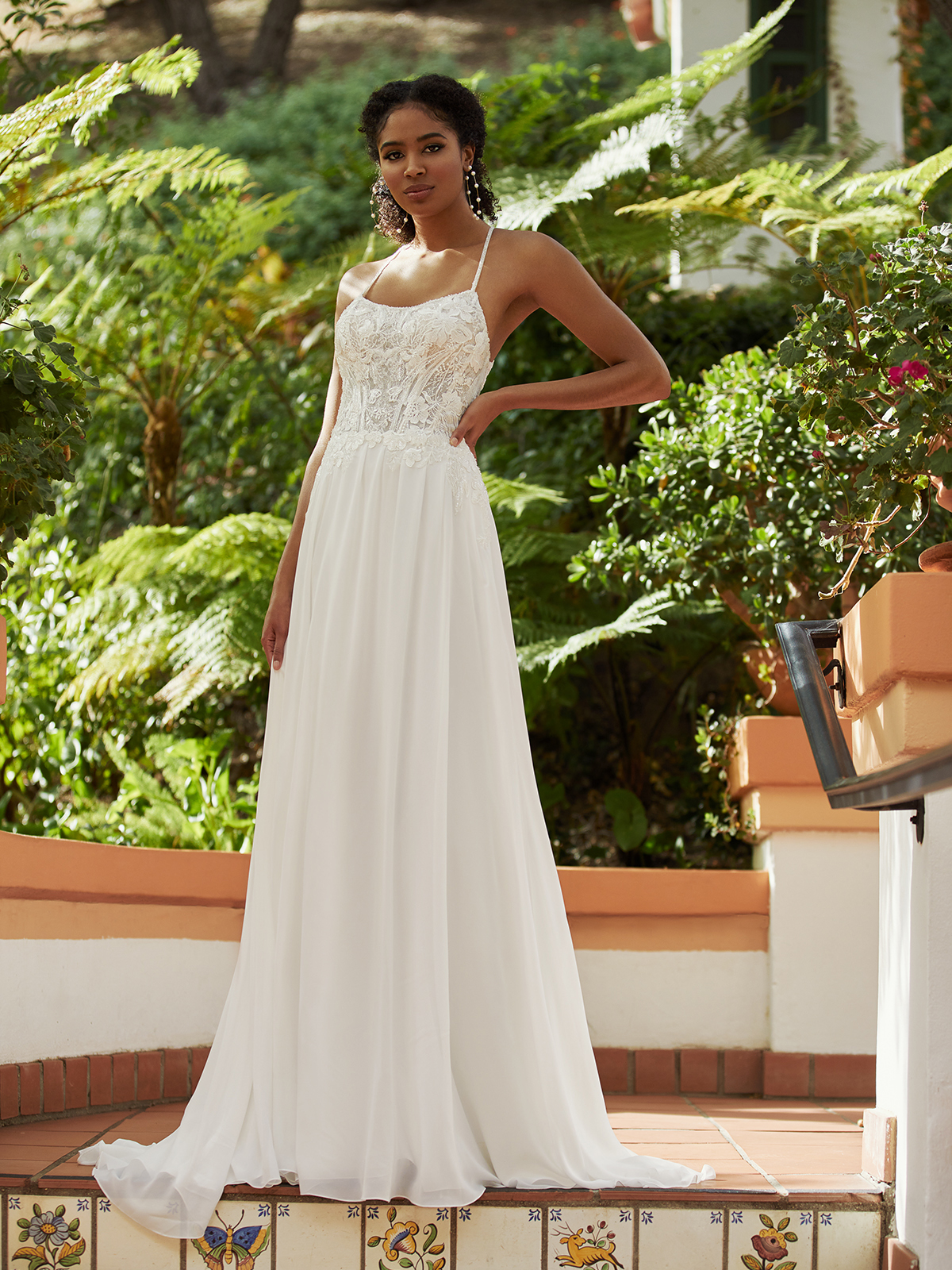 Satin
Distinctively glossy, satin has a wonderful sheen that sets it apart from most other materials. Its structure is surprisingly complex, involving long strands, with warp (lengthwise) yarns remaining stationary as the weft (transverse) yarns are drawn both over and under the warp. The final effect is a smooth and distinctive fabric that is sure to stand out. Satin tends to be less breathable, however, and can be prone to wrinkling.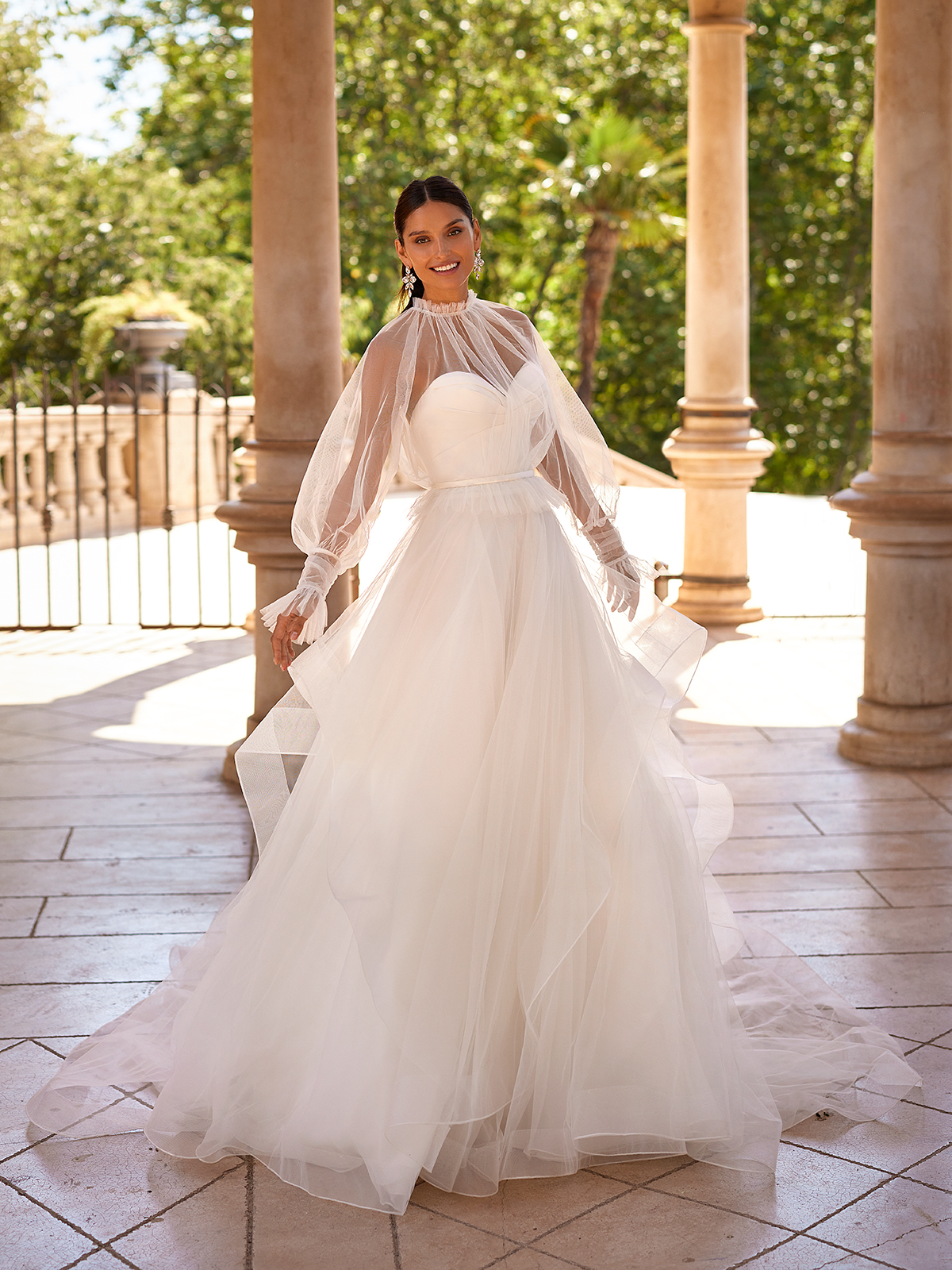 Silk
Timeless and versatile, silk has a muted sheen and a surprising level of durability. It can work wonderfully in all seasons, in part because it's so breathable. There's no denying its sophistication, so it's easy to see why silk appears so frequently in couture collections.
No matter when or where it's worn, silk drapes beautifully and carries a subtle sense of movement. It can be incorporated in many different silhouettes, but with an important caveat: this is one of the most expensive materials.
Mikado
Increasingly popular among contemporary brides, Mikado is an excellent option for minimalist styles — particularly when a structured look is desired.
This twill weave tends to be thicker than most silk blends, so it's uniquely capable of holding its shape. As such, this is increasingly a top choice for mermaid, trumpet, and other fit-and-flare silhouettes. You'll find this on-trend material at today's contemporary weddings, often incorporating novel or downright daring concepts.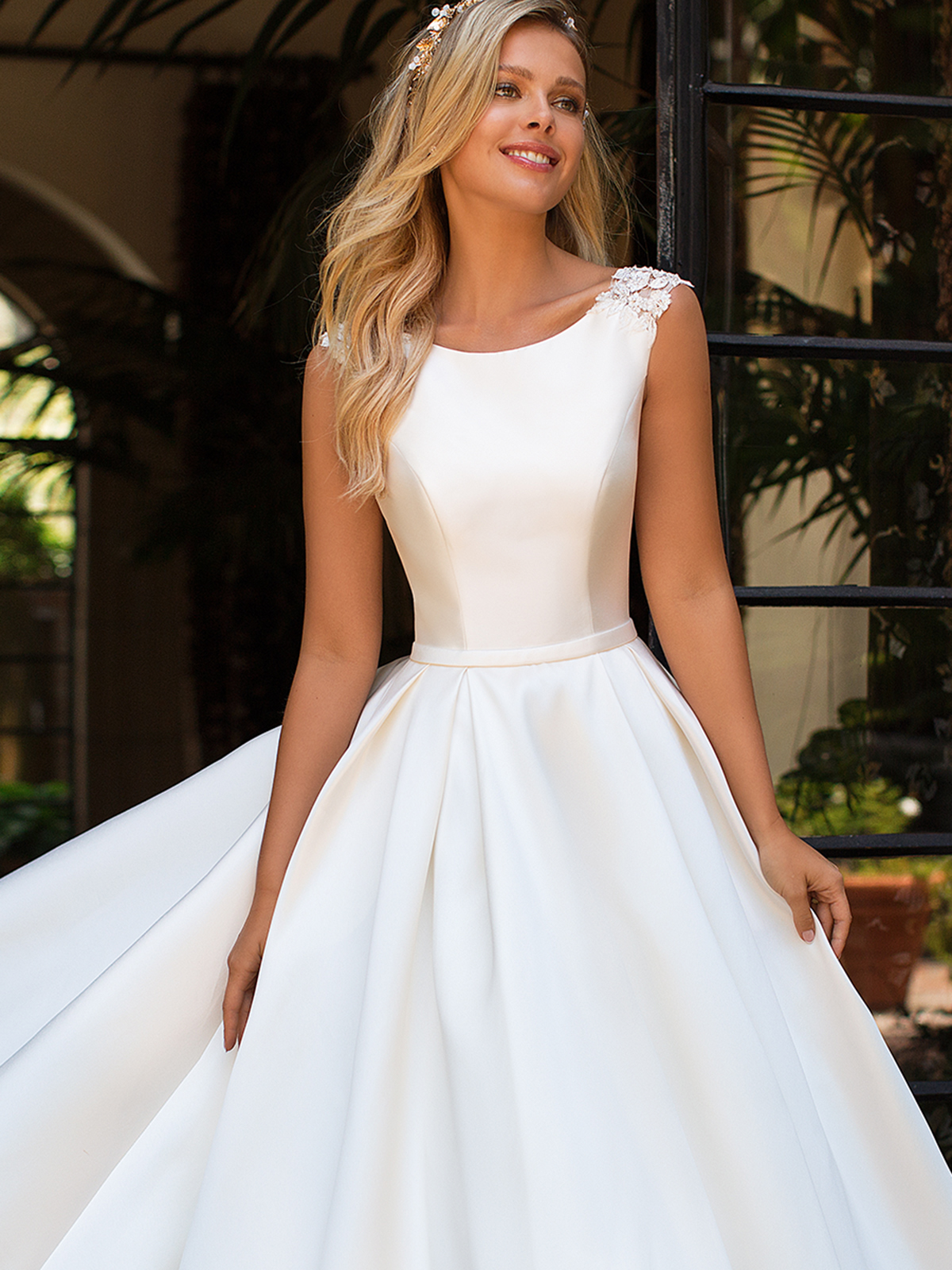 Other Materials
While the fabrics highlighted above are among the most popular and enduring — even in the always-changing world of bridal fashion — they are by no means the only options available.
If you're on the hunt for something truly distinctive, you can defy expectations by wearing a dress partially or entirely constructed from one of these unique alternatives:
Velvet
Characterized by its soft and smooth feel, velvet is definitely not your typical wedding material, although it has frequently been used as a standout style choice in other contexts. Its main complaint is a lack of breathability, so it should definitely be avoided for summer weddings.
During the cooler months, velvet delivers a cozy and comforting aesthetic. This distinctive material is more complex than it appears and is available in several varieties, such as crushed or stretch.
Georgette
An important part of the crepe fabric family, sheer georgette is another appealing option for defying expectations. It's named after a famous French dressmaker and constructed from extensively twisted yarns.
Georgette is notable for its crinkly surface, but much of its appeal stems from its floaty effect. This makes it an amazing option for the summer or for any dress design that calls for a feminine flounce. As with crepe, embellishments should be minimal. Instead, let the fabric itself do the talking.
Brocade
Featuring woven and raised designs, brocade is a top option for sophisticated garden wedding gowns. This differs from embroidery in that the patterns are purposefully woven into the fabric. The technique for achieving this is known as jacquarding.
Perhaps the most iconic use of brocade for bridal fashion arrived when Queen Elizabeth II famously donned an intricate brocade gown as she tied the knot. She was also known to wear brocade for other special occasions, reflecting its status as a luxury material.
Taffeta
Shimmery, crisp, and pliable, taffeta is typically made from synthetic fibers these days, although silk remains a possibility. It feels a bit more constructed than tulle, and, as such, is a go-to for achieving a voluminous skirt for a ball gown or A-line silhouette.
Taffeta can be surprisingly durable, so it's a great option when you crave a princess effect but also want to navigate a variety of settings without fear of ruining your dress.
Fabric Selection Considerations
Now that you have a basic feel for the various fabric types and the situations in which they're most desirable, it's time to select a few frontrunners for your dream wedding dress.
There is a lot to take into account, including the practical components of your big day and, of course, your vision of the perfect bridal gown. We've highlighted a few top considerations below:
Wedding Themes and Styles
Have you found a theme or aesthetic for your special day? Chances are, this will dictate which silhouettes or fabrics you select. Brocade, for example, is an automatic candidate for a Regencycore dress, while a modern minimalist wedding might call for Mikado. Light and floaty Boho chic dresses might feature chiffon or even Guipure lace, but Chantilly is definitely the way to go for a traditional style.
If you're not particularly concerned about the specific fabric, let your preferred aesthetic lead the way, as this approach will significantly narrow down your selection. From there, you can choose the best materials based on budget or season, which we'll discuss next.
Seasons
Some fabrics are far more breathable than others. If you're committed to an outdoor wedding (or taking outdoor photos) and want to feel comfortable, strategic selection is important.
Chiffon, organza, and tulle are among the most breathable for a beach wedding, even when used in seemingly large quantities. Heavier, less breathable fabrics don't always need to be avoided, however, and may actually be advantageous for an autumn or winter wedding.
Budget Considerations
Certain types of fabric are associated with different price points, but this relationship isn't as straightforward as you might expect. On a per-yard basis, the differences between fabric types aren't always significant.
Keep in mind that some bridal fabrics simply call for more: more yards to achieve the desired style, more embellishments (such as sequins or beaded appliques) to play up an otherwise simple look — and extensive tailoring or strategic construction to make the final product flattering.
Simple styles and fitted silhouettes are more likely to come in under budget. This is why some exquisite crepe or Mikado dresses can prove surprisingly affordable. Remember: fabric is just one of many factors that determines the cost of your dress, so don't let it limit you if you're determined to stick to a budget.
Discover Your Dream Wedding Dress
As you investigate various materials, silhouettes, and aesthetics for your dream wedding dress, give yourself the chance to browse several styles. You will quickly discover that you are more drawn to some designs than others.
At Moonlight Bridal, we are pleased to provide options for every type of bride, so don't hesitate to check out our vast collection. You'll find even more insight from our authorized retailers, so feel free to get in touch today.