Ball Gown vs A-Line Dress – What's the Difference?
Ball Gown vs A-Line - How These Styles Differ
Bridal gowns come in many different styles and silhouettes, however, some are similar like the ball gown and A-line silhouettes. This can be confusing when wedding dress shopping because you may not know which style is which. What are the differences and similarities?
The ball gown and A-line silhouettes have been around for decades and they're the two most popular styles among brides. Knowing the differences between these two can help in your search for the perfect wedding dress.
What is an A-line Wedding Dress?
An A-line dress is characterized by the silhouette of the skirt. An A-line skirt is fitted at the hips and gradually flares out from the natural waistline of the bodice towards the hemline giving the skirt the shape of the capital letter A. The A-line silhouette is extremely versatile because it can be paired with many different types of necklines, multiple fabrics and can feature any train length.
A-line gowns are perfect for any ceremony, from a simple backyard wedding to a grand church wedding. While this dress is flattering on most body types, it's perfect for creating an illusion of height and curves for slender and petite brides. This silhouette can also slim down rounded figures and hide the larger lower body of any brides who are blessed with curves.
What is a Ball Gown Wedding Dress?
Ball gowns, commonly referred to as princess gowns, are known for their royal appearance. The difference between this style and the A-line is the ball gown typically has a fuller, more voluminous skirt that's paired with a fitted bodice. The skirt starts at the natural waist and can also feature a train of any length. On your big day, nothing makes more of a statement than a real-life fairytale ball gown wedding dress.
This silhouette works well with grand venues or traditional church wedding ceremonies. Overall, ball gowns flatter every body type. The fuller silhouette accentuates the waist and hides the lower body. Keep in mind, for brides who are fuller on top, the full skirt may make you look larger overall. For petite brides, be sure to avoid going too big on the flare of your gown because the added volume of the skirt could make you look shorter.
A-Line Style Examples
Some examples of popular Moonlight Bridal A-line gowns include:
Style H1472 (a off the shoulder sweetheart wedding dress with a full A-line skirt)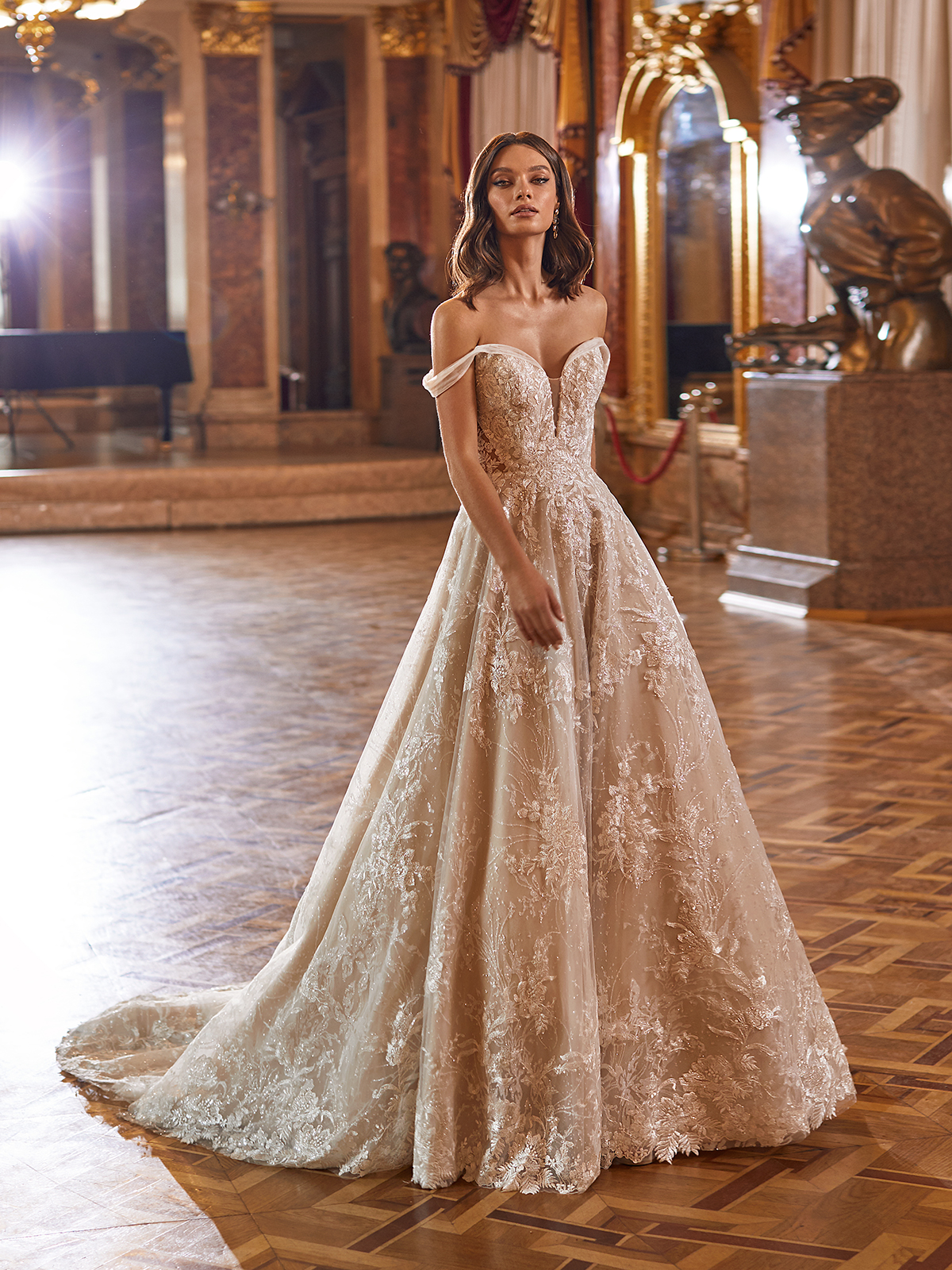 Style H1394 (a 3D lace applique A-line with cascade ruffles)
Style J6824 (a beaded sequin net full A-line wedding gown)
Style J6811 (a flowy tulle A-line wedding dress with lace bodice).
Ball Gown Style Examples
Some examples of popular Moonlight Bridal dresses with ball gown silhouettes include:
Style H1393 (a princess cascade tulle ball gown with re-embroidered lace appliques and beaded detailing along the bodice)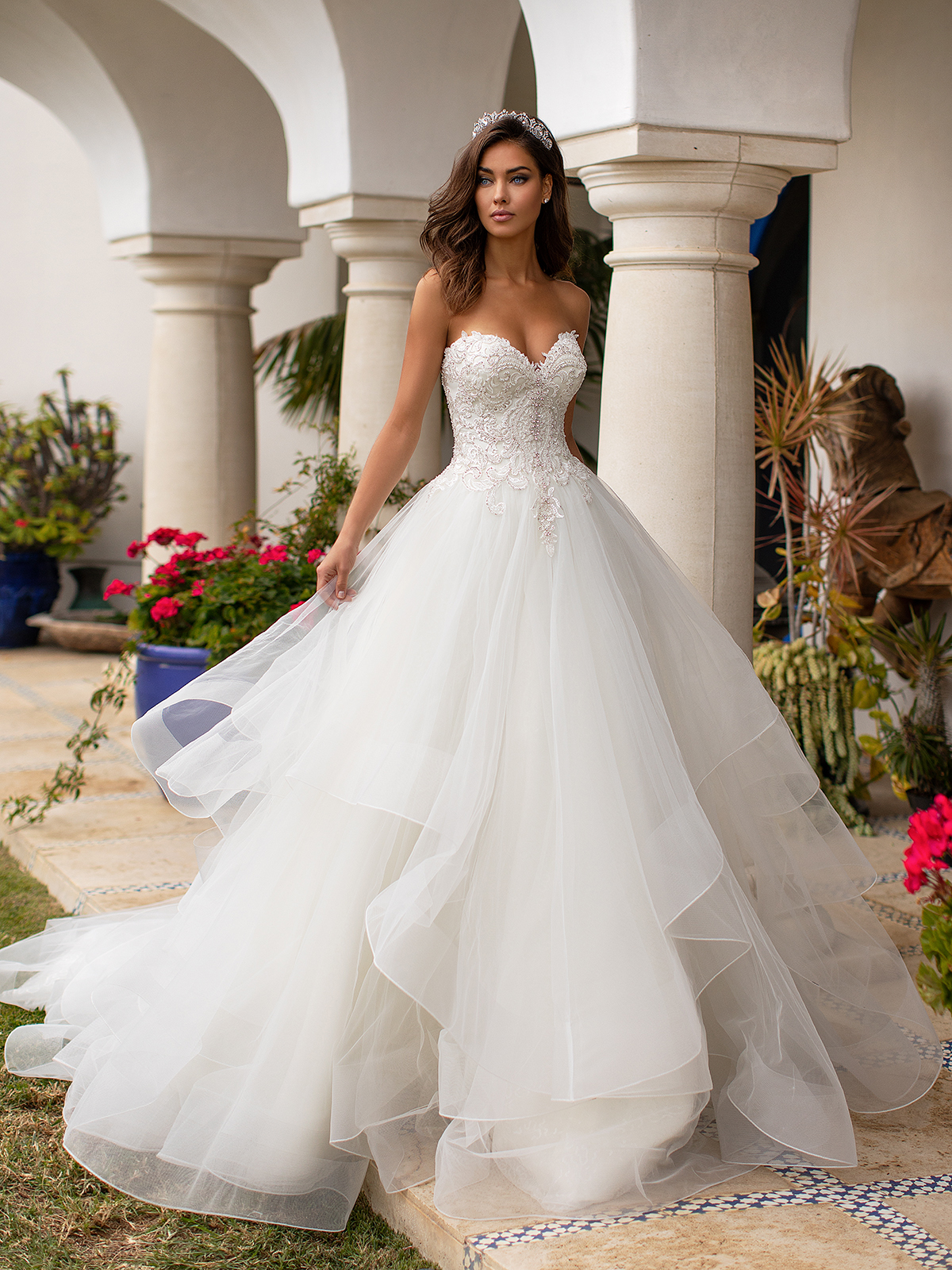 Style H1445 (an embroidered and beaded sparkle tulle ball gown with chapel train)
Style J6818 (a floral embroidered net ball gown with off the shoulder swag sleeves)
Style J6782 (a Chantilly lace and floral sparkle tulle ball gown with cascades)
How to Choose
Now that you know the differences, choosing one silhouette or the other is completely up to your personal style preferences.
The beauty of both of these wedding dress styles is you can wear any type of shoes you want with them. Because the skirts are fuller, your wedding shoes will likely not show, therefore you can wear the most comfortable shoes to dance the night away. One downside of these two silhouettes to consider is the inconvenience when going to the restroom. You will probably need your bridal party to help you every time.
Even with the small downside, ball gowns and A-line dresses remain as two of most popular silhouettes among brides on their wedding day. We hope to have cleared up any confusion you may have had between the two styles. To keep your options open, try on both styles to decide which one fits you and your style best.
To get an even better visual and understanding of the differences in the silhouettes, browse our very own collection of
ball gown wedding dresses
and
A-line wedding dresses
. Happy shopping!