Wedding Dress Back Details: Which Style Is the Right One For You?
Wedding Dress with Back Detail: Which Style Is Right For You?
As you're browsing for your dream wedding dress, it's likely you've thought about different embellishments you want included like lace or beading. But, another important part of the bridal gown to consider is the back.
We're not just talking about wedding dress trains, but different dress back style options like low backs, sheer illusion backs and more. This part of your wedding dress is another way you can show off your personality and sense of style. The back of your dress can make a statement and give your wedding guests something stunning to look at as you walk past them down the aisle.
6 Beautiful & Stylish Wedding Dress Back Styles
Open Back
Brides who aren't afraid to let their sexy personality shine bright on their wedding day love open back dresses. Made for the modern bride, this style combines sophistication and timeless glamour with a dash of sultry.
Jaw dropping open back dresses are perfect for brides who want to capture their guests' attention. They often work well for an outdoor ceremony such as a grand garden wedding. A great example of this style is J6826 from the Moonlight Bridal Collection. To show off this design in all its glory, a wavy up-do with a crystal hair clip is a great hairstyle to consider.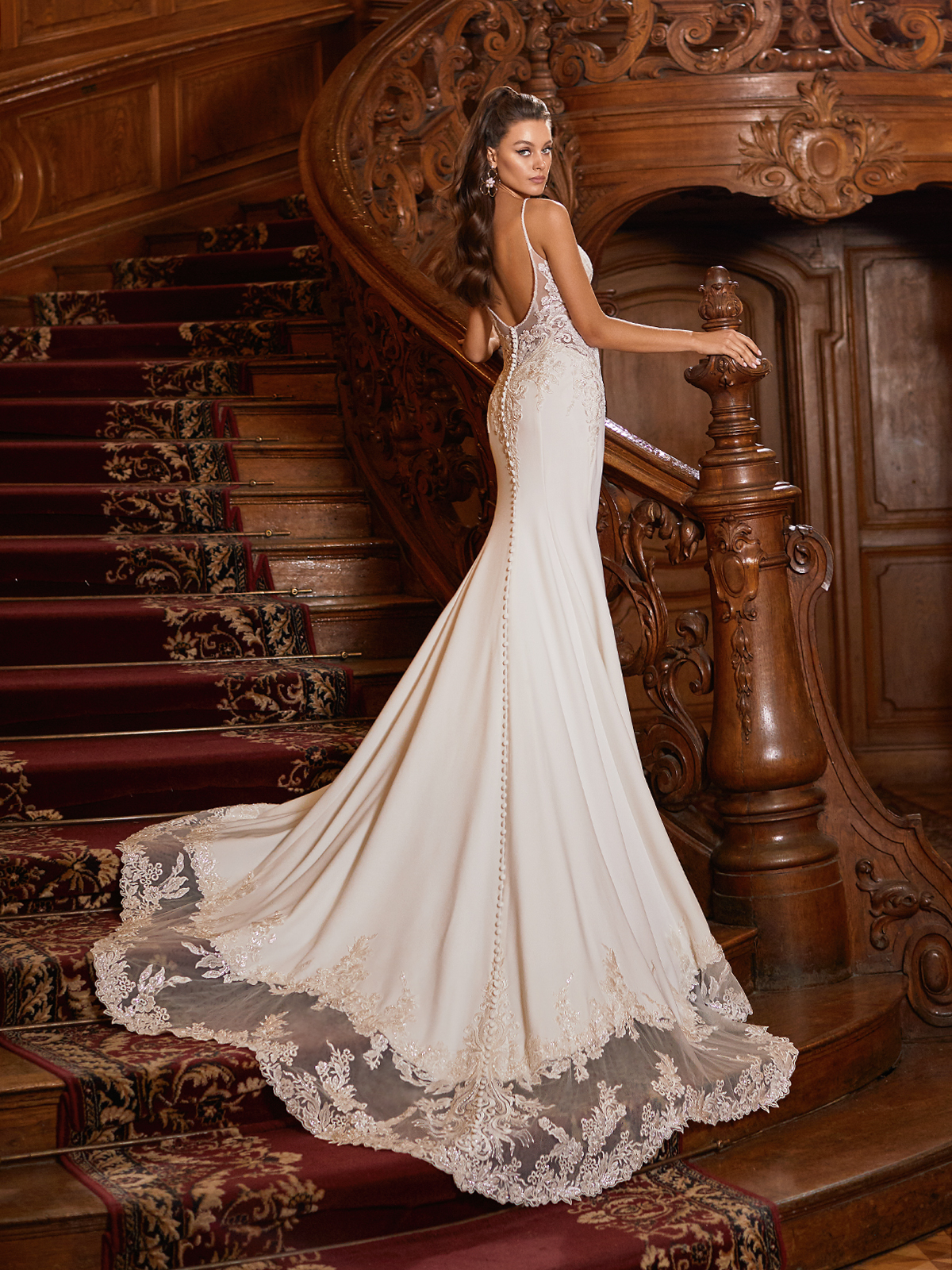 Keyhole Back
For brides that can't decide if they want an open back or not, a keyhole cutout design may be the perfect compromise. Perfect for a spring or summer wedding, you'll be able to show a little skin while having some beautiful coverage along the top of your back. Style J6835 from the Moonlight Collection is a timeless A-line wedding dress that features a keyhole back.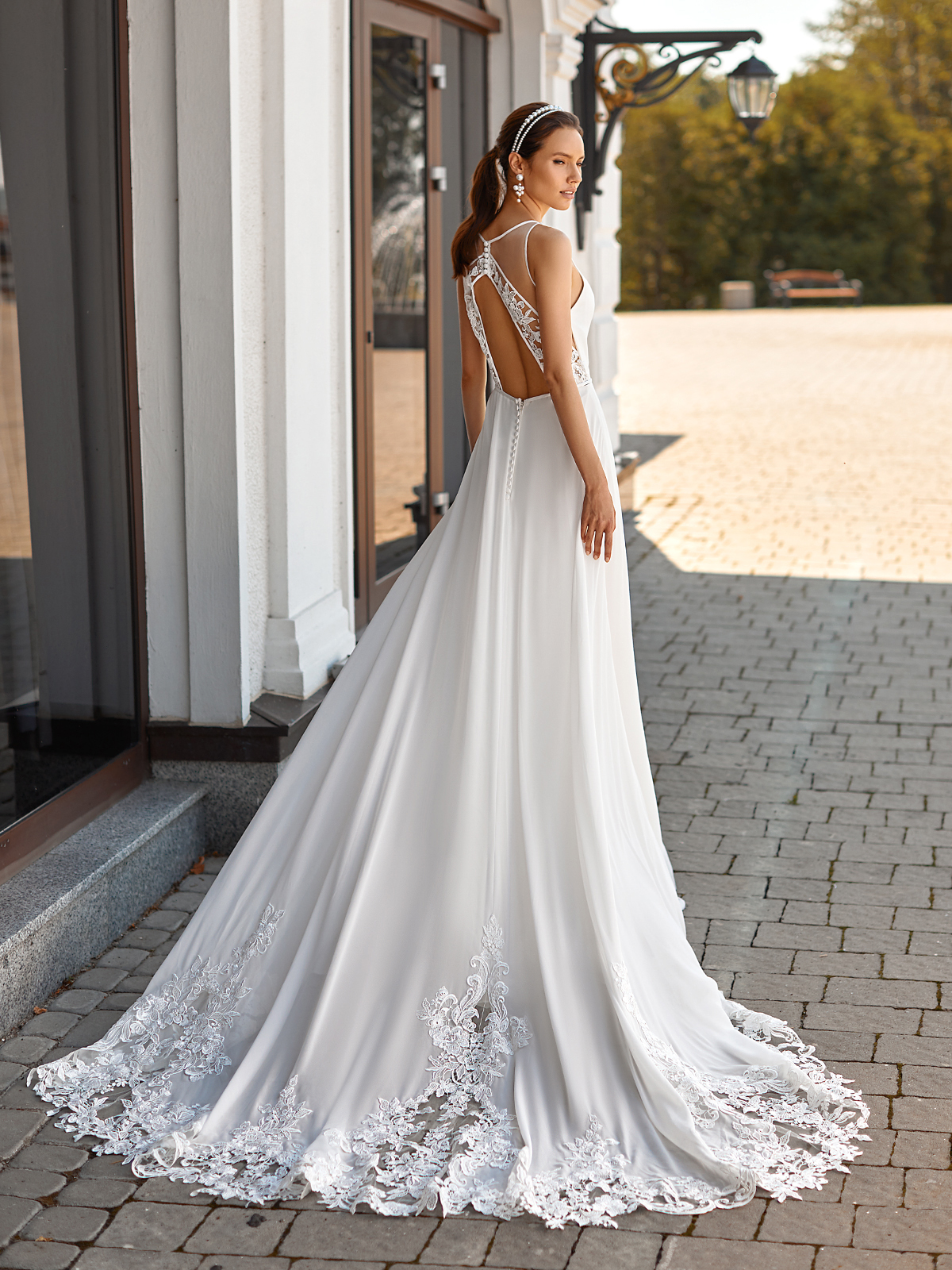 Illusion Back
Get the best of both worlds by going with an illusion back wedding dress. This style gives the feel of an open back while adding a sheer layer over the entire back or just a portion of the back. This sheer layer can sometimes include beautiful embellishments. These gowns are subtle and romantic because they feature an opening without exposing much skin. These designs often incorporate different materials to create the illusion such as netting, lace or even lace applique. The possibilities are endless.
Illusion detailed back wedding dresses are perfect for fall or winter fairytale weddings where the air is a little cooler. The illusion portion will act as a cover to keep you warmer than having an open back. For the brides who love classic lace, an illusion featuring detailed lace may be a match made in heaven. The lace applique on Style T905 adds details to a beautiful, yet simple wedding dress. Depending on the type of lace used, it can match anything from a vintage theme to a modern classic wedding. Show off the details by wearing your hair to one side or in an up-do.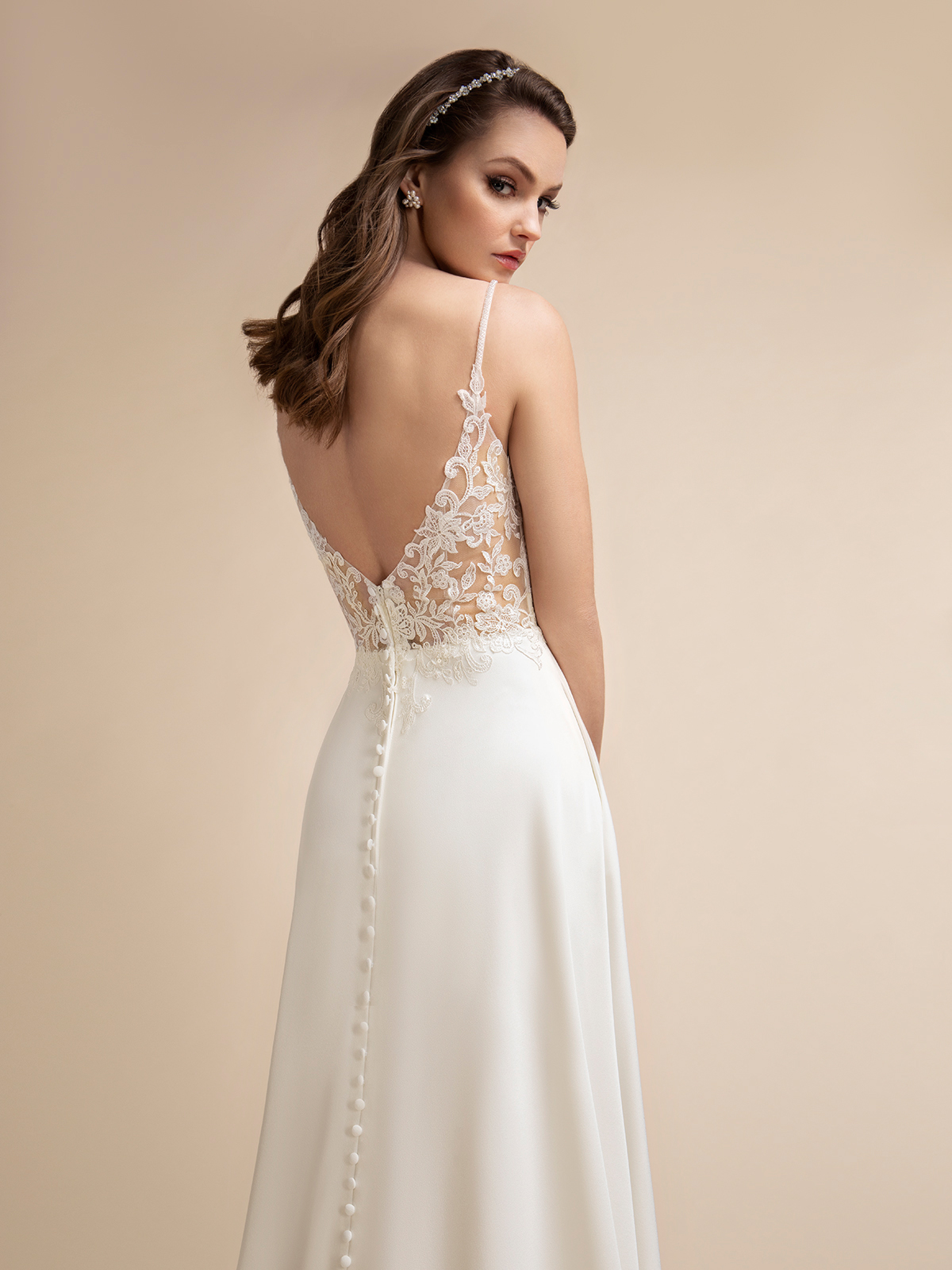 V-Back
Plunging necklines are not the only way to make a statement on your big day. Wedding gown designs that feature a deep V-back can create a dramatic look. Great for formal and elegant settings, this dress back style is sure to turn heads when walking down the aisle. Style T889 from the Moonlight Tango Collection includes a V-neck neckline and a delicate V-back design with beautifully beaded straps attached.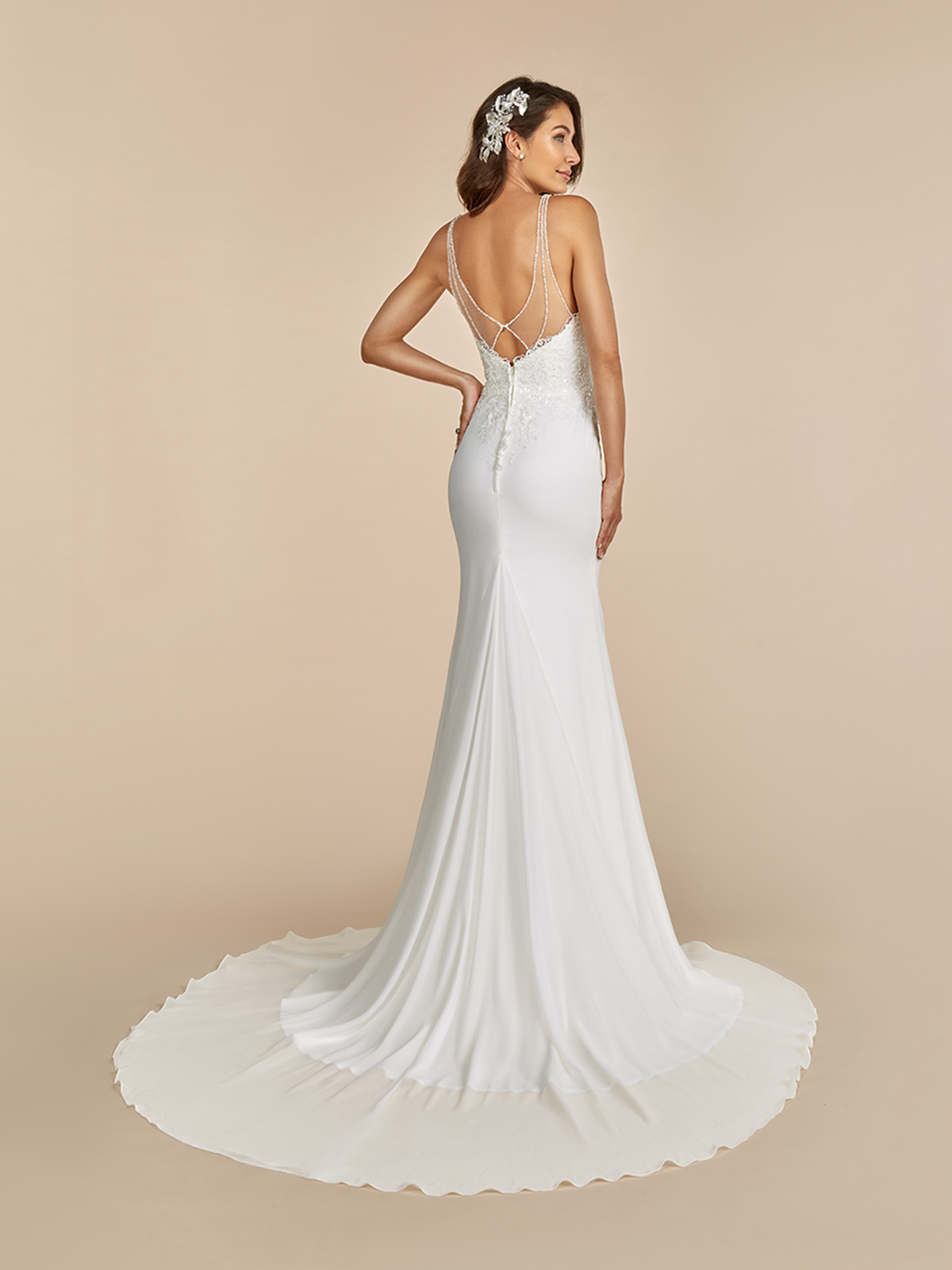 Draped Cowl Back
A twist to the open back design, a cowl back dress offers a classic, yet elegant look. Perfect for highlighting a bride's back in a subtle way, this style features draped material that will draw the attention to your back without being overpowering. Consider this look both unique and sexy. Style J6791 offers an eye-catching example of this style. This long sleeve wedding dress is made from luxurious crepe satin material, and includes an open illusion cowl back.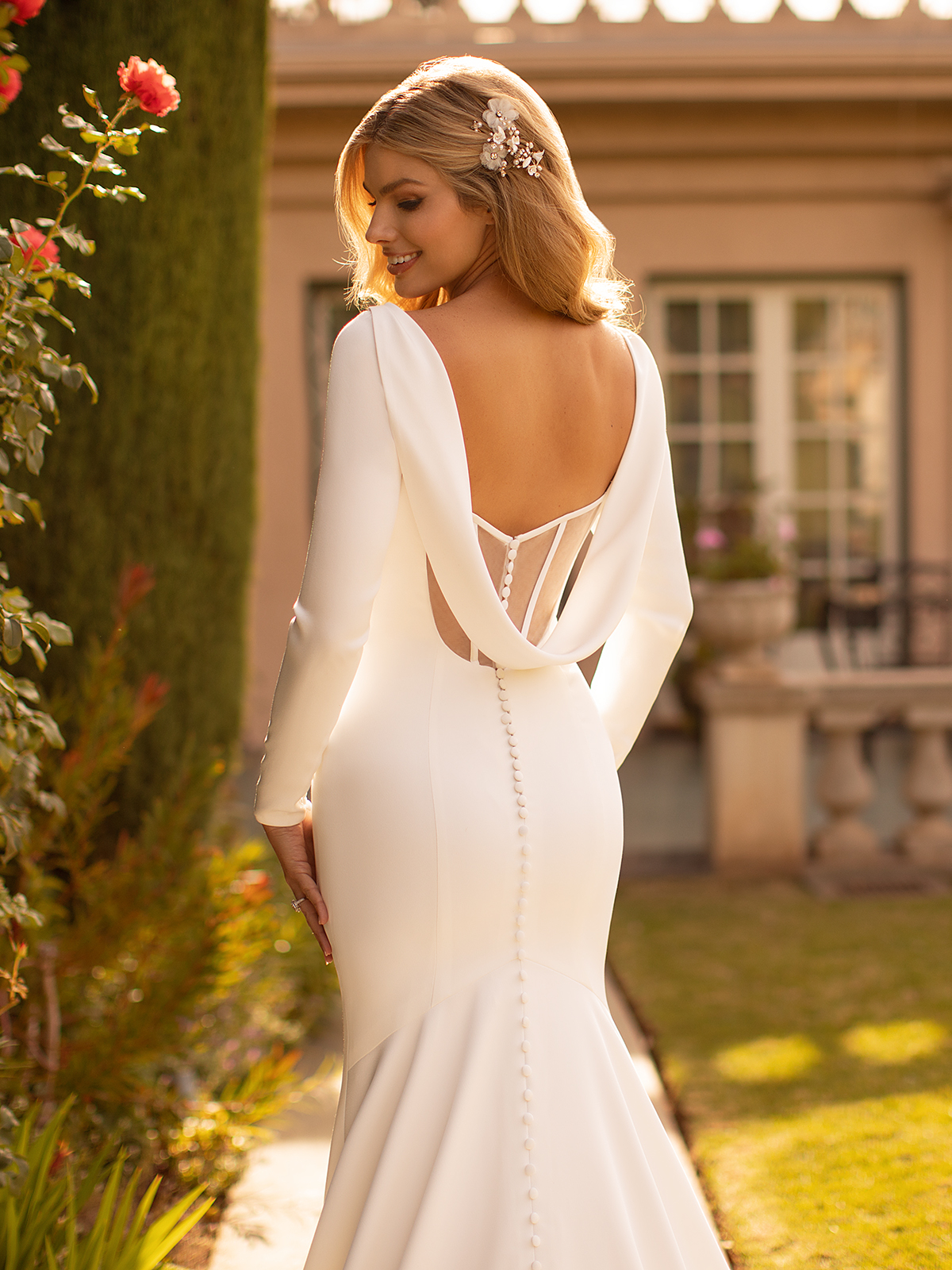 Strappy Back
If you love the idea of an open back but think there's something missing, then consider wedding gowns with intricate beaded straps. It may be the eye catching component to the open back design you have been looking for. Wearing an up-do or side-swept hair would showcase this look.
Consider the closely related criss-cross design as well if you're looking for a partial open back style with beautiful detail. Style J6836 is a full tulle gown that includes beaded lace cross straps on the back that will grab your guests attention.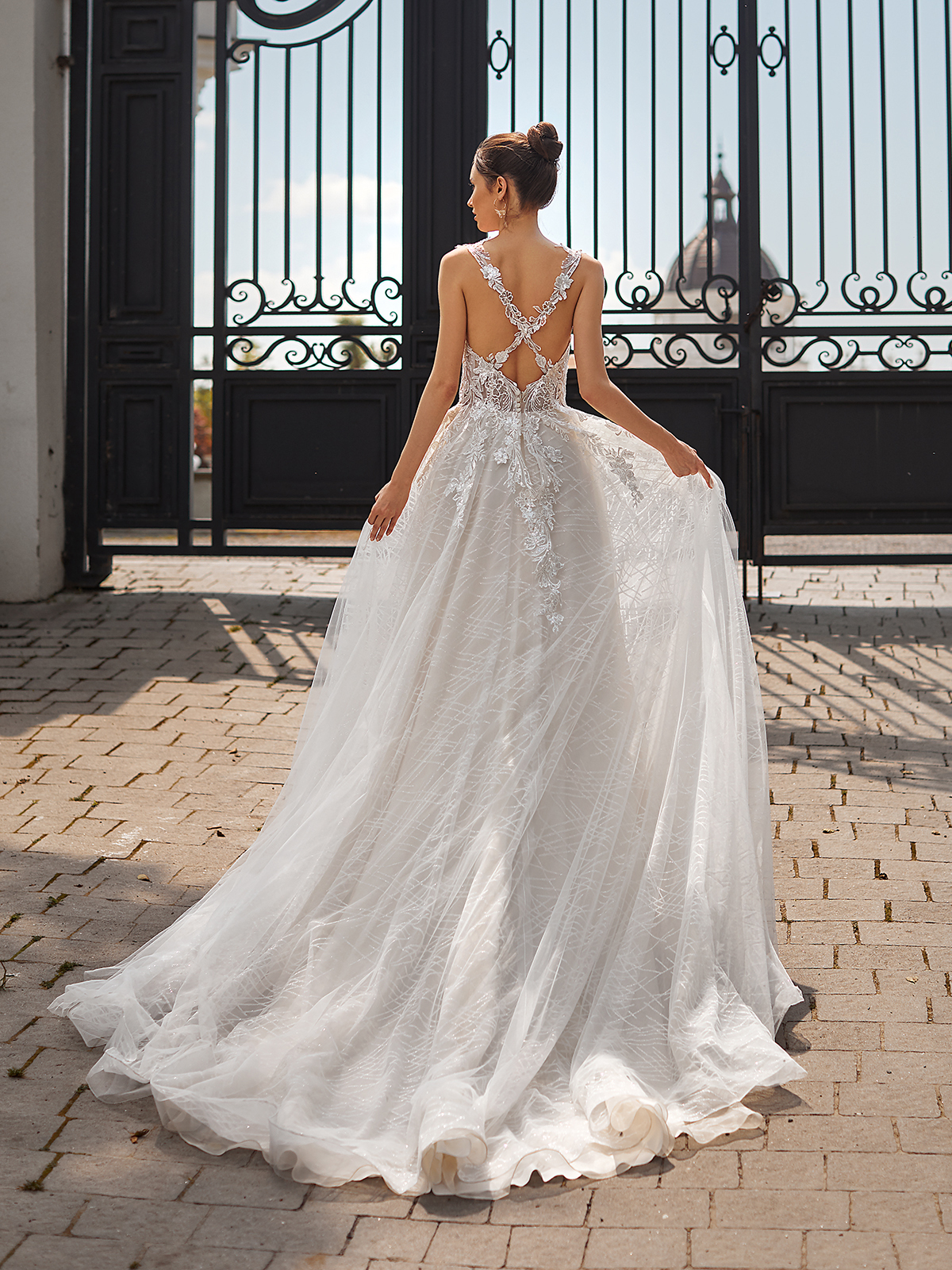 How to Choose
The type of style you choose for a bridal gown is entirely up to you, but there may be a couple of factors to consider to help make your decision when shopping for a wedding dress.
Wedding Setting
Where are you getting married? In a church, vineyard or on the beach? The location of your big day plays a role in your style choices, which includes the back of the dress. Church venues may call for a more modest look. Indoor ceremonies and receptions also allow for gorgeous long trains, lavish ornate detailing like illusion sleeves and backs because you won't have to worry about the weather and how you will walk around.
Whereas having your ceremony outdoors, for example, in Central Park, will not have the same requirements. You will probably want to go with a shorter train and a more open back that better suits an outdoor venue. Be sure to keep this in mind while shopping for a dress.
Guest List Considerations
We all know this day is all about you, the bride. But you also don't want to offend anyone, especially older guests. If your guest list is filled with older family members and friends, then perhaps you may not want a super revealing dress. However, if your guest list consists of many of your friends from college and after, they may love a sexy deep V-backless dress. No matter what, your wedding dress should still show your personality.
Summary
Your dream bridal dress should reflect your personality which is why the back details are just as important as the details on the front. Also, consider the location and season of your wedding as it may change the design choice of your dress. Whether you choose to go with a design that's open back, illusion, or keyhole, the decision is up to you.
Whether you know exactly what style you want or still have questions regarding your dream dress, the consultants at your
Moonlight Bridal retailer
have all the answers to help you pick the perfect one.