How to Plan the Perfect Spring Time Wedding
Choosing the Perfect Wedding Dress for Spring
It's spring! The season where flowers are starting to bloom, the grass is starting to turn vibrant green, and cute creatures are coming out of hiding from the winter cold. This season also brings a lot of new life, love, hope and promises. Spring weddings can symbolize all of that and more because it's the start of a new life for you and your significant other.
A few other things that may come to mind when you think about this season are flowers, fun pastel colors, the light breeze of the morning and warm sun of the afternoon. Keeping these various ideas in mind while planning your ceremony and reception can help add the perfect spring touch to your big day.
But what about your wedding dress? What should you look for in a bridal gown for this season?
What to Consider When Shopping for a Spring Wedding Gown
From fabrics to sleeves, we pulled together a few elements to consider when searching for the perfect spring wedding dress.
Sleeves
Even with the Spring weather warming up it can still get chilly at night. If you are a bride who easily gets cold, a wedding dress with sleeves or lace sleeves may be the perfect match for you. Here are some dress sleeve suggestions to consider:
Swag Sleeves – Modest yet stylish, these sleeves are romantic as they delicately lay on your shoulders. Swag sleeves give you the romantic off-the-shoulder style while allowing for more movement. Pair them with a beautiful sweetheart neckline as seen in Style J6821 for a wonderfully elegant look.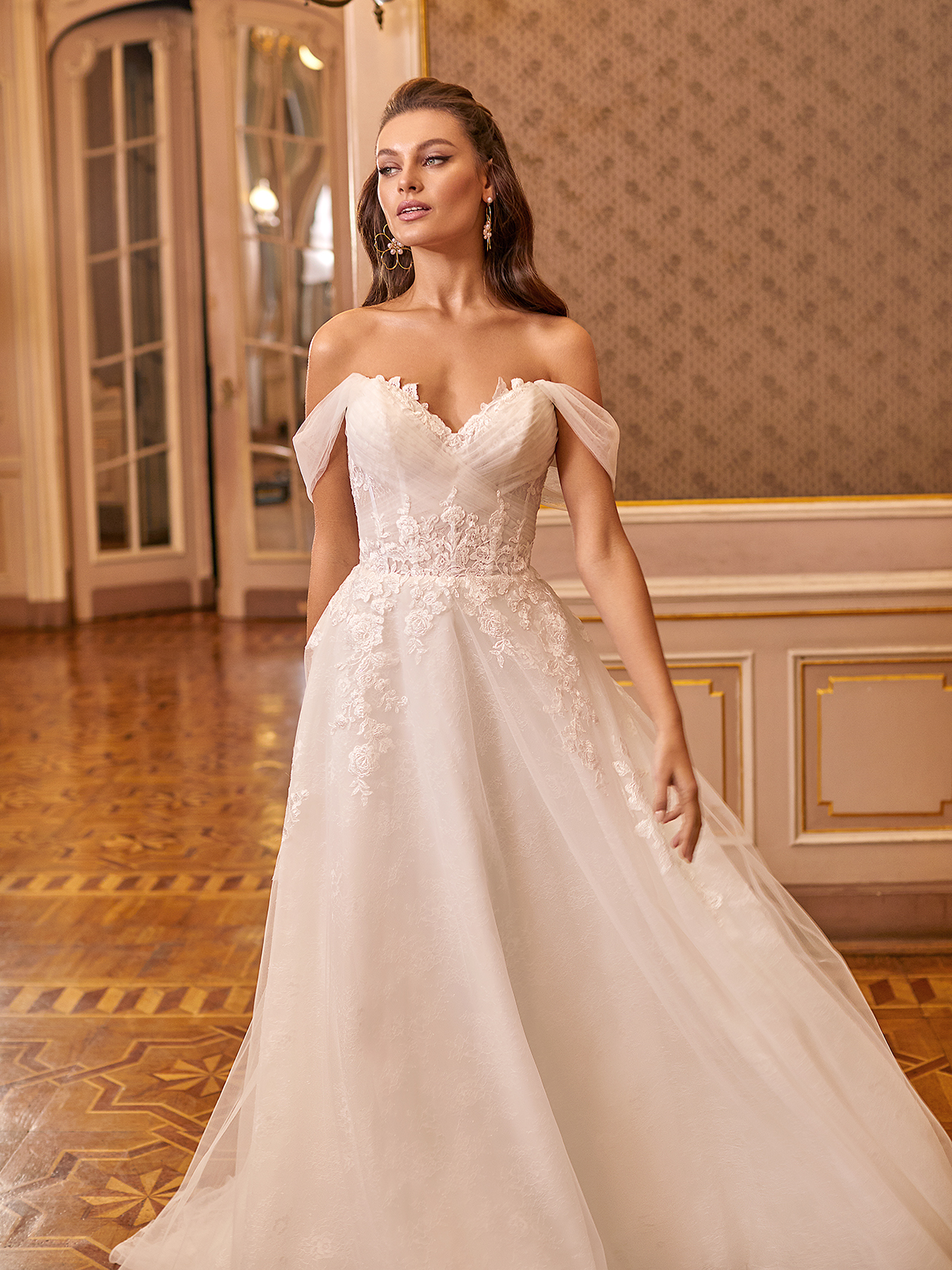 Short Sleeves – These are exactly as they sound. Short sleeves are just a few inches from your shoulders and provide a modest amount of coverage. Style T903 is a boho design that pairs an A-line silhouette with a daring v-neck, the perfect combo for a spring wedding dress.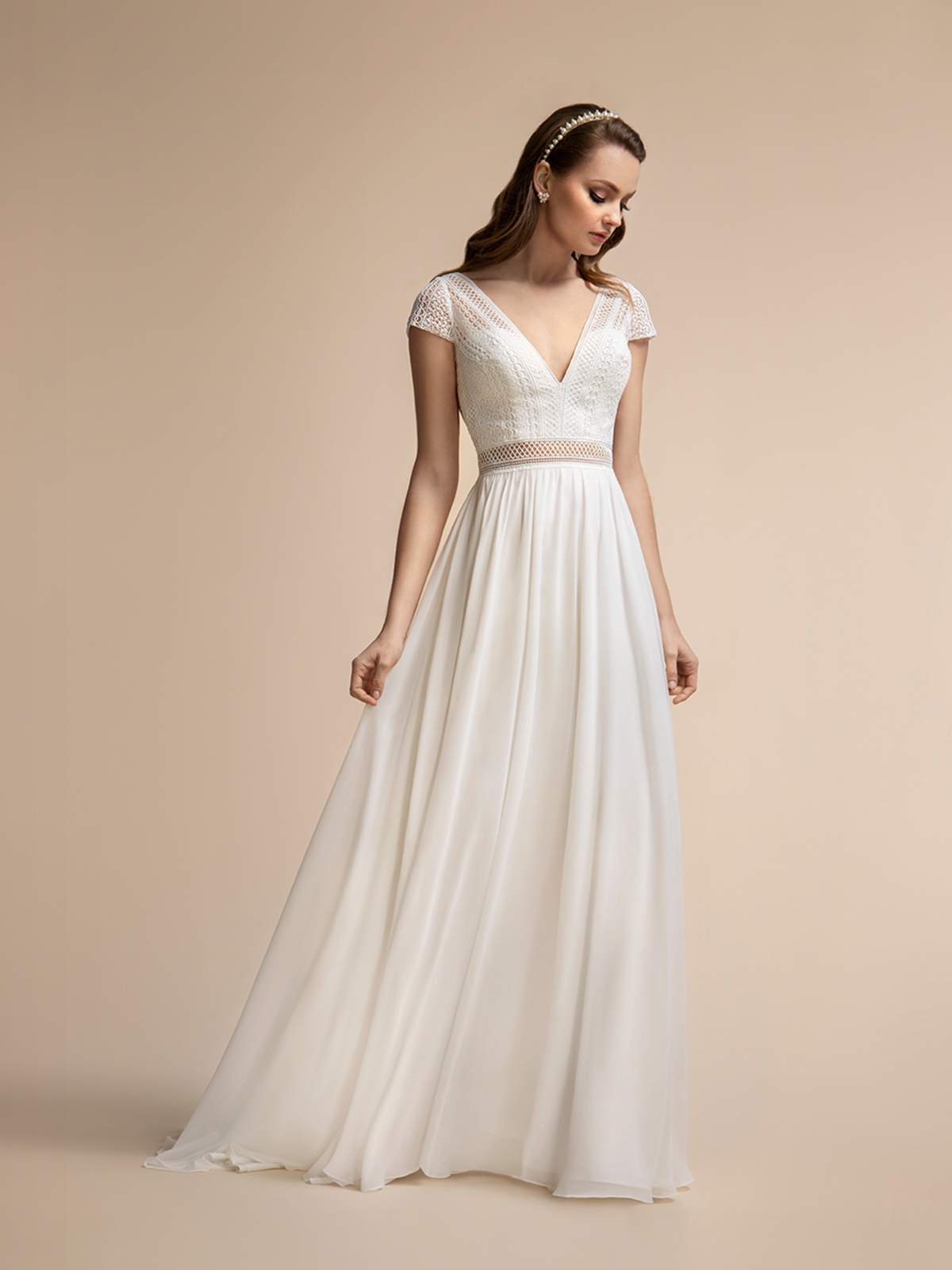 Cap Sleeves – Cap sleeves bring a fresh yet sophisticated look. They typically hang over the edge of your shoulders and taper off. Perfect for brides who don't want their arms and shoulders completely bare. Style T926 creates a 2-in-1 look with the option to wear the beaded cap sleeves or remove them for a strapless look. This design also features a plunging neckline for a dramatic finish.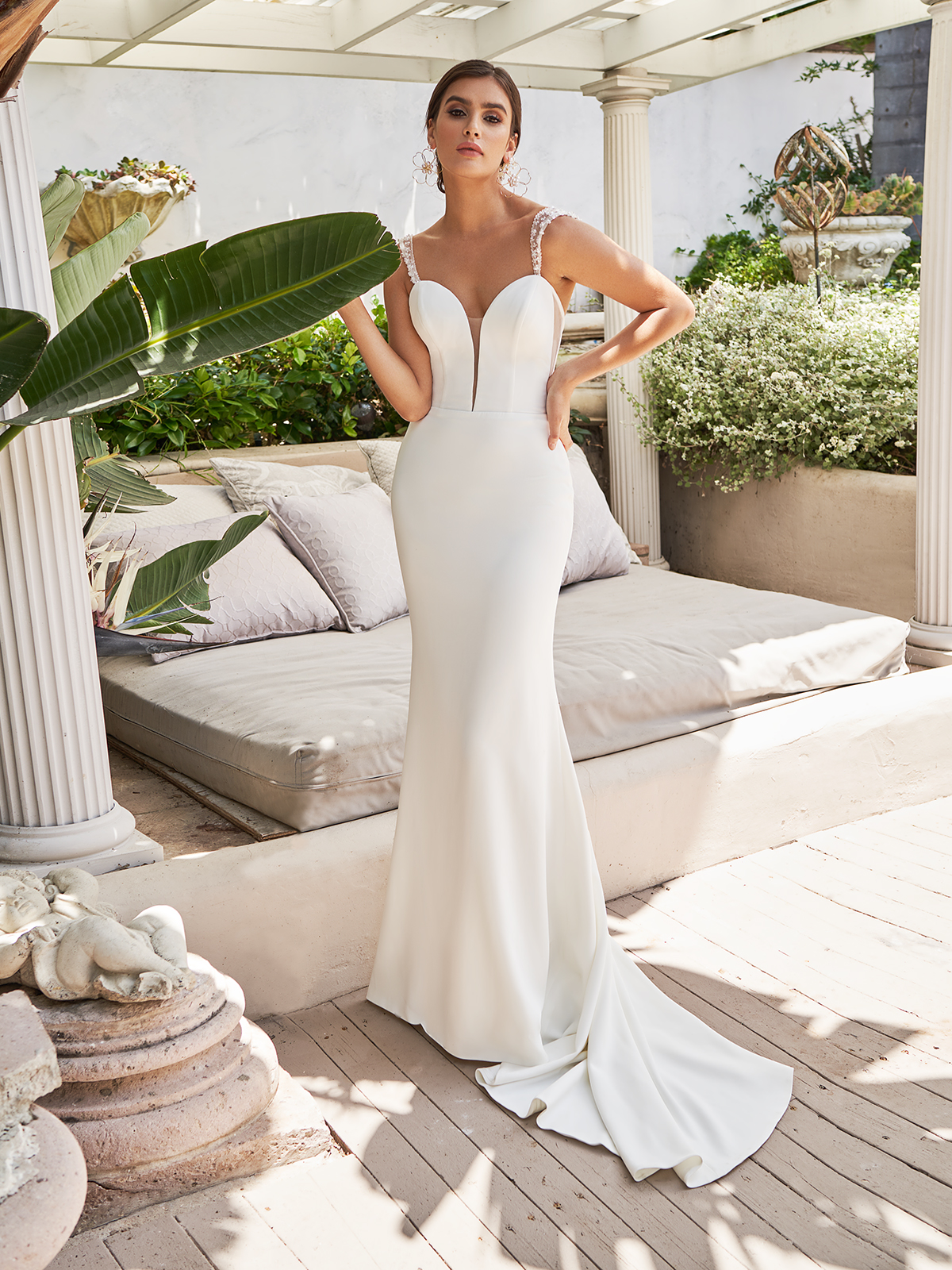 Illusion sleeves – Either long sleeve or ¾ sleeve, illusion sleeves usually include gorgeous lace appliques thoughtfully placed throughout, giving the gown a sense of flirty-ness and modernity. Style J6871 is a sleek mermaid wedding dress made with luxurious crepe fabric that includes detachable illusion long sleeves. Lace sleeves will capture timelessness and sophistication. Both will make you feel beautiful on your big day!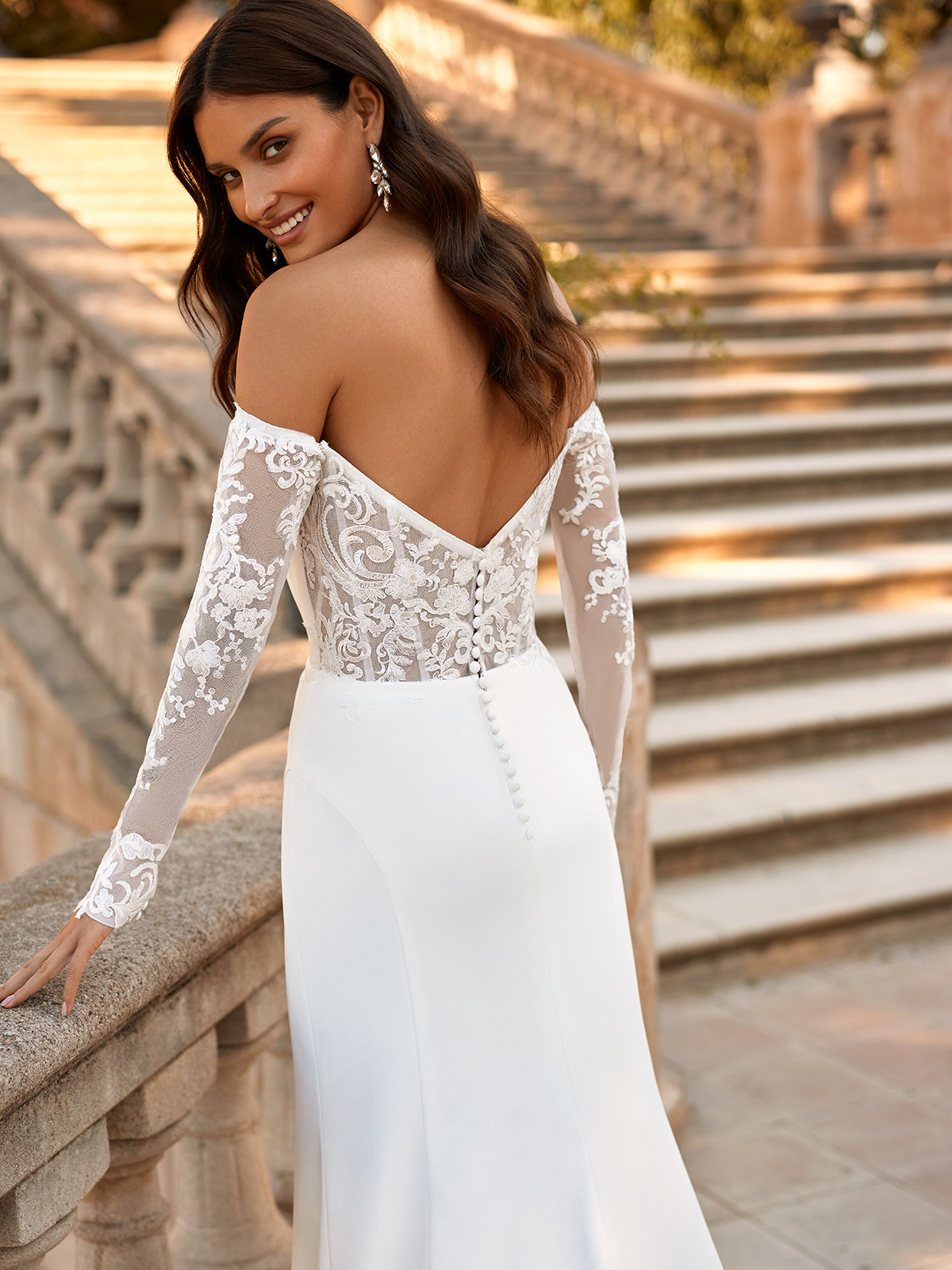 Fabrics
As the weather is getting warmer, finding a dress with light fabric will keep you calm, cool and gorgeous during your wedding day. Think light weight satins, chiffon, tulle, and organza fabrics. The lighter fabric will keep you cool in the afternoon and won't leave you feeling cold by the end of the night. Light and airy dresses combined with the breeze of a spring day will make for amazing pictures.
Length
Since the cool air will make way for the warm sun, but returns after sunset, a tea length to floor length wedding dress is ideal for springtime weddings. However, just because it may be a bit warmer outside, doesn't mean you can't have a gorgeous long train as part of your dress. The long train will flutter in the light breeze, making you look like you're floating down the aisle.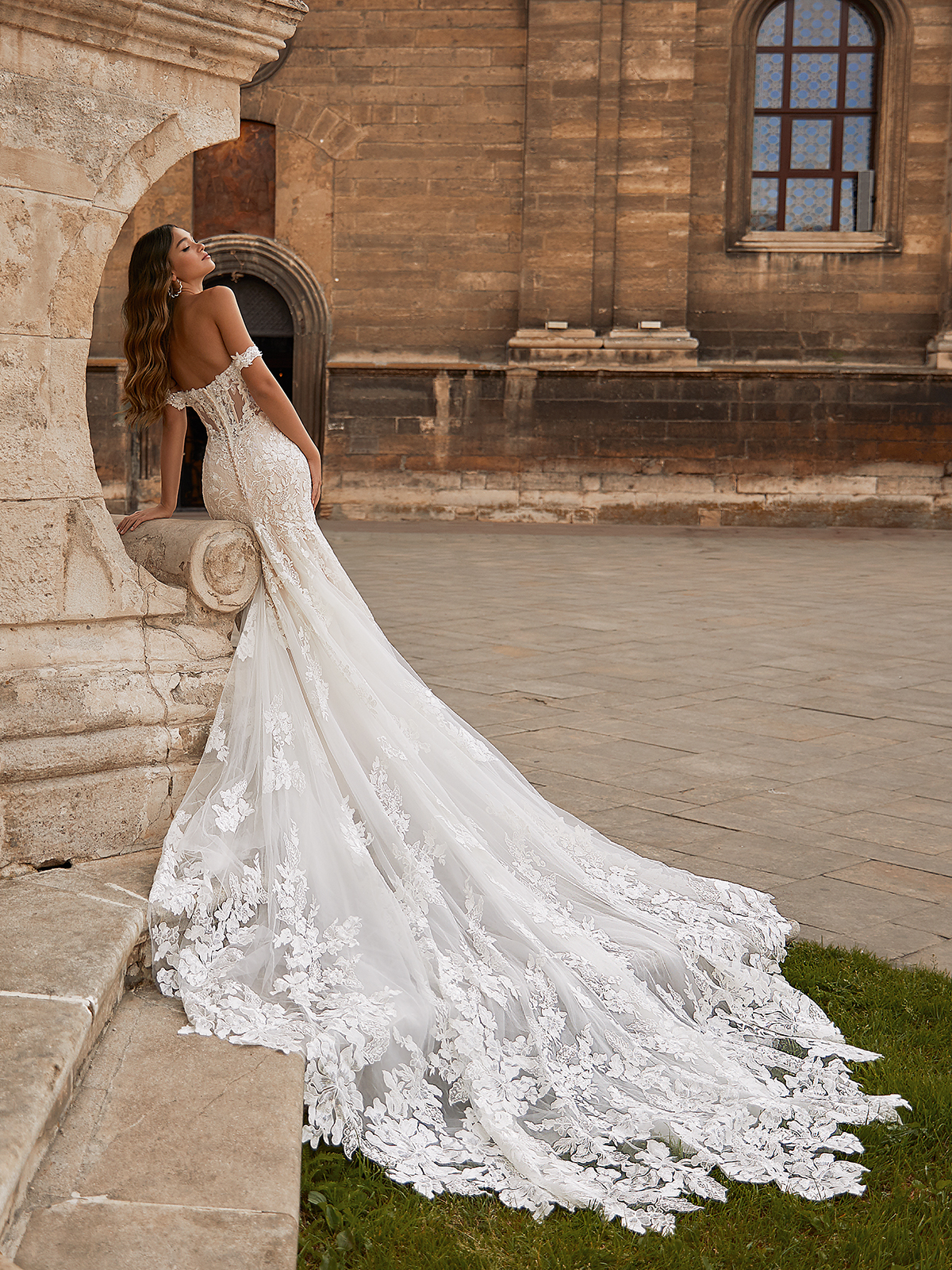 Collars/Necklines
Illusion, bateau and halter necklines are great options for a wedding during the spring months. They are fresh, fun and flirty. Another unique option is a square neckline. Style T933 is a crepe wedding dress with a square neckline and a low back, the perfect combination for a spring ceremony.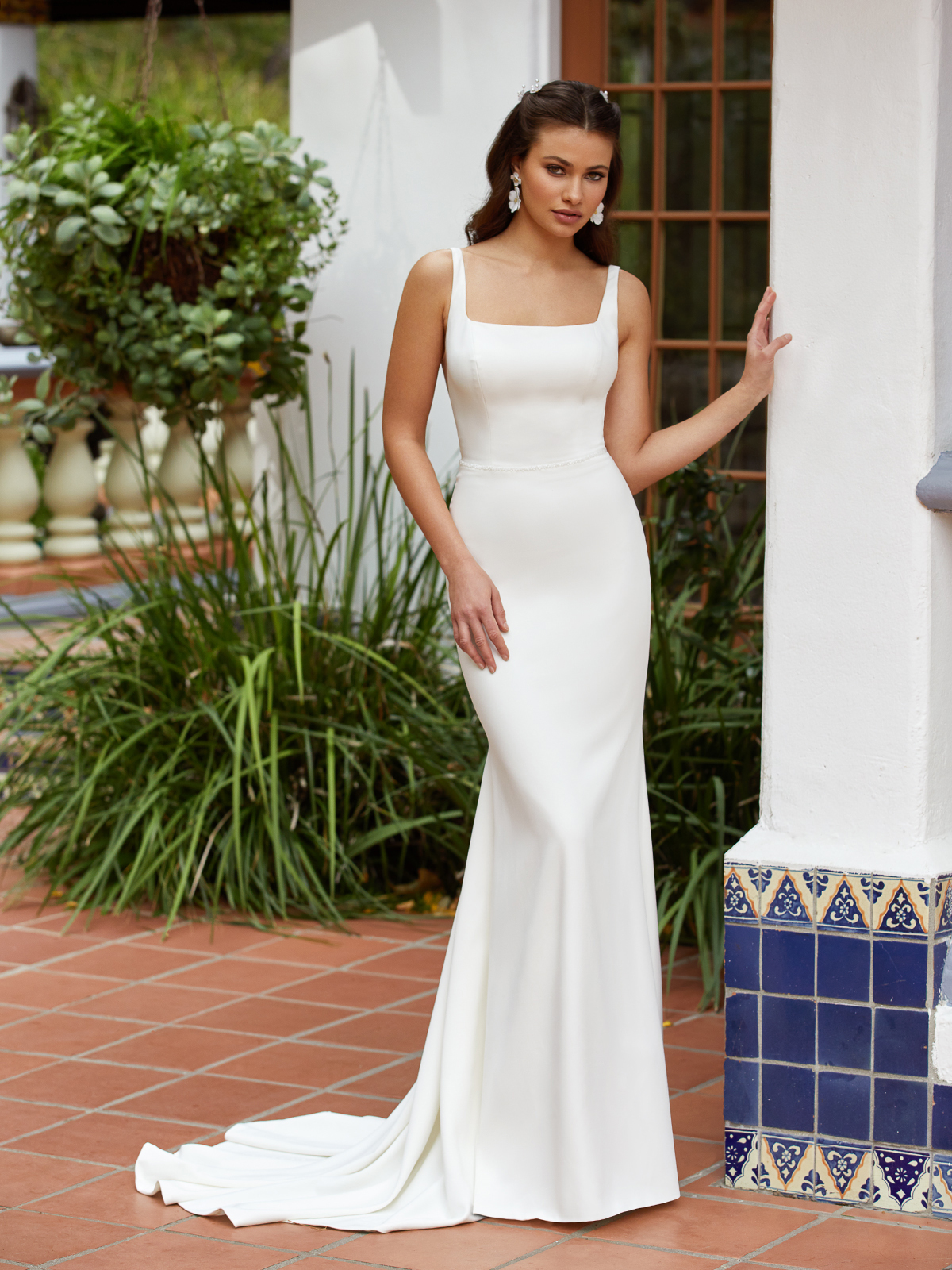 These different necklines have been very popular among brides who want to stand out from the crowd.
Open Back
Backless dresses are sexy, sophisticated and timeless. The warmer spring weather brings these gorgeous designs to brides' minds. Balancing between timeless elegance and modern-day sophistication, backless dresses show a bride's fun and sexy personality while also keeping them cool.
Accessories
For moments when the breeze picks up and you want something light and stylish to cover your shoulders, shawls or light jackets are a divine choice. The light jackets can be worn during the ceremony and taken off during the reception, or vice versa. Whether you decide to go with a grand lace jacket that extends into a train or an intricately beaded jacket, both are great accessories to have just in case you get cold.
Color
With spring comes color. Pastels such as pink, blush, lavender and ivory are all colors that represent the season and look amazing on wedding dresses. A strapless latte wedding gown is perfect for the bride that wants to add a bit of color to their special day. The blush color blends well with the spring theme of the wedding day.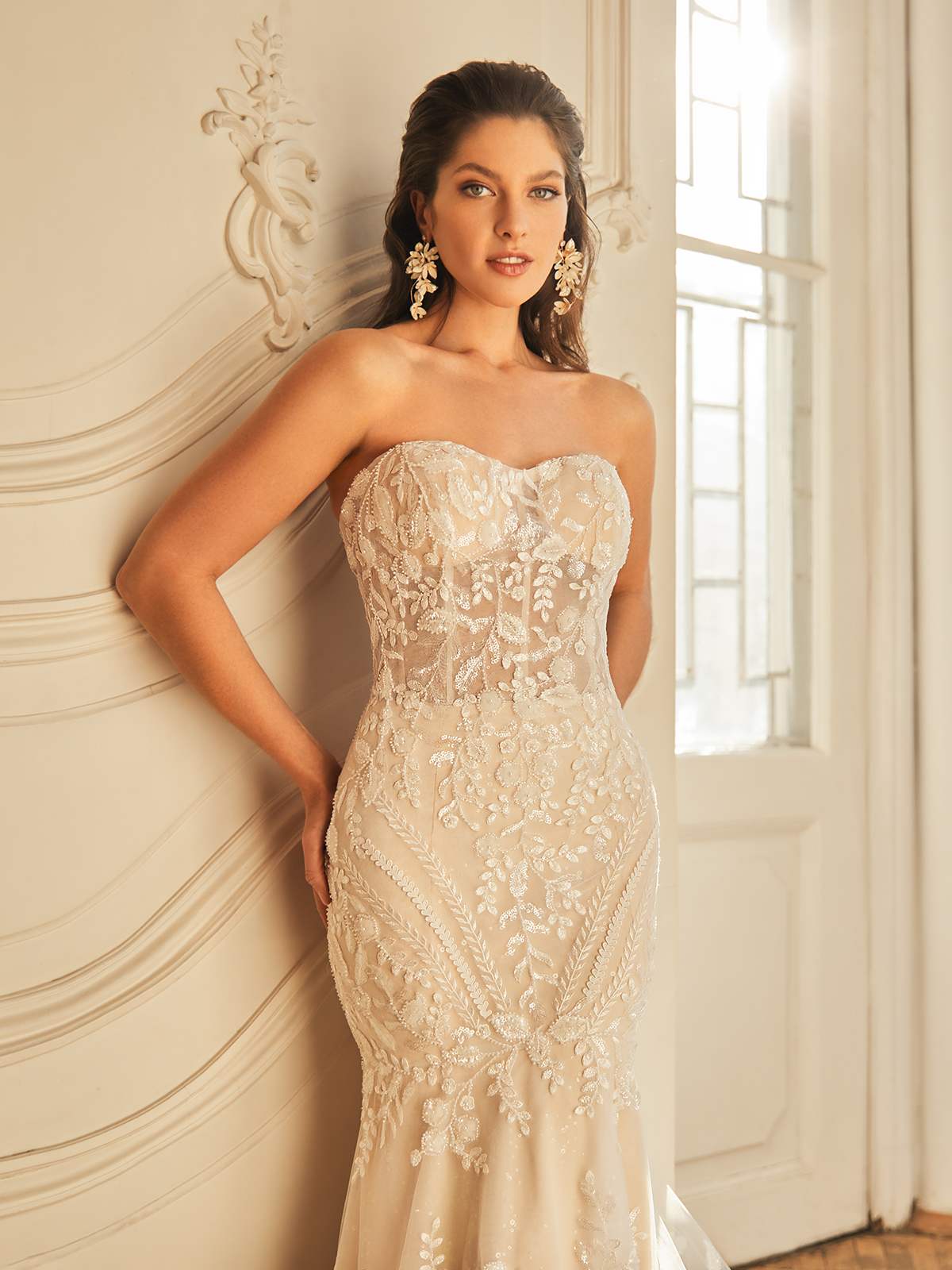 Bonus Tip
As we all know, this season is also known for rain showers. If you are planning to have your ceremony outdoors, check the weather forecast for rain showers. It is always a good idea to be over-prepared and have a plan in case this happens. Have tents and canopies ready to be set up if needed. Another idea is to have umbrellas for your guests in case of unexpected showers.
Final Word
We love helping brides find their dream gown and hope these tips guide you to finding the perfect spring wedding dress. Still have questions or want to try on a Moonlight Bridal design? Visit an authorized Moonlight retailer to talk to a knowledgeable associate.