Wedding Dress Style Guide: Choosing a Silhouette
Wedding Dress Style Guide: Choosing a Silhouette
You've long dreamed of waltzing down the aisle in a stunning dress that makes wedding guests — and more importantly, the love of your life — take notice. Now that you're actually in the midst of researching dress options, however, you might feel overwhelmed by the sheer range of styles available.
From fabrics to necklines and even the length of the train, there's a lot to consider. Before you examine these details, however, it's worth your while to learn a little more about the many silhouettes that are available these days. You just might find that silhouette selection clarifies many other aspects of this process. To help, we've developed a detailed guide that highlights both traditional wedding gown silhouettes and modern or unique options worth considering.
Traditional Wedding Dress Silhouettes That Brides Love
The term 'traditional' need not mean boring, as you'll quickly realize when exploring classic styles that have stood the test of time. These dresses can always be depended on to evoke the exact look that discerning brides desire:
Ball Gown
Inherently romantic, the ball gown has long been a wedding dress staple. This is the ideal option for any bride who wants to look like a princess. While a variety of styles can be included within this category, it generally involves a fitted bodice, oftentimes a corset style, accompanied by a full skirt.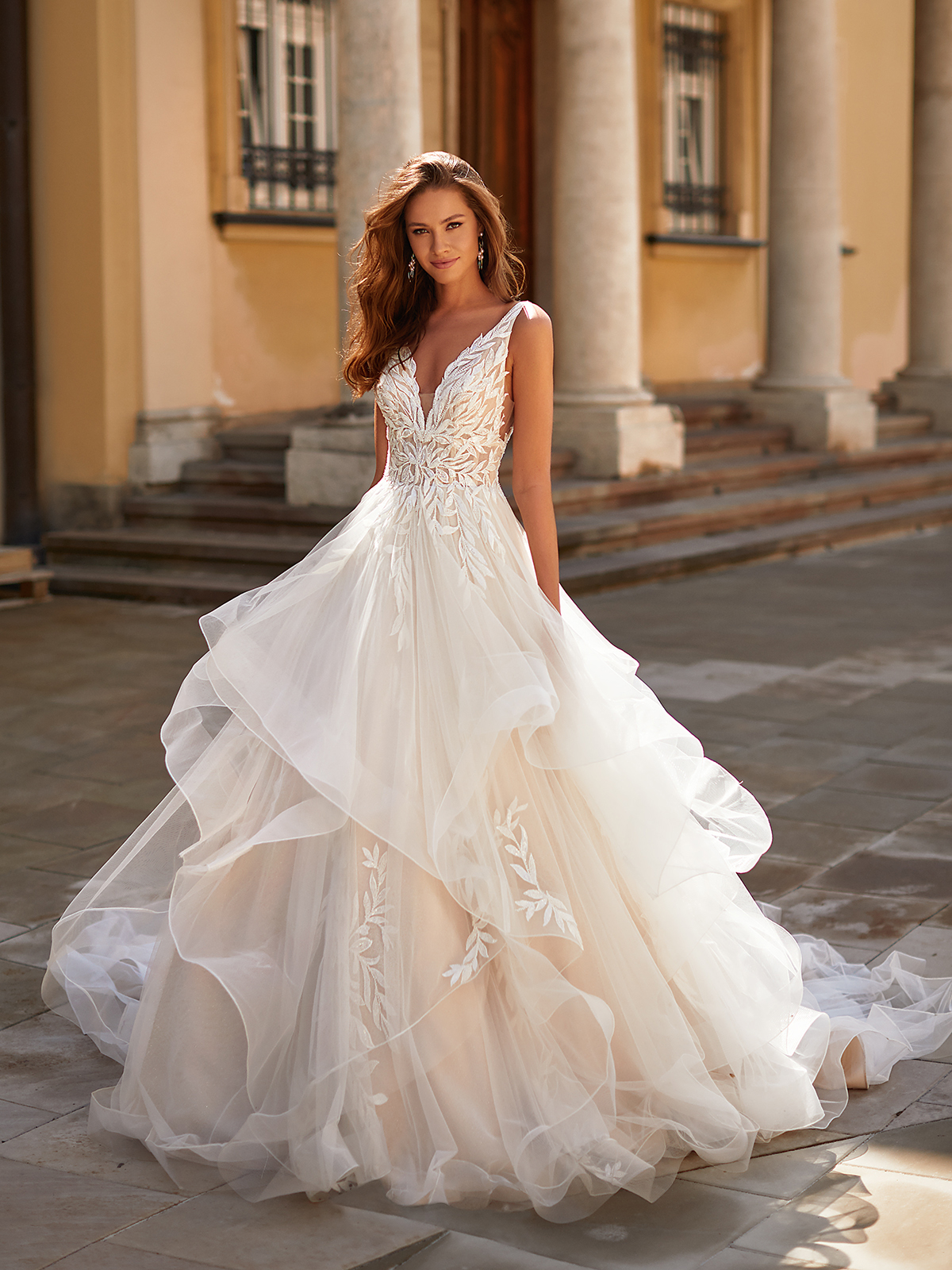 Layers of tulle are common, often creating a wide underskirt. With the right materials and layering approach, this skirt can create the impression that the bride is floating on air.
A-Line
The classic A-line silhouette has been beloved for generations — and these days, it remains as popular as ever. Much of the appeal stems from its flattering shape, which works well for nearly any body type imaginable.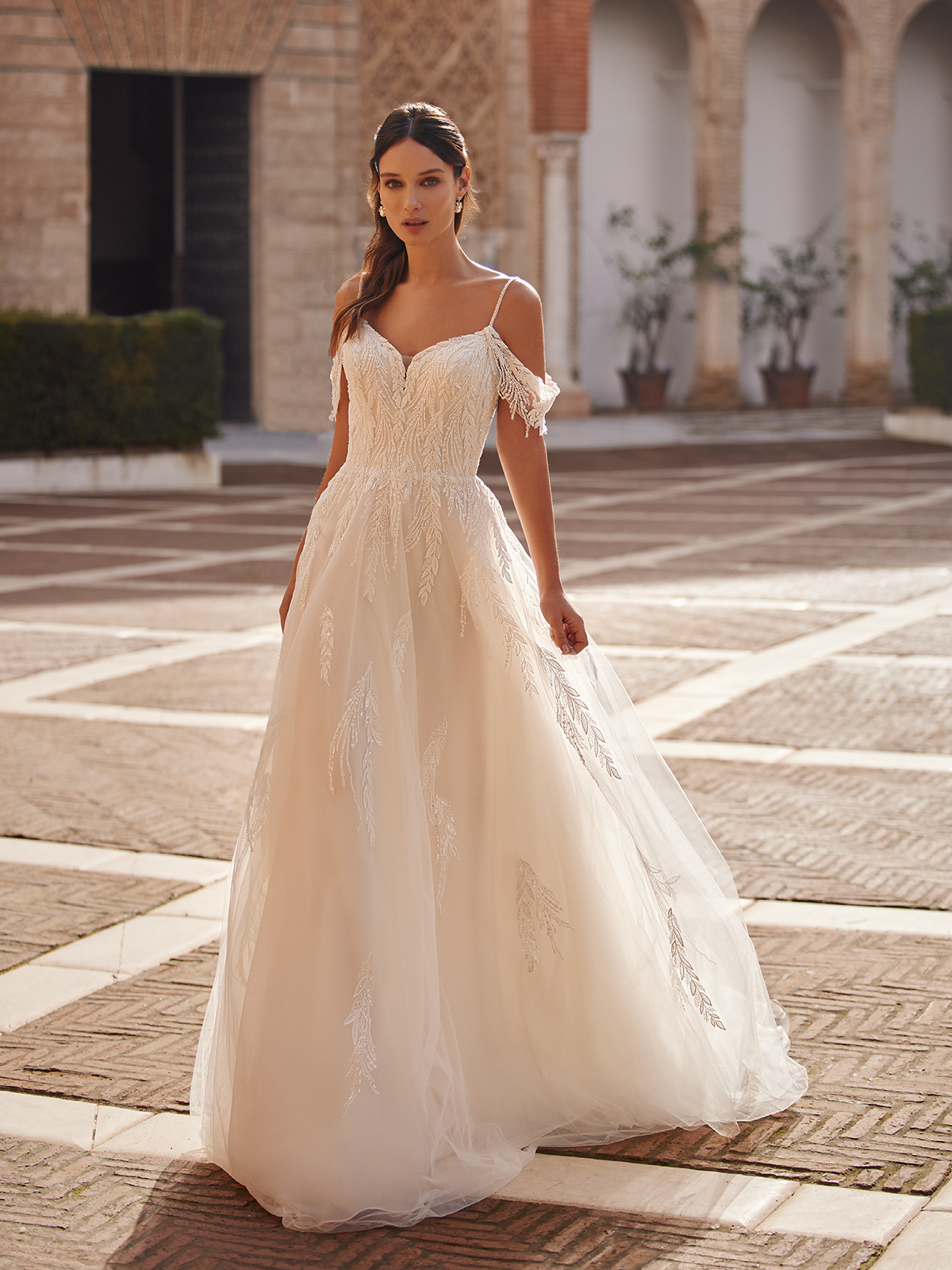 Like the ball gown, this silhouette includes a fitted top. Its layering is limited as compared to the typical ball gown, but it still maintains significant width at the hem, allowing the entire dress to resemble the shape of the capital letter A.
MERMAID
Hugging the body from the waist through the hips and legs, a mermaid gown is easily the most sensual of all the styles on this list. Unfortunately, while mermaid silhouettes make brides look downright stunning in photos, they can be more problematic when it's time to hit up the dance floor. Typically this body hugging silhouette flares somewhere lower on the legs, typically at or below the knees. For this reason, some brides prefer to wear this type of dress for the ceremony before switching into a second dress for the reception.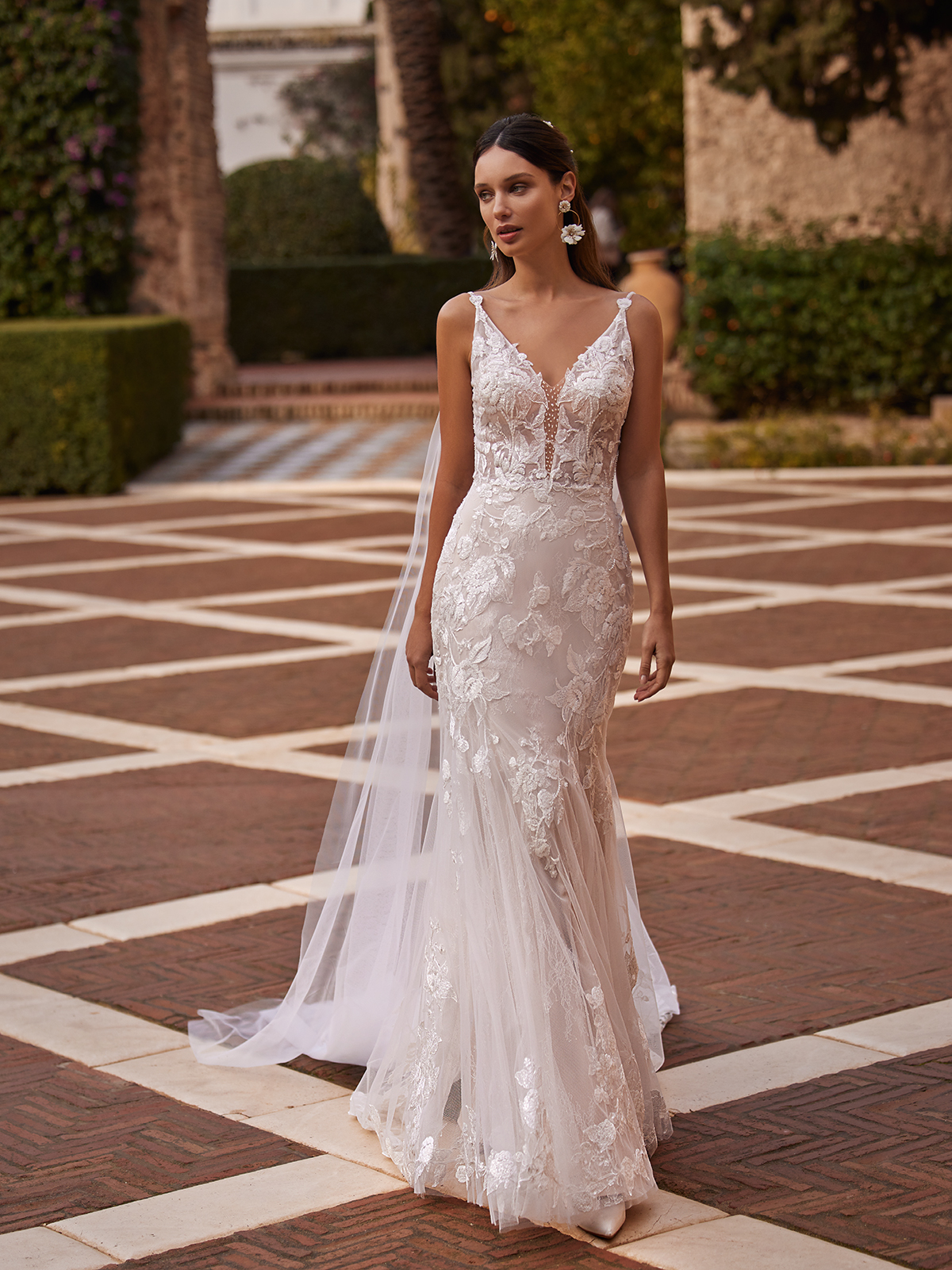 Trumpet
Featuring a fitted waist and a flare near the thigh, the trumpet silhouette is a great option for brides who like the concept of the mermaid dress but prefer something a bit more subtle.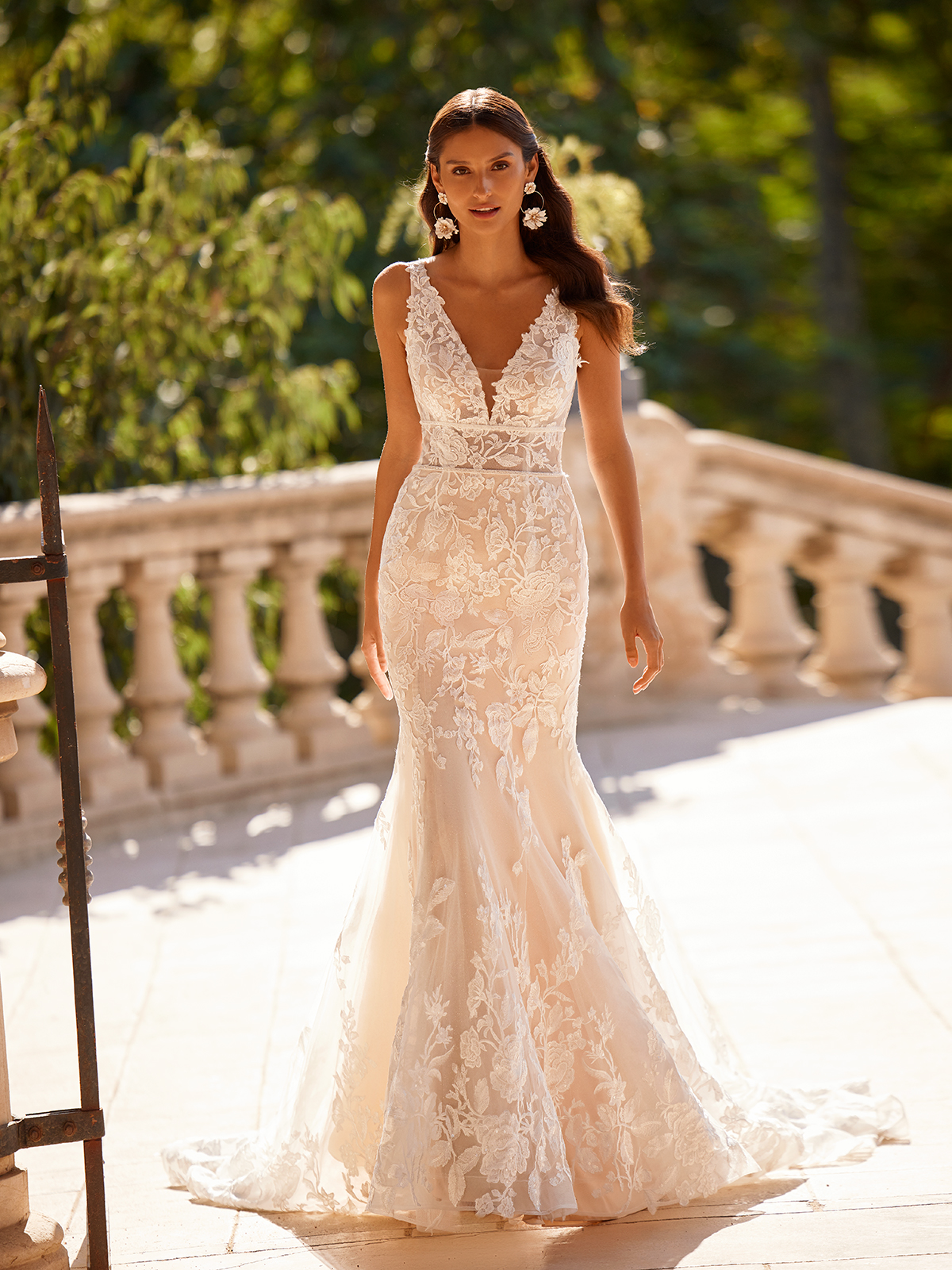 Another benefit? Despite its fitted profile, the trumpet can easily be worn for dancing during the reception, therefore bypassing a possible downside of the mermaid.
Sheath
A straight cut sets the sheath dress apart, giving it a simple, streamlined look. This contemporary silhouette is often favored by tall, slender brides, although many different body shapes can pull it often depending on how it's tailored. In general, however, it's a form-fitting shape that evokes the style of the classic cocktail dress. High-quality tailoring is essential for the sheath dress, which relies on V-shaped tucks (known as darts) to give it a close fit.
Slip
Minimalist brides often prefer the pared-back look of the slip dress. Named for the slip worn under a traditional gown, this wedding style (like its inspiration) generally features a silky dress with thin straps. Many takes on the slip are downright sultry — especially boudoir-inspired pieces with low backs or cowl necklines.
Non-Traditional Silhouettes
On the hunt for a unique wedding dress that will set you apart from other brides? If you want to make a statement, you'll be pleased to find several memorable silhouettes that go beyond the typical styles mentioned above.
Short
While many brides favor floor-length gowns, nothing should stop brides from showing off their legs. Short dresses are especially popular for elopements or small, casual weddings. They provide an excellent opportunity to highlight a stylish pair of shoes. Mini-dresses are perfectly acceptable, although some brides may prefer dresses that end just above or below the knee.
Jumpsuit
For an especially daring take on wedding attire, ditch the dress completely and opt for a jumpsuit instead. This fashion-forward alternative looks fresh and is surprisingly versatile. Crepe jumpsuits work nicely for trendy receptions, while Boho brides may prefer simple linens. Like short dresses, jumpsuits can be amazing for highlighting bridal footwear.
Two-Piece
At one time, the wedding dress was thought of as a single entity. That has since changed, however — especially as two-piece gowns have become more popular in other contexts. These can be as modest or as flashy as brides desire, with some even integrating the latest crop top trends with gorgeous styles that include a hint of midriff.
Today's two-piece dresses often resemble other popular silhouettes, such as A-lines or even mermaid styles. The difference, of course, is that the two-piece includes a separate top and bottom. The top is often extra intricate, featuring ornate embellishments using beads or lace. The bottom may be sleek or include ball gown-style layers of tulle.
High-Low (Asymmetrical) Hemlines
This striking style adds interest to an area of the dress often taken for granted: the hemline. As its name suggests, the typical high-low dress features a higher hemline in front, accompanied by additional length in the back. Depending on personal preferences, the difference between the various hem lengths can be subtle or dramatic.
Final Takeaways
No matter which silhouettes you prefer, your main goal should be to find a flattering wedding dress that makes you look and feel gorgeous on your big day. You'll find it far easier to accomplish this if you've examined your options in advance. Then, when it's time to try on dresses, you can focus on the styles you love most.
The quest for the perfect wedding dress need not feel stressful. You'll love the breathtaking options that Moonlight provides, as well as the dedication demonstrated by our authorized retailers. Don't hesitate to contact us to learn more about our vast selection of gowns in many different silhouette types. We'd love to help with finding and customizing the dress of your dreams.