MINIMALIST WEDDING DRESSES
GUIDE TO MINIMALIST WEDDING GOWNS
If you're searching high and low for a dress that will fit your classic style, we've got the perfect gowns for you.
With a simple wedding dress, the beauty in the fabric is important. With fabrics ranging from clean crepe fabrics to lavish mikado, we've gathered some of our favorite minimalist wedding dresses that will make walking down the aisle as easy as saying "I do" to your soulmate. For the bride that loves the basics and wants something a little less elaborate, continue reading for ideas on the perfect simple dress for you!
Minimalist Wedding Dress Ideas & Fabrics
With simple and classic designs, the focus is really on the beauty of the fabric and the silhouette. Also, adding a feature like a deep-V neckline can add a dramatic piece to an otherwise simple dress. We've listed our favorite fabrics that are typically used in more minimalist style gowns to help you find which one is the right one for you.
Crepe
Starting with one of our favorite fabrics, crepe has a soft, smooth, slightly textured or crinkled appearance. Great for accentuating curves, this material works well with minimalist designs. We have four different options including crepe back satin, stretch, regal and divina.
Crepe back satin - Light and crisp, this fabric runs along the body and gives a shape that will make your partner swoon the moment you lock eyes. Style T905 is an A-line crepe back satin gown that's fitted along the bodice, has a soft sweetheart neckline, and thin straps that sit delicately on your shoulders. It has a sleek and simple front paired with a deep illusion V-shaped back, adding just enough statement to the gown. Finishing off with a simple sweep train, this gown balances out the sophistication with traditional bridal style that every bride will love.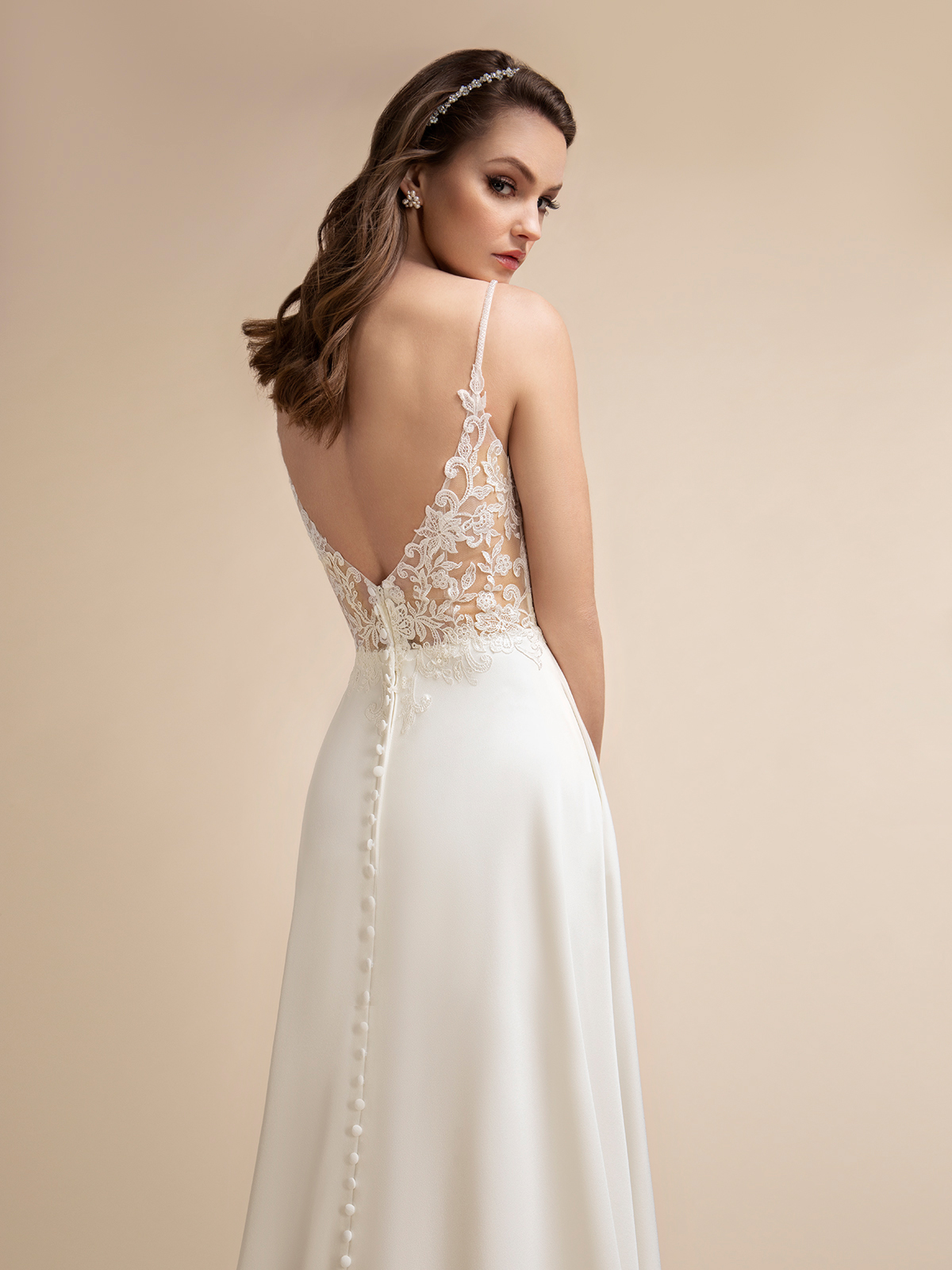 Stretch Crepe - Stretch crepe back satin offers a little extra room by having a slight stretch in the fabric making it a comfortable choice. Bold and elegant, Style T881 is a minimalist crepe mermaid wedding dress that features an eye-catching illusion cutout back. The fabric has a shiny touch to it which gives a contemporary feel. The simple details paired with the sleek and smooth fit deliver a subtle sexy look.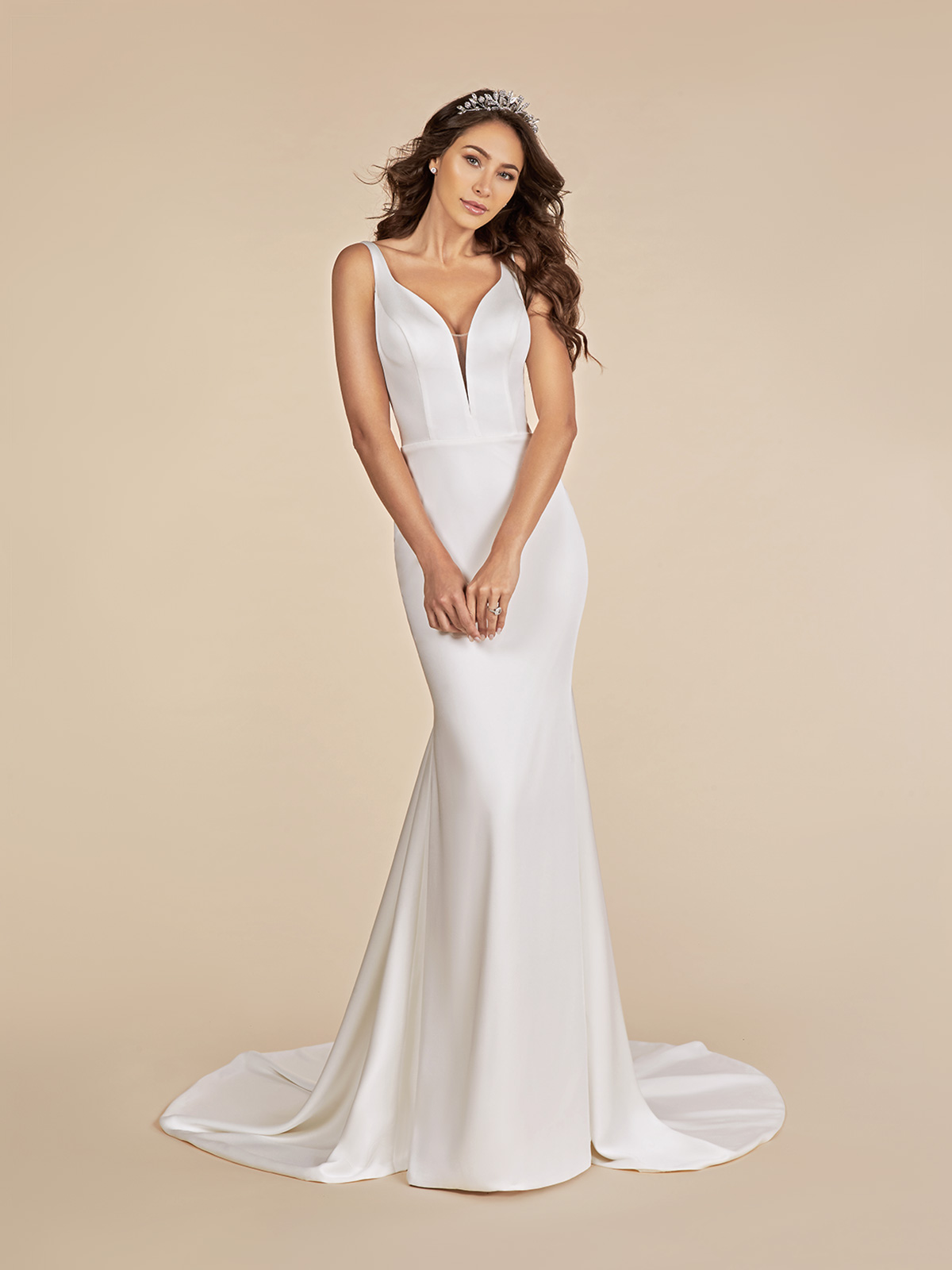 Regal Crepe - Compared to the crepe back satin and stretch, this fabric is thicker and offers more structure and fit. For a sultry regal style, slip into Style T926 from Moonlight Tango. Sensual and sleek, this sexy regal crepe mermaid wedding dress will fit your body like a dream. The design includes a plunging sweetheart neckline, illusion corset bodice details, and beaded detachable cap sleeves that offer both a minimal and glamorous style. Whether you're planning a luxurious summer wedding or a fall vintage ceremony, this gown will give you the look of two on your big day!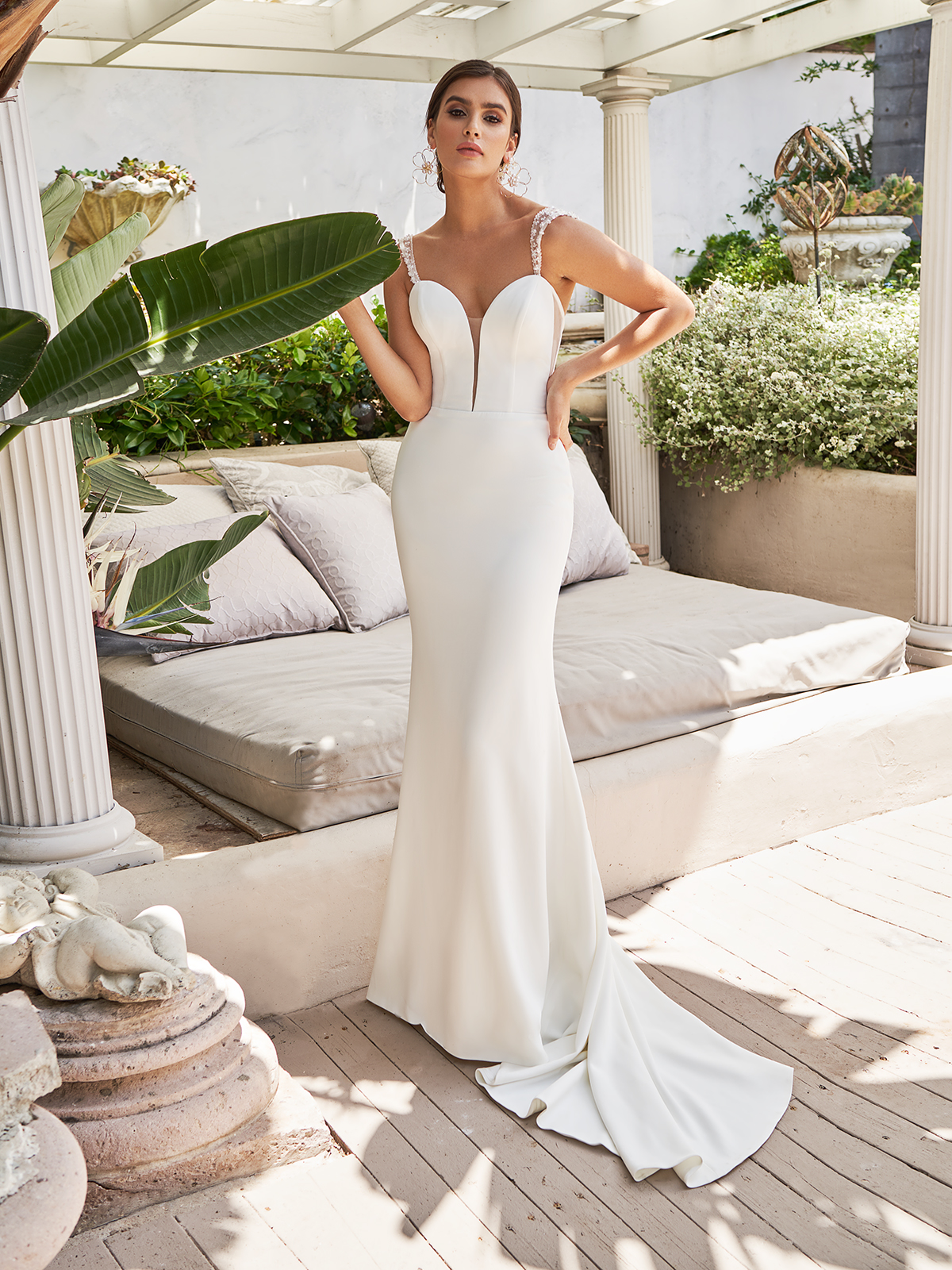 Divina Crepe - This fabric is the thickest and most stretchy of the crepe options. It hugs the body and has a beautiful cream color. Style T956 is a simple, yet jaw-dropping design that uses this material. It features a deep sweetheart neckline that has a lace inset and a deep-V back that includes a fun chiffon tie.
Chiffon
For a beach side or outdoor event, the lightweight feel of chiffon is summer wedding ready. This is a common fabric used in minimalist style wedding dresses. It's soft, flowy and gives off an ethereal bridal look that will make anyone feel delicate and princess-like.
Style T923 is a great option for a beach wedding dress. It includes dainty and glamorous details that the minimalist bride will love. This A-line wedding dress includes a trendy chiffon skirt with cascade draping that gives this gown a simplistic, yet charming flair. Simple definitely isn't boring as this gown features thin straps that lead down to a crisscross back and bow.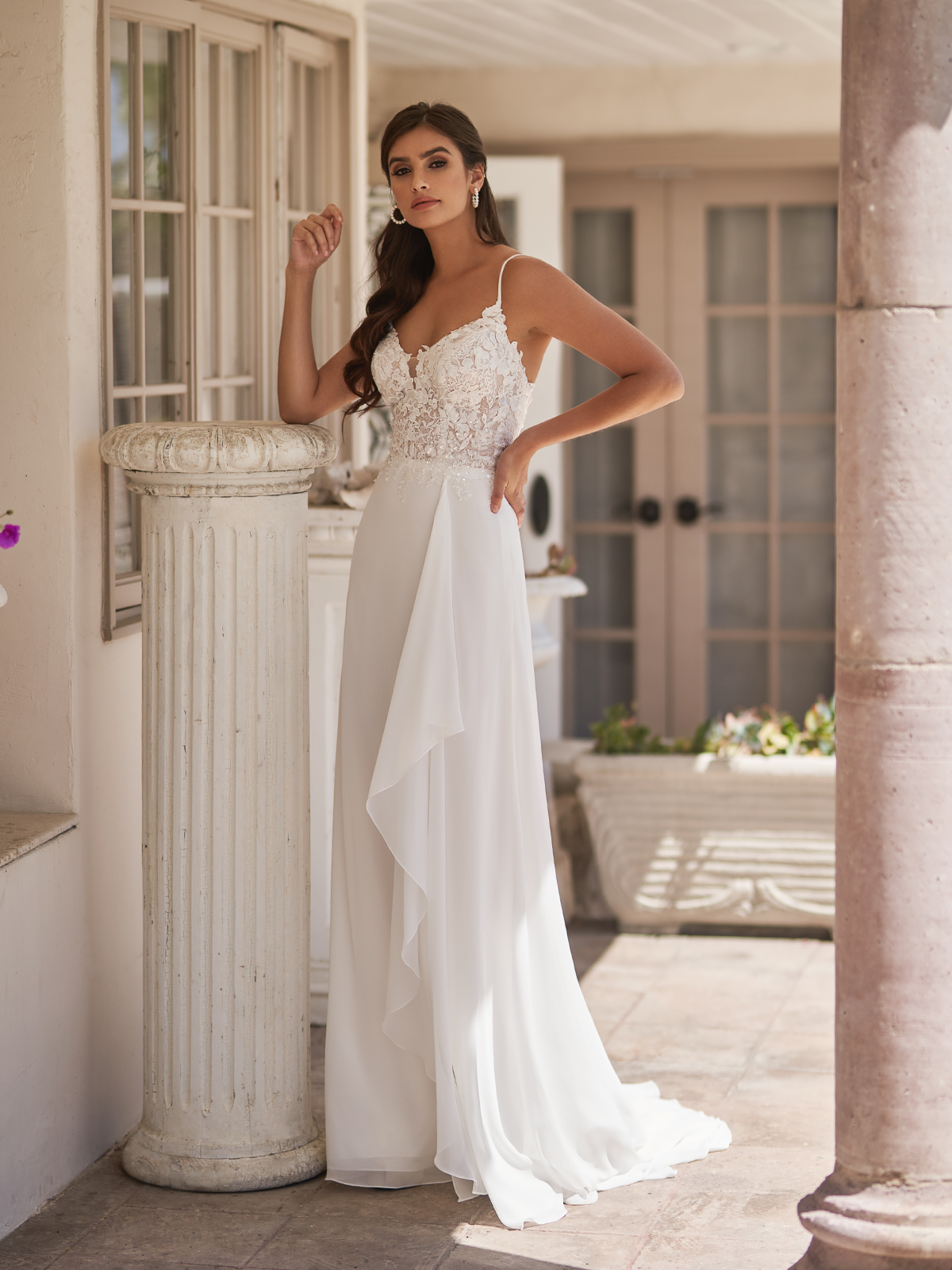 A gown equally as soft and romantic, Style T989 is a cap sleeve chiffon wedding dress that will have you feeling as light as a feather. This A-line silhouette is paired with a deep sweetheart neckline with and cap sleeves that lead down to a illusion corset back. This look gives coverage without being too modest. Minimal brides will love the lightweight and airy chiffon skirt as well as the soft sequin details.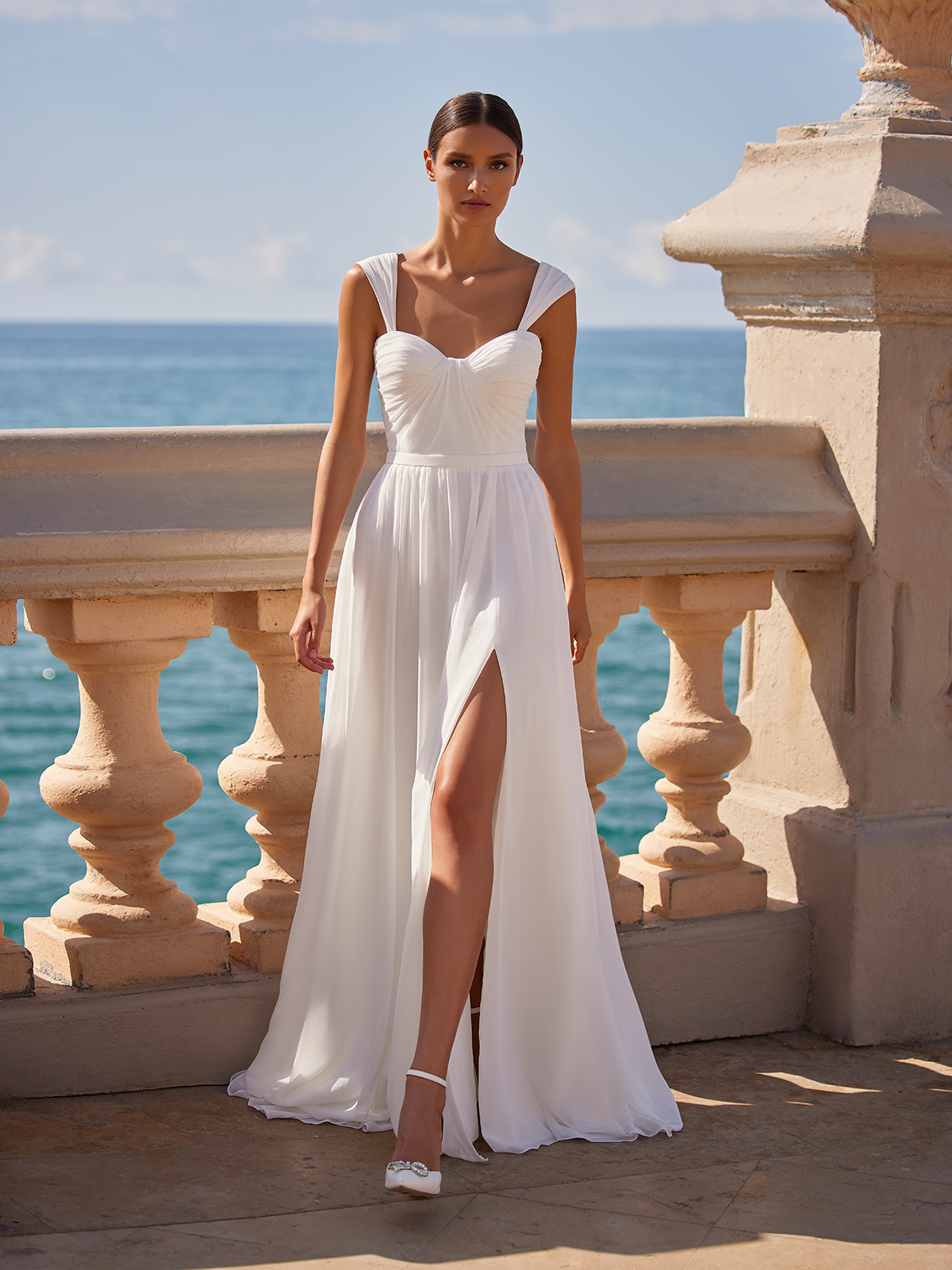 Mikado
Mikado fabric is a classic choice for the modern bride with its heavier thread that gives the bridal gown structure.
Structured and sophisticated, Moonlight Tango Style T938 is a modern minimalist wedding dress. This mikado gown radiates wedding day chic with a square neckline that highlights the face. The straps lead down the back into a wow worthy illusion bateau back with buttons trailing from top to bottom. The mikado fabric adds an extra richness to the gown, and playful side pockets add a relaxing finishing touch.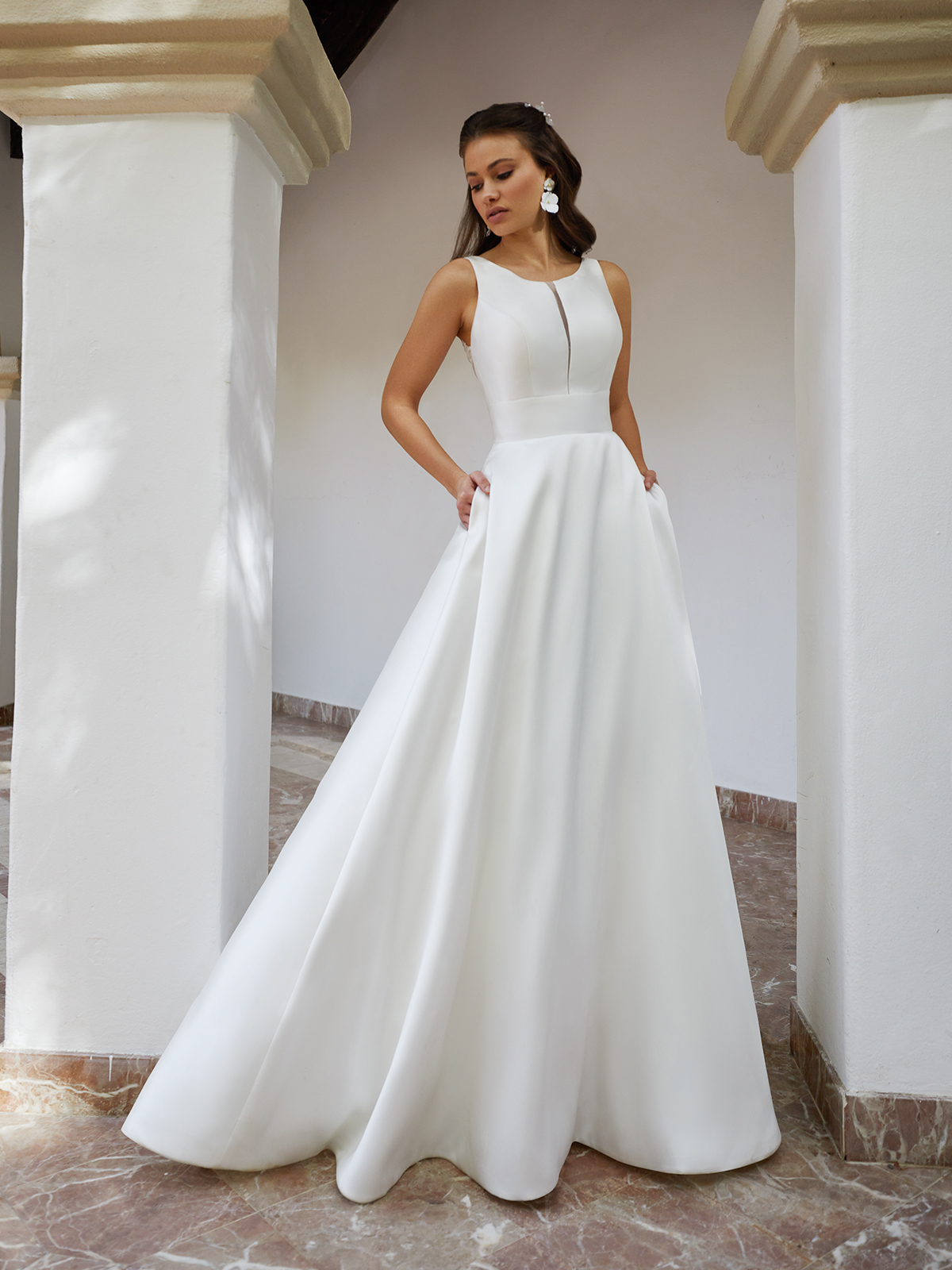 Satin
A timeless fabric known for its rich, smooth texture and soft shine, satin dresses give a traditional bridal look with elegance included. Moonlight Tango Style T921 is a classic sweetheart satin dress that exudes elegance. The flattering full A-line skirt paired with the subtle sheen will only highlight a bride to be's best assets. It gives a contemporary twist to a minimalist wedding day look!
If you're searching for something a little more form fitting, Moonlight Tango T862 will shape your body into a sexy hourglass silhouette. This simple satin mermaid wedding dress is delightfully minimalist and will show off your stunning curves. The sweetheart neckline is paired with illusion straps that transition into an illusion keyhole back that makes this dress both sexy and wow worthy.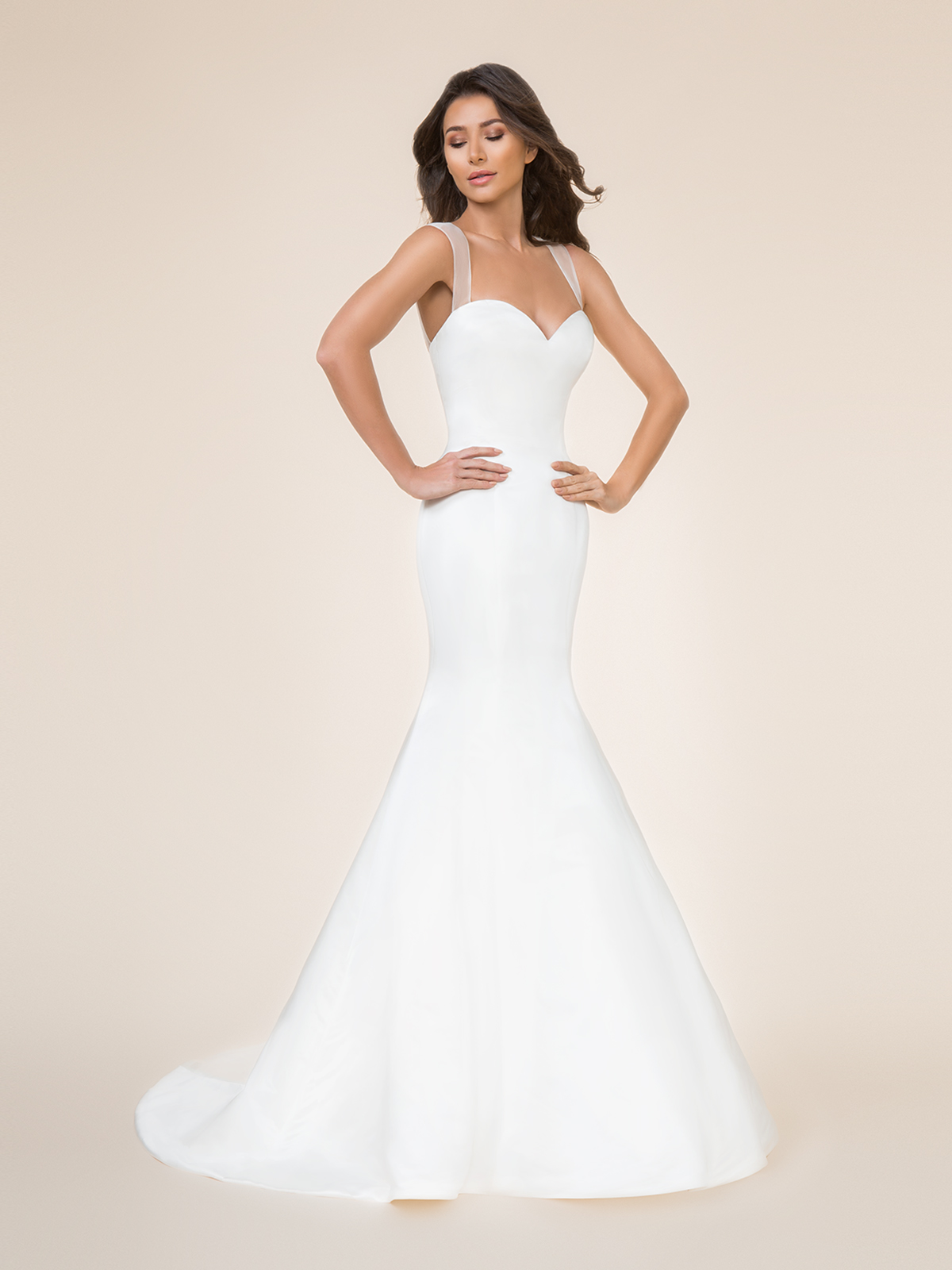 OTHER THINGS TO CONSIDER WITH A SIMPLE DRESS
Choosing a Dress for the Seasons
Winter: If you are planning a winter event, satin is a great choice. The thicker weight in the fabric makes it suitable for the colder weather and the subtle sheen creates a luxurious look. Mikado is also a great choice for the cooler season, as the rich mikado style exudes a more formal, traditional look. There are also many long-sleeved wedding dresses that still give a minimalist feel.

Spring and Summer: The lightweight Chiffon fabric is perfect for Summer and Spring weddings, especially if you're planning an outdoor one. Chiffon is comfortable to wear during hotter weather due to its airy structure and is the perfect fit for an ethereal or boho bride.

Multi-season: A crepe fabric is versatile and makes the perfect choice for any setting. Whether you get married indoors or outdoors, a crepe dress can work for any weather.
Choosing the Appropriate Bustle
A bustle isn't just for gowns with ornate train details. There are a lot of different types of bustles and if your gown isn't short or tea length, you will need hooks, ties, or buttons sewn into the dress train so that it won't drag. You'll be ready to dance with your loved ones!
We picked our favorite bustle types for a simple wedding dress, but consult with your seamstress to see what your options are to get the perfect look!
American Bustle: Also known as the "over-bustle," this style lifts the train and is secured over the back of the gown. This type is typically easier for the seamstress to create. It gives a cascading feel in the back of your gown and might be a great fit to add some detail to a simple gown.

French Bustle: Known to be called "under-bustle," this type is the opposite of the American as the fold is created under instead of over. The end result is a two layered hem that creates a folded design in the back.

Ballroom Bustle: The most complicated and expensive option, this style completely hides the train without changing the look of the dress. There are several points under the dress for the train to attach resulting in an untouched floor-length gown.
Choosing a Gown That Compliments Your Body Type
For modern and clean line designs, finding a flattering silhouette is important.
Trumpet or Mermaid Wedding Dresses are both form-fitting silhouettes and look great on those with an hourglass shape. Crepe and satin fabrics are great for these silhouettes. These are common silhouette types for simple, elegant wedding dresses.

A-line and Ball Gown styles are the perfect fit for a mikado or satin fabric due to fullness of the silhouette. Ball gowns have fuller skirts and give off more of a princess vibe. They are great for pear shaped or slender brides while A-line silhouettes are universally flattering and great for petite brides as the volume can create the illusion of height.
Be sure to try on multiple options to see which silhouette you feel best in!
Next Steps
There are many choices and details to choose from when looking into a minimalist wedding gown. To keep your options open, be sure to try on several fabrics and silhouettes to see which one fits your style best. Find your local Moonlight retailer and get ready to say YES to the dress!