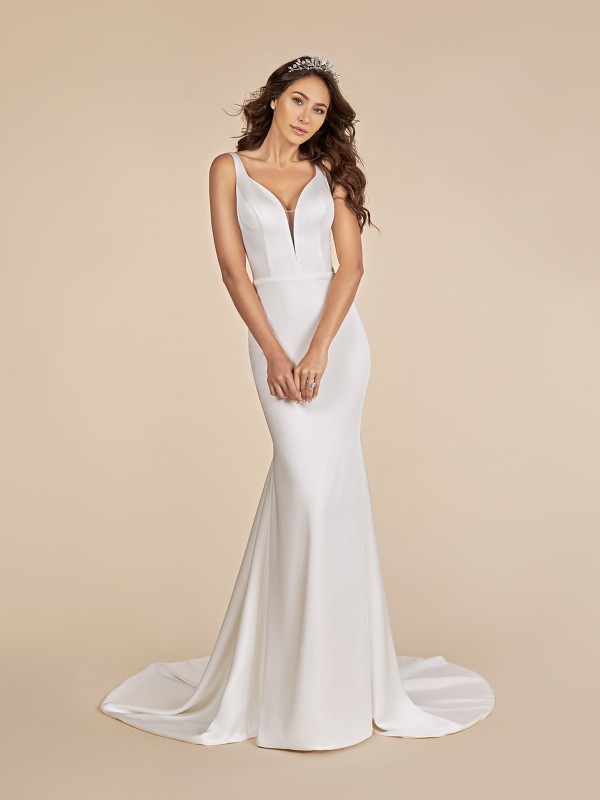 Style T881
Simple and Sleek Crepe Mermaid Wedding Dress
Boldness and elegance meld together perfectly for a wedding dress that is utterly imperial. This contemporary and sleek mermaid wedding dress was made for the fierce and daring bride in you. This standout style is made with soft and luscious crepe back satin for a flawless fit. Lightweight, comfortable and fashionable walk down the aisle radiating refinement and class. This dress adorns a tantalizing deep sweetheart neckline, partnered with an illusion inset for that extra allure. Luscious straps are placed comfortably on your shoulders and also supports the bodice. It then makes it way to a gorgeous keyhole back that will sweep you entirely off your feet. For a sexy and flirty trendsetting look, the skirt cascades down effortlessly from the natural waistline, pooling onto the floor and finished with a refined sweet train.
Wedding days, are made to celebrate the joining of hearts and souls. Without a doubt, this wedding dress will have you channeling a look that is mind blowing and sensational. A dress that builds a dream on, the simple yet exciting the design that this dress carries makes hearts skip a beat. The enticing neckline, adds a hint of romance and allure as you say your vows at the altar. Made for the modern bride, the unconventional design will surely take your guests for a spin. Aside from the form fitting bodice that rests luxuriously on every curve of your body, this dress also caries cutouts on the side back bodice with illusion insets for that added glamour. But that's not just it! Buttons with loops are intricately placed along the back bodice trailing down exquisitely to the end of the train for a graceful and charming touch to your look. Say "I do" with a wedding dress that captures your heart, coming in an entrancing color of Ivory look completely delectable on a day that you will never ever forget.
Join Our Mailing List
Please enter a valid email!
Thank you for joining our Mailing List!
You'll now get news and updates in your inbox from Moonlight Bridal.