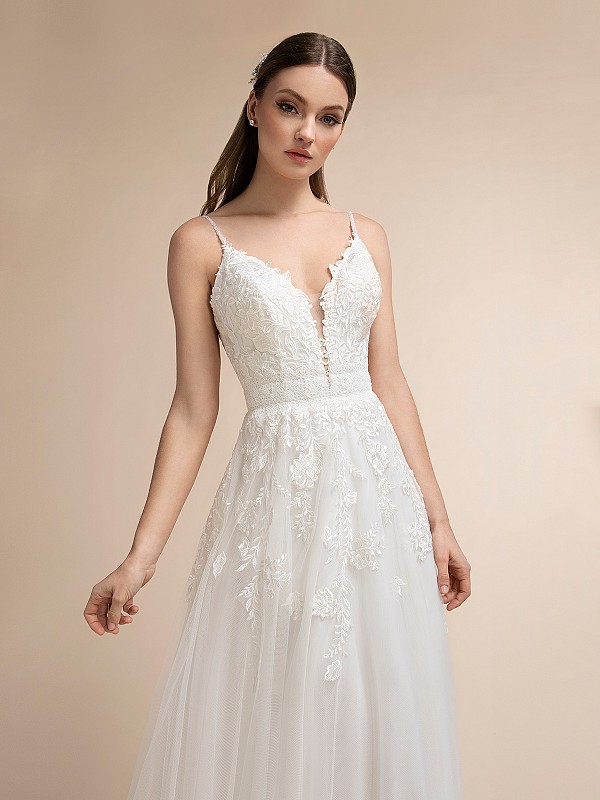 Style T912
Venise Lace A-line Boho Wedding Dress
For a fashion forward bride looking for a boho inspired piece for a nature themed celebration this dress will surely entice the inner romantic at heart. Moonlight Wedding Dress Style T912 not only radiates natural romance and sultry but it also offers a feel that will have you beaming as you profess your love at the altar. Your first, your last and everything you will ever need. This wedding dress does not disappoint with a fitted bodice that is adorned by unique detail that will have jaws drop as you walk on by. The deep sweetheart neckline features an illusion inset that partners well with the deep V-back for a breathtaking look at every angle. Truly head turning it is own nature this dress comes in a heavenly Ivory for brides trying to achieve a serene and angelic finish to their wonderful wedding day! Don't miss out on a dress that will surely surprise!
Venise lace and Embroidered lace
A little mystery and a whole lot of magic, this modern update to the classic A-line silhouette is designed in a rich blend of net, Venise lace and embroidered lace for a head turning finish. Clusters of embroidered lace appliques give the dress its unique eye catching quality. The fitted bodice that accentuates the figure is intricately decorated by these floral bands of lace appliques melded with crystals, pearls, glass beads with sequins for that added aura of sophistication. Along with the added lace trim band found at the natural waistline this sharp and sparkling detail also gently sprawls over onto the whisper soft skirt at various lengths. Breathtaking and emanating an effortless feel fabric covered buttons can also be found at the lace trim band for a sure fire finish that will have you beaming the moment you slip it on!
Join Our Mailing List
Please enter a valid email!
Thank you for joining our Mailing List!
You'll now get news and updates in your inbox from Moonlight Bridal.