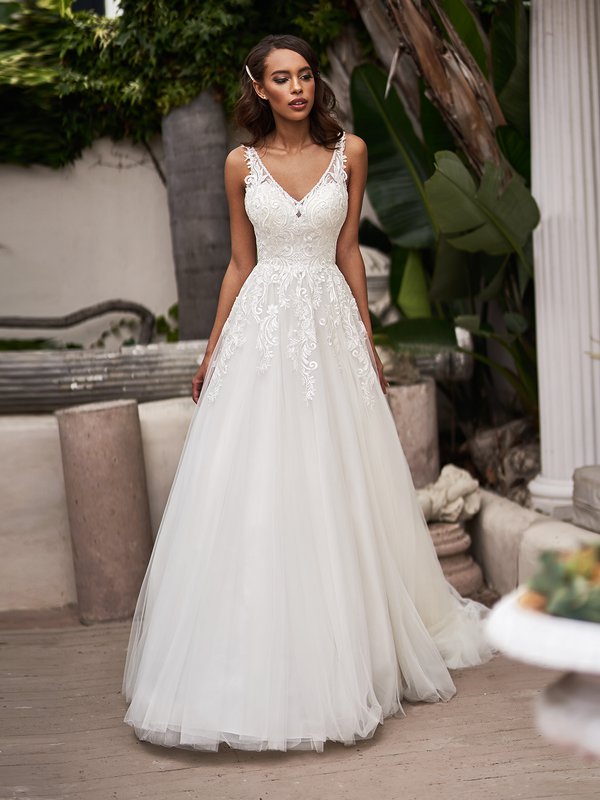 Style T930
Luxurious Full A-Line Wedding Dress with Re-Embroidered Lace Appliques
Celebrate your bridal bliss in a gown that is as precious and unique as the love you share with your darling partner. Moonlight Tango Style T930 presents luxurious details that you will cherish as you reminisce the loving vows you'll share. Made to be twirled on the dancefloor, the full A-line net skirt offers a delightful amount of volume and a sweep train that gently trails behind your every step. The sculpted V-neckline is decorated with a beaded trim that continues through the deep illusion V-shaped back to give this ethereal look a sultry touch. Gorgeous re-embroidered lace appliques dance and swirl around your bodice and make their way over the natural waist for a slimming effect in intricate filigree patterns, subtly shimmering with sequins. Find this elegantly charming gown in color options of Ivory and White.
Love is patient, love is kind, and love is in the details of Moonlight Tango Style T930. Ideal for any body type, the full A-line silhouette makes sure that every bride who slips into these elegant layers of net and tulle will feel like a true princess. Rich filigree-inspired re-embroidered lace appliques are carefully placed throughout the bodice and gently work their way over the natural waist, decorated with sequins and catching the light to give off an ethereal glow that matches the romantic energy of your wedding day. Tonal beading trims deep V-neckline, radiantly sparkling around your smile as you stand at the altar. The beaded trim continues through to a deep illusion V-shaped back that gives this dreamy look the perfect hint of sexiness. As you tie the knot at a rooftop garden in the city, at a regal church in your hometown, or even in your own backyard, you'll feel beautiful as Style T930 reflects the deep and never-ending love you've found. Grab your bride tribe and make an appointment at your local Moonlight Tango retailer today!
Join Our Mailing List
Please enter a valid email!
Thank you for joining our Mailing List!
You'll now get news and updates in your inbox from Moonlight Bridal.