Wedding Dresses Swarovski Crystals
Wedding Dress Designs with Swarovski Crystal Details
Minimalist aesthetics may be on the rise, but there's nothing wrong with oohing and ahhing over embellishments. From rhinestones to pearls and even sequins, there are plenty of options for making dresses shimmer and shine. Still, nothing catches the eye quite like Swarovski crystals. These gorgeous embellishments add plenty of romance to your look but can also play up the most sensual styles.
Swarovski crystals are not naturally occurring, but that doesn't diminish their appeal. They are precision-cut by experts in Austria which is one reason why these high-quality crystals are so beloved. They are frequently used for designer wedding dresses, bridesmaid dresses, prom dresses, and even to level up the typical flower girl getup.
Are you intrigued by the thought of a wedding gown featuring these glimmering crystals? Keep reading to see how you can use them to dress up your dream wedding dress — and tell your special love story through the power of bridal fashion.
6 Wedding Gowns With Swarovski Crystals
A little extra shimmer can always make your wedding dress more beautiful, but there's something special about Swarovski crystals. They feel luxurious, and yet, it's possible to add hundreds or even thousands of them to your dress without dramatically increasing the cost. What's more, these crystals are extremely versatile. Name a style or a silhouette, and you'll find many ways to take it up a notch by adding these embellishments.
Not sure how — or whether — your wedding aesthetic will benefit from adding crystals to the mix? We've highlighted several stunning gowns that reveal the unmatched power of Swarovski crystals. Wear any of these, and you're guaranteed to sparkle beautifully as you walk down the aisle, exchange your vows, and dance the night away.
Style H1393: Sweetheart Neckline Gown With Tulle Cascades
Swarovski crystals are a natural fit for traditional, voluminous ball gowns, so it's easy to see why we're so enthusiastic about this particular dress. Its tulle cascades create a floating effect, while the bodice sparkles beyond belief. You'll feel pretty as a princess when donning this whimsical gown, which looks like it has been lifted straight from the pages of a fairytale.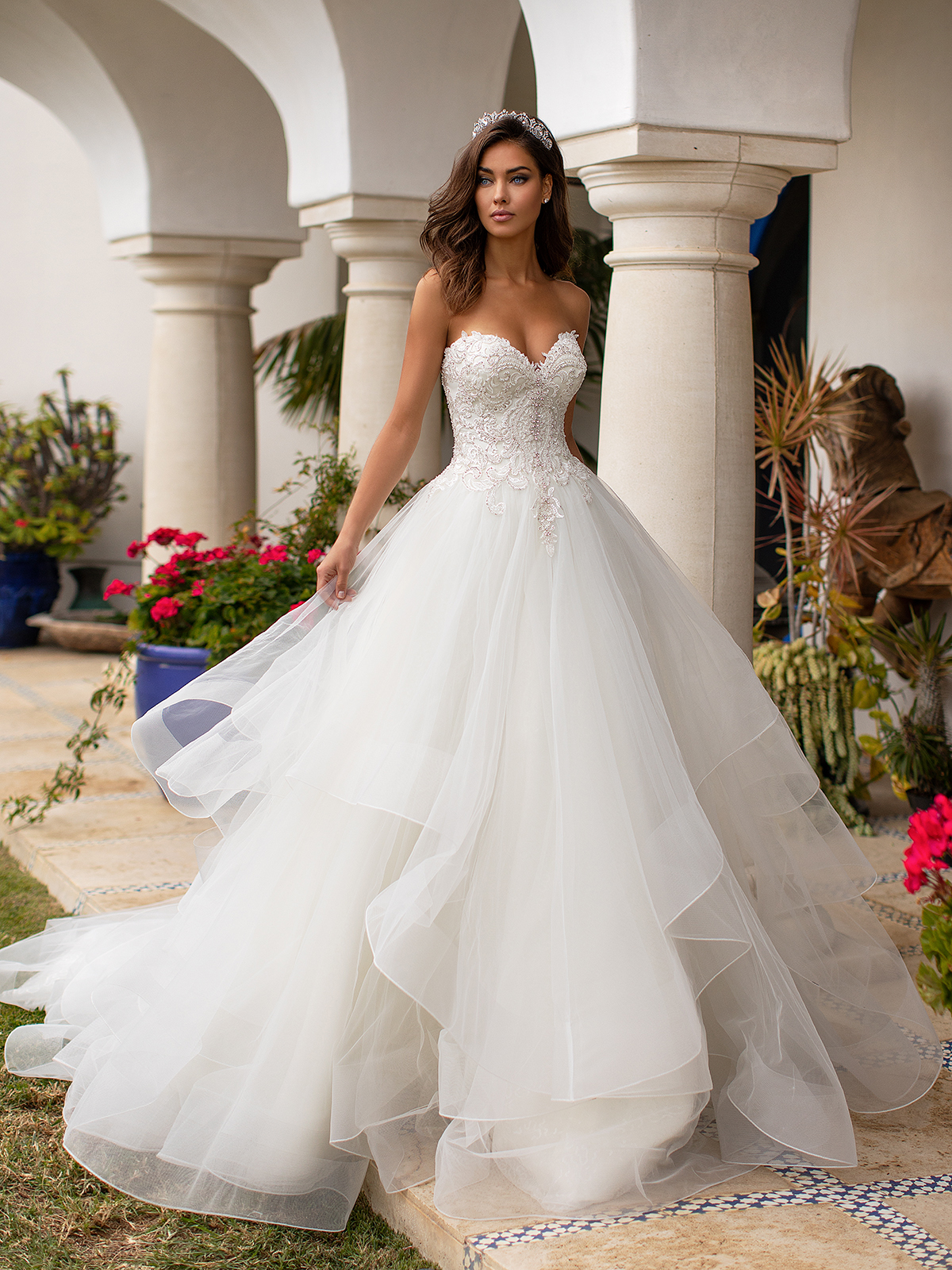 Style H1429: Rustic Lace Dress With a Basque Waist
Blending subtle rustic elements with several wonderfully romantic features, this showstopper is perfect for a garden wedding. It provides a hint of glamor with its sophisticated Basque waist, along with a classic sweetheart neckline and a gorgeous open back. Rose net also helps this lovely gown stand out, while shimmering organza and beautifully placed Swarovski crystals, rhinestones, pearls, glass, bugle beads, seed beads, and sequins add plenty of glitz.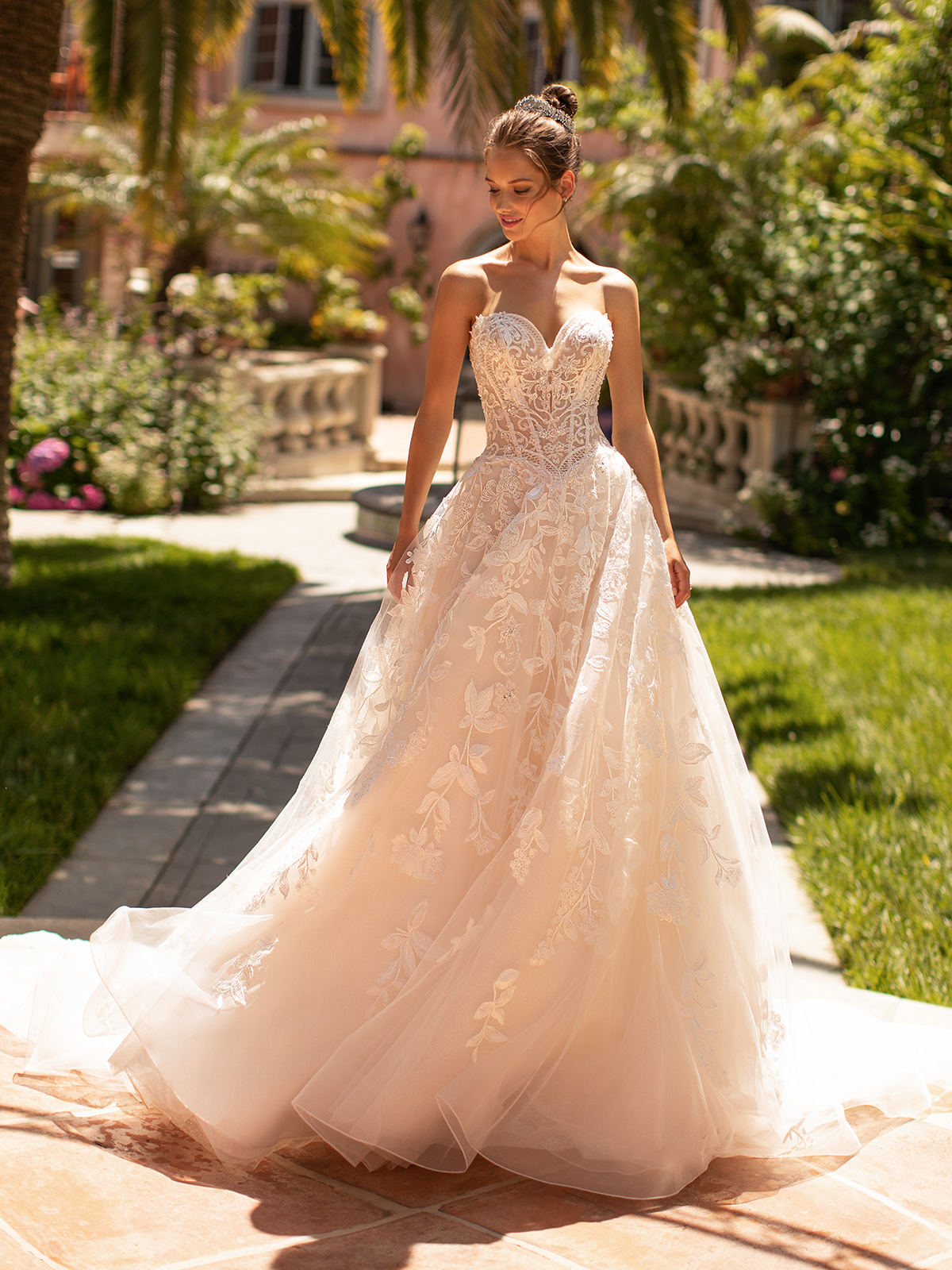 Style D8288: Val Stefani's Edinburgh Beaded Mermaid Gown
Sensual and stylish, the Style Edinburgh is designed to play up an hourglass figure and make any bride feel extra confident. The fitted mermaid silhouette ensures that every curve is hugged, with strategically placed Swarovski crystals amplifying the effect. Glistening is guaranteed not only at the neckline, but also, along the detachable puff sleeves. These add an instant dose of whimsy, as does the net ruffle skirt.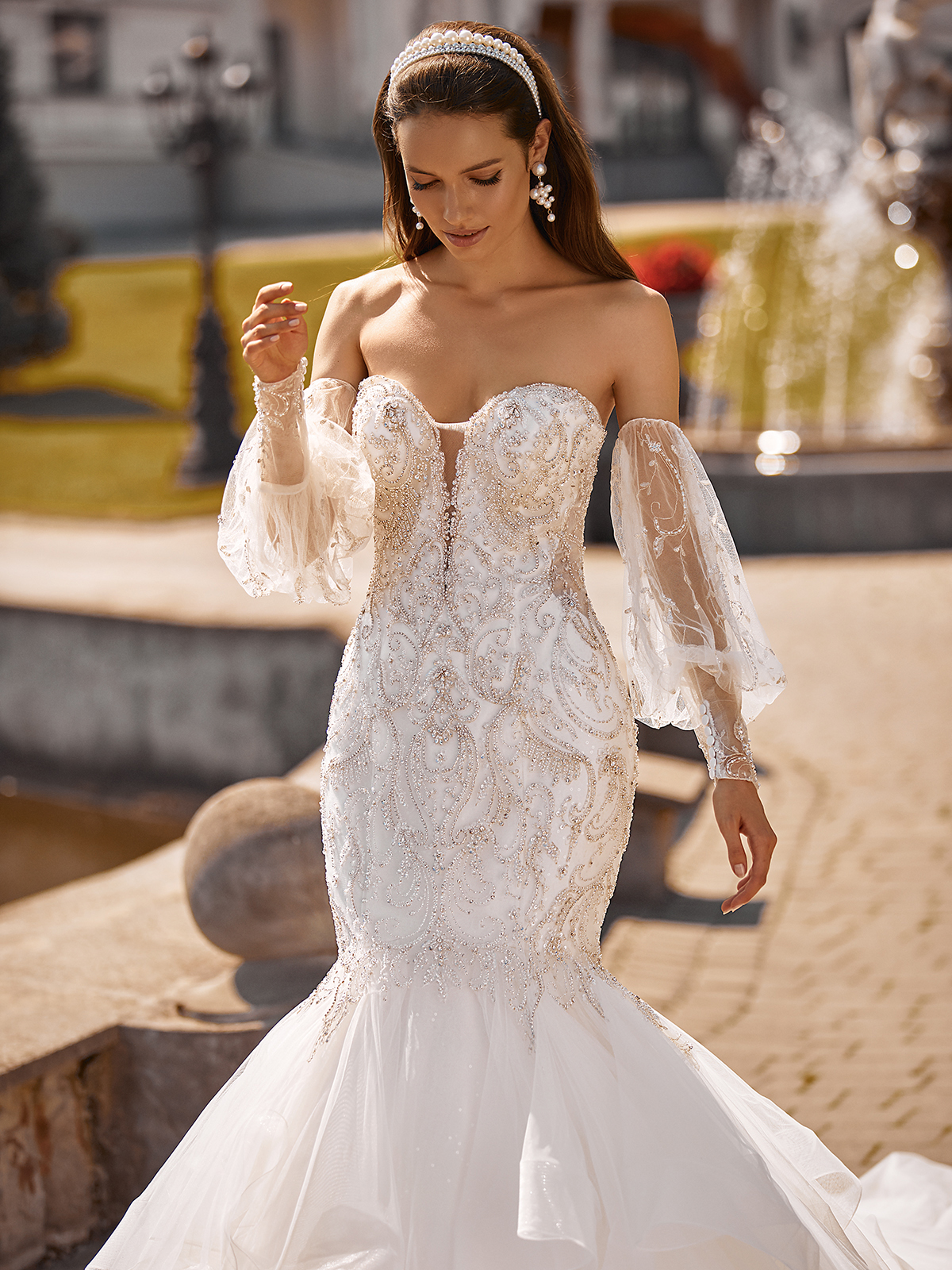 Style D8248: Val Stefani's Revel Mermaid Gown With a Leaf-Shaped Train
Another mesmerizing mermaid gown worth considering, the Style Revel pairs the best of the curve-hugging concept with the classic appeal of a long train. This cathedral-length addition is nothing short of remarkable. Its leaf pattern offers a nod to the inherent beauty of the natural world, with embroidered lace appliques adding artistry and intricacy to the style. Shimmer tulle and crystals work together to make this remarkable dress shine bright.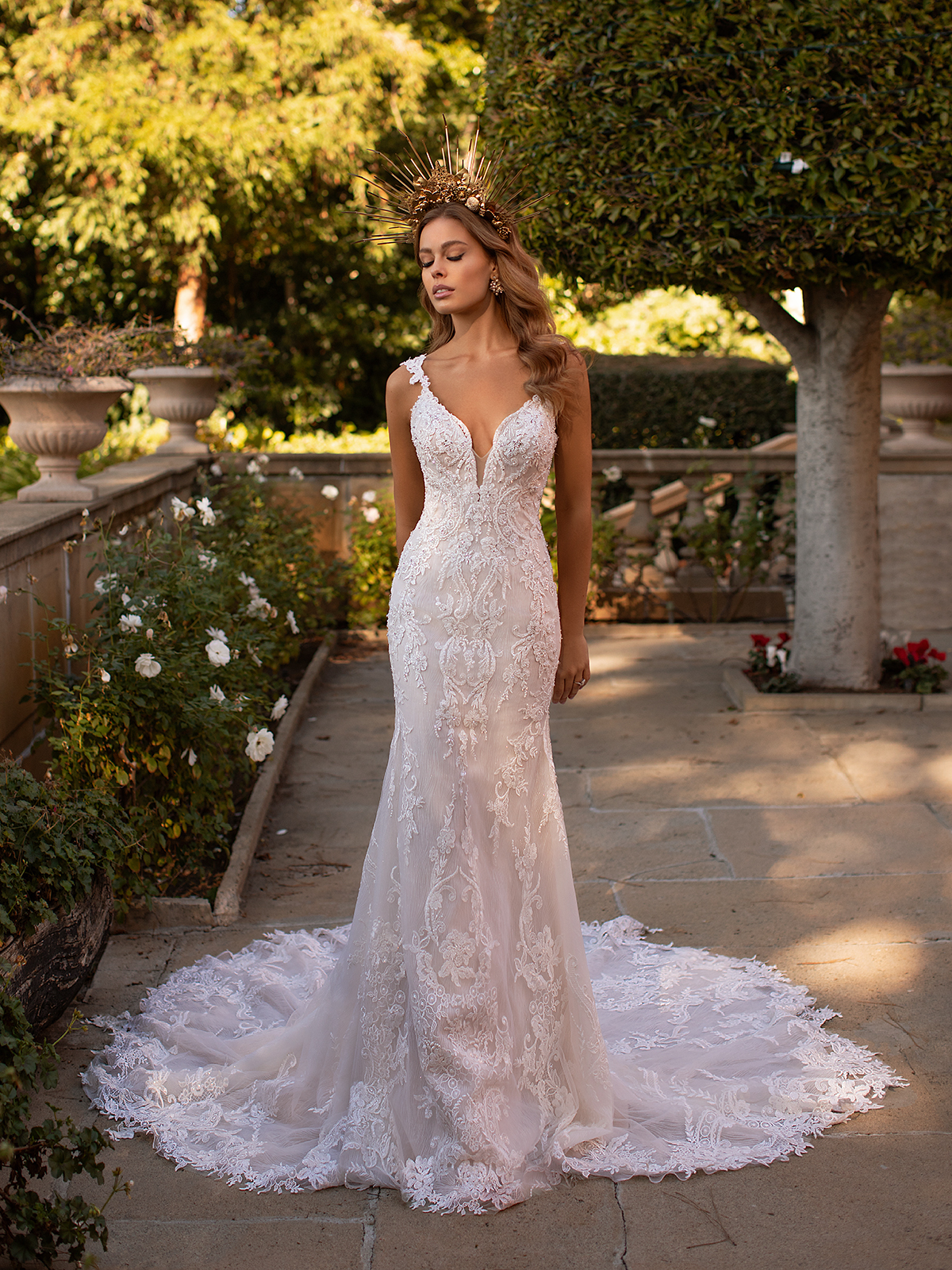 Style D8250: Val Stefani's Zia Mermaid With Detachable Train
Glistening beauty draws the eye with Style Zia from Val Stefani. This stunning bridal dress makes a strong impression with the help of intricate embellishments, which only draw more attention to the already sultry illusion inset. Off-shoulder sleeves provide a subtle taste of whimsy, while a unique detachable train amplifies the effect. This train can quickly add volume but will also make way for a more streamlined look when desired.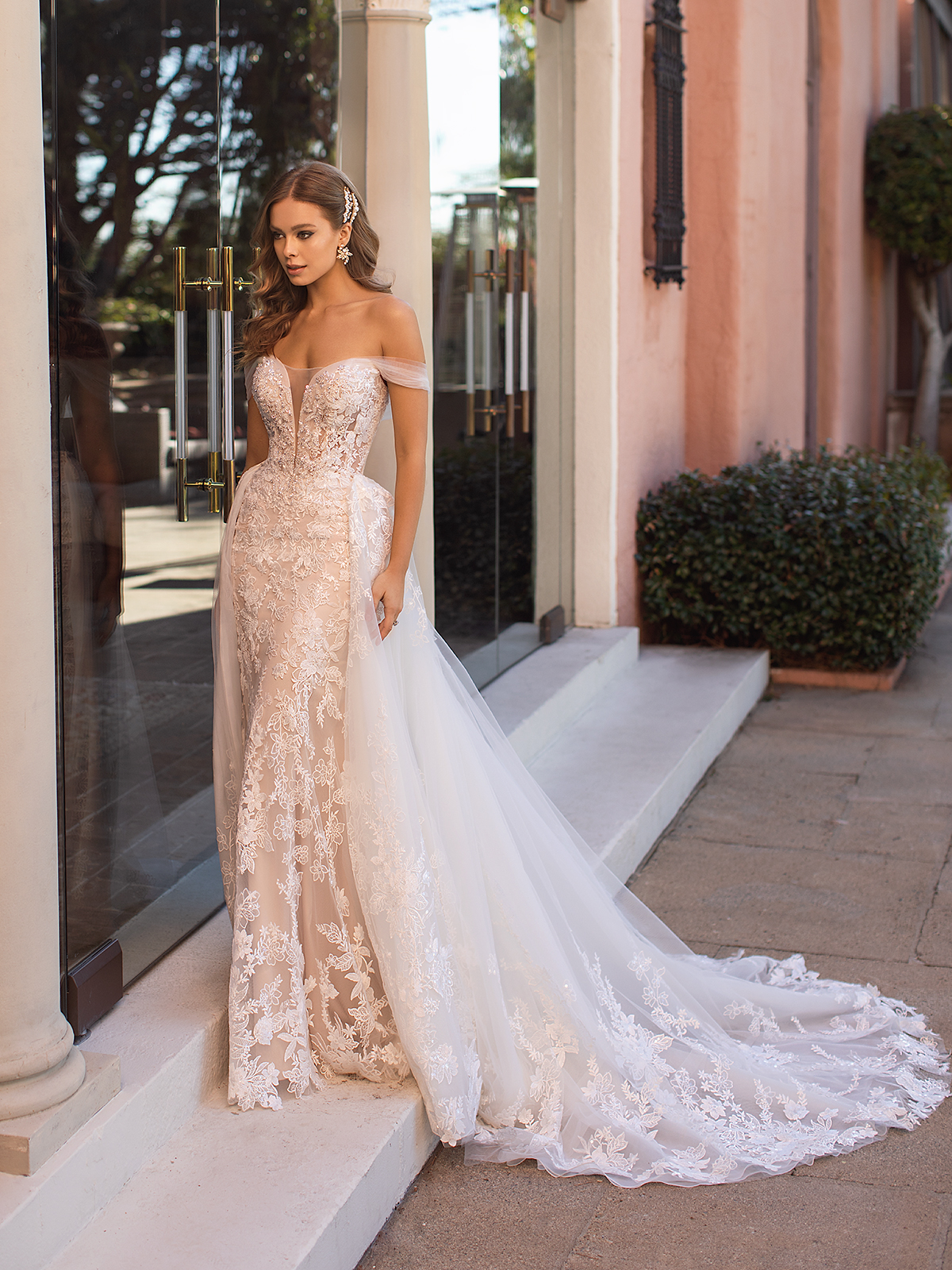 Style D8299: Val Stefani's Heart Beaded Mermaid Gown
Undeniably flirty, this mermaid wedding dress is as playful as it is romantic. This is the perfect style for any bride who absolutely adores embellishments. In addition to Swarovski crystals, the dress has its fair share of pearls, rhinestones, and sequins. The details continue with beaded straps and an illusion sweetheart neck that adds the perfect amount of sensuality. Completing the royal wedding effect for a dose of princess style? An impossible-to-miss ruffle skirt and chapel train.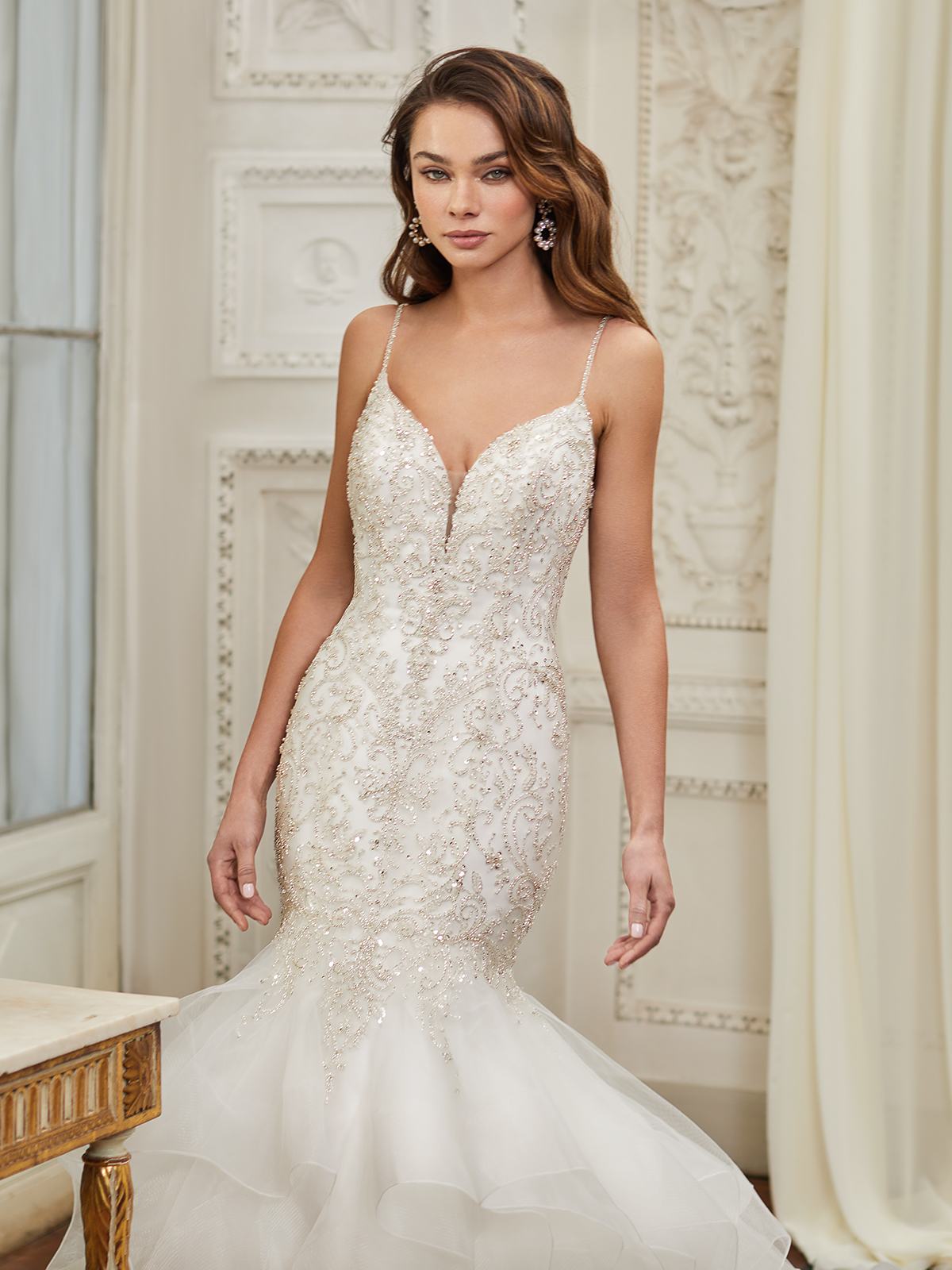 Dazzling Options for Your Special Day
If you want to shimmer and shine on your wedding day, Swarovski crystals are a must for your bridal gown. Some of our couture dresses make extensive use of these spectacular crystals, not to mention, other coveted forms of bridal bling. Of course, there are plenty of other ways to stand out — so you'll want to examine a variety of styles and silhouettes before you make your final choice.
To begin, browse our collection online or visit one of our authorized retailers. Don't hesitate to reach out — we'd love to answer your questions and offer inspiration as you plan your dream wedding.