Beautiful Beaded and Sparkly Wedding Dress
BEAUTIFUL BEADED AND SPARKLY WEDDING GOWNS
Are you a bride looking to add a little sparkle to your wedding day? You want your dress to have enough shine to match your sparkling personality!
Here at Moonlight Bridal we have various options that will have you shimmering all the way down the aisle. Whether you're in search of subtle shine like beaded straps or the all-over glitz of a fully beaded bodice, you're sure to find a design to match your personal style.
We have picked out 11 Moonlight gowns from our Collection, Couture and Tango bridal lines to show you all the different ways you can add sparkly embellishments to your wedding gown. Let's get started!
11 Wedding Dresses with Sparkle
Romantic Jewels with Beaded Embroidered Lace Appliqués
From our Collection line, style H1521 is perfect for the bride looking for a romantic wedding dress with a touch of sparkle. This A-line gown is the perfect balance between romantic and glamorous with its beaded floral bodice, sweetheart neckline and illusion straps.
The sparkle doesn't stop there. The cascades on the skirt feature a layer of twinkle tulle so you're sure to shine from every angle. The embellished bodice goes perfectly with the cascading tulle skirt.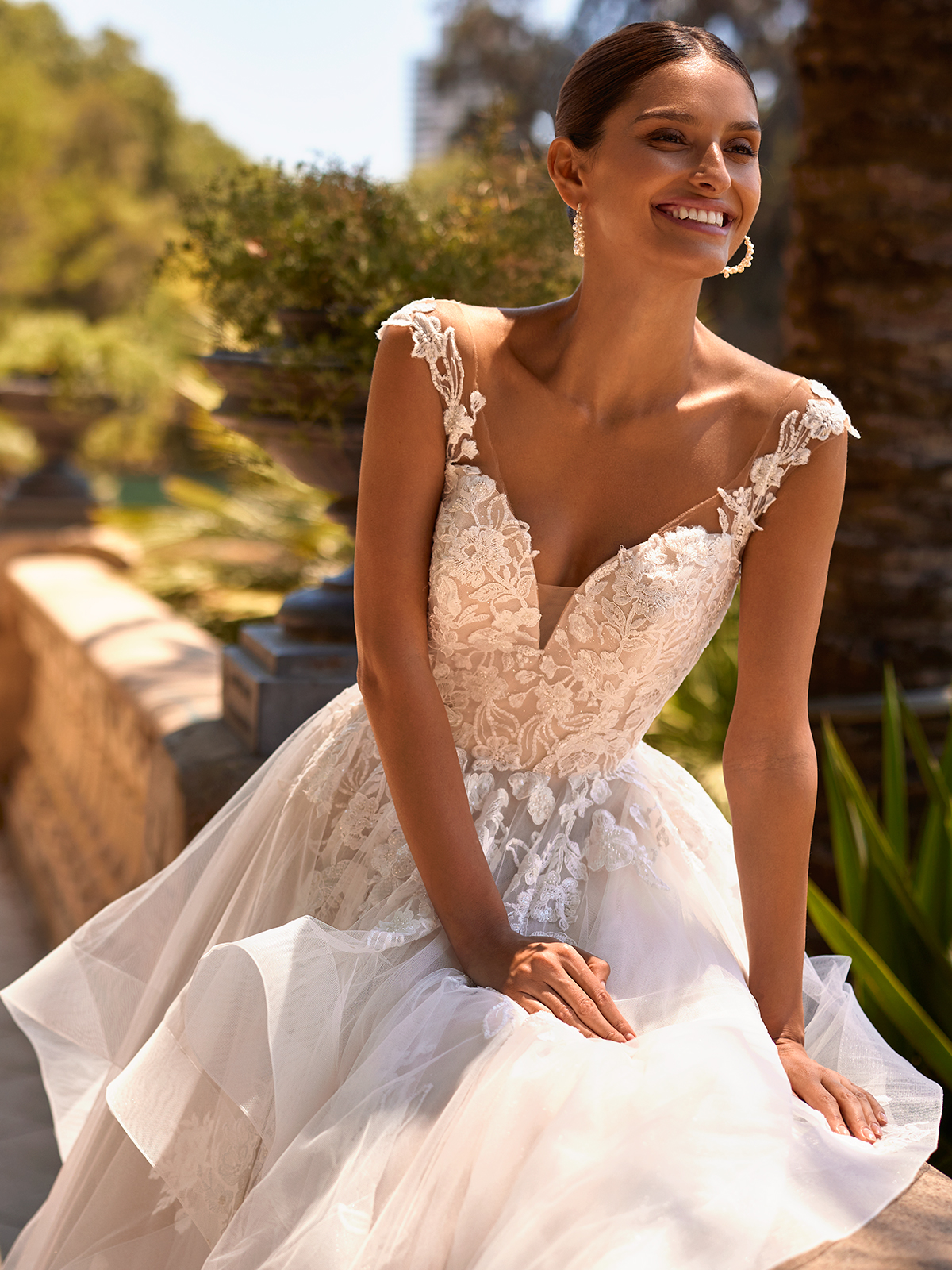 Sparkling Chapel Train with Beaded Lace
Of all the sparkly wedding dresses we have, style J6824 from our Collection line is perfect for the bride who is looking for ultimate glitz. This gown features beautiful beading from head to toe. The sweetheart bodice is embellished with silver feather shaped beads and balanced with a unique latte lining that creates dreamy golden tones. The deep scoop back places the attention on the bodice and allows the bride to show off their natural beauty.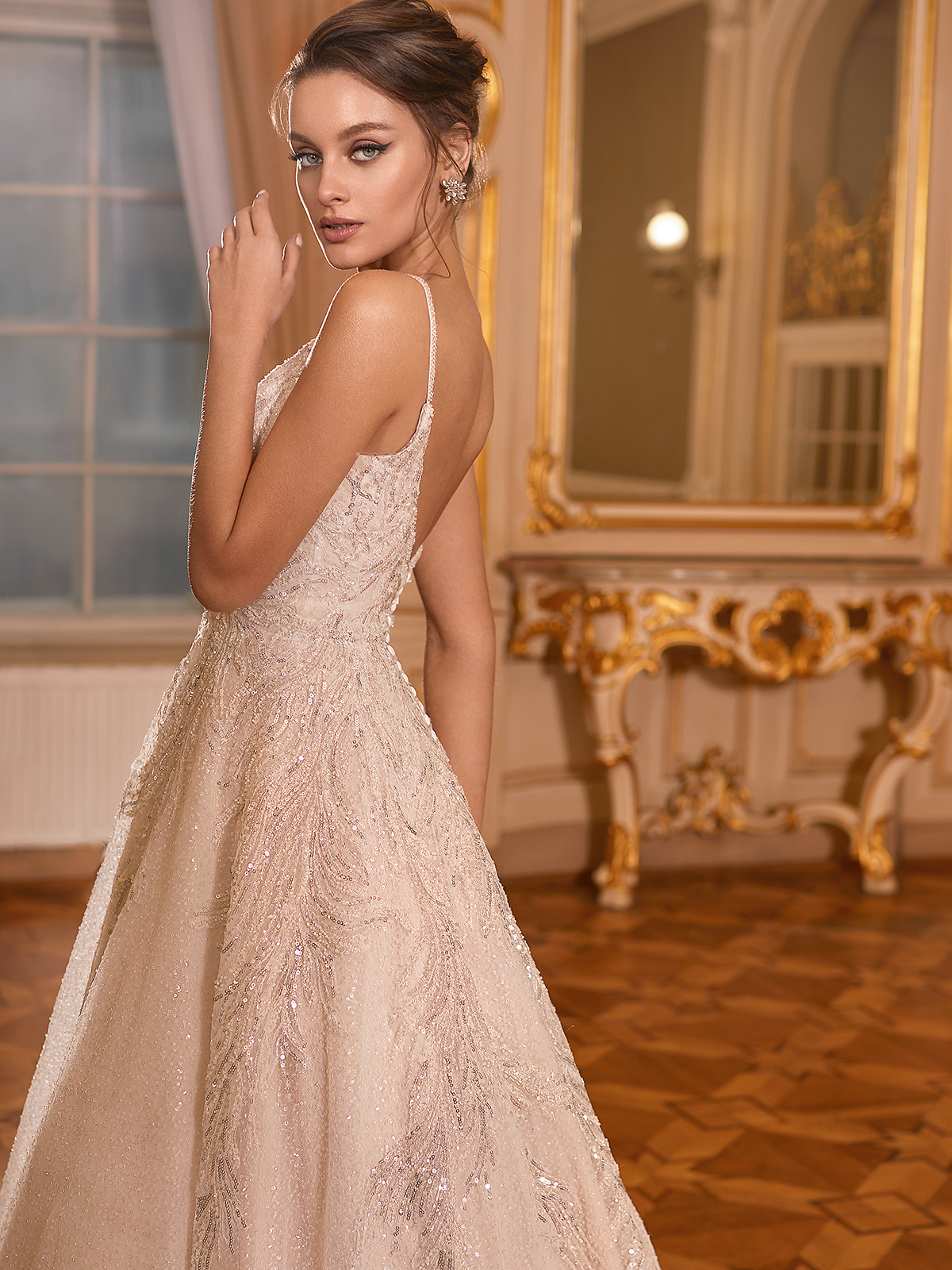 3D Floral Lace A-Line with Beading
Style H1445 will have you shining as bright as a star. This 3D floral lace wedding gown provides extra shimmer when you're walking down the aisle. The entire design is adorned with decadent silver embroidery and 3D leaf hearts that add an extra element of depth. The elegant illusion straps offer a flattering neckline shape and the dress is finished with a dramatic chapel train.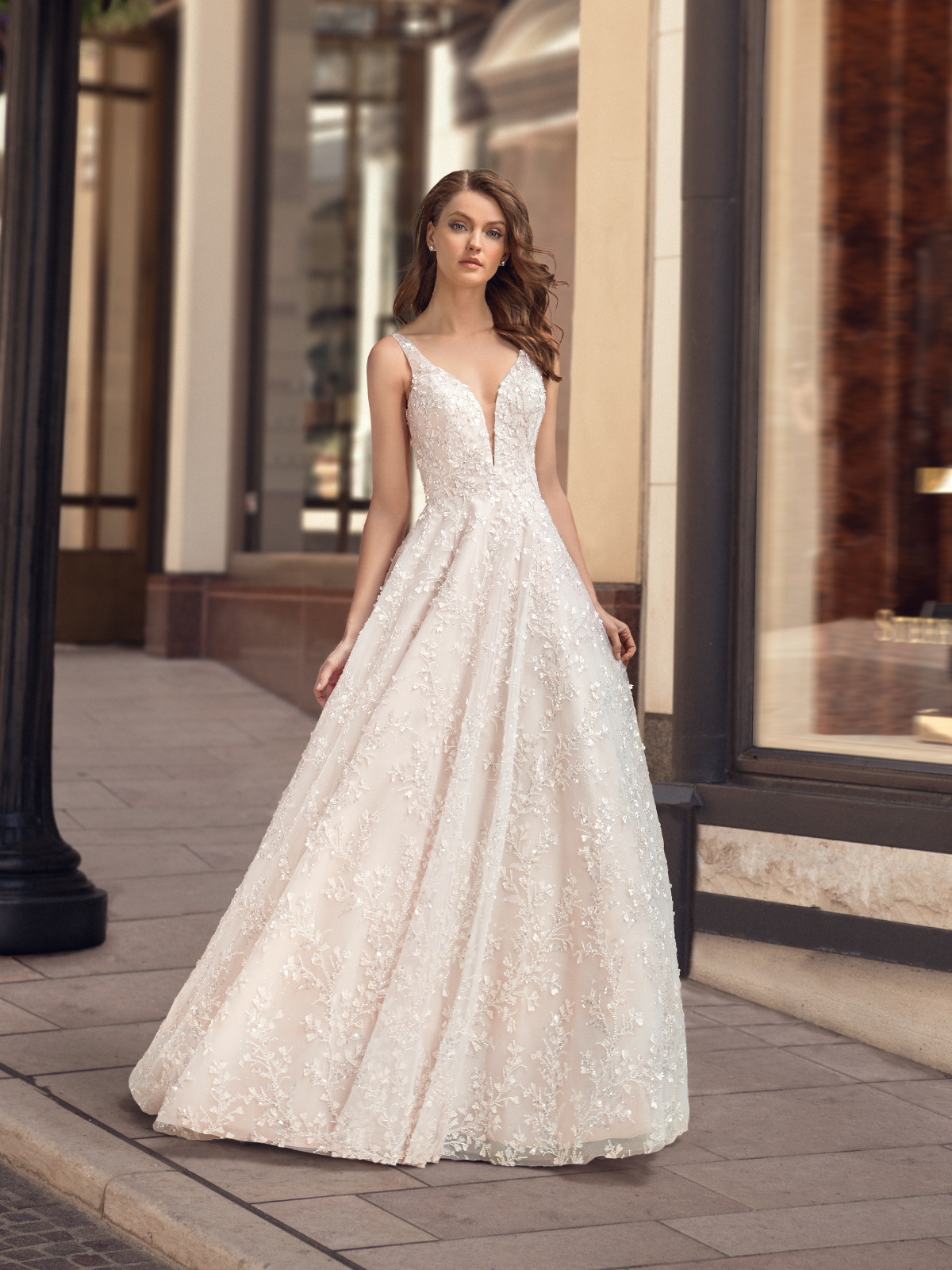 Swarovski Crystal Adorned Dress
For a bride really looking to make a statement on their special day, style H1393 from our Couture line is sure to make jaws drop. This wedding dress with sparkle features Swarovski crystals, rhinestones, pearls, bugle beads and seed beads. The strapless, figure-flattering design includes a sweetheart neckline and beading that continues down the waist onto the top of the flirty skirt.
Sparkle can also be found on the elegant beaded straps that extend to the striking, low illusion back. Classic buttons are found along the zipper.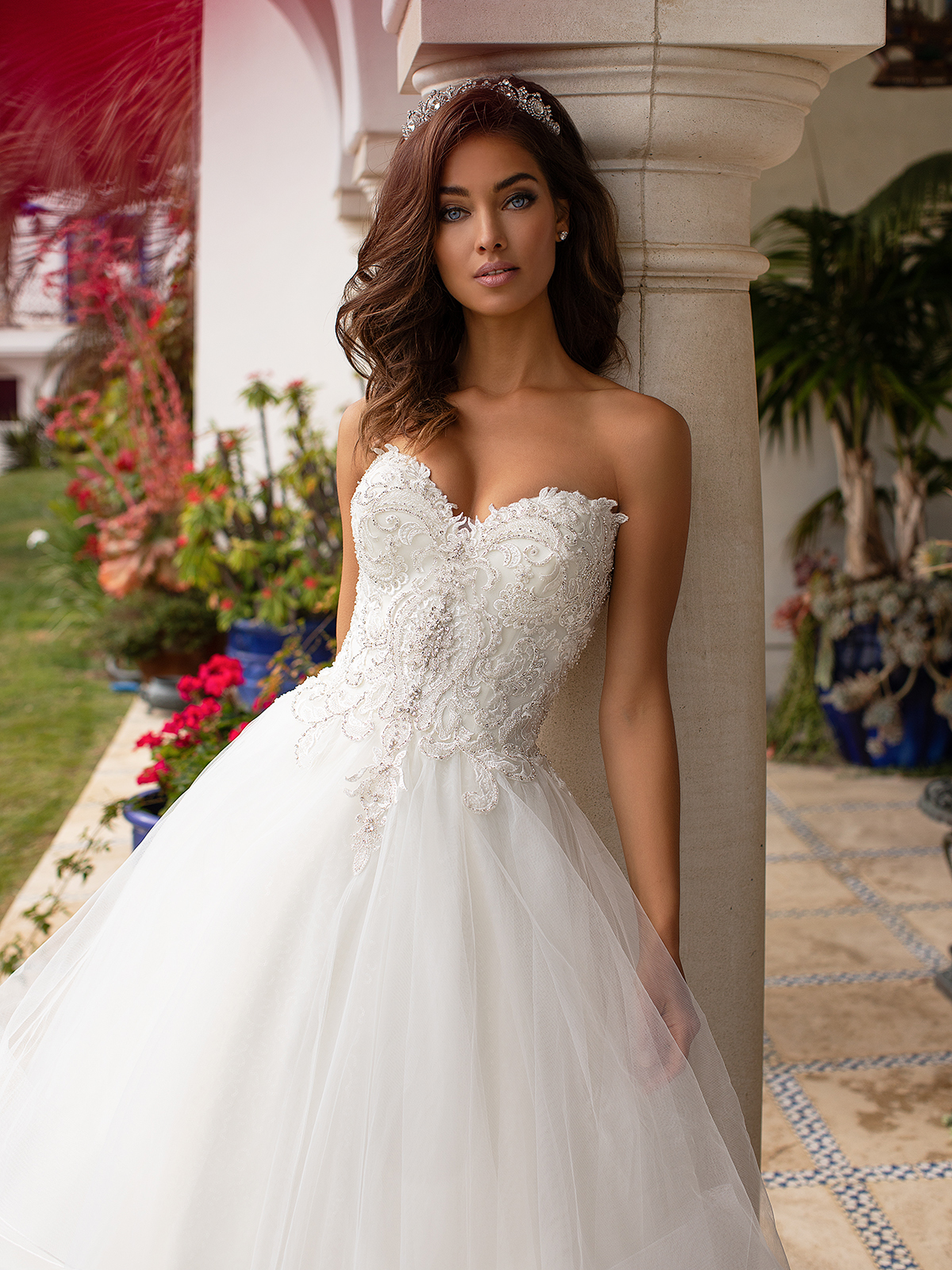 Sparkle Tulle and Beaded Leaf Lace
Style H1484 is a breathtaking option for those in search of a completely unique design. Both regal and graceful, this gown pairs sparkle tulle and beaded leaf lace to create a design fit for a princess. The cascading skirt is embellished with beaded lace appliques and leads into a beautiful cathedral train. This dress will make you feel like you're walking on a cloud.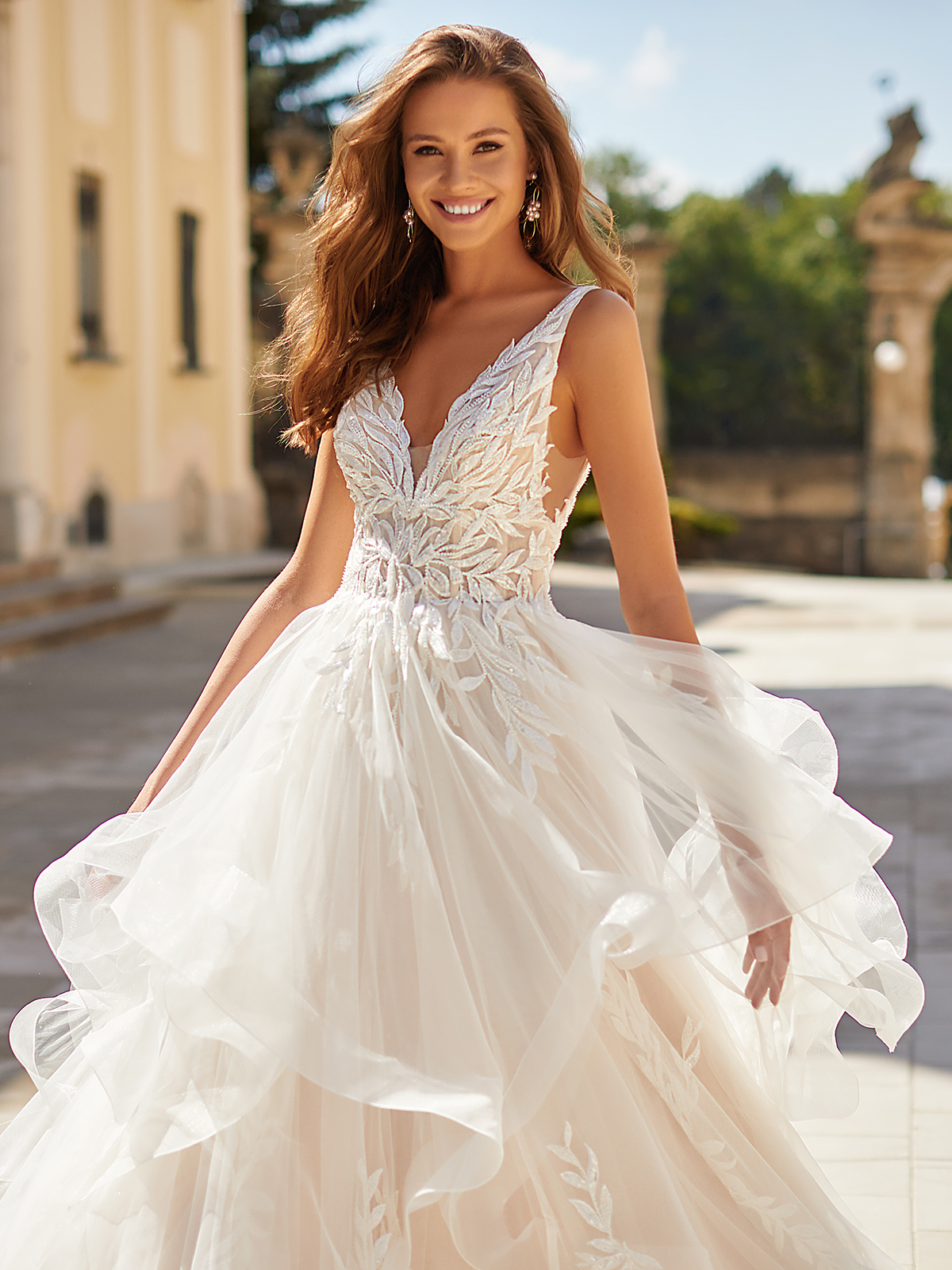 Ball Gown with Detachable Long Sleeves
Do you want to shine from head to toe? Style H1482 may be the gown for you. This whimsical ball gown features delicately placed embroidery and beading that will have you sparkling from every angle. The design includes detachable bishop sleeves with beaded cuffs that add a royal touch, a subtle open back, and a sweetheart neckline. This sparkly wedding gown is perfect for anything from a traditional ceremony to a black tie event.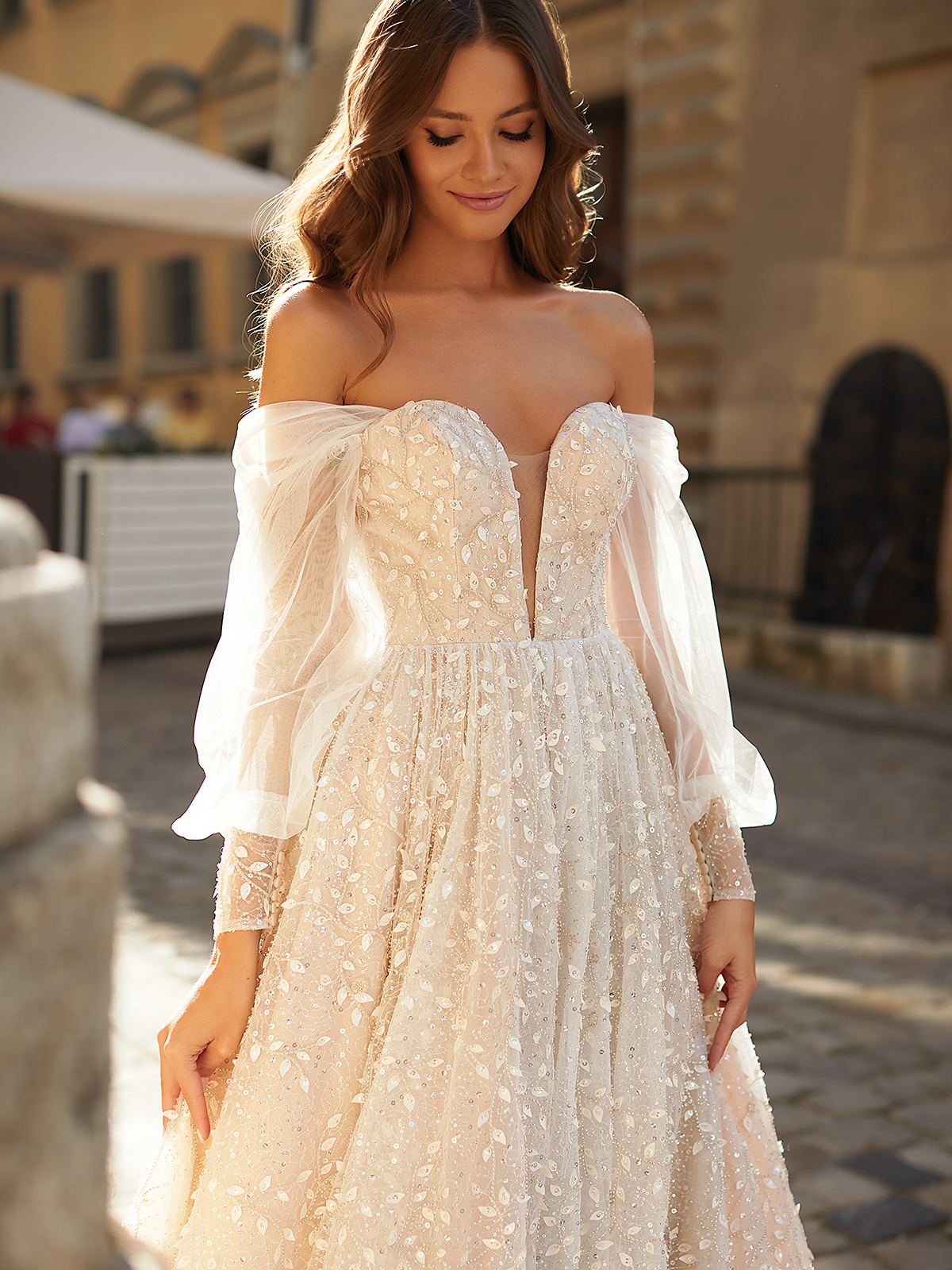 3D Lace A-Line with Off-The-Shoulder Sleeves
A perfect combination of vintage design and modern sparkle, style H1503 is what fairytales are made of. Featuring embroidered beaded tulle layered over sparkle tulle, this A-line bridal gown will make any bride feel luxurious. The full skirt is complemented by off-the-shoulder long sleeves, an illusion open back and a romantic sweetheart neckline that creates serious boho vibes.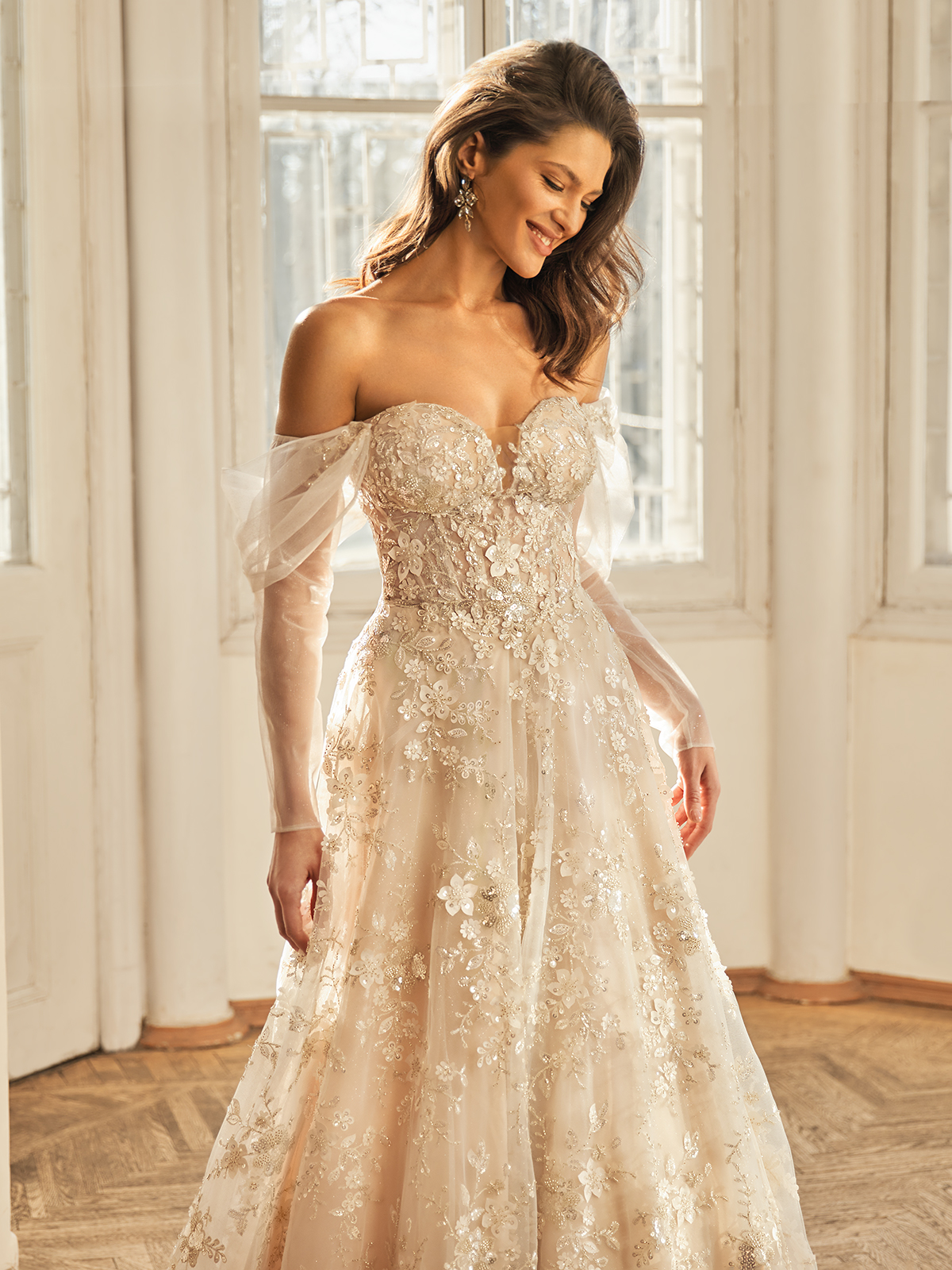 Shimmering Ball Gown with Beaded Lace
For the belle of the ball, style J6833 is a ball gown that's sure to create a grand entrance. The full skirt features layers of organza and shimmer netting that flow down to the ground. The bodice is covered with gorgeous re-embroidered leaf, flower petal and branch beaded lace appliques. This dazzling dress also includes sequins to add even more sparkle throughout the neckline.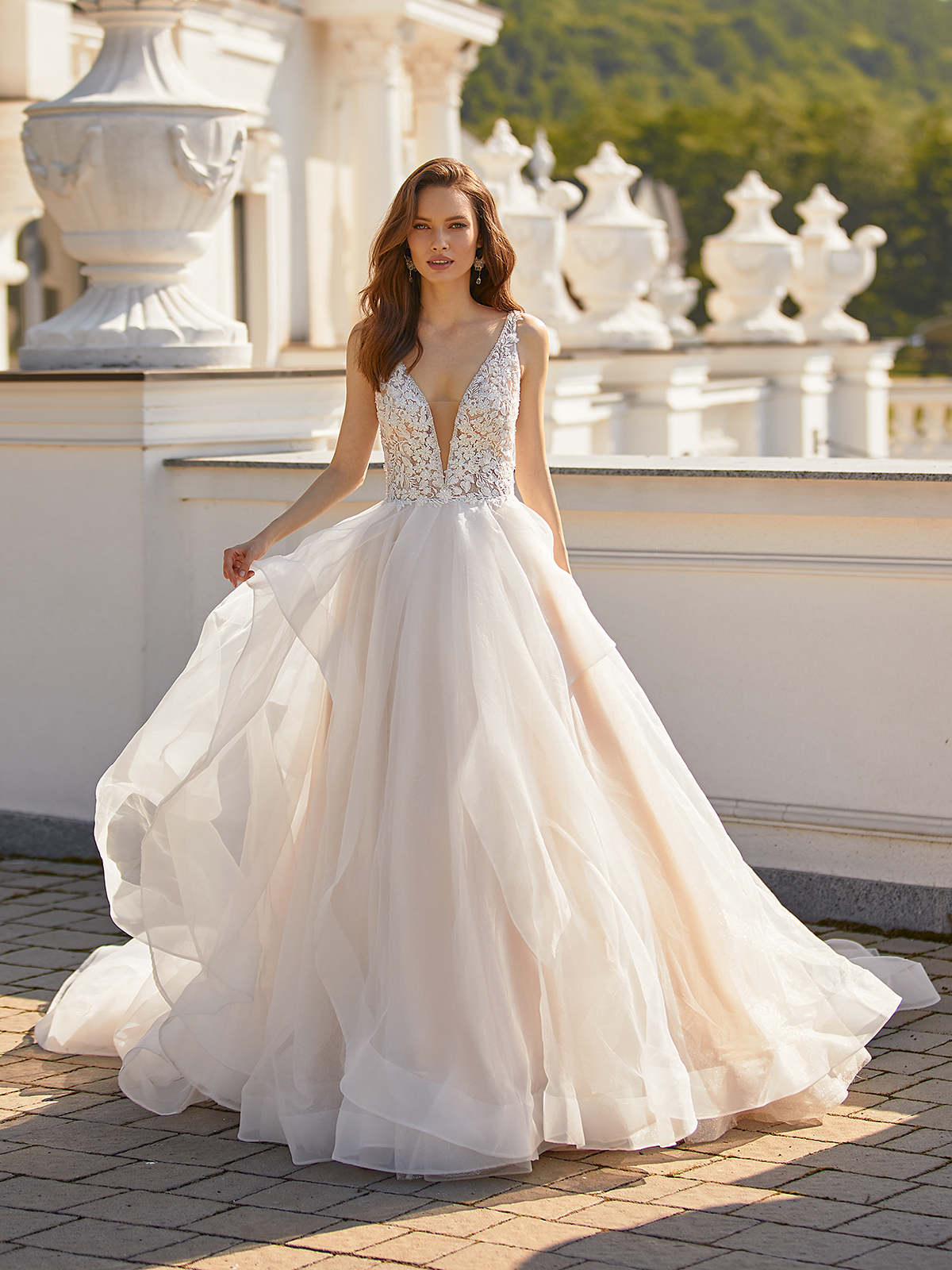 Beaded Straps with Sparkly Floral Lace Appliques
If you're looking for sultry and romantic, style T968 is a wedding gown that may catch your eye. This design is a bit more casual than other dresses, but that doesn't make it any less stunning. The A-line gown is crafted with lightweight, delicate lace fabric and chiffon.
Brides are sure to shine with the sparkling floral lace appliques, sequins and beading adorned throughout the bodice. Featuring a subtle sweep train and sexy side skirt slit, this gown elevates the typical casual wedding gown.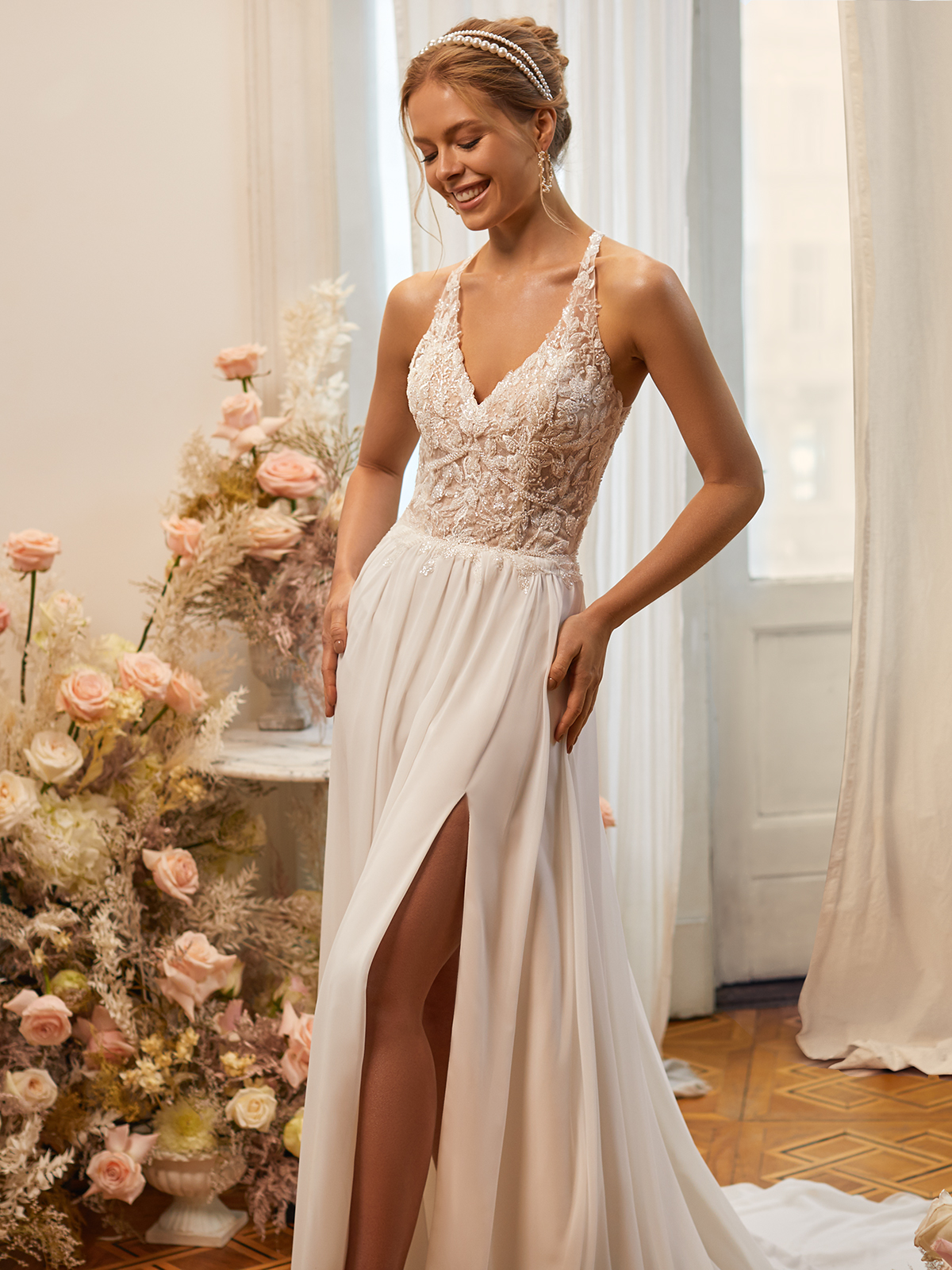 Shimmering Bodice with Ornate Foliage Lace Appliques
Glamorous and romantic, style T970 is a shimmering A-line gown made to sparkle from all angles. The bodice features a beaded trim and ornate foliage lace appliques that go past the waist and onto the top of the tulle skirt. A deep v-neck and deep illusion v-back make this dress the perfect combination of sexy, sparkly and glamorous.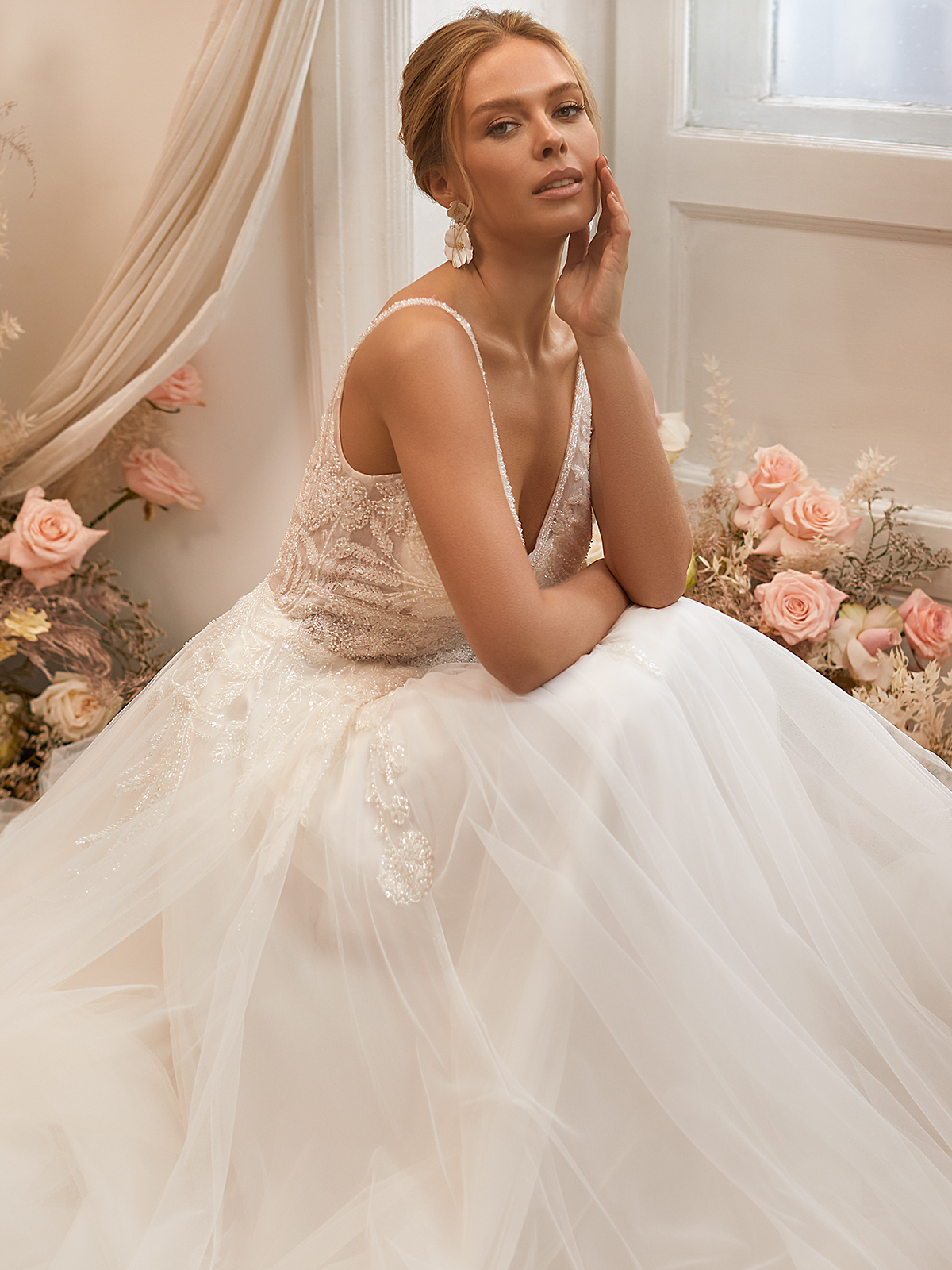 Every bride is looking for that special touch on their wedding day and ornate beading on your wedding gown can be that extra luxurious touch. Moonlight has various options to add some sparkle to your bridal style, so explore our other designs online or find options to try on at a location
near you
!