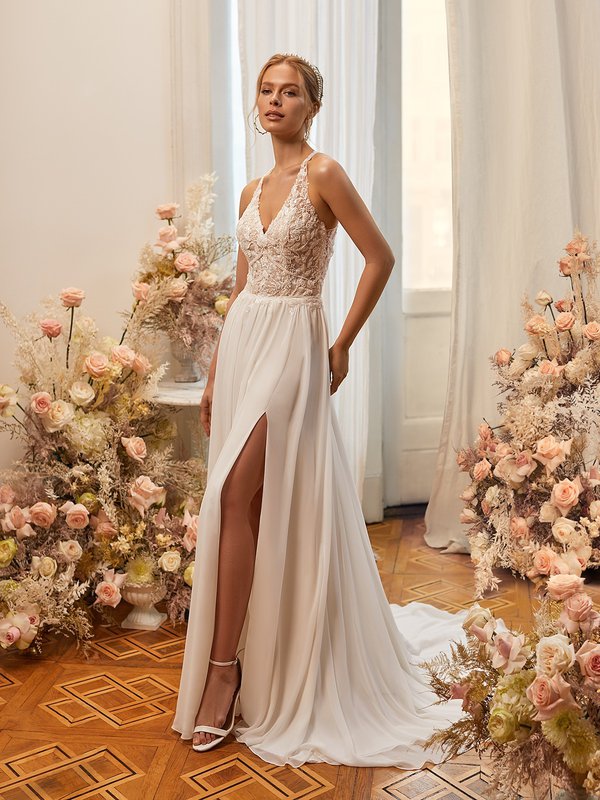 Style T968
Lightweight Chiffon & Beaded Halter Neckline A-line Bridal Gown
Have fun on your wedding day and look flawless while you dance, sing, and celebrate the night away in Moonlight Tango Style T968. A casual bridal gown that can be dressed up or down, this airy A-line look will be one you'll never forget. A stunning sheer halter neck is carefully layered with a delicate lace fabric and intricately beaded embroidered floral lace appliques that provide chic coverage as they sparkle with a dazzling array of sequins and beading. Follow these beaded floral straps around the nape to a ravishing illusion keyhole racer back that cuts in at the shoulders to shows the perfect amount of skin. Balancing the intricate bodice details is a lightweight A-line chiffon skirt that moves with ease and features a sexy side skirt slit that shows off your legs with every step. Finished with a dainty row of buttons along the zipper and manageable sweep train, make your way down to the altar to happily ever after. Take your vows in stunning color options of Ivory with Rose net and all Ivory.
Chiffon/Lace fabric/Net/Rose net
Ivory / Ivory, Ivory / Rose
A beautiful summer day at the beach surrounded by your loved ones, emotional vows spoken lovingly in front of a grand courthouse, or making an intimate toast in your own backyard with twinkling tea lights overhead. No matter where you decide to hold the most important day of your life, look and feel your best during any celebration of love with Moonlight Tango Style T968! Casual with just the right touch of glamour, glow with a palpable radiance in this ultra-flattering A-line wedding dress. Strutting your way down the aisle in a pair of dazzling bridal heels or designer sneakers on your big day? Show those off with a flirtatious side slit in the breezy chiffon skirt with every step! The relaxed halter neck adds a refreshing twist to the sultry lace fabric bodice as it reaches behind the nape into breathtaking keyhole back. Providing charming coverage and striking dimension are shimmery embroidered floral lace appliques layered with sequins and glass beads that are meticulously placed throughout the sheer bodice and gently trickle over the natural waist. Make this fun and flirtatious wedding dress your today and schedule an appointment at your nearest Moonlight Tango retailer!
Join Our Mailing List
Please enter a valid email!
Thank you for joining our Mailing List!
You'll now get news and updates in your inbox from Moonlight Bridal.