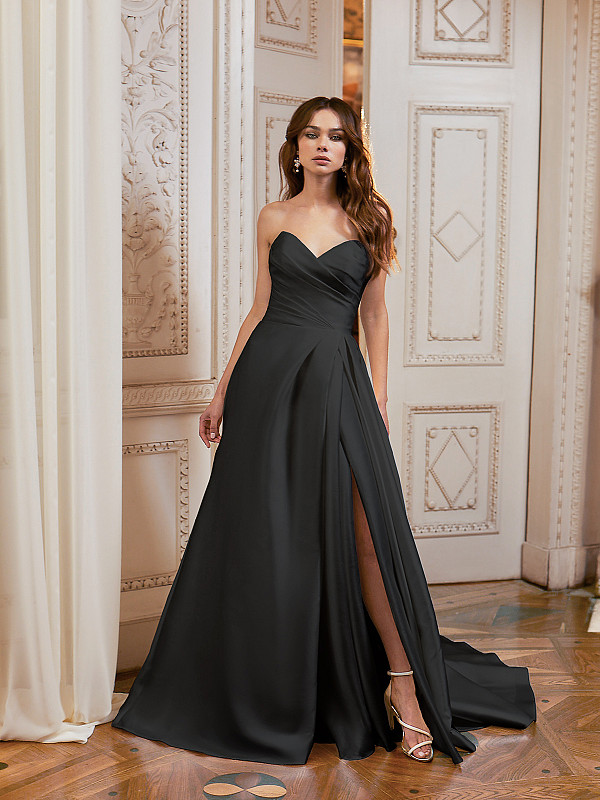 Style J6852
Mikado A-Line Wedding Dress with Slit in the Skirt - Available in Black
Impress on your wedding day with this sweet-and-sexy design. Structural in fit, Moonlight Collection style J6852 is a strapless Mikado wedding dress with a pointed sweetheart neckline that's sure to make a clean-cut statement. Modern brides who appreciate bold architectural details and a minimalist aesthetic will fall in love with this dress and its impeccable construction and fit. The A-line silhouette is a time-honored classic that flatters all body types. However, it is the contemporary details such as a front slit in the pleated skirt and a pointed sweetheart neckline that truly make this bridal gown stand out. Luxurious Mikado fabric, a material with a lustrous sheen, provides a form-fitting structure to define your figure as the ruched bodice wraps around you. The fabric nips in at your natural waistline and then floats away smoothly, finishing off in a sweep train that trails behind you as you make your grand entrance. The daring open back has buttons along the zipper, paying homage to tradition while keeping your look fresh and current. Reminiscent of a Hollywood bombshell, this iconic style with a 21st century update is a versatile wedding gown. It is just as perfect at a ceremony in a palace as it is in a sleek city venue with skyline views. No matter where you choose to get married, expect nonstop compliments from your wedding guests in this bridal dress. Deliver a timeless, fashionable look with a bit of a twist. Moonlight Style J6852 is available in your choice of two classic bridal hues, Ivory and White. If you're looking to make a statement in a black wedding dress, Style J6852 is available in this striking color option as well.
Minimalism is the theme of this Mikado A-line gown from our Moonlight Collection. The structured ruched bodice and pointed sweetheart neckline are carefully crafted to tastefully show off your collarbone and shoulders. Starting at your natural waistline, the fabric releases and smoothly transitions into an A-line skirt that lets the luxe Mikado fabric do all the talking. In the back, a perfectly placed sweep train keeps your look clean and crisp, while the slight sheen of the material catches the light. This pointed sweetheart A-line gown looks beautiful in photographs, but it is even more impressive in person. Whether you're searching for a traditional Ivory dress or a bold Black wedding gown, this minimalist style will stand the test of time in your wedding album. To try on this design, find your nearest Moonlight retailer.
Join Our Mailing List
Please enter a valid email!
Thank you for joining our Mailing List!
You'll now get news and updates in your inbox from Moonlight Bridal.