Top Wedding Dress Trends for 2022
Guide to 2022 Bridal Gown Trends
Some bridal trends come and go, as is the case in any corner of the fashion industry. While certain themes tend to dominate for years or even decades, others may take over for a short season or two before giving way to alternate looks. Keeping up with all this may seem difficult, but new trends offer exciting opportunities to play with daring designs.
You're by no means obliged to wear a dress that incorporates today's trends, but understanding the latest styles will make it easier for you to choose the perfect gown for your big day. It's possible to enjoy the best of both worlds: a trendy gown that also exemplifies your personal sense of style.
To help, we've highlighted a few of this year's top looks, as well as options for integrating them into your preferred bridal aesthetic. Keep reading to discover the latest fashion trends that today's most beautiful brides are showing off.
7 Wedding Dress Trends in 2022
Pearls
From the runway to social media, pearls are making a serious comeback in 2022. Their popularity extends to the bridal scene. While pearls have been long used as subtle details on glamorous wedding dresses, they're about to take on a bolder approach.
If you're not quite ready for dress-based pearls, consider incorporating them into jewelry or hair accessories instead. Otherwise, subtle integration throughout a dress design is always an option, as seen with the carefully placed pearls on Style T963 from our Moonlight Tango Collection. When it comes to pearls, the options really are endless — so you should have no trouble finding a look that you adore.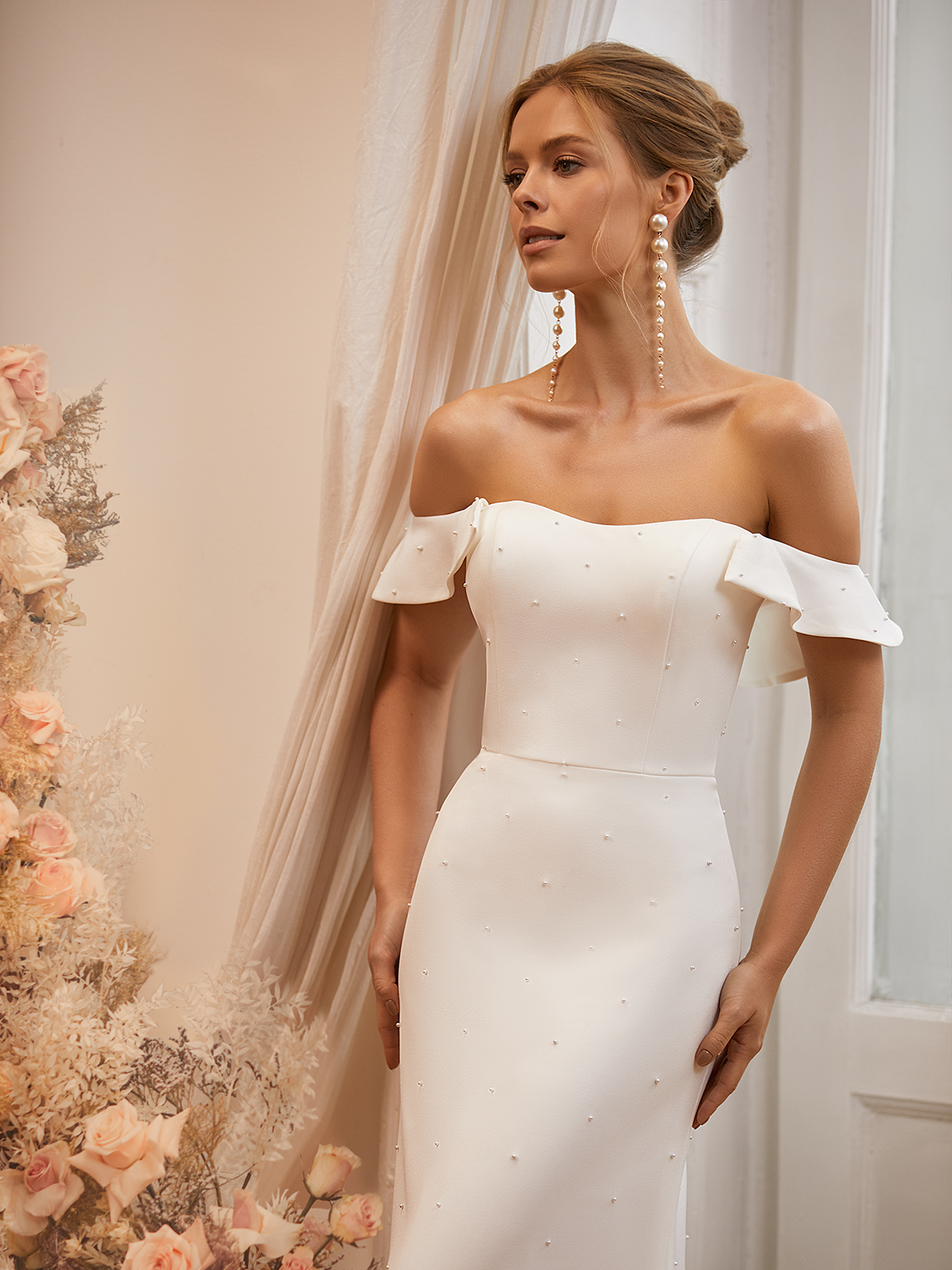 Wedding Dress With Slits
Slits can bring a sophisticated edge to any wedding dress. They work wonderfully for an A-Line silhouette, adding a chic upgrade to this classic style.
This look is more versatile than most brides-to-be realize, as slits can be cut to many different heights. The highest slits are the most daring, of course, but a wedding gown can still be incredibly alluring with a smaller slit.
While the concept of the slit is typically associated with modern gowns, this trend can also complement a more ethereal look if the slit is situated at the front of the dress. Style J6853, a crepe back satin gown, demonstrates the value of this approach, adding a sweetheart neckline and beaded straps to great effect.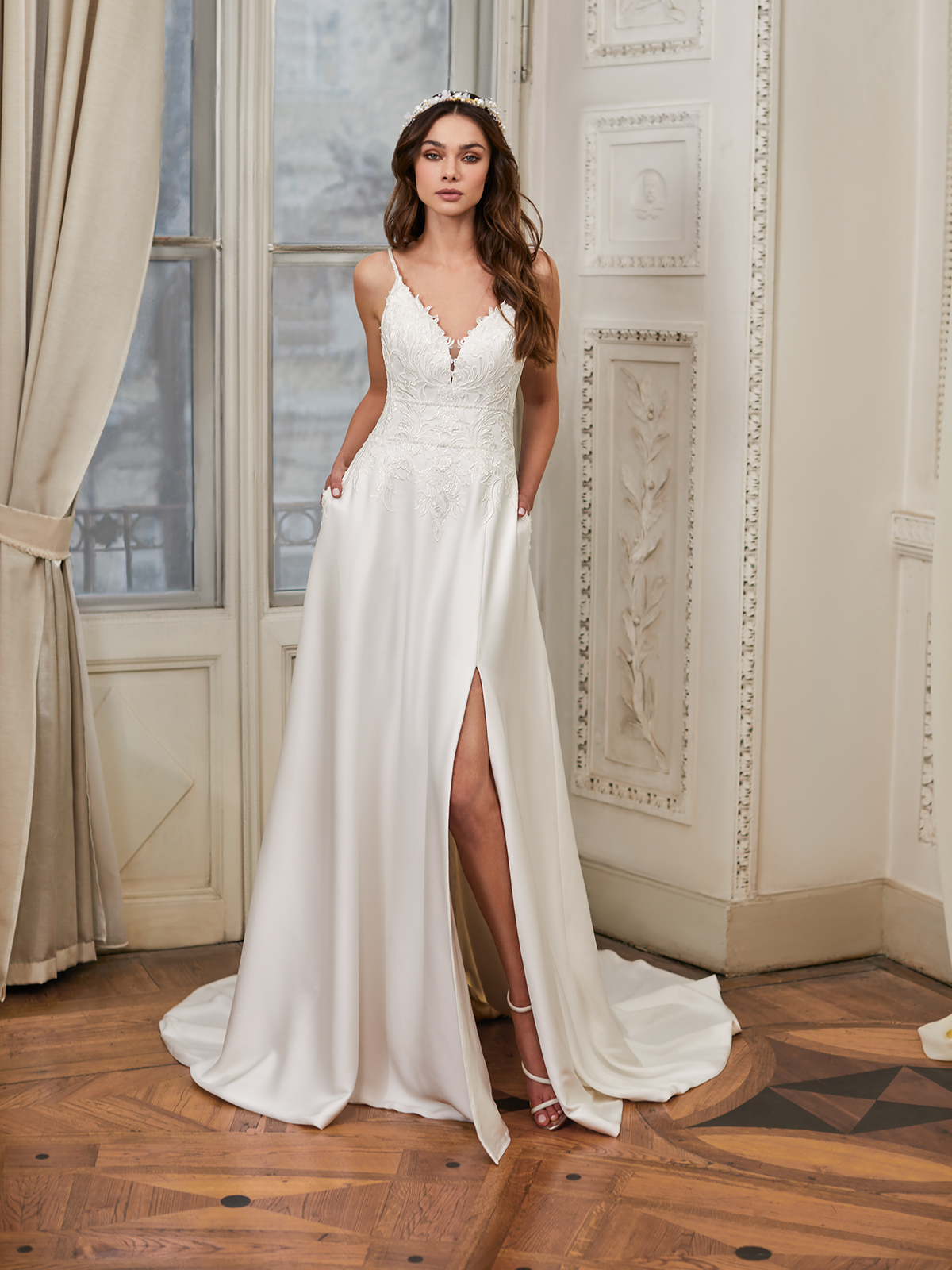 Clean or Minimalist Styles
There's a lot to love about lace, sequins, and other embellishments, but a minimalist dress can be just as gorgeous. The key lies in selecting a flattering silhouette and investing in high-quality fabric, plus great tailoring. Without these elements, a dress can quickly go from the goal of minimalism to a look far from what was imagined.
When done correctly, this look is especially desirable for a mermaid gown, where the attention is shifted away from ornamentation and towards the bride's best features. For a classic look, a minimalist aesthetic can also be integrated into an A-line wedding dress.
The power of minimalism is certainly on display with Style T962, which can flatter any bride with its A-line silhouette and scoop neck. Small details such as a beaded band help this look stand out. Meanwhile, Style T964 provides a hip-hugging, alluring take on the minimalist concept, blending the clean look of a straight neckline with a bold illusion plunge.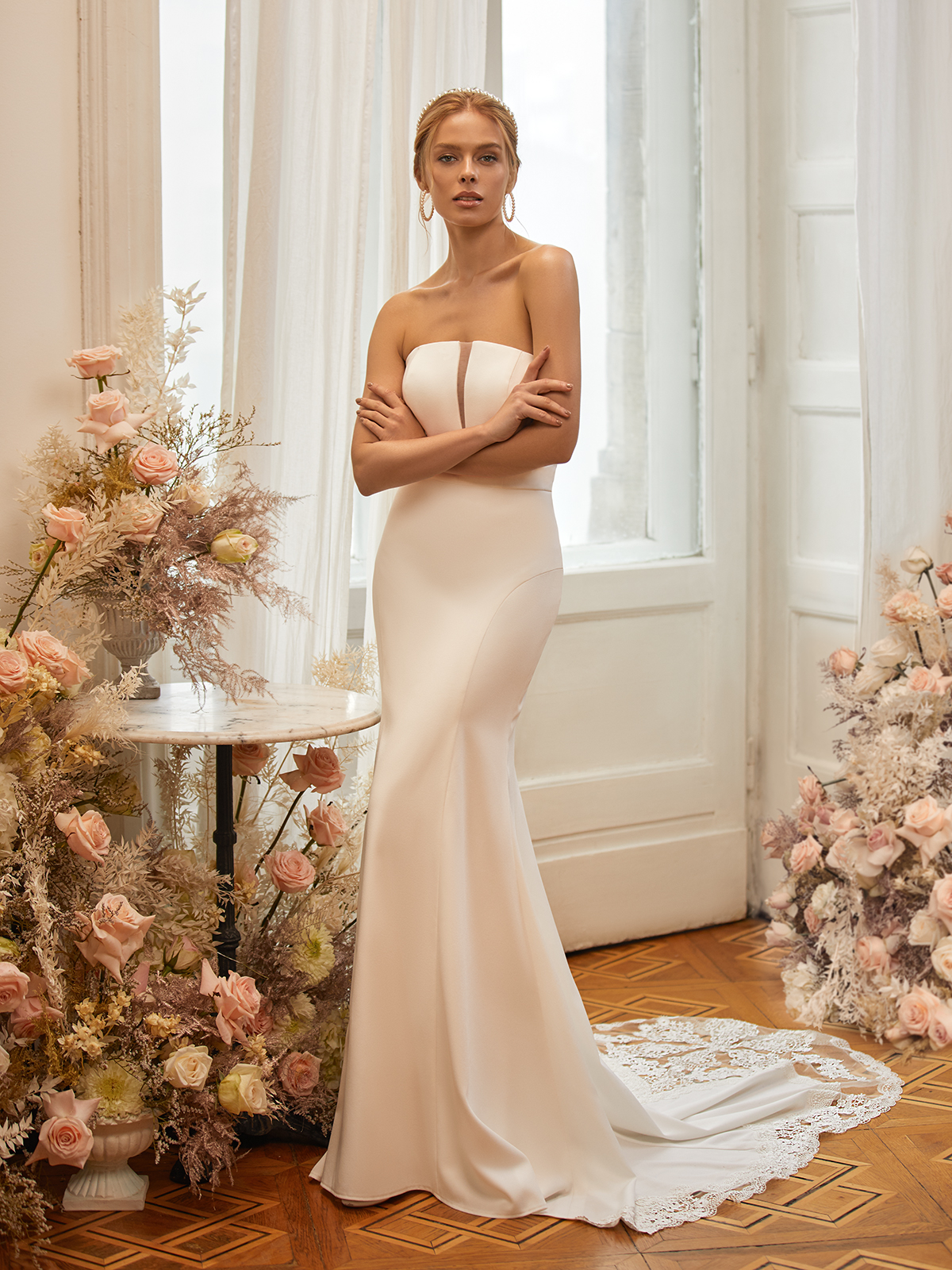 Square Necklines
Regencycore is beginning to take the place of the cottagecore look that dominated last year. Inspired by shows such as Bridgerton, the trendy regency aesthetic can bring royal vibes to your wedding look.
Square necklines, in particular, are a hallmark of this style. These took a backseat for years as the sweetheart neckline grabbed all the attention — but now, the square neckline is making a definite comeback.
While square necklines are more commonly found on princess-style ball gowns with voluminous skirts, they can also make an impression on modern silhouettes. Such is the case for Style H1506 from our Moonlight Couture Collection, which provides a unique blend of modern and classic looks to create a dress that is feminine, yet statuesque. The illusion inset takes the concept of the square neckline to a whole new level by adding an unexpected twist.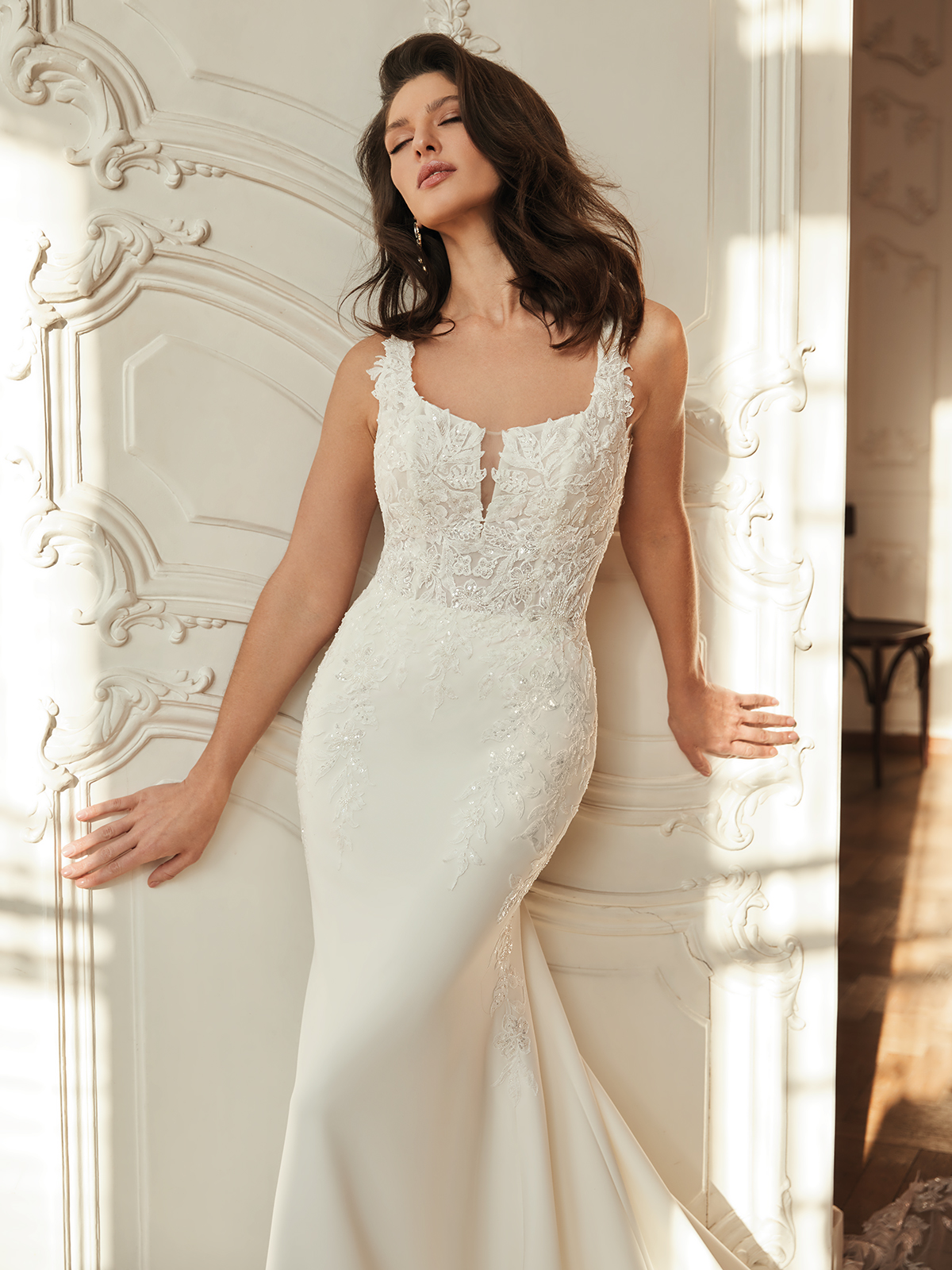 Soft Sweetheart
The sweetheart neckline has been a top choice for brides for well over a decade. The appeal is obvious: this versatile style can be as flirty, sweet, or sensual as you desire. It's as close as it gets to universally flattering. For 2022, however, the sweetheart will take on a softer approach.
Sometimes referred to as the semi-sweetheart, this neckline has less of a dramatic swoop but still captures the romantic vibes of the traditional look. It's perfect when paired with a mermaid silhouette, as seen in Style J6860. If you like the idea of a sweetheart look but prefer something a bit less dramatic for the neckline and bodice, the soft or semi-sweetheart is definitely for you.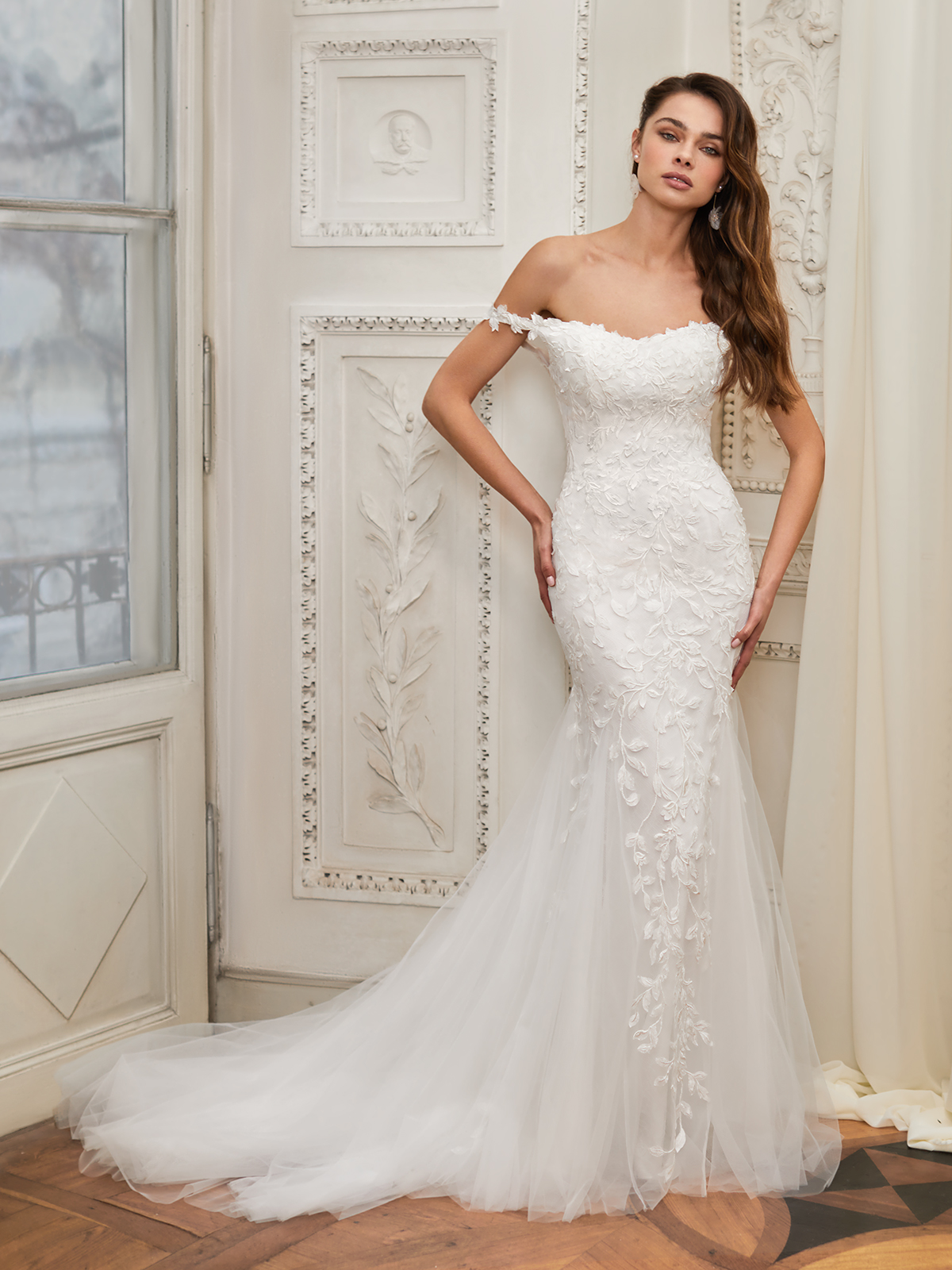 Floral Lace
Amp up the femininity of your bridal gown with help from floral lace. A key element of the cottagecore and Boho looks that are still going strong in 2022, this detail can be integrated into almost any dress imaginable. The bolder, the better, although subtle floral details can also make today's dresses feel downright dreamy.
With Style H1503, this element brings a fairytale feel to an otherworldly dress that also features a Basque waist and off-the-shoulder sleeves. For a more sensual look, there's no denying the appeal of Style H1504, which has the aforementioned soft sweetheart neckline as well as distinctive baroque lace.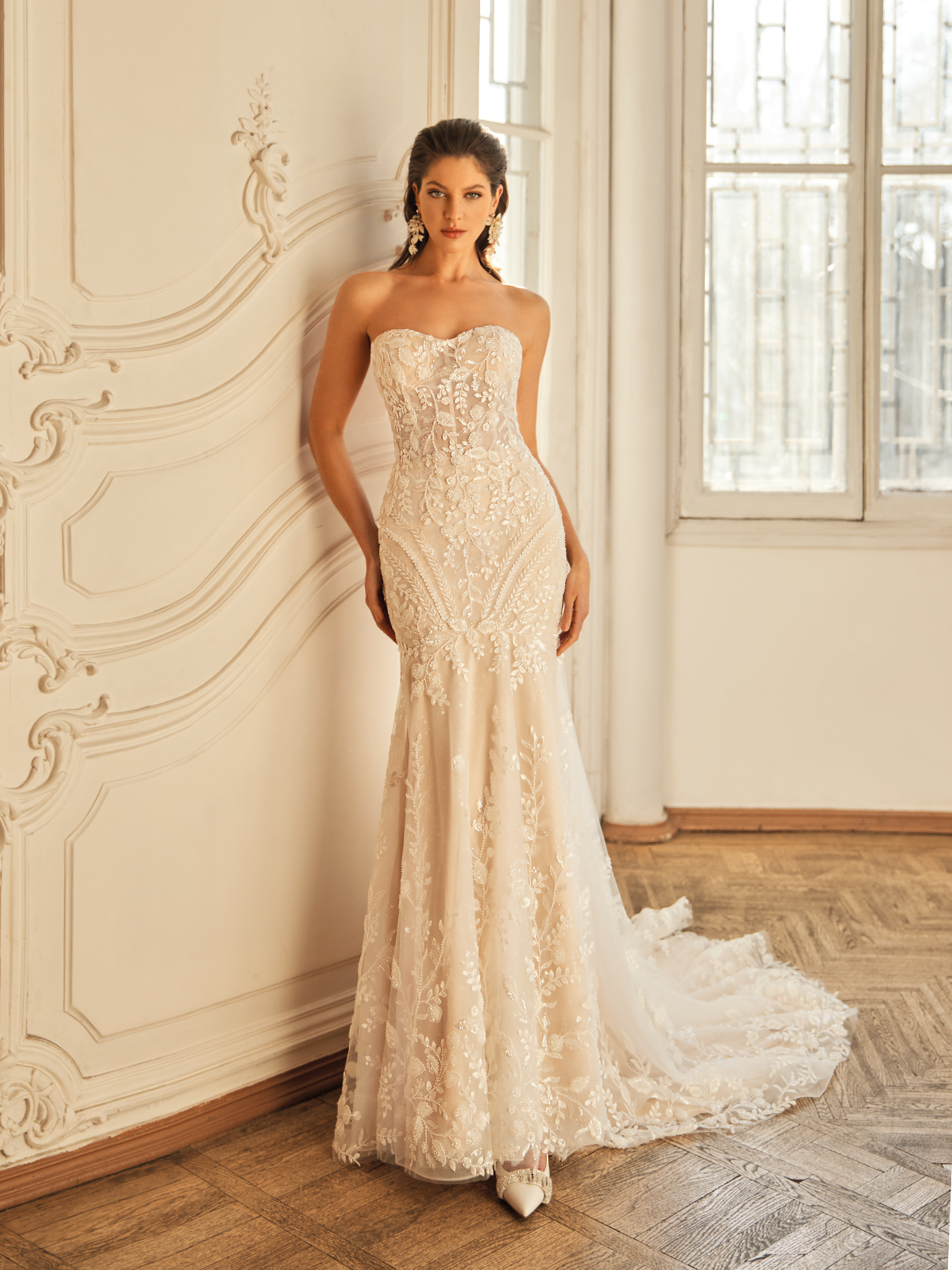 Sleeves
Strapless dresses can be gorgeous, but many brides desire extra coverage or support. Others simply want another hint of ornamentation where it might otherwise not be expected.
This can easily be achieved with help from sleeves, which are often not only practical, but also, downright stunning. Such is the case with the trendiest bridal sleeves of 2022, with balloon and puff styles, in particular, making their mark. From short to long sleeves, many styles can up the ante for already lovely dresses.
Top examples include: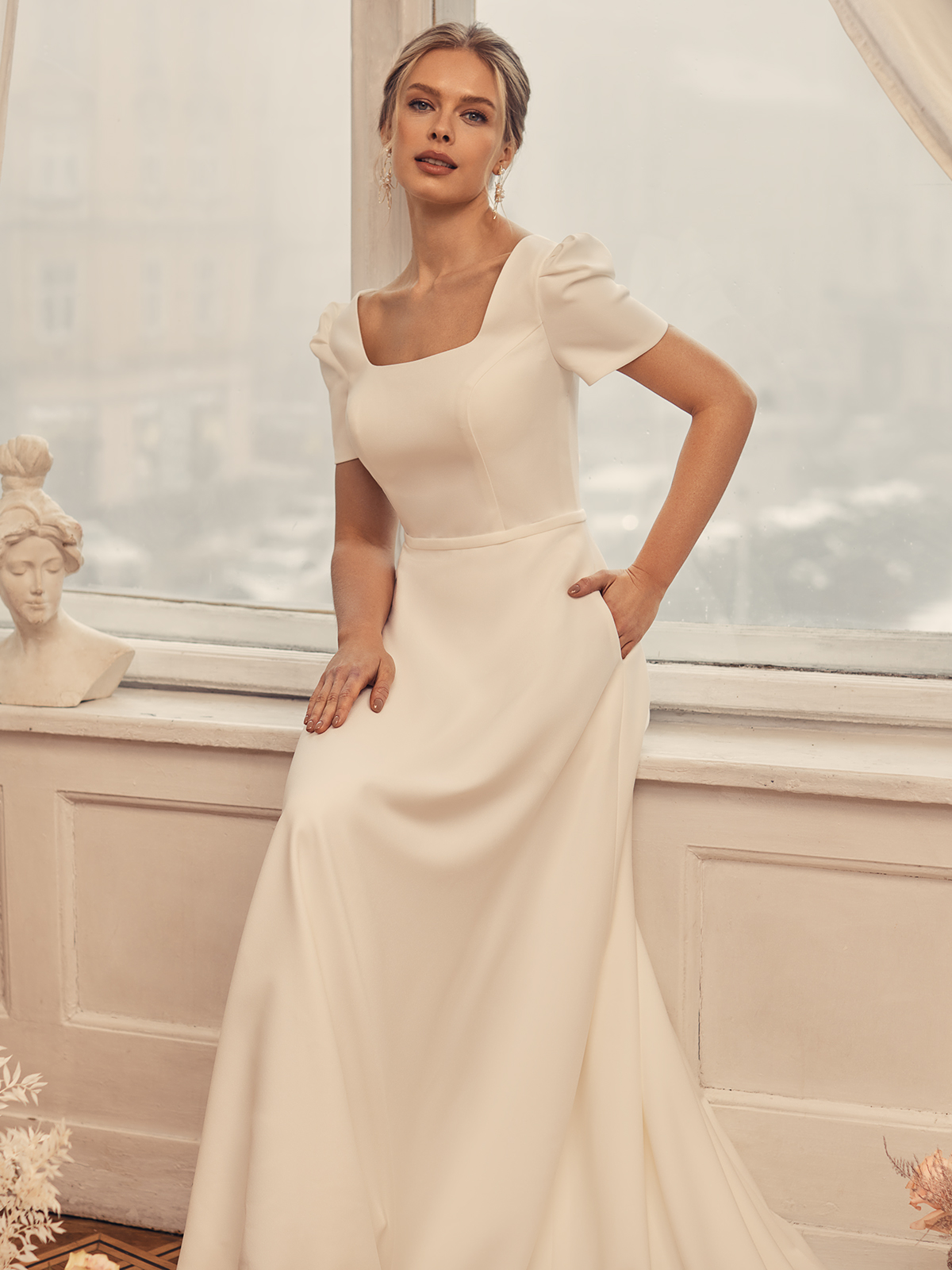 Find the Right Style for You
Don't let the myriad of new wedding dress trends overwhelm you. Yes, there are a lot of new styles to consider, but the best dress ultimately allows you to put your personal style on display. Playing with bridal trends should be fun — not stressful. Whether you prefer tulle, ruffles, corset tops, or other styles, you'll have no trouble finding something you adore.
At Moonlight Bridal, we can help you navigate the selection process and find bridal wear that incorporates fresh styles but still feels true to your vision of the picture-perfect wedding day. Browse our bridal collection online — or get in touch to learn more about our selection.