GUIDE TO TYPES OF WEDDING DRESS SLEEVES
GUIDE TO TYPES OF WEDDING DRESS SLEEVES
One wedding dress trend that continues to gain popularity is choosing a wedding dress with sleeves. We all know there are many different necklines to choose from, but there are many options when it comes to sleeves, as well!
From long to short, we highlight different sleeve and strap options for brides looking for some style inspiration. Find ideas as you prepare for your dress shopping journey.
8 Wedding Dress Sleeve Styles to Consider
Knowing some of the main features you'd like included in your wedding gown can help improve your shopping experience. Maybe you've already decided you want sleeves, but what kind? Here are some of our favorite options when it comes to wedding dresses with sleeves and straps.
Long Sleeve Wedding Dresses
For the bride that loves a clean and classic dress style similar to Kate Middleton or Meghan Markle, long sleeve wedding gowns are a great choice. Some may think that this style is stuffy or matronly, but that's not the case. Long sleeves are in style! Here are a couple of different examples of this type.
Illusion Lace
If you loved the classic illusion lace sleeves Kate Middleton wore on her big day, then you'll fall in love with Moonlight Collection style J6774. This illusion lace sleeve wedding dress has an illusion bateau back giving this gown both a sexy and chic vibe. It's great for either a warm spring wedding or a crisp winter wonderland ceremony. The comfortable, lightweight sleeves include illusion lace detailing so your skin peeks through.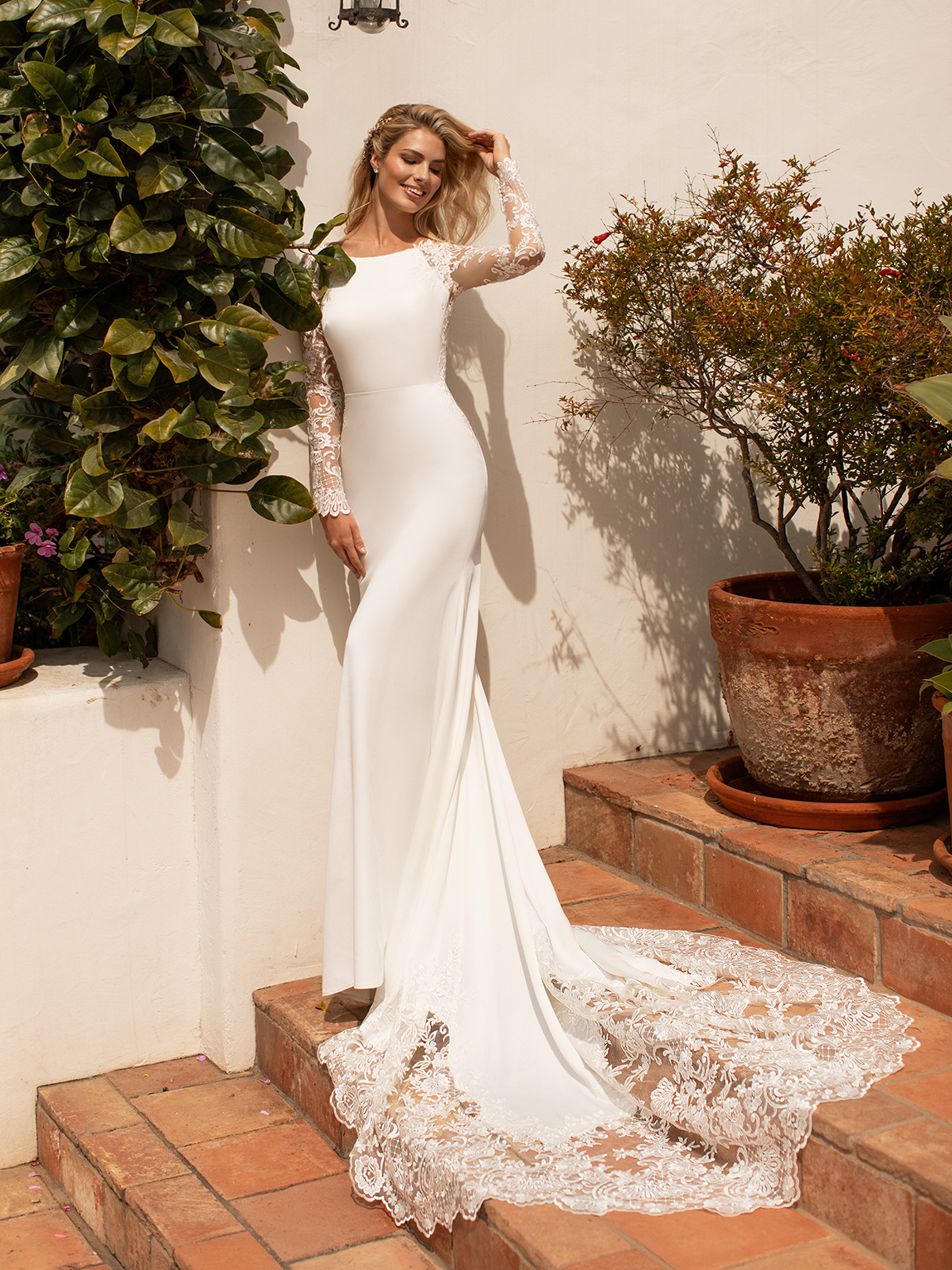 Crepe
If you loved Megan Markle's long sleeve gown and are looking for a modern twist, consider our Moonlight Tango T892. This crepe mermaid gown includes subtle illusion cutouts along the sleeves. The high illusion bateau neck and illusion back bodice offer enough coverage while remaining enticing and sexy. As for the fine details, there are buttons with loops along the back that continue down to the end of the zipper, creating a romantic finish to this beautiful gown.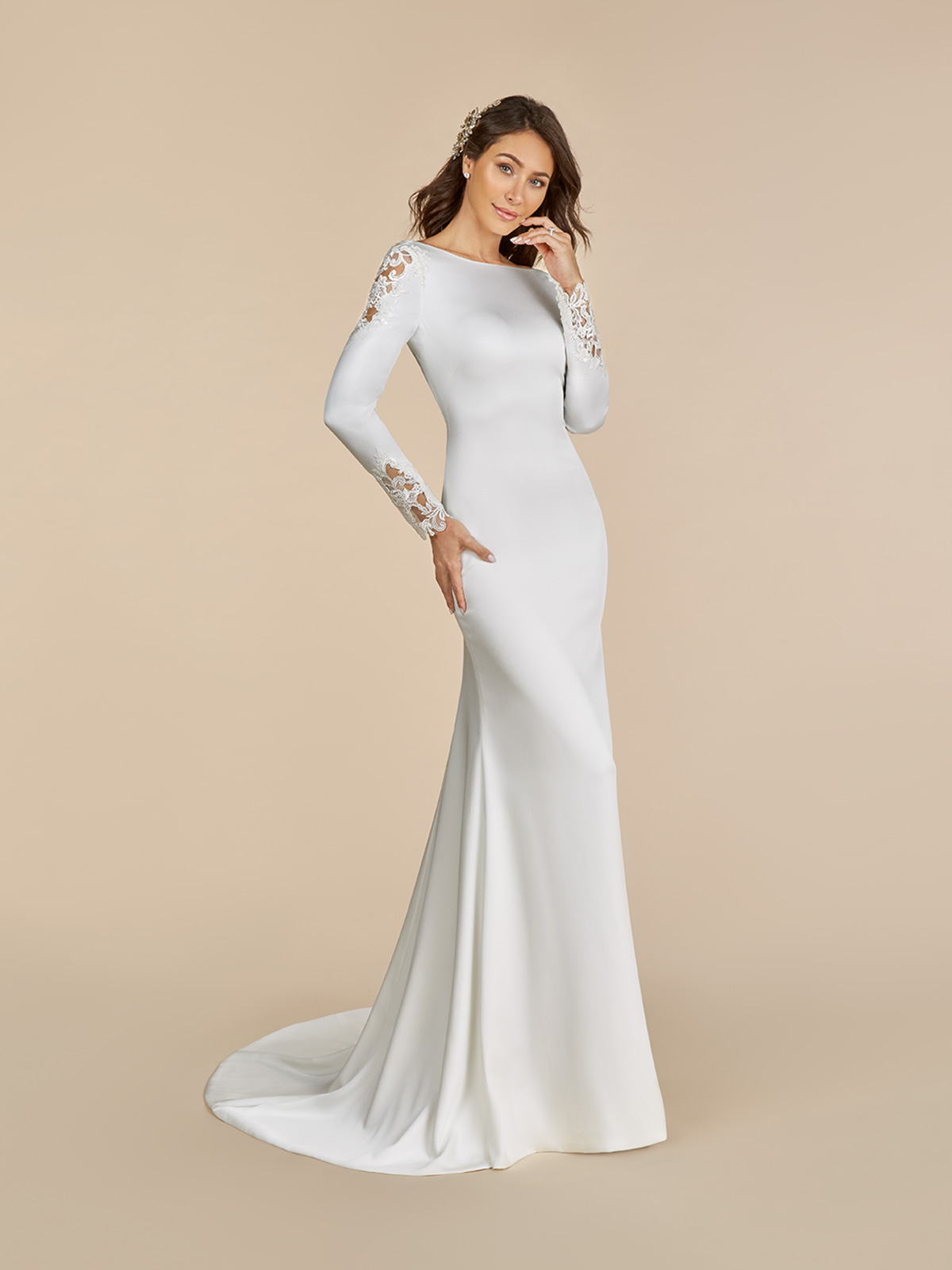 Off the Shoulder Sleeves
Off the shoulder wedding dress sleeves are made for brides that want a style that's both flirty and elegant. They highlight your collarbone while allowing for comfortable movement as they lay gently beside your shoulders and arms.
Style H1487 from our Moonlight Couture line is a sparkly 3D lace wedding gown with off the shoulder sleeves. It features a lace bodice that is accented with sequins for a bit of added sparkle.
Another top style selection we have that includes these soft sleeves is Style T891, a lightweight sparkle tulle wedding dress with re-embroidered 3D lace.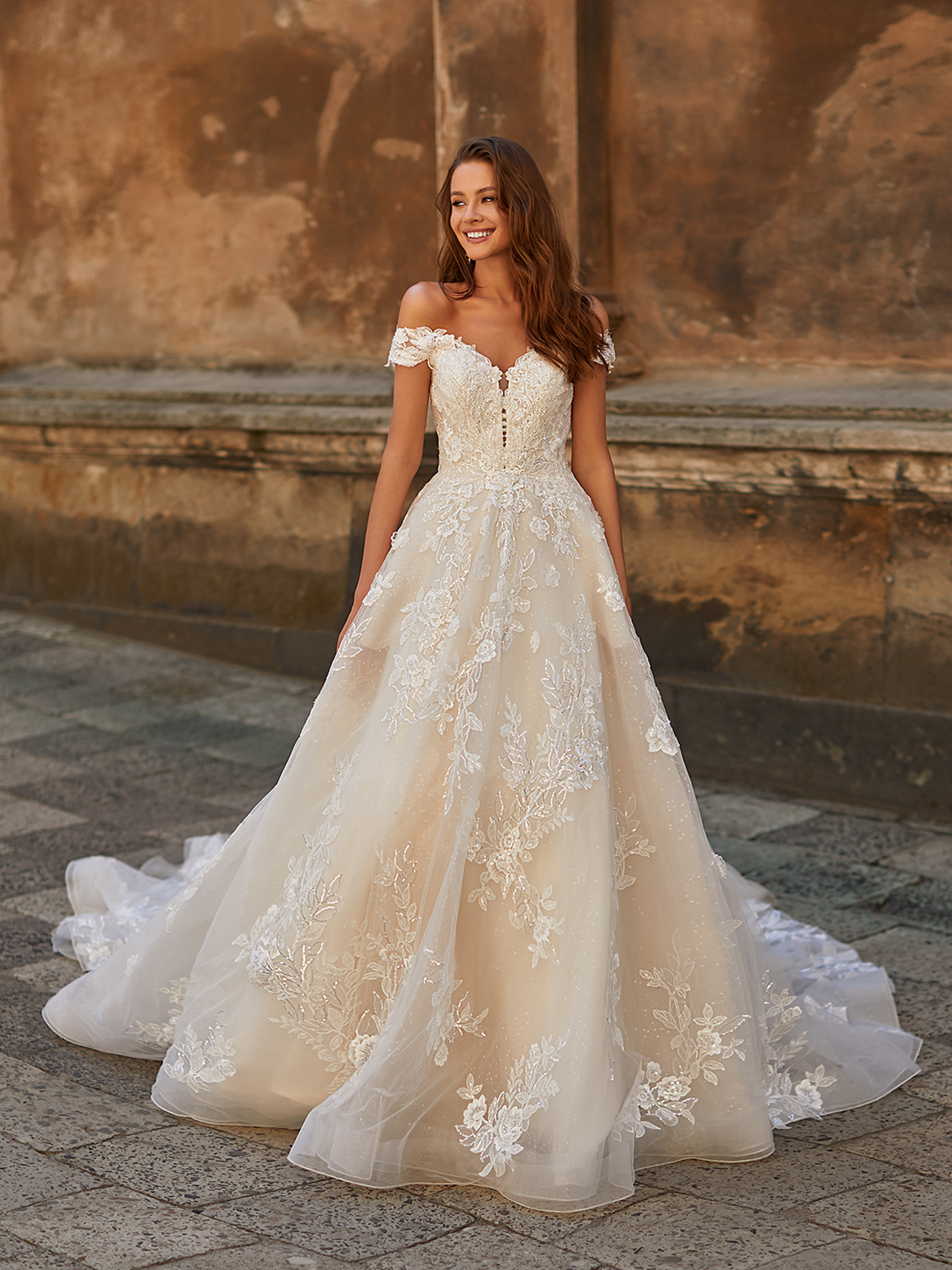 Detachable Sleeves
Many designs now offer the option of detachable sleeves. This is a newer trend in the bridal world that we absolutely love. This type means you instantly have two looks in one style for your big day.
Meet Style H1482. Coming in a grand ball gown silhouette, this wedding dress with off the shoulder detachable bishop sleeves is remarkable in every way. The classic sweetheart neckline paired with both embroidered and beaded patterns is the definition of lavish. You can wear the sleeves during the formal ceremony for an off the shoulder style, then remove them once the sun sets and you're ready to dance.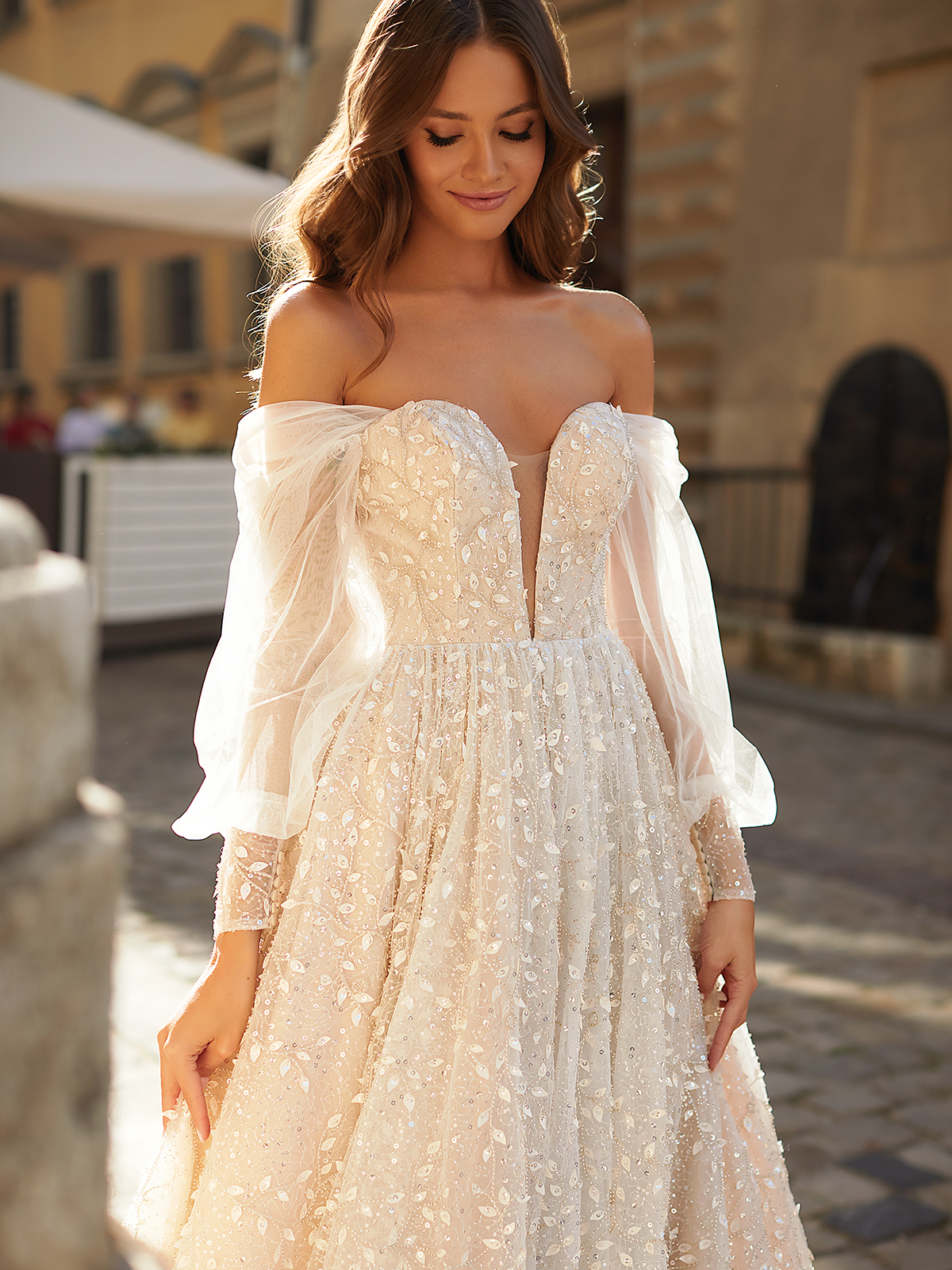 Cap Sleeve
Cap sleeves are smaller and hug the curve of your shoulder. They can look different depending on the dress material used. This type often creates a romantic and somewhat modest look. Some gown designs come with detachable cap sleeves which adds versatility by allowing brides to change up their look during their big day.
Typically considered more casual than formal, cap sleeves are perfect for minimalist or bohemian style weddings. They blend shoulder coverage with sultry elegance.
Moonlight style J6834 features embroidered rustic floral and leaf shaped lace appliques from the cap sleeves all the way down to the tip of the chapel train. This gown is perfect for a spring or summer courtyard wedding.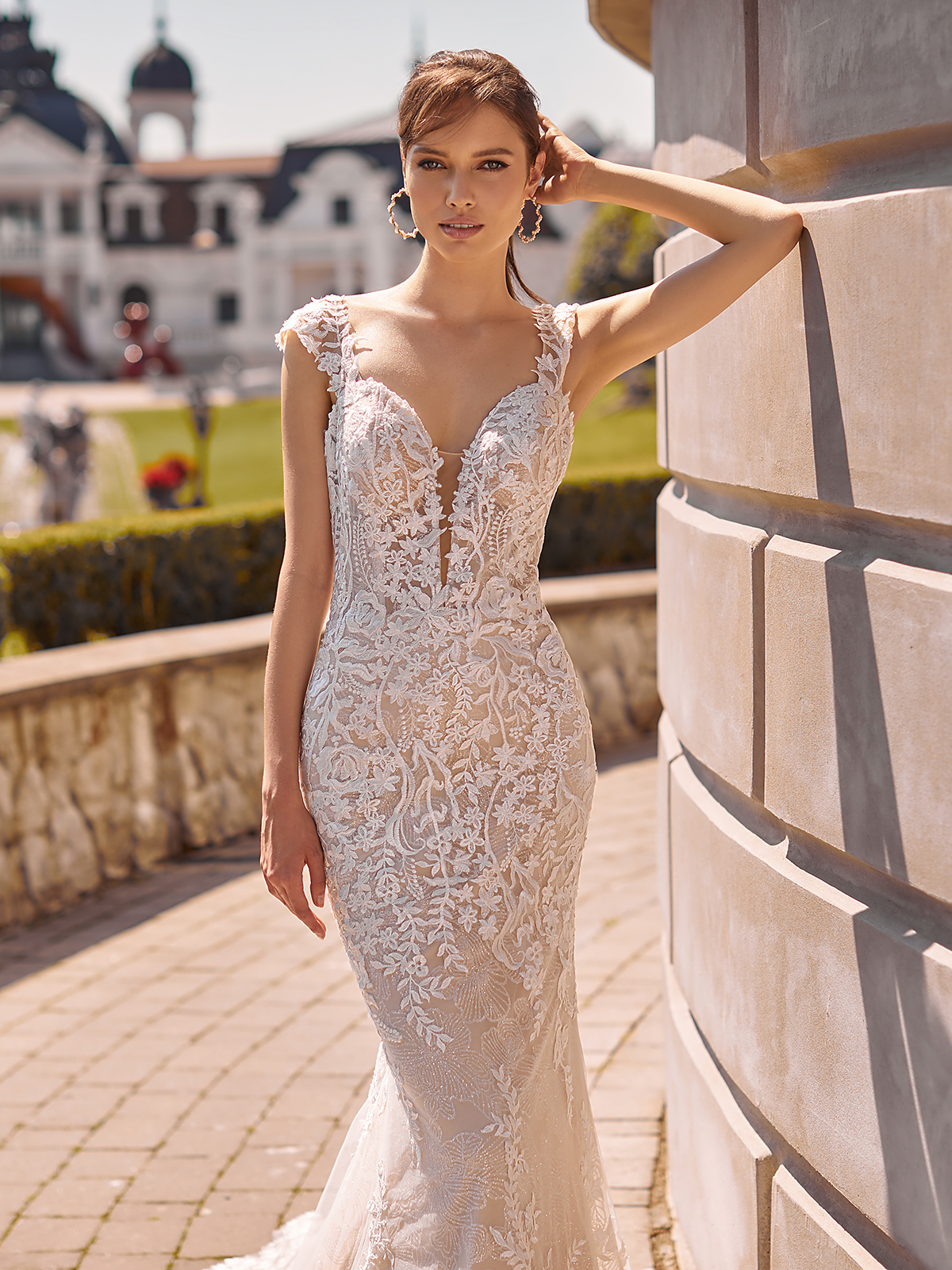 Bishop Sleeve
This sleeve type works well for brides looking to be a bit more modest. This style is typically long, flows all the way down the arm and then ends with a cuff at the wrist.
Beautiful from top to bottom, Style M5043 is a beautiful modest illusion bishop sleeve wedding dress that will have you falling in love the second you slip it on. The long illusion style plays the perfect balance of classy and modern with just enough arm exposure. The form-fitting mermaid silhouette and lace chapel train will add flow to your steps down the aisle. Even for brides not looking for a modest gown, this gown can be the perfect boho wedding dress.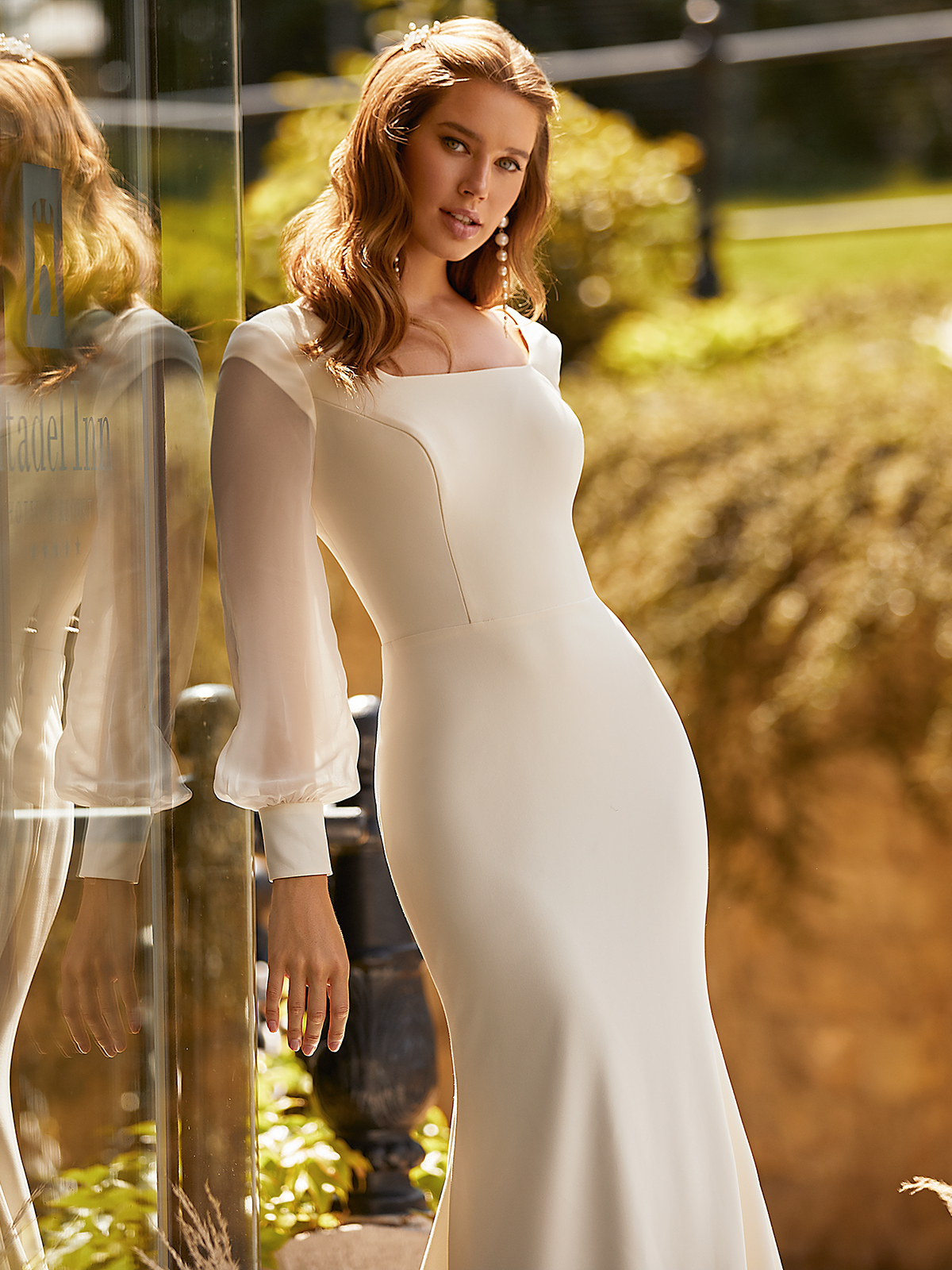 Short Sleeve
Longer than the cap style, short sleeves hit somewhere around mid-bicep on the arm. This is another style that tends to be found on dresses with a more modest design.
For some glamor in your gown, Style M5042 was made for the most fashion forward modest brides. This gown features sheer tulle short sleeves that fall effortlessly down your shoulders and create a fairytale princess look. Not only is this style comfortable and laid back, but also exquisite with a mettalic lace decorated bodice that offers a hint of shimmer to your wedding day look.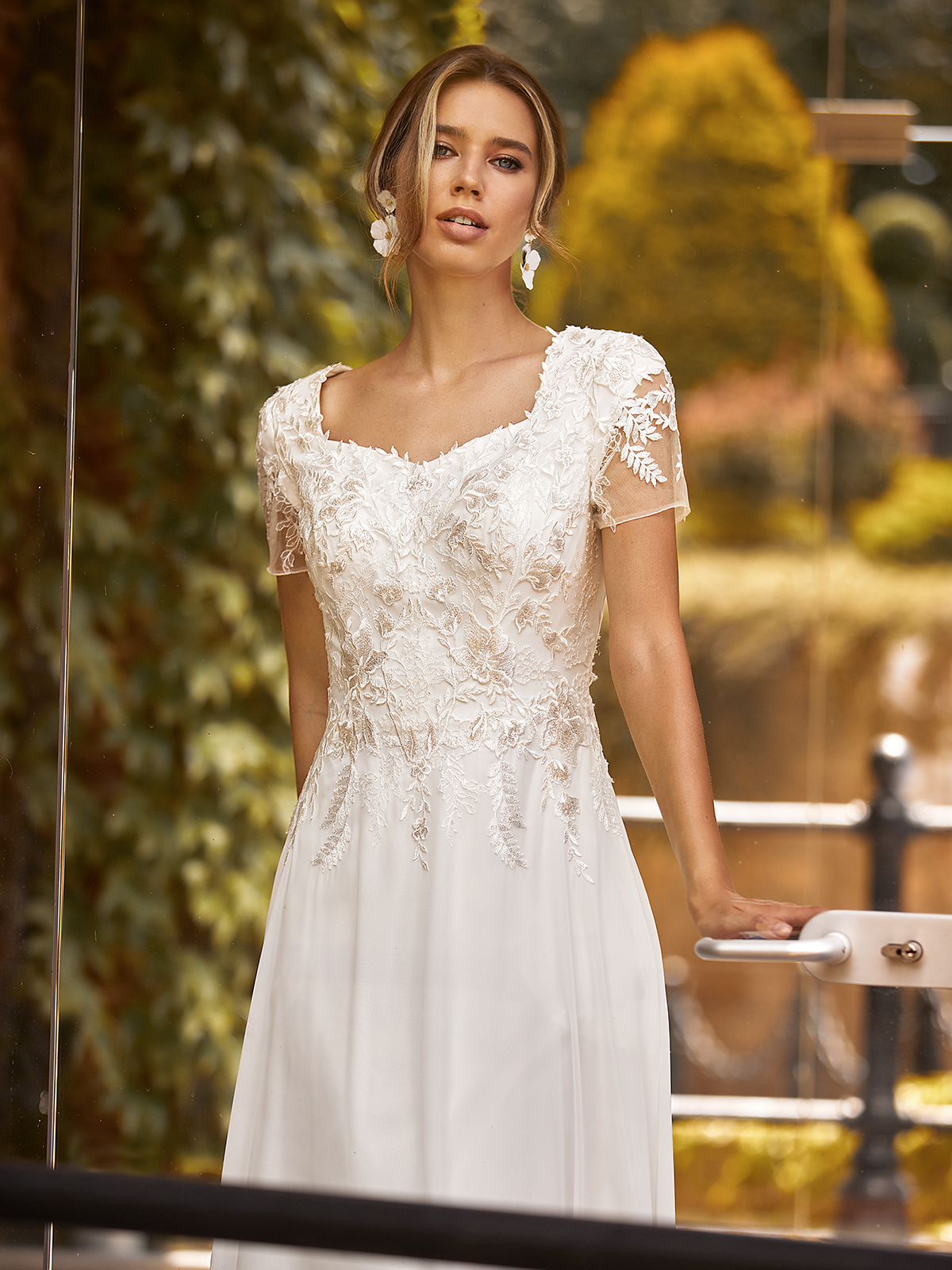 Another option is Moonlight Modest style M5051. This A-line crepe gown features a trendy square neckline. The short puff sleeves lay perfectly against your arms, giving you a fairytale Cinderella look. This modest gown includes pockets at the side, letting you keep any essentials with you.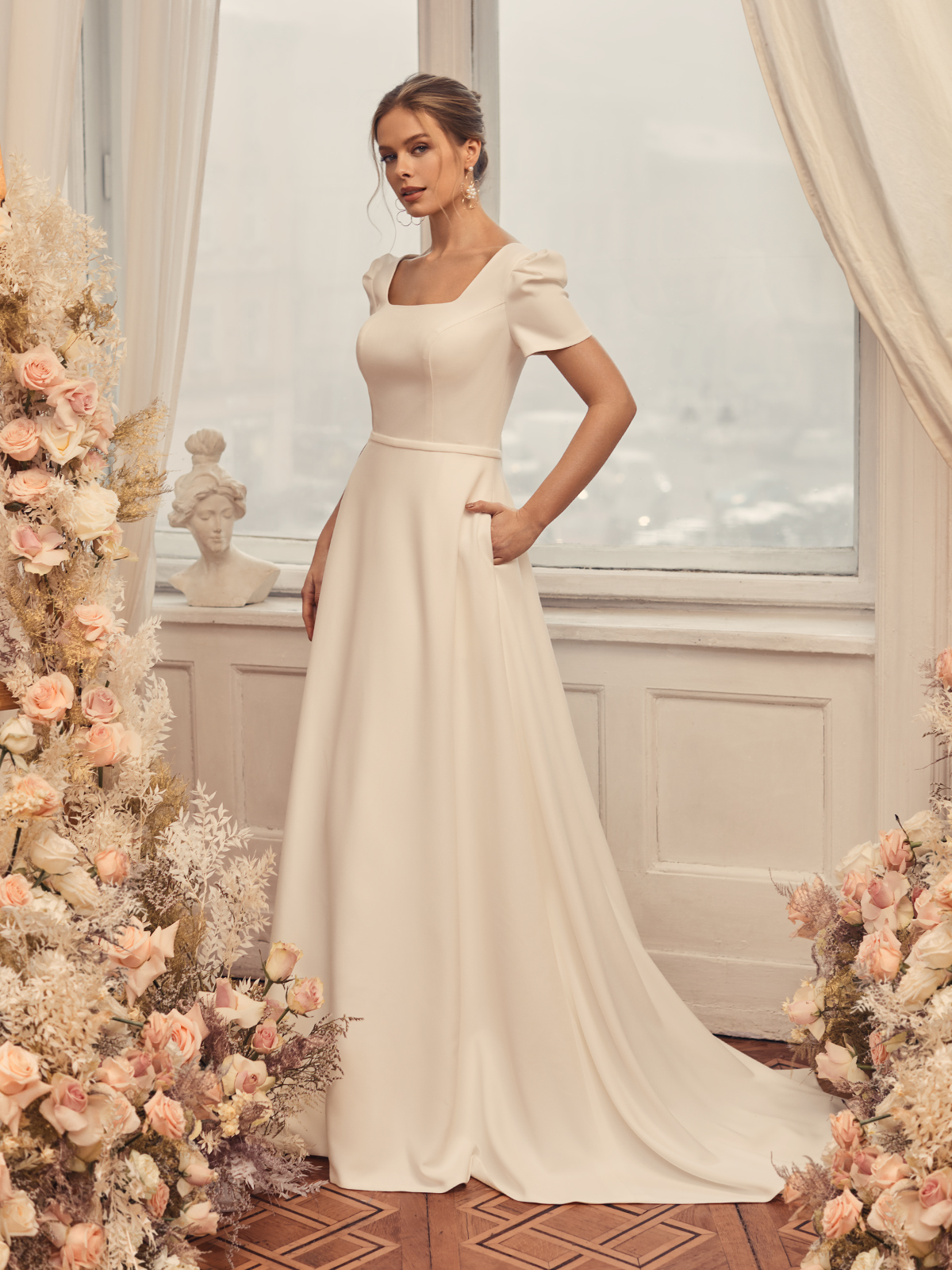 Three-Quarter Sleeve
A comeback wedding dress trend for the vintage inspired bride, three-quarter sleeves are considered formal and hit around ¾ the way down an arm. Classy and elegant, the three quarter length gives the bride arm mobility while retaining a more modest and sophisticated look. This style is best suited for fall and winter weddings.
Spaghetti Straps
Spaghetti straps don't provide the arm coverage that other sleeve options do, but they do provide support that a strapless dress would not.
If you want to add some sparkle to your summer time wedding, beaded straps are perfect. Style T956 is a sleek crepe design that includes a classic deep sweetheart neckline and delicately placed beads along each strap.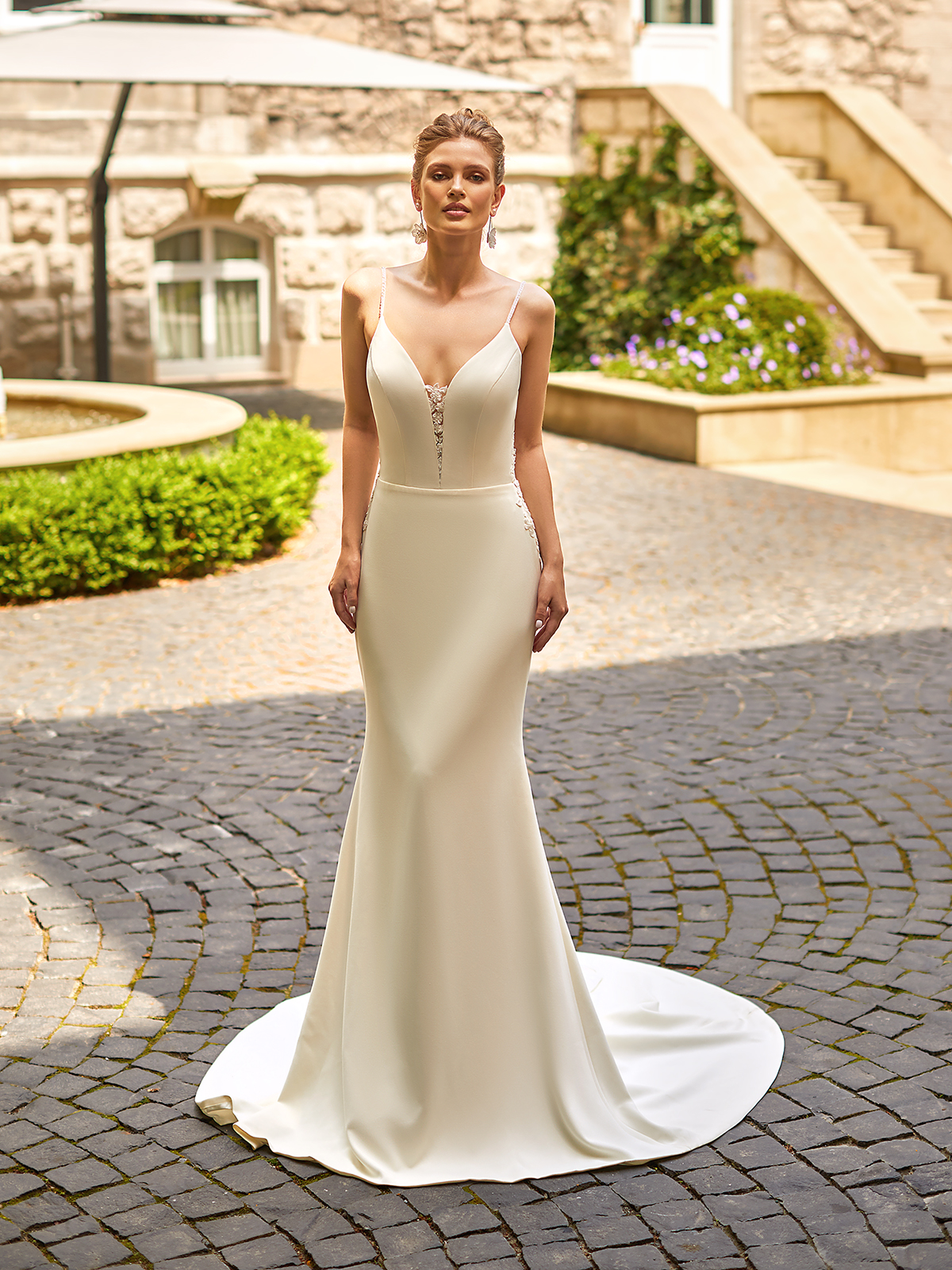 Style H1527 is a uniquely lavish drop waist wedding gown with floral and leaf lace throughout the bodice and straps. Designed with tulle, this style combines floral forward lace with beaded detailing along the bodice to create an eye catching look. The spaghetti straps are paired with delicate lace details and deep V neckline that will have your partner swooning as you walk down the aisle.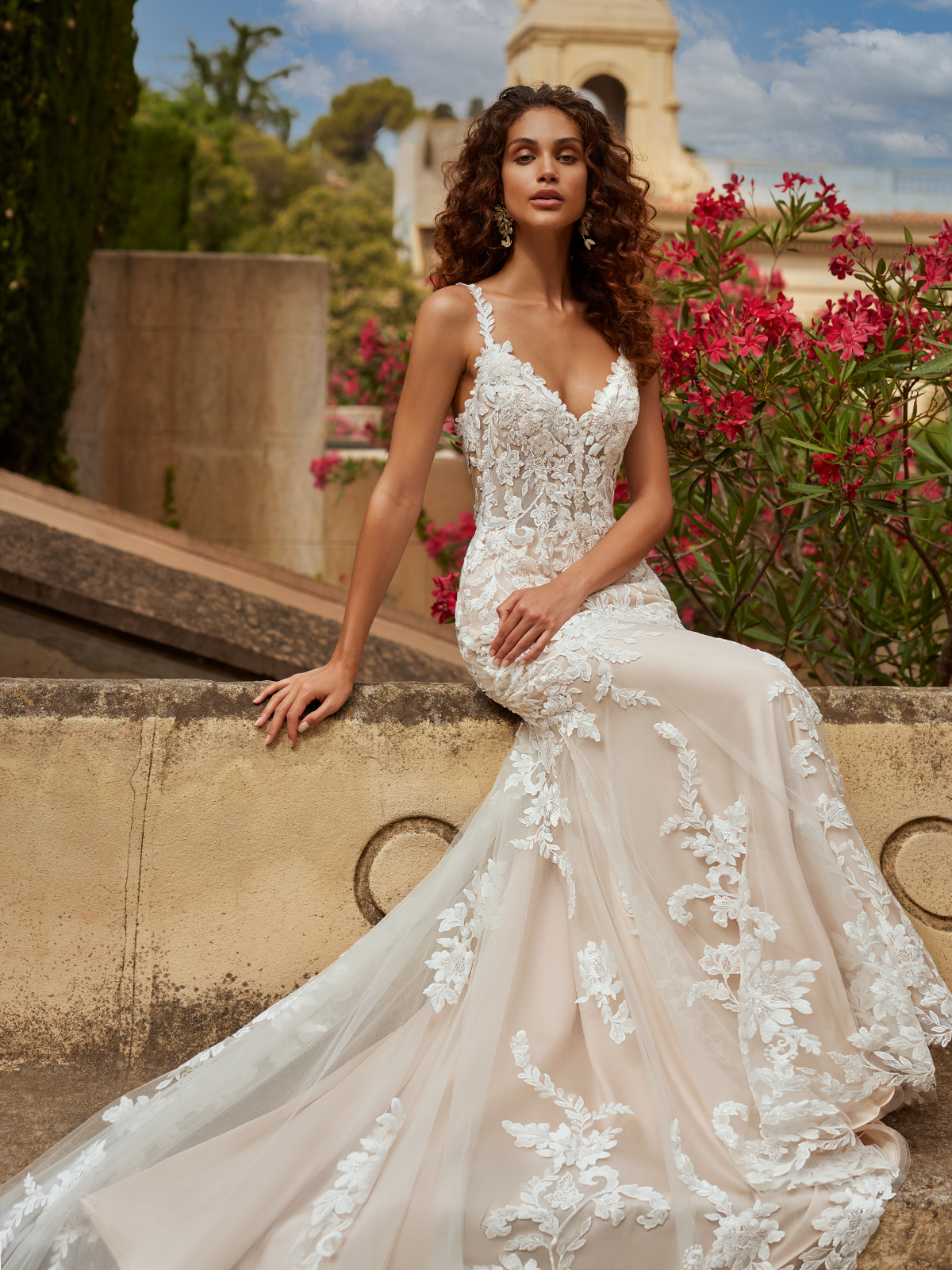 Puff Sleeves
Puffy sleeves add both an elegant and vintage touch to a bridal gown. They are currently seeing a moment as fashion from the Regency era has recently become more popular due to shows like Bridgerton. Puff sleeves include an area of bunched fabric that creates the 'puff' look. They are seen on anything from short to long-sleeve styles, and even off-the-shoulder styles.
Style T931 is a beautiful satin gown that includes unique, detachable puff sleeves. The classic A-line design is paired with a strapless sweetheart neckline to create a timeless, elegant look. The puff sleeves add the perfect finishing touch.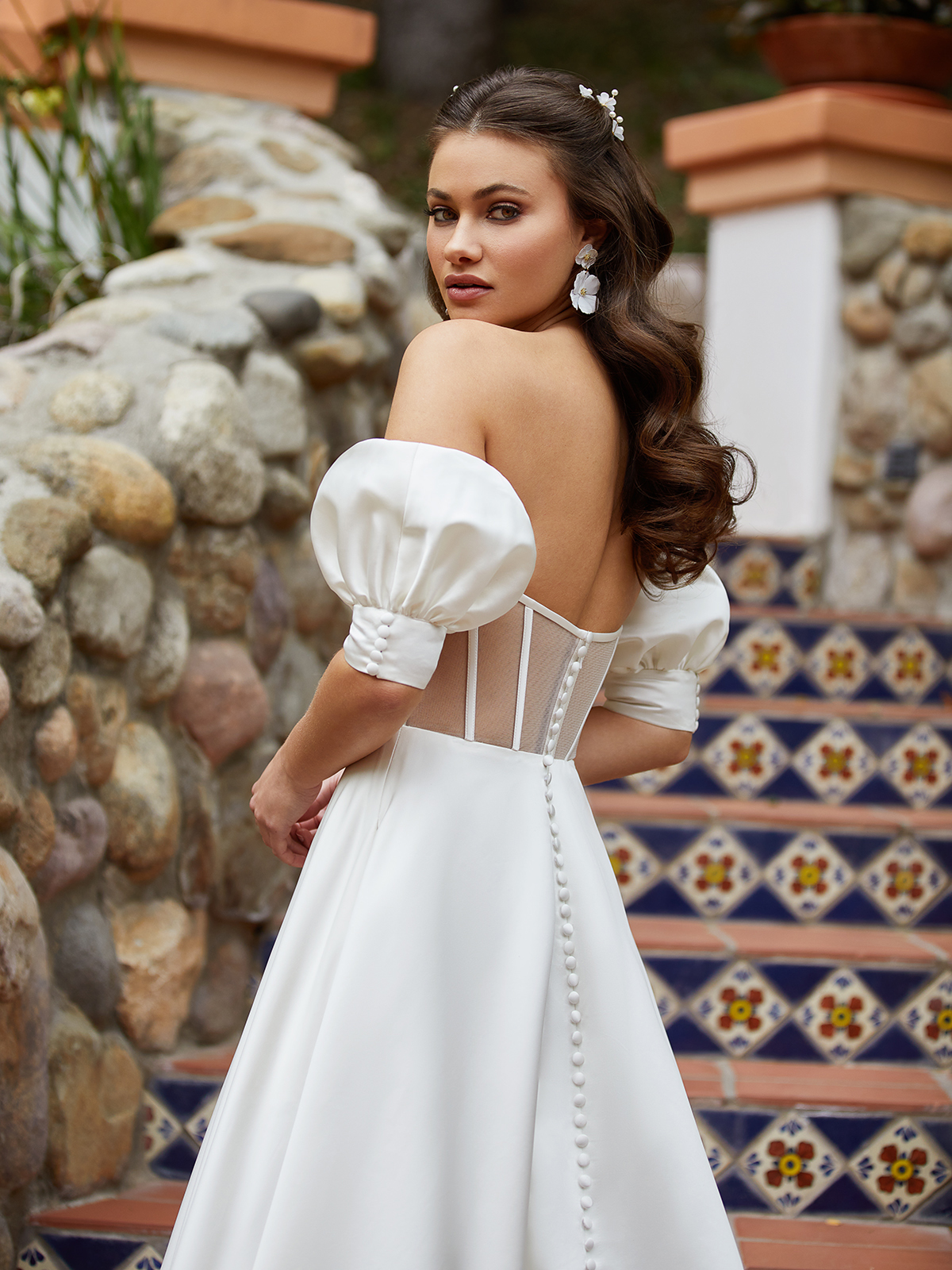 Poet Sleeves
Sleeves are a big wedding gown trend in 2022, and one type we are seeing more of is the poet sleeve. This type adds an instant ethereal look to any design. The poet sleeve is typically loose-fitting, includes a bit of volume, some embellishments, and a cuff at the bottom.
Style M5057 from our Modest collection is a v-neck bridal dress crafted with net fabric, tulle fabric, and floral lace appliques. The design includes long poet sleeves that instantly add a romantic feel to the overall look.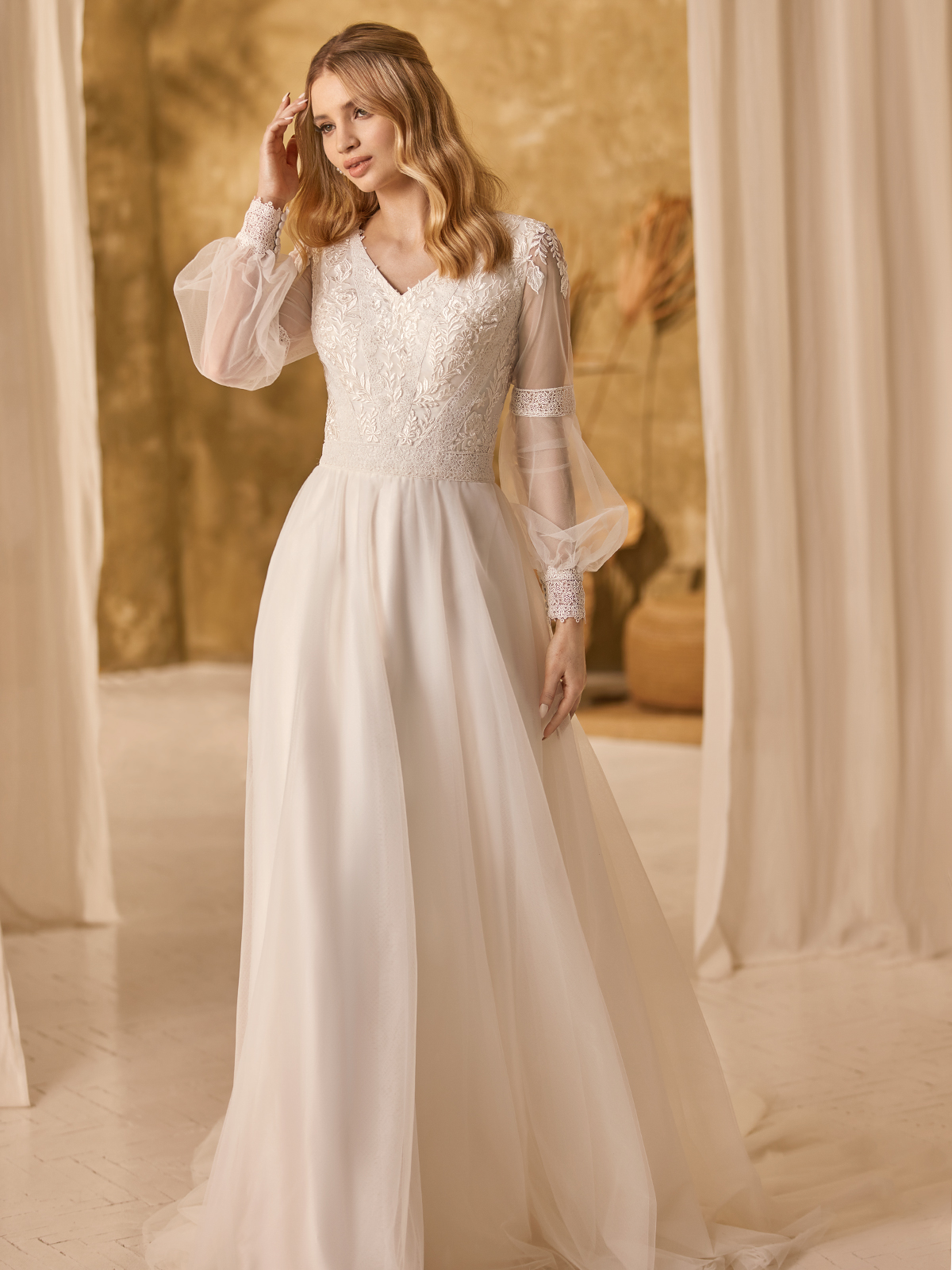 Final Takeaway
Whether you're looking for a sexy off the shoulder gown or something a bit more modest and formal, be sure to choose a gown that makes you feel one of a kind and true to yourself!
We love the different wedding dress sleeve styles that are currently trending. Ready to start looking? Contact a
Moonlight Bridal authorized retailer
today to schedule your appointment.