5 Bridgerton Inspired Wedding Dresses | Moonlight Bridal
Bridgerton Inspired Wedding Dresses
Dear Reader, If you've been drawn into the world of Bridgerton, you're not alone. With gossip worthy romances and the most lavish fashion inspiration, it almost seems impossible not to get swept up in all the craze of this wildly popular Netflix show. Ever since the series debut we have been caught up in the whirlwind romance of Duke and Daphne, but we're also immersed in the iconic fashion pieces worn by the characters highlighting the regency era of the early 1800s.
From dreamy puffy sleeves, to square necklines, dramatic ball gowns, and the most amazing crystal jewels and tiaras, the show's costumes are sensational to say the least. Whether you want to embody Daphne, Penelope, or any other character on your wedding day, we explore which of our beaded couture wedding dresses and floral lace bridal gowns match the style of different characters of the show.
Ready to dive in?
Regency Era Fashion Inspiration
A brief history lesson, gentle reader- the show's set to date is from 1795 - 1837, also known as the Regency era, and is known for being a mini-renaissance time in Eastern Europe. It was an era of exquisite architecture, literature, fine art, and a time when fashion was as extravagant as it gets. Women's fashion included empire waists, puff sleeves, corsets, garden inspired floral fabric, and jeweled embellishments. Your fashion choices could be the talk of the town or the gossip of the papers.
With a nod to this era and a modern twist, Bridgerton sets forth high-fashion details that have had brides raving and gushing over this era's fashion. Whether you're searching for spring wedding trends or want to embody your favorite Bridgerton character, read on as we take a look into a few characters from each of the two main families and what gowns would match their style best.
Bridgerton House Inspired Wedding Dresses
First and foremost we introduce the ladies of Bridgerton. This household includes 8 children, two of them including Lady Daphne and Lady Eloise. Infamous for being wealthy, influential, and considered to be among the most powerful families in town, there's no wonder that they're also considered best dressed.
Daphne Bridgerton Style Dresses
If you're anything like Daphne, the Duchess of Hastings, then you're in search of a bridal gown that embodies elegant lady-like details with just a touch of sultry, and of course, sleeves. Take Moonlight Couture Style H1482, a beaded off the shoulder long sleeve wedding dress that will have you dubbed as the "diamond" of the season. This gown is a sparkling sensation with its ball gown silhouette. It includes bugles, seed beads, sequins, and 3-D leaf embellishments accent throughout, making it even Modiste approved.
Sleeves are of course a must for Ms. Daphne. With specialty beaded jeweled cuffs and romantic off the shoulder bishop illusion sleeves, this gown offers just enough coverage, without losing any feminine details. If you're looking to be deemed even more fashionable for the social season, this gown can be worn with just the off the shoulder tulle details or worn without the sleeves.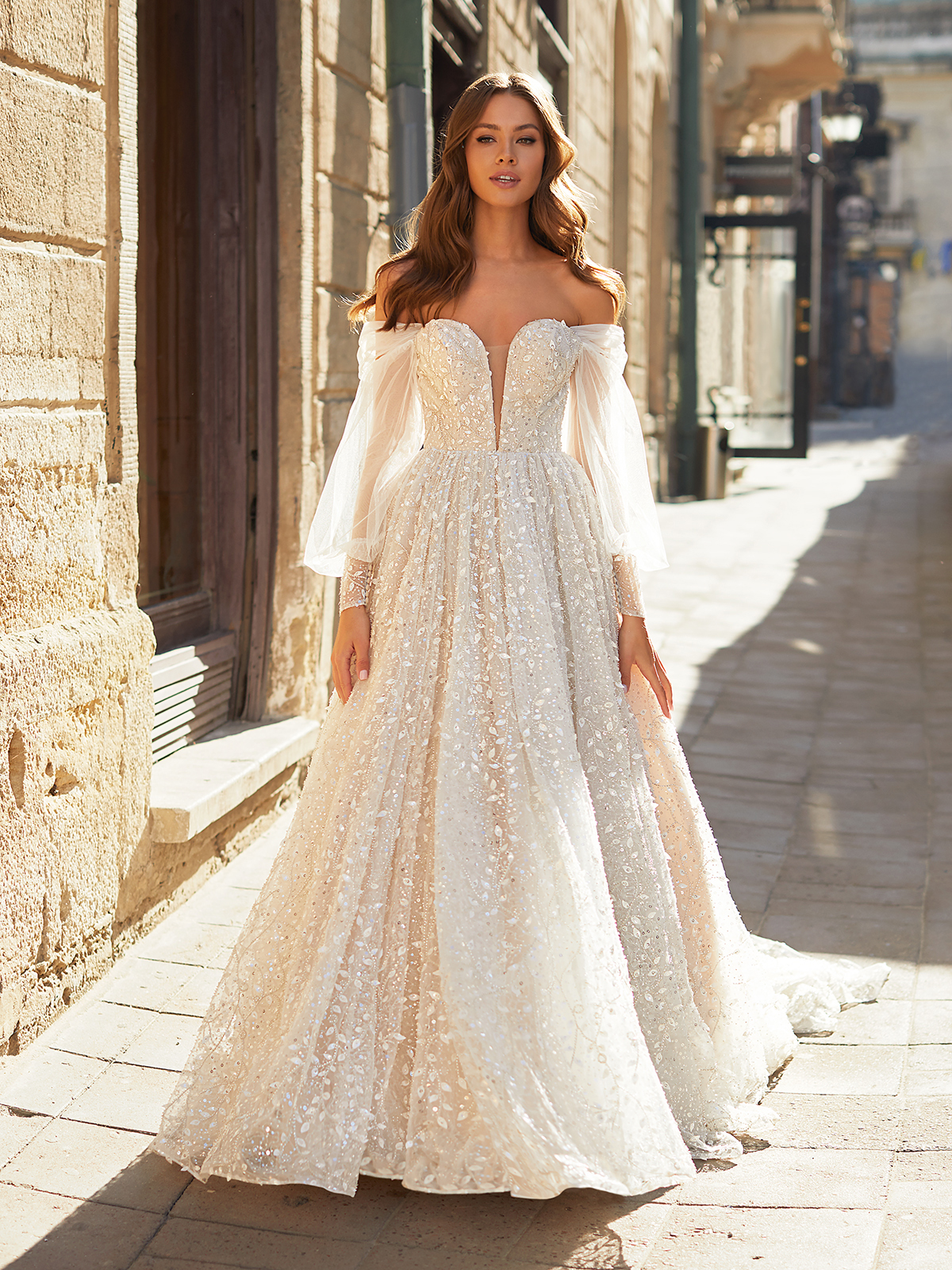 Lady Eloise Bridgerton
The bride that speaks her mind and isn't afraid to do so may be a bit more like Eloise Bridgerton. Unlike her many sisters, Eloise seeks a different life than marriage, balls, dresses, and high teas. She aspires for a future for herself beyond a fairytale marriage. A bold woman like herself, would fall in love with Moonlight Tango style T931, illusion puffy sleeve lace gown.
The mermaid fit allows for unfussy elegance, especially if you're always on the move like Eloise. Unlike traditional embroidered lace details, Style T931 features garden-floral print inspired beaded lace appliques along the bodice. This detail is both trendy and one of a kind. The illusion puffy sleeves give just enough exposure to the sleeves, while still remaining graceful enough for a confident bride-to-be on her big day.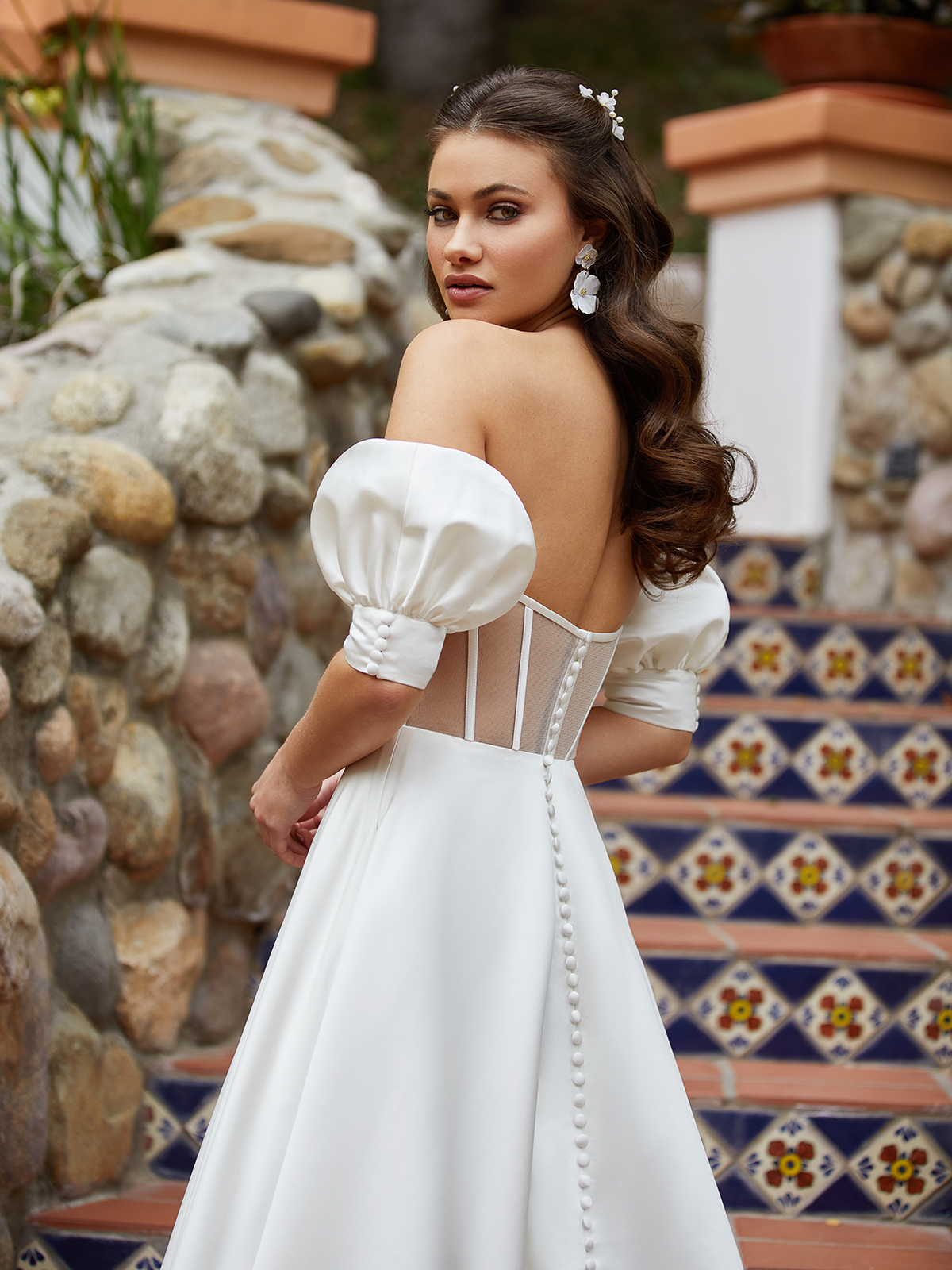 Featherington House Inspired Wedding Dresses
With three daughters, the Featherington family also takes their cousin, Marina into their home to stay for the entire season, a series of events where women are available to be courted in hopes of being engaged. Their mother, Lady Featherington, is quite known for inquiring only the most extravagant and intricate gowns the Modiste has to offer.
Marina Thompson
Though Marina might not have the household name of "Featherington," she is considered to be a breakout star of the season. A true believer in love at first sight, Marina's style has her wearing a gown that is both classic and traditional. Though she may be a romantic, her bold and determined attitude also calls for eye catching details.
Style J6837, an A-line wedding gown with floral and feather shaped lace applique, is her perfect match. A flattering sweetheart neckline and on the shoulder puff poet sleeves offer the perfect youthful and romantic touch to this classic style. The basque waistline is a classic detail that never goes out of style. For a touch of spice, the sleeves are detachable creating some drama.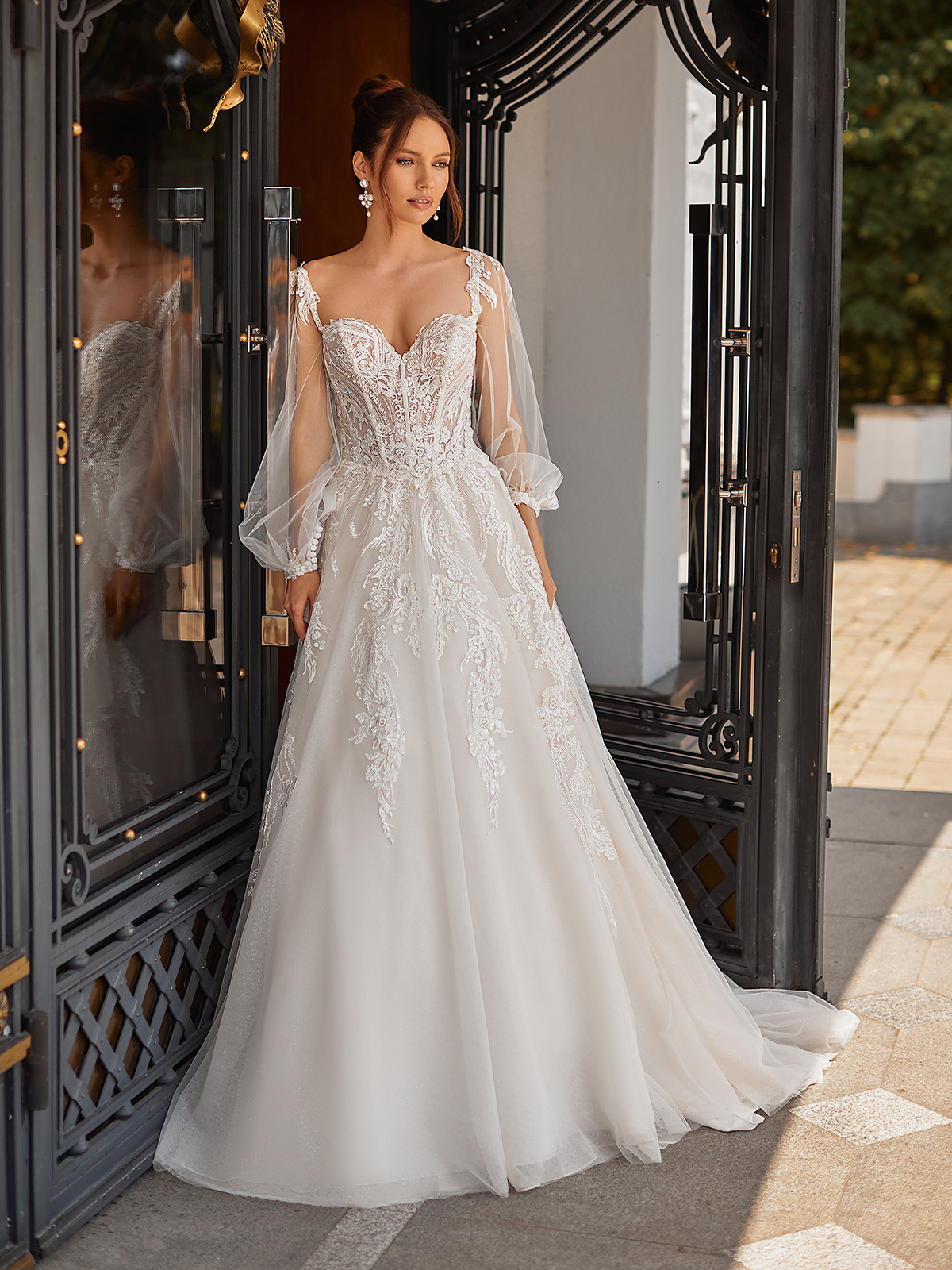 Lady Penelope Featherington
Our sweet Penelope has a sharp wit, a warm heart and is also a romantic. A charmer like herself would fall head over heels over Moonlight Modest style M5041, a short sleeve crepe wedding dress. As someone who would prefer not to take center stage, subtle details like the mesh illusion notch along the square neckline and the slit in the short sleeves are the unexpected details that complete this style. It's no wonder the secret side pockets at the skirt are a must have detail, making this gown the perfect match for her.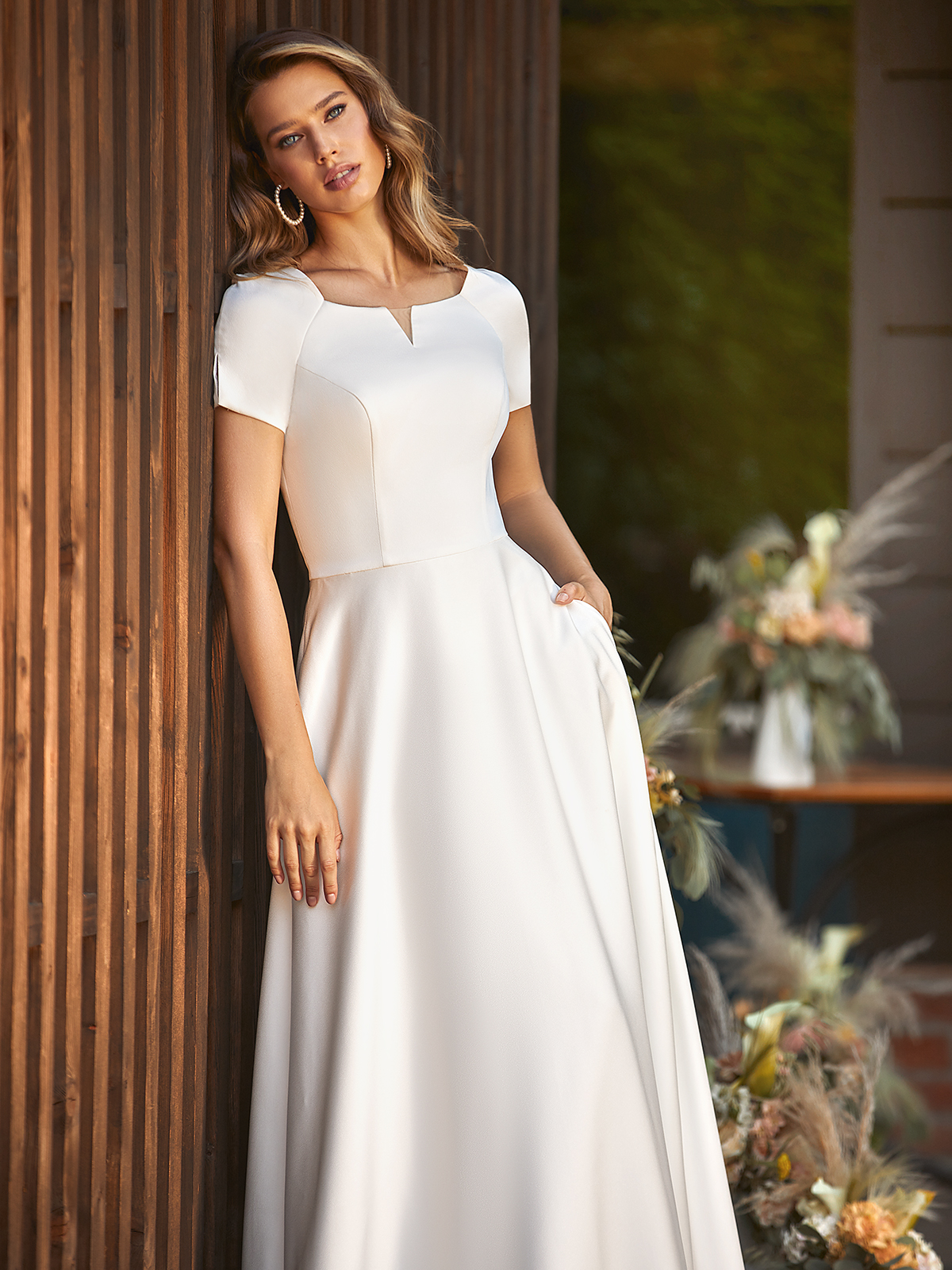 The Queen Inspired Wedding Dress
The Queen, majesty herself is nothing short of a fashion icon in Bridgerton. Known for her extravagant ball gowns that show her best assets and are embellished in jewels, it's no wonder that Style H1487, a grand sparkly lace off the shoulder wedding ball gown, would be her dream dress. Adorned with lavish 3D flowers, silver embroidered florals, beading, and sequin net, this dress brings sparkle everywhere it goes.
With off the shoulder sleeves and an illusion inset at the fitted bodice, this gown shows off your best assets in the most alluring and tasteful way. Re-embroidered lace appliques especially match the queen, as they add a traditional and formal touch. And what would be deemed queen worthy without a long semi-cathedral train that makes a statement with each step you take?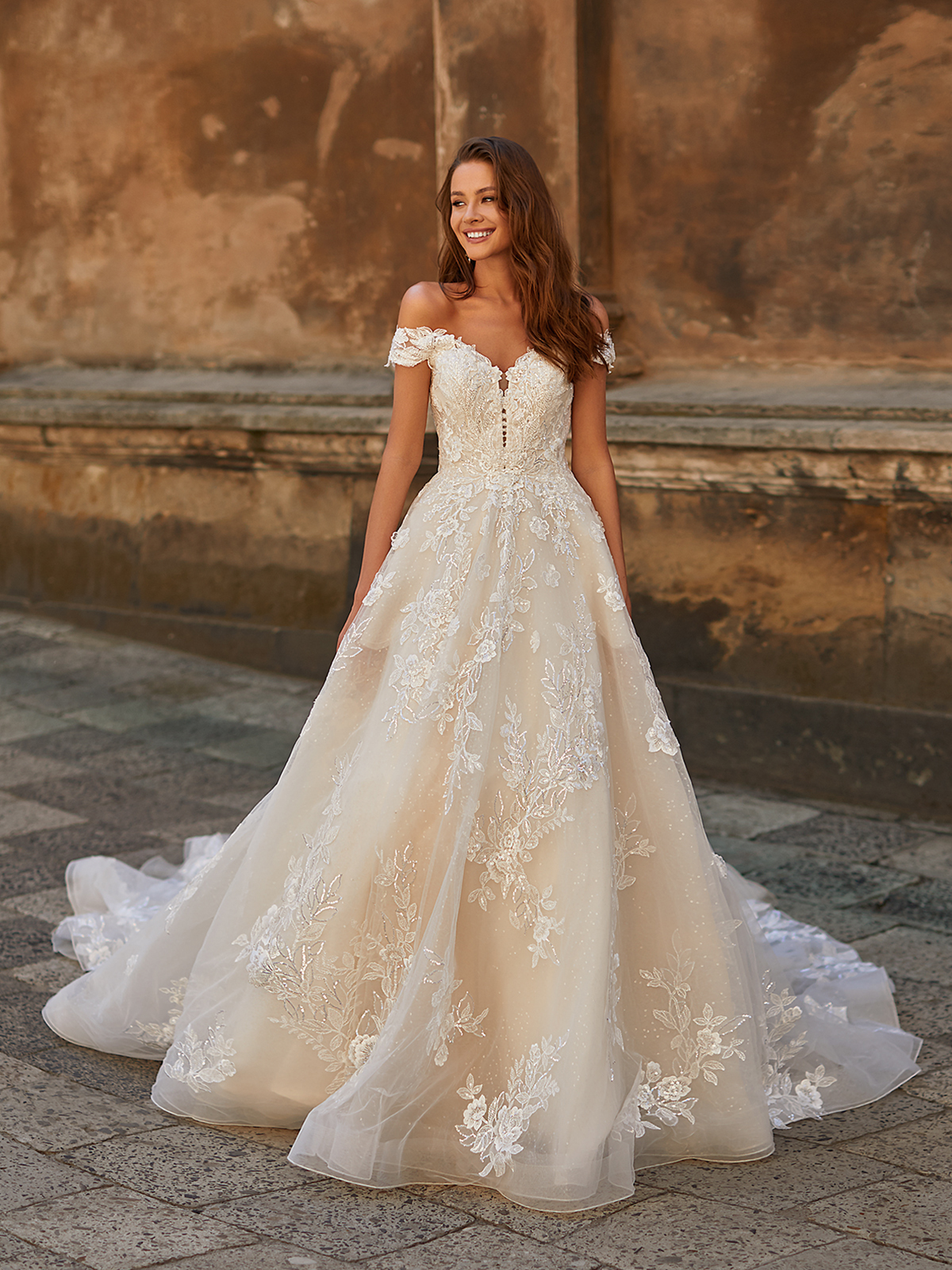 Next Steps
So reader, it seems as though you've now encountered multiple gowns that seemed deemed socially acceptable for the season. With this revelation in mind, we felt it's time for you to take a look to see where you can find a Moonlight retailer near you to say yes to the dress.