Types of Wedding Dress Bustles
All About Wedding Dress Bustle Styles
Picture your dream wedding dress. You may immediately think about the silhouette, the fabric, the embellishments, or even the accompanying accessories. These are all central components of the shopping experience, but there's even more to think about.
Have you paused to consider the bustle? This could play a far greater role in your big day than you might expect. If you're like most brides-to-be, however, you know little about the types of bustles or how they function.
Choosing the right one doesn't have to feel overwhelming. In this guide, we explain why this part of the dress is important, which styles are available, and how you'll know when a particular style of bustle is right for you.
What Is a Bustle?
The bustle forms the framework for the back of your wedding dress. It determines how the train will be tied to make the front and the back of the gown the same length. While it's often thought of as a strictly functional element, it has the potential to also add serious style to your gown.
Types of Wedding Dress Bustles
When you imagine the perfect wedding dress bustle, what do you picture? If you're like many brides-to-be, you might assume that this feature merely takes a few specific forms.
In reality, this can be one of the most versatile aspects of your wedding dress. Many different strategies can successfully fulfill the final objective of transitioning your dress from ceremony to reception. Your bridal party will be happy to help apply the bustle, but the goal is always a straightforward solution that minimizes wedding day stress while still helping you look amazing.
The following are among the most common types you can expect to encounter as you search for your dream gown:
Traditional Bustle
Sometimes referred to as an American or over bustle, this classic style is one of the most popular among modern brides. To achieve this look, the outside of the train is secured near the waistline. If created properly, it will form a cascading effect. It works with many types of bridal gowns but is especially beautiful with a cathedral train.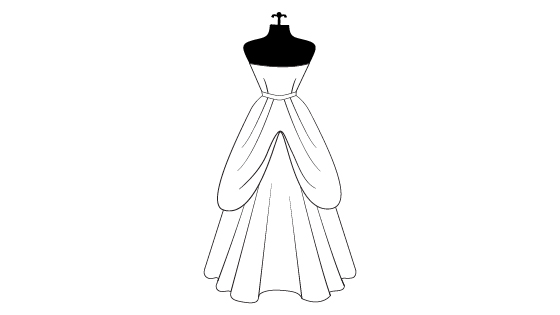 Bow Bustle
Bustles always need to be designed strategically, but this is particularly important for any wedding dress that features a statement bow. To show off beautiful features at the back of the dress, a bow type folds the fabric above the gown. It is then attached beneath the bow.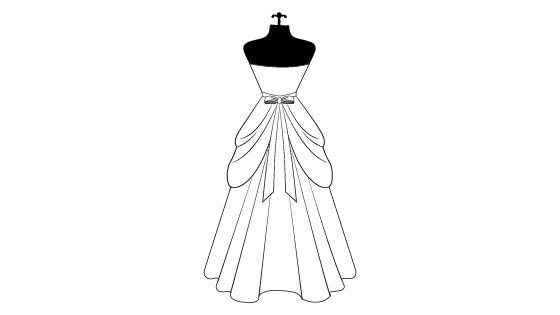 French Bustle
Perfect for lace and satin gowns, this look is simple and sweet. It's a great option if the majority of your gown's embellishments are situated near the waist. It's less desirable if you have intricate details near the hemline, as these will be far less visible once the bustle is applied.
While the traditional option is best suited to dresses with fairly long trains, the opposite is true for the French option. This look is far easier to pull off when the train is minimal as this style tucks under instead of over. Hence, its popularity with mermaid dresses and trumpet silhouettes. In general, however, you'll want accommodating bridesmaids on hand, as this option can be a bit more difficult to pull off.
Royal Bustle
If you're on the hunt for an elaborate, vintage-inspired look that will instantly attract attention, you can easily achieve it with a royal bustle. This approach involves gathering the train and affixing it to the dress at several points. The result: dramatic folds that add instant visual interest to any wedding gown.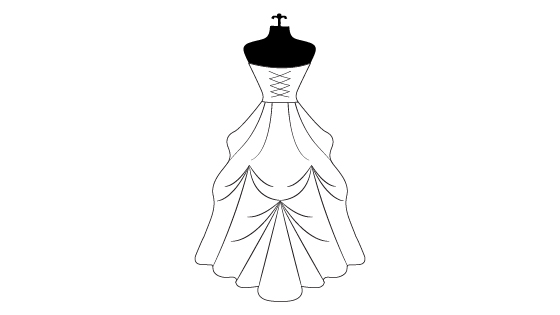 Ballroom Bustle
Create the illusion of wearing two separate dresses on one day with the ballroom type, which may initially cause wedding attendees to assume you've changed into a shorter dress. This option makes the train visually disappear, providing the flirty and playful look of a dress with a short hemline.
Keep in mind that your dress may look fuller once the bustle has been applied. If your goal is to completely hide the bustle, however, this approach will definitely allow you to easily accomplish an objective that may seem lofty to others.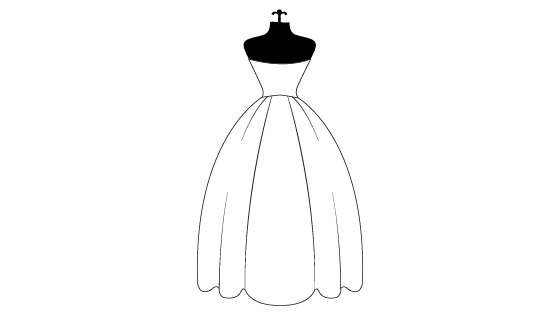 Austrian Bustle
If you want to defy expectations with a truly unique wedding dress, the Austrian style is for you. This look is quite rare these days, in part because its design is so complicated. It can be worth the extra effort and cost, however, as its intricate look is sure to make a statement. It involves a drawstring, which can be pulled up to form ruffles. Depending on how this type is designed, it can potentially have a draping effect.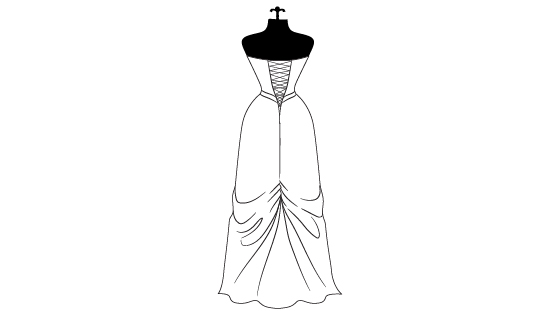 English Bustle
Similar in many respects to the ballroom style, the English option works best for gowns with long trains but a more tailored silhouette near the hips. The method for creating this option is simple: pick up the train and attach it to the outside of the dress. For this reason, this style is also known as the "English pick-up bustle."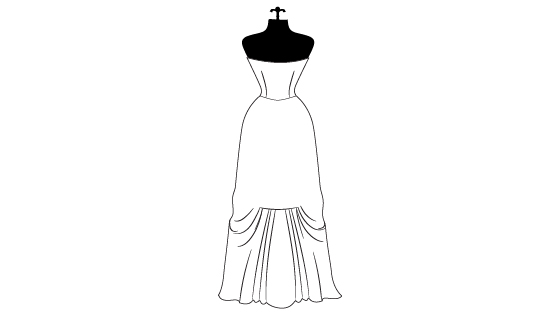 Sling Bustle
When most brides consider wedding dress bustle types, they picture symmetrical designs. While there's a lot to love about this approach, there's something to be said for defying expectations with an asymmetrical look. This can be accomplished with the sling option, which some brides know as the "side sling" bustle. It's surprisingly easy to implement and can therefore add a major visual punch at a low cost.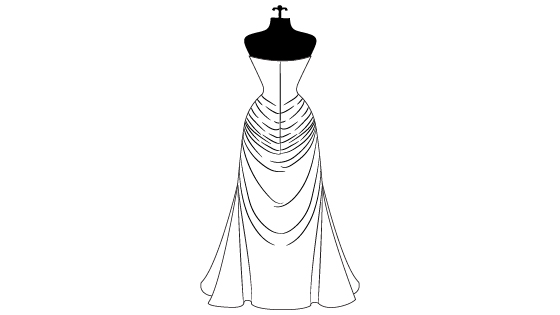 Wristlet Bustle
Also known as a wrist loop, this alternative provides a dramatically different approach to getting your gown's train off the floor — attach it to your wrist so you can physically lift it yourself. For this reason, it's a popular option among bridesmaids, who are freed from the hassle of dealing with complicated bustle points.
As you can guess, this strategy is far more effective with simple, lightweight dresses featuring modest trains. Heavy fabric or full skirts will make a wrist loop — and the dress attached to it — a burden to handle during your wedding reception.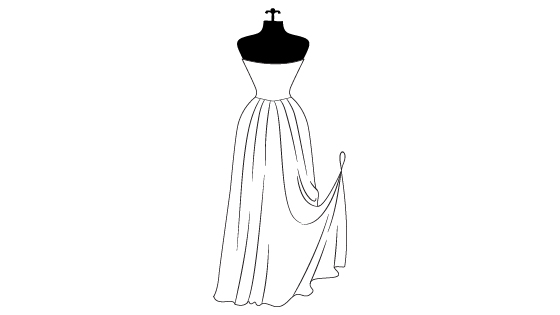 Costs to Consider
Some dresses have bustles built in — and when available, this can be highly convenient. Often, however, the addition of a bustle occurs after embellishments have been added or after basic wedding dress alterations have been completed. When this feature is applied late in the game, it may lead to financial surprises. As such, it's important to think about this feature early on.
This consideration is particularly crucial as you select your preferred silhouette. If you love how a particular dress style looks while walking down the aisle, think about how that same gown will look and feel when you hit up the dance floor. Which types of bustles will show the dress in its best light? Which will be impossible to implement based on the length of the train? The more complicated the style, the more it will ultimately cost.
Final Takeaways
Think of the wedding dress bustle as the cherry on top. This simple feature can instantly upgrade your bridal look while also serving an important functional purpose. Because it represents one of the final steps in the wedding dress process, it's crucial that you get it right.
As you seek inspiration for your dress, look to Moonlight Bridal for ideas. Our guidance will make it easier to select the perfect gown, as well as necessary accessories, undergarments, and, of course, bustles. Contact us today to learn more.