Guide to Winter Wedding Dresses
GUIDE TO WINTER STYLE WEDDING GOWNS
There is just something about a winter wedding that seems more dreamy and magical than any other season. It could be the frost in the air or the fluffy white snow that naturally sets the stage for a romantic celebration. Specialty lights, flickering candles and warm fireplaces add a cozy glow this time of year. Even scents, like fresh pine garland or mulled wine with spices, add to the festive feeling of a winter wedding.
A winter wonderland celebration may sound amazing in theory, but the temperature could be causing you to shy away. Thinking about how cold it could be in the wedding dress of your dreams as you walk down the aisle and stand at the altar could cause you to move away from the idea. Well, rejoice!
Brides have many fun options when it comes to wedding dresses for the winter season. We've come up with five features to look for in a gown that will keep you warmer without sacrificing style.
Winter Wedding Dress Ideas - What to Look For
Whether you're planning a Christmas wedding in December, a New Year's Eve celebration to kick off your new life together, or a snowy ceremony in February, there are ways to make your bridal look a bit warmer. Here are some ideas to consider along with gown examples.
Gowns with Sleeves
With the chilly weather, you may think bundling up in a heavy coat will be the only thing to keep you warm. This may not be the case. On your big day you'll have a lot of adrenaline running through your body as you are about to walk down the aisle and marry your soul mate. It's possible that a thin layer to cover your bare skin will suffice. A winter wedding gown with sleeves may be a great option to help keep you warm in cold weather.
A few sleeve options that make for a warmer wedding dress include:
Long sleeves - a full sleeve that covers your entire arm. Style J6791 is a long sleeve option made from crepe-back satin. This simple winter wedding gown is form-fitting and features a beautiful cowl back that makes this design truly unique.
Illusion long sleeves - a full sleeve made from material that is see-through and typically features accents or embellishments. Style H1479 is a mermaid gown with illusion long sleeves. The sleeves are accented with lace appliques which provide some coverage from the chilly air, but do not take away from the elegance of the dress.

Lace sleeves - a full sleeve made entirely from lace. Style T928 is a glamorous gown that features a deep v-neck and chantilly lace sleeves.

¾ length sleeves - sleeves that go down just past your elbows.
If you are someone who enjoys the cooler weather, a cap sleeved dress or an off-the-shoulder gown could be just enough to keep you from shivering down the aisle.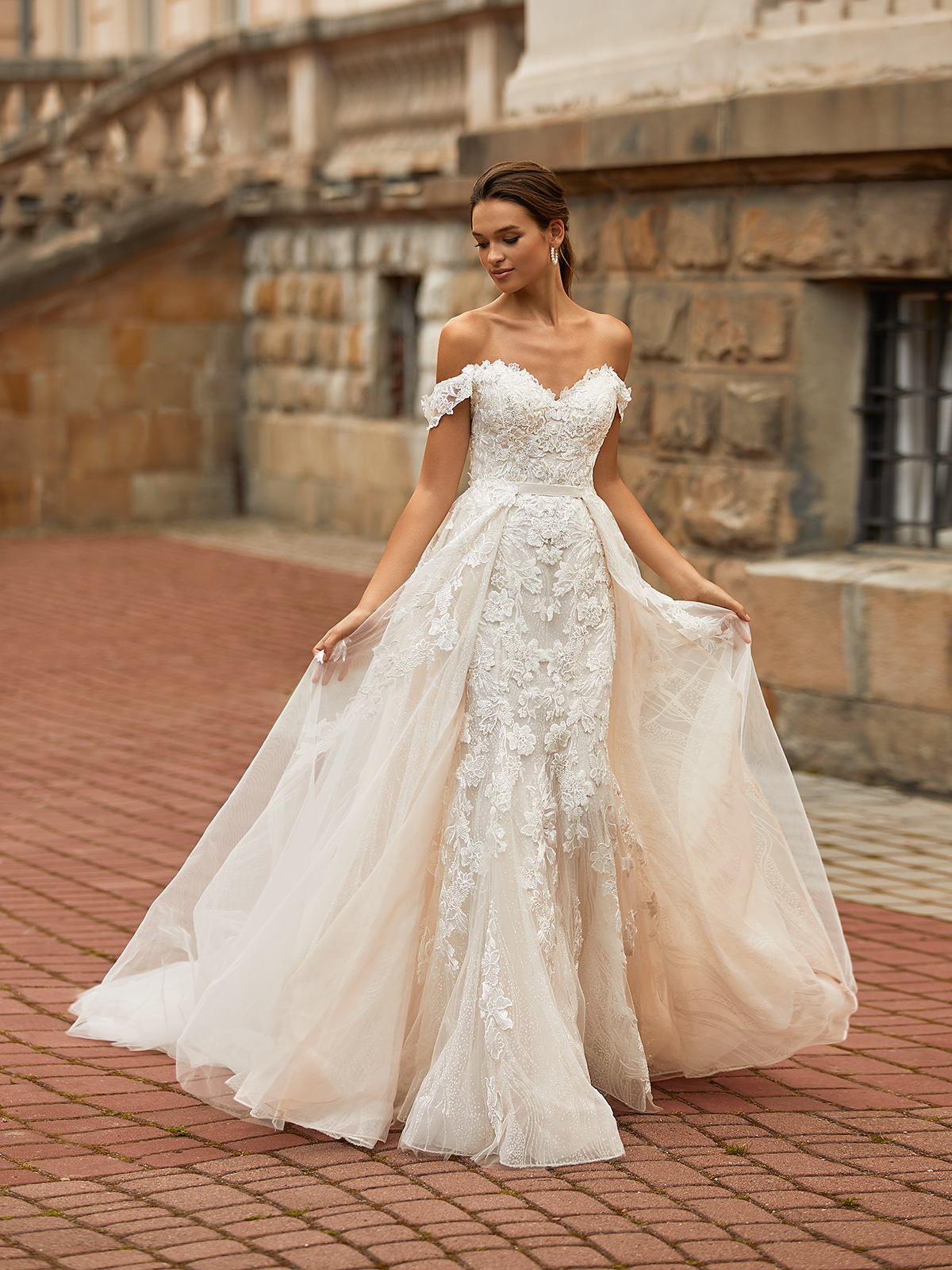 Heavy Fabrics
During the winter, the heavier or thicker the fabric, the warmer you will be. If the dress that you are in love with is a lacy dress over chiffon fabric, opt to have the fabric underneath changed to satin rather than chiffon. Luxurious satin is a thicker fabric, keeping you that much warmer during your wedding ceremony.
Divina Crepe is another material to consider when looking for the perfect warm gown. This is the thickest of the crepe options, also making it the warmest.
Fuller silhouettes, like ball gowns and A-line shapes, are perfect for winter weddings. The additional layers of tulle or other fabrics will keep heat inside while also making you feel like royalty.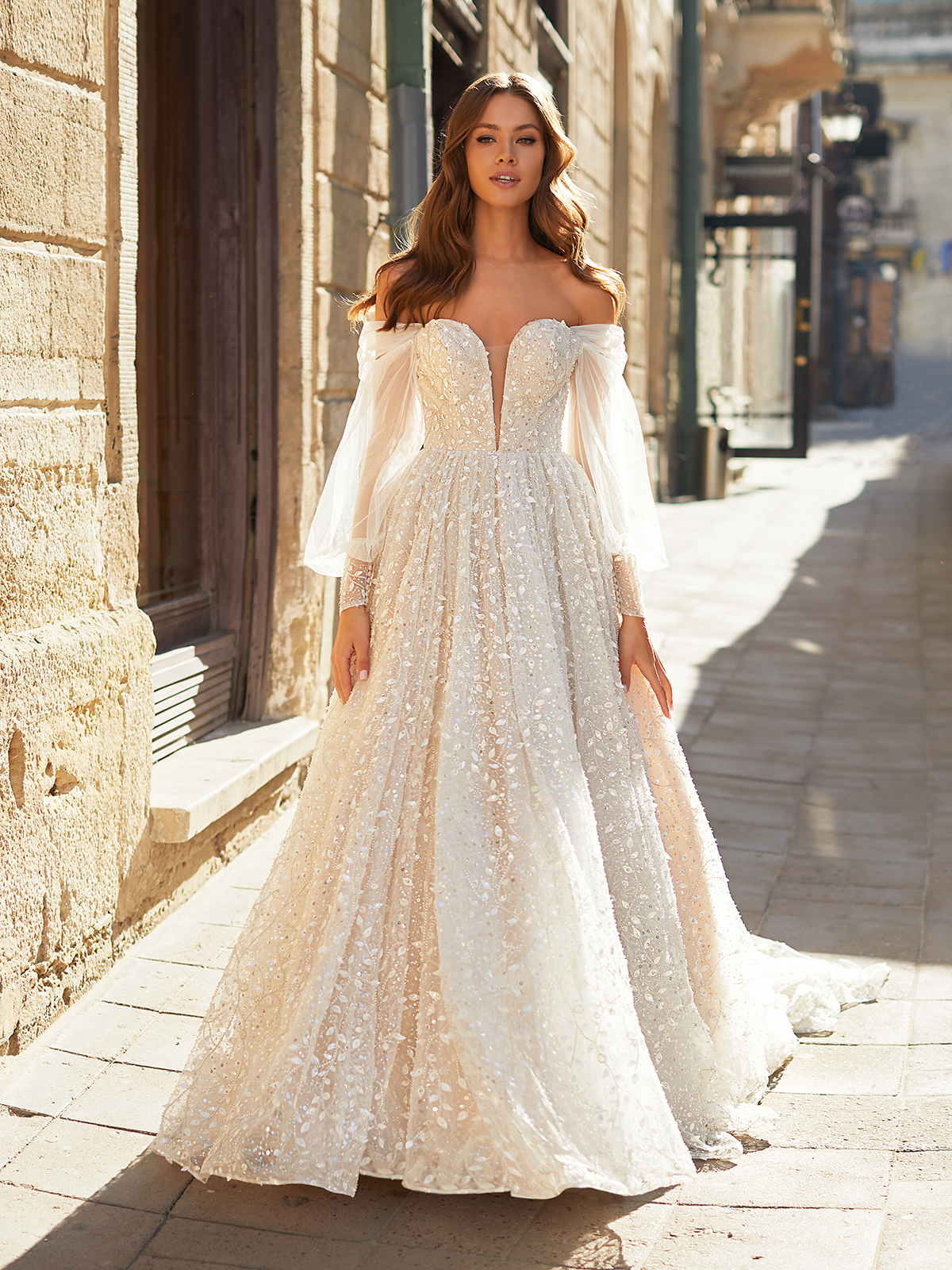 Length
Longer gowns are more suitable for weddings taking place during the colder months. Floor length dresses that also have longer trains will not only be warmer, but will create a whimsical and magical feel.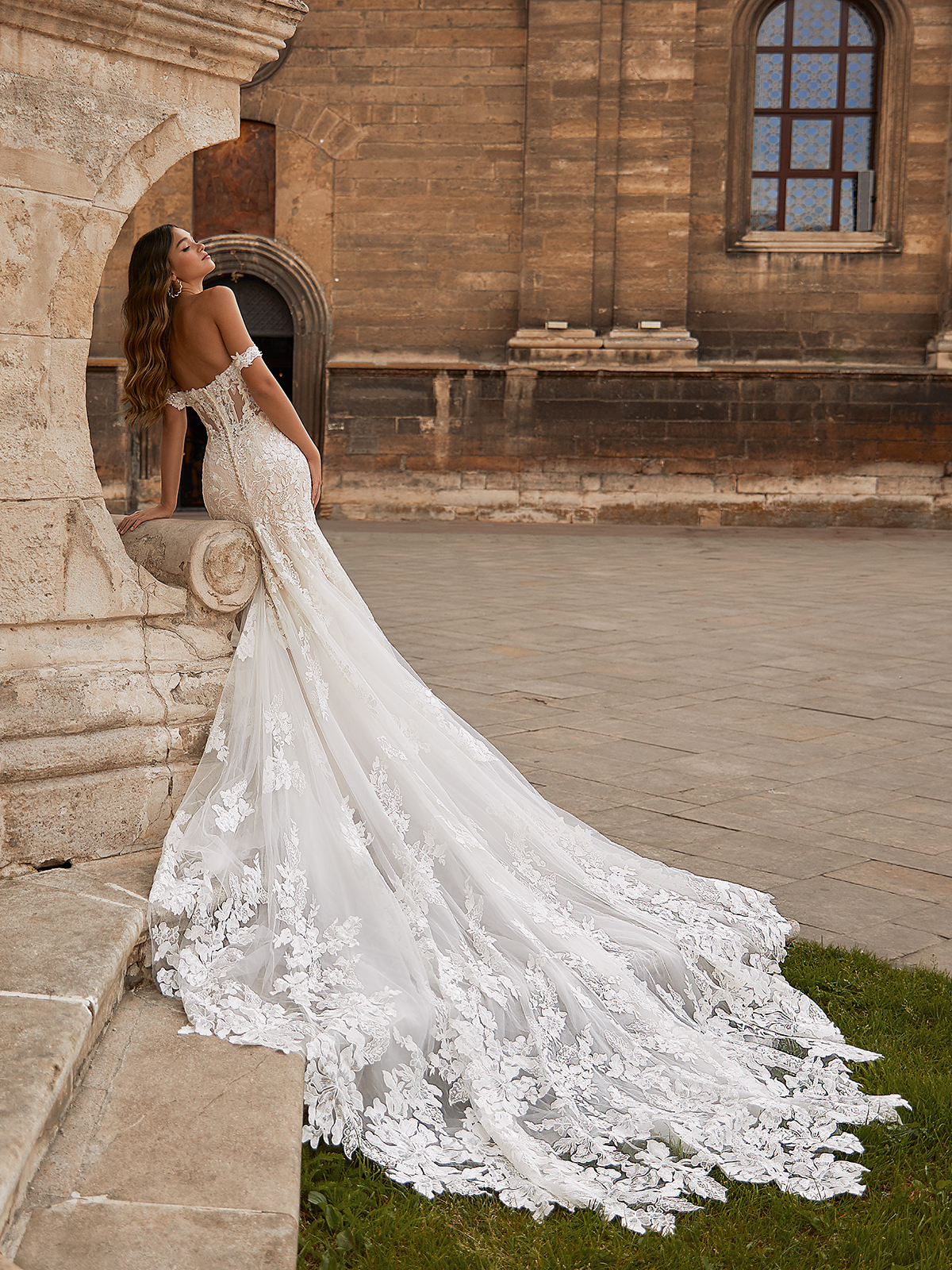 Collars/Necklines
If you prefer not to wear a long sleeve wedding dress, another option is to look for a neckline that provides more coverage. A jewel neckline is a style that provides a bit more coverage in the chest area. Style M5026 is a stunning example of this type of neckline paired with flutter sleeves.
A fuller neckline allows for some coverage and warmth, while not taking away from the rest of the wedding gown design.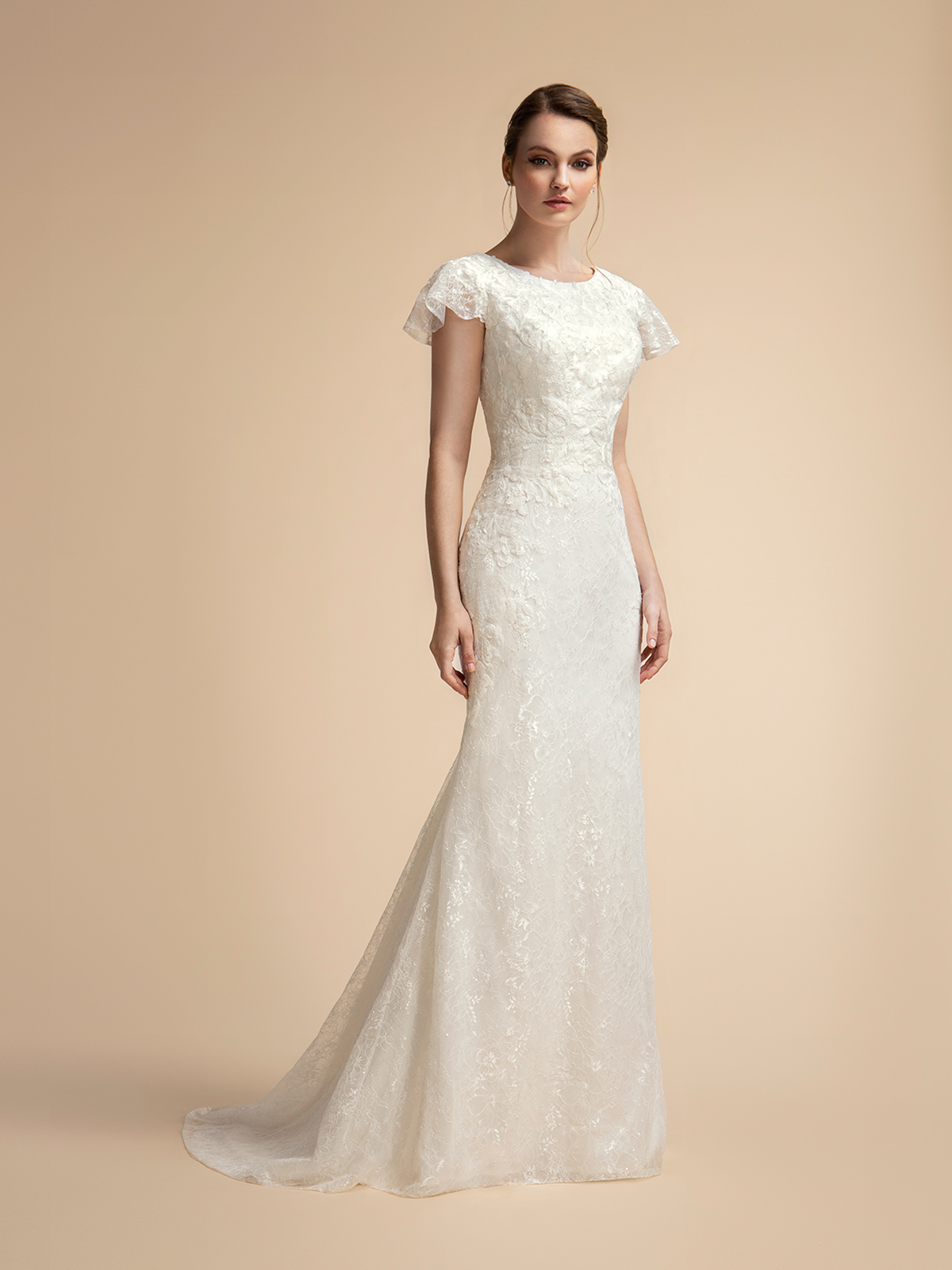 Jackets
Winter weddings are made for capes, cover-ups and jackets! There are beautiful accessories available that can be worn during the ceremony and taken off for the reception, or vice versa. If you always dreamed of a strapless dress, a jacket might be the best option to help keep you warm.
Our bridal jackets come with lace or beaded details and can be worn over or tucked seamlessly inside your bridal gown. When you are ready, it can be removed for a second look! Convertible styles are great because they are an affordable way to change up your look on your wedding day.
Color & Accessory Options
Choosing a bright white gown can create a magical look when paired against a snowy backdrop.
If you're afraid your dress will be lost in a sea of white during your winter wedding, there are certainly other options. Choosing a colored wedding gown could help your dress stand out against the white snow. Anything from rose to black will capture every guests' attention at the ceremony and reception.
Finding a gown with gorgeous embellishments will make you sparkle and shine brighter than the snowy background. Similarly, adding a crystal and rhinestone sash will bring your gown to life against the winter air. Whether it's embroidered on your dress or worn as an accessory, this pop of sparkle will look dreamy.
We hope you're now convinced that your dream of a fairytale winter wedding is achievable. You can have your special day during your favorite season while wearing a beautiful winter wedding dress. Check out our collection of long sleeve dresses or visit your local authorized Moonlight Bridal retailer to try on dresses right away!