How To Pick Wedding Shoes
How to Pick The Best Shoes To Wear With Your Wedding Dress
You are excited to float down the aisle in a stunning bridal gown that instantly gets guests oohing and ahhing. Sparkly jewelry and an intricate hairdo will instantly elevate your look — but have you put any thought into what you'll wear on your feet? The right shoes can play up your signature style, adding a dose of elegance or pizzazz to your wedding day getup. Choose carefully, though, or you'll be forced to ditch your stunning shoes by the time you hit the dance floor.
Not sure where to start? Below, we've highlighted everything you need to know about bridal shoe styles. Links to the shoes listed in article are affiliate links. As an Amazon Affiliate I earn from qualifying purchases.
The Vital Step: Choosing Your Wedding Gown First
If you adore high-end footwear, you may be tempted to go the Carrie Bradshaw route and focus on your shoes over your dress. This is tempting simply because bridal shoes are so stunning. Unfortunately, this order of operations could cause you a whole lot of trouble down the road, especially if you struggle to find a flattering dress that actually works with your preferred footwear style.
Remember: your wedding dress forms the basis of your entire bridal aesthetic, while your shoes mainly act as a complement. Yes, they are important, but it will take a lot more effort to get the fit and style of your dress just right. Meanwhile, even the most discerning brides can typically find a stunning pair of shoes with minimal effort.
While it's technically possible to find your dream shoe first and your dream dress second, be prepared for your beloved footwear to dramatically limit your dress options. First, there's the visibility of the shoe to consider: if you tend to gravitate towards princess gowns or long trains, for example, the full skirt on your dress will almost certainly obscure your shoes. Beyond this, your shoes may dictate the general style of your gown, perhaps even forcing you to skip over dresses you'd otherwise be inclined to try.
When in doubt, it's best to follow this series of steps: browse a variety of wedding dress styles first, narrowing down your selection to one or two main silhouettes and, eventually, a top candidate for your bridal gown. Then, as you proceed with ordering the dress and eagerly await its arrival, you can select a pair of shoes you adore. You should be equipped with these in time to bring them to various dress fittings, as your shoes will influence the final fitting details and alterations.
Choosing the Perfect Shoes to Wear with Your Wedding Dress
You've found your dream dress and are ready to move forward with alterations and accessory selection. This is the perfect time to shift your focus to footwear. You'll want to choose a style that meshes well with your bridal aesthetic, of course, but this is just one of many considerations to keep in mind.
Comfort and practicality matter, as does your budget and, perhaps, your height. Below, we've highlighted a few of the main factors you'll want to keep in mind as you embark on your bridal shoe-shopping adventure:
Understanding Different Bridal Shoe Types
For a time, the delicate, strappy sandal (complete with a high, dainty heel) was the epitome of bridal footwear fashion. These days, however, brides are willing to experiment with a greater range of styles when it comes to that perfect pair of wedding shoes.
Some of this willingness to experiment is driven by practicality: brides want to feel comfortable and fully mobile as they take photos, exchange vows, and cut up the dance floor. In general, however, most bridal shoes fall into one of these main categories.
● High heels. Trendy, elegant, and figure-flattering, the high heel will always be a mainstay of wedding fashion. This is a fun, eye-catching look that can literally elevate your wedding day style. It's also a great option if you've opted for a minimalist dress design, as this gives you the chance to play up other elements. Shorter dresses, in particular, look amazing with a trendy pair of stilettos. In most cases, heels above four inches should be avoided, as these can be difficult to wear for a full day of wedding festivities.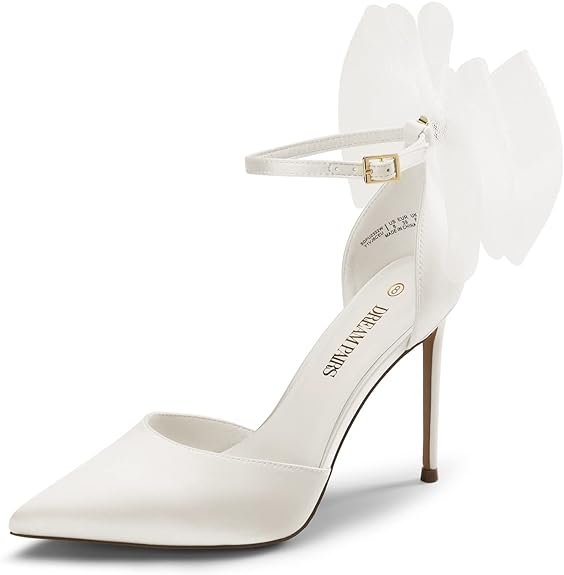 Strappy High Heels With Bow
● Block heels. Named for their chunky, square-shaped design, block styles bring more substances and stability to the heel, making them a far more comfortable and practical option than stilettos and other thin heel styles. With the right wedding dress, the chunkier nature of the heel may not even be particularly noticeable. Playful bows or understated straps give these a more delicate, feminine appearance, while arch support and even traction soles are increasingly incorporated to facilitate a night of dancing.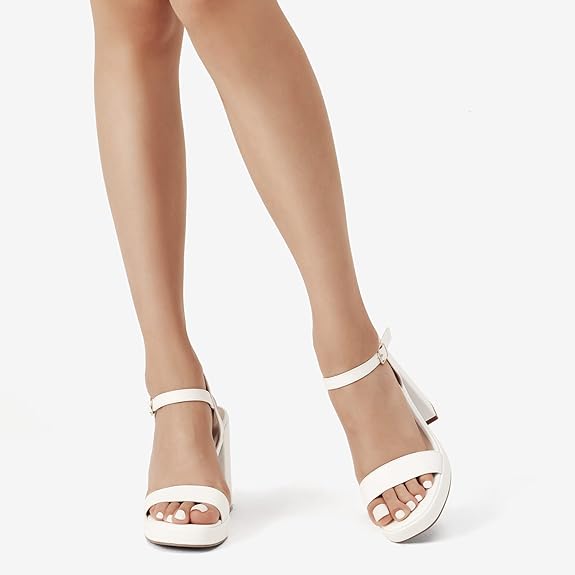 ● Low heels. Tall and comfort-oriented brides often opt for low heels, which are available in both thin and block styles. Kitten heels deliver appealingly vintage vibes, but low block heels may be preferable for outdoor events. Typically, a heel is defined as 'low' if it adds less than two inches of height.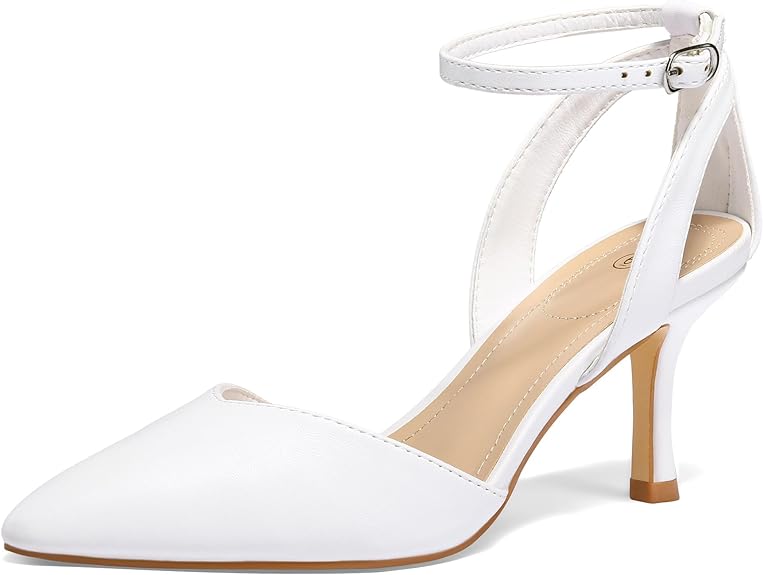 Low Closed Toe Heels
● Comfortable bridal flats. An increasingly popular option for today's busy brides, flats are available in a myriad of styles and can be surprisingly fashion-forward. Many styles go heavy on embellishments to give them a decidedly glamorous appearance. Keep in mind, however, that not all flats are as comfortable as they seem, so you will still want to spend plenty of time trying on and strolling about in various styles.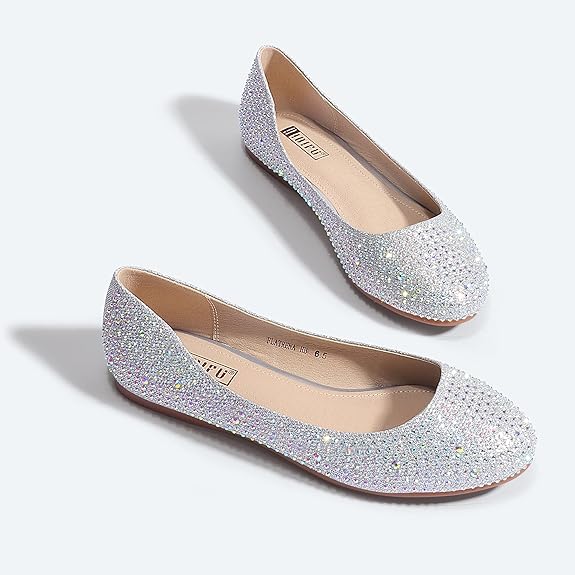 What About Tall Brides?
While many brides are thrilled to accentuate their height with sky-high heels, some prefer to avoid adding extra inches, especially if this results in towering over soon-to-be-spouses or beloved bridesmaids. Still, tall brides should feel empowered no matter what they wear.
Don't be afraid to show off a stylish stiletto but remember that kitten heels and flats can be just as appealing in their own unique way. Be mindful of taller bridesmaids and their preferences, as some may be less inclined to wear a taller heel height.
Style Options
There is more to bridal shoes than their heels — or lack thereof. Other stylistic concerns to take into account include:
● Open vs closed-toe. When you picture a 'typical' wedding shoe, a strappy, open-toe look probably comes to mind. This is a natural option for a romantic summer wedding, not to mention, a great chance to show off a phenomenal pedicure. Even the sleekest closed-toe shoes tend to have a more professional aesthetic: picture pointy heels in the office, for example. Come winter, however, closed-toe shoes may be unavoidable. Thankfully, there are many trendy pumps, flats, and even loafers that provide coverage on a blustery day.
● Materials and embellishments. Many brides prefer a uniform look, in which the material of their shoes resembles or even matches the main materials from which their dresses are constructed. For example, satin shoes pair wonderfully with satin dresses. In other cases, however, contrast is preferable: a minimalist crepe gown may be offset by glimmering, highly-embellished heels.
● Wedding sandals. For a beach wedding, it's impractical to wear anything other than a pair of sandals or foot jewelry, which should make it easier to navigate sandy settings. It's perfectly fine to go a bit more casual with these styles, but there are also plenty of ways to elevate wedding sandals. Gladiator styles, for example, work wonderfully for an empowered bride, while espadrilles bring dreamy vibes to seaside nuptials.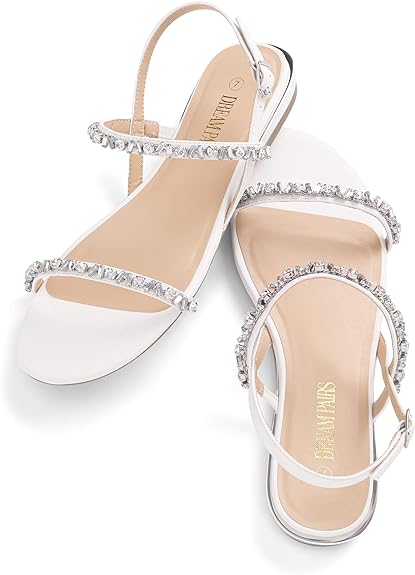 ● Colors. Ivory and cream shoes were once expected, but there's nothing wrong with adding a bit of color for fun. If you're already playing with a differently colored wedding gown, however, you might want to opt for neutrals to avoid clashing.
Practical Considerations for Bridal Footwear
We've touched on many practical concerns already, but it bears repeating: if you're at all worried about comfort or mobility, a lower and bulkier heel is strongly advised. For many brides, the sweet spot between fashion and function involves about three inches and a slightly blocky heel.
Many brides neglect to find backup solutions. These are strongly advised for simple peace of mind: in the worst-case scenario, a sturdy, reliable, but still fashionable pair of shoes can make a world of difference. Have a backup pair on hand, just in case — but remember to try these on with the bridal dress to ensure that they look just as natural as the number one set of shoes.
Coordinating With the Bridal Party
While it's perfectly acceptable for the bride to diverge considerably from the bridal party, uniformity can be fun. It's common practice for bridesmaids to wear the same shoes or, at least, the same color — and the bride-to-be is perfectly welcome to join in if this streamlines the shoe-shopping experience. In this situation, comfort becomes even more important, because brides don't want their bridesmaids to sacrifice their feet — especially if wedding party members are expected to spend so much of the ceremony and reception on their feet.
Better yet? Matching shoes for the newlyweds, which bring a cute and decidedly unexpected touch to the big day. These don't need to be perfectly coordinated, but it's fun to find similarities. For example, both the bride and groom can don red soles for an unexpected pop of color. Casual couples may prefer to rock matching sneakers, perhaps with a few crystals added to the bride's pair.
Shoe Shopping Tips
An abundance of gorgeous shoes can easily be found online and tried on from the comfort of home, but there's something truly special about shopping for shoes in person. If you've already selected your wedding gown, be sure to bring a swatch to ensure that the shoes and the dress don't end up clashing.
Timing also matters: as we've touched on, it's generally best to tackle wedding shoe shopping after you've found your dream dress. That being said, you'll want to avoid waiting until the last minute, just in case you need to make a special order to reflect specific sizing concerns.
Find the Perfect Shoe Match for Your Wedding Dress
The right shoes can literally elevate your wedding style. As you envision the perfect wedding shoe for your special day, get a head start on the dress selection process. The range of styles from Moonlight Bridal work well with many types of bridal shoes, so you can enjoy the best of both worlds: a stunning dress and fashionable footwear.
Check out our selection online or reach out to learn more.
Photo Credits: Thomas Audiffren Photography