Colorful Wedding Dresses
Guide to Different Wedding Dress Color Ideas
While some brides are drawn to the traditional white or ivory dress styles, many others imagine themselves in something with a pop of color. Blush tones, neutral hues and black wedding dresses are all becoming more prevalent in bridal fashion. If you're looking for a way to stand out on your special day, a colorful wedding dress could be the answer.
When searching for your gown, consider what hue compliments you and makes your personality shine. After all, this is your special day, you should have every detail on your wish list checked off. If you're a bride who prefers just a subtle touch of color, consider a blush, taupe or cappuccino tone gown. If you're a bride who's looking to make a dramatic entrance, a sexy black wedding dress could be your perfect match.
Whether you're having a formal black tie event or an intimate micro wedding, we've gathered all our favorite dresses that will match whatever color palette you prefer.
BLUSH WEDDING DRESSES
As timeless as they come, a blush toned wedding dress is every ethereal bride's dream. With light undertones of pink mixed with a creamy pastel, blush wedding gowns are meant for the bride that wants a classic look with a contemporary twist.
For modern brides that want a style that embodies love and romance, Style H1476 is an effortless pick. This blush off the shoulder mermaid wedding dress features an ivory overlay with a taupe lining and rose underlay, perfect for captivating eyes on your special day. The soft color hue makes it especially suitable for the sweet spring air and will compliment the blooming flowers during this season. If you also plan on using a light pastel color palette, blush tones will naturally pair with these hues, making it the perfect springtime bridal gown.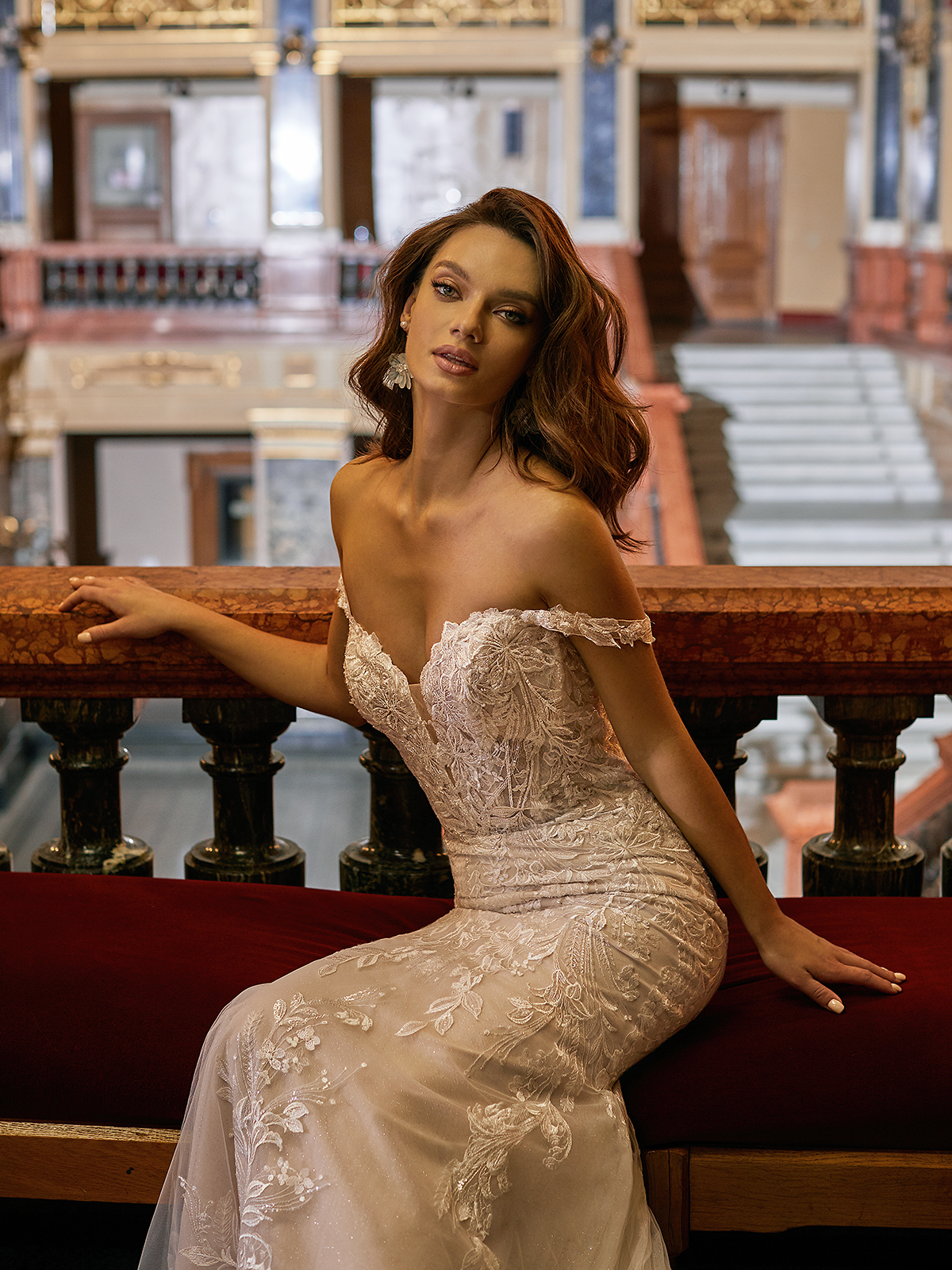 If you're looking for something a bit more casual and laid back, Moonlight Tango Style T937 may be love at first sight. This A-line gown includes a full tulle skirt and is decorated with Chantilly lace fabric and 3D flowers. The design comes in ivory with a taupe lining and rose underlay, making for a subtle, yet romantically colorful wedding dress.
This wildly romantic inspired style also features optional puffy detachable sleeves that are sold separately, letting you play around with more than one look.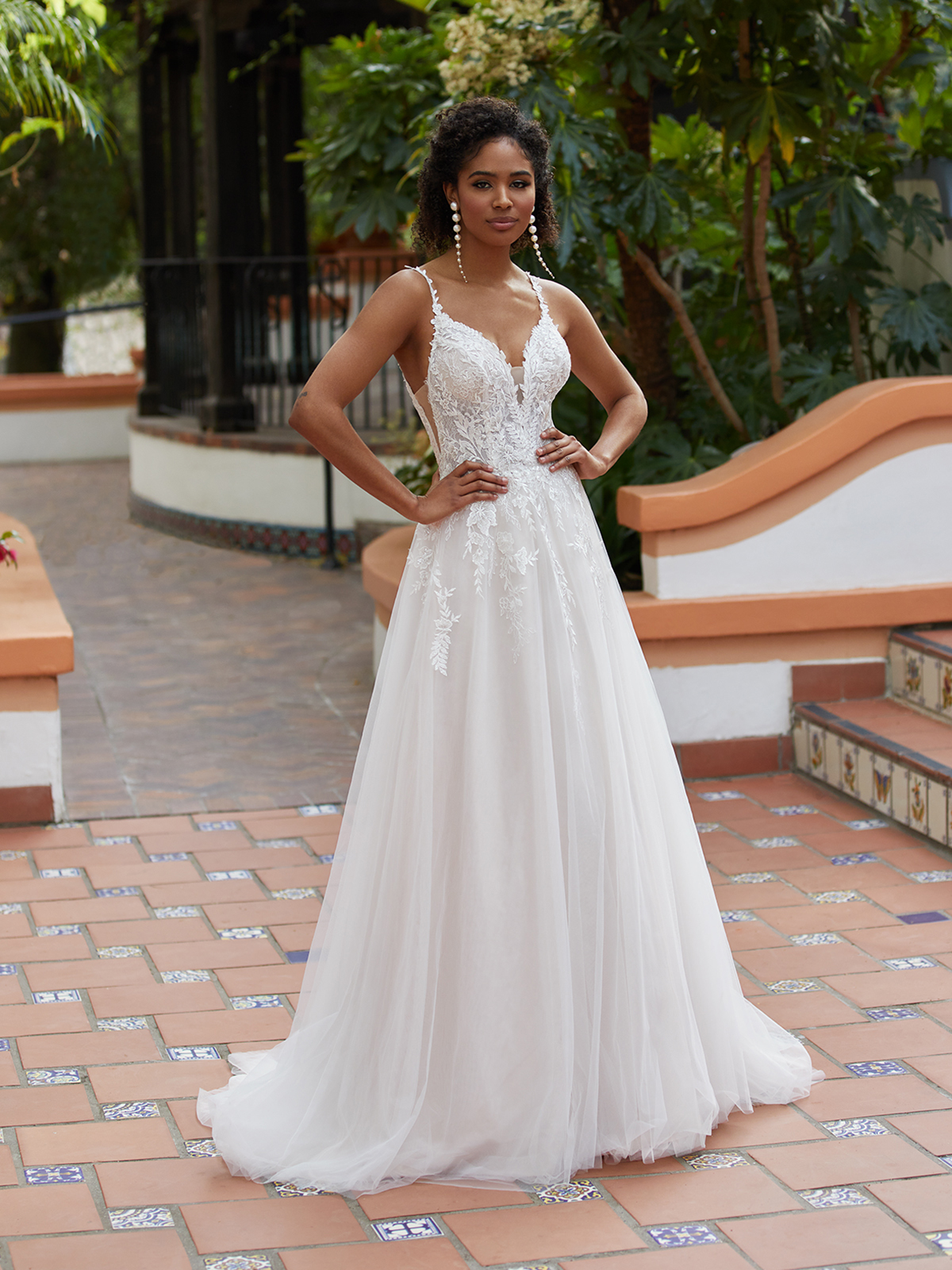 Whether you're searching for a sexy mermaid silhouette or a laid back boho inspired style, there's no going wrong with selecting a blush toned wedding dress.
Nude Colored Bridal Gowns
For our brides that love a more natural style, step into one of our cappuccino or latte inspired gowns. These showstopper styles are perfect for brides wanting a soft color palette gown with bold finishing details.
Latte Accent
Those that believe neutral or tan colors are bland obviously have never met Moonlight Collection Style J6824, a crystal embroidered wedding dress.
This grand A-line gown comes in a decadent ivory color with a latte lining. Brides that love a classic silhouette will love how the full A-line skirt can twirl effortlessly, showing off the colorful and unique latte hues with each turn on the dance floor. Touches of glamorous details such as silver embroidered appliques and crystal and seed beading details add the ultimate sparkle effect that will leave you looking anything but ordinary.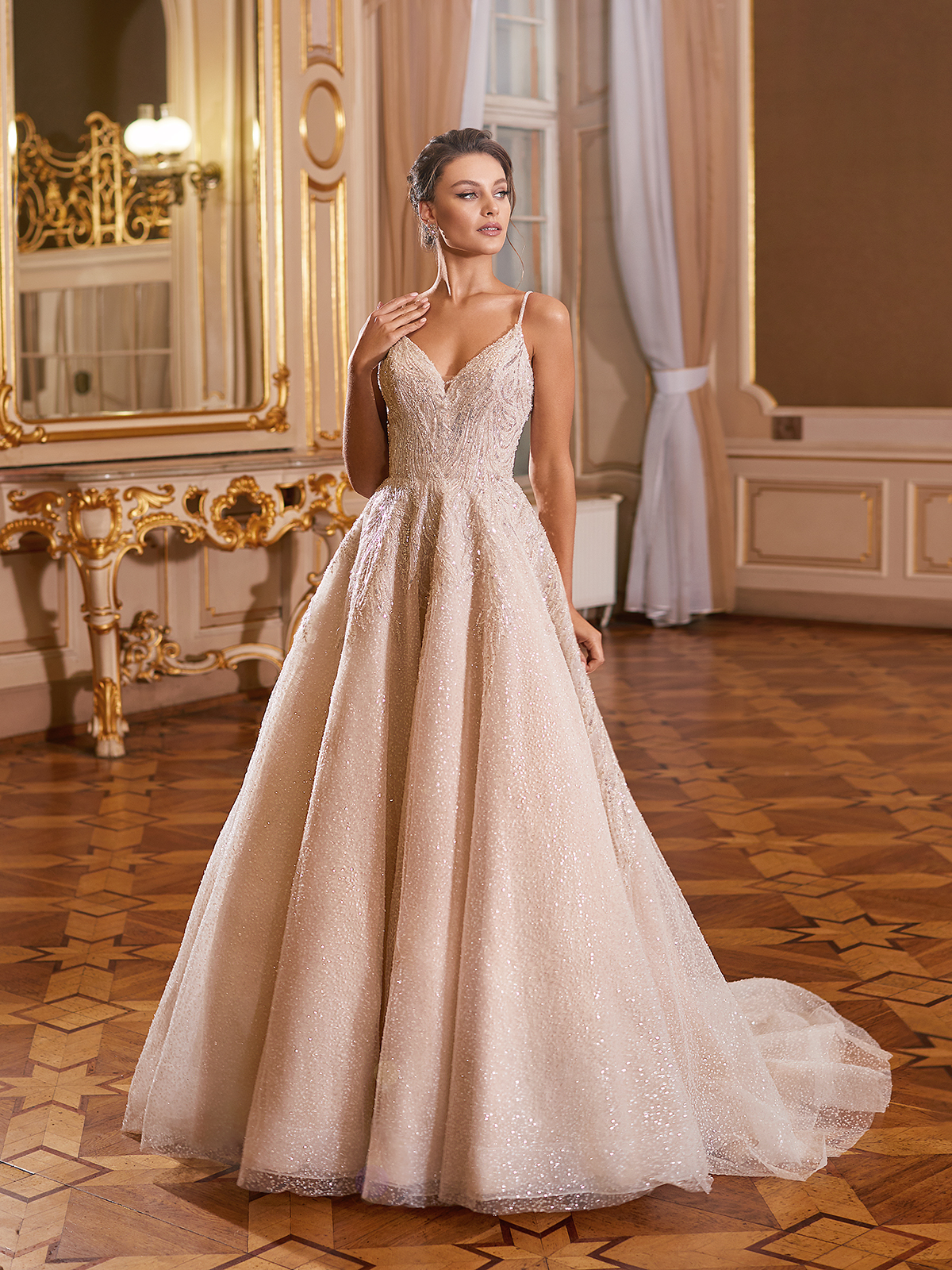 Cappuccino Accent
If you're searching for a gown for a backyard celebration, consider Style T934 from the Moonlight Tango collection. Decorated with embroidered lace appliques and glass beads with sequins on the bodice, this A-line bridal gown is available in an ivory shade with a cappuccino lining.
Brides looking for a more natural look will especially love how the neutral tones on this chiffon dress will let their natural beauty shine on their wedding day. Those planning a summer wedding will especially appreciate how this cappuccino hued gown adds an effortless glow to their complexion during golden hour, leaving them to look like a summer goddess.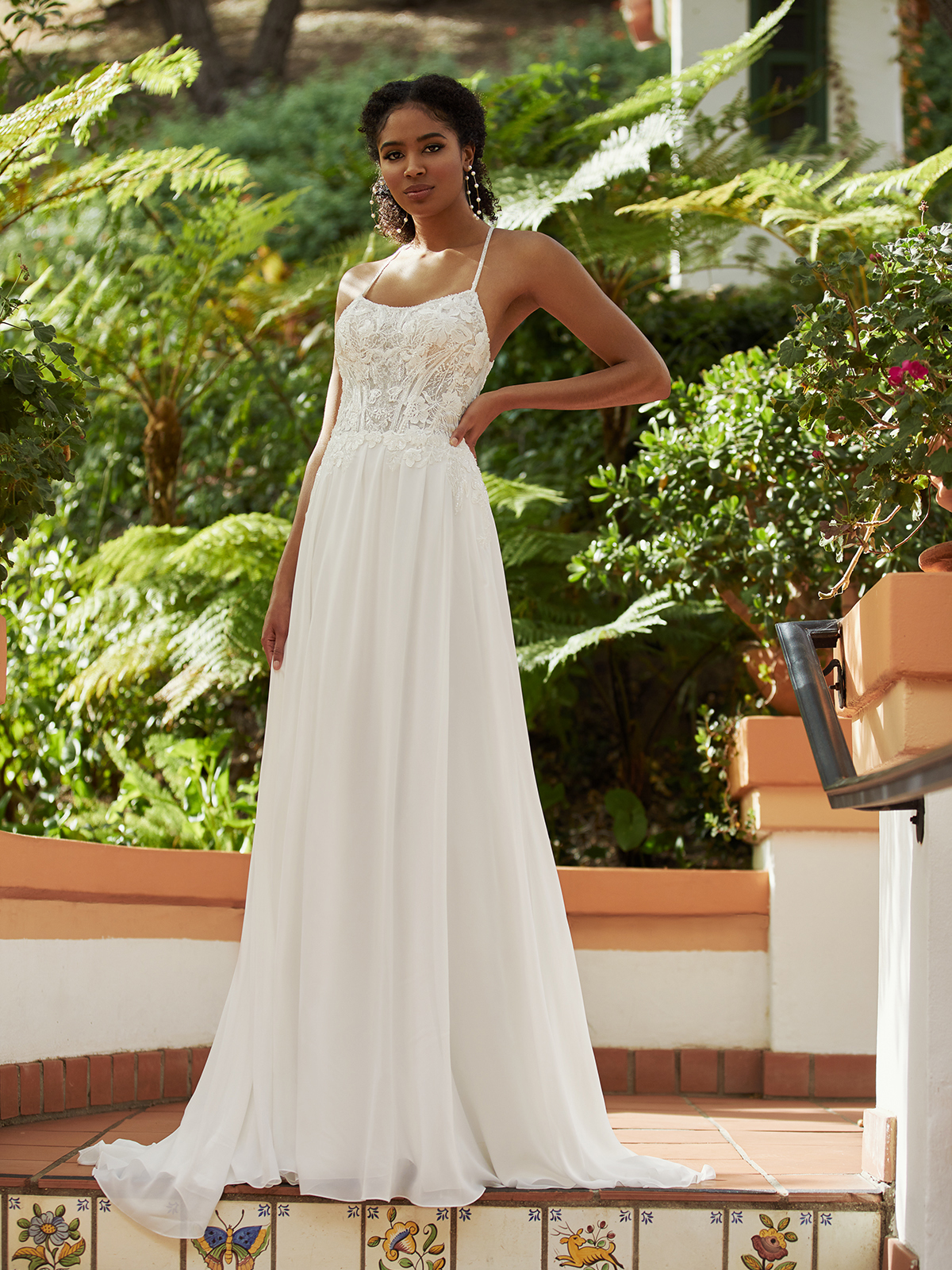 Black Lace Wedding Dresses
If you're looking for a design with a little more edge, a wedding gown with black lace could be more your style. Whether you're planning a romantic fall ceremony or a winter evening soiree, these looks are a match made in heaven for the bride that wants to make a dramatic entrance.
Moonlight Couture Style H1477 is anything but a classic white wedding dress. This stunning A-line gown is decorated with black rustic vine lace appliques, making for an unforgettable walk down the aisle.
Your guests will be blown away by how effortlessly the black accent details highlight the ivory toned gown. Brides planning an event in autumn will especially love how the black accents complement the warm color palettes of the season, adding a moody, intimate vibe to their special day. For brides that love to play with multiple looks, this stunner features detachable long sleeves, making it ideal to wear during the crisp, chilly season.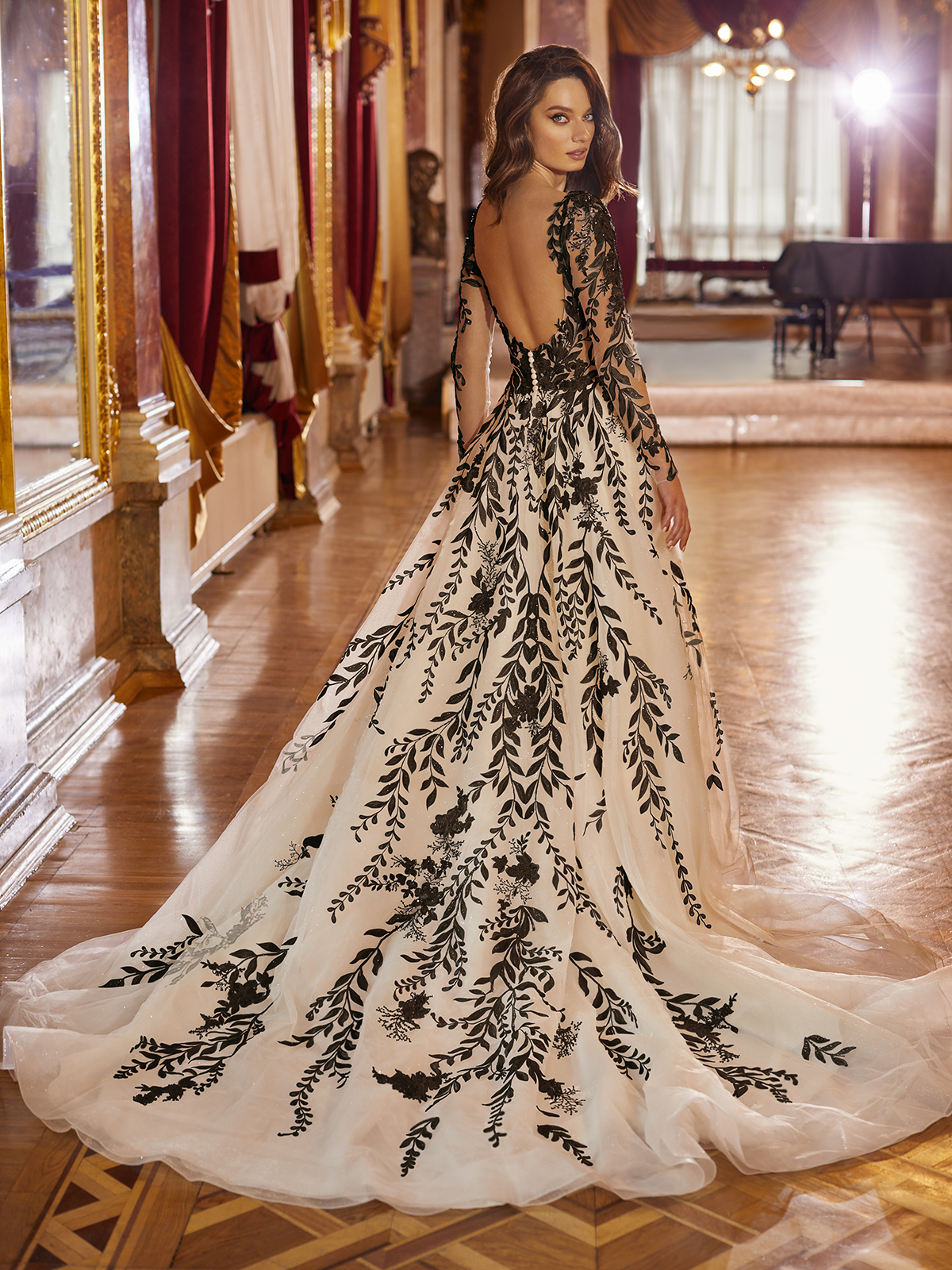 Looking for something a little more sleek and sultry? Moonlight Couture Style H1475 is it. This black lace mermaid wedding dress embodies sultry, bold details with its Chantilly lace fabric and black embroidered lace applique accents that trail throughout its form fitting silhouette. If you're looking for that contemporary bridal look, you'll love the glass beading embellishments decorated throughout the dress. This glamorous gown will make your walk down the aisle unforgettable.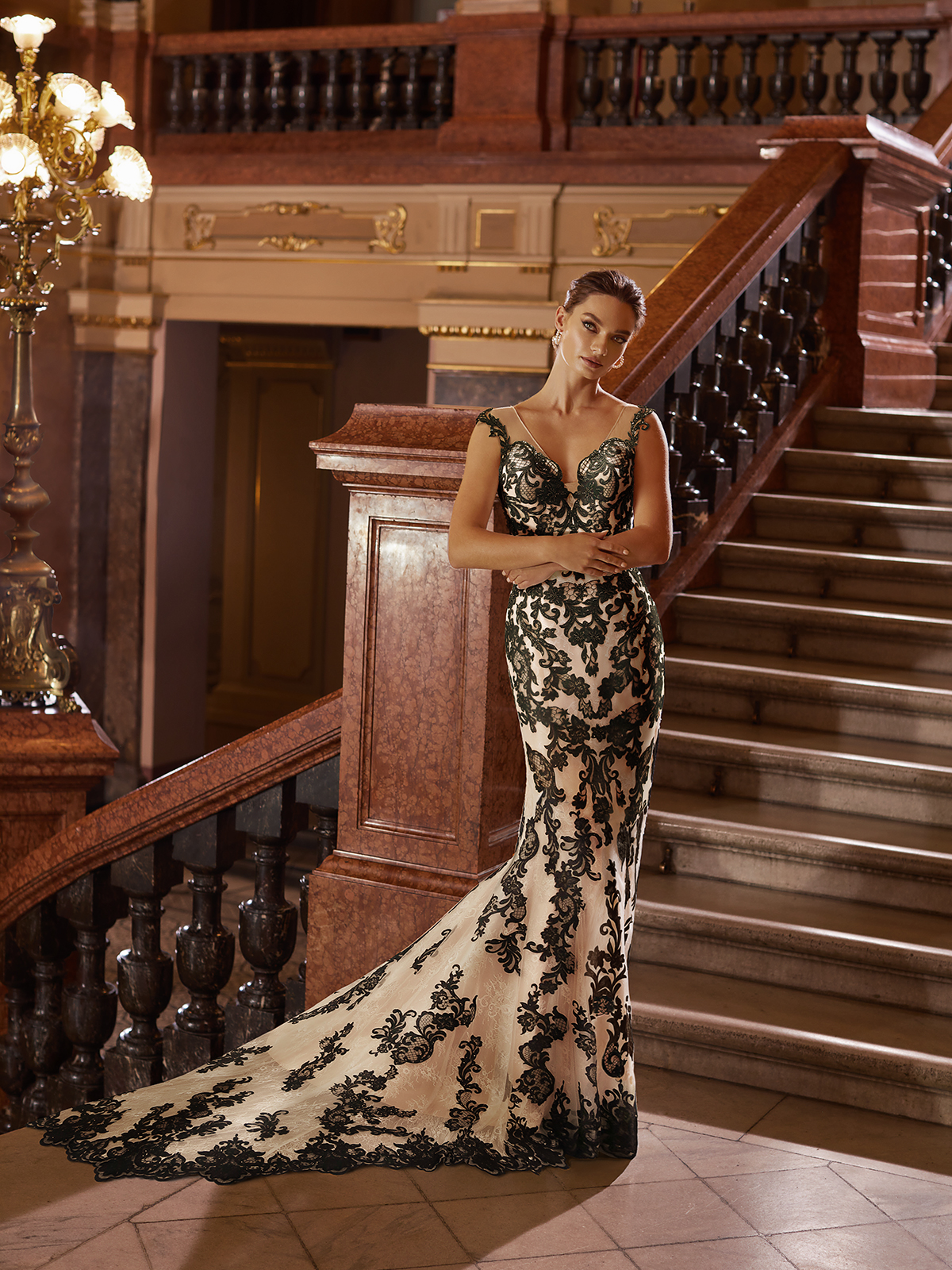 Next Steps
When it comes to your special day, you should wear what makes you feel beautiful. If that means tossing aside some bridal traditions and looking for a different color wedding dress, look no further!
Whether you're wanting to walk down the aisle in a blushed tone gown, a neutral cappuccino hue, or a dramatic black lace gown, Moonlight Bridal has many colorful wedding gown options. Find your local Moonlight retailer to schedule an appointment and try on your favorites today.