The Best Wedding Dress That Matches Your Horoscope Sign
WEDDING DRESS STYLES TO MATCH EACH ASTROLOGICAL SIGN
When searching for the perfect wedding dress, you have many factors to consider - you'll want the gown to match your personality, style, and include your favorite details. Brides who enjoy following their horoscope may also want to consult the stars when it comes to picking their wedding gown.
Having your zodiac give you insight into your personality and sense of style can help provide direction about the wedding gown you choose. Whether your sign falls under the spring, summer, fall or winter season, the stars will align perfectly to help you find your dream gown.
Wedding Gowns Based on Zodiac Signs
From beautifully embellished styles to minimalist designs, we've gathered a list of our favorite bridal looks that will fit your zodiac sign. So get ready sisters of the moon, your perfect wedding dress awaits you!
Spring Astrology Signs
As the sun begins its journey through the zodiac calendar, the spring season begins around March 20th with signs including Aries, Taurus and Gemini.
ARIES
Beginning with the first sign of the Zodiac, Aries are leaders by default- bold, brave and daring. This bride isn't afraid to do things their own way or wear things in their own way.
Style H1541 is made for these confident brides-to-be. With sleek crepe material, an unlined lace bodice, a sexy open back, and a figure-flattering mermaid silhouette, this dress ensures an Aries bride will make a statement on their big day. The detachable net train decorated with embroidered lace appliques adds the perfect finishing touch. This design is the perfect mix of traditional bridal features and bold, modern detail.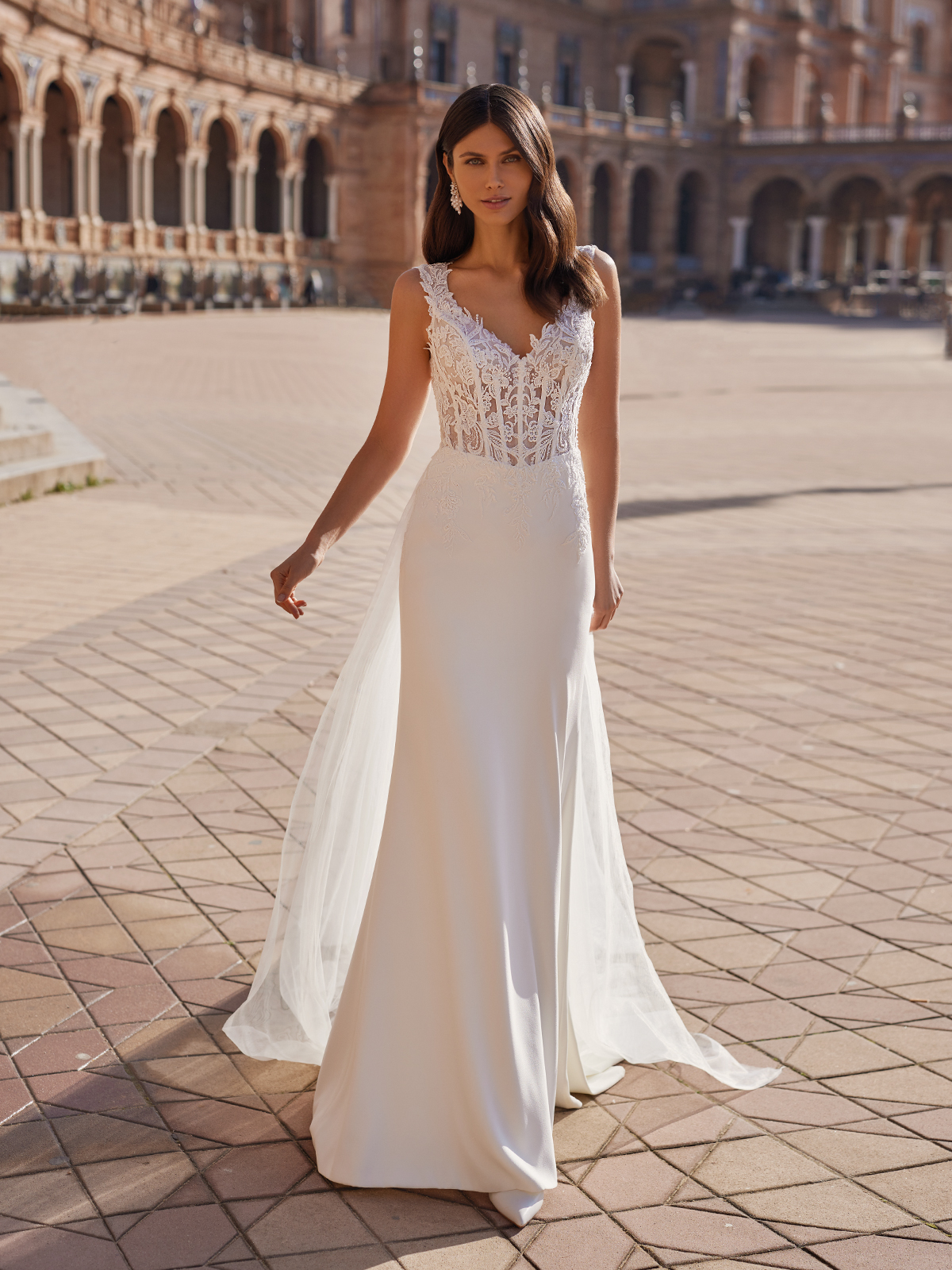 TAURUS
For our Taurus brides, your main focus when finding a bridal gown will be quality. You'll be looking for a style that has the best embroideries, details, fabrics and construction, all while exuding luxury.
Style H1542, a beautifully beaded A-line gown, includes the finest embroidered lace appliques with glass beads and sequins that are hand sewn into the gown, a quality that the Taurus bride will appreciate. Ruled by Venus, the planet of love and beauty, this sign will also love the sexy deep V-back and semi-cathedral train that graces you with each step you take.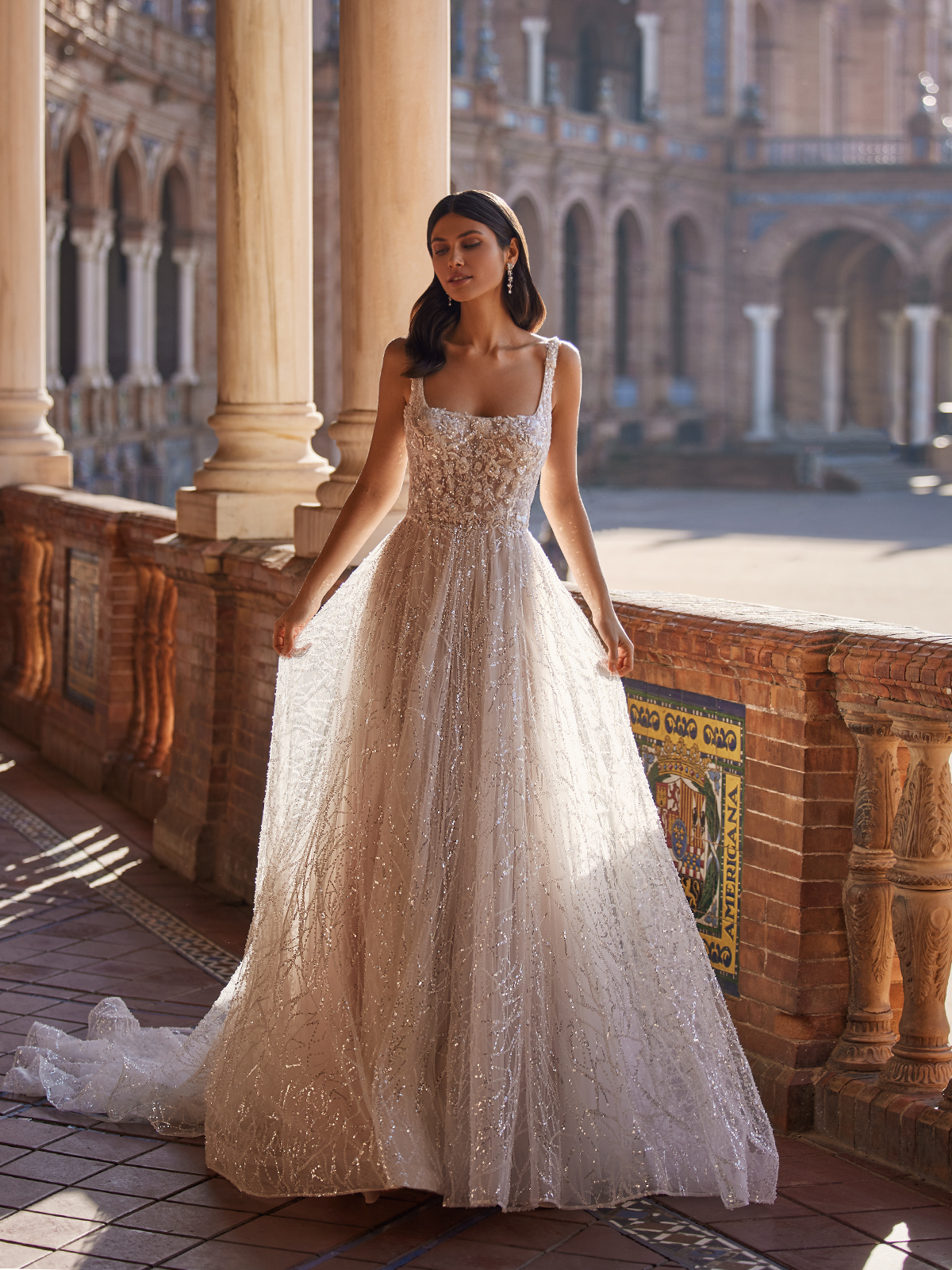 GEMINI
Expressive and sharp-witted, Gemini signs are also known as the twin sign, representing their dual personalities. They are very adaptable and tend to view life from different angles; they can be sociable and spontaneous or serious and attentive. This air sign loves to dissect details and wants a gown worth being talked about.
With a bride that loves versatile and detail worthy gowns, Style H1544 is a match made in heaven with its two-in-one style. This smooth Mikado gown features a detachable statement bow that brides can attach to the back of the gown to create more than one look. Gemini brides will love how you can add the optional bow for the ceremony for a more formal style and remove it during the reception for a fun night of dancing. With a classic A-line silhouette and a trendy portrait neckline, this gown shines as bright as the celestial stars.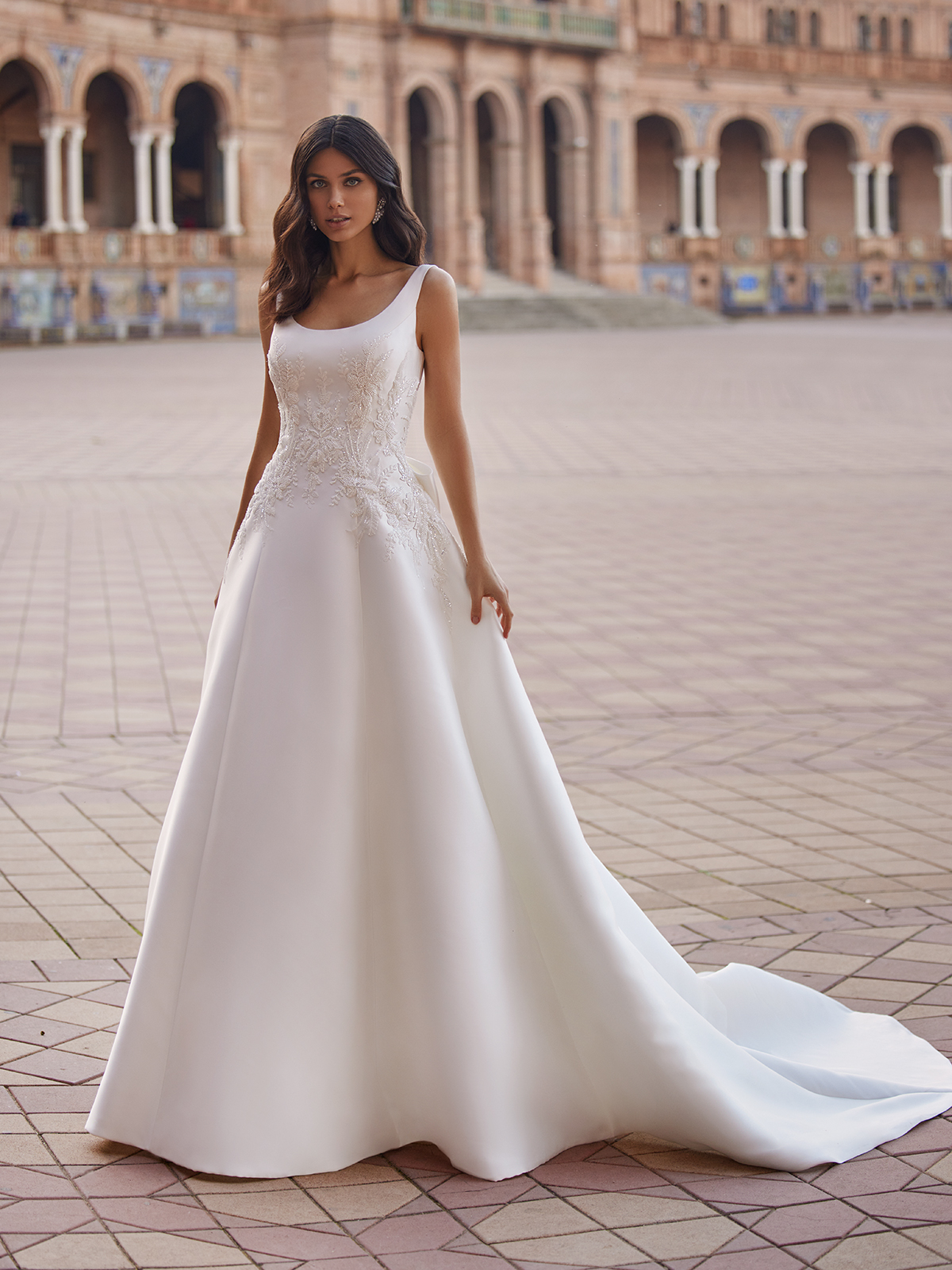 Summer Astrology Signs
With an emerging Summer Solstice, the days become longer and the nights remain brighter, making for an exhilarating season with our Cancer, Leo and Virgo brides.
CANCER
Cancers are ruled by the moon, which means that they have a strong emotional connection with those around them. This sign is likely to choose a gown they connect with emotionally as well and reminds them of the feelings of family and happiness.
Those born under this sign may be drawn to a more traditional or vintage look like Style H1547, an A-line wedding dress with an unlined bodice covered in embroidered lace appliques. This traditional bridal silhouette is complemented with fashion-forward details such as a high slit and a crisscross back. Cancer brides will especially love the dramatic semi-cathedral train with lace appliques that embodies a timeless look.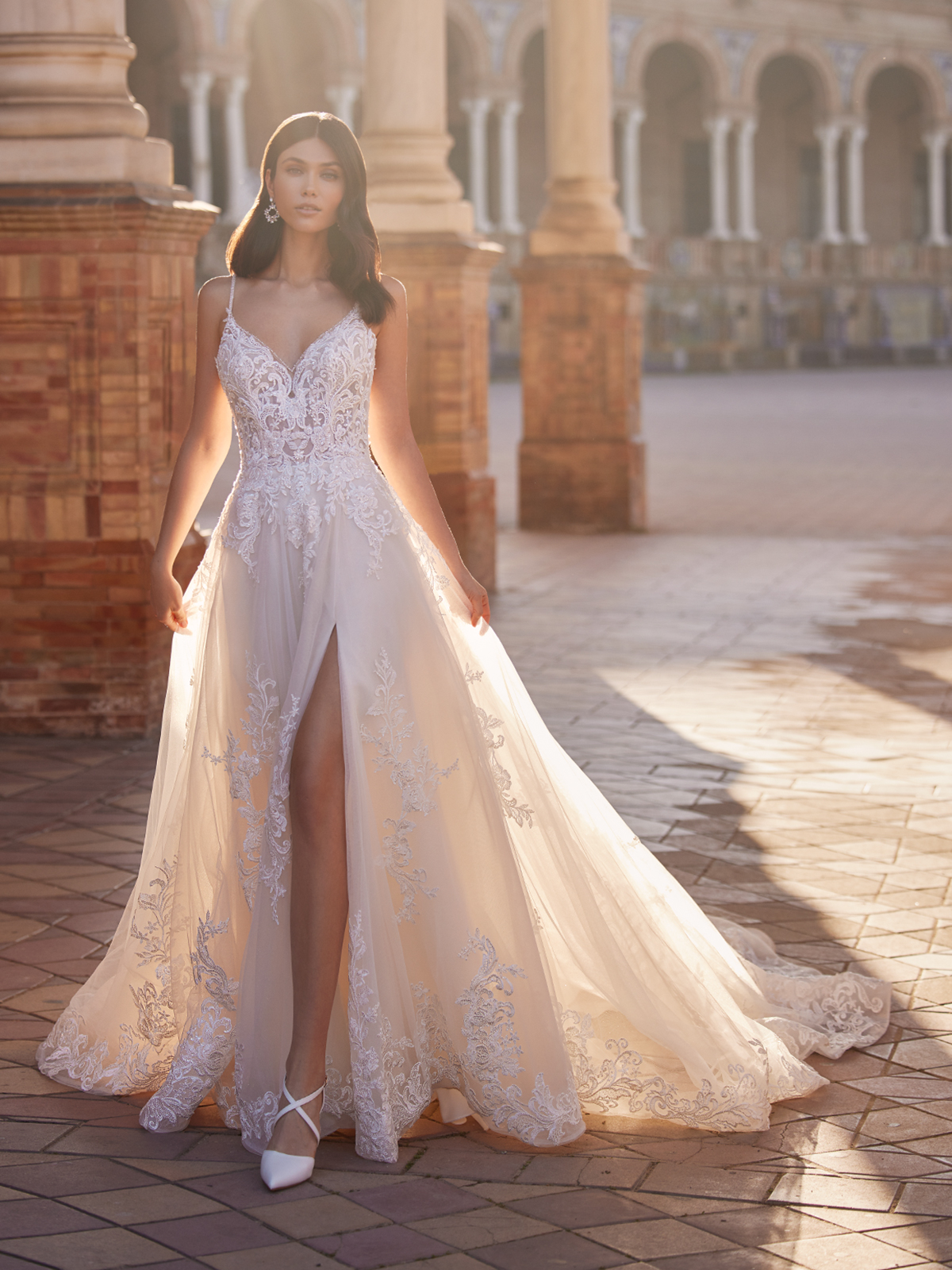 LEO
This bride is confident and demands the spotlight. They'll want a gown that will take their guests' breaths away. They'll most likely be treating their walk down the aisle as their own fashion show, making sure that their wedding photographer captures all the right shots. Ruled by the sun, Leo brides will want a gown that shines bright and makes a daring statement.
Style H1549B is sure to make that statement. This bold mermaid wedding dress is nothing short of a showstopper and will make your walk down the aisle look like fashion week itself. Crafted with black lace and tulle, this design will have all eyes glued to you on your wedding day. The floral lace appliques are adorned with sparkling sequins adding luxurious texture. A classic sweetheart neckline and illusion scoop back complete this gown, making it the perfect choice for a Leo bride.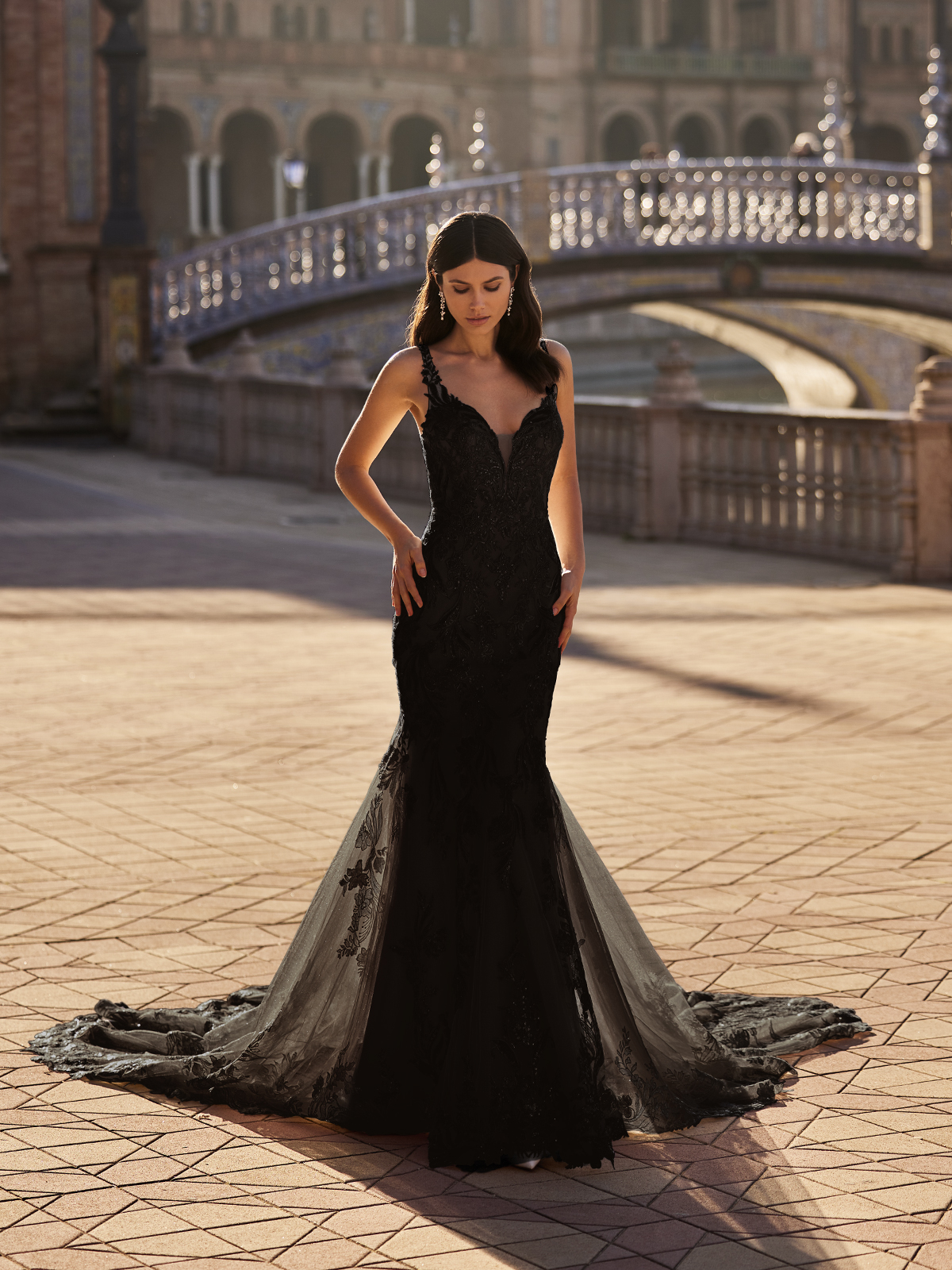 VIRGO
Virgo brides are always paying attention to details. This bride will love a style that's intricate but effortless in its appeal. Charm, sophistication and practicality are also important details to consider when it comes to this bride's dress style.
Virgo signs will love Style J6891, a soft mermaid silhouette made with luxurious crepe back satin fabric. For intricate details, the unlined tulle bodice is covered in perfectly placed pearl beads, and the detachable pearl-embellished long sleeves will give a Virgo bride peace of mind in cool weather. This elegant dress also includes a strapless sweetheart neckline that adds a classic touch.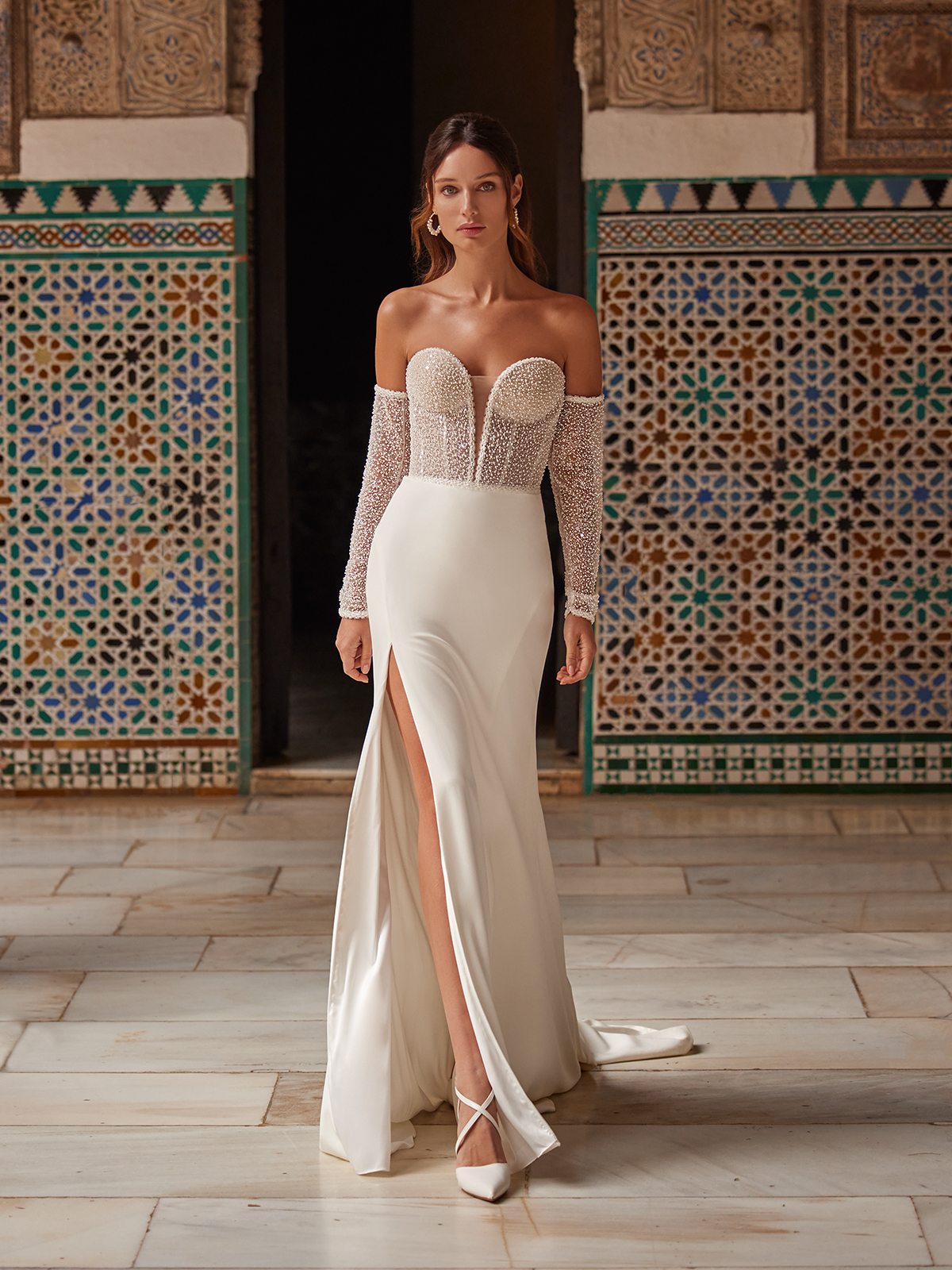 Autumn Astrology Signs
With fall being such an enchanting season, it only makes sense for our Autumn horoscope brides to search for the most romantic styles.
LIBRA
This zodiac sign is all about balance. Libras are fair, and strive for symmetry and equality, which could mean Libra brides are looking for a style their future partner will also love. These factors might have a Libra in search of a bridal gown that's on trend, yet also timeless.
Consider Style J6893, a classic A-line wedding gown crafted with a dreamy floral organza fabric. This design is known best for its bold floral design, voluminous skirt, and detachable long puff sleeves, while the A-line skirt is universally flattering, making it a perfect pick for every type of bride out there. Libras will love the balance of the eye-catching material combined with the romantic straight neckline and open back.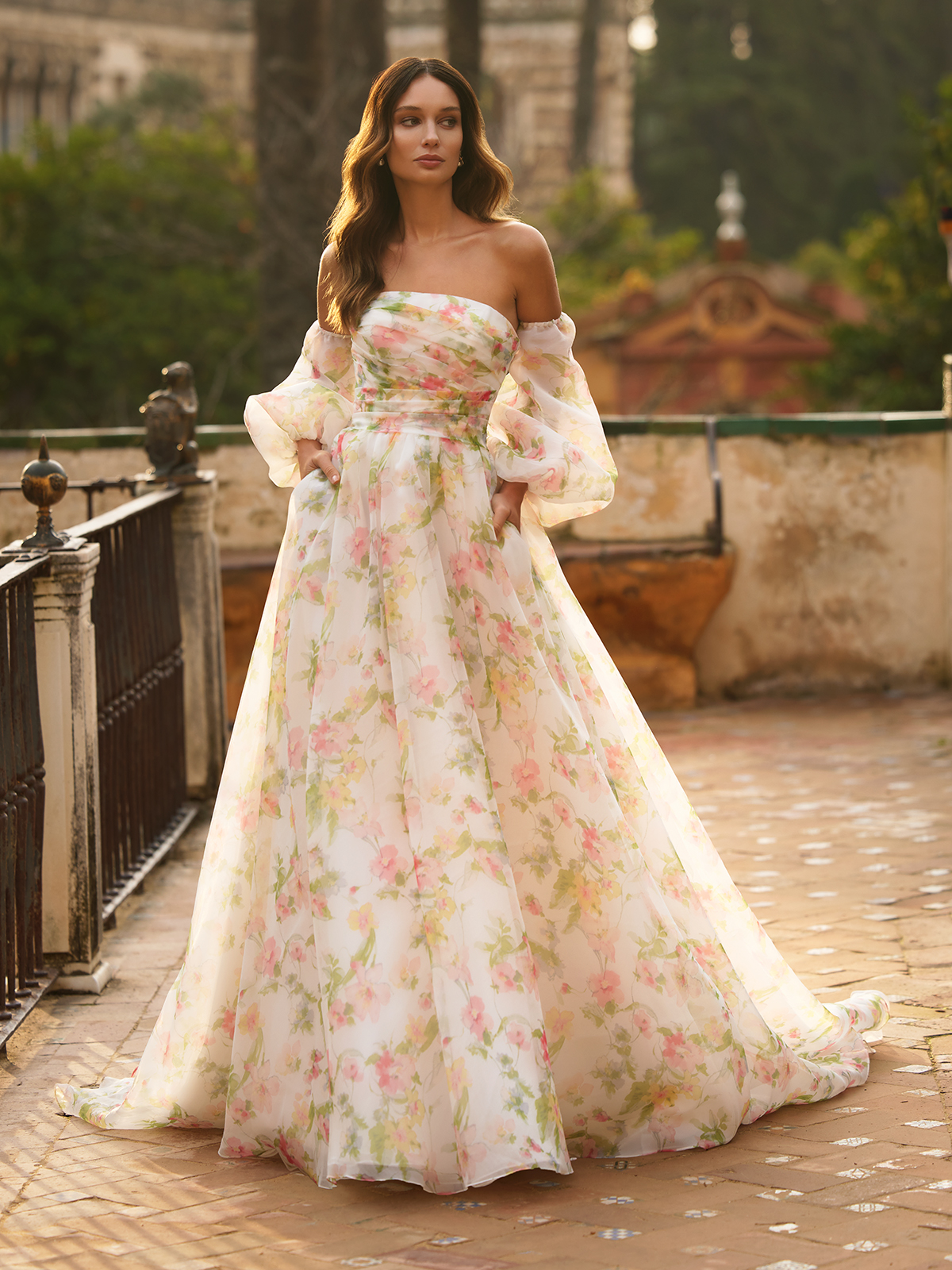 SCORPIO
Ruled by Pluto, Scorpios are all about power and control. They're fearless in the sense that they're not afraid to flaunt what they've got. This zodiac sign is looking for a style that has a dramatic sex appeal with the most alluring details.
Style J6896, a lace mermaid wedding dress, is a match made in heaven for a Scorpio bride. Coming in a figure-hugging silhouette, the tulle and Chantilly lace fabrics run smooth along the figure and will sculpt your curves in all the right places. Scorpios will especially love the deep V-neckline featuring a beaded illusion inset, and the dramatic V-back that matches. This design gives the perfect balance of sexy and timeless from top to bottom.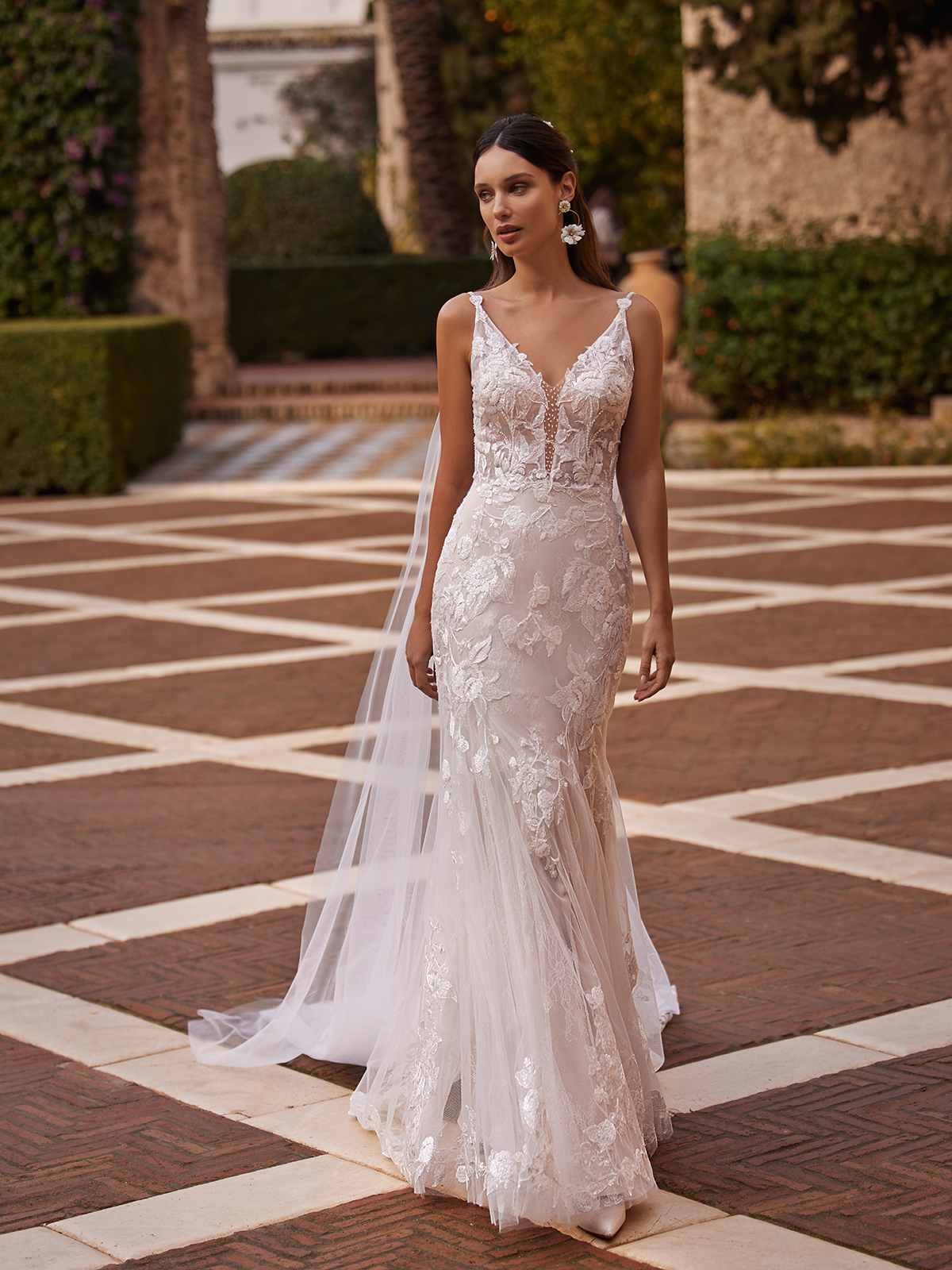 SAGITTARIUS

Curious and open-minded, Sagittarius brides are open to any and every style of gown. With a fun and flirty type of personality, this bride will need a gown that's just as lavish as the reception party they plan on throwing.
Style J6897, a flirty tulle wedding dress with beaded straps and swag sleeves, is just as charming as a Sagittarius bride. Decorated with a symmetrical leaf inspired pattern, this design features embroidered lace appliques adorned with sequins and beads for added shine. This bride will love how it differs from the traditional lace patterns and instead creates one-of-a-kind details that are both sweet and fun. The full A-line silhouette allows for them to twirl and dance as freely as they'd like, making them the life of the party.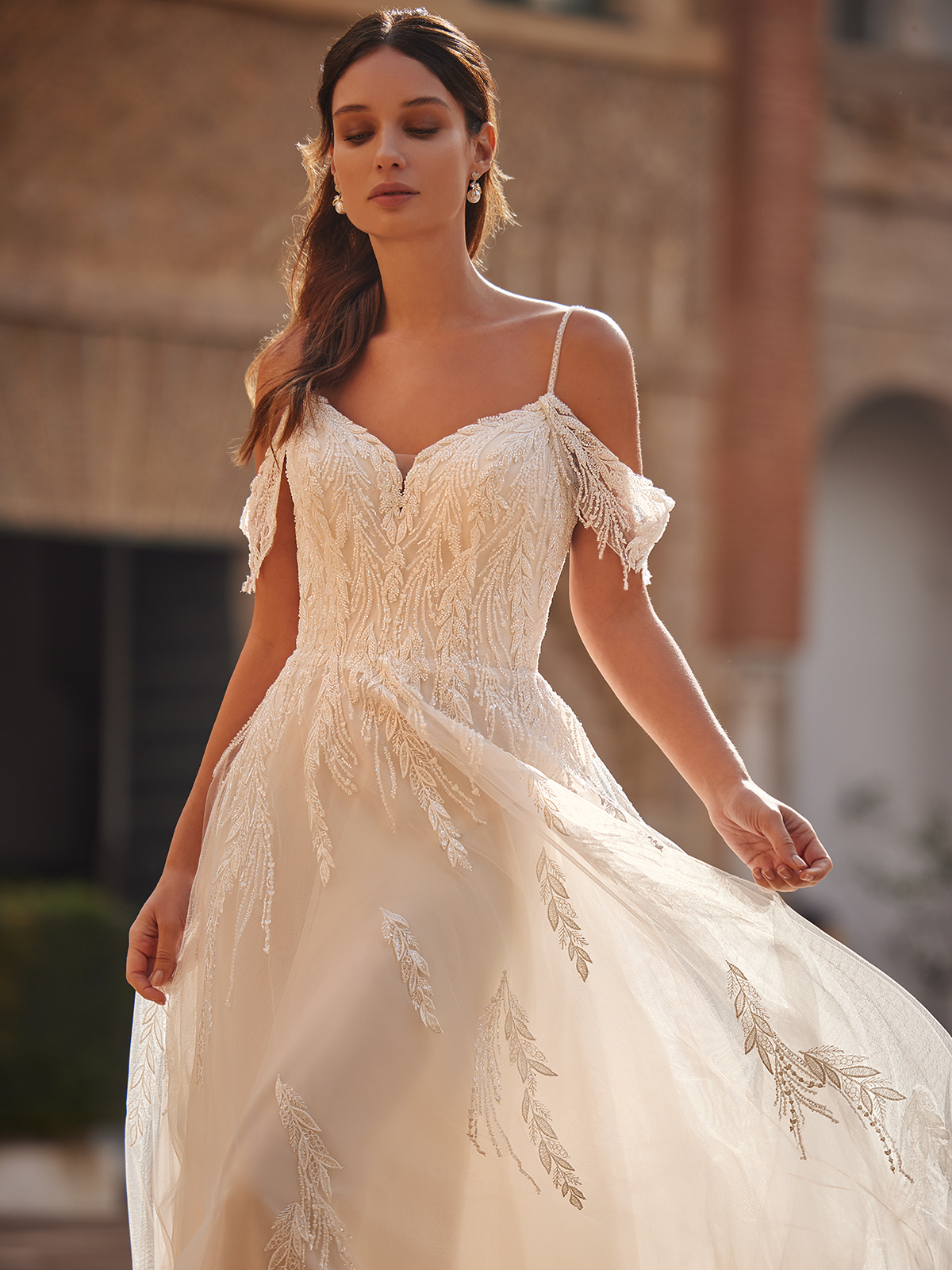 Winter Astrology Signs
For our winter zodiac brides, independence and individualism are some important personality traits that they pride themselves on and are often reflected in their bridal looks.
CAPRICORN
When it comes to picking their gown, Capricorn brides like to cut to the chase. They represent responsibility and are traditionally serious by nature. These brides are independent and typically like to look sharp and put together.
Since Capricorn signs typically like the finer things in life, Style J6900 may be a great match. This minimalist wedding gown design is nothing short of stunning. With classic details like smooth satin fabric paired with a mermaid silhouette, this gown is sophisticated from every angle. Typically, Capricorns also like more familiar things, so the classic strapless sweetheart neckline and pleated bodice will serve as the perfect traditional details. There's even a detachable chapel train that can easily be added for a more dramatic look.
AQUARIUS
This is the bride that isn't afraid to go against tradition and has no issue with standing out. They know what they want and like to think outside of the box. Going against most standard bridal norms, this bride will want a style that's glamorous, trendy and one-of-a-kind.
As a result, a bridal gown like Style J6901 may be just the one. This unexpected design is crafted from three different layers of fabric. Sheer net and shimmer net make up the bottom two layers and combine to create an overall ethereal look. The top layer is a corded embroidered and beaded tulle with glass beads and sequins. Ruled by Uranus, which highlights liberation and boldness, an Aquarius bride will love the sparkle details and the plunging sweetheart neckline with an illusion inset. The natural waist is trimmed with a couture bow for another one-of-a-kind detail.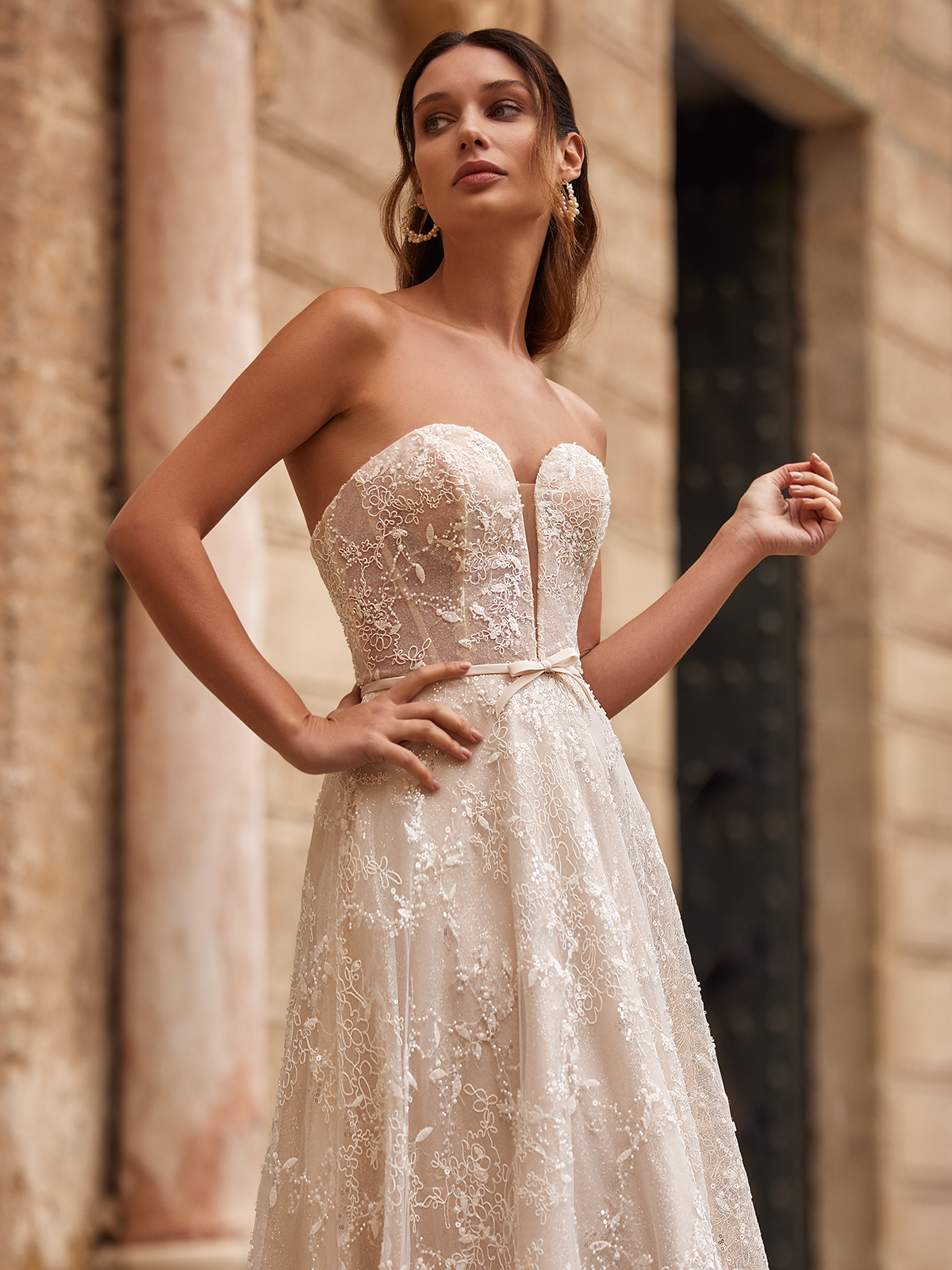 PISCES
For our sweet Pisces, finding an ethereal gown that embodies beauty and grace is a must. This bride has a spiritual nature of being kind, empathetic, and selfless, all while never expecting anything in return. With an old romantic style, this bride is attracted to dainty, soft and goddess like details.
Style T102, a crepe mermaid wedding dress, is every Pisces dream gown. Crafted from a luxurious crepe back satin fabric, this design features whimsical details like a gorgeous chiffon cowl back that make it feel like it's from a fairy tale. The cowl back drapes over shimmering beaded lace appliques for a truly unforgettable look. A Pisces bride will also love the illusion lace cutouts on the side of the bodice and the dainty spaghetti straps.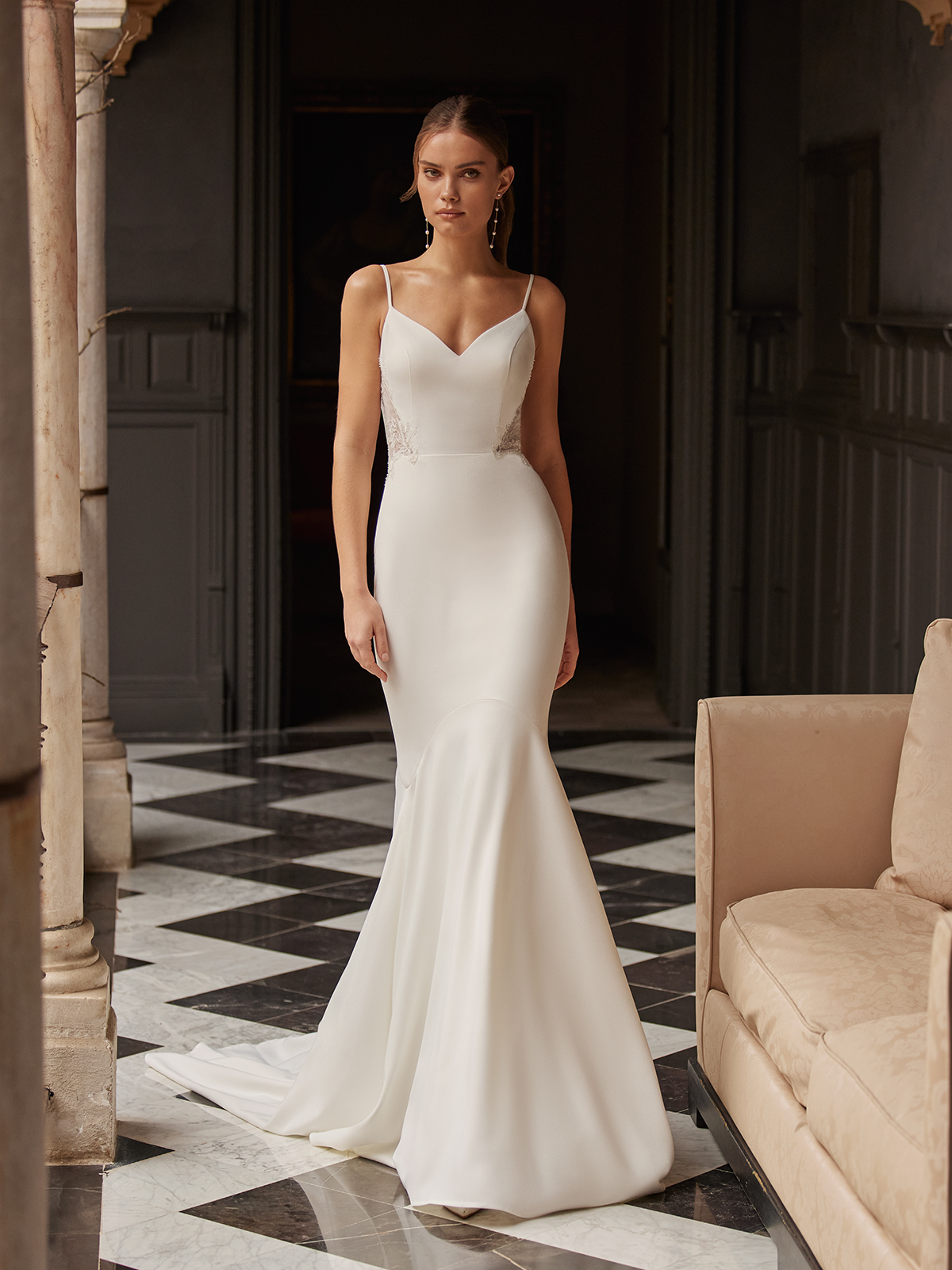 NEXT STEPS
With the stars and moon aligning together, you're sure to find the perfect wedding gown that matches your horoscope sign. Of course, trust your own instincts when it comes to the dress of your dreams, even if it wasn't listed above.
Ready to find your match? Find your local Moonlight Bridal retailer and get ready to say yes to your dress.