Vintage Inspired Wedding Dresses
Ideas for a Vintage Style Wedding Gown
Bridal trends come and go, but some wedding traditions have true staying power. Incorporating these in can feel comforting or even empowering on your big day, but you still have plenty of opportunities to make your wedding your own. Nowhere is this more evident than with vintage-style bridal gowns, which are inspired by traditional styles but can also incorporate modern elements to great effect.
Many brides intuitively recognize that they crave vintage vibes but aren't quite sure how to put this desire into practice. Simply defining 'vintage' can be difficult and, beyond that, it is often tough to know how this concept translates to a brand-new dress. To help, we've provided a full breakdown of the vintage-inspired approach to bridal fashion: what it means to be a retro or vintage-style bride and which options are available.
What Defines a Vintage-Style Bridal Gown?
Vintage is versatile and, with numerous eras to draw from, no one style truly captures this bridal dress category. Still, a few patterns may emerge as you examine vintage-inspired styles. Chief among these? A general preference for classic silhouettes, such as tried-and-tested A-line wedding dresses and princess or ball gowns.
Materials matter. Top vintage-inspired dresses are largely constructed from a few main types of fabric: lace wedding dresses nearly always have vintage appeal, although there is a lot to love about chiffon and tulle. Beading, sequins and lavish embellishments are also common features.
Beyond these themes, vintage styles often draw from specific eras or fashion movements. Examples include:
● Victorian: Blending a fitted bodice with a full skirt, the Victorian look is charming and often appeals greatly to brides who prioritize modesty. That being said, daring details like plunging necklines or illusion elements can bring some modernity to this look.
● Flapper or Great Gatsby: Fringe, drop waists, and geometric details exemplify the bridal flapper look, which draws fashion inspiration from the 1920s but may take on a more minimalist approach to gain a modern edge.
● Old Hollywood: Amp up the glitz and glamor with a film-inspired look that draws from your favorite mid-century celebrities. With this aesthetic, sophistication is the name of the game. The right silhouette is key; cinched waists are a must.
10 Vintage-Inspired Wedding Dresses
We've provided a basic definition of the vintage-style wedding dress, but this concept can be difficult to understand until you see it in action. To that end, we've compiled ten examples of vintage-inspired dresses that, although brand new and often quite modern, retain a classic appeal that will make any bride look and feel gorgeous.
Style J6913
Capturing the best of the princess theme, this gown has a full skirt and a gorgeous sweetheart neckline. This is a flattering combination that has stood the test of time. The embroidered lace appliques are classically romantic, as are the crystal buttons and the horsehair trim on the chapel train. Detachable tulle bow tails add a touch of elegance for wedding photos and the ceremony but can easily be removed in time to hit the dance floor.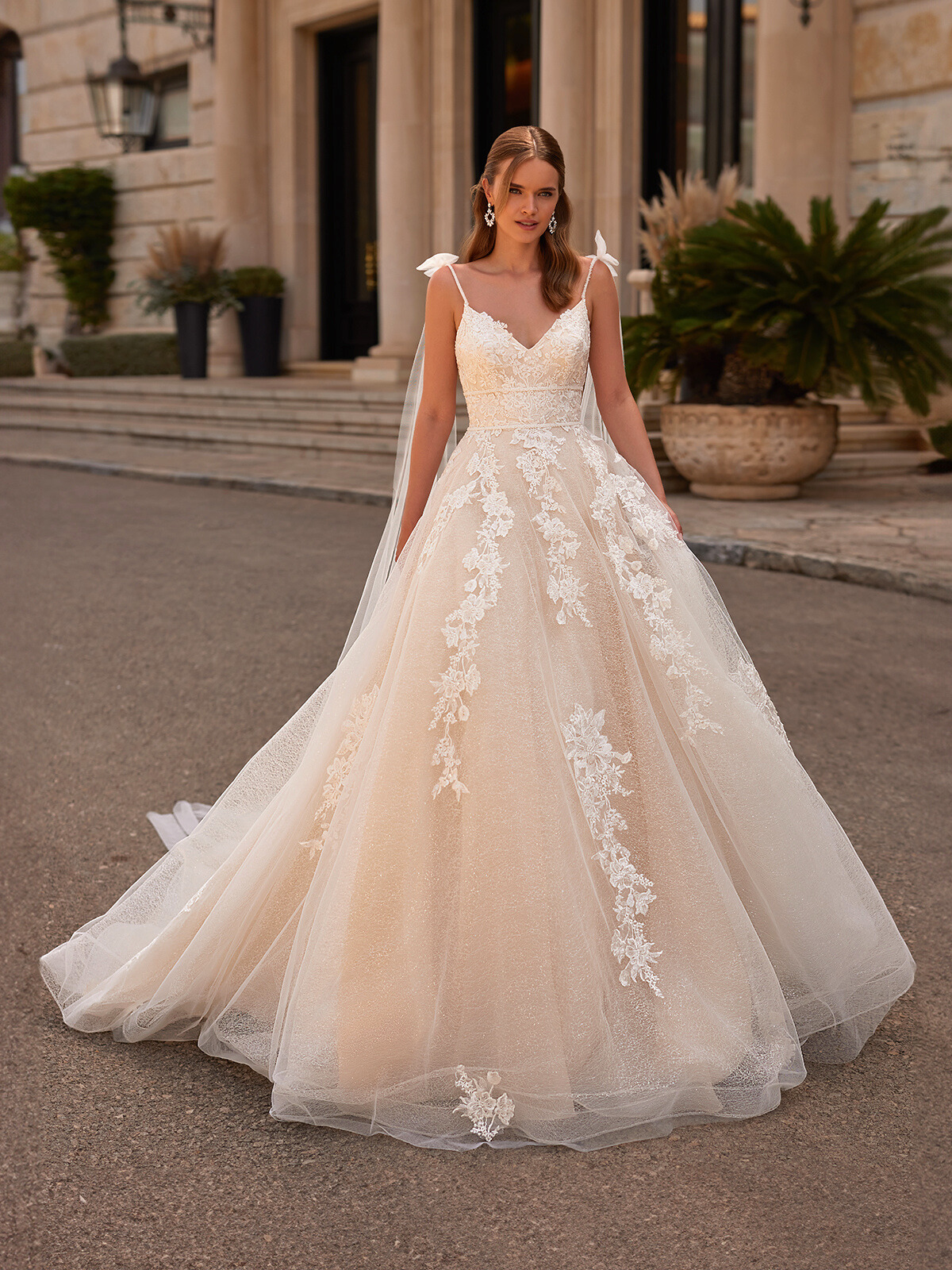 Style H1566B
Blending the best of vintage and modern styles, this sensual and sophisticated mermaid gown dispenses with the tradition of white but gives a nod to the past with its beaded swag sleeves. Keep in mind that white was not always expected in the weddings of yesteryear, and while we take it for granted that today's brides will wear white, black may actually feel more authentically vintage. Regardless of color, crystals and pearls add plenty of shimmer, while embroidered lace appliques bring dynamic appeal to this look.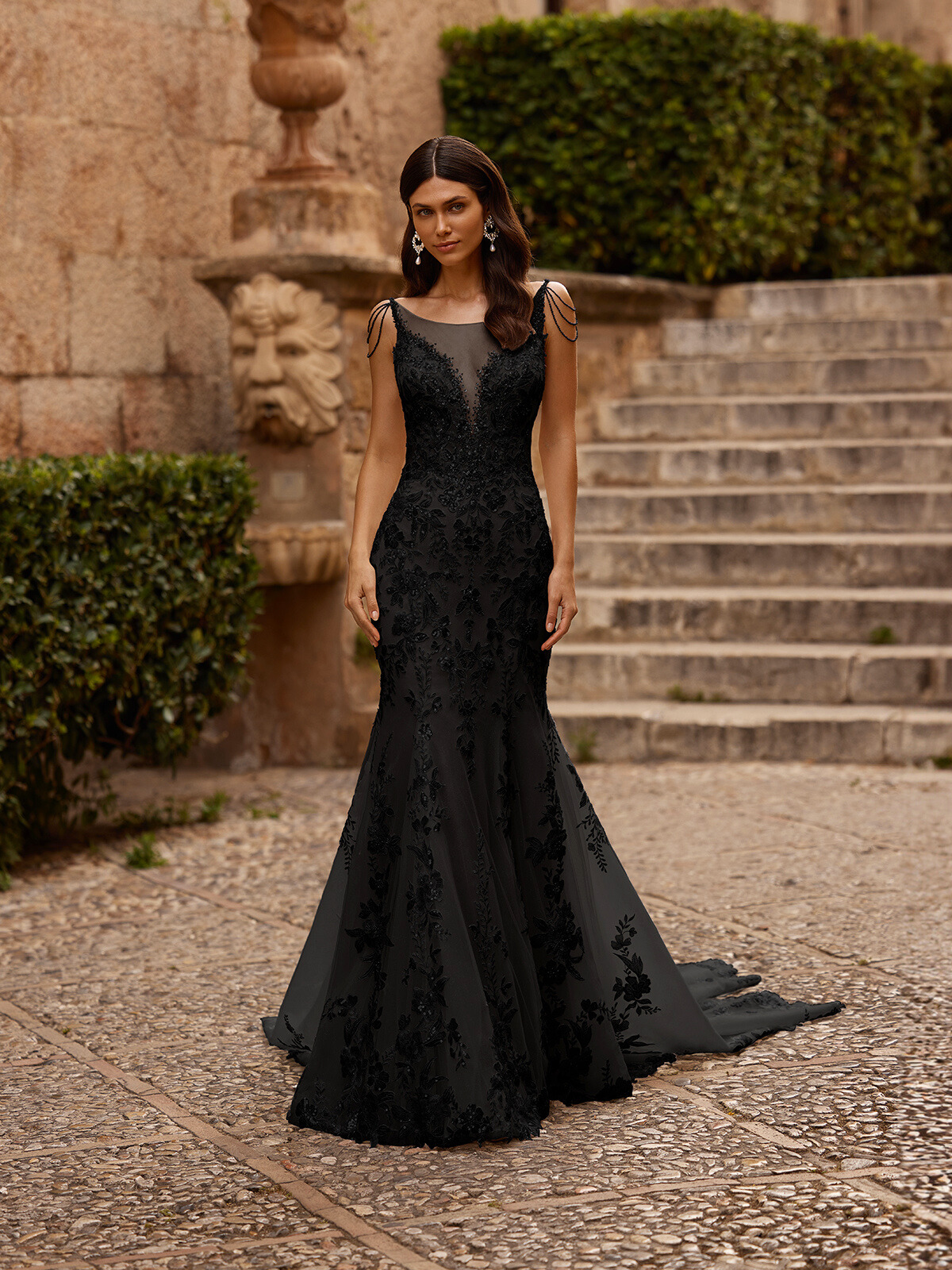 STYLE T126
Another flattering style that demonstrates how a mermaid silhouette can be integrated into vintage styling, this stunning crepe bridal gown evokes the best of modern minimalism but also incorporates many classic elements. The scoop neckline epitomizes timeless style while bringing a streamlined look to the entire dress. That's not to say that ornamentation is avoided, however. Embroidered lace appliques run down the sides of the dress, illusion net at the back adds the perfect dose of shimmer, and gorgeous illusion long sleeves finish the design.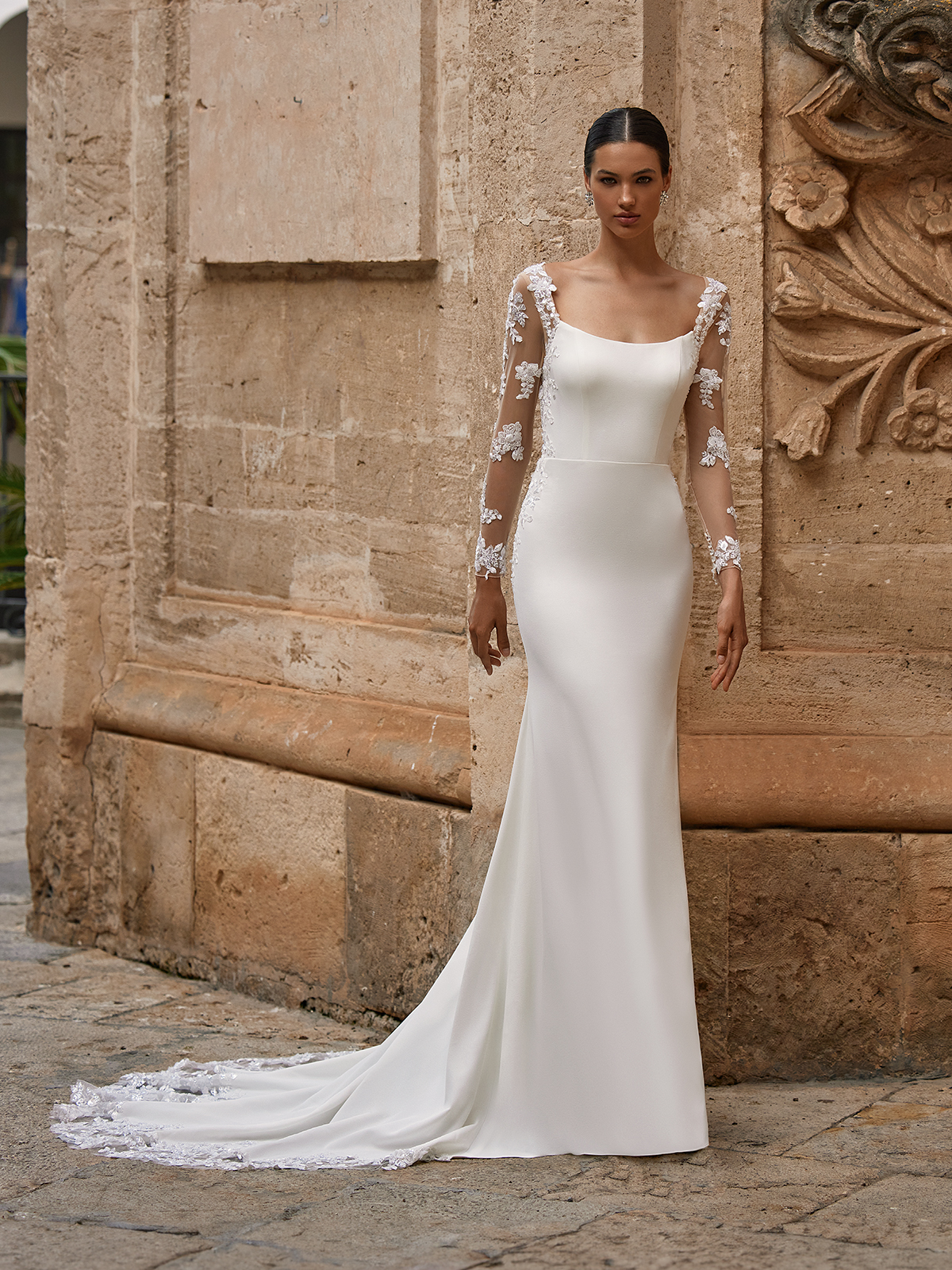 Style M5086
Perfect for modest, romantic brides, this lovely A-line gown feels like it has been delivered straight from a fairytale. Its floral lace appliques feel decidedly vintage, with the beaded waistband adding a subtle sheen. The bishop sleeves are downright dreamy and include distinct buttons at the cuffs. Timeless loop-based buttons trail down the back of the dress while the sweep train completes this bridal style.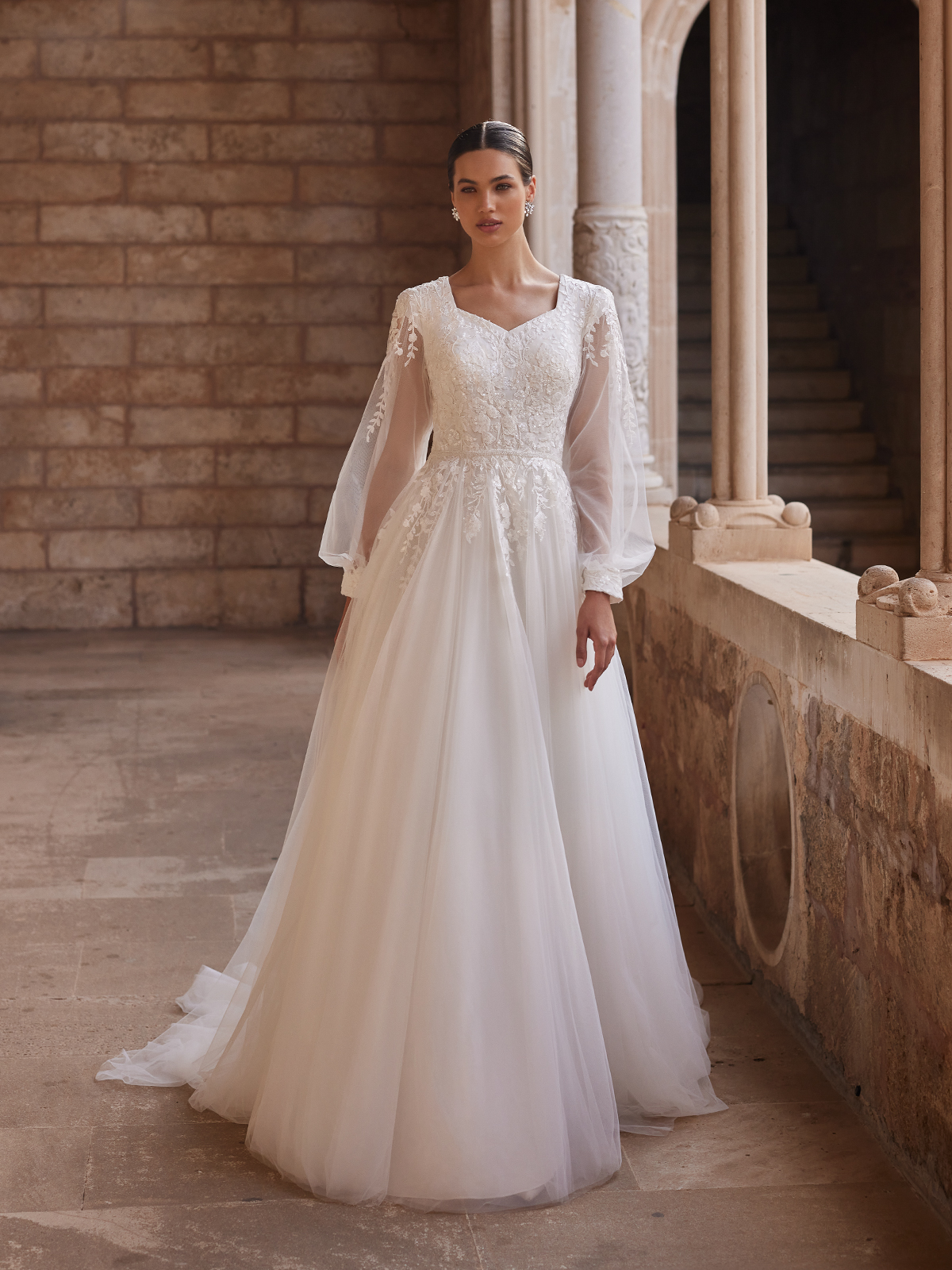 Style T931
Detachable features make it easy to take any dress from vintage to contemporary at a moment's notice. This simple satin A-line wedding dress accomplishes just that with help from detachable puff sleeves. These add a little old-fashioned whimsy but can be removed to reveal more of a modern minimalist style. Either way, the strapless sweetheart style is alluring. Vintage-inspired brides will also adore the gown's demure details like unique boning and the covered buttons at the zipper.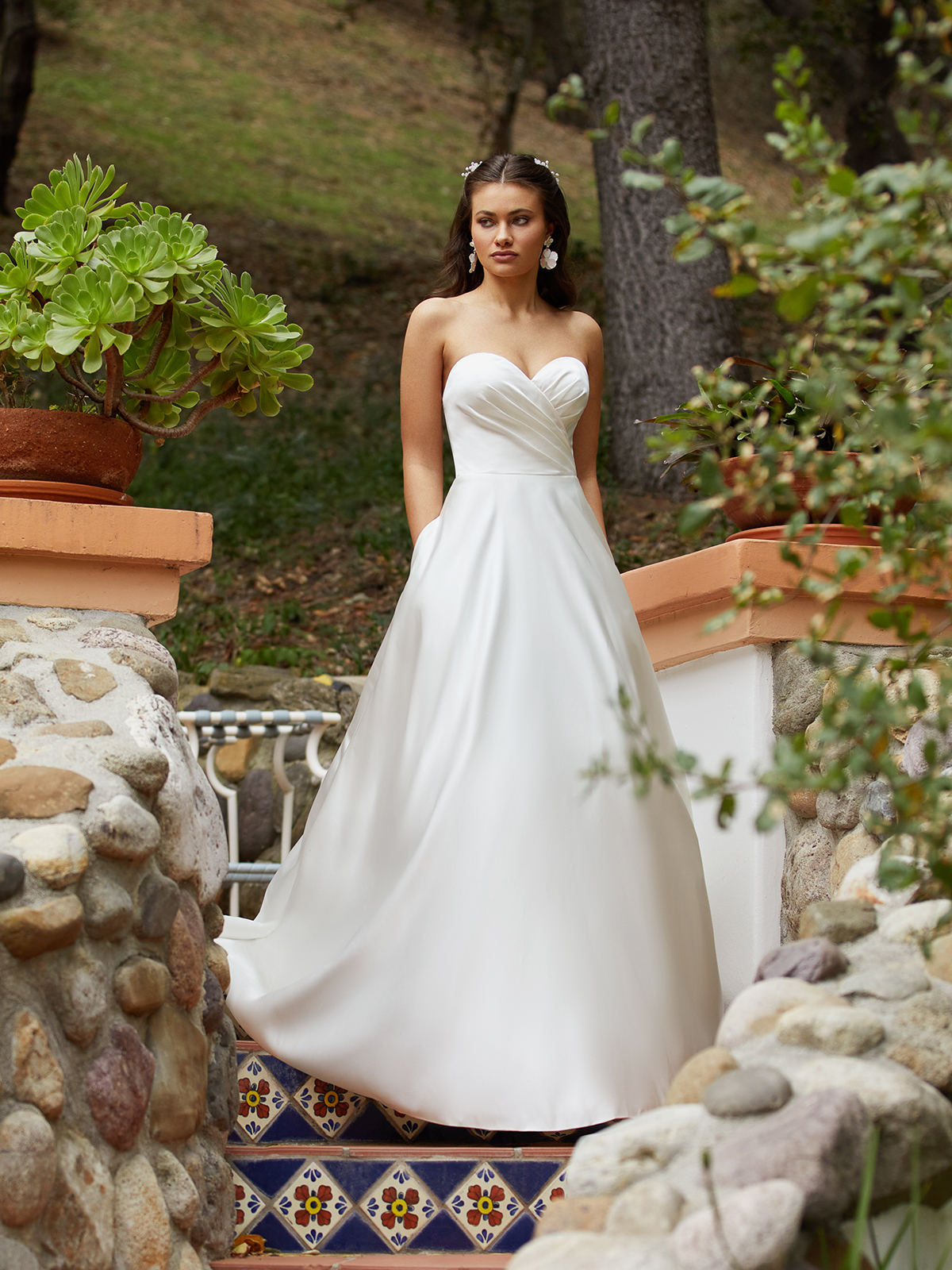 Style H1527
Vintage styling doesn't have to come at the cost of daring or dramatic aesthetics. Both are possible, as evidenced by this sensual mermaid gown and its deep V-neck. Offering traditional elements with just enough edge, this stunner makes an impression with lace-trimmed straps, embroidered floral appliques, and a awe-inspiring cathedral train.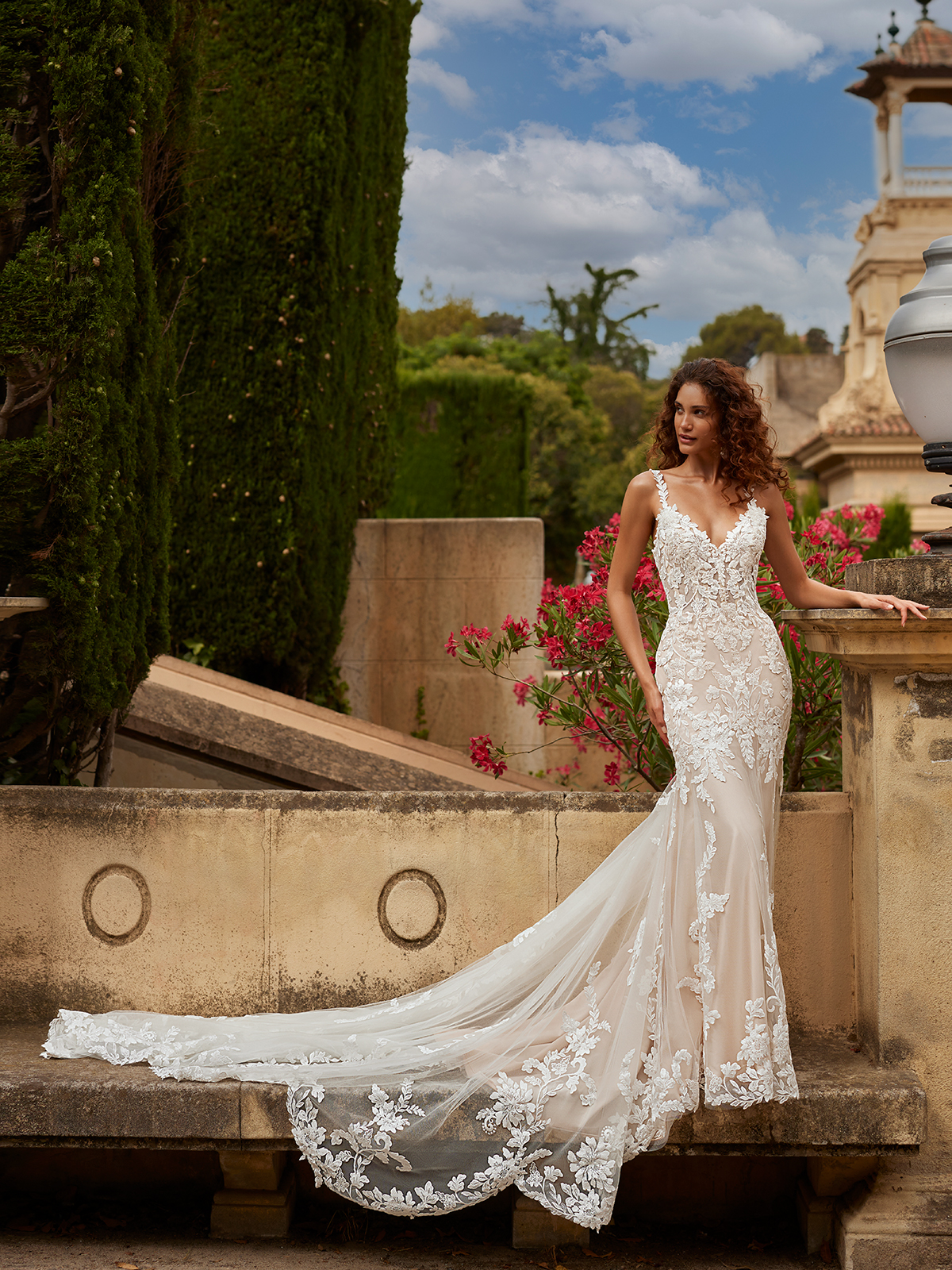 Style M5084
It is more than possible to achieve a modest look with a mermaid silhouette, as this vintage-inspired bridal gown makes abundantly clear. Drawing from throwback trends but offering a subtly contemporary update, this memorable style makes an impression with Juliet long sleeves, which are slightly puffed at the shoulder. Embroidered lace adorns — but does not overwhelm — the dress, with the sweep train providing just enough movement while walking confidently down the aisle.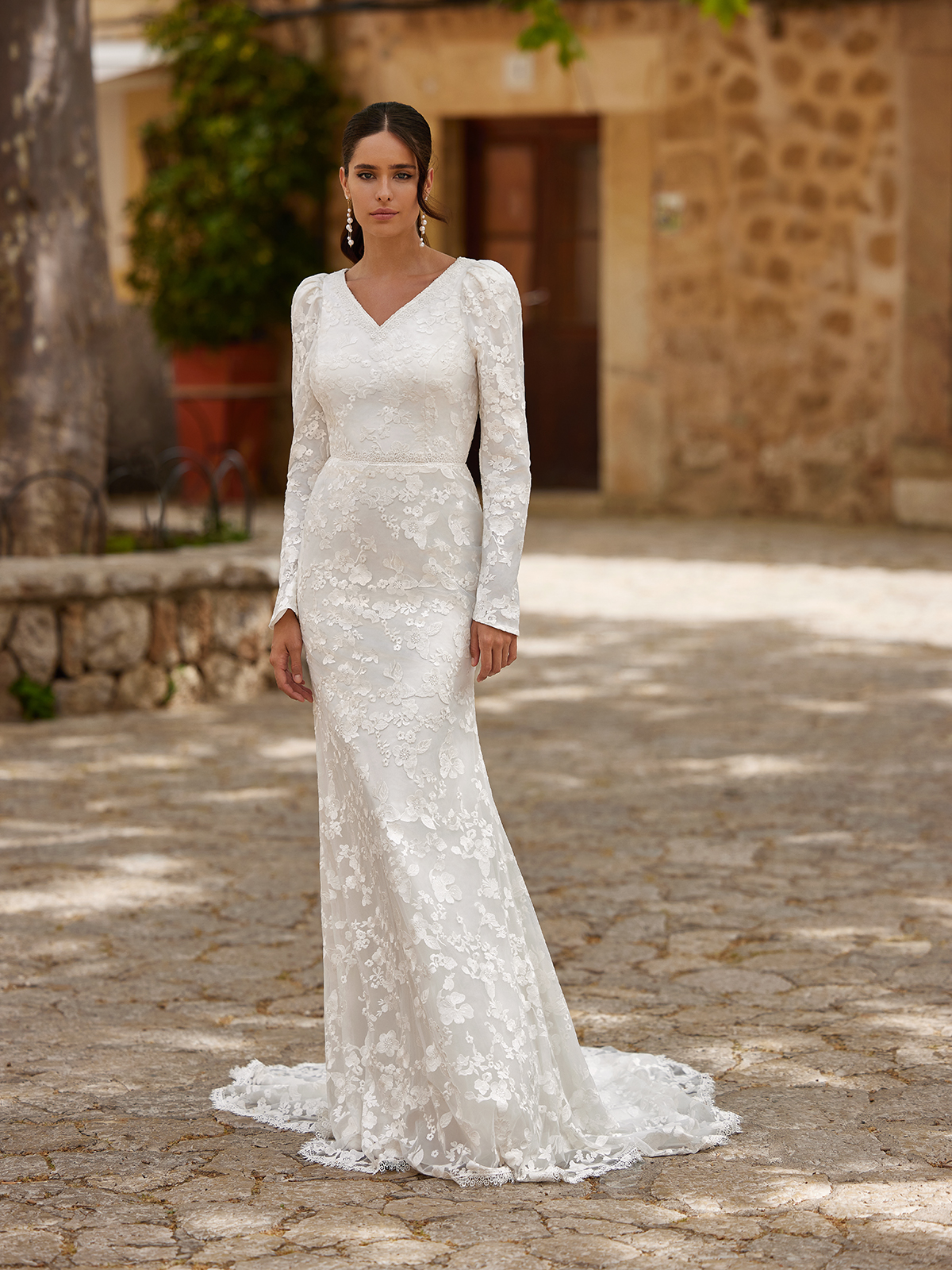 Style H1429
Achieve a delightfully Victorian look with a Basque waist, which is fitted, yet elegant. This distinctive look doesn't appear at weddings often, but when it does, it's impossible to miss. The sweetheart neckline further amps up the romance, while the shimmer organza twinkles subtly. The voluminous skirt is a showstopper, especially as its vines and leaves give it a hint of rustic charm without detracting from its glamorous appeal.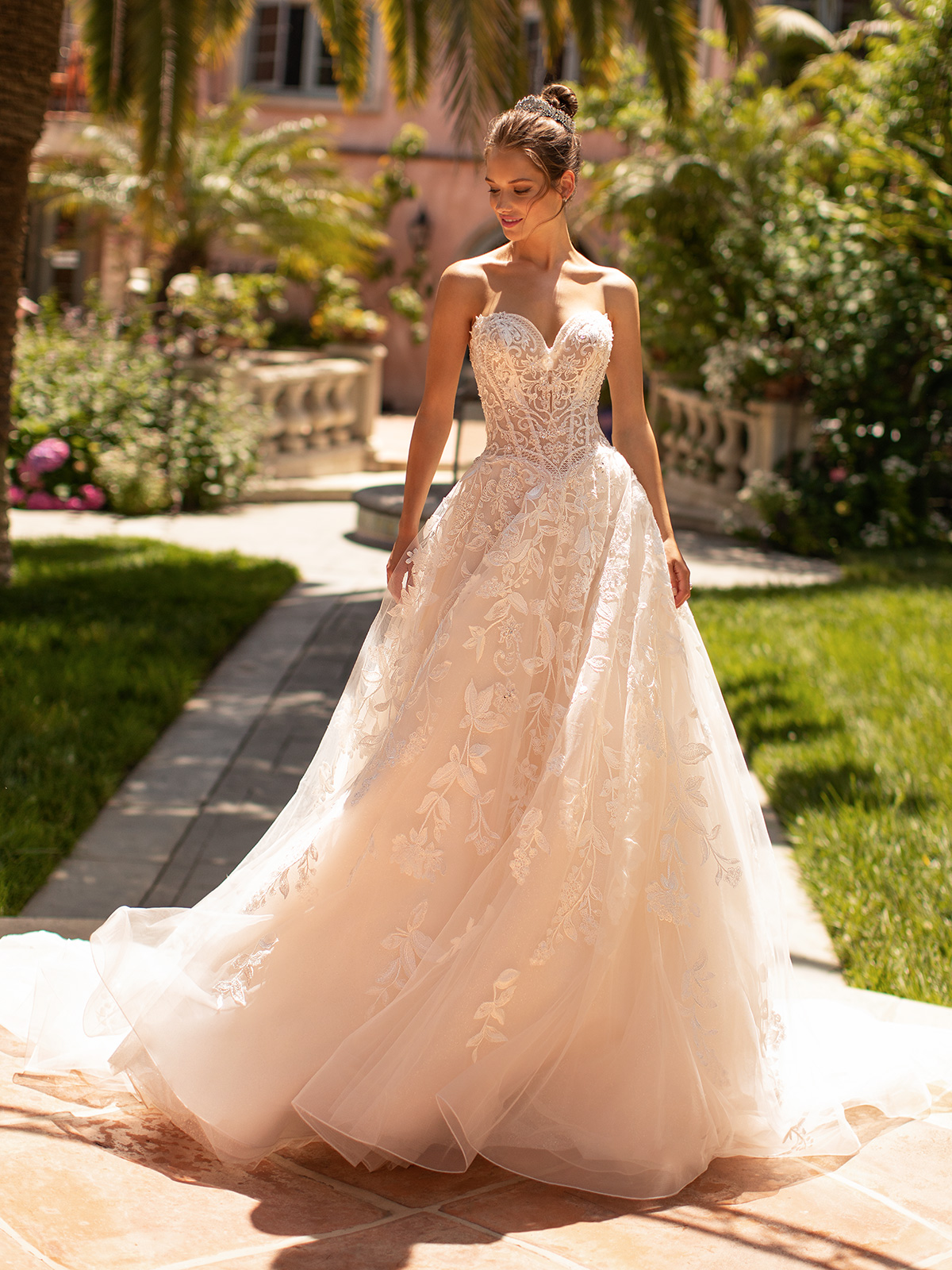 Style M5072
Guipure lace provides a historic basis for this gown. The lace style once represented the epitome of luxury and, in many ways, this perception has held strong. Interestingly, however, this Guipure A-line wedding gown retains a contemporary feel, made possible by its clean lines and its geometric pattern. Butterfly sleeves add a whimsical element while covered buttons provide some extra vintage charm.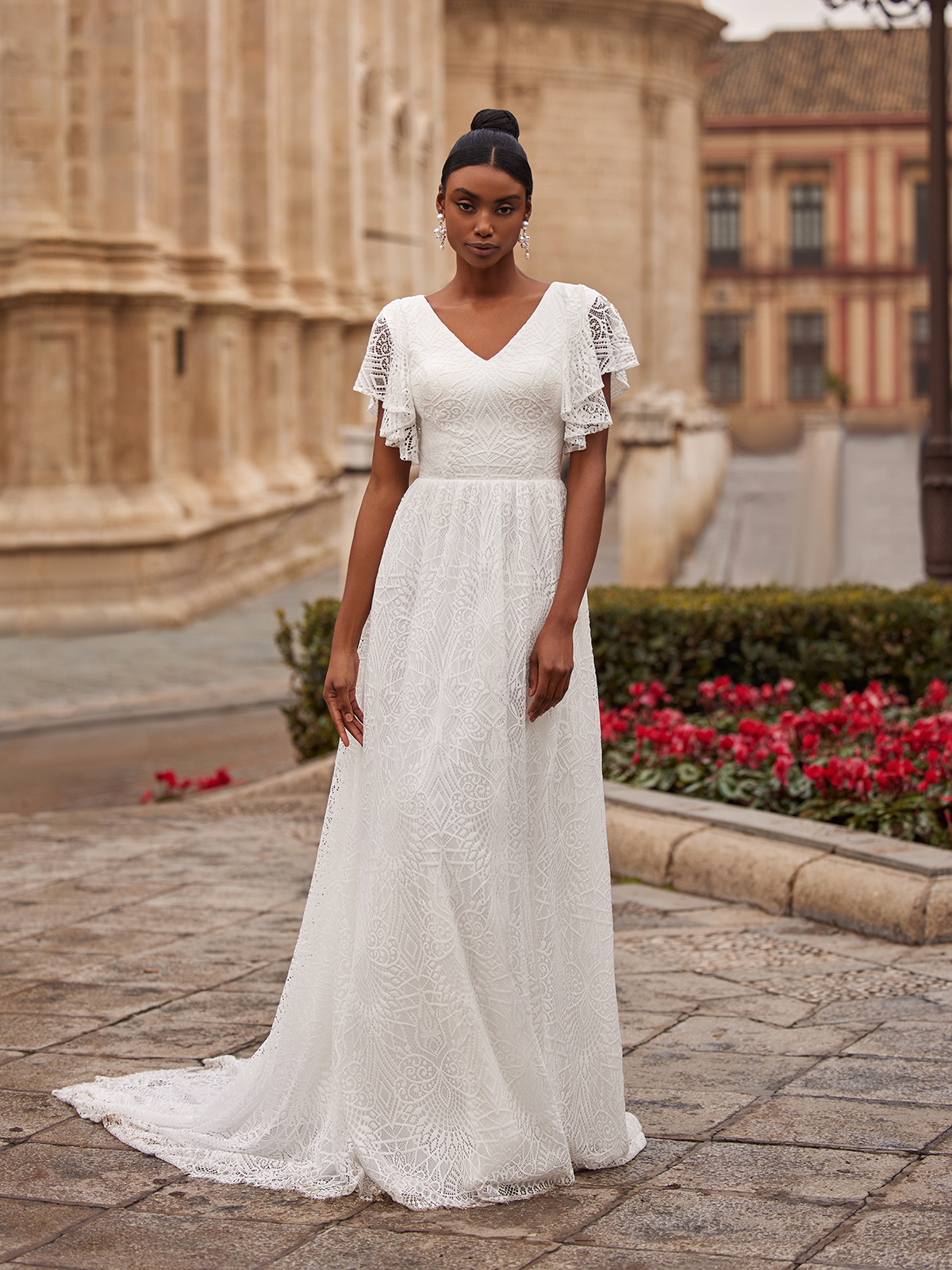 Style H1466
Make a statement with a bold, yet romantic wedding dress that reveals the true power of the mermaid silhouette. Form-fitting in the best possible way, this dress is a must for brides who want to show off their curves. The swag sleeves balance out the drama with a bit of playfulness. The illusion open back shines bright with help from sequins and rhinestones.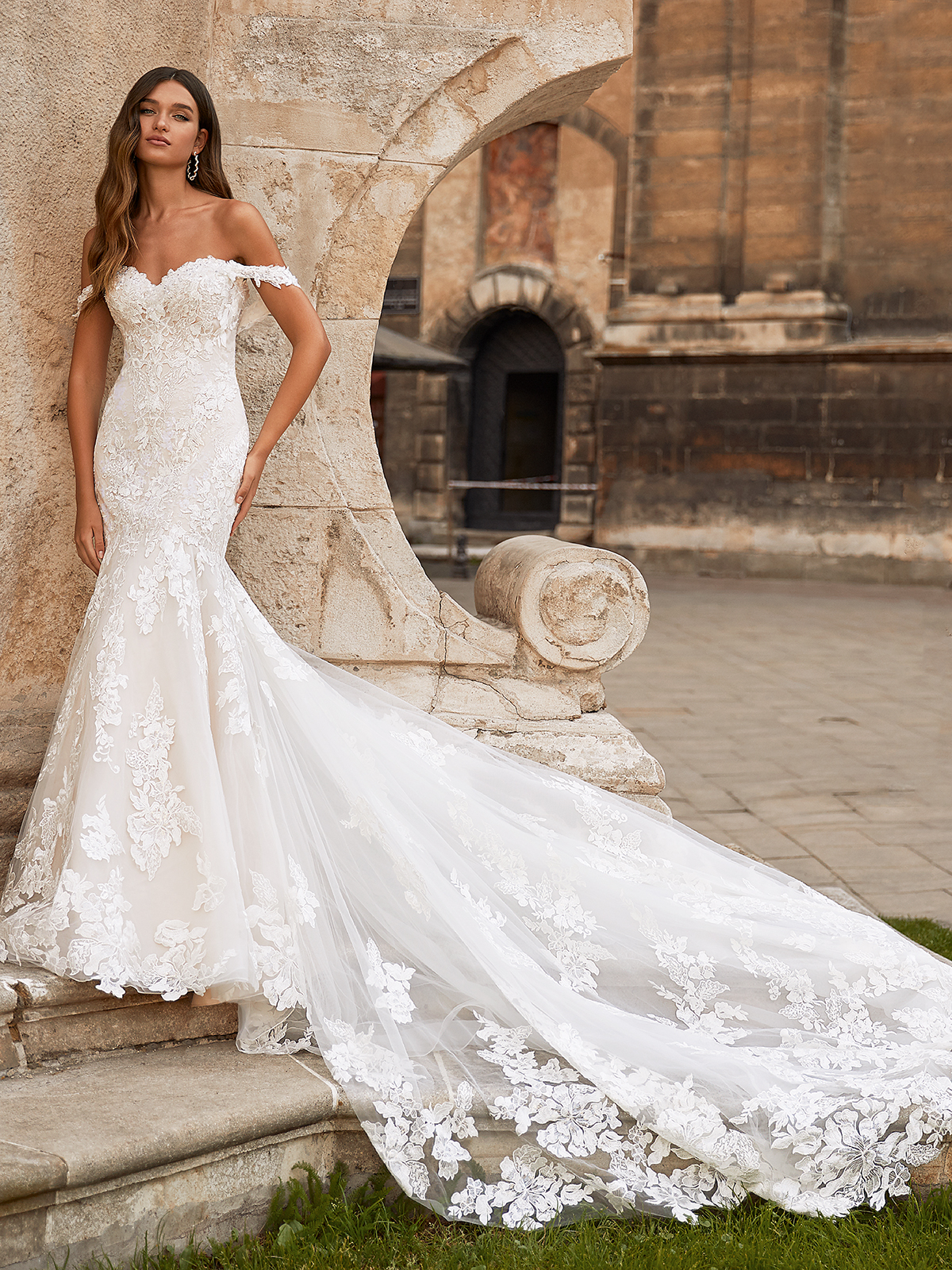 Wedding Aesthetics that Complement Vintage-Inspired Gowns
Vintage itself feels like an aesthetic, but the concept also plays into several wedding styles — as you have no doubt realized while discovering the varied appeal of the many dresses highlighted above. Wedding aesthetics suited to vintage styles include:
● Boho: Drawing on Bohemian concepts and an appreciation for numerous cultures and forms of artistic expression, the Bohemian look has continually popped up through the years and remains as relevant as ever. From a bridal perspective, there's a lot of appeal: Boho dresses are often playfully romantic and, with so many renditions of the concept to choose from, these can borrow from many vintage styles.
● Minimalist: While minimalism went mainstream in the early 2000s, it has been a powerful force for over a century. This is a great strategy for drawing attention to a few statement features, such as vintage-inspired sleeves or necklines. Crepe fabric is perfect for this look but also has a decidedly classic appearance.
● Romantic: Fairytale dresses often incorporate vintage elements, which make them feel even more ethereal. Sweetheart necklines, intricate lace, full skirts, and chapel or cathedral trains all play up the romance for a head-over-heels look that will appeal to many blushing brides.
Even if your bridal dress feels distinctly modern, you can add a dose of vintage fun simply by incorporating timeless accessories. The right veil, for example, can give your bridal look a lot of classic appeal. Feel free to play up the vintage look with kitten heels, pearls, or colorful gems.
Finding Your Dream Dress
No one style will appeal to every bride. It's all about finding a dress that's uniquely you. At Moonlight Bridal, we are eager to support you in this journey. We offer a variety of gowns featuring all kinds of silhouettes, materials, necklines, and aesthetics. Our lace and vintage wedding dresses are especially stunning. Check out our collections online or visit an authorized retailer.
Photo Credits: Move Mountains Co.