Lace Wedding Gown Trends
5 LACE WEDDING DRESS STYLES & TRENDS
When it comes to wedding gowns, lace is the universal love for many brides. From traditional embroidered lace to a chic modern style that includes 3D garden inspired appliques to sparkly beaded lace options, there are many different types of this fabric available. Even if you're searching for a more simple look, options that feature Chantilly lace or embroidered lace details could still be the perfect match.
As you prepare to find your perfect bridal look, follow along as we explore five current trends and styles to consider when shopping for the perfect lace wedding dress!
BRIDAL GOWNS WITH EMBROIDERED LACE APPLIQUES
If you've dreamed of having lace on your gown, it's likely you may have envisioned embroidered lace appliques. This is a popular approach to adding this type of fabric to a gown, and is seen on designs ranging from minimalist to luxurious. A lace appliqué is about the size of your palm and is typically sewn on an illusion tulle or net base to create some depth as it's artfully placed on a wedding dress. The beauty of these timeless appliques is that it can be placed on any part of the gown - the bodice, skirt, sleeves, or train, and will look effortlessly beautiful on every placement.
Love a trendy, timeless look? Style H1393 is a high fashion and flirty lace ball gown with Swarovski crystals that will leave you looking both glamorous and elegant. Re-embroidered lace appliques decorate the bodice which also includes sequin and crystal detailing for a little sparkle and shine. The sparkle details lead into a voluminous skirt that's crafted with cascades of tulle, making each twirl into a fairytale moment.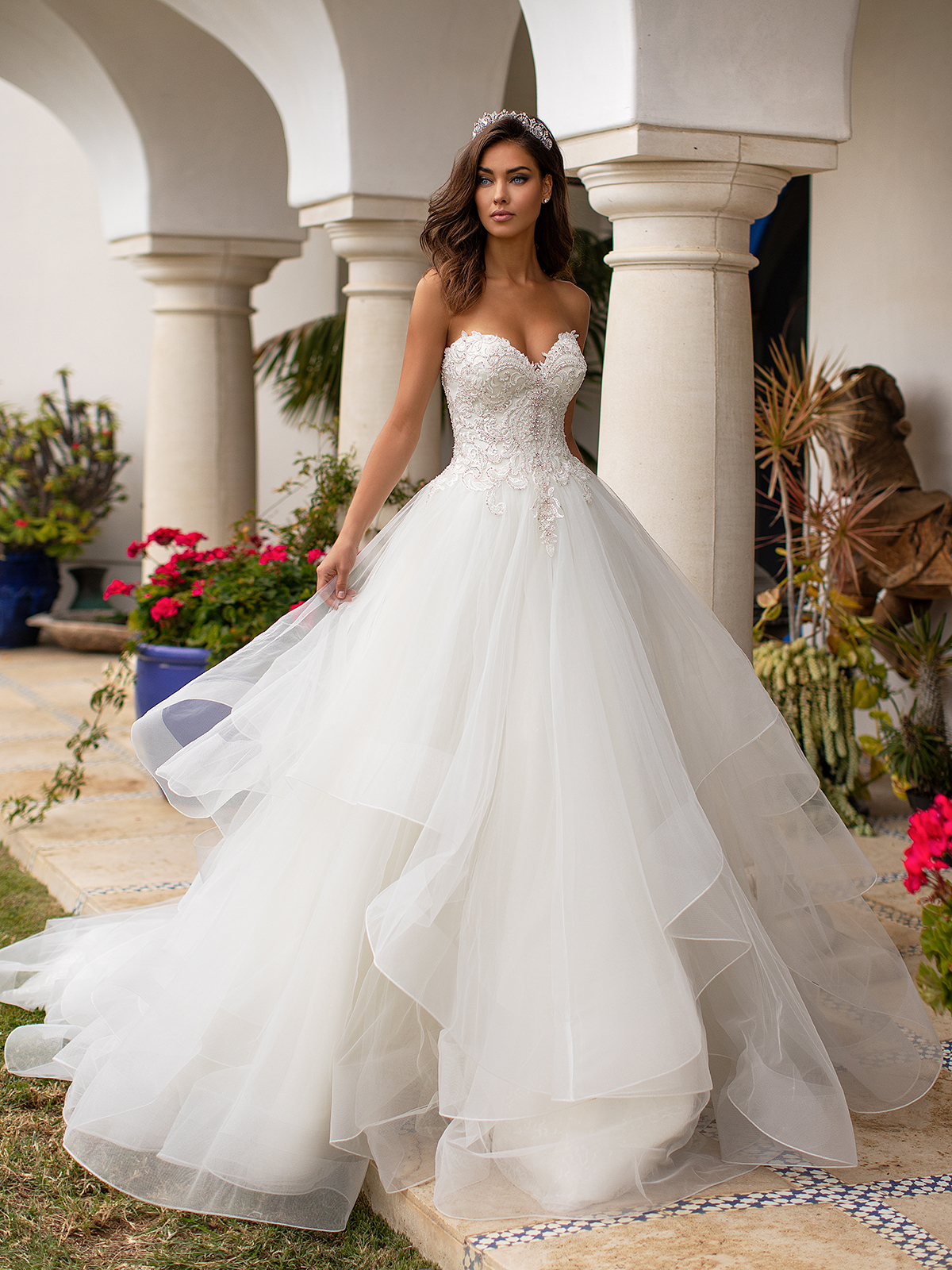 If you're searching for a gown that will highlight this fabric from top to bottom, meet style J6774, a vintage lace long sleeve wedding dress. This style features a stunning mermaid silhouette paired with embroidered lace appliques that waterfall from the illusion bateau back and onto the sleeves for a ravishing old Hollywood glam look. And for the perfect finish, appliques are placed on its semi-cathedral train, creating an illusion style that will have all eyes on you.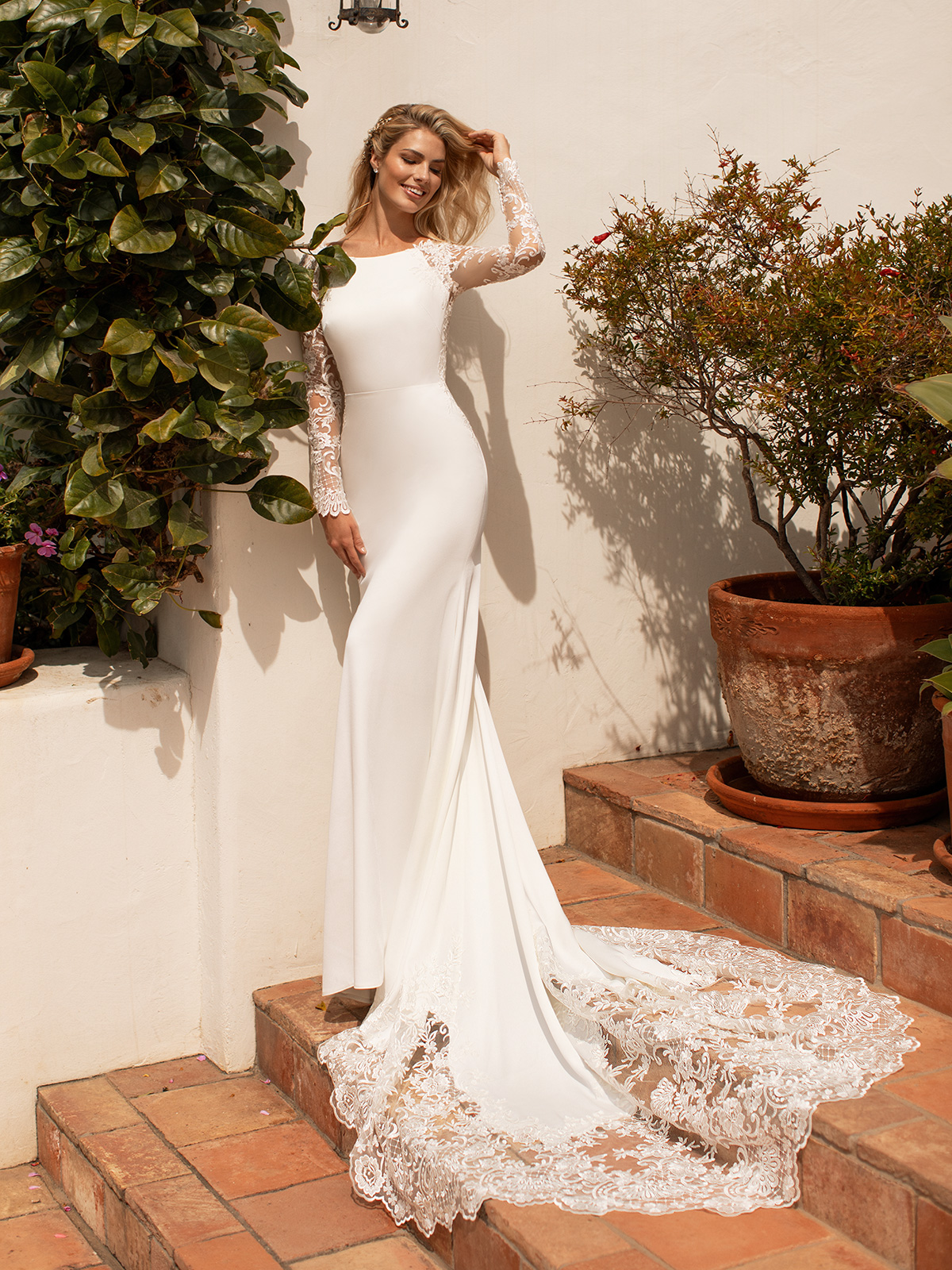 3D FLORAL LACE WEDDING DRESSES
For some texture and volume on your bridal gown, 3D lace appliques are a wedding dress trend that we have fallen in love with. From small soft petals to full flowers, 3D appliques create an unforgettable ethereal look for a bride seeking the ultimate floral design.
Searching for something fanciful and ethereal? Style H1394 is a 3D floral lace wedding gown that includes the most intricate organic 3D flowers for a showstopping, textured look. This voluminous A-line bridal gown features a deep sweetheart neckline with an illusion inset while its bodice is dripped with 3D florals of all sizes. These florals add structure to your silhouette, accentuating all your curves in the most flattering way. And with a cascade tulle skirt, these florals pop out even more with each step you take down the aisle.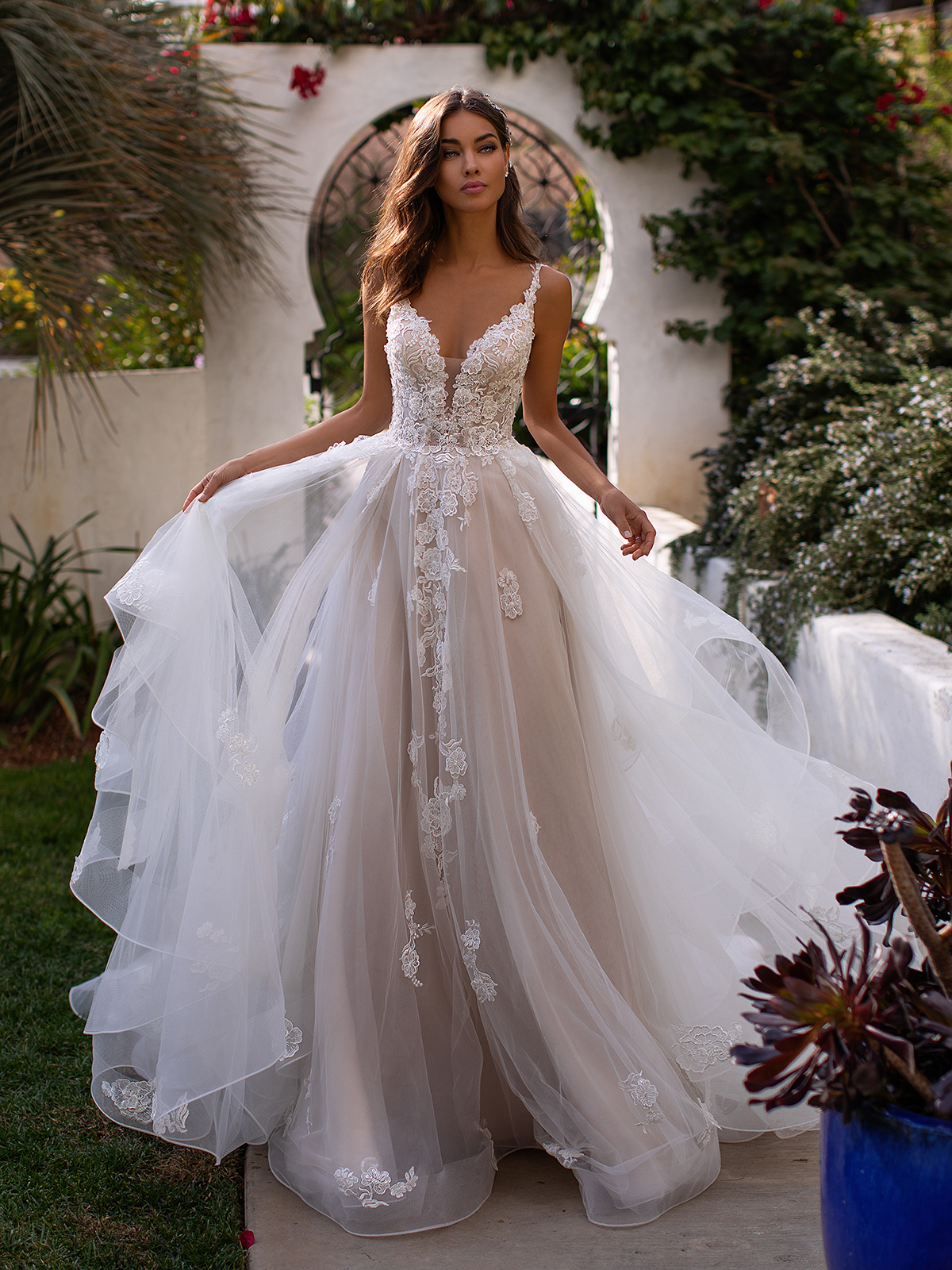 For brides looking for something a little more sultry and lavish, style H1430 was made just for you. This floral lace mermaid gown with off the shoulder sleeves is just as glamorous as it is romantic. It includes an illusion cathedral train with soft delicate 3D flowers. The dainty swag sleeves and sweetheart neckline pair together for a classic, timeless look. A statement train combined with these stunning details will have your significant other swooning all night.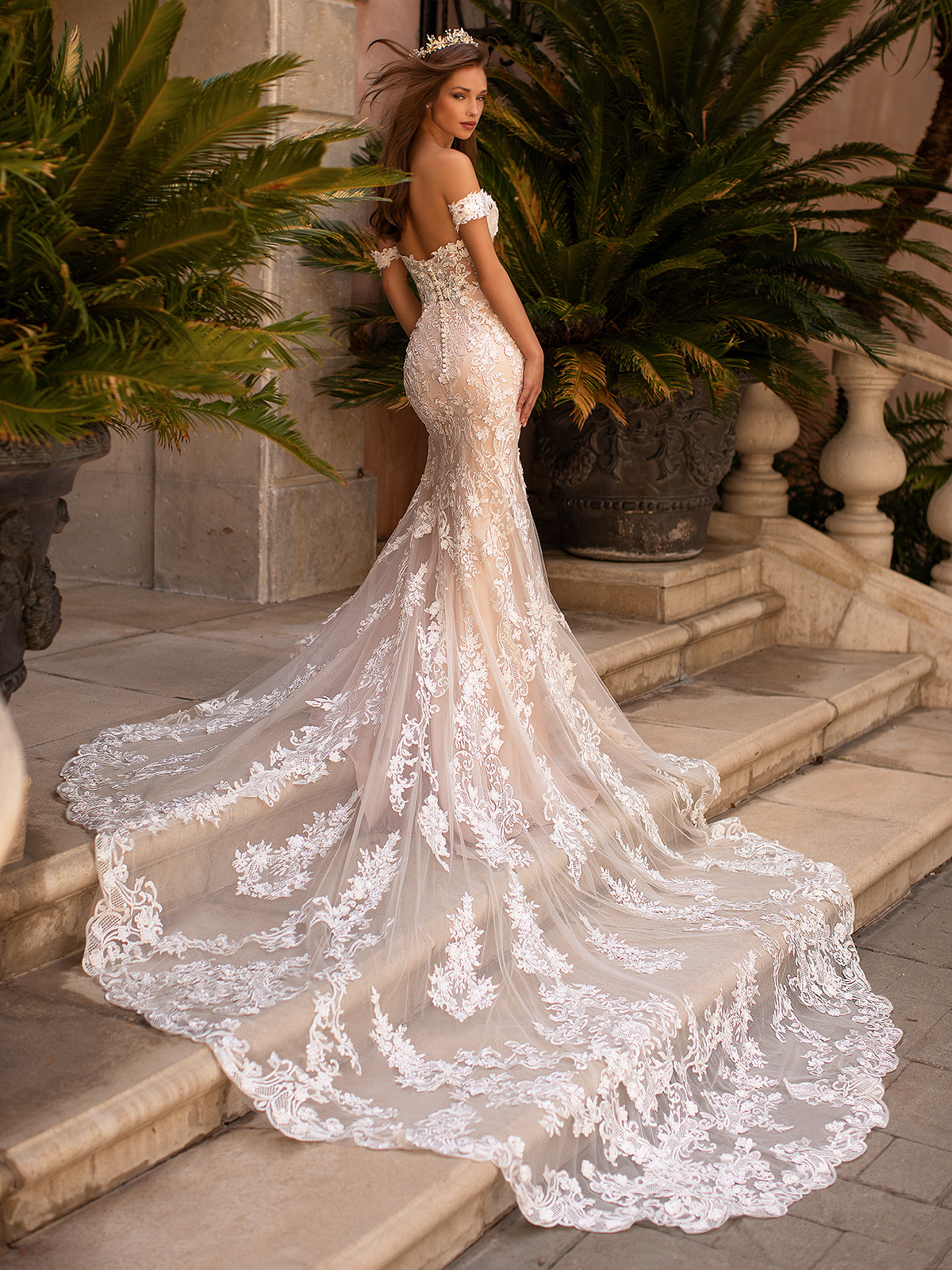 SPARKLY AND BEADED LACE WEDDING GOWNS
We love the elegance of lace, but what happens when you combine it with some sparkles and beading? You have a dream come true! This fabric is beautiful on its own, but why not add a few additional embellishments? This combination will have you shining all the way down the aisle.
Style J6775 from the Moonlight Collection is a perfect example. This beaded lace mermaid gown with spaghetti straps is gorgeous with its crystal, pearl, seed bead and sequin detailing. These gems blend together with a lace design to create a sexy glamorous style with a vintage twist that shines as bright as the stars.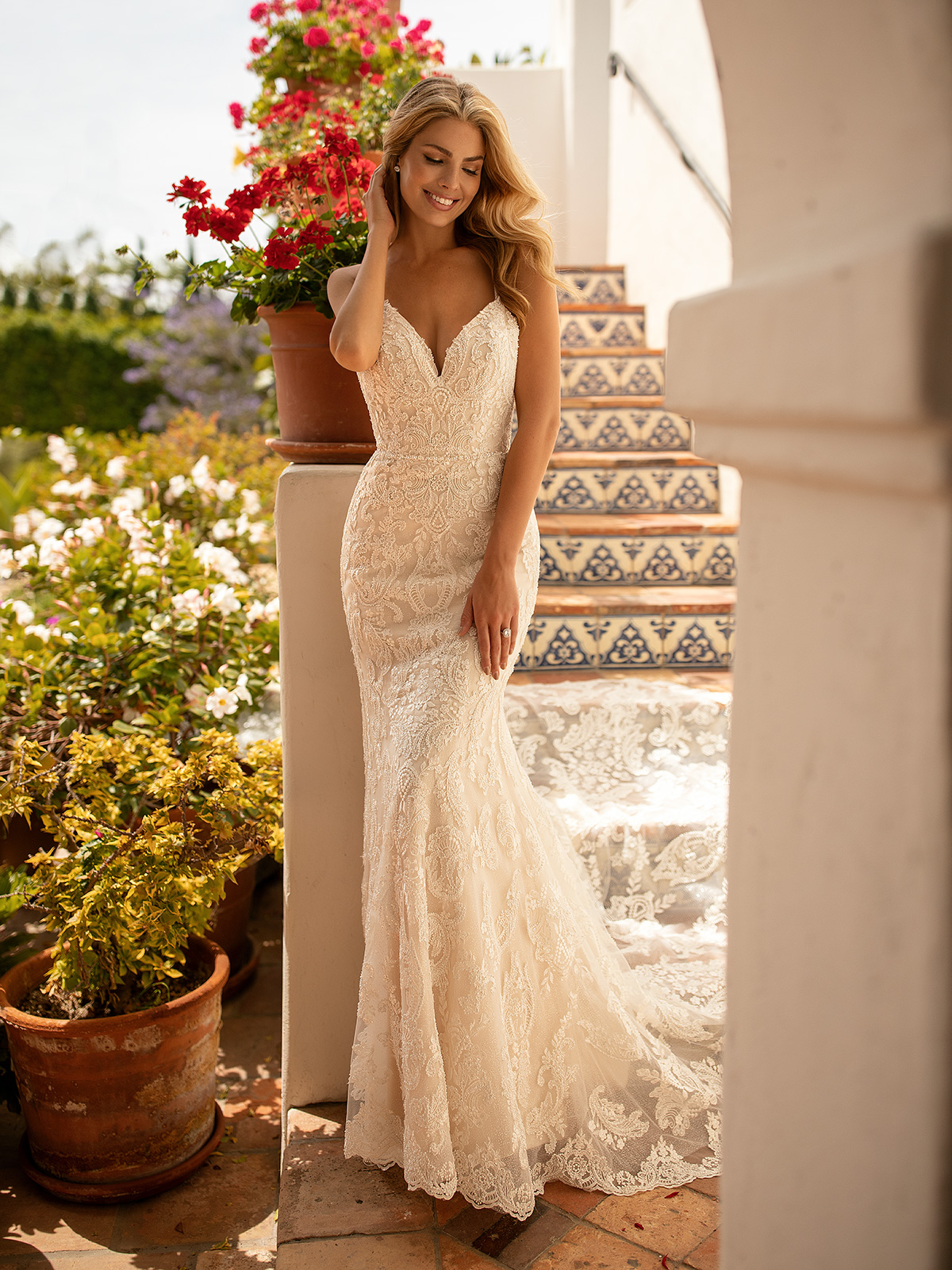 Brides searching for that ethereal, fairytale look will love style J6824. This sparkly lace wedding gown features a full A-line silhouette and a beaded floral lace bodice creating the perfect duo of glamour and chic. The beaded straps are paired with a classic sweetheart neckline and a unique crisscross back. From the waistline line down, a cascade tulle skirt flows effortlessly out giving you a twirl worthy gown with just the right amount of shine.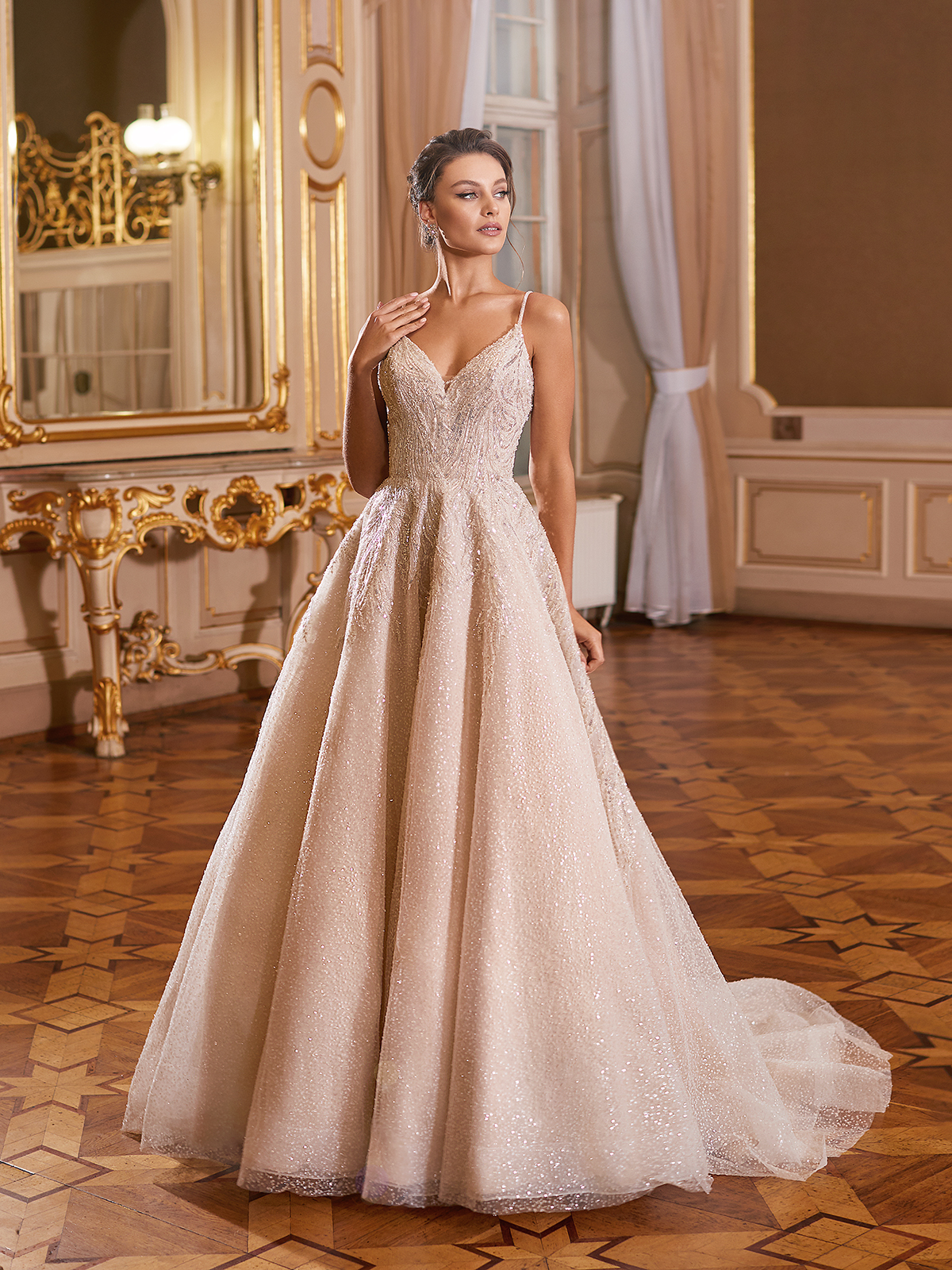 ALL OVER LACE BRIDAL GOWNS
For the traditional bride, an all over lace wedding dress may be the answer! These gowns not only exude elegance and grace, but are also comfortable and timeless. Chantilly and embroidered lace are two types typically featured on these designs.
Style J6702 is the queen of all Chantilly gowns. This mermaid wedding dress with an illusion train includes the soft fabrication that marries into the sexy silhouette. It features a plunging v-neck with an illusion inset. The illusion open back leads down to a striking semi-cathedral train that will have your guests in awe. The train includes a net overlay with chantilly lace embroidery along the hem edges for the perfect finishing detail.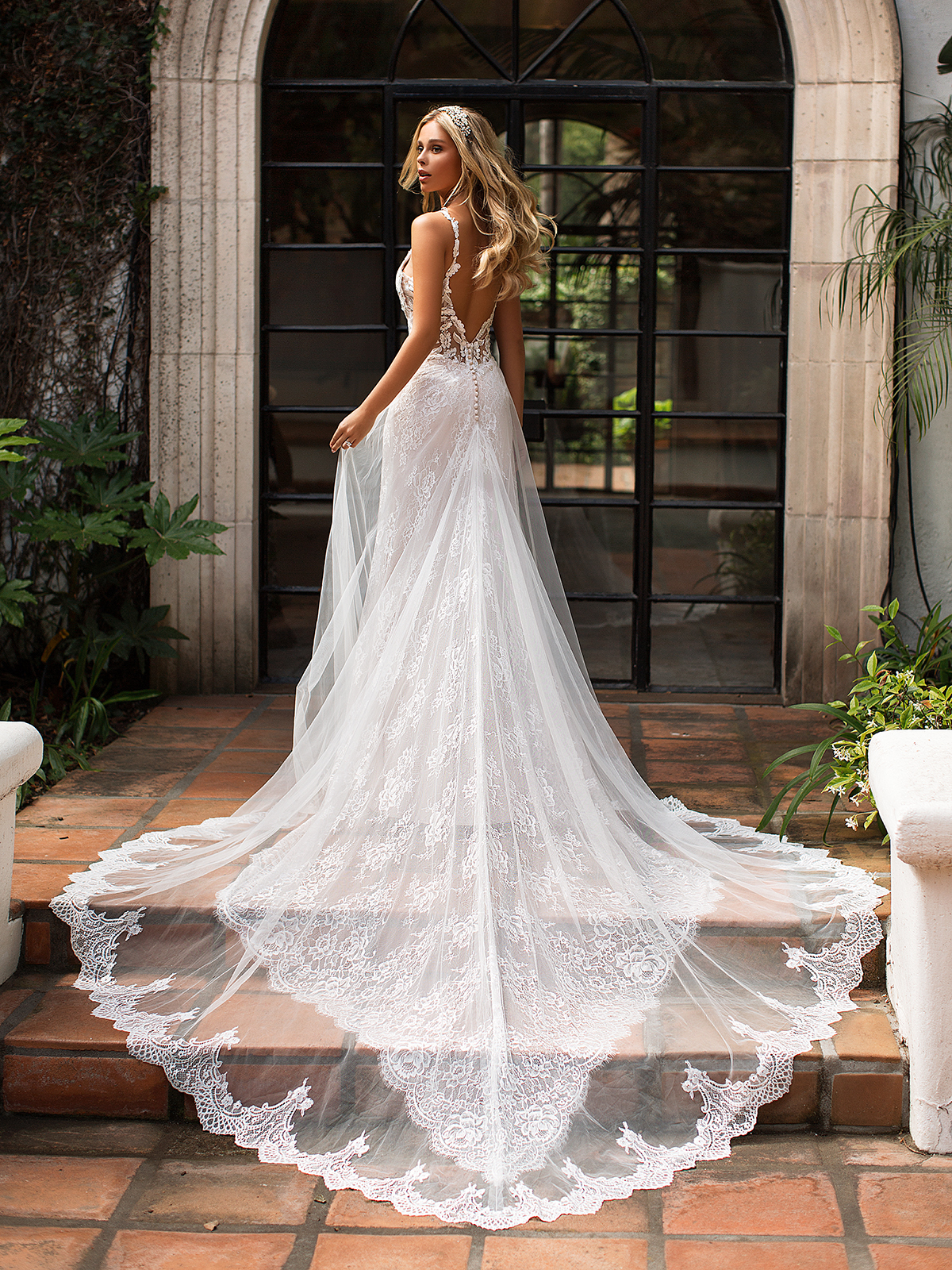 For the bride that wants a modern flare to this beautiful fabric, style H1468 from our Moonlight Couture collection is your perfect match. This stunner uses Chantilly lace fabric to create a glamorous mermaid wedding dress. From cap sleeves, to the illusion back and down to the cathedral train, Chantilly fabric covers this gown from top to bottom for the perfect blend of glam and vintage.
SIMPLE LACE WEDDING DRESSES
Gowns using this material can also have a more minimalist approach. If you're looking for a bridal style that's a bit more simple with minimal embellishments, our Moonlight Tango Collection may be for you. This collection is made for the boho bride that's looking for a simple lace wedding dress.
If you're looking to avoid dramatic detailing, meet style T872. This simple lace bridal gown with a v-neckline perfectly balances elegance and beauty in a tasteful way. Re-embroidered lace appliques flow throughout the bodice and just below the waistline, adding just enough detail for a bride that loves a simple look. This design also features a full A-line silhouette and an ethereal tulle skirt that will have you twirling all night long.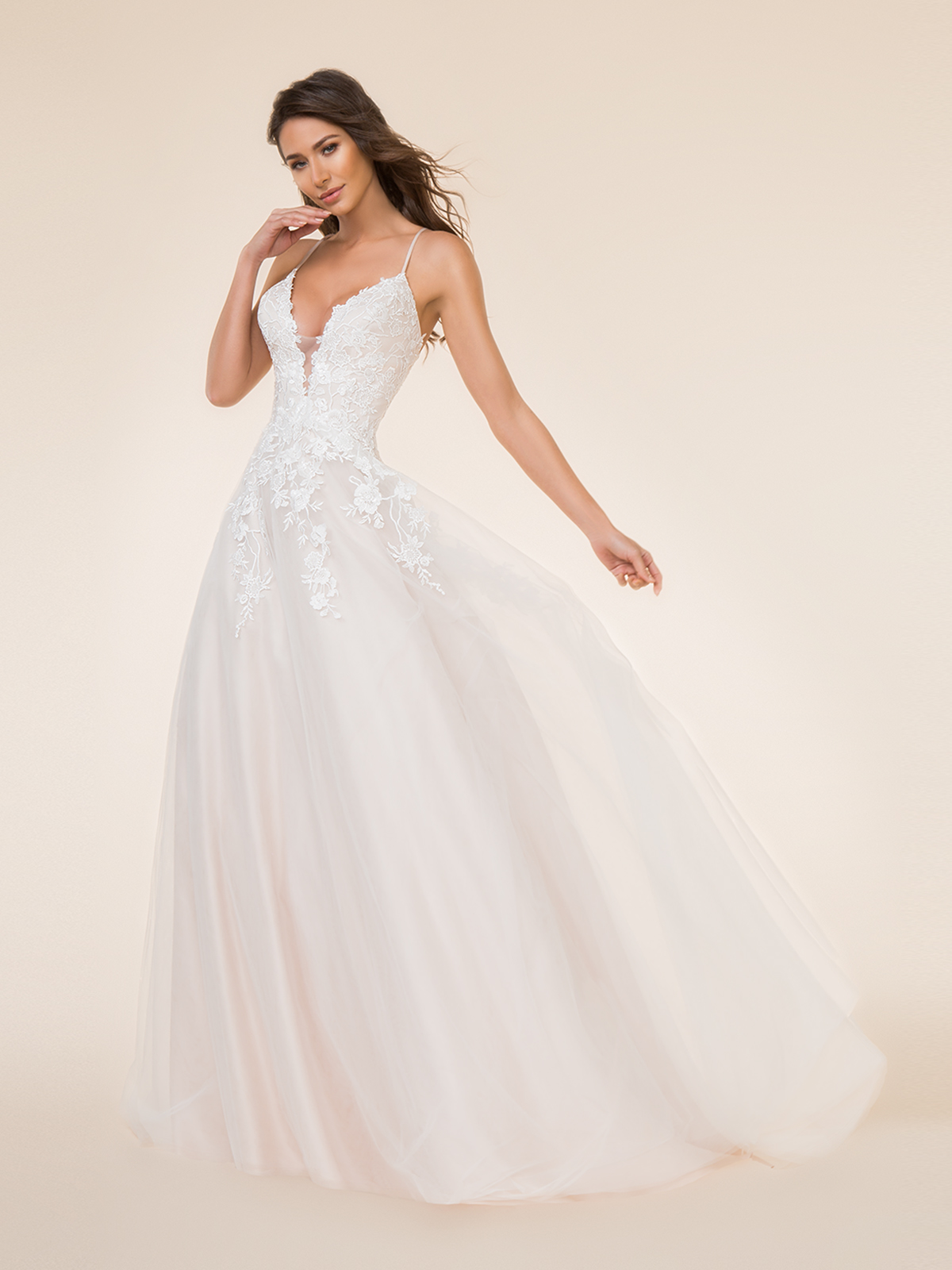 For a bride seeking a simple boho wedding dress, style T912 will make all your dreams come true. This classic A-line wedding gown includes a venise lace fabric with flowers and embroidered lace appliques. A lace trim band sits at the natural waistline, adding some curve and depth to this design. This gown was made for a gorgeous garden ceremony.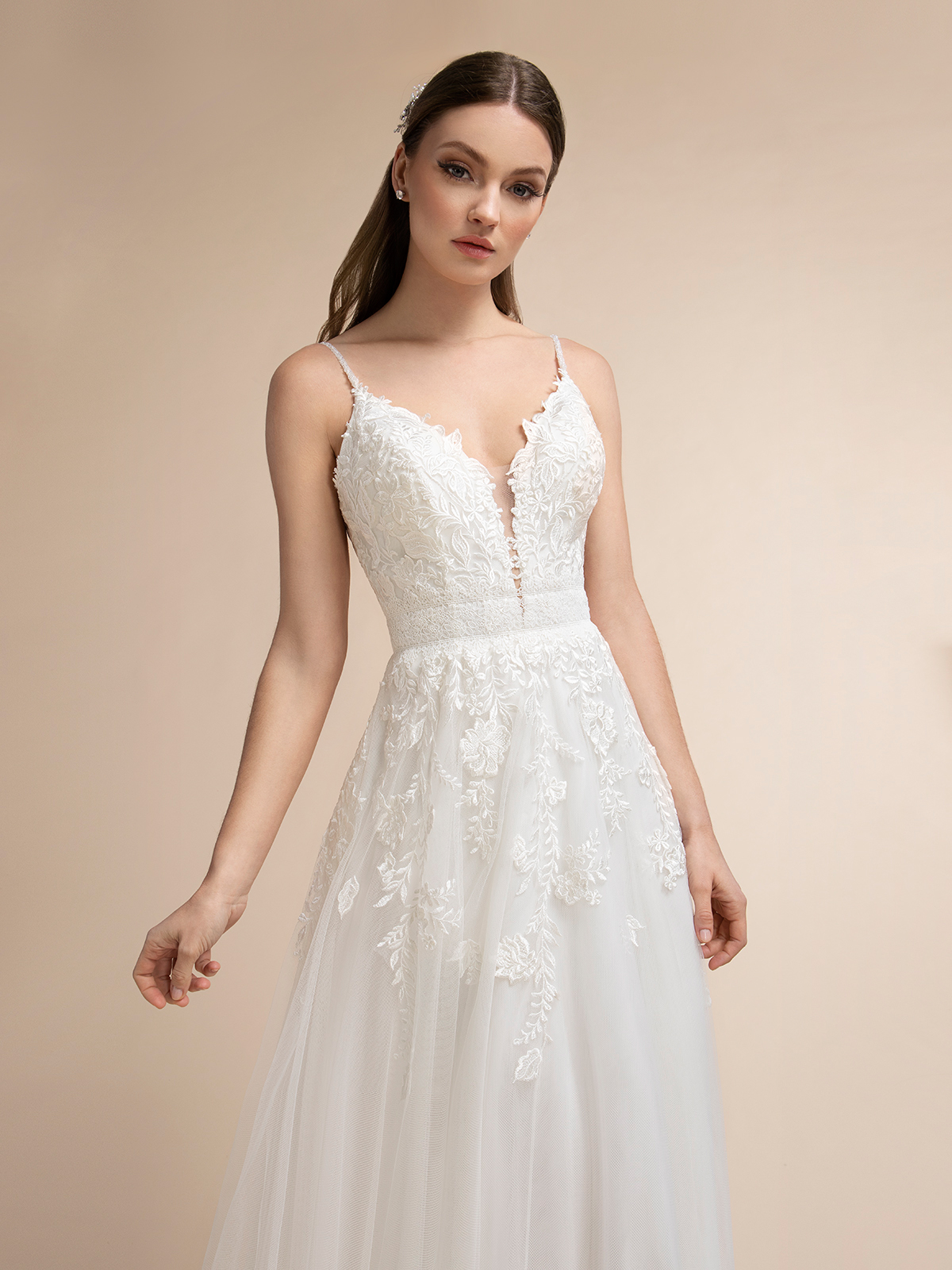 Where to Find Your Gown (H3)
Lace wedding dresses are as elegant and timeless as can be. This fabric can turn the most simple gown into something magical. From embroidered lace appliques with sparkle and 3D flowers, to simple and delicate Chantilly lace, there's an unforgettable style for every bride. Ready to find your dream gown? Find your local Moonlight Bridal retailer to set up an appointment today.