Outdoor Wedding Ideas & Dresses
Outdoor Wedding Dresses & Venue Ideas
Spring and summer (and even some of fall) are also known as outdoor wedding seasons! If you're a bride who will say "I do" beyond the ballroom and instead in the great outdoors, read on.
Outdoor bridal gowns can vary from casual to couture. Choosing a style really depends on your personal taste, the time of year, weather and your venue selection. We've put together six great dresses perfect for an outside event, along with venue inspiration and tips from several top-rated wedding planners.
Outdoor Wedding Dress Ideas
Many couples choose to get married outside, no matter the season. Winter wedding gowns may require a bit more coverage, such as long sleeves, while fall ceremonies could be either warm or cold.
Since spring and summer are two of the most popular seasons for holding outdoor weddings, we put together wedding gown ideas below for these two seasons. Keep in mind, these designs could also work for an outdoor ceremony any other time of year, you just may need some added accessories for warmth.
Spring Wedding Gowns
Springtime is filled with flowers, warmer weather, and beautiful pastel colors. These spring dress ideas pull inspiration from this delightful season:
Casual Floral Print Lace A-Line
When you think of outdoor spring ceremonies, a lightweight bridal gown is a must. Moonlight Tango T953 is made for a fairytale outdoor garden wedding with its lightweight chiffon fabric, embroidered floral print lace appliques, and deep sweetheart neckline. This romantic A-line design is one that leans a bit more casual, and the A-line cut is almost universally flattering. It's fitted at the waist then gradually widens out to the floor, like the shape of an "A."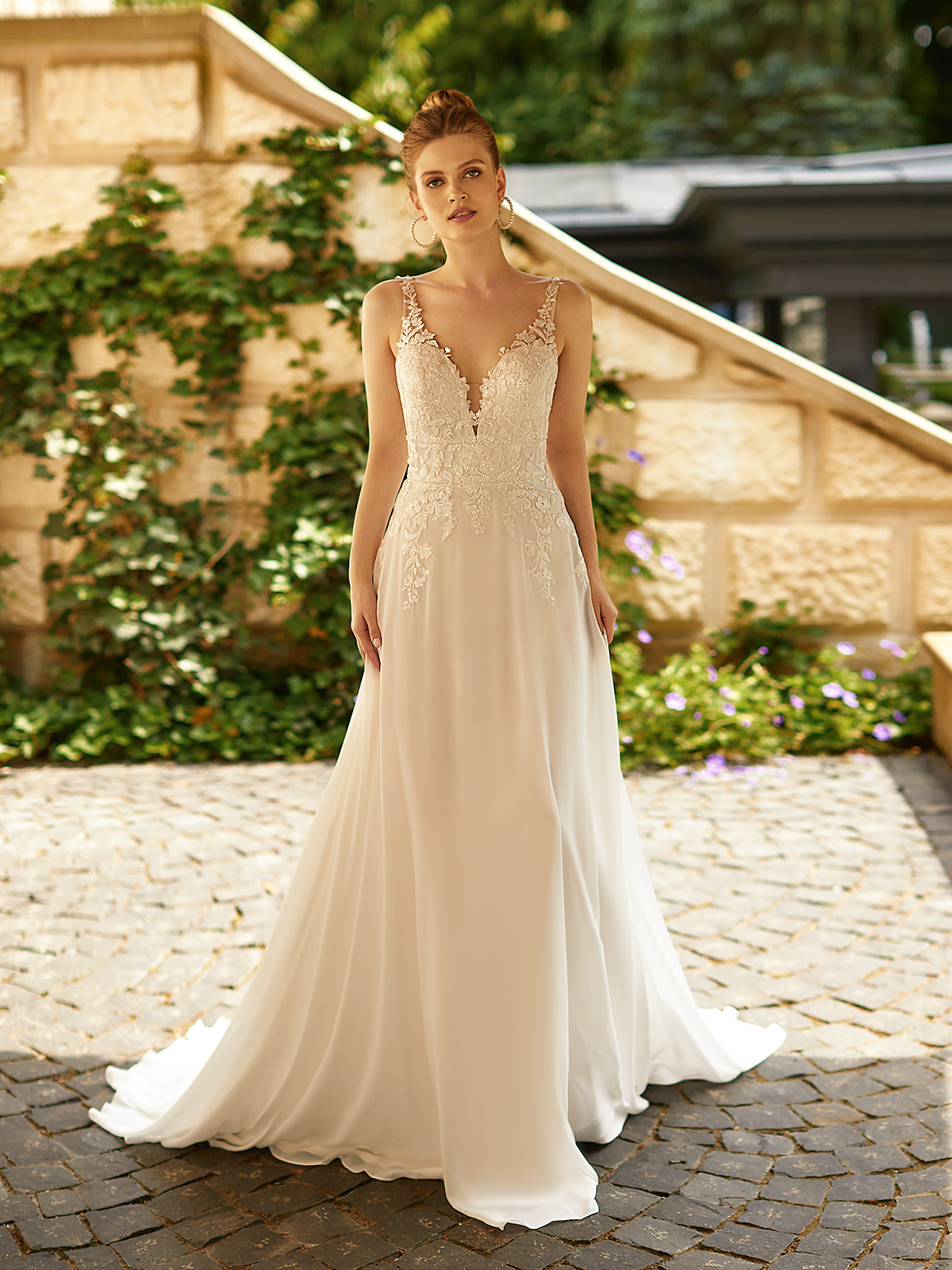 Lightweight Chiffon & Beaded Halter Neckline
Feeling comfortable and vibrant on your wedding day is a must. Thankfully, you don't have to give up ornate embellishments when picking a lightweight, flowy gown. Moonlight Tango T968 checks all of the boxes. This boho-chic chiffon gown allows for dancing and breathability, but the intricate embellishments are stunning. The bodice is crafted with delicate lace fabric that includes beaded embroidered lace appliques to add some sparkle. The A-line slit skirt paired with the halter neckline and keyhole back combine to create a romantic, tasteful look.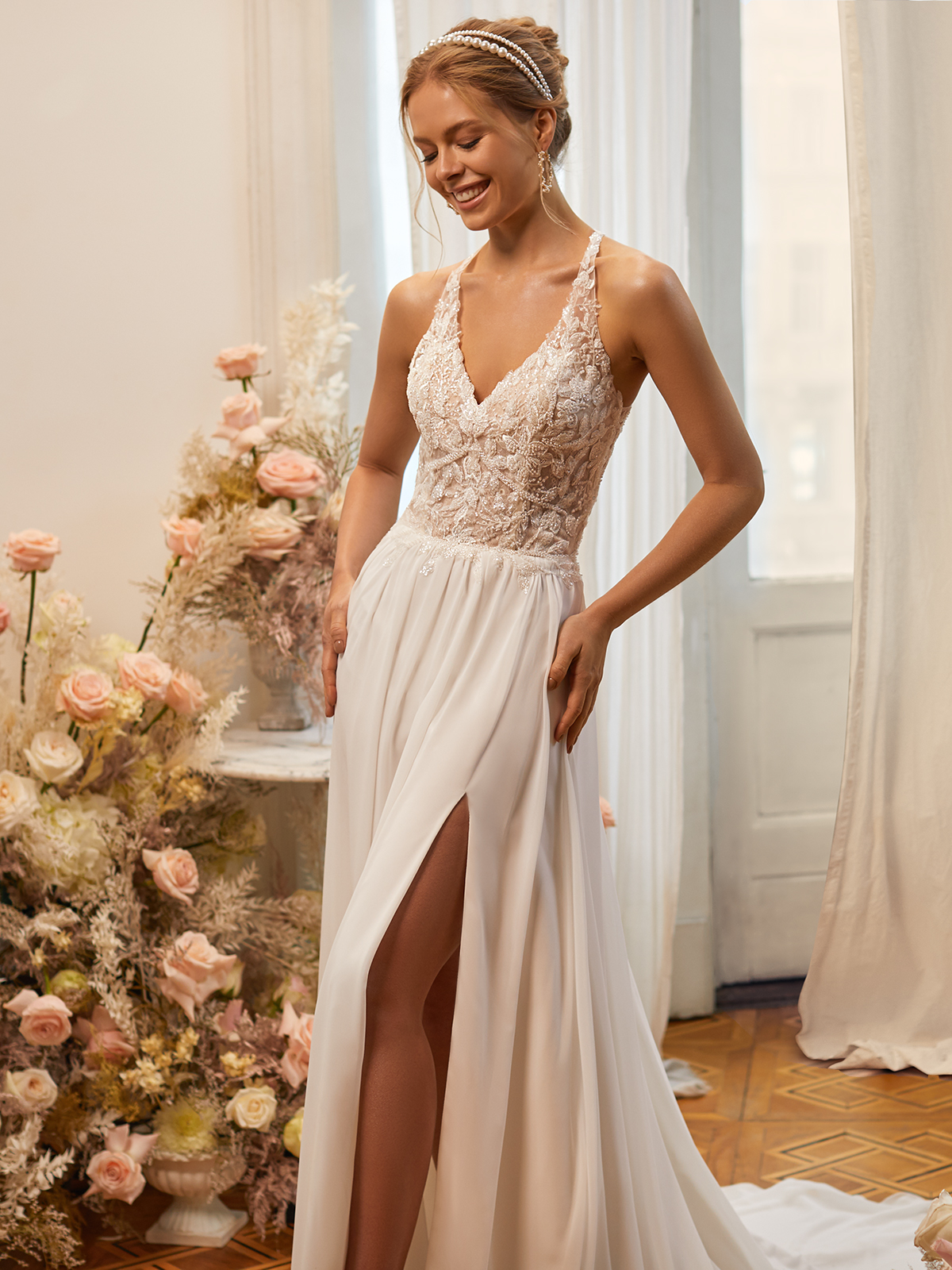 Delicate Lace Mermaid Silhouette
Sexy and refined, Moonlight Couture H1483 is sure to impress. The dreamy mermaid silhouette hugs your curves while the light floral lace chapel train flows elegantly behind you. This design features off-the-shoulder swag sleeves, beautiful lightweight chantilly lace, a plunging sweetheart neckline, and an open back. This dress is perfect for a sophisticated outdoor ceremony.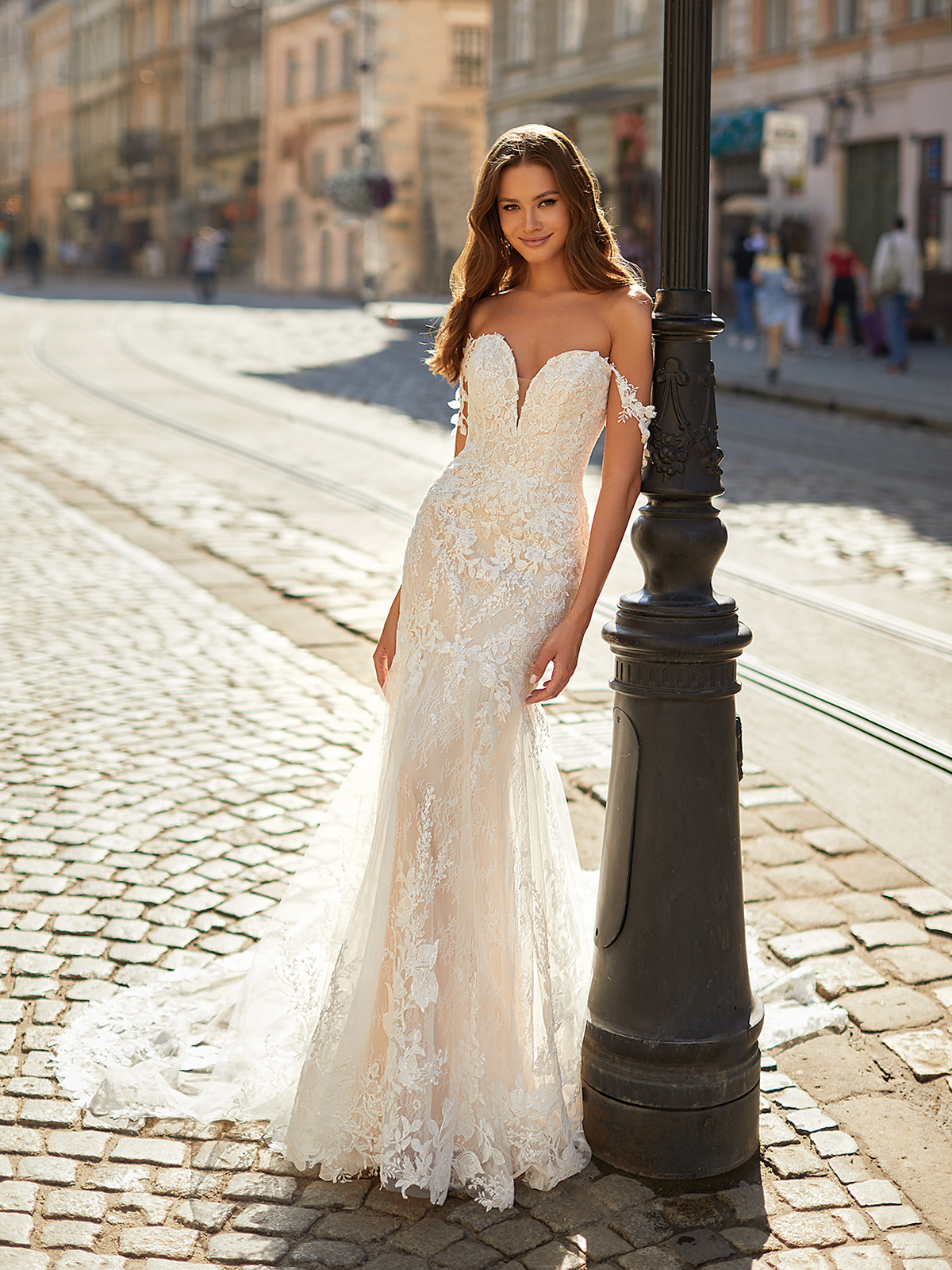 Outdoor Summer Wedding Dress Ideas
Summertime and outdoor memories go hand-in-hand. This season brings warmth and sunshine, two things perfect for an outdoor wedding. We put together a few possible gown ideas for this time of year below:
Sleek Spaghetti Strap Gown
Our Moonlight Bridal T922 is a simple mermaid gown that's nothing short of stunning. This spaghetti strap bridal dress combines stretch crepe back satin with beaded details along the spaghetti straps and low illusion back for a touch of sexy romance and simple elegance. Can you imagine wearing this look for a park, garden, or beach wedding? We can!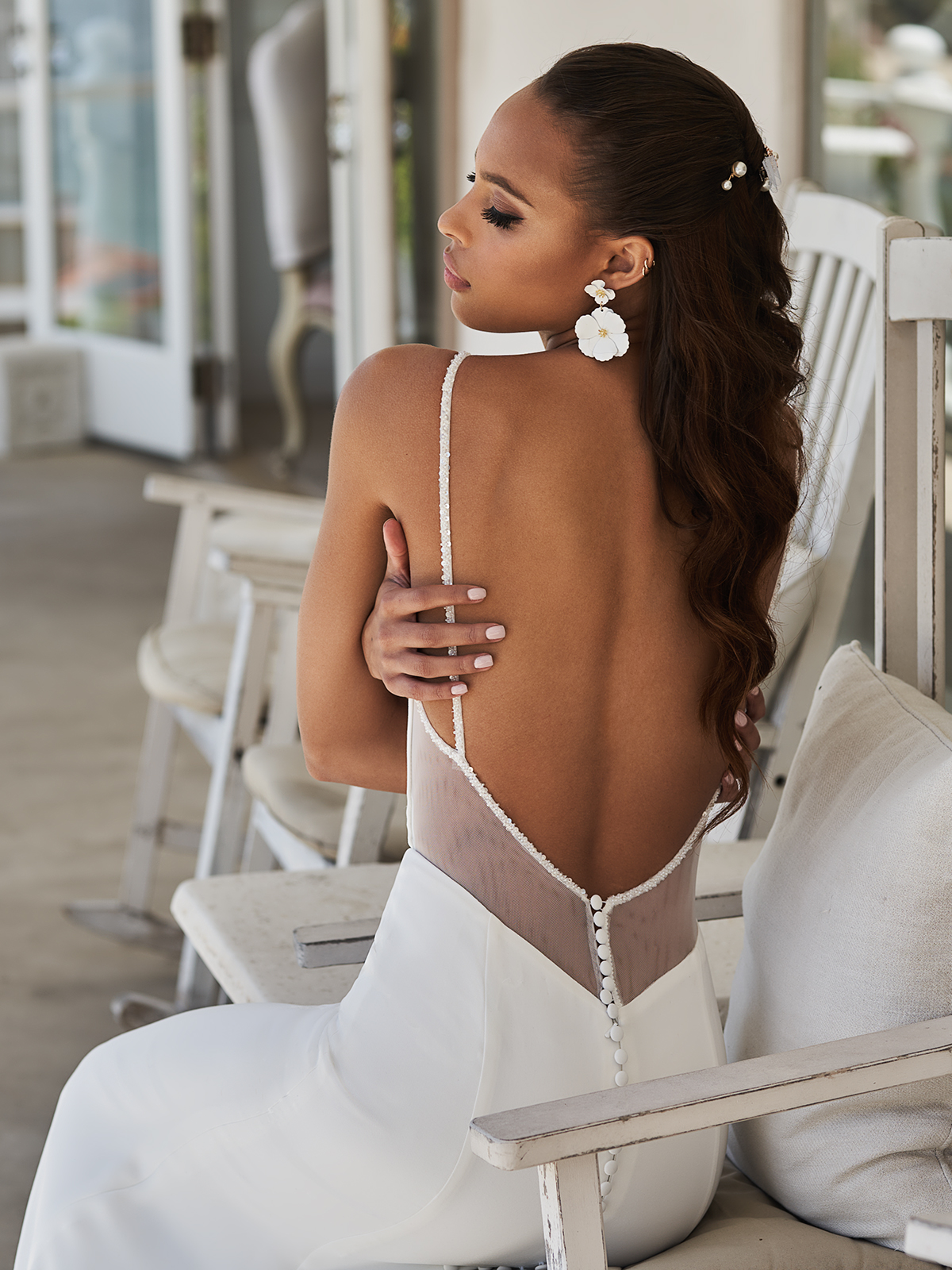 Mermaid Silhouette with
a Plunging Neckline
Are you more of a glam or sexy bride? Do you want to "wow" your guests? Then consider Style H1501, a mermaid cut gown that hugs your curves then flares out near the bottom. This V-neckline bridal dress features an unlined bodice, a drop waist, and a gorgeous chapel train. It's a stunning choice for a formal wedding at a rooftop, garden, estate, winery, or ocean-front resort. Embrace your inner goddess in this show-stopper gown.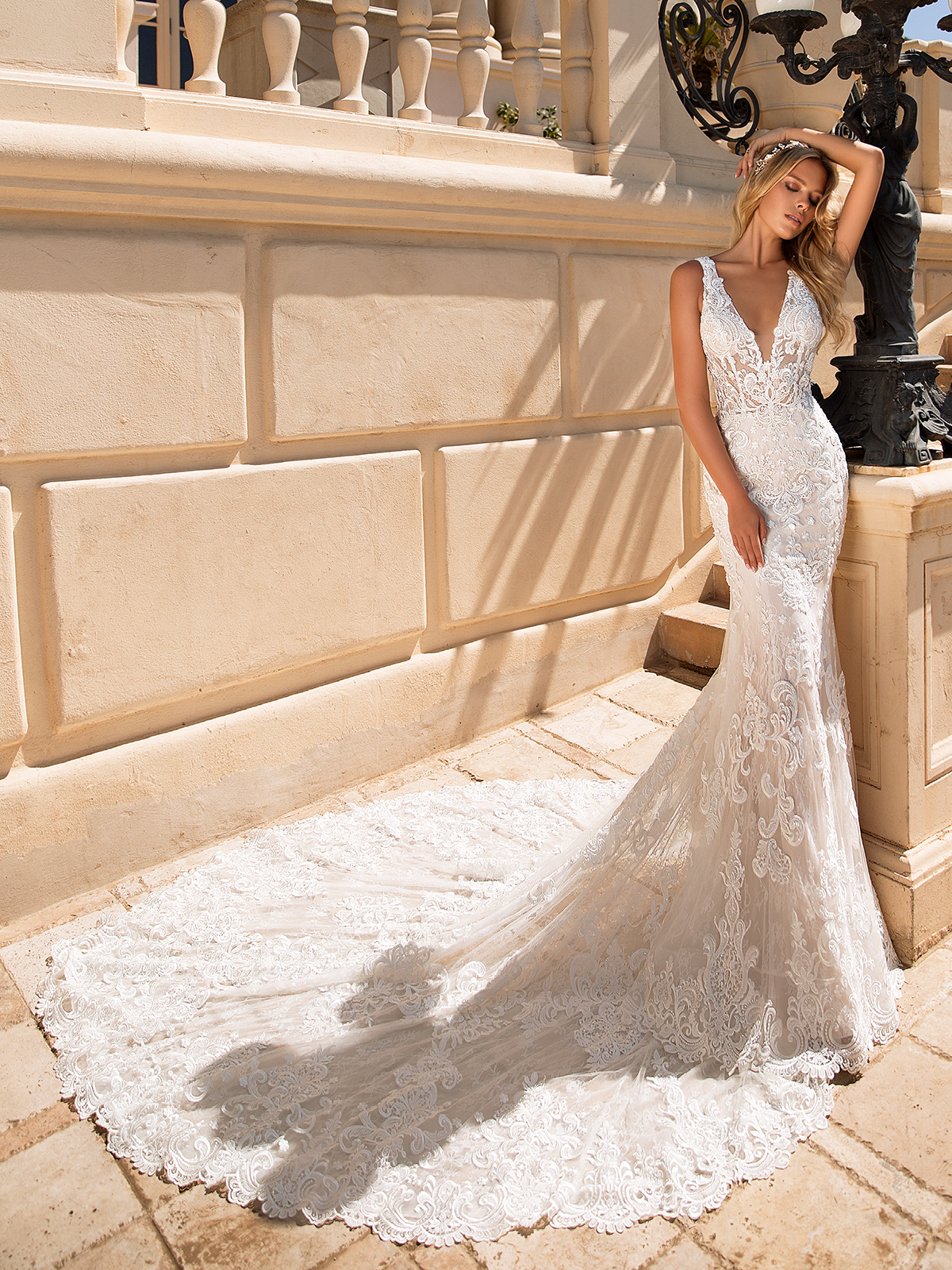 Trumpet Silhouette with Pearl Straps
If you're somewhere in between informal and formal, a fit & flare could be the way to go. It's both form-fitting and casually elegant. We love Moonlight Bridal J6858, a trumpet silhouette gown with a daring low back. This design includes beaded spaghetti straps that lead directly into a breathtaking low scoop shape in the back. The dress is crafted with Chantilly lace and also includes sequins for a touch of sparkle. As far as gowns for an outside wedding go, Moonlight Bridal Style J6858 may take the cake.
Now that you have some dress inspiration for an outdoor event, it's important to get some ideas on the types of venues to consider.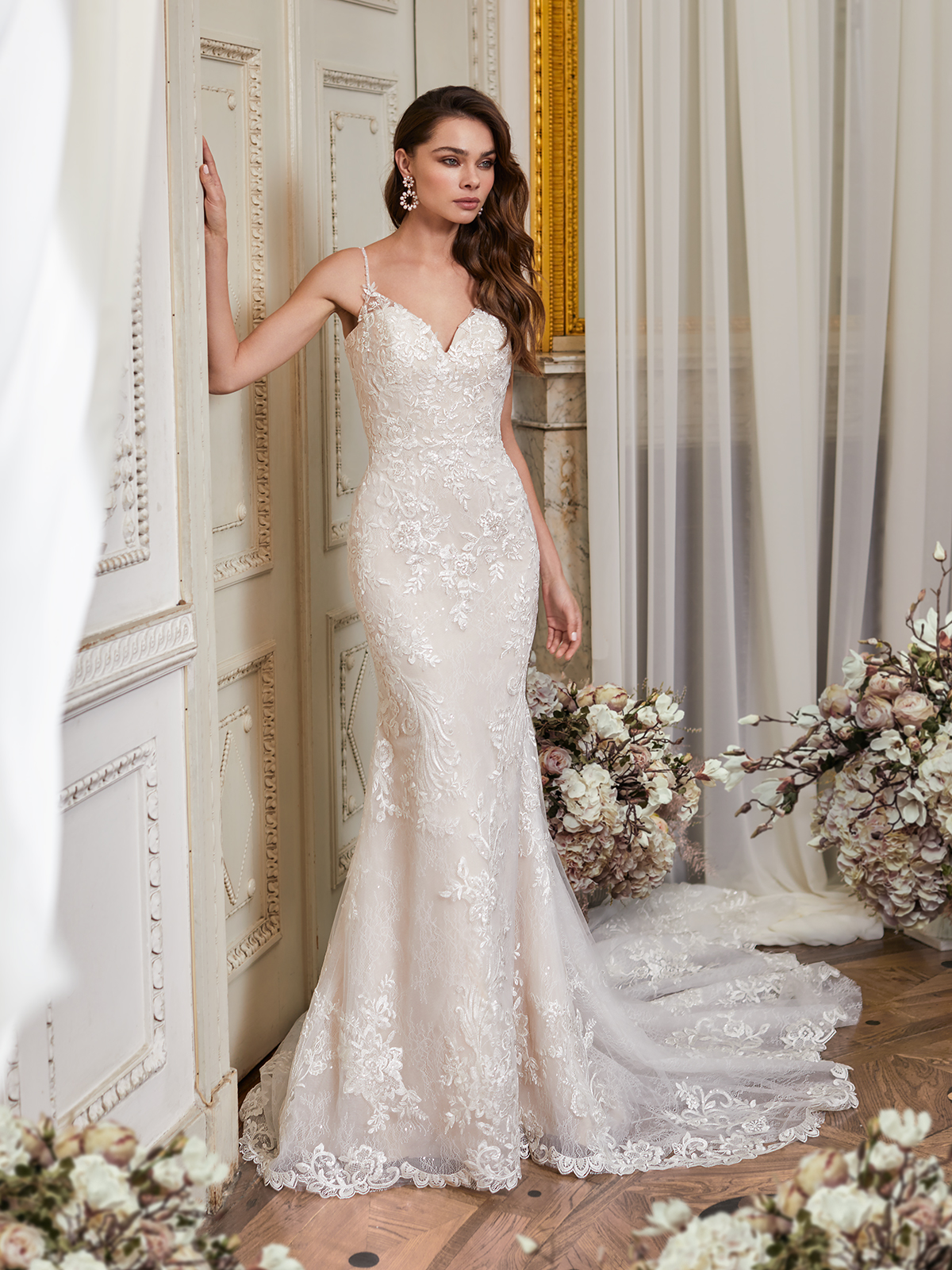 Different Types Of Outdoor Wedding Ideas & Venues
With spectacular photo opportunities, it's no wonder outdoor weddings are popular. According to Diane George, Owner and Senior Consultant for Covenant Weddings & Occasions in Maryland, mansions with lush gardens and vineyards with rolling hills are in higher demand in the D.C.-Maryland-Virginia area. Waterfront weddings are also a stunning option.
San Diego weddings are mostly about the waterfront according to Amy Ulkutekin, Owner and Event Producer for First Comes Love Weddings & Events. That's because in San Diego, like many coastal cities, there are so many venues with epic water views.
Resorts and restaurants can offer views of oceans, lakes, mountains, gardens or vineyards. But if you're looking for a location off the beaten path, consider these venues as picturesque outdoor wedding ideas:
Botanical garden

City or national park

Courthouse

Cruise

Farm or ranch

Historic home

Museum

Outdoor theater

Public beach

Summer camp

Winery

Zoo
Before you book an outdoor wedding venue, consider the season and potential problems. Your dream venue may be better suited for heat, wind, rain or snow. Today's hottest decor trends may also be better suited for a particular season.
Outdoor Wedding Ideas for Spring/Summer
Curious about spring/summer decor trends? Diane George says, "Outdoor weddings in gardens and vineyards have become more relaxed and less formal....the country look in decor." She sees more wood signs, loose field flowers, benches, farm tables, and canopies with draping. Amy Ulkutekin notices more canopies too. They can be placed over guest tables, providing a light shade as well as a sheer spring/summer effect.
Other decor trends? Ulkutekin shares, "This summer, hexagon and circle arches are all the rage." She points out that these fun shapes can be used as backdrop for the ceremony then repurposed behind a sweetheart table or cake table. Talk about a unique photo backdrop! Ulkutekin sees terrariums shining in the decor spotlight. This makes sense as terrariums fit in with the 2018 trend of geometric details--from invites to cake design. And Ulkutekin reports the popularity of rose gold continues this summer.
Is a black-tie affair more your style? George says rooftop weddings continue to remain more formal in decor: Chiavari chairs, tighter bouquets and floral canopies. String trios are a classy musical touch.
Regardless of your style, there are outdoor wedding ideas for spring/summer every couple needs to consider: weather preparations. Both George and Ulkutekin agree that guest comfort is critical. Ulkutekin suggests sunscreen and sunglasses to beat the heat. George suggests combining comfort with style: sparkling water served in goblets or a keepsake hand fan, for example.
Outdoor Wedding Ideas for Fall/Winter
Guest comfort is typically a bigger issue for fall/winter outdoor weddings. But that doesn't mean you can't have one! "It's all about your guest experience," says Ulkutekin. "If guests are shivering because it's cold and windy, that's what they'll remember and talk about." Don't panic though. She suggests providing pashminas, hand warmers or heat warmers.
Wind can be particularly pesky. George learned this the hard way early in her career. "I ended up chasing escort cards all through cocktail hour as they blew in different directions!" She's now a pro when it comes to designing weather-considerate weddings. For example, instead of escort cards she recommends a sturdy seating chart that can't blow away (but not a mirrored seating chart for a sunny day, even though it's popular, because the glare makes it hard to read).
Both wedding planners highly recommend a "B plan." Scorching heat, stormy wind, or drenching rain can ruin all outdoor wedding ideas. Renting a tent could save the day. But having an inside location "back-up" at your venue is best.
George shares an interesting workaround where fall/winter weather is likely an issue. She recommends choosing a venue with floor to ceiling windows overlooking a beautiful view. This protects your wedding from the elements but gives the illusion of being outdoors.
Key Takeaways
Hosting an outdoor event comes with its challenges, but the beautiful scenery is the payoff.
Create your own fairytale outdoor celebration by picking the perfect gown and venue that will make your day special. Want to see more outdoor wedding dress ideas? Browse our collection of
beach wedding dresses
or
couture bridal gowns
to find your dream bridal look today.