Halloween Themed Wedding Ideas
HALLOWEEN THEMED WEDDING IDEAS
When the temperature starts to cool down, fall weddings start heating up. What's not to love about this time of year? Seasonal treats like pumpkin and apple cider, the beautiful autumn colors, and the crisp air all bring about feelings of coziness. It's the perfect time to throw a beautiful wedding.
Another element of fall to look forward to is Halloween. If Jack and Sally Skellington give you inspirational couple goals and scary movies are your go to on Netflix, then it would only make sense to have a Halloween themed wedding.
Whether you prefer a rustic and elegant approach to this theme or one that's dark and spooky, there are so many options to help make your vision come to life. If October 31st (or a day close to it) is the day you'll say I do, read on to get tips and ideas for planning your Halloween wedding!
Halloween Wedding Dresses
There are so many options when it comes to choosing a bridal gown, especially one during this time of year. If you're looking to go a bit more edgy with the Halloween theme, a black wedding dress could be the answer. If you're looking for a more traditional approach for a bridal gown,
a simple lace dress in white or ivory could provide the rustic, timeless look you're after. We put together three Halloween wedding gown ideas to spark some inspiration.
Style H1477 is a glamorous ivory-colored bridal gown that includes stunning black lace accents. This A-line design includes layers of tulle and net, a scoop neckline, a dramatic chapel train, and illusion long sleeves. This style offers a traditional wedding day look with a twist that could be perfect for a spooky themed celebration.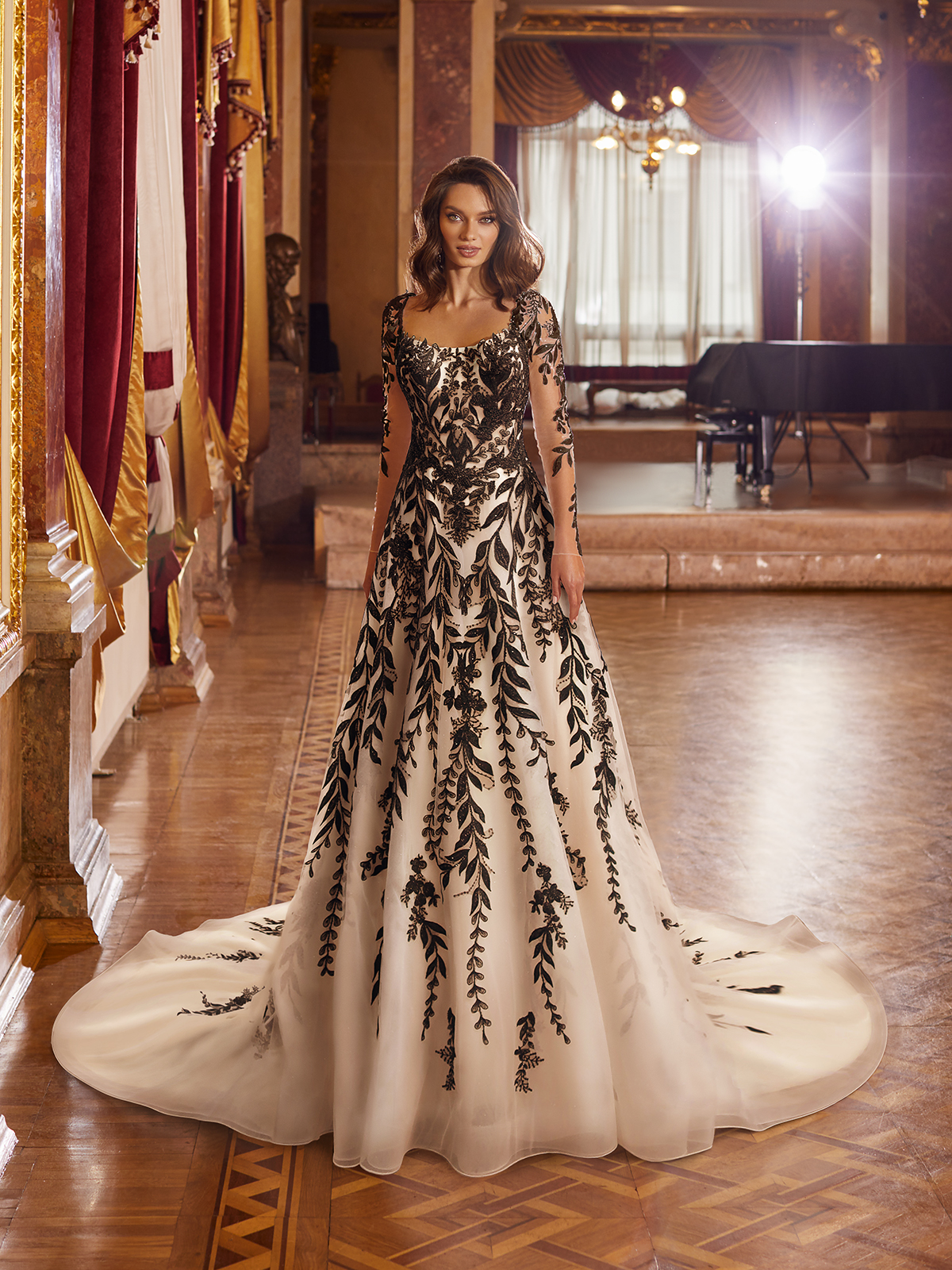 Sophisticated and romantic, Style H1475 is a mermaid style dress featuring black lace appliques placed throughout. This striking gown includes cap sleeves, an illusion v-neckline, a semi-cathedral train, and a gorgeous keyhole back.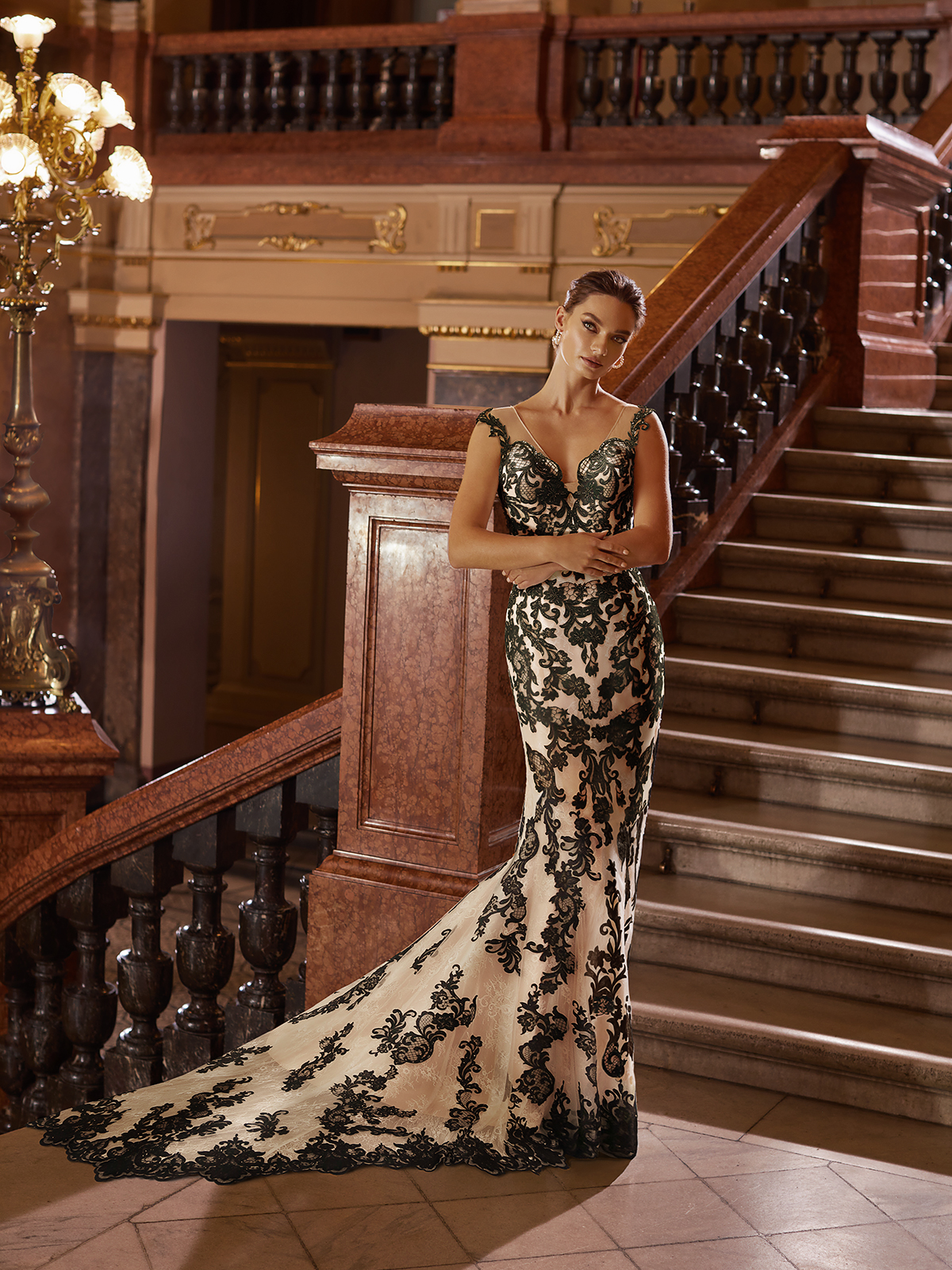 Style T939 is a more traditional crepe bridal gown with beautiful embroidered lace. The design features a mermaid silhouette, a v-neckline, an illusion bateau back, and a sweep train. The intricate lace will have everyone's attention focused on you, while your wedding bouquet, veil and other accessories can include touches to pull in the theme.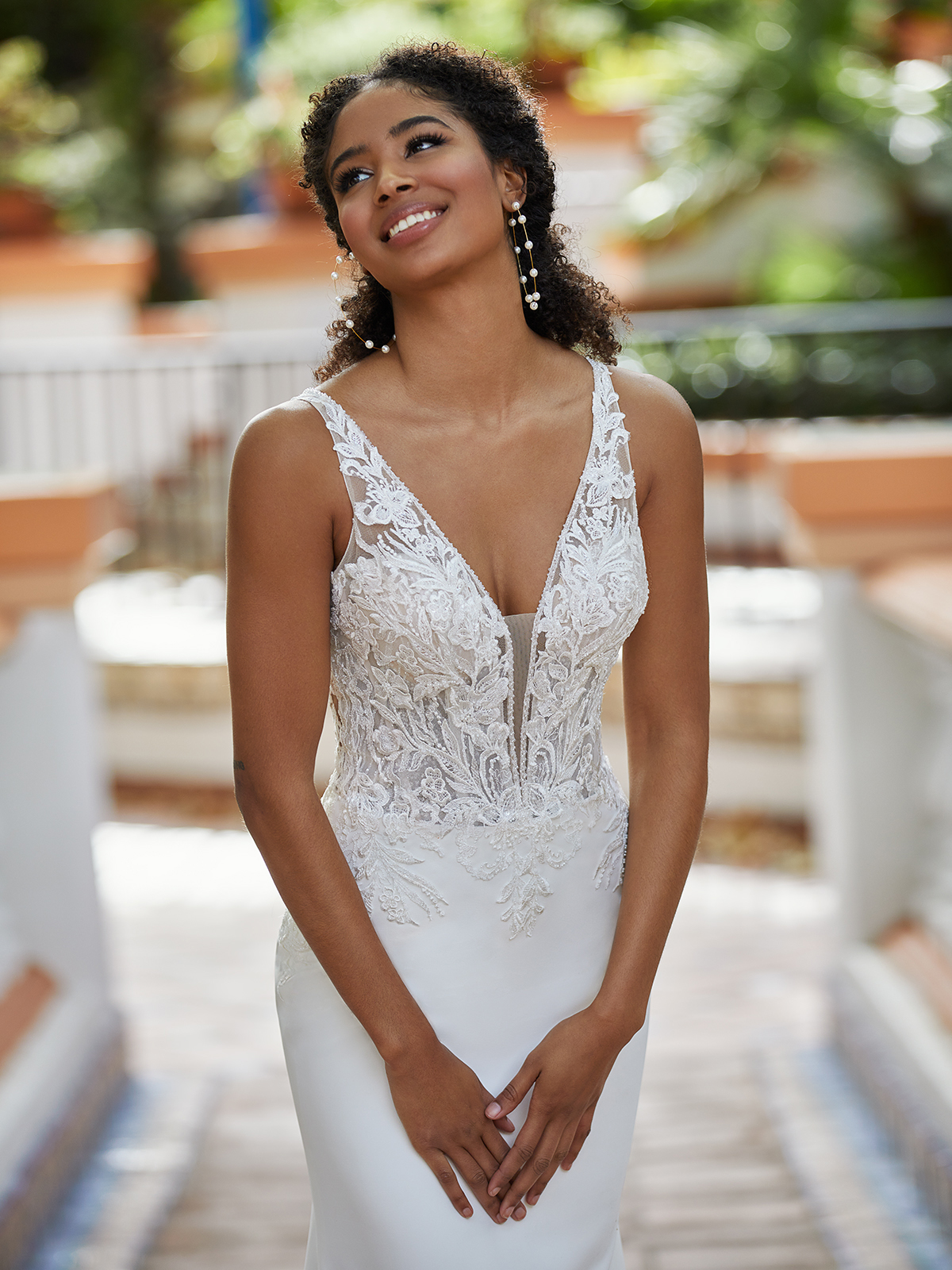 Of course, the dress, like everything else, should be chosen completely based on your personal taste and what makes you feel special.
Spooky Theme
If you decide to go all out and plan a scary Halloween themed wedding, there are many fun ideas to explore:
Wedding Colors: The colors for a spooky celebration could include different shades of black, gray, white, red and burgundy. If you want to add orange to the mix, make sure it's darker shades of orange to keep with the spooky theme.
Themes: If you want to go beyond just a few spooky touches here and there, you could plan to decorate your venue like a haunted house or graveyard. To add to the festivities, you can include on the wedding invitation that costumes are highly suggested for the reception.
Halloween Wedding Decorations: Take your scary theme to the next level by adding decorations filled with cobwebs, skulls, and tons of candles. Dim lighting will help set the ambiance and you could turn on a fog machine while you're walking down the aisle to create a more dramatic look and feel. Skeletons could even hold signs directing the guests where to go.
To get the full feel of a spooky Halloween wedding reception, it is best to have the event at night. Bring out the Jack-O-Lanterns with candles placed inside to make it even spookier.
Centerpieces: To give a more lifeless feel to the centerpieces, use natural branches, without leaves, along with dark color flowers. Wooden flower vases in a coffin shape will create an eerie feel.
Rustic and Elegant Theme
A wedding on this holiday doesn't have to be spooky and scary, it can be chic and beautiful. The gold and bronze tones of the season make it easy to decorate in a classy way. Here are some elegant Halloween wedding ideas to help get the ideas flowing:
Color Palette: Darker color palettes fit the stylish and edgier elements of Halloween. Shades of dark orange, brown, burgundy, and forest green are great colors to start the planning process. For a more upscale feel, add glitter, sparkle, and metallic colors for the perfect accent.
Themes: You can plan an elegant forest theme where the forest greens and pumpkins are your background. If you want to make the event a bit more casual, a pumpkin patch theme could be a fun approach.
Another idea is to do a masquerade ball theme. You can have fun with this one by having guests bring their own masquerade masks, or you can provide some for them. Put a spin on the bridal veil, and instead wear a masquerade mask as you walk down the aisle.
Decorations: Pumpkins! The first thing that comes to mind when talking about decorations for Halloween are pumpkins. A simple pumpkin can be transformed into so many creative things. A few DIY ideas include:
Jack-O-Lanterns can line the walkways and line the aisle you'll be walking down.

You can carve the numbers in each pumpkin and use them as table numbers.

Mini pumpkins can be name card holders for your guests.

You can paint pumpkins to match the color scheme.

For the masquerade ball theme, you can add glitter or sparkling paint to the pumpkins to bring both ideas together.
Wedding Centerpieces: A combination of pumpkins, mini pumpkins, and seasonal flowers can be used to create a Halloween themed centerpiece.
A unique idea is to place candle stands with droplet jewels hanging down with seasonal fall flowers throughout to add an elegant touch.
Be sure to speak with your florist to see what type of local seasonal flowers can be incorporated into your bouquet, reception, and centerpieces. We recommend mokara orchids, dahlias, viburnum berries, and garden roses in colors to match your theme.
Halloween Inspired Wedding Food
Rustic / Elegant
A rustic and elegant wedding cake could be a simple multi-tiered cake with the matching fall flowers from the bouquet and centerpieces.
Have fun with the drinks you are planning to offer. Talk to the venue's bartender and see if they have any special Halloween concoctions that would fit for your theme. Bartenders know all the tricks to make a drink fog and smoke. Not only can bartenders make drinks look cool, they can also make drinks that remind everyone of this time of year (e.g. apple flavors, pumpkin flavors, etc.).
Spooky
There are so many ways to get creative when it comes to a spooky wedding cake. Talk to your cake designer and you two can come up with some unique cake ideas, like a three-tiered, gray fondant cake with a black spider web design on it. Instead of a traditional cake topper, consider a skeleton topper. This is an affiliate link and as an Amazon affiliate we receive commission from qualified purchases.
Cocktails are another way to incorporate scary details into your day. Make the drinks fun by adding decorations like long, plastic spider legs stirs or eyeball garnish. This will give them an eerie feel and make them extra enjoyable to drink.
For desserts, consider a trick-or-treat station with all the candy options your guests could imagine! Let them fill their own little bag with candy as a take-home gift.
Successfully combining your favorite fall holiday, Halloween, and your wedding will make for a fun, beautiful day! Whether you decide to go with rustic elegance or a spooky approach, there are plenty of ideas to incorporate Halloween throughout the entire wedding or just a bit here and there. Browse through our wedding dresses to find the perfect match for your big day.