How To Create A Romantic Valentine's Day Wedding
Guide to Planning a Romantic Valentine's Day Wedding
If you love everything about being in love, then you probably can't wait to celebrate Valentine's Day. Beautiful shades of pink and red, flowers, chocolates, and cute messages are just some of the sweet things to love about this romantic day. Every detail just tugs at your heart strings.
If you are starting to plan your upcoming wedding and love this special day, then consider making Valentine's Day even more memorable by saying 'I do'! We put together ideas for planning a V-day wedding that you'll fall in love with!
8 Valentines Day Wedding Ideas for a Romantic Celebration
From dresses to decor to food, there's little ways to sneak in Valentine's Day inspiration throughout your entire celebration. Here are eight ideas to consider when planning out each part of your big day.
1. Colorful Wedding Dress
There are many options when it comes to bridal gowns for this special occasion. While some brides may want to stick with traditional silhouettes and ivory or white colors, don't be afraid to stand out with a pop of a different color. Check out this show stopping lace wedding gown with gorgeous black accents!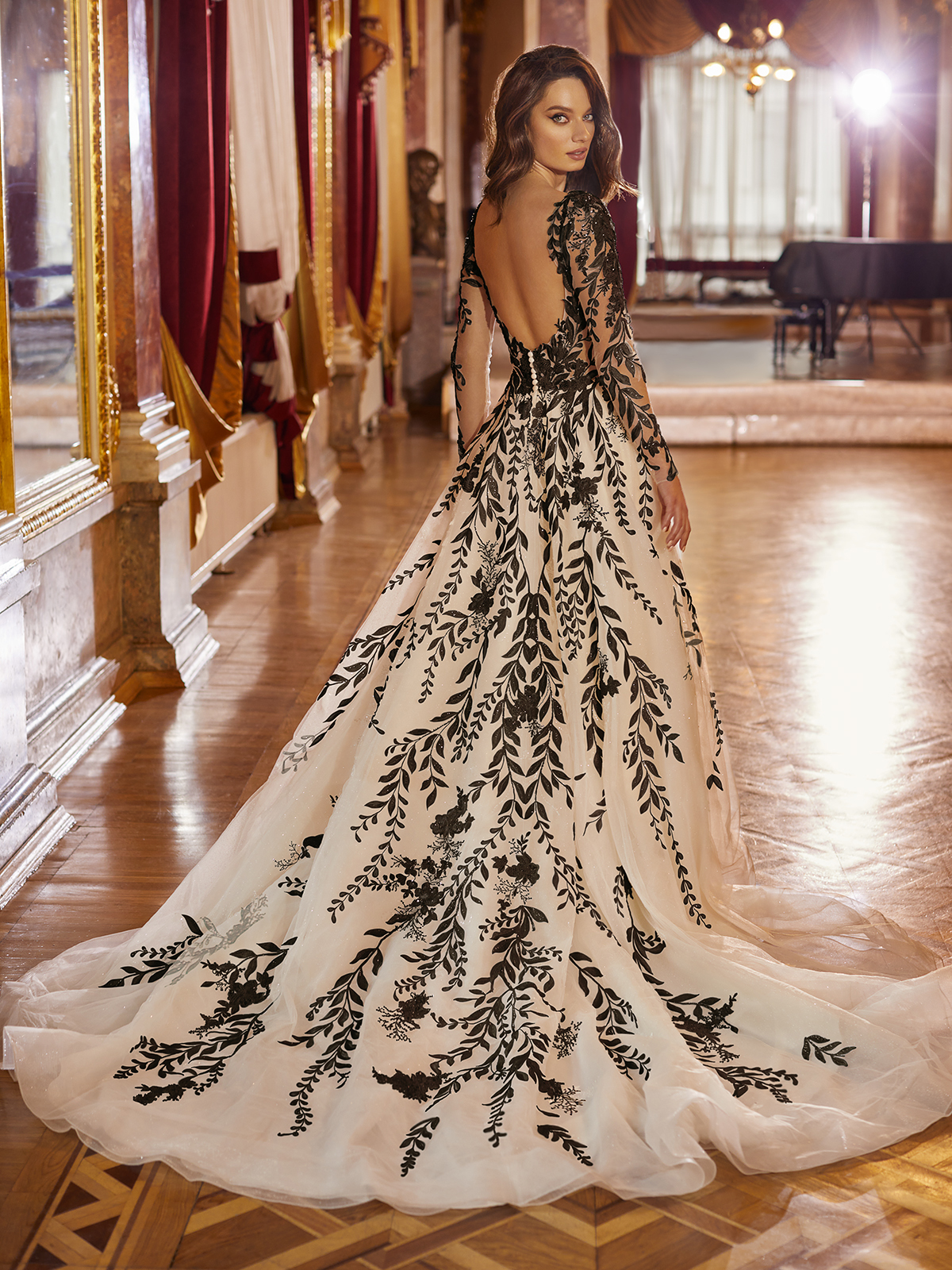 Our style H1477 is perfect for a grand formal wedding ceremony. Featuring the classic A-line silhouette, this luxurious gown includes embroidered vine leaf and floral lace appliques with sequins that flow beautifully into a chapel train. You will look like you've stepped right out of a fairytale. The beaded black lace and illusion long sleeves will instantly make heads turn. If this is too bold for your ceremony, consider it as a reception dress!
Other options for colorful wedding dresses that pair well with this day include blush, gold, or even lavender hues. An option that is closer to the traditional colors is a romantic rose colored hue. A latte colored ball gown also adds subtleness to your Valentine's Day themed wedding without taking away from tradition.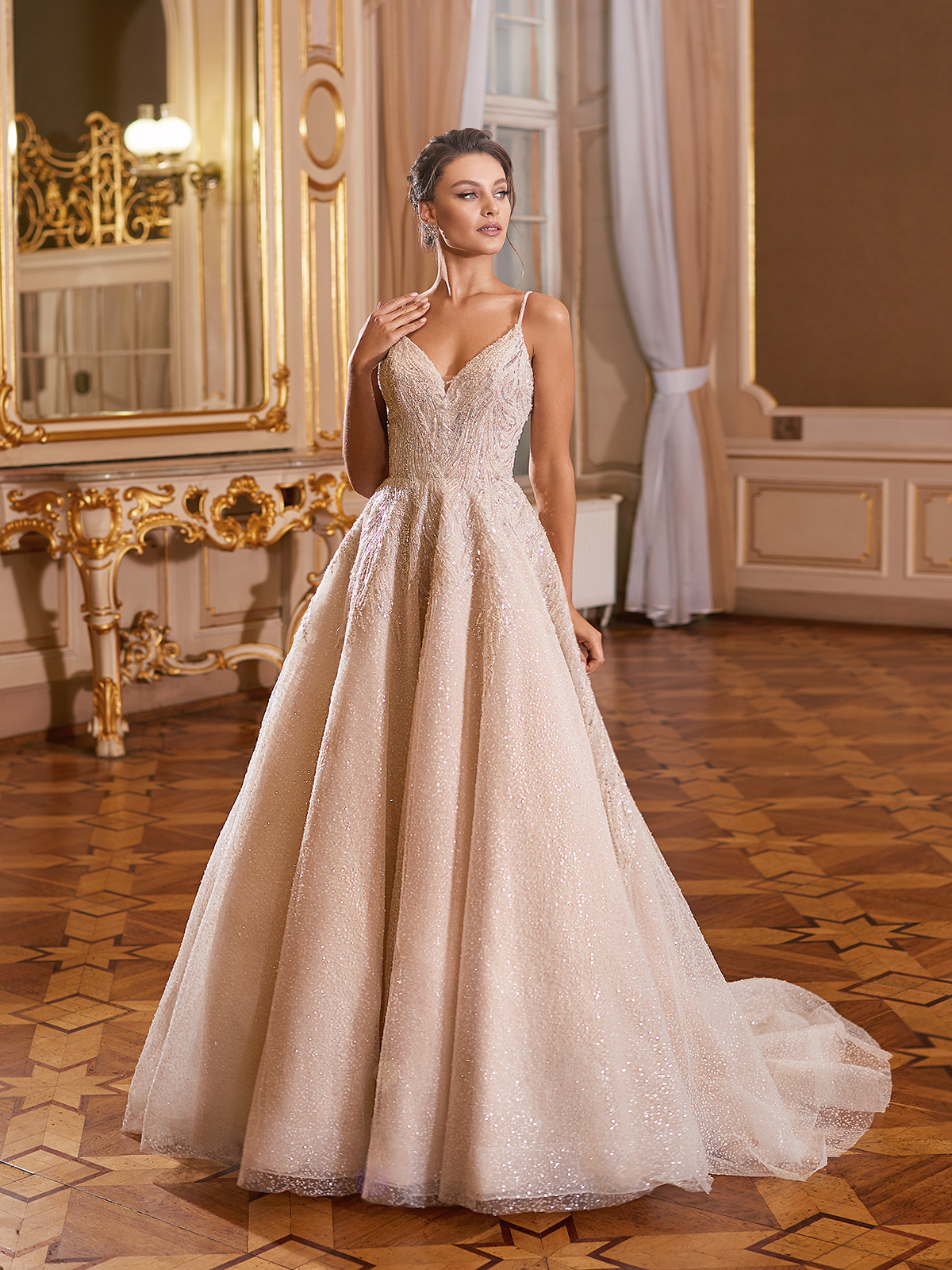 If you don't want to break the dress color tradition, you can stay with the classic ivory or white and instead find a design that pulls inspiration in other ways. This smooth crepe gown has gorgeous rose bloom lace detailing which is a subtle way to tie in the theme.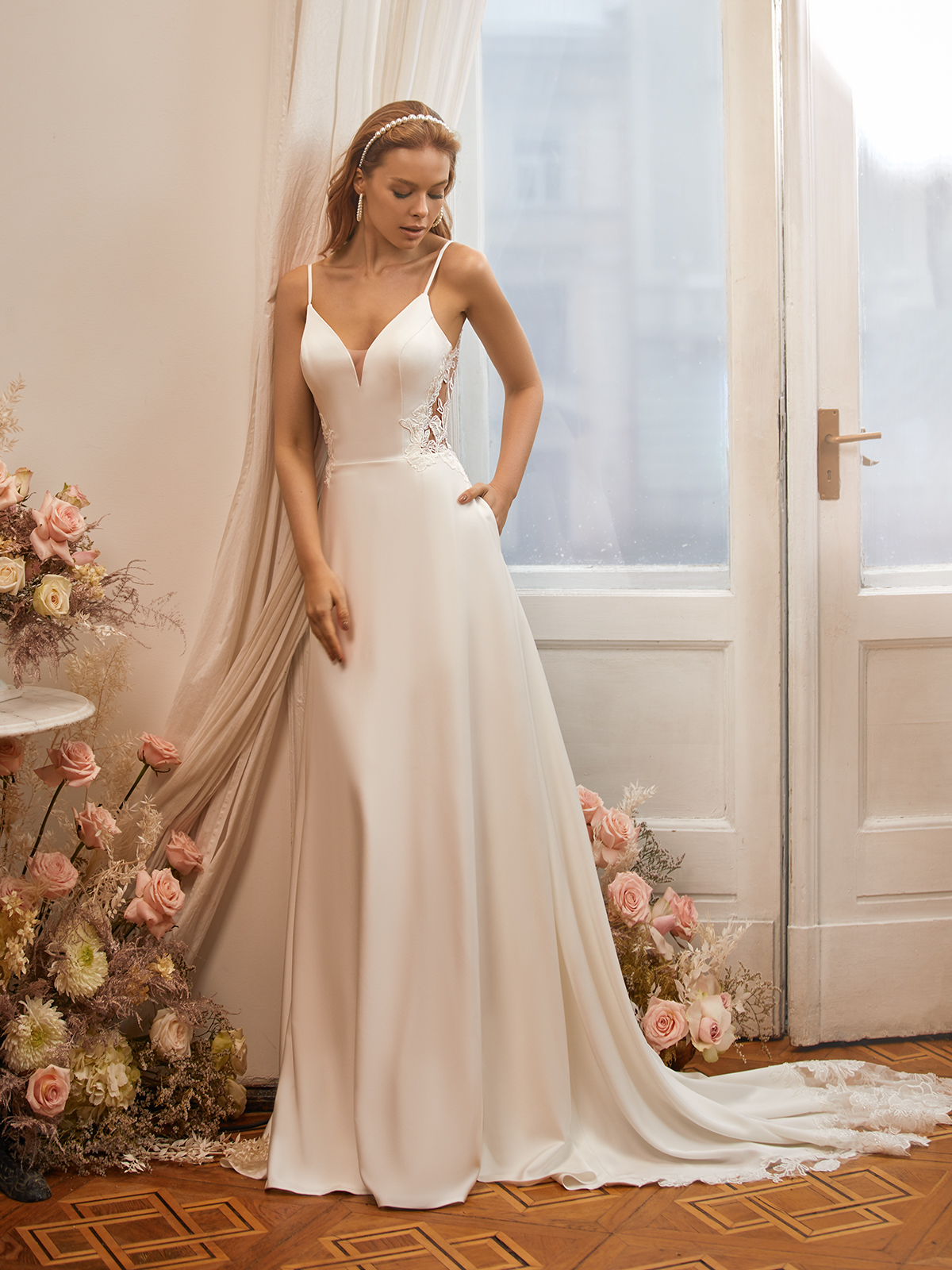 Another option is to pair your gown with red or pink heels for a splash of color! No matter what color bridal gown you decide to go with, you will capture every guests' attention as you walk down the aisle.
2. Makeup
Dress color is not the only thing you can play with on your wedding day. Makeup is a great way to express yourself and pull in a few shades from the theme.
For brides who love the more natural look, choose to go with pink lips instead of bright red or have peachy pink cheeks while keeping your eyes simple with just a few coats of mascara. If you have a red lipstick you've been dying to wear to your ceremony, pair bold red lips with a winged liner and some false lashes. Natural or bold, just make sure you are comfortable on your big day.
3. Bouquet & Boutonniere
Red roses are the definition of love in flower form. However, you are not limited to just red roses for your bouquet and your future hubby's boutonniere as there are many other flowers that will fit a Valentine's Day wedding color palette. Peonies, amaryllis, deep red calla lilies, and sweet peas can create beautiful bouquets that scream Valentine's Day.
Add splashes of color to all the reds and pinks or wrap your bridal bouquet in gold or white ribbons. To make the bouquet and boutonniere stand out even more, add feathers for a vintage accent.
Tie the same flowers used in your bouquet into the rest of your wedding decor by adding them to tablescapes, hanging floral arrangements, and even your cake!
4. Lighting
Lighting may depend on the wedding venue, but if possible, consider how lighting can change the feel of the ceremony. During the beautifully moving ceremony, capture the love in soft bistro lighting as you exchange your vows. The soft lighting will enhance the already romantic wedding. Keep with the lighting theme and bring soft candlelight to your wedding reception. To add an even warmer love, make candles part of the centerpieces at each table. Satin table linens will reflect light and make the candles shine even brighter.
5. Cake
Deciding on a wedding cake is a fun part of wedding planning but don't forget to incorporate your overall theme and style ideas into the cake as well.
A traditional white buttercream or white fondant cake filled with fresh strawberries or fruit preserves is always a crowd favorite and helps bring another red accent into your special day. Add some pink and red flower arrangements to the outside of the cake for a pop of color.
If you want a cake that stands out more, go with a rich deep chocolate cake, with white lace details or red flower petals cascading down the tiers. This cake will bring all the Ooo's and Ah's that you are looking for.
6. Photo Booth Background
Let your guests be a part of your big day and include them by designating an area for a photo booth. Cupid's bow and arrow details, X's and O's and heart-shaped flower wreaths can be set as the background to the photo booth area. Consider making cute DIY props for your guests to pose with.
Photo booths have been gaining popularity in the past few years and it's a great way for your guests to have fun while documenting your nuptials. They get printed copies of the photos and you can keep the digital copies for your own memories.
7. Sweets
Nothing says sweet love better than chocolates, cookies, and conversation hearts! Create a sweets heaven for all your wedding guests to enjoy! Sugar cookies with you and your new hubby's initials on them or a cute personalized message are the perfect reception treats. You can do the same with conversation hearts. Create a heart shaped macarons platter filled with pink, red, and white macarons.
Send your guests home with wedding favors of prepackaged goodie bags filled with heart shaped chocolates and cute messages. This edible gift is a way for you to thank them for celebrating with you!
8. Drinks
Keep your drinks festive as well! Continue your Valentine's Day wedding theme all the way to your cocktail menu by having your bartender create a signature red or pink drink like a cosmopolitan. Add fresh strawberries or raspberries to the champagne flutes for a splash of color. For non-alcoholic drinks, mix a splash of grenadine with Sprite or 7-Up to create a Shirley Temple, the perfect drink to match your special day.
Next Steps
There you have it! Eight simple ideas to help you plan the best Valentine's Day themed wedding. Take this information and put your own twist on it and make it your own.
If you're still looking for a beautiful dress, browse Moonlight Bridal's collection online or make an appointment with an authorized retailer to find your perfect Valentine's Day wedding dress!