Find The Perfect Venue for your Wedding Dress
Find The Perfect Wedding Dress for Your Venue
It's common for couples to plan a wedding with a theme in mind and a large part of the theme is the wedding venue. Almost all couples have an idea of where they wish to wed when dreaming of their fairytale ceremony, and the location options are endless!
Depending on the location you land on, oftentimes brides will want to find a wedding gown that fits the venue. We put together some tips to help find a dress that matches your location.
The Best Wedding Dresses by Venue Type
Barn Venue
Barn weddings offer scenes of nature and the countryside. Imagine rustic barn doors, wildflowers, and open fields. Wedding dresses that pair well with a country landscape include styles such as romantic lace gowns, dresses with sleeves, or fabrics with floral patterns.
A classic all-over lace style with a rustic feel is a great option to consider. You will still feel like a bride with the fabulous lace fabric but have a bit more of a casual feel that will fit the setting perfectly. Consider our Style M5052, a nature-inspired lace gown with a mermaid silhouette, short flutter sleeves, and a wide v-neckline.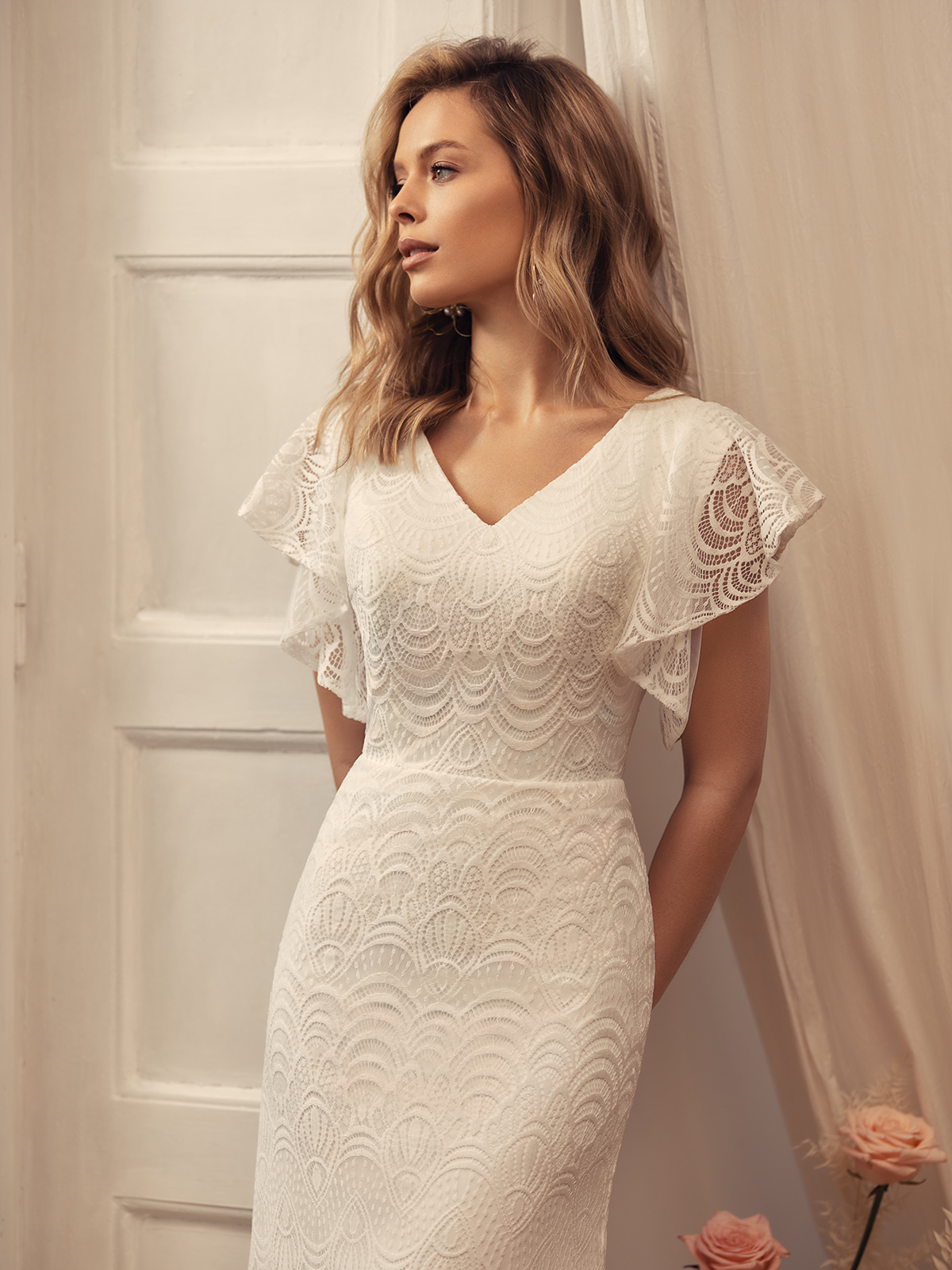 Beach Wedding
For a destination wedding happening on the beach, it's a good idea to keep your dress light and flowy. A few features to keep in mind when searching for a gown include lightweight fabrics, simple embellishments, and shorter trains. Chiffon, lightweight tulle and crepe are popular fabric types often seen in this setting.
However, you have to remember it is still your wedding day, so adding a touch of sparkle may be necessary. That's why we love Style T924, an A-line beach wedding gown crafted with flowy net fabric. This design is simple and elegant and includes sparkly sequins that adorn the lace appliques. The sexy hidden slit on the skirt makes it perfect for a beachside ceremony.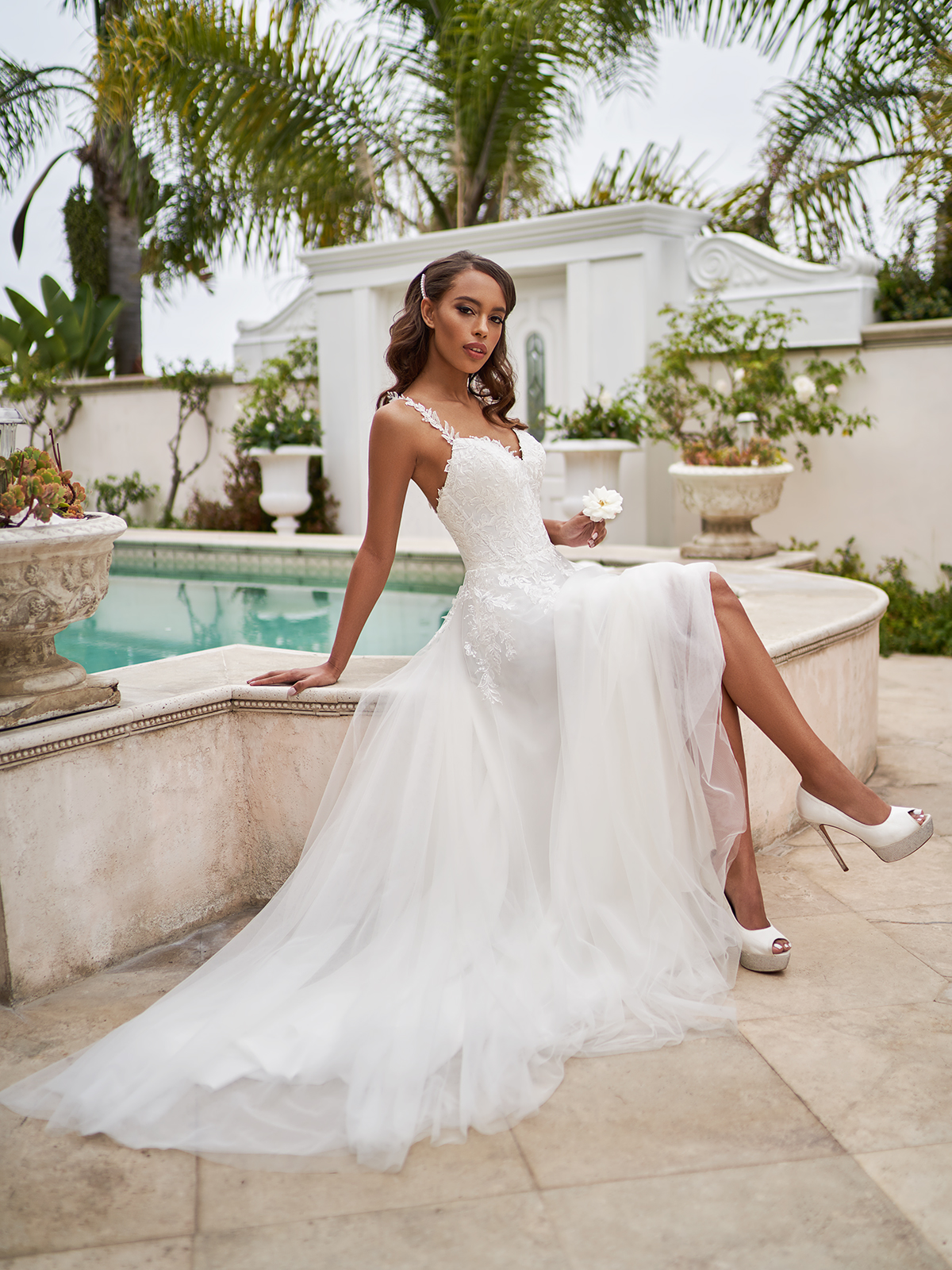 Church Venue
Most church weddings are a little fancier in terms of your guests' attire, as well as the dress you wear. Choosing a dress with a long, gorgeous train in a church setting will make for the most amazing photos walking down the aisle. Style H1477 has a stunning chapel train that flows elegantly behind the rest of the gown. This wedding dress features vine leaf and floral lace appliques, intricate beading, sequins, and other jaw-dropping details. The long lace illusion sleeves are also detachable making it easy to take your bridal look from church to reception in a snap!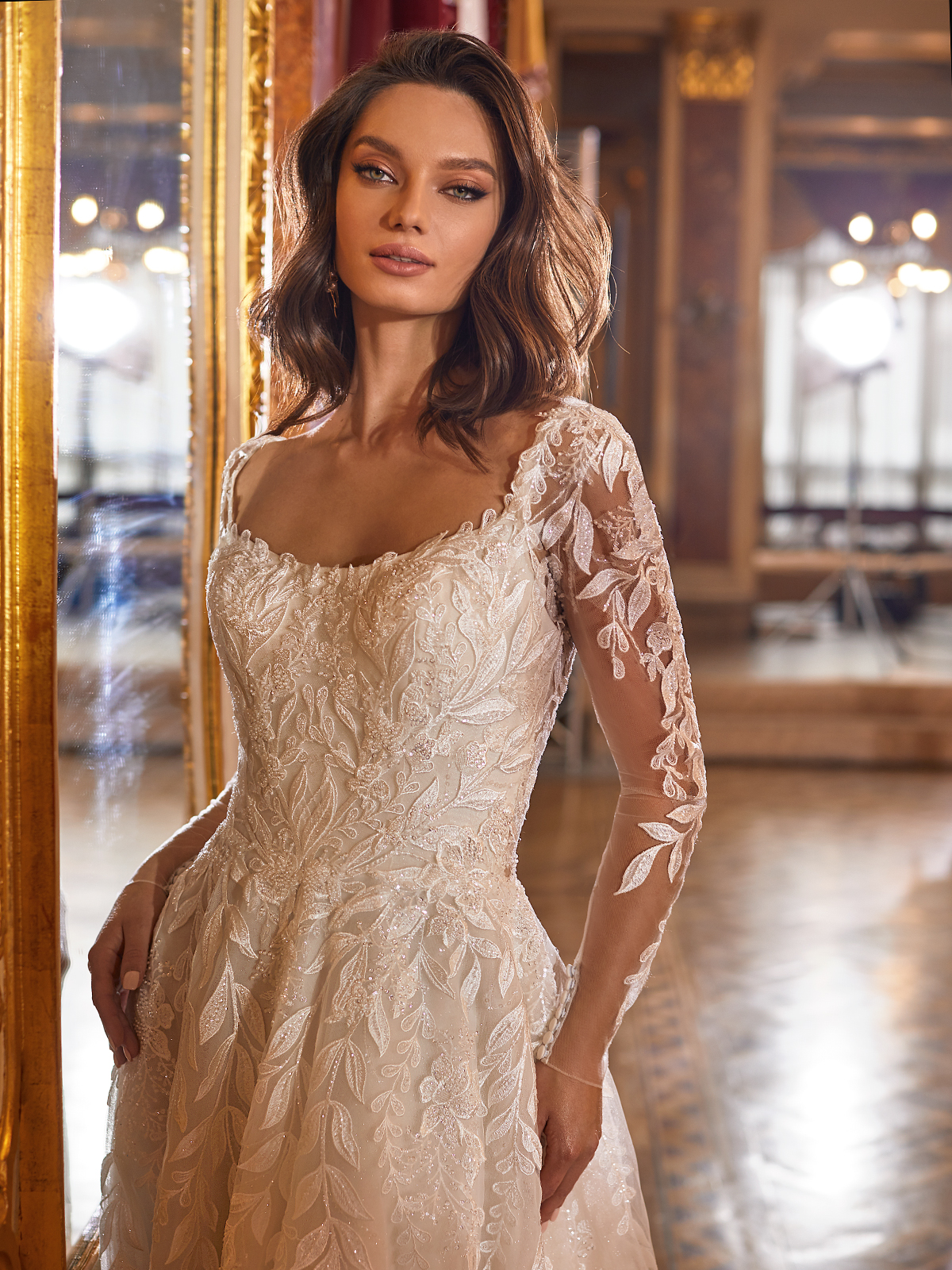 Not all church weddings are formal, so you may opt for something more casual. Keep in mind that some bridal gowns are more revealing than others and may not be appropriate for the church where you plan to wed. Speak to the church clergy to see what they consider appropriate, if necessary. If you want to wear something a bit more revealing, consider layering a jacket or shrug on top during the ceremony.
Outdoor Venue
Cute backyard or garden weddings are both popular and we love them. They go hand in hand with Boho DIY weddings that we just adore. A flowy style gown with the perfect balance of beading may be all you need. Our Style J6811, a flowy tulle bridal gown, is the perfect combination of boho-chic and glamor. This design includes a flowing skirt, a gorgeous beaded bodice, a v-neckline, and an open back.
For outdoor celebrations, bohemian-inspired dresses are a great choice. Vintage style designs, floral lace, and sheer sleeves are also popular options.
Indoor Venue
An indoor venue can consist of anywhere that isn't a church, such as an event center, hotel ballroom, art gallery, distillery, or even a mansion. Depending on the venue type, indoor weddings may cater more to an evening-wear style; think formal ball gowns, long trains, and cathedral veils. You don't have to be too strict if you don't want to, though. If your event will be semi-formal, a gown that's a bit more simple may be what you're looking for.
For this example, we chose a blush gown as this theme has become more popular. The accents of blush against a white room will really pop and create an elegant look. Style J6836, an A-line gown, is one of our most popular blush wedding gowns. It has subtle undertones of blush color combined with tulle, net, and embroidered lace appliques to create an extra romantic look.
No matter what wedding venue you choose, we have a dress for the occasion! From our less formal line, MOONLIGHT Tango, to our higher end line, MOONLIGHT Couture, we have a wide variety of wedding dress styles to choose from.
When you're ready to go wedding dress shopping, start your search here to find the Moonlight Bridal retailer closest to you.