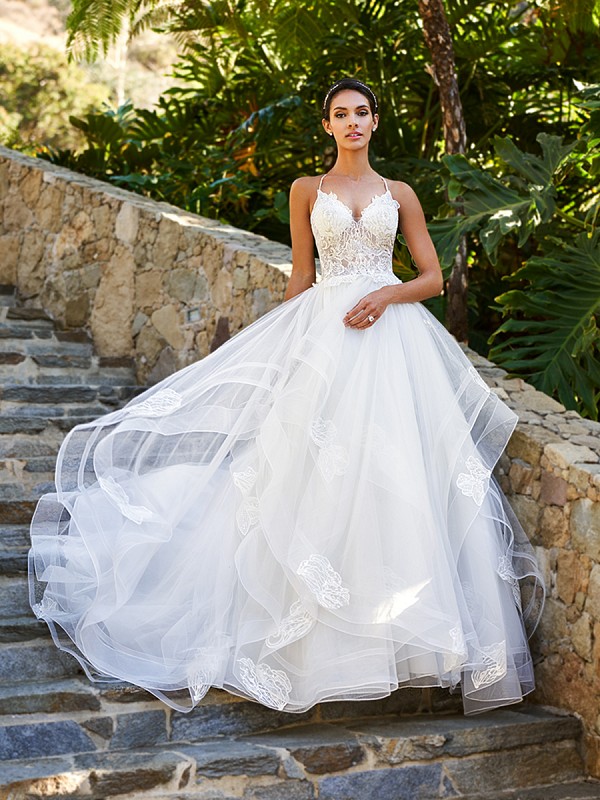 Style J6581A
Cascading Lace Wedding Dress with Horsehair Hem
The Tulle Skirt Bridal Gown from the Moonlight Collection is all about layer upon layer of lacy tulle. It features a flowing skirt of cascading fabric and strategically placed lace on the hem that makes this dress the perfect addition to an enchanted fairytale wedding.
The top of the Cascading Lace Wedding Dress is just as dreamy as the bottom since Style J6581A is unlined. It features allover lace that complements the lace appliques on the hem of the skirt's layers. Simple spaghetti straps on the front of the dress reveal a surprise on the back as they crisscross all the way down to your waist.
Style J6581A features a voluminous, yet light as air, skirt that will leave all of your guests in awe as you walk with confidence down the aisle. It is very on-trend with a horsehair hem that gives the Tulle Skirt Bridal Gown an air of whimsy. With multiple layers of tulle, the skirt has a very three-dimensional look and is enhanced with lace appliques. On the back, the skirt transforms into a dainty, understated train with layers that ebb and flow down the back like the water in a babbling brook.
The unlined bodice is the perfect complement to the large skirt because it cinches in the waist, plunges into a deep V-neck, and shows just enough skin. Two spaghetti straps provide the dress with an understated look in the front but transform into a crisscross pattern on the back, giving the gown an enchanting fairytale look.
This Horsehair Wedding Dress comes in both ivory and white so you can get the hue that complements your skin tone. You also have the option of choosing Style J6581B which features the same layered tulle and lace but with a lined bodice.
Contact us today to learn more or locate your local Moonlight Bridal retailer to see if this style is the one you want to wear on your wedding day.
Join Our Mailing List
Please enter a valid email!
Thank you for joining our Mailing List!
You'll now get news and updates in your inbox from Moonlight Bridal.