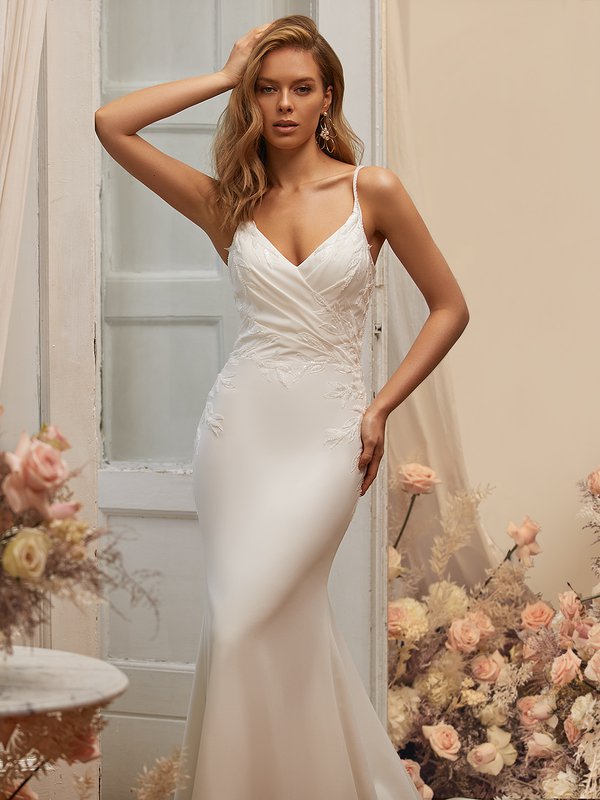 Style T973
Modern Beaded Leaf Lace & Crepe Bridal Gown with Pleated Bodice
Sleek, sexy, and with the perfect touch of glamour, Moonlight Tango Style T973 will passionately take your breath away with flawless details you'll never forget! Show your curves some love in a sultry mermaid silhouette enveloped by opulent regal crepe that molds to your body with sensual clean lines so comfortable, you won't want to take this gown off! Your radiant smile will be framed by an alluring surplice V-neck that sits atop a chic pleated bodice and sparkling beaded straps for a kiss of glamour. Trace these straps over your sun-kissed shoulders to a sexy deep illusion V-back that is pleated to perfection as a row of crepe covered buttons run along the back zipper. The crowning detail of this captivating gown are luscious vines of embroidered leaf lace appliques that reach from the sides of this gown with a flourish of radiant sparkles. These captivating hand-beaded appliques shimmer with a collection of glass beads and scattered sequins as they catch the light from every angle with unique placements along your hourglass shape. Available in a fresh color option of Ivory.
Let your inner goddess take center stage and show off that feminine figure when you slip into the luxurious threads of Moonlight Tango Style T973! From runway to bridal aisle, this minimal mermaid wedding dress offers sharp clean lines and a perfect kiss of sparkle that will cater to your tastes. Beautifully crafted in pristine layers of regal crepe, you'll be enraptured by pure magic as the hip-bugging silhouette holds your natural curves close with a buttery soft touch. Shimmering beaded straps connect a lavishly pleated surplice V-neckline and matching deep V-shaped to for the perfect amount of sex appeal. Your soulmate will be in awe as enchanting vines of embroidered leaf lace appliques stretch tendrils of beaded beauty across the sides of this marvelously simple canvas. Make a high-fashion statement in this understated gown as you share your first kiss as a newlywed to a champagne toast at a sophisticated garden party on a historic estate or outside the striking spires of a converted loft space under colorful bursts of fireworks. Wherever your love story takes you, make memories in a bridal gown that you'll cherish for a lifetime. Ready to make Style T973 yours? Make an appointment at your nearest Moonlight Tango retailer and get fitted today!
Join Our Mailing List
Please enter a valid email!
Thank you for joining our Mailing List!
You'll now get news and updates in your inbox from Moonlight Bridal.