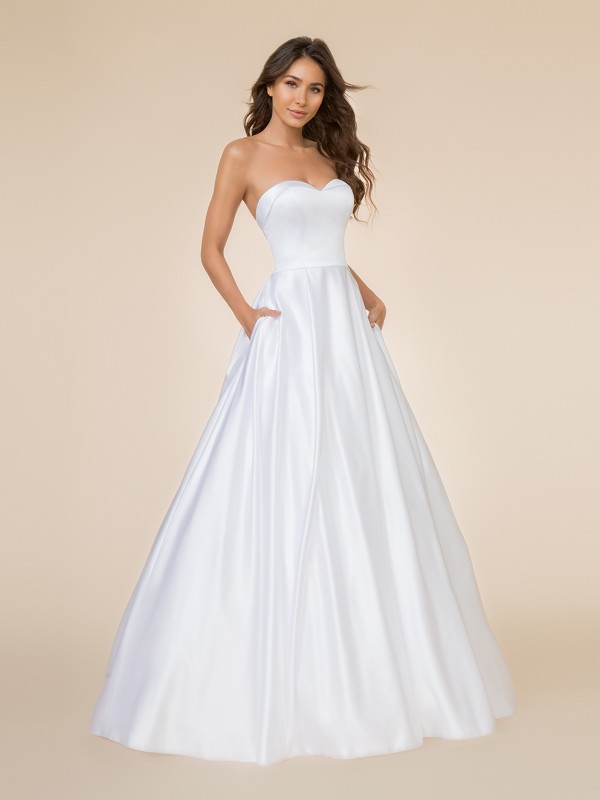 Style T861
Satin Wedding Gown with Fold Over Sweetheart Neckline
This classy and contemporary satin A-line dress features a folded sweetheart neckline and open back. Perfect for the practical bride, there are even hidden pockets tucked away in the full and glamorous skirt. This is exactly the sort of minimalist and modern gown that easily fits with any wedding theme or décor. Available in ivory, it's accented with dainty buttons starting at the back zipper and continuing all the way to the end of the sweep train. The distinctly flattering shape of this dress will be a perfect fit for any bride as it accentuates an hourglass figure or helps to hide problem areas!
If you're in search of a fashion-forward wedding gown that is both stunningly minimalist and delightfully sexy at the same time, this may just be the perfect dress for you! This versatile dress is sweet and charming enough to be perfectly at home coming down the aisle of a fresh, garden wedding. Or dress it up with a tiara and some sparkling jewelry and you'll have a modern twist on the fairytale princess wedding dress. It would be equally at home beneath a bright sunny sky, on the beach at sunset for a destination wedding, illuminated by the light of cathedral candles, or dancing the night away beneath the stars at a black-tie event on a metropolitan rooftop. No matter the setting, this dress will be perfectly placed. This is exactly the sort of dress that will please both your grandma and your groom. You'll show some skin with the sleeveless sweetheart neckline and open back, but still maintain a demure and classic silhouette with a classic A-line skirt and lovely sweep train. And the delicate detailing of a row of tiny satin-wrapped buttons adds that special finishing touch that will wow your guests as you float down the aisle!
Join Our Mailing List
Please enter a valid email!
Thank you for joining our Mailing List!
You'll now get news and updates in your inbox from Moonlight Bridal.