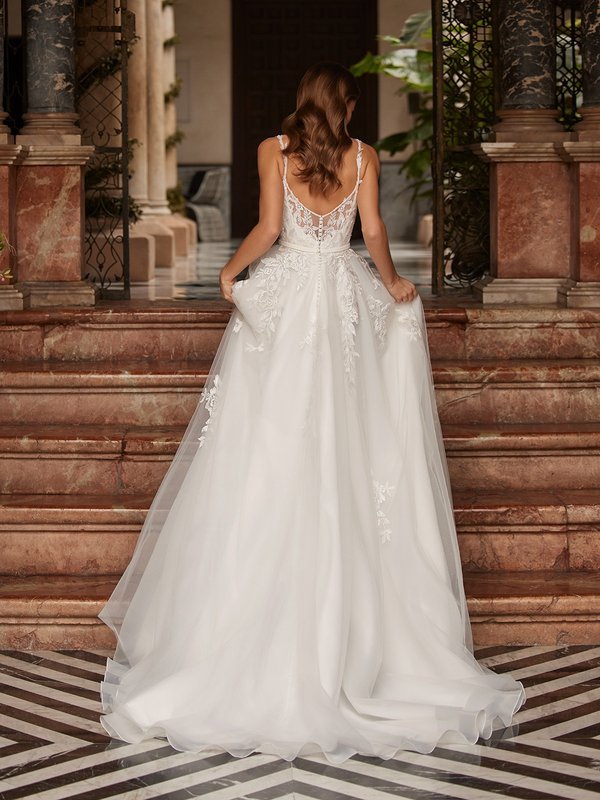 Style T103
Vintage Floral Lace Scoop Back Wedding Dress with Thin Bow Sash
For the charming bride who wants to feel like a princess showered in romantic details on her wedding day, look no further than Moonlight Tango Style T103! Set your heart aflutter in this angelic A-line silhouette that is delightfully flattering over every figure. Frame your radiant smile with a timeless sweetheart neckline embellished with a sparkling beaded trim comprised of bugle and glass beads and delicate support from dainty floral lace straps. Trace the petals of these straps over the shoulders to find an attractive illusion scoop back with a matching beaded trim and graceful row of covered buttons that run along the back zipper. Carefully adorning the fitted bodice are vintage floral lace appliques with sequins that bloom across the bodice and provide demure coverage to the illusion back with glimmering petals. Sitting at the natural waist is a charming satin couture bow that cinches your figure as layers of ethereal tulle flow into the voluminous skirt decorated in more shimmering vintage florals. Available in a radiant color option of Ivory.
Tulle/Chantilly lace fabric
A divine bridal gown that will sweep you off your feet, you'll surely feel all the love in the room in this enchantingly sweet A-line wedding dress made for every bride. Moonlight Tango Style T103 will have you emanating pure romance in layers of airy tulle decorated in shimmering vintage floral lace appliques that were picked directly from Cupid's Garden just for you. Dazzle during your bridal portraits and add a little brilliance to this charming ensemble with delicate beaded trim that runs along a timeless sweetheart neckline and flirtatious illusion scoop back. A swoon-worthy couture bow cinches the natural waist for a charming finish touch to this effortlessly impressive look. With a gown this sweet, have the wedding of your dreams whether that's an extravagant party overseas in a lavish castle ballroom or an intimate candlelight soiree surrounded by those closest to you heart. Ready to say yes to the dress and recite your vows in Style T103? See our Store Locator and make an appointment today at your local Moonlight Tango retailer!
Join Our Mailing List
Please enter a valid email!
Thank you for joining our Mailing List!
You'll now get news and updates in your inbox from Moonlight Bridal.