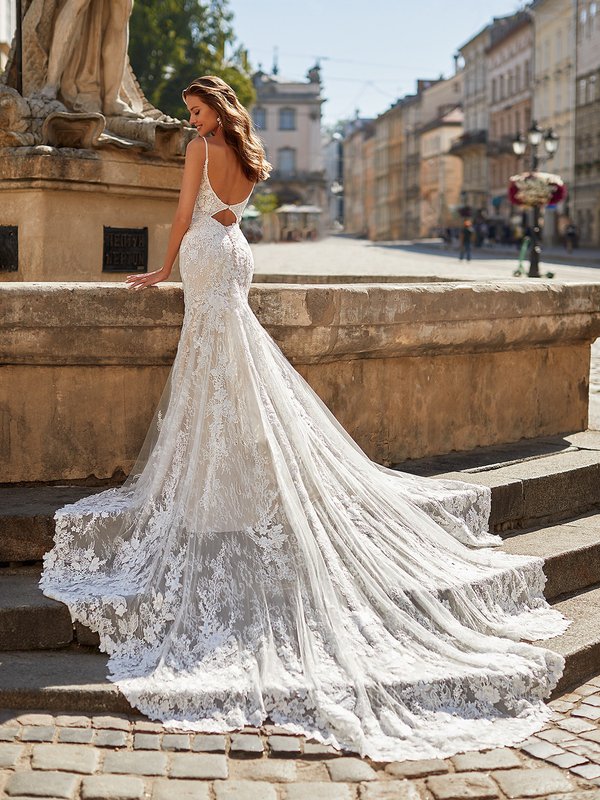 Style H1488
Seductive Lace Mermaid Wedding Dress with Scalloped Sheer Long Train
Communicate the perfect balance of love and lust by showing off your banging body in Moonlight Couture's style H1488. This Chantilly lace mermaid gown features a deep sweetheart neckline and delicate beaded spaghetti straps. Your partner's heart is going to beat a little faster the second he sees you in this sleek, seductive, and elegantly sensual dress. The low scoop keyhole back is a romance-stirring, blood-pumping jaw-dropper within Moonlight Bridal's Couture collection. The unlined bodice will wrap around your ribcage so that the embroidered and beaded lace appliqués have the chance to emphasize your voluptuous upper body. The shapely neckline is further enhanced by an illusion inset that grabs onlooker's attention so that they can admire the sweet floral design that is carried throughout the entire dress. The back of the dress is really all the fuss as the low scoop keyhole adds a soft geometric touch just above the waistline to make the area both flattering and feminine. A full and elaborate scalloped semi-cathedral train adds an even more dramatic effect to this entire design which will help achieve an awe-striking aesthetic while standing in front of your wedding guests. Give your life-partner-to-be the opportunity to squirm with delight as you strut your stuff wearing this showpiece. Available in a romantic Ivory/Taupe color combination or classic Ivory/Ivory and White/White
Net/Chantilly lace fabric
Ivory / Ivory, Ivory / Taupe, White / White
Its official you are truly radiant and everyone will know it the second the music starts, your dad holds your arm, and you start strolling down the aisle towards the altar. You are a vivacious and sexy woman, it's obvious, so let your friends and family dote all over you on this very important and special day. This sleek, seductive, and sensual mermaid wedding gown will not only make you feel all of these things, but it will amplify your inner glow in a way that makes your lover's heart jump out of his chest. Butterflies, yes they'll be there, but more importantly the perfect balance of love and lust will accompany your union. Start things off in a way that excites you both with a wedding gown that unabashedly tells the world 1) you're hot and 2) your partner's beyond lucky! Take some action and find an authorized Moonlight Bridal retailer with our Store Locator tool or look for a Trunk Show coming to a city near you for more wedding gown inspiration. You'll both be grateful you did.
Join Our Mailing List
Please enter a valid email!
Thank you for joining our Mailing List!
You'll now get news and updates in your inbox from Moonlight Bridal.