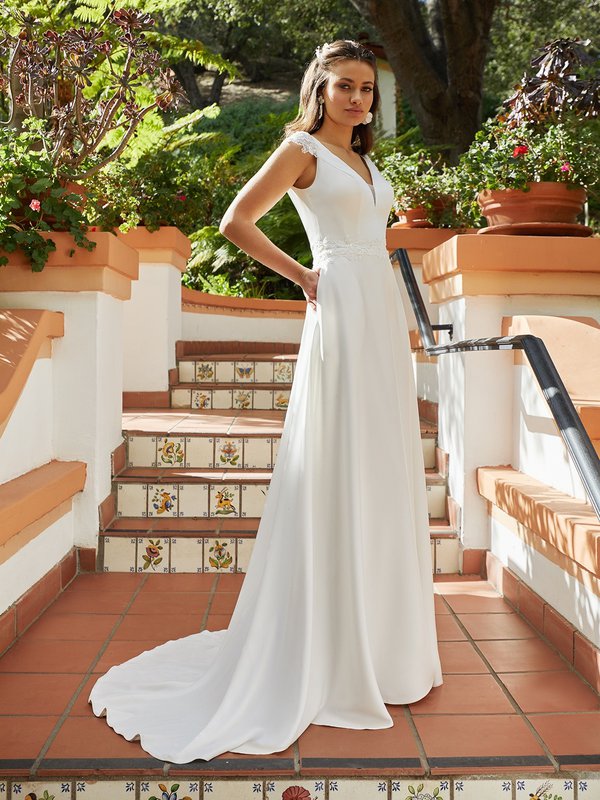 Style T935
Casual Deep Sweetheart Crepe A-Line Bridal Gown with Lace Cap Sleeves
Make sweet memories of one of the happiest days of your life in a bridal gown that will spark joyous wonder for you and your future spouse in the radiant Moonlight Tango Style T935. This universally flattering A-line silhouette is elevated with a heavenly crepe back satin that molds to your bodice and gently flares at the natural waist into a lustrous lightweight skirt that sits over the hips. Keep your cellphone close to snap those picture-perfect candid moments with pockets that are smoothly hidden in the side skirt for easy access without any fuss. A classic deep sweetheart neckline with illusion inset is paired with a stunning and fashion-forward deep illusion V-shaped back that your guests will swoon over as you are twirling the night away with your new hubby. Your hourglass figure is accentuated by a lace band fashioned of romantic embroidered floral lace appliques twinkling with seed beads and sequins that demurely wrap around the natural waist. These resplendent lace flowers also decorate charming cap sleeves that frame your gorgeous smile and add an alluring grace to this already heavenly bridal look. Be a heavenly bride sent from above in a decadent color option of Ivory.
As a soft romantic at heart and that has always dreamed of wearing a wedding dress that makes you feel heaven-sent, your prayers have been answered in the angelic design of Moonlight Tango T935. Ultra-feminine and stunningly chic, this lightweight A-line bridal gown will have any bride glowing with grace whether she is getting married in a traditional church wedding with everyone you know, having intimately sweet backyard ceremony with your immediate family, and every celebration of love in-between. Made with a rich crepe back satin fabric, you'll be able to dance and move comfortably throughout the day while still looking fabulous. Need to touch up your lipstick or keep a few bobby pins at hand to fix that gorgeous bridal updo? Side pockets are seamlessly hidden in the side skirt to make sure your special goes on without a hitch. If you're all about wearing your heart on your sleeve, you'll be captivated by the short floral lace cap sleeves that frame an alluring deep sweetheart neckline that truly capture your natural beauty. Enchanting embroidered floral lace appliques that sparkle with seed beads and sequins wrap themselves around your natural waist for a kiss of glamour that will elevate this passionate gown. Think you've found the one? See our store locator and get fitted in your dream dress at your nearest Moonlight Tango retailer today!
Join Our Mailing List
Please enter a valid email!
Thank you for joining our Mailing List!
You'll now get news and updates in your inbox from Moonlight Bridal.