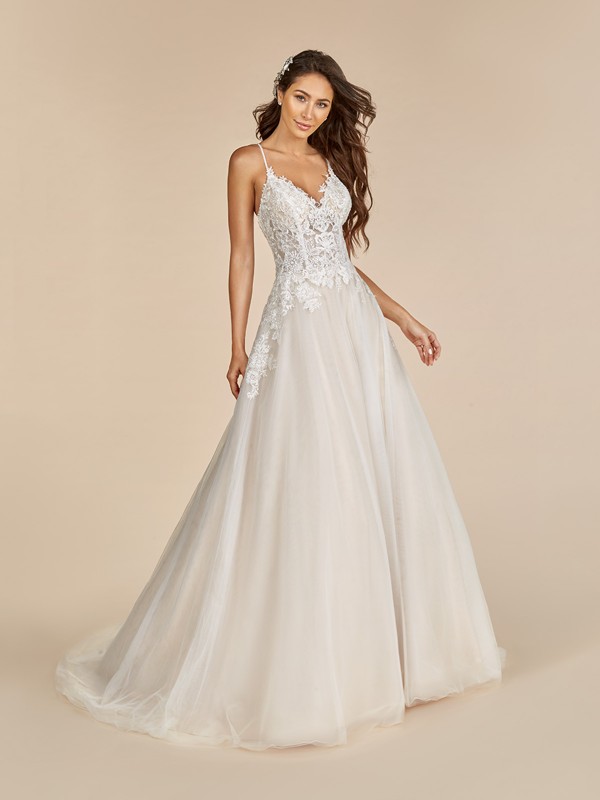 Style T890
Wedding Dress with Unlined Bodice and Crisscross Open Back
Make time stand still in a show stopping full A-line wedding gown that embodies pure perfection. A piece that will sweep you completely off your feet the unlined bodice offers a V-neck neckline with elegantly beaded straps that rests extravagantly on your shoulders. The straps trail to the back bodice to reveal an upscale crisscross open back that sheds an interesting light on a classic design. This gown accentuates your figure before it flows down to a voluminous skirt that adds rich dimension and style to your overall look. The skirt ends with a sweep train that adds an aspect of flirty and lavishness. Look absolutely marvelous in this regal piece, capture every princess moment and live the fairytale dreams on a day that you will absolutely keep with you forever in your heart. Take in all the smiles and cherish every memory made in this unforgettable full A-line piece.
Ivory/Cashmere/Gold, Ivory/Ivory/Ivory, White/White/White
The hallmark of this piece is highlighted in the unlined bodice. Inspired by a beautiful walk through rose garden. The bodice is decorated with floral re-embroidered lace appliques with sequins that presents itself throughout the bodice and elegantly spills over to leave trace amounts of the ornate design at the top of the skirt. This magnificent design also presents itself through the back bodice to create an embellished look that is just breathtakingly beautiful. Flowing from the natural waistline the skirt is made with Tulle which adds a relaxed and flirty look. It catches the light to bring a heavenly aura as you walk down the aisle. Feel like you are leaving a daydream in this truly remarkable master piece. Exude romance with the wonderful blend of Ivory, Cashmere and Gold on your wedding day. Also coming in a pristine shade of Ivory this wedding dress is just unfathomable with its remarkable beauty.
Join Our Mailing List
Please enter a valid email!
Thank you for joining our Mailing List!
You'll now get news and updates in your inbox from Moonlight Bridal.