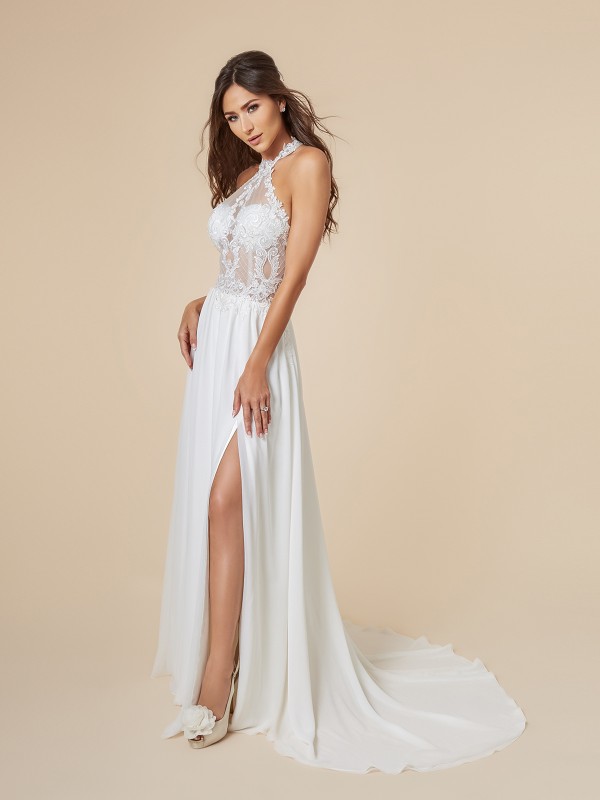 Style T848
Sexy Chiffon Beach Wedding Dress with Racerback
Moonlight Tango T848 is an A-line sexy chiffon beach wedding dress with a racerback--ideal for a seaside or outdoor ceremony. Beach brides love chiffon because it's a light and airy fabric. This chiffon gown has even sexier movement to it thanks to the slit that extends from the floor to above the knee. This gown is all about alluring elegance.
The alluring bodice is bold. Made of stunning re-embroidered lace appliques and lattice net, this halter top bodice has a secret...a detachable bodice lining. Wear it, remove it, or get two looks on your wedding day. Removing the lining creates a sexy, sheer lace effect across the bodice. Surprise guests, or your sweetheart, with this changeable feature.
Alluring details continue in the back of Moonlight Tango T848. The re-embroidered lace appliques fall just below the natural waist, providing you with beautiful details and a slimming effect in the front and back of your gown.
If you love lace details, you'll appreciate this racerback. It's made of the same re-embroidered lace applique as the bodice, adding even more alluring femininity to this gown. Captivating buttons with loops draw attention from the top of the racerback to the cocktail train. Thanks to the buttons no guest will spot the zipper in the skirt, which you'll like having but don't want exposed.
You'll be striking from the front and back in this halter neckline chiffon wedding dress. Be sure to take plenty of photos with and without the bodice lining if you choose to remove it.
Available in ivory or white.
Join Our Mailing List
Please enter a valid email!
Thank you for joining our Mailing List!
You'll now get news and updates in your inbox from Moonlight Bridal.