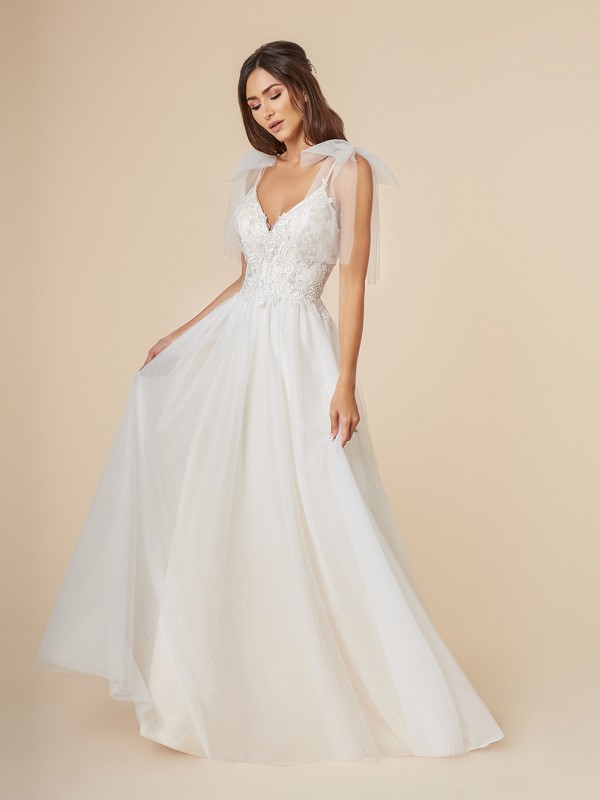 Style T845
Casual A-Line Wedding Dress with Bows
This is not the typical casual A-line wedding dress. With bows at the shoulders, this full A-line gown in the Moonlight Tango collection is as playful as the bride who wears it. Style T845 is full of feminine details that give this flattering silhouette plenty of girlish charm.
Notice the flattering bodice. The moderately deep "V" of the neck and back create a feminine yet slimming appearance. Dainty spaghetti straps are comfortable and allow the gorgeous tulle shoulder bows to take center stage. Even the corded lace appliques on the lined bodice are charming; the lace chosen for this gown features a swirly rather than floral pattern which adds to the playfulness of the overall look. The stylish corded lace appliques end at the natural waist which emphasizes a slender waistline.
This gown features a romantic Point d'esprit A-line skirt (with lace bodice). Point d'esprit is a lightly-textured fabric with dots. It adds dimension. When paired with other style elements of this dress, it adds a romantic vibe.
Point d'esprit/Corded lace appliques
Ivory/Gold, Ivory/Ivory, White/White
Are you a bride who loves romance and playfulness? Moonlight Tango T845 may be the one for you. You won't see a million brides wearing a wedding dress with bows. The bows definitely make this dress special. The corded lace appliques and Point d'esprit are special too--those aren't used together in most wedding dresses.
A corded lace applique is used for embellishment. Most lace gowns you see feature a floral pattern. This corded lace applique is more swirly than vintage floral, the result is a refined and stylish look. With this spaghetti-strapped A-line silhouette, the applique we selected for this gown is fresh and fun.
Can you see the light pattern on the skirt? It's Point d'esprit, specialty lace fabric with woven dots. The texture in this skirt flows from the natural waist to the cocktail train...adding to the romantic look of this gown as well as the bride who chooses it.
Available in ivory/gold, ivory/ivory, or white/white.
Join Our Mailing List
Please enter a valid email!
Thank you for joining our Mailing List!
You'll now get news and updates in your inbox from Moonlight Bridal.