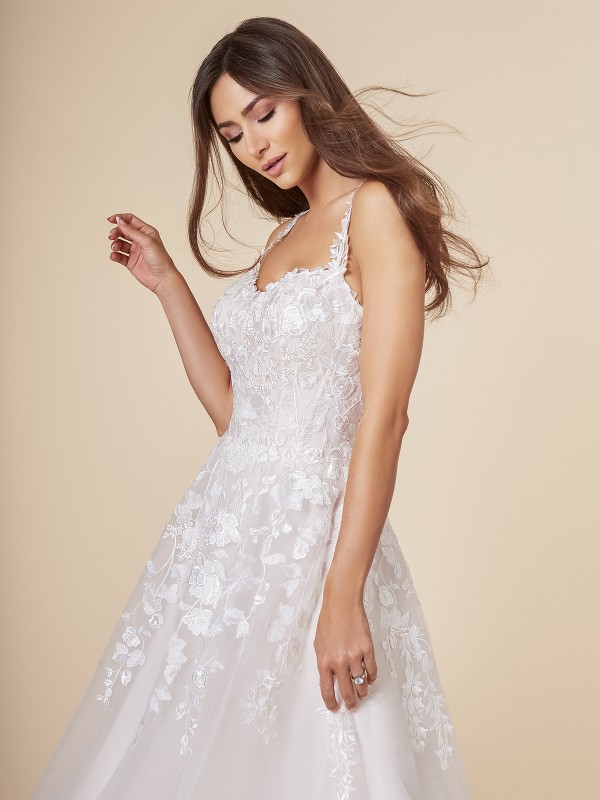 Style T843
Beautiful Back Tulle A-Line Wedding Dress
A bride can dance the night away in Moonlight Tango's style T843. This beautiful back, tulle A-line wedding dress embraces the feminine charm. An A-line cut is the most flattering cut for most body shapes. This gown's dropped waist elongates a bride's frame while suggesting a slimmer waistline. It also has a soft sweetheart neckline, which modestly features the feminine shape without being revealing. It's classic romance.
The lace appliques play into this gown's classic feminine appeal. But not only does this floral lace pattern seem whimsical, but the applique only flows onto part of the tulle skirt. This design gives the dress a youthful style as opposed to traditional, all-lace gowns which can seem heavy or old-fashioned. The lace applique straps over the shoulders are fun. So are the thin crisscross straps across the open back. It's playful. The bride who wears this embraces her fun spirit and femininity.
Ivory/Taupe, Ivory/Ivory, White/White
Imagine gliding down this aisle in this gown. Or posing for wedding photos with the tulle cocktail train flowing behind you and that gorgeous open strappy back. The modest neckline and crisscross straps make this gown comfortable for dancing, and the easily-bustled skirt is even more fun because it's tulle.
Similar to a ballerina's tutu, tulle is a light and sheer fabric that looks like netting. But unlike a stiff tutu, the tulle used by Moonlight Tango is a high-quality tulle that is soft and flowy. It moves beautifully when you walk, dance or twirl. T843's A-line cut has gentle volume but won't be as full as a ball gown. Think of T843 as a soft princess style, complete with a cocktail train.
Even if you don't see yourself as a princess, or girlie girl, try on style T843. You may be surprised by the flattering cut and feminine details. If this is "the one" you might not see it as a certain style but will simply feel like a beautiful bride.
Available in ivory/taupe, ivory/ivory, or white/white.
Join Our Mailing List
Please enter a valid email!
Thank you for joining our Mailing List!
You'll now get news and updates in your inbox from Moonlight Bridal.