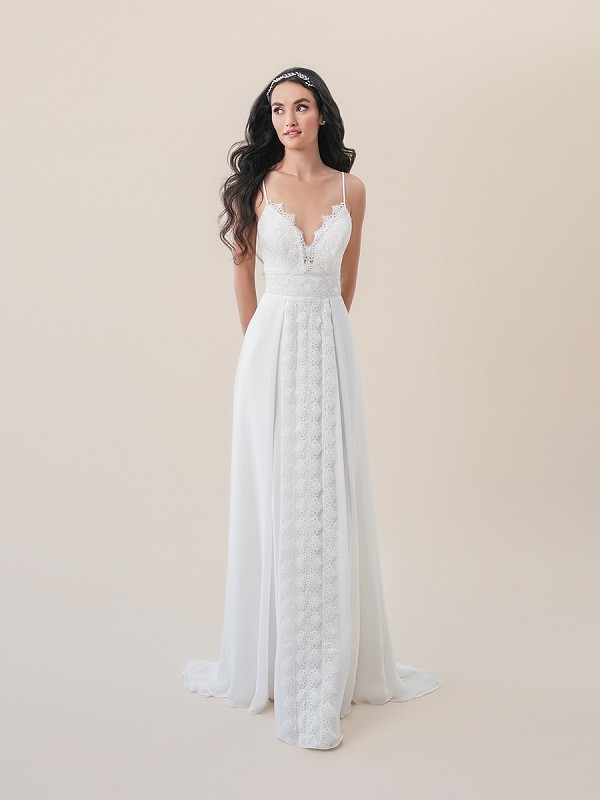 Style T830B
A lace waistband and a Venise lace overlay add rich texture and boho-chic appeal to this flattering A-line wedding gown. Featuring a lined bodice with spaghetti straps and a V-neckline, this chiffon bridal gown is graceful, lightweight, and ideal for any rustic wedding or destination wedding on the beach. In a combination of soft chiffon with Venise lace details and scalloped accents, this style is designed to flatter your natural curves yet flow away from the body, creating an airy silhouette that offers the perfect blend of comfort and beauty. Available in ivory or white, this carefree wedding dress features spaghetti straps, a fitted bodice, a V-neckline, and a slight V-shaped back with a center back zipper.
Chiffon/Venise lace fabric
The Moonlight Tango Lace Chiffon Wedding Gown features a simplistic silhouette with unique details that add distinctive charm. The soft chiffon fabric is topped with a textured lace overlay down the front of the skirt, creating a long, lean silhouette that complements any petite or tall bride. The A-line shape flatters by fitting precisely at the natural waist, while the skirts flows away from the body to provide a great fit that will make you feel both comfortable and confident from head to toe. A chapel length train puts the perfect finishing touch on the edge of the A-line skirt, allowing you to enjoy boho-chic romance with a touch of classic style.
True to the Moonlight Tango aesthetic, this chiffon A-line gown offers understated elegance that makes it a fabulous choice for any rustic barn wedding or destination wedding on the beach. It's both simplistic in its design yet rich with texture, and it's a lovely option for the bride who wants an effortlessly chic look for her big day. For the woman who prefers to show a bit more skin, this design is also available with an unlined bodice (style T830A) detailed with a sheer lace waist.
Join Our Mailing List
Please enter a valid email!
Thank you for joining our Mailing List!
You'll now get news and updates in your inbox from Moonlight Bridal.