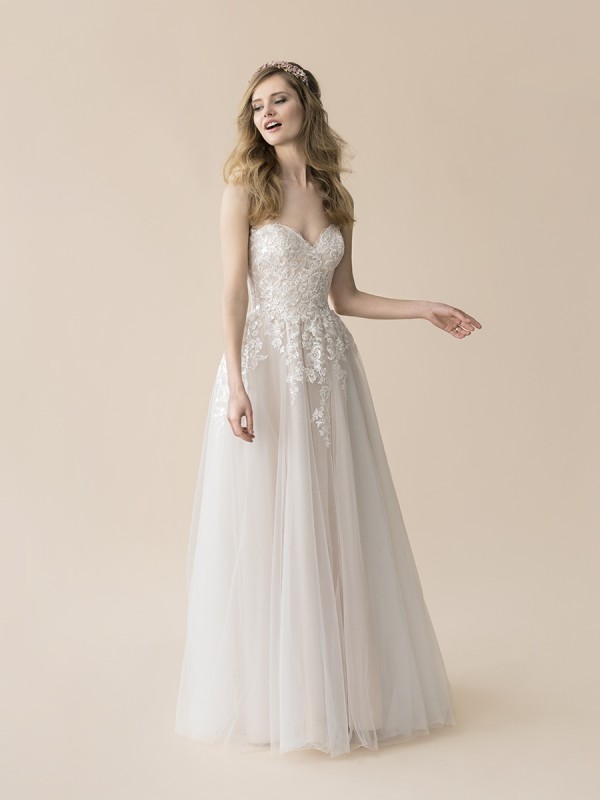 Style T811
Tulle Full A-Line Boho Destination Wedding Dress
The Moonlight Tango Strapless Tulle Lightweight Destination Wedding Dress combines a casual style, fashionable touches, and a relaxed feel that's perfect for outdoor or destination weddings. Maintain your carefree look while showing off your elegant side with this gorgeous dress. The strapless style is simple, yet alluring. A re-embroidered lace top adds charm, class, and stunning detail. The slow transition from lace to tulle gives an effortless and fluid appearance. The light and flowing tulle fabric conveys a weightless, free, and completely irresistible vibe.
Ivory/Cashmere, Ivory/Ivory, White/White
Enjoy this dress in ivory and cashmere, solid ivory, or pure white for your perfect wedding style. Brides can't help but gravitate toward the full A-line silhouette of this boho dress. The appealing strapless top and intricate lace design seals the deal. You'll fall head over heels for the floral pattern that starts at the chest and beautifully winds its way down, just below the waist. The contrast of re-embroidered lace against gorgeous, lush tulle is an absolute sight to be seen. The open exposure of shoulders and back add an extra, elegant allure to this dress. The casual fit combines with both simple and intricate details, giving brides the best of both worlds in one perfect look.
Your dreamy outdoor or destination wedding ceremony should be special, exciting, and truly unforgettable. While the little details will eventually fade to the back, your Moonlight Tango Boho Dress will remain front and center - always and forever. If you dream of a simple, casual wedding day that still embodies all the love and joy your heart is bursting with, this is the dress for you. Imagine the look in your love's eyes as you walk down the aisle. Picture a scene set with lush, floral surroundings, a gorgeous landscape, or a serene world destination. Now envision completing that image with a breathtaking, boho inspired dress that perfectly complements your style, look, and feel. Take your leap of faith in this Moonlight Tango A-Line Dress.
Join Our Mailing List
Please enter a valid email!
Thank you for joining our Mailing List!
You'll now get news and updates in your inbox from Moonlight Bridal.