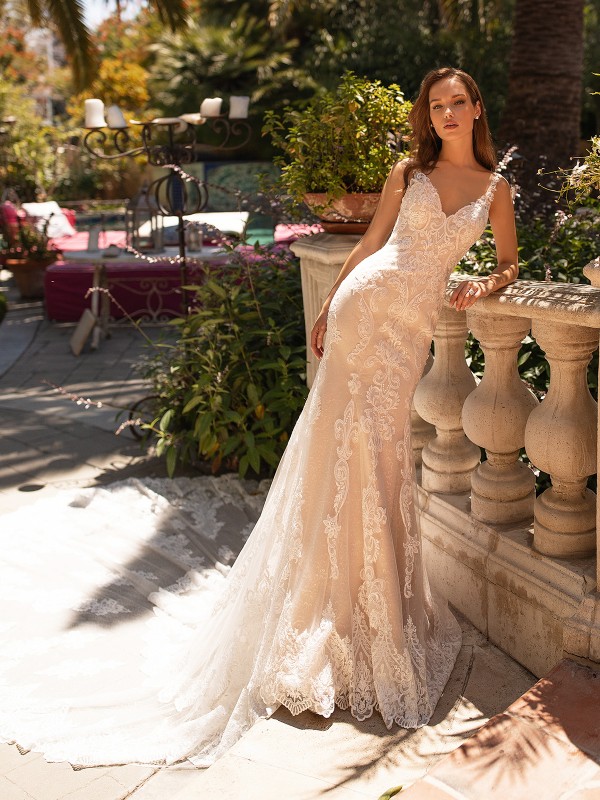 Style H1431
Wedding Dress with V-neck Neckline and Sequin Net
True love is a gift, but this mermaid wedding dress is a look that keeps on giving. Delicate yet emanates pure magic celebrate firsts, lasts and everything that has led to your special day in a piece that is the perfect balance of sexy and romantic. The form flattering bodice hugs you in all the right places and highlights all your best assets with its V-neck neckline. Moreover, the back bodice also adds increased elements of sultriness and allure with a deep illusion V-back that will surely have mouths hanging wide open. The form fitting mermaid transitions into a jaw dropping cathedral train lace train for a dramatic statement and a stylish flare as you walk down the aisle. Truly a trend worthy style, do not miss out on a piece that will make your wedding day extremely memorable. The look, the moments, and the promises you make will forever stay in your heart and create endless memories that will always put a smile on your face.
Ivory/Cashmere/Rose, Ivory/Ivory/Ivory, White/White/White
Look completely chic and radiate elements of flintiness and glamour in a wedding dress that captures the hearts of many. This piece comes in a traditional Ivory or White for the traditional bride. Moreover, it also comes in a heartfelt and romantic blend of Ivory, Cashmere and Rose, marvelous layers of Net, Rose Net and Sequin Net come together to create a shimmering finish to create a look fit for a queen. On top of this outstanding blend of luxurious fabric the form fitting bodice is decorated with vine like embroidered lace appliques that gently and effortlessly grows over the skirt and ends to an ethereal hem lace that shows a truly striking look. Swarovski crystals, rhinestones, bugle and seed beads with sequins are gently scattered throughout the dress as well to create an element of shimmer that adds texture and highlights your overall look. Fabric covered buttons along the illusion back and zipper finish this look to create a luxurious and romantic feel that will have you gleaming on your wedding day. Completely surreal, float down the aisle and experience every moment in shining adoration in a masterpiece that speaks to your heart.
Join Our Mailing List
Please enter a valid email!
Thank you for joining our Mailing List!
You'll now get news and updates in your inbox from Moonlight Bridal.