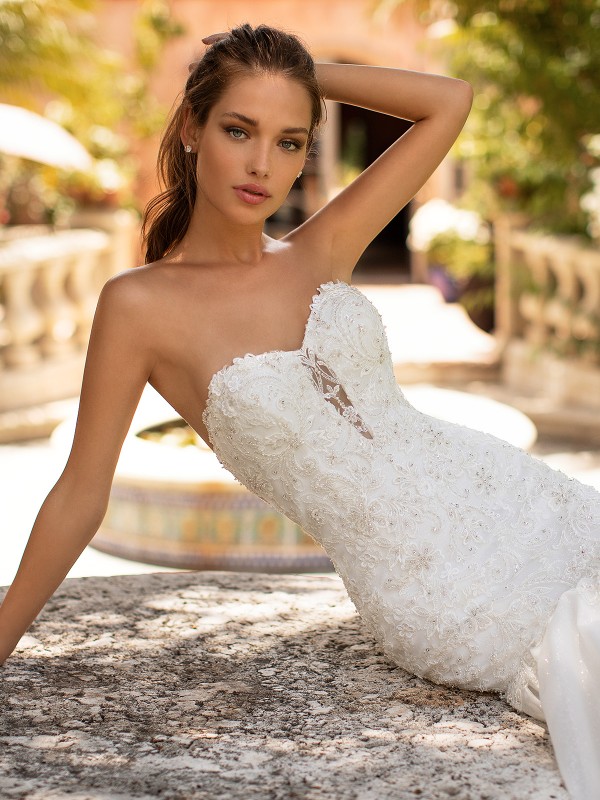 Style H1426
Wedding Dress with Drop Waist and Cascades
Jaw dropping and completely out of this world, this statement making wedding gown will have others in awe of your beauty. Shine on your wedding day, in a dress that epitomizes romance and fashion into one amazing piece. The luxe and updated design in this mermaid dress is made for the fashion forward bride. Show your undeniable figure, as you slip into the form fitting bodice that rests wonderfully on every curve of your body. The sweetheart neckline is accompanied by an open illusion back that leaves you looking and feeling sexy as you walk down the aisle. In addition to the luxurious bodice, the skirt extends voluminously and cascades down to the floor elegantly with an aura of fashion and drama. Finished with a wide horsehair trim hem and chapel train. Serve serious looks on your wedding day as you proclaim your love at the altar. Live the dream of the lifetime in a wedding dress that is as fierce and confident as you.
Adore all the loving looks you get on your wedding day, as you look completely and utterly fabulous in this one of a kind dress. A total fashion piece, the bodice is decorated with floral re-embroidered and beaded lace appliques that add a natural and elegant feel to the dress. Moreover Swarovski crystals, rhinestones, pearls, bugle and seed beads with sequins intermingle with the appliques for an undeniable sparkle that will leave others stunned. Added crystal buttons with loops along the zipper and illusion back add a glint of glamour and blends in beautifully with the bodice's extravagant design. This piece also comes with detachable sleeves that complement the illustrious design on the bodice, literally wear your heart and soul on your sleeve to create a look that boasts not only glamour but love as well. Tulle and Shimmer net create sensational drama with the cascading skirt that achieves a rich and royal look on your very special day. Coming in pristine color of Ivory, look nothing but extravagant, and feel nothing but beautiful on a day that will forever remain in your heart.
Join Our Mailing List
Please enter a valid email!
Thank you for joining our Mailing List!
You'll now get news and updates in your inbox from Moonlight Bridal.